A DIY Evening Patio Refresh ensures that you are ready for those sizzling hot Summer evenings. Evenings when you sit back on the patio and watch the evening fireworks display. And enjoy America's favorite pastime – weekend cookouts.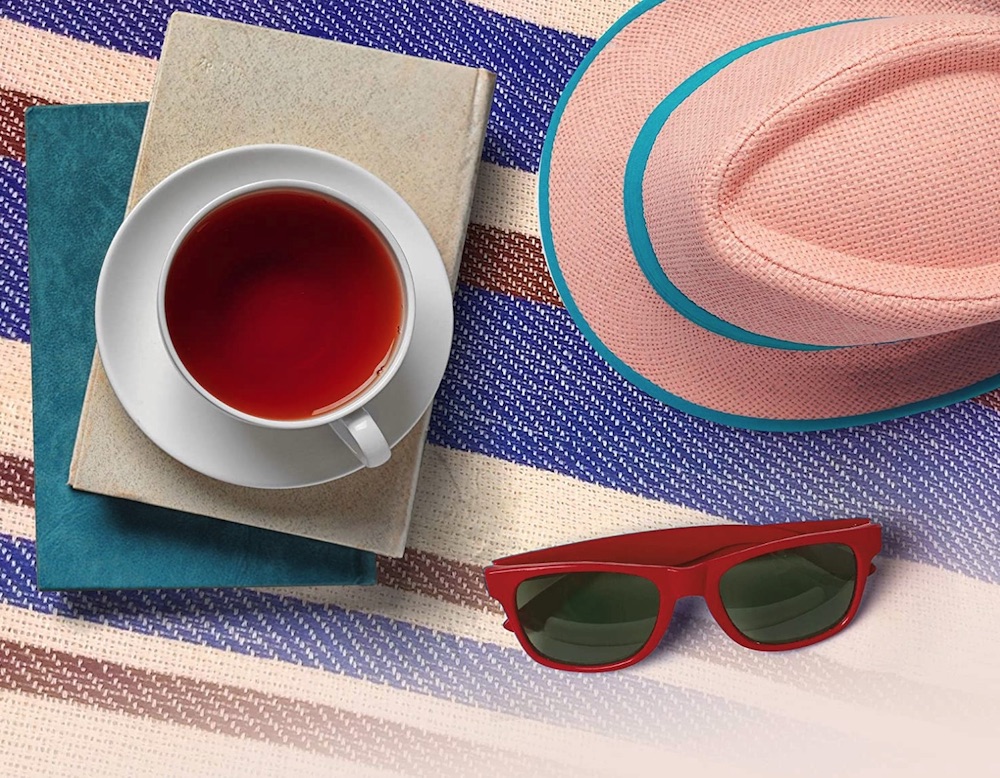 For starters, a DIY Evening Patio refresh needs good solid patio flooring for a more comfortable evening. Patio flooring that protects your feet from the scorching blaze of the Sun. Cover the floor with an indoor outdoor rug in a tropical color. 
1. Indoor Outdoor Rug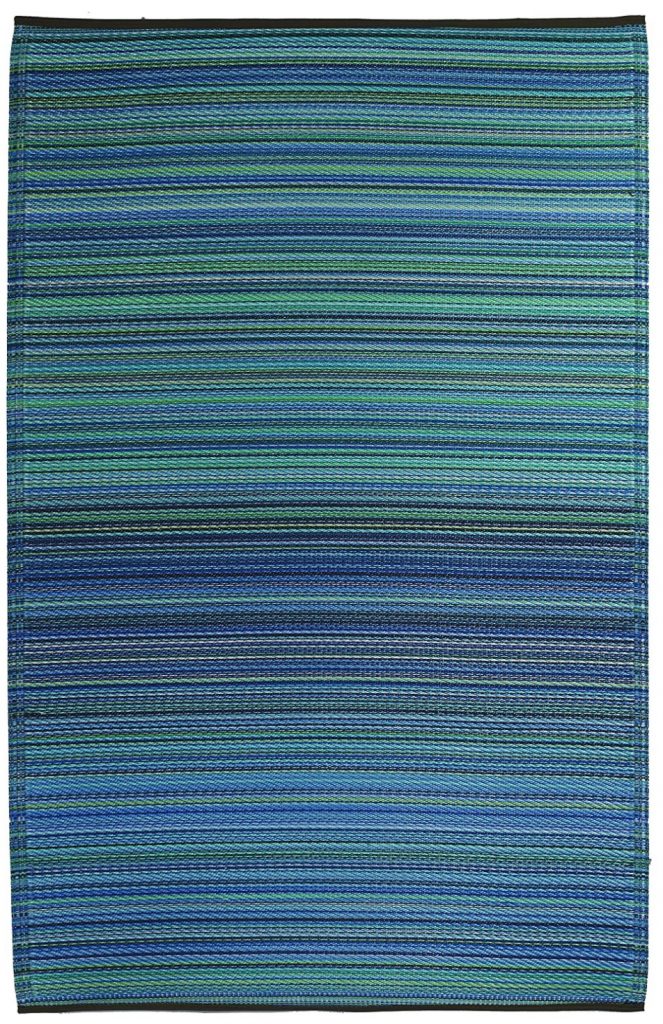 An indoor outdoor rug like this one in turquoise and moss green. The reversible indoor outdoor rug is made from 100% recycled plastic – eco-friendly tightly woven rug. The 6 by 9 foot rug is a cinch to clean. Either shake out or hose down to clean. 
Whether you are planning to watch the holiday fireworks or sit back and relax, you'll need comfortable sitting options.
2. Bistro Furniture Set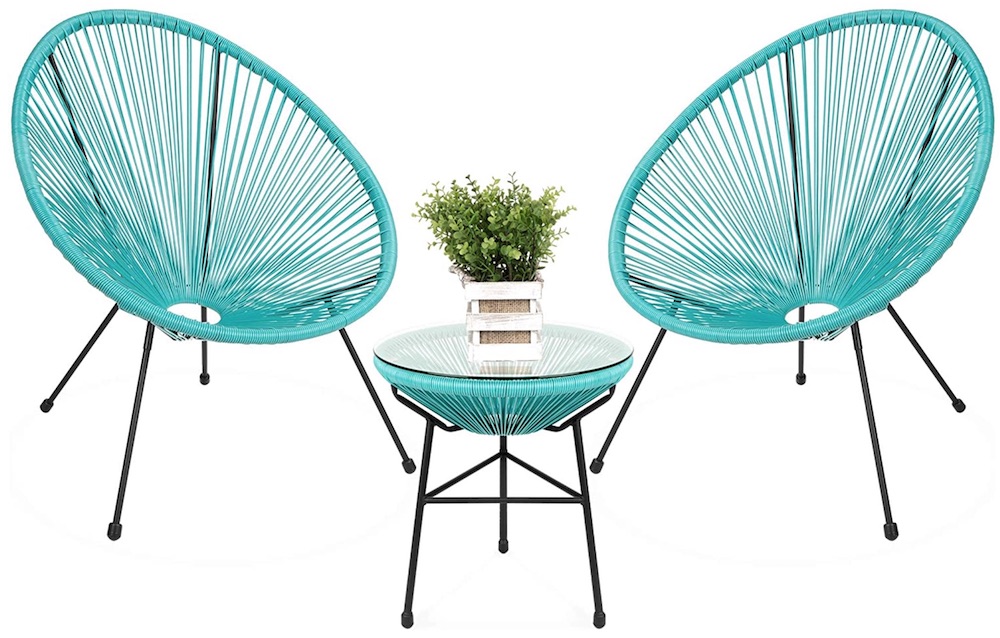 A Bistro set such as this one that is all-weather, lightweight, and easy to clean. The solution? Well, the Acapulco Bistro set of course! Even the name of this Bistro set sounds cool and tropical like the destination. The light blue set features two chairs with a round tempered glass table top. Lovely, isn't it? 
Until the Sun sets, you need a bit of shade to keep from burning. This is where a patio umbrella comes in handy. 
3. Patio Umbrella for a DIY Evening Patio Refresh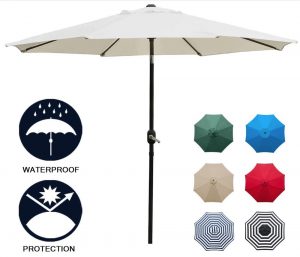 An umbrella for the patio that is waterproof, fade resistant, and 9 feet in diameter with an aluminum pole. Something that isn't too burdensome to move. But provides just enough shade to take a quick break from the Sun until it descends. This Sunny Glade Patio Umbrella has a single wind vent for stability.    
Keep your guests hydrated throughout the celebrations and into the evening with cool refreshments at hand.
4. Cooler Patio Bar for a DIY Evening Patio Refresh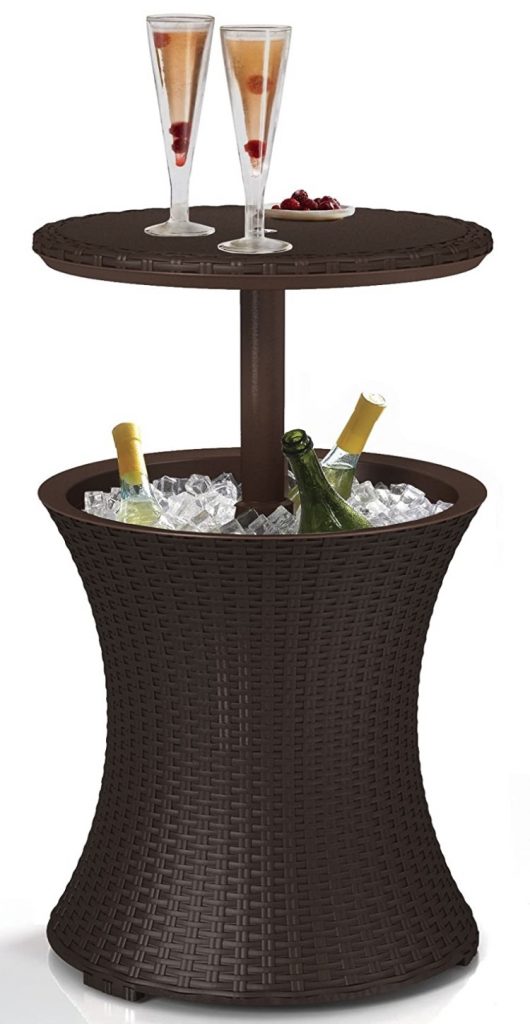 This handsome cooler keeps the evening guests hydrated with cool drinks in a handy lower cooler. Features a pop up top to use as a cocktail table so the celebrations can continue. With the Espresso Brown rattan-like material, the Pacific Cool Outdoor Bar holds up to 40 cans with ice. 
As the afternoon turns to early evening, you might be feeling a bit hungry. After a day of roasting under the hot Sun, cold cuts and veggies aren't enough. You need a warm meal. 
5. George Foreman Electric Grill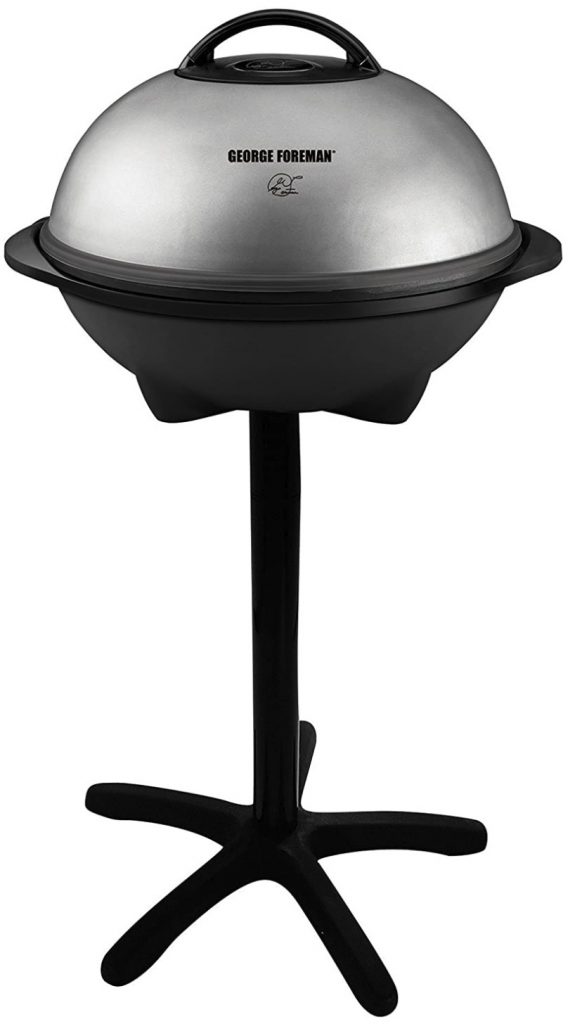 There is no better way to cook a hot meal than on a George Foreman Grill!! The perfect size portable grill with a nonstick coating for quick and easy grilling. It makes over 15 servings and has a removable stand. We love George Foreman Grills!
After cooking on the grill, you'll want to sit back and relax. Enjoy the hot meal you just made. But around dusk time, those pesky mosquitoes make you their appetizer. Hmmmm
6. Patio Shield Mosquito Repellent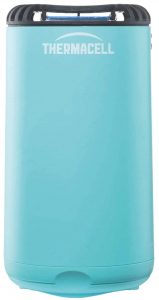 For a more comfortable evening, turn on the Patio Shield Mosquito Repellent to eliminate those pests. In a glacial blue color, the repellent covers a 15 foot area of protection. And lasts for 12 glorious hours! Portable mosquito protection for the porch, patio, lawn, pool or deck. Skip the citronella candles, DEET spray and chemical lotions. This mosquito repellent is so easy to use.    
Now that the mosquitoes are under control, it's time to settle into your seat with a hot meal in hand. But you realize that it is a bit quiet. How about a little music to make you even more relaxed? 
7. Boom 3 Bluetooth Speaker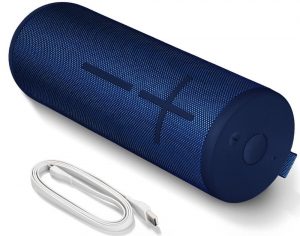 For some loud and immersive 360 degree sound, the Boom 3 Bluetooth Speaker is your best bet. With a powered rechargeable battery, the Boom 3 stays powered and pumps tunes for 15 straight hours. Be sure to invite the neighbors to your gathering before going a solid 15 hours! 🙂  In a stylish Lagoon Blue color, this wireless speaker floats and still rocks.    
As the evening rolls into darkness, you'll need some outdoor lighting. Just enough lighting to make your way to the cooler and back to your seat. 
8. Globe Solar String Lights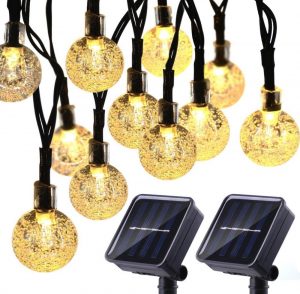 After the Sun has set, you'll need some soft lighting to continue with the festivities. Hang up a set of LED globe string lights across the patio. This solar powered set is 20 feet long with 30 LED bulb lights. Warm white bulbs with an on and off switch to conserve energy.  
If you are in a full shade area, maybe the solar lights aren't bright enough. In a shady backyard area, the solar panel may not receive enough power to charge the batteries. Then you'll need a set of low voltage LED string lights instead of the Globe Solar String Lights.    
9. LED Outdoor String Lights for a DIY Evening Patio Refresh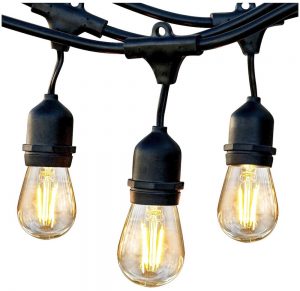 For shade filled outdoor living spaces, you need a set of low voltage LED Outdoor String lights. This Ambience Pro set is waterproof, commercial grade, with 2 watt Vintage Edison bulbs. The Vintage bulbs give a warm glow similar to Old World bistros.  
As the evening continues, temperatures begin to dip into the 50s. Keep your guests cozy with a Summer blanket throw to take the chill away. 
10. Outdoor Blanket Tartan Blue and White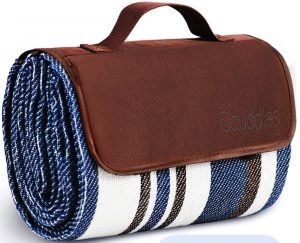 On chilly nights, keep your guests comfortable with outdoor blankets. Made from a waterproof PEVA backing to keep moisture from seeping in. These blue tartan striped design throws measure 60 by 80 inches. A perfect size to stay cozy underneath.  
And for those nights when temperatures continue to drop, you need more than an outdoor blanket. Crank up the fire pit to keep guests from heading indoors.  
11. DIY Evening Patio Refresh with a Propane Fire Pit Table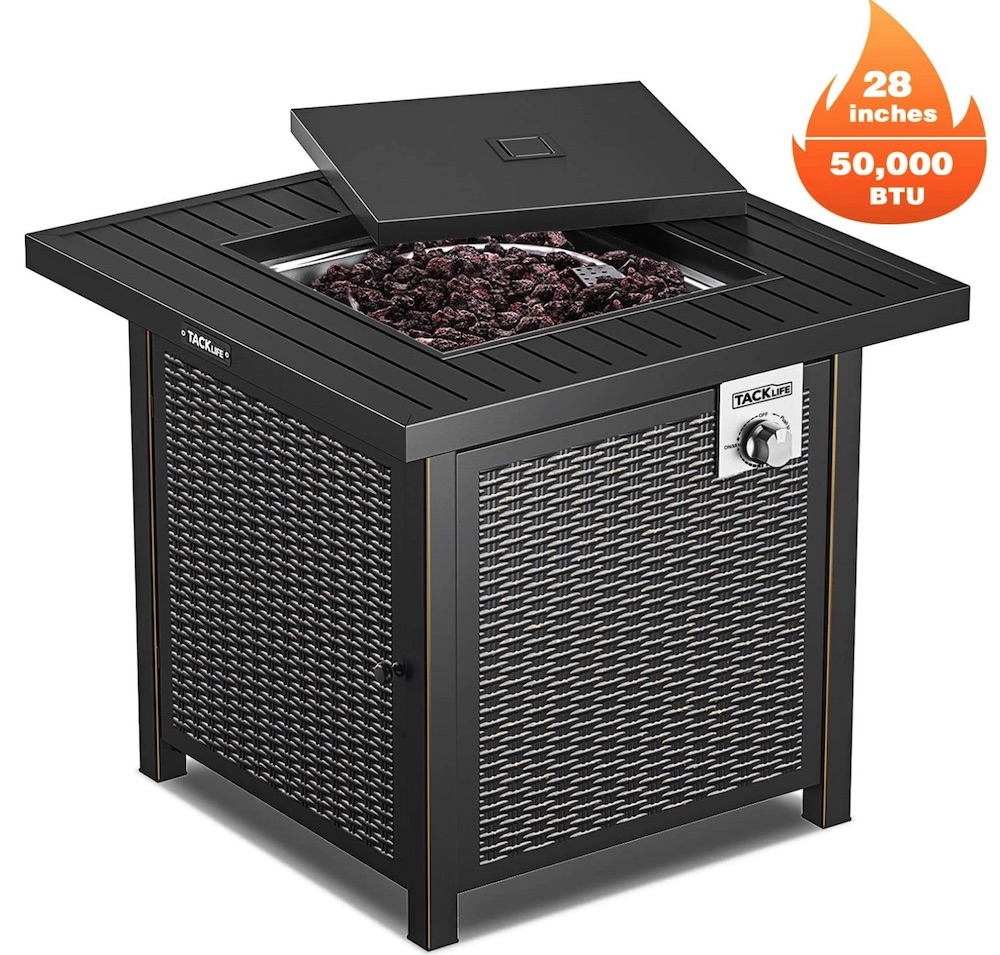 The Propane fueled outdoor fire pits convert to a table when not in use. At 25 inches high by 28 inches wide and across, the Outdoor Fire Pit's heat output is 50,000 BTUs. Stay even cozier with this bonfire table.   
As the night begins to wind down, you'll need a place to store your pillows, blankets and other supplies. A storage box is great to keep your patio supplies dry and contained.
12. Storage Bench Deck Box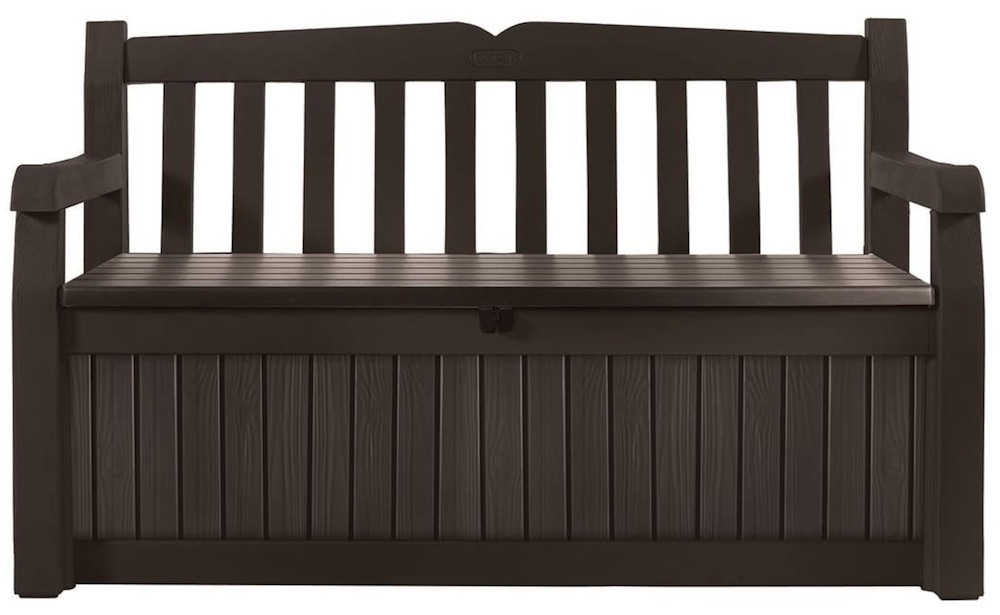 Once the party comes to an end, stow away your outdoor throws and other items into the deck box. The Storage Bench Deck Box doubles as a bench for extra seating. Handy storage and extra seating, can't beat that. We love dual purpose furniture pieces with storage options. Measures 54 inches long by 23 inches wide and 32 inches high. Weather-resistant with a wood-like texture finish to blend into the patio decor.  
Now that everything is tucked away for the next patio gathering, your table looks a little bare. As if it is missing something like a plant for instance.
13. Ceramic Flower Planter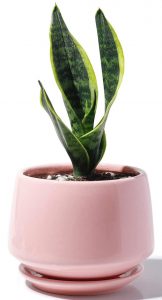 Keep your bistro table from looking bare by adding a colorful planter. Something like this Ceramic Flower Planter in pink? At a whopping 5.9 inches high, the planter in light pink crackle glaze adds a little greenery to the patio. In fact, the planter gives life to your outdoor living space. Don't you think?  
We really enjoyed putting this backyard patio together! We know our DIY Evening Patio Refresh for Outdoor Spaces has given you many ideas for your space. Simple changes that can be done less than a day. Create the perfect outdoor living space for family gatherings and celebrations. And by the way, which are your favorite patio pieces? The Boom 3 or maybe the Bistro Patio Set? Ours is definitely the Bistro Patio set. Let us know in the comments below which piece you liked the best.  
For additional inspiration for outdoor living, take a look at our other outdoor living space decor posts. 
Interested in Outdoor Living Spaces? If you found this helpful . . .
You will enjoy our other outdoor space related posts.   
DIY Patio Refresh – Upgrade Your Outdoor Space
Pool Accessories Outfitted for Summer Fun 
8 Garden Benches for a Restful Break
Gorgeous Garden Stools   
We hope this post gave you lots of ideas to refresh your patio space! If you have ideas for other must-haves, leave a comment below!
Thanks for reading.
Mary