Keep your home clean with these 42 microfiber cloth uses. And even better, save time and money while you make your home sparkle!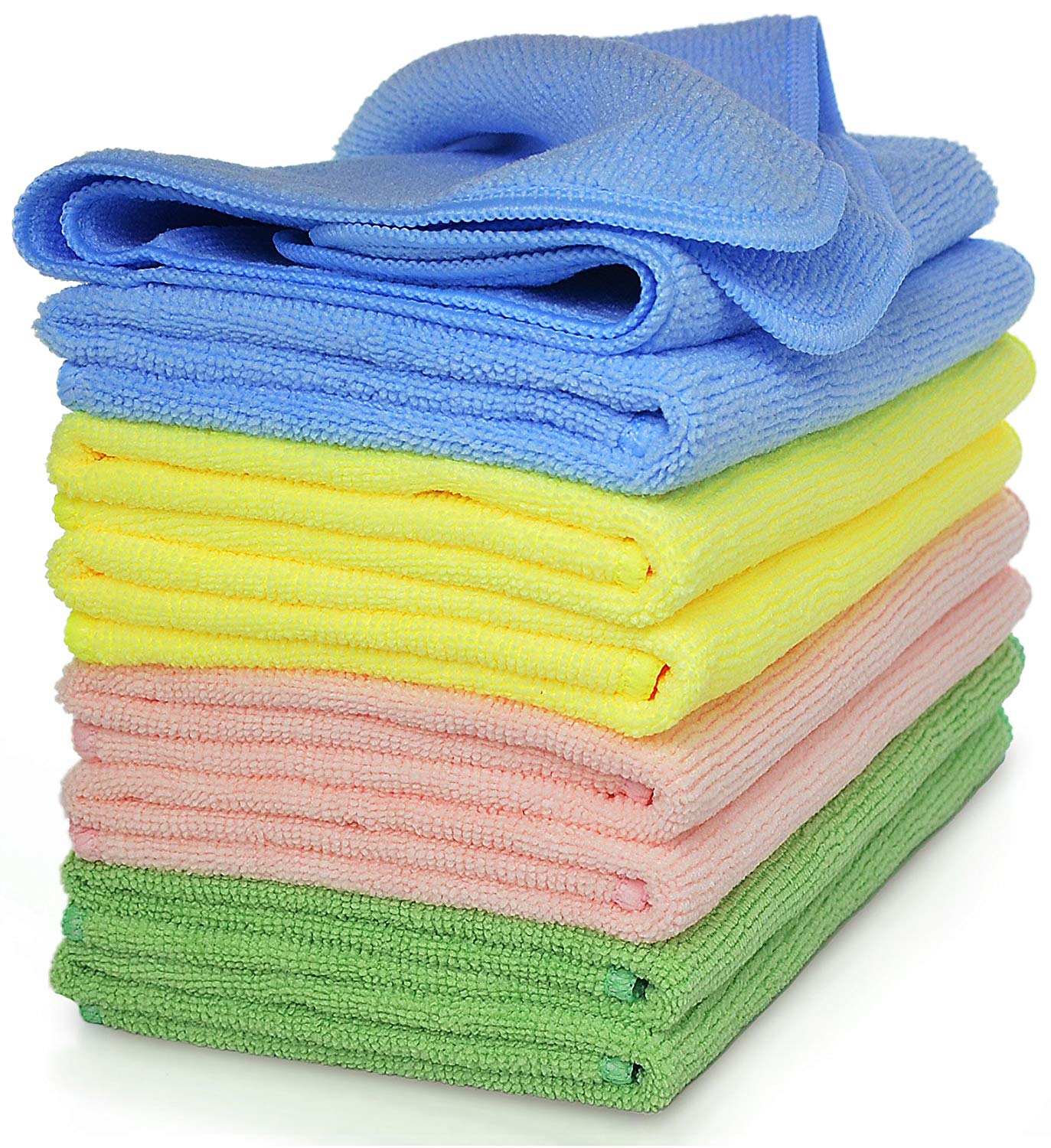 There are many microfiber cloth uses. Microfiber cloths are helpful with all of our cleaning routines. We spend a large amount of time cleaning our homes. From sweeping floors to mopping kitchen and bathroom floors. We like our homes clean. And when we clean we want the right products. Products that are affordable and get the job done. So, the incredible microfiber cloth just seems sensible to use.
No more paper towels, scrubbing pads, or sponges. Believe it or not but these items have limited use. They are not durable and many fall apart with minimal scrubbing. And the worst thing, is they need to be replaced frequently unlike microfiber cloths. Paper towels and scrubbing pads are single use cleaning supplies. They cost more. 
Microfiber Cloth Uses and Save Money
Save money by replacing your paper towels with reusable microfiber cloths. Reusable many times over. In fact, many microfiber cloths can be reused over a hundred of times. Save time with microfiber cloths because they don't need to be replaced frequently like paper towels do. And the absorbent microfiber cloth takes the place of several paper towels.
A microfiber cloth is a heavy duty. It is tough enough to shrub dishes, clean greasy pans, and bathroom fixtures. That same microfiber cloth is lightweight and absorbent. It can dust furniture, wall art, doors, and walls. Microfiber cloths are suitable for your home, car, garage, and any other cleaning job that comes along.
And it is a great buy. Budget friendly microfiber cloths are tough. There is no need to spend extra money on paper towels, scrubbing pads, or cleaning towels. Skip those products that fail to deliver or fall short of your cleaning expectations. Choose cleaning supplies that can do multiple jobs. And cleaning supplies that are hard working so you don't have to work hard. 
Take a look at our microfiber cloth uses. Let us know what you think.
Microfiber Cloth Uses with a Dry Microfiber Cloth
Dust furniture, bookshelves, and wall art.

Wipe clean doors, door moulding, window sills, window moulding, walls, baseboards, stairs, and stair rails.

Dust clean floors, ceilings, ceiling light fixtures, and ceiling fans.

Collect, wipe and dust pet dander, dog hair, cat hair and any other pet hair from the floor.

Wipe the dust from electronic screens. This includes your phone, pad, laptop, monitor, or TV screen.

Collect the dust from electronic screens. This includes the keyboards, desktop device, CD player, and DVD player.   

Soak up liquid spills with a dry microfiber cloth. Rather than using paper towels.

Polish your car, truck, or minivan with a dry microfiber cloth and car wax. 
Microfiber Cloth Uses with a Damp or Wet Microfiber Cloth
General Cleaning Uses
Using a wet microfiber cloth clean household mirrors. Such as bathroom sink mirrors, medicine cabinet mirror, closet mirrors, bedroom mirrors. Don't forget the entry and hallway mirrors. Begin with a wet microfiber cloth. Then use a dry microfiber cloth to dry excess moisture from the mirror surface.  

With a wet microfiber cloth clean glass surfaces. Clean glass shelves inside medicine cabinet. Clean glass shelves in refrigerator. Microwave glass rotating plate clean. Use a wet microfiber cloth at the beginning. Then with a dry microfiber cloth dry the excess moisture from the glass surface.  

Wash stainless steel surfaces. Wash fixtures such as kitchen faucets, bathroom faucets, shower heads, towel bars, and towel hooks. Begin with a wet cloth to wash fixtures. Then use a dry cloth to pick up excess moisture.  
Kitchen Cleaning Uses
Clean the microwave oven. Wash the interior and exterior of the oven. Especially where the control settings are located.

Clean the convection oven. Wash the surface exterior and interior of the convection oven. The control panel typically is more soiled than the sides of the oven.

Wash any kitchen counter appliances. Appliances such as a coffee maker, coffee bean grinder, blender, or food processor.

Scrub large kitchen appliances. Large appliances such as the cooktop, range, range vent, refrigerator, dishwasher and trash compactor. Microfiber cloth uses also includes the inside of these appliances.

Wipe dust and dirt off of kitchen sinks, counters, and backsplash. Continue with cleaning the kitchen island counter.   

Scrub if necessary all kitchen wall switch plates for light fixtures and garbage disposal.

With a damp to wet cloth, clean the kitchen cabinets. Continue with cleaning the kitchen island cabinets, front and sides. After cleaning with a wet cloth, use a dry cloth to absorb any extra moisture.

Wash all kitchen light fixtures including the range vent light. Light fixtures may have grease due to cooking. A liquid dishwashing cleaner such as Dawn can help remove the grease.

After dusting the kitchen floor, mop the floors using a wet microfiber cloth. Afterwards, use a dry cloth to pick up any remaining water on the floor.  
Laundry Room Cleaning Uses
Wipe down the laundry room appliances. Clean the washer and dryer exterior and the control panels. Using a damp microfiber cloth clean the inside door frame of the washer and dryer. Soap scum and lint tends to collect there.  

Clean the cabinets and shelves in the laundry area.

Wipe down the walls and laundry room floors.

Dust the laundry room light fixture.

Clean the dryer vents as much as possible to avoid any problems in the future.  
Bathroom Cleaning Uses
Scrub the bathroom sinks and countertops.

Wipe the Medicine Cabinet inside and outside.

Scrub the bathtub or shower and the shower door. Clean the faucets, tiled walls or tiled floors.

Dust the bathroom light fixtures and the bathroom vent.

Wipe clean bathroom cabinets or linen closet with a wet microfiber cloth. Then using a dry microfiber cloth pick up the excess moisture.   

Scrub the bathroom wall switch plates.

Wipe down the bathroom walls, door, and doorways.

Mop the bathroom floors.   
Vents and Duct Work Cleaning Uses
Dust the vents in all the rooms to allow air to circulate. Clean all the floor air conditioning and heat register or vents. Then dust and clean the wall returns of the duct work. And the vents in the hallways, dining rooms, stairways, and basements.  
Light Fixtures Cleaning Uses
Clean light fixtures in the entryway, hallway, stairways, and basements.  
Car, Truck, and Minivan Cleaning Uses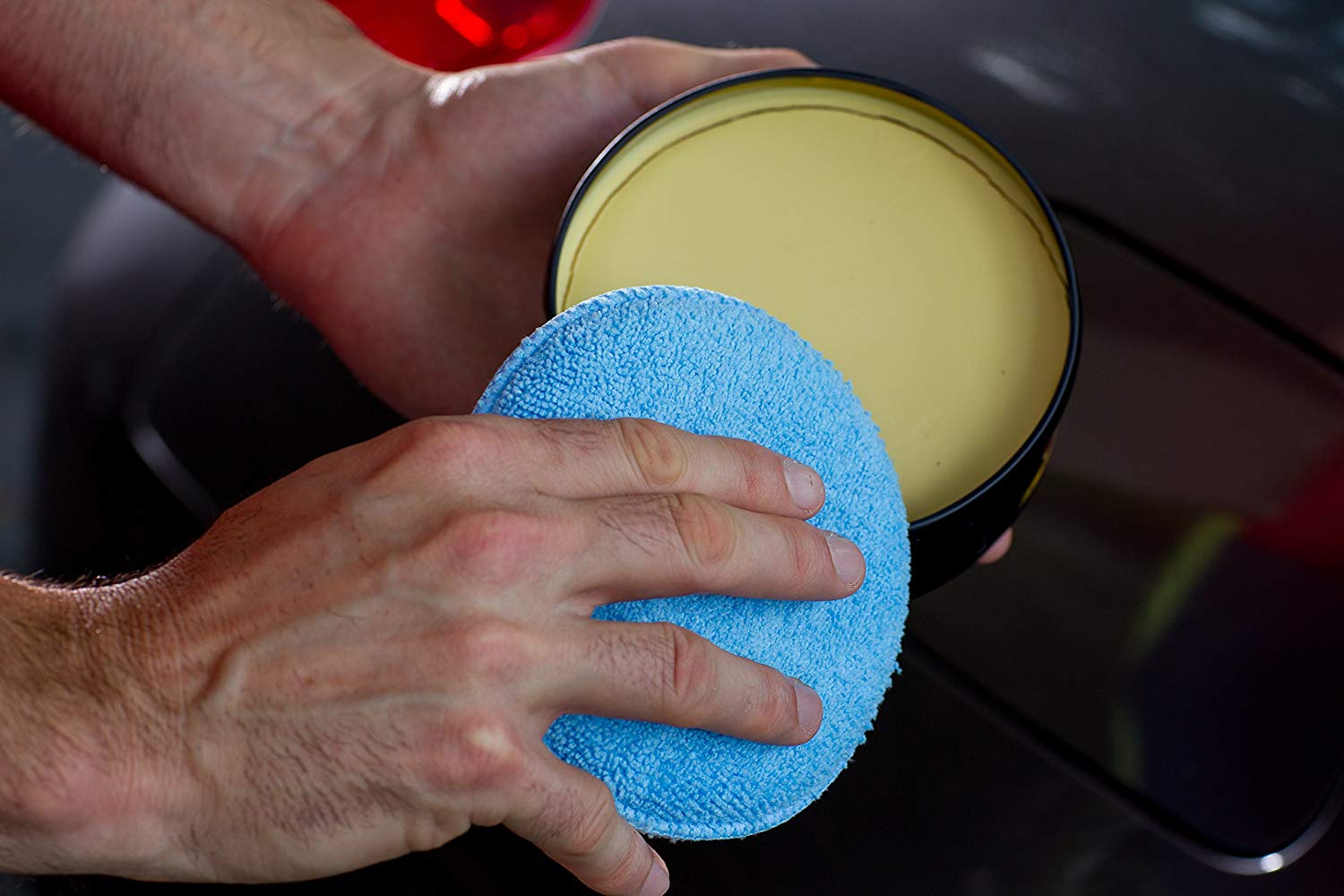 In your car, minivan, and truck clean the interior areas. Dust the dashboard, steering wheel, car seats, inside car doors, and floors.

For the exterior of your car, minivan, or truck clean the outer area. With a wet microfiber cloth, wash the exterior body including the tires.  
Exterior Home, Garden and Garage Cleaning Uses
Clean your exterior front, back, and side doors using a wet microfiber cloth.

With a wet cloth, clean your garage doors and windows.

Clean your lawn mower or snow blower. Remove the grass or ice melt build up on these machines.

Scrub garden hand tools as well as garden racks, shovels, and hoes.  
Makeup Removal and Cleaning Uses
Using a damp or wet cloth, remove makeup to clean your face.
As you can see, the many ways to use microfiber cloths are endless. Another great thing, is that Microfiber cloths are available in several colors. So, each color can be assigned to a specific task or room.  For example, green microfiber cloths can be allocated for kitchen cleaning. A pink cloth can be assigned for bedroom cleaning. And so on. 
Manufacturers have developed various microfiber products to help with specific cleaning needs. There are microfiber wash mitts available for car washing. And for waxing your car, there are microfiber waxing pads. 
Microfiber cloths, mitts, waxing pads are lint-free and streak-free. They also can polish metal quickly if needed. These workhorses can be used in place of other cleaning towels. They work by lifting dirt and dust from the surface. Dirt and dust clings to the microfiber material. Microfiber products will save you money. They are long-lasting and reusable over one hundred times. An environmental friendly product that readily cleans with water. But the best feature is that it removes 99% of bacteria. 
Cleaning Microfiber Cloths
After using the microfiber cloth shake out any loose particles or dirt from the cloth. Then rinse clean with warm or hot water. Next, line dry and store away for the next use. If you use your cloths daily then wash them once a week according to the manufacturer's instructions. Remember to skip the bleach and softener. Bleach damages the  fibers. Softeners will clog the fiber loops. If you machine wash the microfiber cloths, then wash them separately to avoid any lint being collected from other laundry on the cloth. 
When you discover that the cloths have become ineffective or have any unpleasant odors, boil the cloths in water with ¼ cup of baking soda. Boil between 10 to 15 minutes. Then line dry. This should eliminate any odors the cloths had.  
Variety of Microfiber Products
There are a wide range of microfiber products available today. Some cloths are more durable than others. Some bargain-priced cloths may only last up to 50 washes. Better better quality cloths can last up to 300 washes in the machine.
Upfront costs of microfiber products may be more than a 6 pack of paper towels but microfiber products save in the long run. They are effective and durable cleaners.  Save time by reusing microfiber cloths. Paper towels will need to be bought several times before microfiber cloths wear out. Microfiber cloths are in it for the long haul!
Microfiber products are great multiple use products for the budget conscious family. They work hard at keeping your home clean. These ideas can help you address any dirt issues quickly.  Try them out and let us know what you think!
Additional Cleaning Related Posts You May Enjoy   
36 Vinegar Cleaning Tips for Kitchen and Bathroom
DIY Shoe Cleaning Tips 
Homemade Cleaners for the Frugal Home
Home Cleaning Uses for Vinegar
These are 42 Brilliant Cleaning Microfiber Cloth Uses to help with your cleaning needs. They are tough, durable, and help keep your home sparkling. If you try these 42 Brilliant Cleaning Microfiber Cloth Uses be sure to let us know how you make out. And if you have any questions, feel free to reach out to us in the comments below.  We always are ready to help you out. Thank you for dropping by.   
Mary