What are the most common DIY 20 home tool box essentials you might need around the house for repairs? We'll cover our twenty picks for must-have essential tools for your home tool box.
You can spend a lifetime collecting specialty tools. But most DIY home repair jobs only require basic tools and supplies. You can always add more tools if your repairs or DIY skills become more advanced. Or if you find that you need specific tools for a particular job.
Don't waste your money buying that '1800-piece Homeowner Tool Kit for $99.99'. There are tools included that you may never use. They'll throw in a box of nails or screws to count toward the 1800 pieces. The few tools like the hammer and screwdriver are cheaply made the metal will twist and break on your first stubborn nail. Save your money. And piece together your own home toolbox essential kit. Buy a couple of quality-made, universally-handy tools. And you'll save yourself the headache (and money) in the long run.
We've rounded up a selection of 20 home tool box essentials for the first time homeowner. We think they'll come in handy for minor repairs. Take a look at these 20 home tool box essentials. Be sure to let us know what you think.
1. 3M Flat Temple Safety Glasses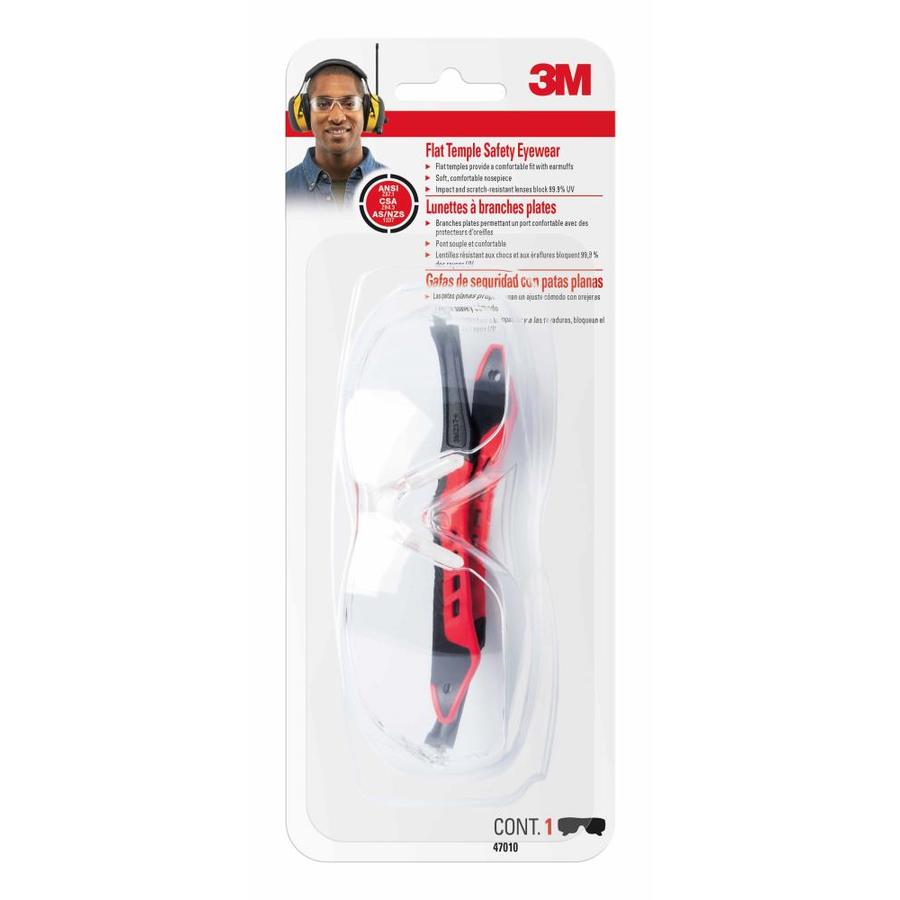 3M Safety Glasses – Safety first! Always keep a quality pair of safety glasses on hand. Look for ANSI/OSHA rated lenses. They are up to standards for impact resistance. No need to spend more than $10 on a pair. But if you find a multi-pack, keep several as you'll probably misplace them or scratch them up over time like we do!
2. Stanley 25FT Dual-Lock Tape Measure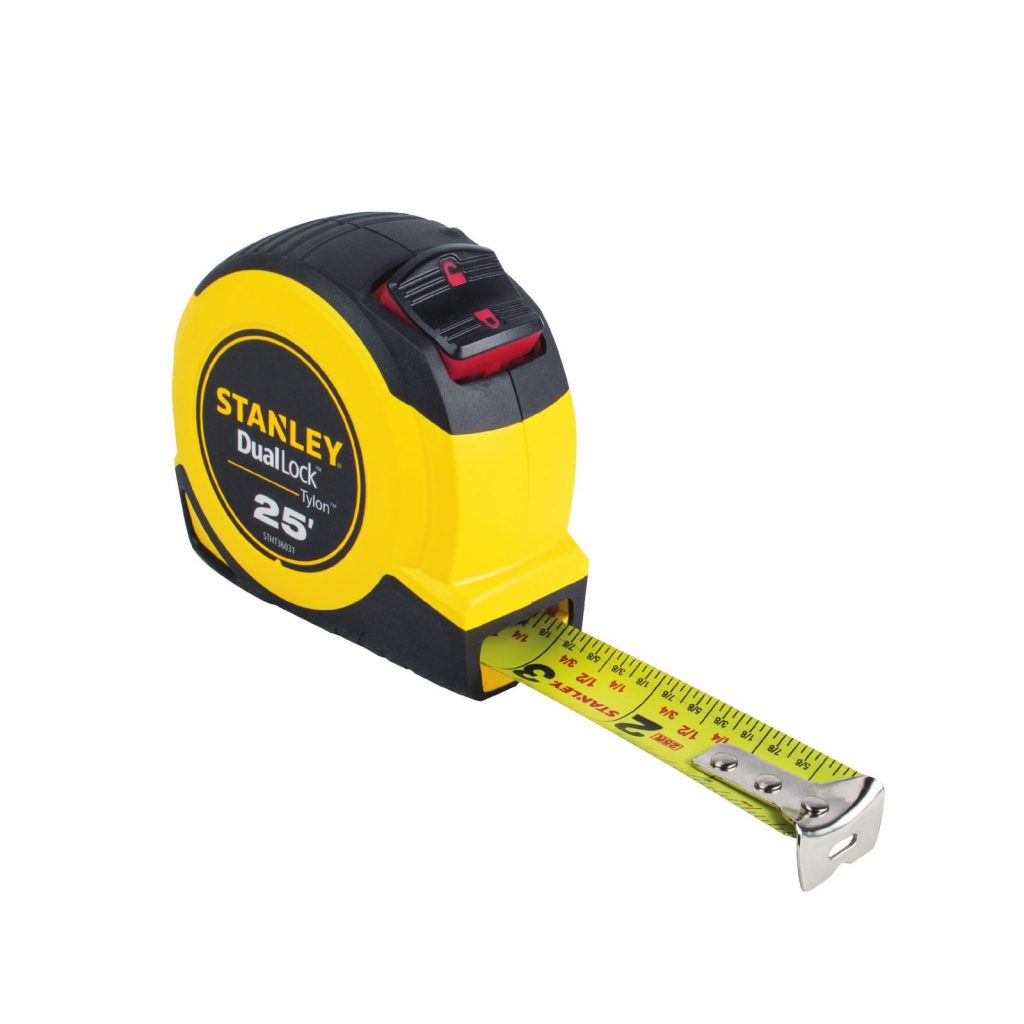 Stanley Tape Measure – A solid, accurate tape measure is a must-have for your toolbox. Whether you need to measure a wall or see if that oversized desk fits through the doorway. And for marking up wood for cutting. Keep one handy and in good repair. Stanley is a house-hold name and has been making hand tools for decades. This dual-lock model will get the job done. A tip: as your tape measure ages, be careful of the tongue 'pull.' The rivet(s) that hold the pull can loosen over time. If the pull is loose, your measurements can be off or inconsistent.
3. Tacklife Advanced Digital Laser Measure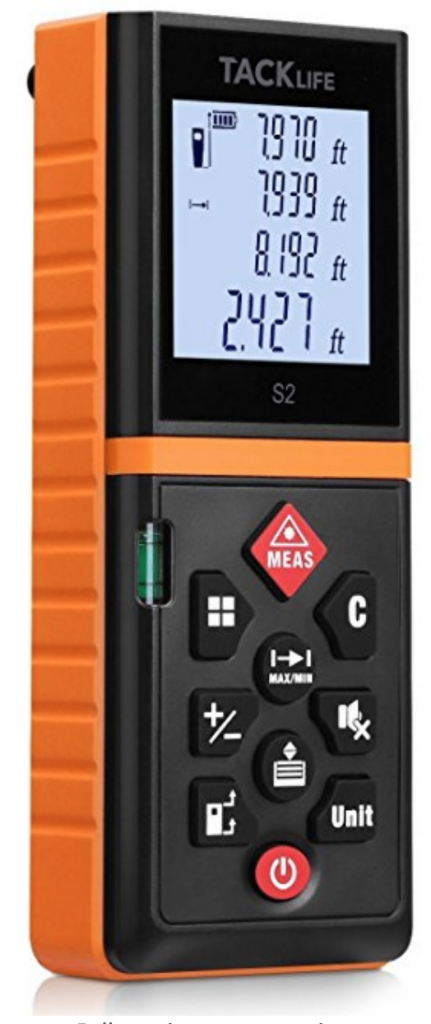 Tacklife Laser Digital Measure – OK, so maybe this not quite an 'essential' but we love ours and had to include it in the list. While the traditional tape measure is great for most 'around-the-house' measuring jobs, you may want to check the living room length or how long a hallway runner is. Over the last decade or so, digital measures using lasers have come down in price to the point where we recommend throwing one in your tool box. They're reliable, accurate down to 1/16th of an inch (which is the equivalent markings on your tape measure) and admittedly fun to use. Just point, shoot and read the digital display.
Why would you need one? How about calculating how much wall area you have when buying paint or wall paper. Or measuring the overall room size for an area rug (without having to pull the tape measure across the dining table). Or checking how tall your ceiling *really* is so you don't buy too tall of a Christmas tree (because that never happened!)
4. Gardner Bender Reversible Tip Screwdriver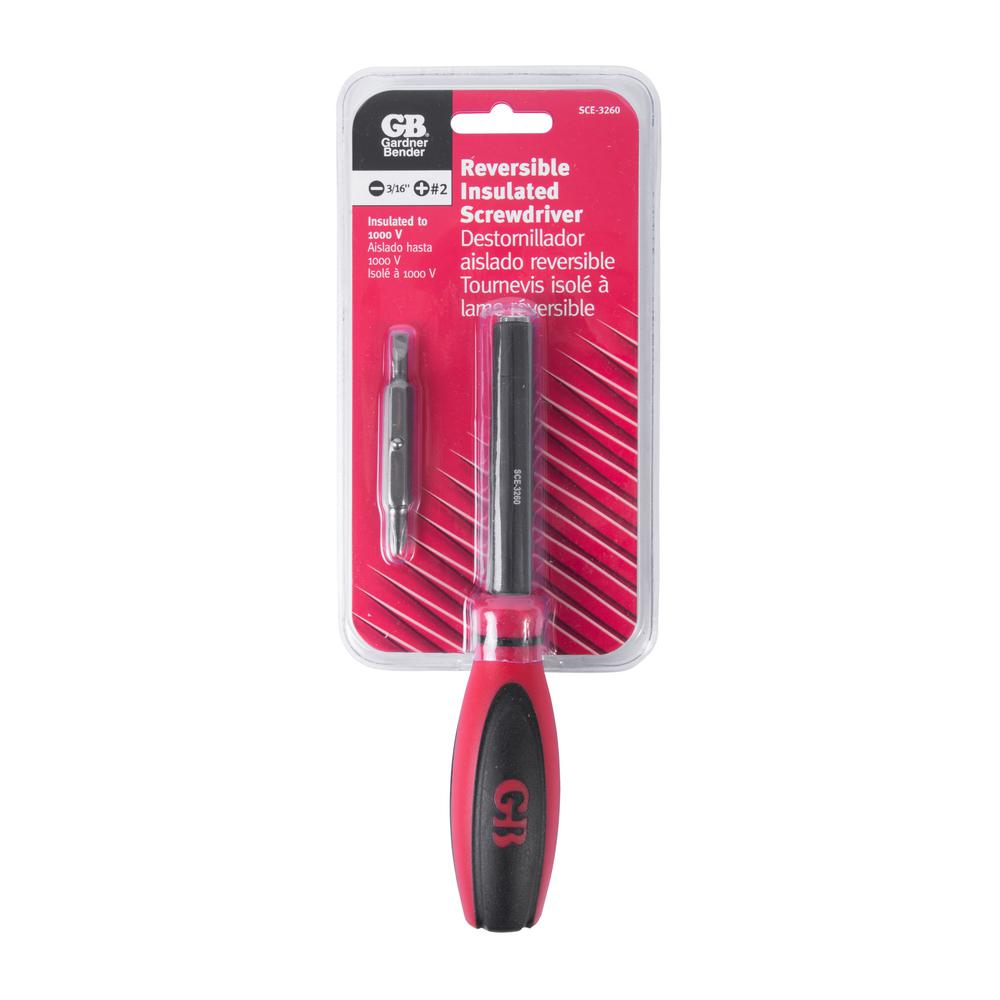 Insulated Screwdriver with Reversible Tip – There probably isn't a more used tool around the house than the common screwdriver. But do you really need that 37-pack of screwdrivers in every length, tip shape and diameter? Depends on how much handy work you do. We have accumulated more sets of screwdrivers than we can remember and you know what? 9 times of out of 10 we reach for a screwdriver like this one with a reversible (Philips / slotted) bit. No running back to the tool box when you realize it's not a Philips (or whatever wrong screwdriver you grabbed). And the dozens of mini bits falling across the floor. Simply flip the bit in the holder and get the job done. Quick and easy!
5. Oria Magnetic Precision Screwdriver set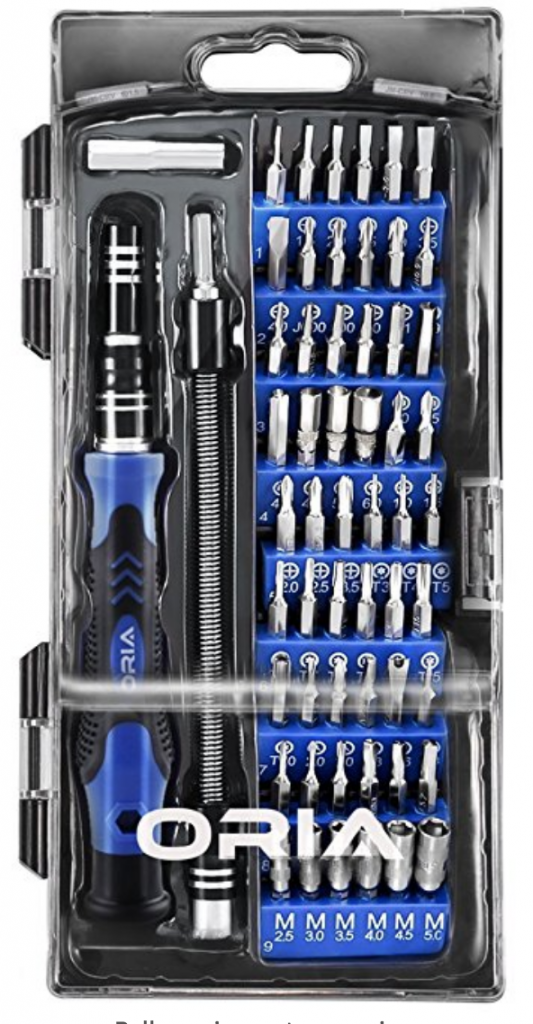 Precision Screwdriver Set – OK, technically this is a screwdriver set, but given the precision micro bits, it does serve a completely different purpose than its bigger cousin above. Having one of these sets in your tool box will save you frustration when you run across a battery compartment held in by a micro-screw. Or simply tightening up your eyeglass hinge screw. This set is magnetic (making it easier to handle screws you can barely see). It also has a huge variety of the most common screw types you'll likely need. This includes the annoying six-point security star screws. And even features some smaller metric sockets.
6. Milwaukee M12 12-Volt Lithium-Ion Cordless 3/8 Drill/Driver Kit
Milwaukee M12 Cordless Drill – So here's the biggest cousin to the screwdriver. Whether you're installing some basic shelving or mounting a heavy mirror that needs some molly screws to secure it to the wall, you'll want some power-assist. Rechargeable battery technology has come a long ways and now lithium-ion battery packs are prevalent and the power of these cordless drills are no longer toy like. Milwaukee has been making cordless tools for decades and while the 18v and larger models have serious pro-worksite power, they're heavy, clumsy and overkill for the DIY'er. This 12 volt drill hails from Milwaukee's M12 series (all M12 tools can leverage the same battery pack and charger). We love the range and whether its drilling or the compact circular saw, the tools have ample power for most jobs around the house.
7. Dewalt 28-piece Rapid Load Black Oxide Drill Bit Set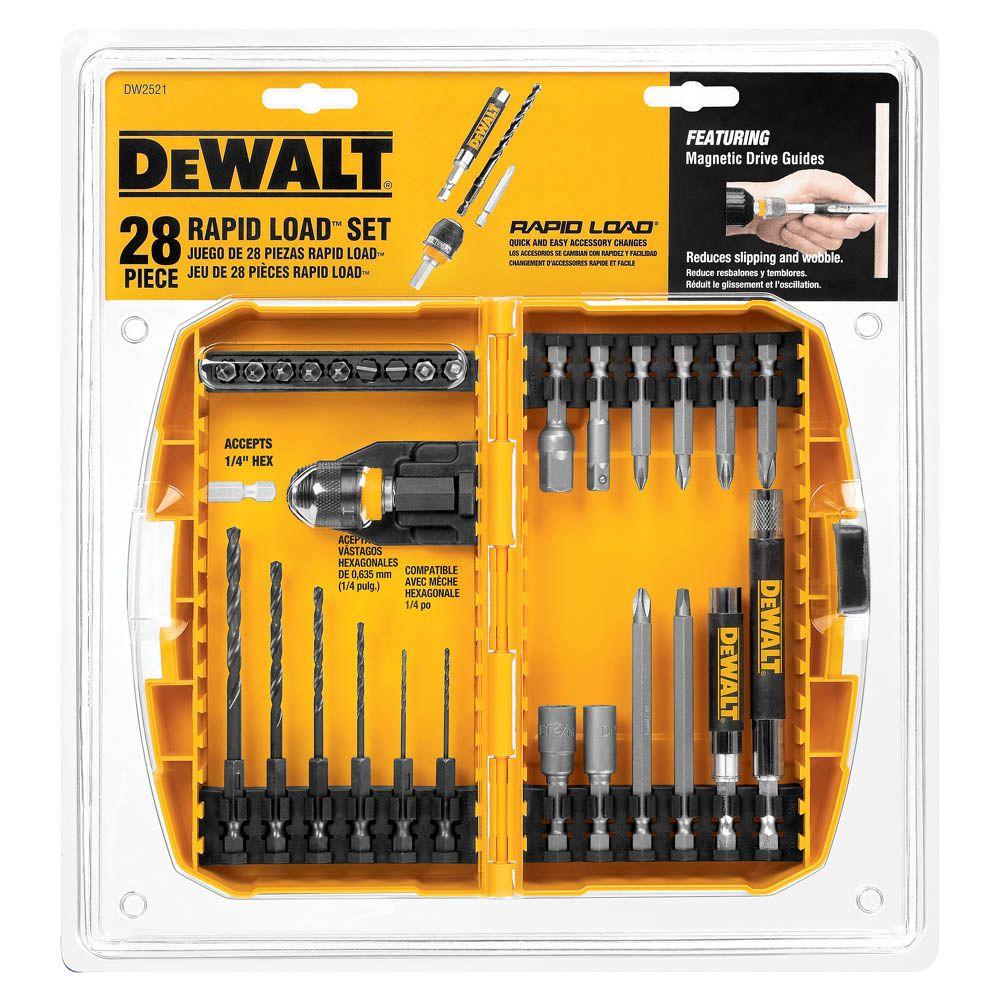 Drill Bit Set – Dewalt is another household name in tools and one we have had great luck with. We've used Dewalt drill bits and they're economical and very durable. These will fit the 3/8″ drill chuck of the Milwaukee M12 drill just fine. It gives you a great selection of drill bits and driver bits for many of your projects. The magnetic 'rapid load' bit extension holder really speeds up jobs where you need to drill first then switch to a driver bit to screw something in. And the extension gives you a few extra inches of reach into narrower spaces.
8. Estwing 16 ounce curved claw rip hammer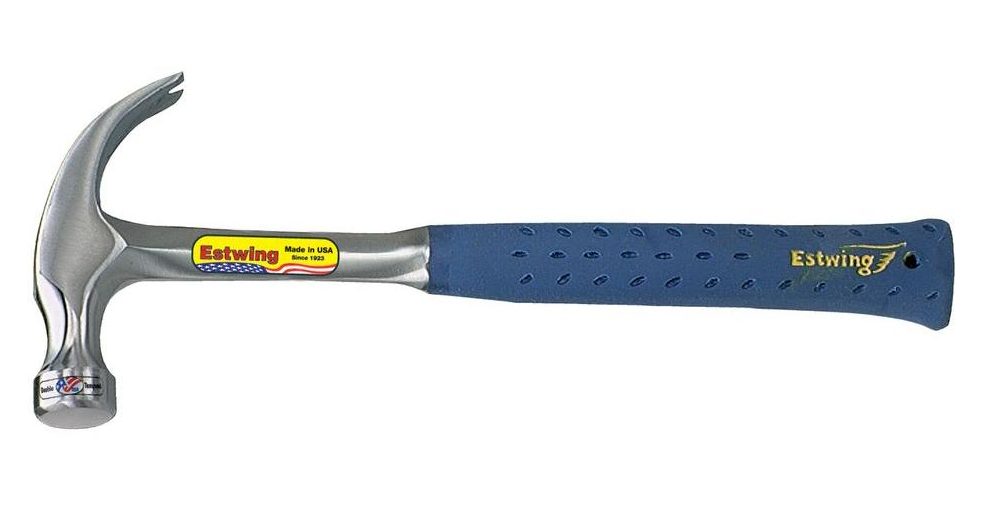 Estwing Curved Claw Rip Hammer – A good hammer is a staple item in any DIY home toolbox. There are a lot of shapes and sizes of hammers, and some with specialty functions. Estwing is a brand many professional carpenters trust and they're made in the USA. The handle and weighting of an Estwing just feels right in the hand. This particular model is one we have in two different sizes, but the 16 ounce weight is a good all-around tool. And the curved claw makes quick work of nail removal.
9. Estwing 18 ounce no-mark deadhead mallet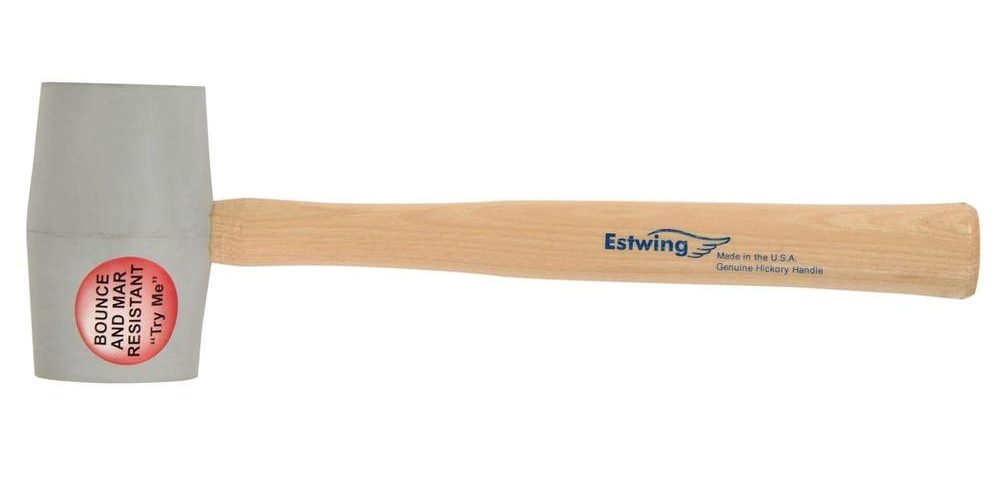 Estwing Deadhead Mallet – The hammer is great when you're pounding everything from brads to nails or even demolishing wood or sheetrock. And it's great for 'convincing' studs or wood to move in a certain direction. But if you're looking to gently tap something in place or nudge something without damaging the surface, a good rubber mallet is essential. From tightening the gaps on an IKEA built-it-yourself project to inserting dowels or shelves, the mallet is a gentle enforcer. And while black mallets or more commonly found, we love this no-mark mallet with grey rubber head that minimize the occasional mallet marks from black rubber. Look for a deadhead or dead-blow mallet which typically means the mallet is designed with a weighted head to minimize bounce or vibration. This ensures more of the swing is applied to the surface.
10. Stanley 12 inch Wonder Bar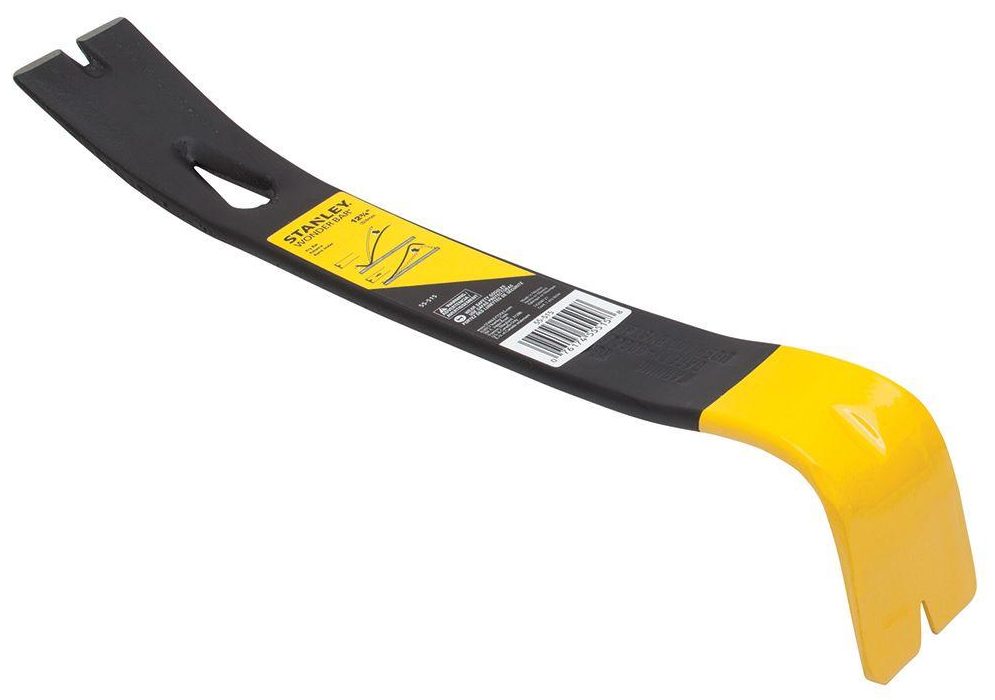 Stanley Wonder Bar – The Wonder Bar from Stanley is a bit of a multi-purpose tool. A great 'wrecking bar' to aid in removing moulding, paneling or any two pieces of wood attached together. The slim flat design makes it useful for general prying and nail removal as well. It's compact and strong. If you tend to tackle older home renovations or fixer-upper projects, it will serve you well in your toolbox.
11. Husky Plier & Wrench Set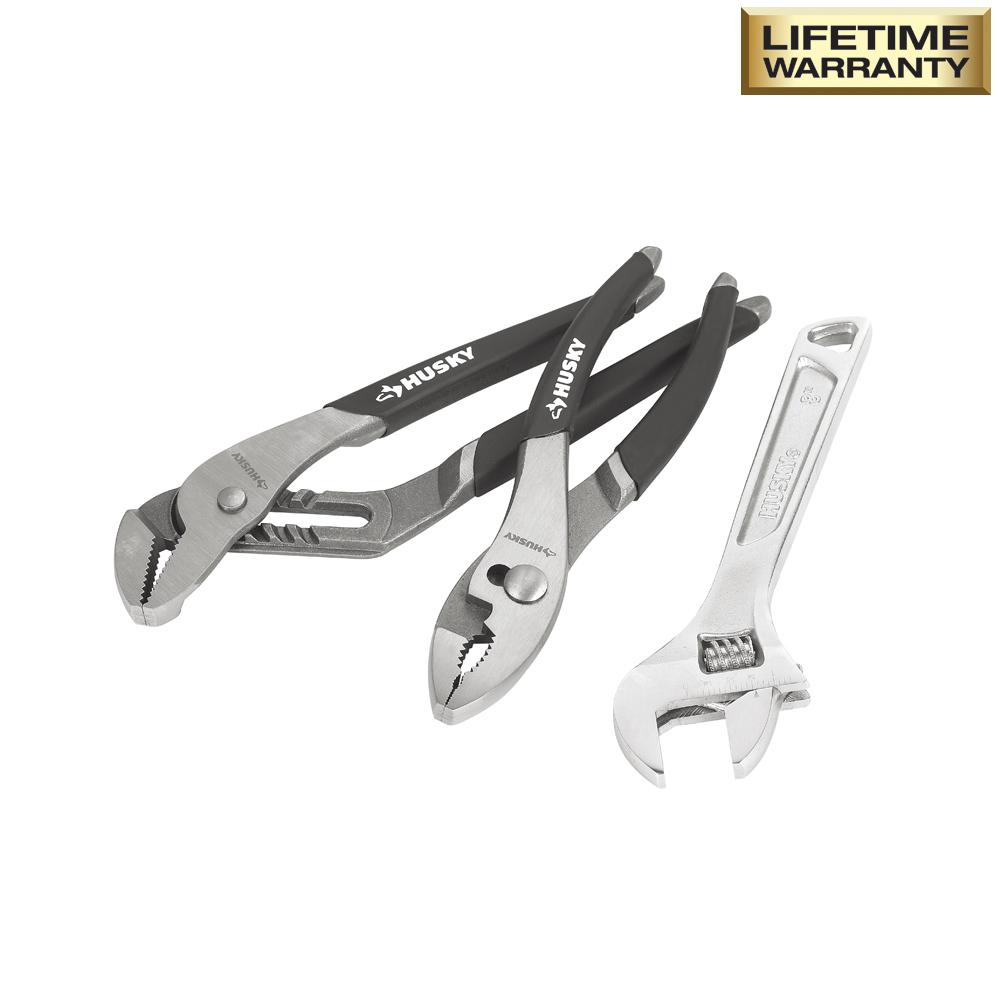 Husky Plier and Wrench Set – The right set of pliers can make many jobs much easier. From gripping to turning, pliers can act as second hands and apply the necessary force you need. This set from Home Depot's house brand, Husky, is a great starter set. It comes with 3 of the most useful plier shapes. A groove joint (or lockjaw) pliers for when you need to grasp larger, broader objects or turn smaller plumbing valves. A slip joint pliers with two settings for most applications. (this will be your go to set). And 8 inch double speed adjustable wrench with extra wide jaw capacity.
We'd love to recommend Craftsman hand tools but they have been going downhill in quality over the last few years. Now the brand has recently been sold off to Stanley. Hopefully Stanley can restore the quality and warranty Craftsman has enjoyed for decades.
12. Crescent 6 inch and 10 inch adjustable wrench set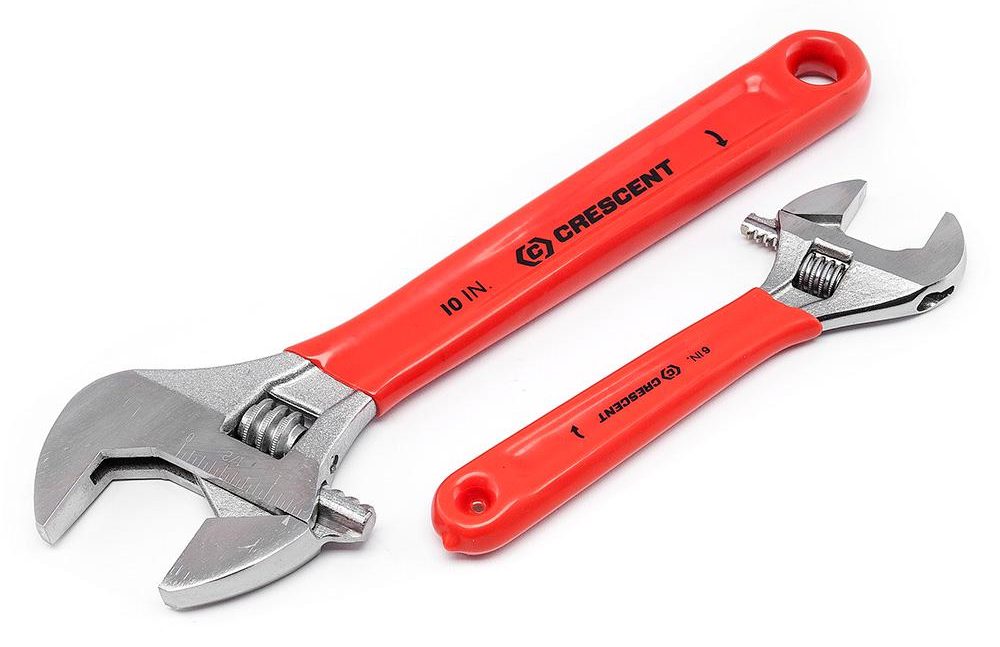 Crescent Adjustable Wrench Set – The adjustable wrench is a great stand-in to manage bolts, nuts and basic plumbing fixtures under lighter tension. Beware cheap adjustable wrenches as they will, under force, loosen their grip and risk slipping off the nut or fixture. This could potentially round off edges and damage the hardware. Crescent is a well-respected brand and these wrenches feature comfortable vinyl-dipped handles to give you a better grip. Adjustable wrenches are great stand-ins when you don't have access to a broader set of fixed size wrenches.
13. Klein Kurve Wire stripper and cutter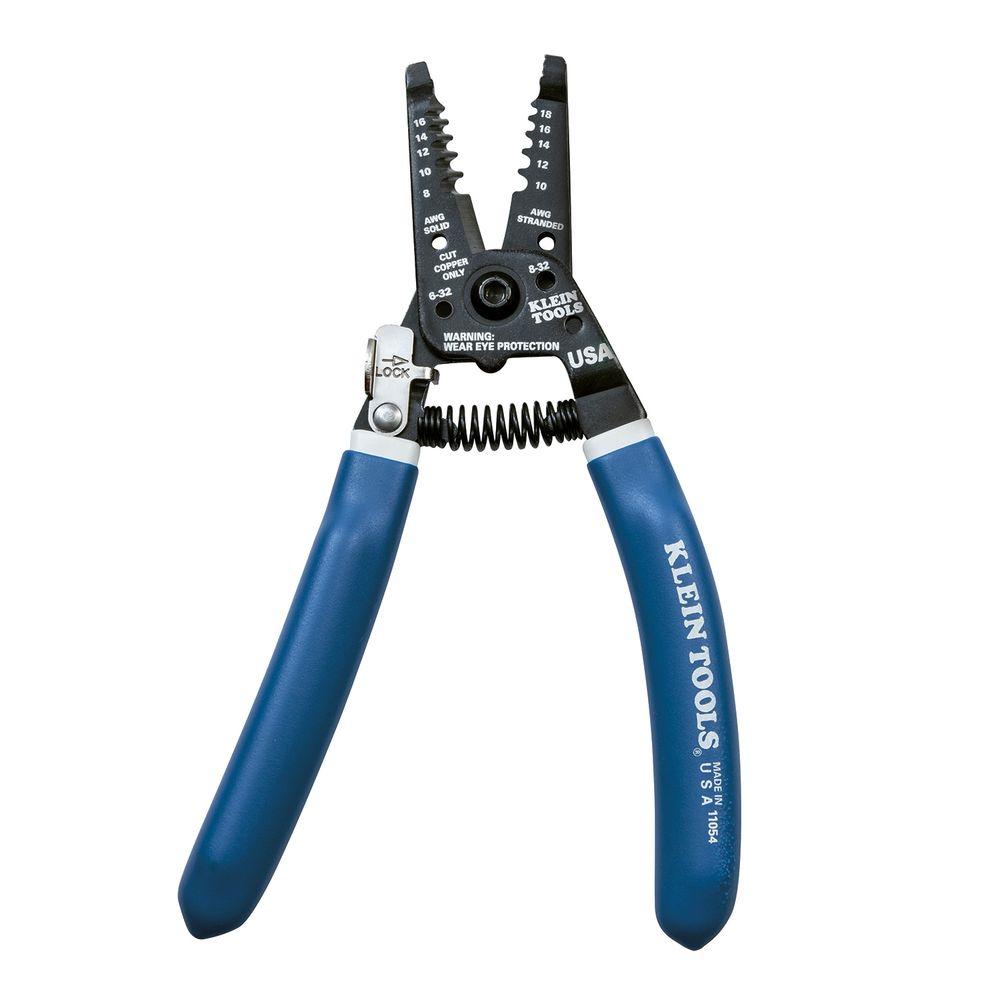 Klein Wire Cutter and Stripper – Even basic electrical jobs can be intimidating to most DIYers and for good reason. Electricity is not to be taken lightly. But if you're comfortable with the basics of electrical wiring and are confident in your ability to tackle even basic re-wiring projects like changing a hard-wired lamp or chandelier, a good wire stripper/cutter is essential. Klein is known for pro-electrician tools and this wire stripper and cutter should cover most average wire weights and projects. If you're good with a pair of sharp scissors or a utility knife you may be able to strip and cut wires with those instead. But this tool will make the task that much easier. And leave you with a more professional finish.
14. 3M Electrical Tape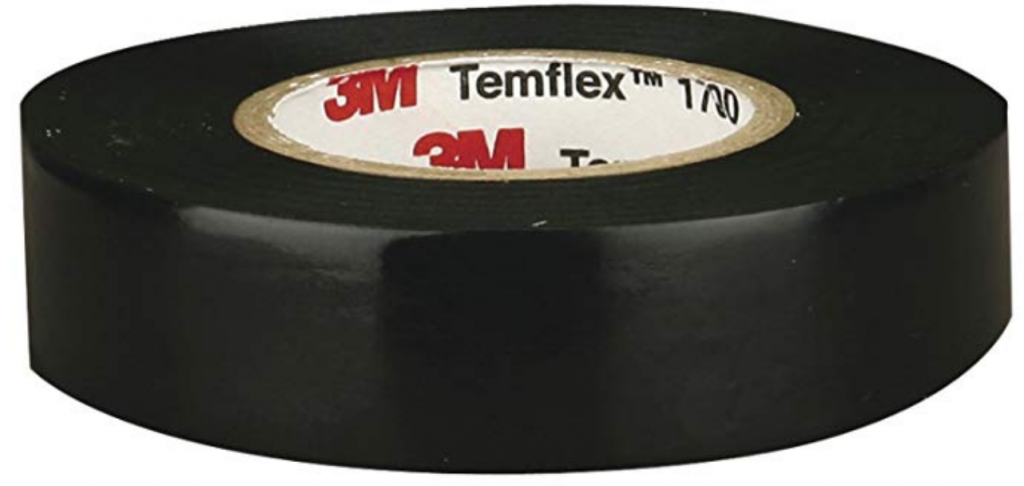 3M Electrical Tape – If you are throwing a wire stripper and cutter into your tool kit, then basic black electrical tape is a necessity. It's also great for simple marking of wires and other basic needs around the house. 3M is a household name. We trust 3M tapes more than some of the off-brands that we found can lose their tackiness or flexibility in colder weather.
15. Scotch blue Painter's Tape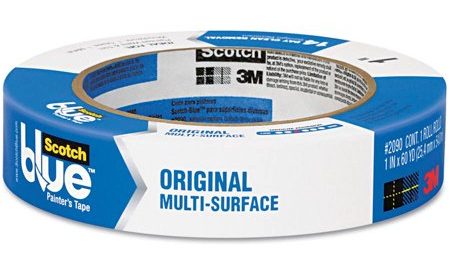 Scotch blue Painter's Tape – Most DIYers end up tackling some painting project around the home. Masking is arguably the most important step in any painting project. Protect surrounding surfaces and trim with painter's tape. There are other cheaper brands but again, we find 3M's Scotch blue brand to be the best in temporary adhesion. And prevents paint from seeping under the tape. Painter's tape is also great for marking or any temporary taping need where you're concerned the tape may lift or otherwise damage the surface.
16. 3M Multi-Use Duct Tape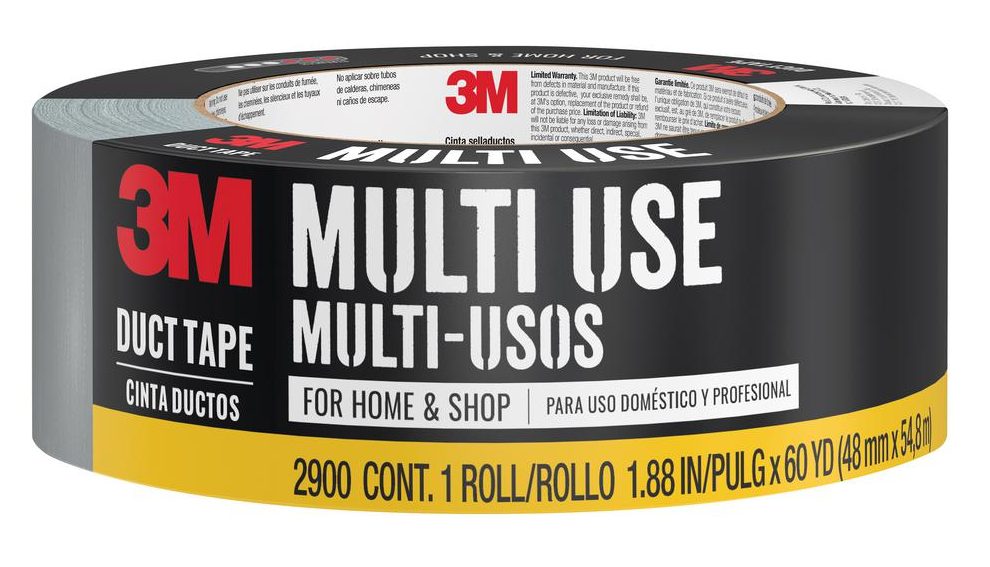 3M Multi-Use Duct Tape – This should not be a shocker that we think you MUST have a roll of duct tape in your home tool kit. No, you shouldn't use it to hold up your car's bumper or attempt to seal a leak in your siding or roof, no matter what you saw on the internet. But duct tape still remains one of the highest tensile-strength adhesive tapes commonly available. This makes it invaluable around the house for temporarily attaching or holding something together. And while with all the reinforced fiber in the tape you'd think you absolutely must use scissors to cut it, with the right technique it WILL tear fairly cleanly.
17. Gorilla Super Glue multi-purpose adhesive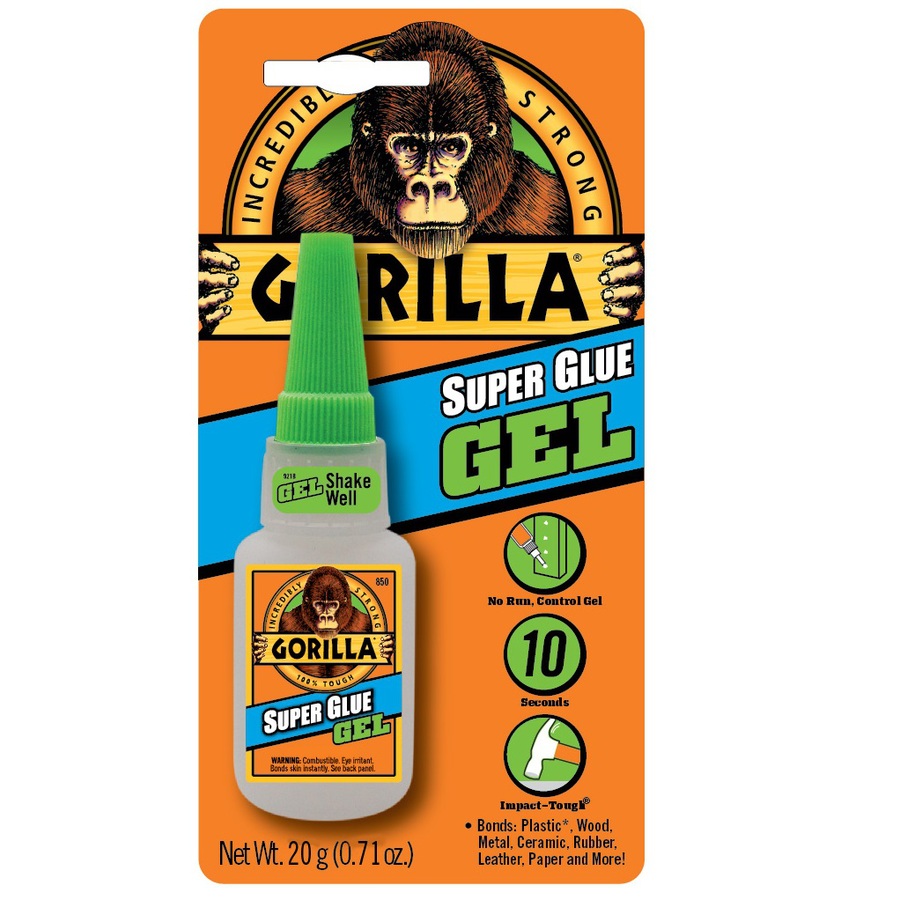 Gorilla Super Glue Gel – Go the glue and adhesive aisle at your local hardware store and you'll be amazed at the variety and selection of glues. While it's important to use the right glue for your specific job, if there is one glue that'll tackle most indoor (and some outdoor) gluing projects, it's a super glue gel. The gel formula keeps it from running. And fills small gaps a little better than your traditional liquid glue. Keep one of these in your toolbox for the occasional repair.
18. Assorted Grit Sandpaper Set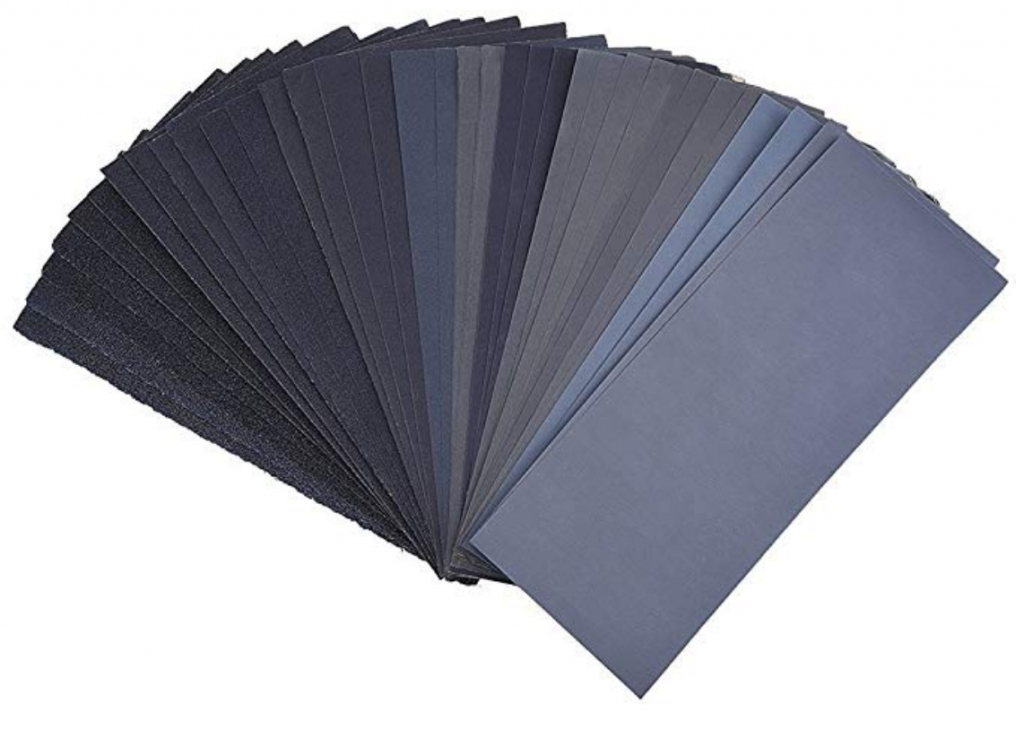 Assorted Grit Sandpaper Set – Sandpaper is necessary for refinishing wood projects but can have many other uses around the house. Taking off a slight burr on your kid's new plastic toy or loosening up a tight-fitting IKEA wood joint is easy with the right grit sandpaper. This set features 36 small (3.6″x9″) sheets in grit (roughness) ranging from 120 all the way to a superfine 3000 grit. Odds are you'll be using grits most commonly in the 120-400 range. But if you ever need to polish a scratch out of plastic or metal you will have the superfine grits to do it without excess damage.
19. Gidli Kitchen Shears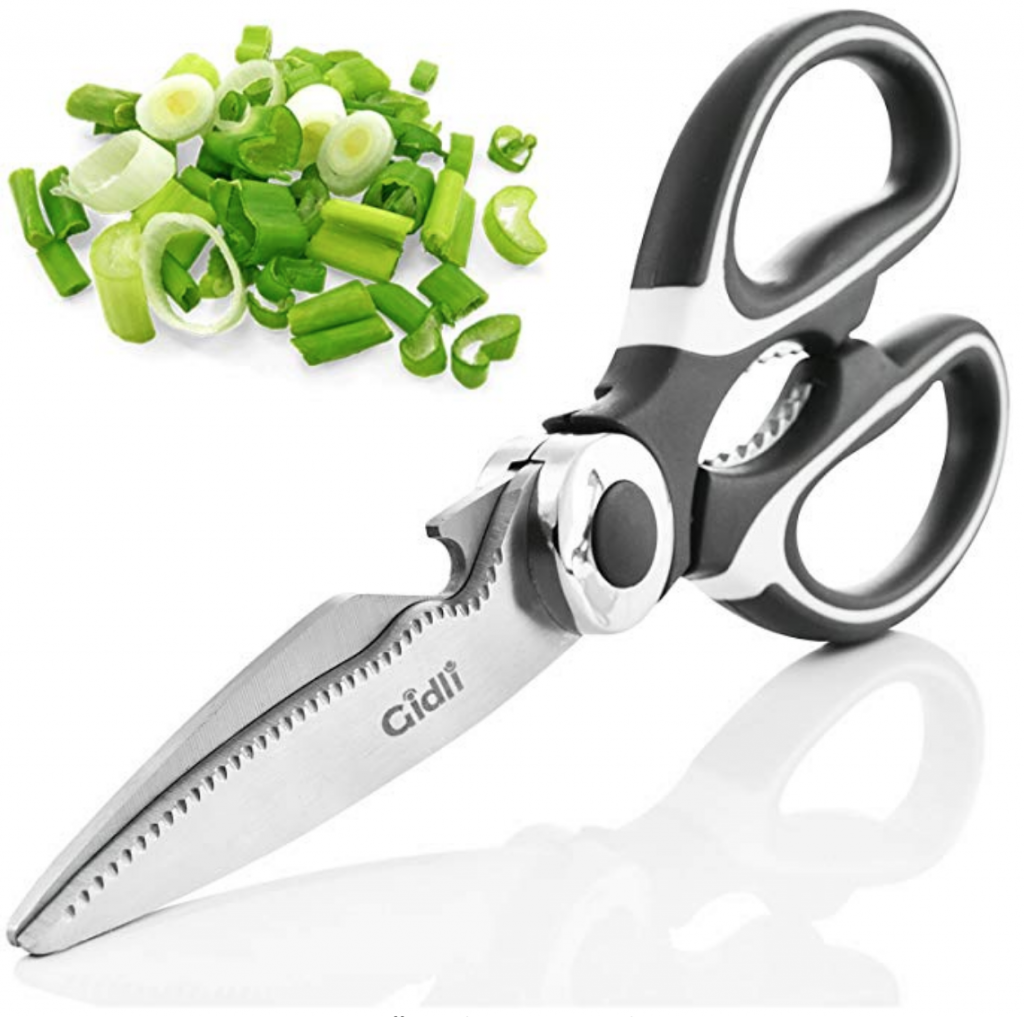 Gidli Multi-Purpose Kitchen Shears – We affectionately refer to this tool in the kit as 'chicken scissors' mainly because that is one of their primary uses in the kitchen. It cuts through poultry bones and meat. You know this is not a simple task if you have ever broken down a whole chicken yourself. These scissors are tough, stainless steel and designed to take the kind of abuse that crunching through raw chicken can dish out. So why do we throw a pair in the tool box? They happen to be awesome all-purpose scissors that can cut through anything from thin plastic and wire to cardboard, strapping material, zip ties and packaging. Keep your delicate super sharp paper scissors in your craft box and make one of these standard issue in your tool kit.
20. Home Depot 19″ plastic tool box with removable tray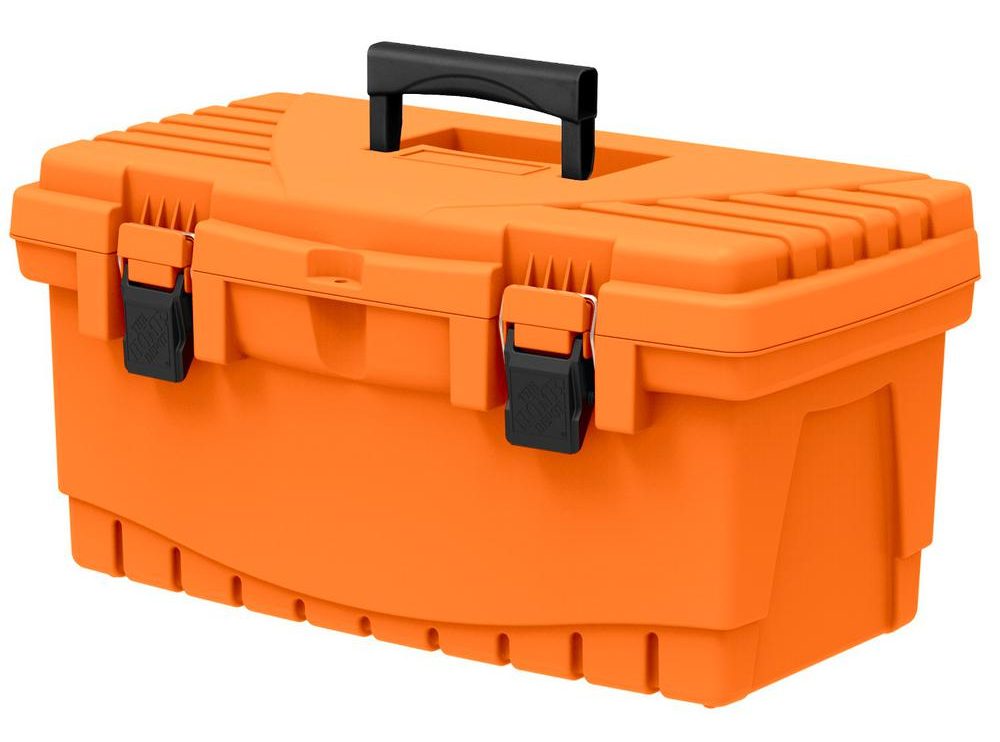 Home Depot 19 inch Tool Box – And finally, you'll want somewhere to put all these tools. The last thing you want to have to do is hunt through drawers and closets looking for that pair of pliers. Keep your tools organized. And put everything in this bright orange high-visibility box. And keep it in a handy closet or garage. While there are many soft tool bags on the market, we prefer a toolbox like this one. Because it securely locks up and is much easier to keep clean than a soft-sided bag.
We hope our experience with 'must-have' tools inspired you to start your own toolbox. Or add some of these items to your own collection. With all the DIY home project work we've done over the years, we've accumulated multiples of everything listed here. And a whole host of specialty tools. But we still always manage to keep one box with the above bare minimum set handy in the house. This keeps us from having to trudge out to the garage. And dig through the big tool chest looking every time we have a tiny repair or need for a basic tool.
These are 20 Must-Haves for the Home Tool box that homeowners can use for basic repairs. With the constant rise in home repair costs, frugal homeowners can save money by doing their own minor repairs. Avoid expensive home repair costs by doing it yourself with a few basic tools like these 20 must haves.
You May Also Enjoy . . . .
Some of our other DIY related posts.
11 Genius Money Saving Tips for Frugal Car Owners
7 Awesome Websites to List Your Rental For Free!
If you try these 20 Must-Haves for the Home Tool box be sure to let us know how you make out. Or if you have any tools you recommend let us know. Please leave us a comment and share your DIY experiences! And if you have any questions, feel free to reach out to us. We always are ready to help you out. Thank you for dropping by.