Clean microfiber cloths for the frugal cleaner. Everyone does it daily, weekly, monthly. We spend an incredible amount of time cleaning, sweeping, mopping, dusting, organizing, decluttering, and on and on. You want the right products to efficiently clean your home, car, garage, or any other cleaning job that comes along. For the budget conscious, there is no need to spend extra money on cleaning supplies that fail to deliver or fall short. Cleaning supplies that can do multiple jobs and that are hard working so you don't have to work too hard.
One product that clearly stands out among others are microfiber cloths. Microfiber cloths can tackle so many jobs. We've found 26 cleaning uses for microfiber cloths. These little guys can make your life easier by working hard for you so you can move onto other things in life such have a picnic or cookout at the beach. Take a look and let us know what you think!
Zwipes Microfiber Cleaning Cloths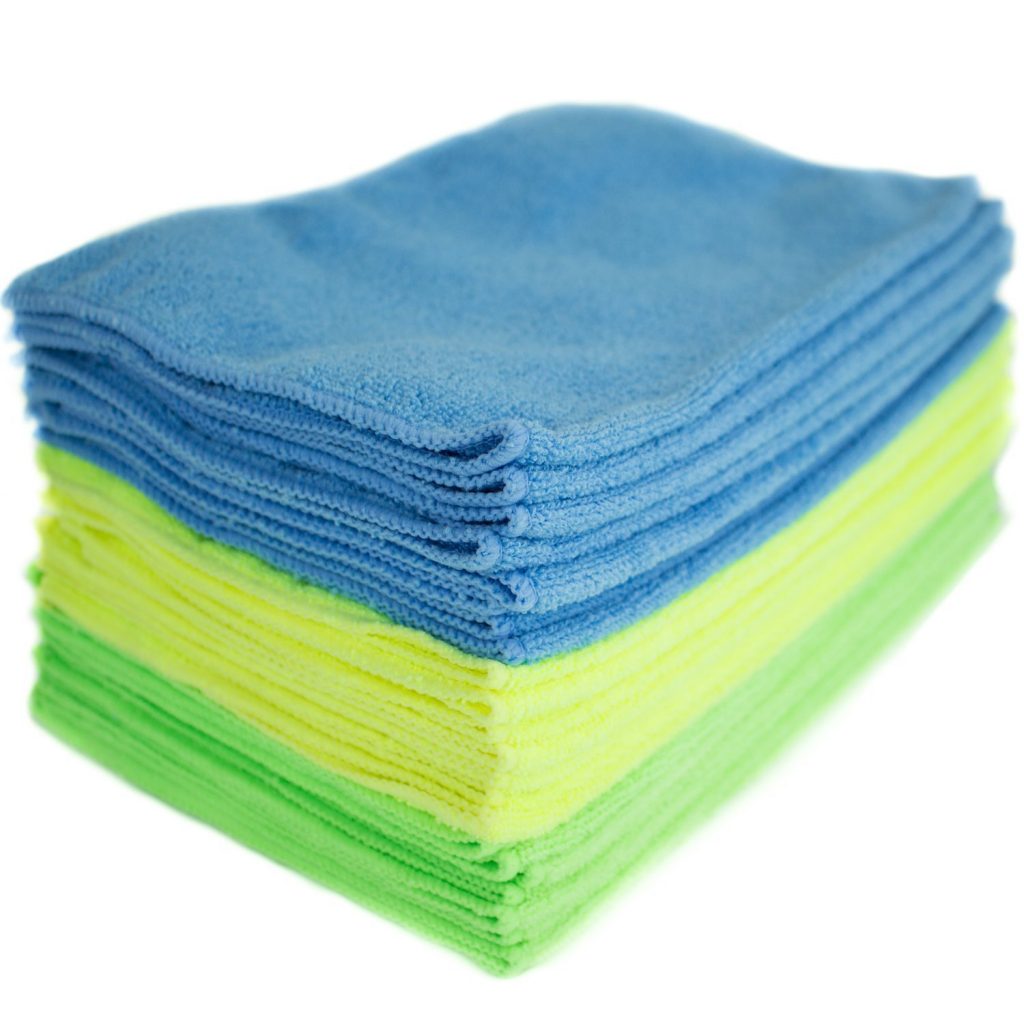 Dry Uses for Clean Microfiber Cloths
The first group of microfiber cloth uses are for using the microfiber cloths dry.
Dusting wall art, furniture, bookshelves, stair rails
Electronic screen cleaning including your iPhone, iPad, laptop, monitor, TV screen
Electronic devices such as keyboards, desktop device, CD player, DVD player
Soak up liquid spills
Pick up dog dander, dog hair, cat dander, cat hair
Car wax polishing
Damp or Wet Uses for Clean Microfiber Cloths
The following group of microfiber cloth uses call for the cloth to be either damp or wet to clean the following projects.
Mirrors such as bathroom sink mirrors, bathroom medicine cabinet mirror, closet mirrors, mirrors above your dresser, hallway mirrors (begin with a wet cloth to clean then dry cloth to dry excess moisture)
Glass surfaces (begin with a wet cloth to clean then dry cloth to dry excess moisture)
Stainless steel such as kitchen faucets, bathroom faucets, bathroom shower heads, towel bars, towel hooks  (begin with a wet cloth to clean then follow up with a dry cloth)
Microwave oven interior and exterior
Medicine cabinets inside and around the mirror
Hardwood floors (begin with a dry cloth to draw out dust from the floor then follow up with a wet cloth to mop floor)
Kitchen cabinets (begin with a wet cloth then use a dry cloth to finish the cleaning)
Bathroom cabinets (begin with a wet cloth then use a dry cloth to finish the cleaning)
Car, minivan, and truck exterior washing including the auto tires
Car, minivan, and truck interior cleaning such as the dashboard, inside car doors, floors
Scrubbing bathroom sinks, floors, walls, and doors
Kitchen appliances such as cook top, range, range vent, refrigerator, dishwasher inside and out
Kitchen sinks, counters, back splash, kitchen island counter, drawers, cabinets
Bathroom tiles and shower doors
Bathroom sinks and counters
Light fixtures in the kitchen, dining room, bathroom, hallway, stairway, basement
Basement lights, walls
Laundry room appliances such as the washing machine, dryer
Floor air conditioning and heat register or vents and wall returns for the duct work
Makeup remover (damp or wet cloth to remove makeup)
MICROFIBER CLOTHS FOR ORGANIZATION
The many ways to use microfiber cloths are endless. Microfiber cloths are available in many colors, so you can assign a specific color to clean a particular room or task. For example, you may decide to use green microfiber cloths for cleaning your kitchen and the red cloths for your bathroom. The blue cloths can be assigned to dusting duty throughout your home.  The yellow cloths can be used for scrubbing walls and floors.
Many manufacturers have developed various microfiber products to help with specific cleaning needs.  There are microfiber wash mitts available for car washing. For waxing your car, there are microfiber waxing pads.
Microfiber cloths, mitts, waxing pads are lint-free, streak-free, and can polish metal quickly if needed.  These workhorses can be used in place of paper towels.  They work by lifting dirt, dust from the cleaning surface and holds the dirt to the cloth.  Microfiber products save you money because they are long-lasting, reusable – can be used multiple times, environment friendly, readily cleans with water, and removes 99% of bacteria.
Cleaning with Microfiber Cloths
After using the microfiber cloth shake out any loose particles or dirt then rinse clean with warm or hot water, then line dry for the next use. If you use your cloths daily then wash them once a week according to the manufacturer's instructions. Remember to skip the bleach and softener. Bleach damages the  fibers and softener will clog the fiber loops. Be sure to machine wash the microfiber cloths separately so they do not pick up any lint from other items being laundered.
If you discover that the cloths have become ineffective or have any unpleasant odors, boil the cloths in water with ¼ cup of baking soda. Boil for about 10 to 15 minutes then line dry. This should eliminate the odors.
Variety of Microfiber Products
There are many microfiber products available today. Some are more durable than others. Some bargain-priced cloths may only last up to 50 washes where better quality cloths can last up to 300 washes in the machine.
Upfront microfiber products may be more costly than a 6 pack of paper towels but in the long run, microfiber products are more efficient and long lasting cleaners. At your initial point of purchase you pay a little more than those paper towels but you will return to buy more paper towels several times before your microfiber cloths wear out. These babies are in it for the long haul!
Microfiber products are great multiple use products for the budget conscious home cleaner. They work hard at keeping your home clean. These ideas can help you address any dirt issues quickly. If you try them out and let us know what you think!
Interested in DIY cleaning? If you found this helpful . . .    
You May Also Enjoy some of our other DIY cleaning related posts.   
DIY Shoe Cleaning Tips 
Homemade Cleaners for the Frugal Home
Many Home Cleaning Uses for Vinegar 
We are sure you'll enjoy these DIY uses for microfiber cloths when cleaning the home. And if you have any questions, feel free to reach out to us. We always are ready to help you out. Thank you for dropping by.   
Mary   
Save
Save
Save