DIY Valentines Day trees are a great way to celebrate the upcoming Valentine's Day. Looking for some ways to express your love on Valentine's Day? One way is to decorate a tree with your favorite pink and red heart-shaped ornaments and more. Before you know it, Valentine's Day will be here. And what a better way to decorate your home than with a Valentine tree!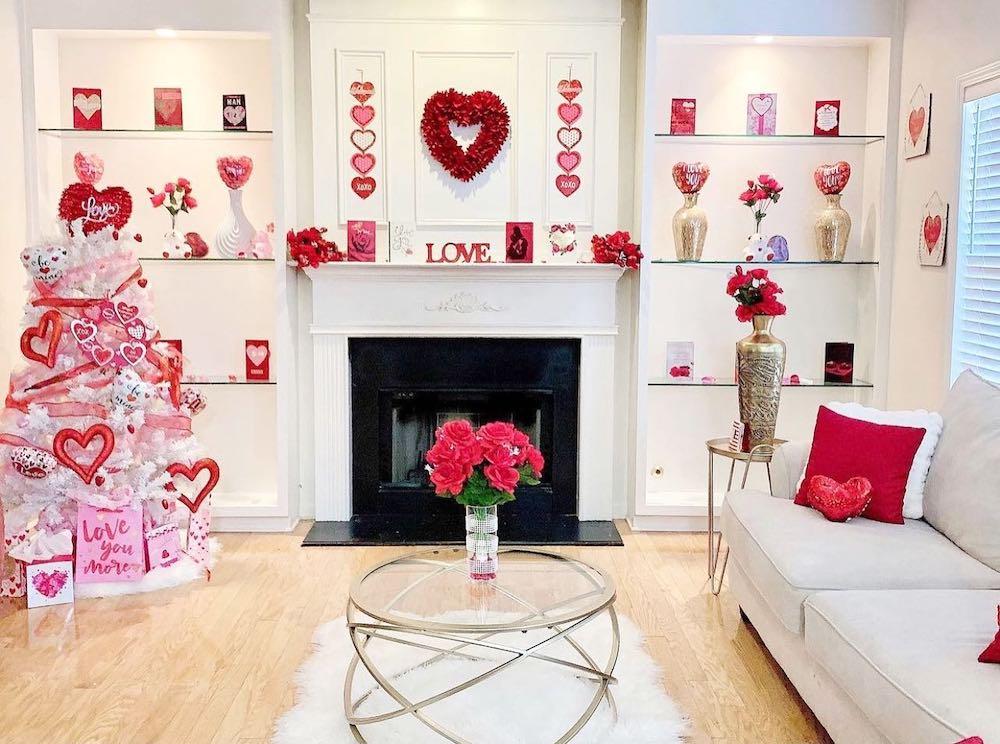 We are sharing 15 gorgeous Valentine's Day trees in today's post. These cute trees will inspire you to decorate your own. For example in the image above, Ms. April Mason decorated Valentine's Day tree and her entire living room for Valentine's Day. Amazing, don't you think?
In today's post, you'll find many of these ideas are budget-friendly decorations that you can use to save money. And your kids can help with the decorations, too.
DIY Valentines Day Trees
We've rounded up a list of 15 of the best ideas for a DIY Valentine tree. Take a look at these simple Valentine tree decor ideas to try at home.
Make it a Mini One
Decorate a miniature tabletop tree. Oh so cute and a perfect piece to add bright pops of color to the home.
Pile on the Roses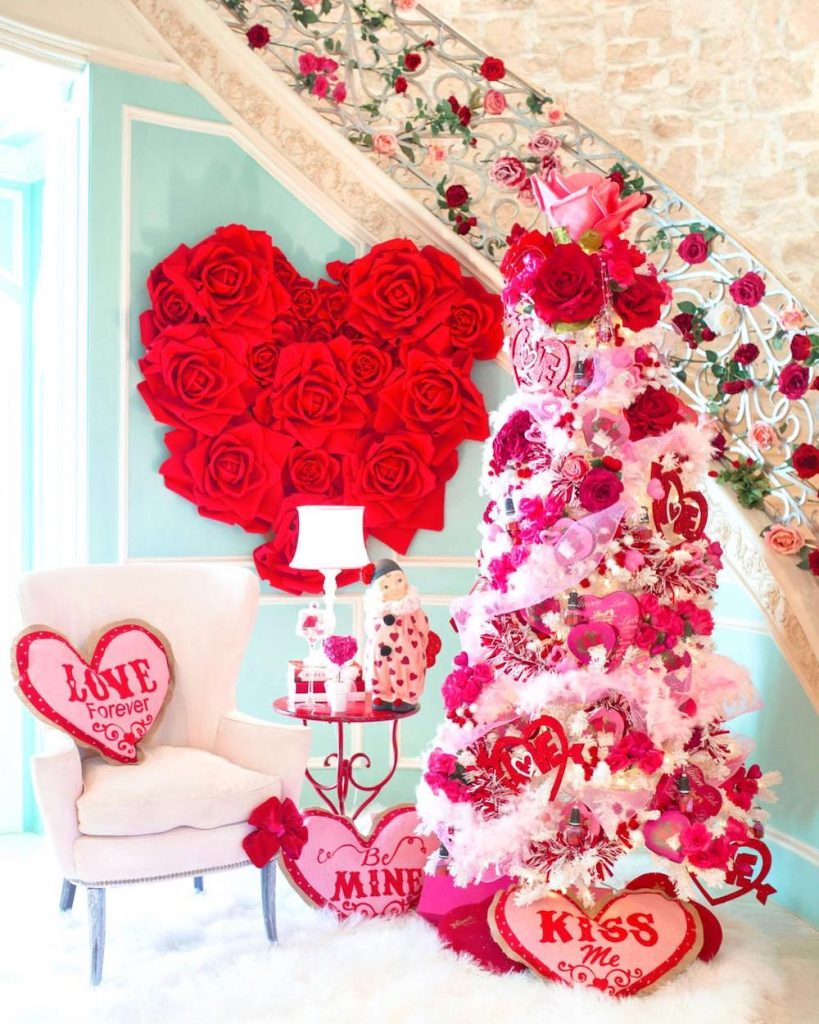 Drench your tree in roses. The red rose symbolizes romance, love, beauty, and courage. We love the stairway rail flowing with red and pink roses. Such a romantic and love-filled home.
Style it on a Snow Covered Tree – DIY Valentines Day Trees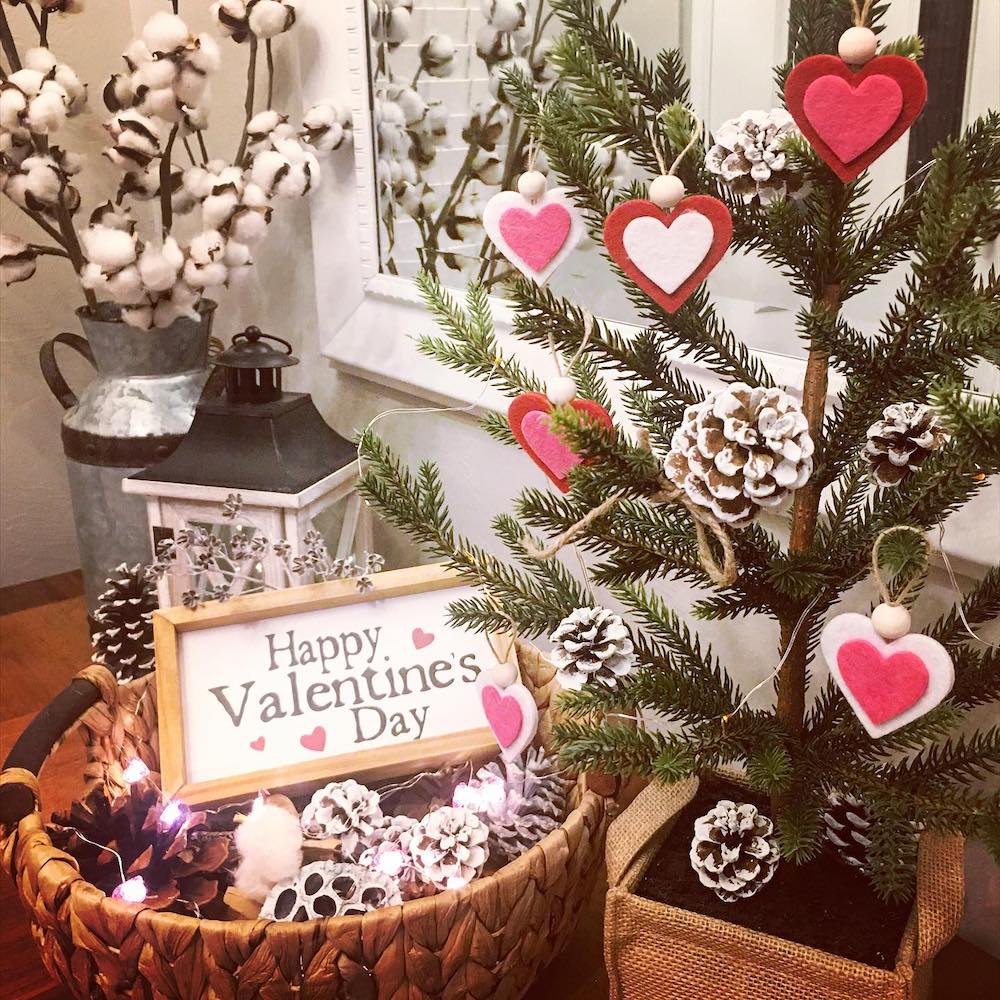 Reuse your holiday tree and add some beaded heart-shaped felt ornaments. A super quick and easy way to decorate a snow-covered tree.
Go Bold with Hot Pink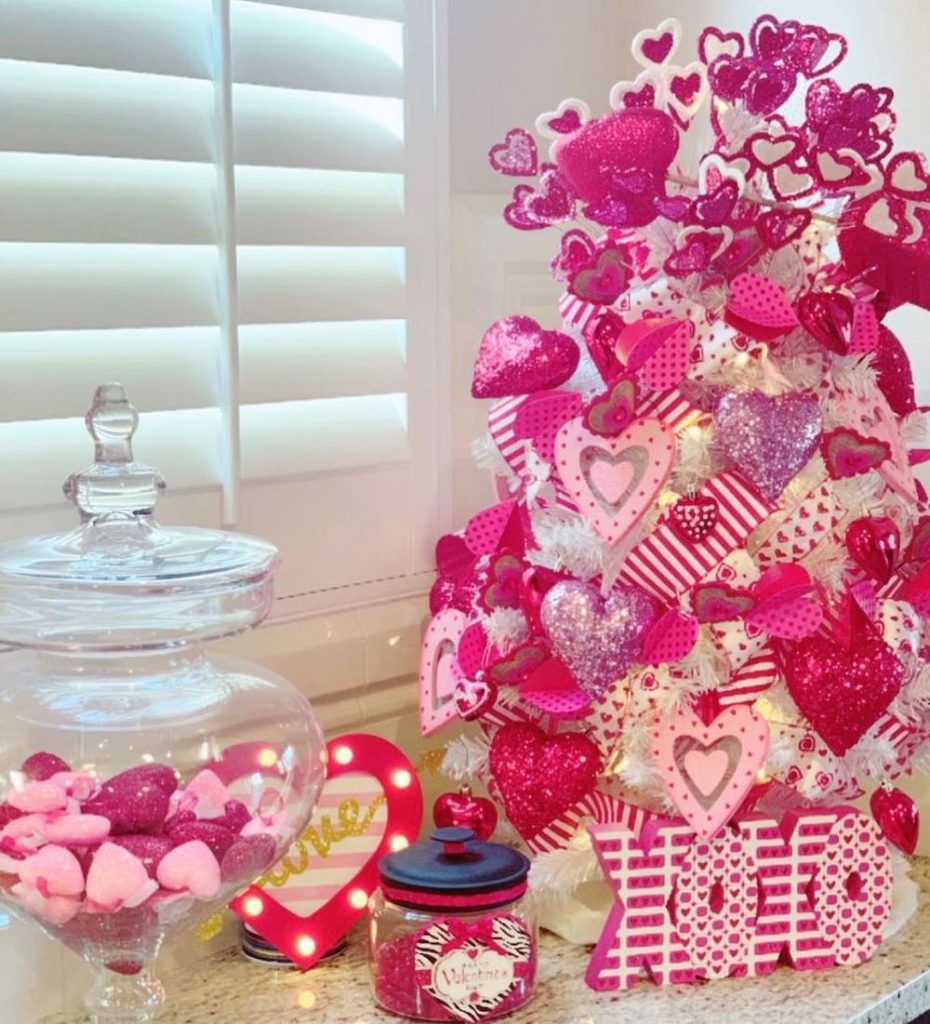 Decorate your white faux tree in hot pink and raspberry colors. We love the pretty ribbons and glitter ornaments.
Add a Feather Boa Garland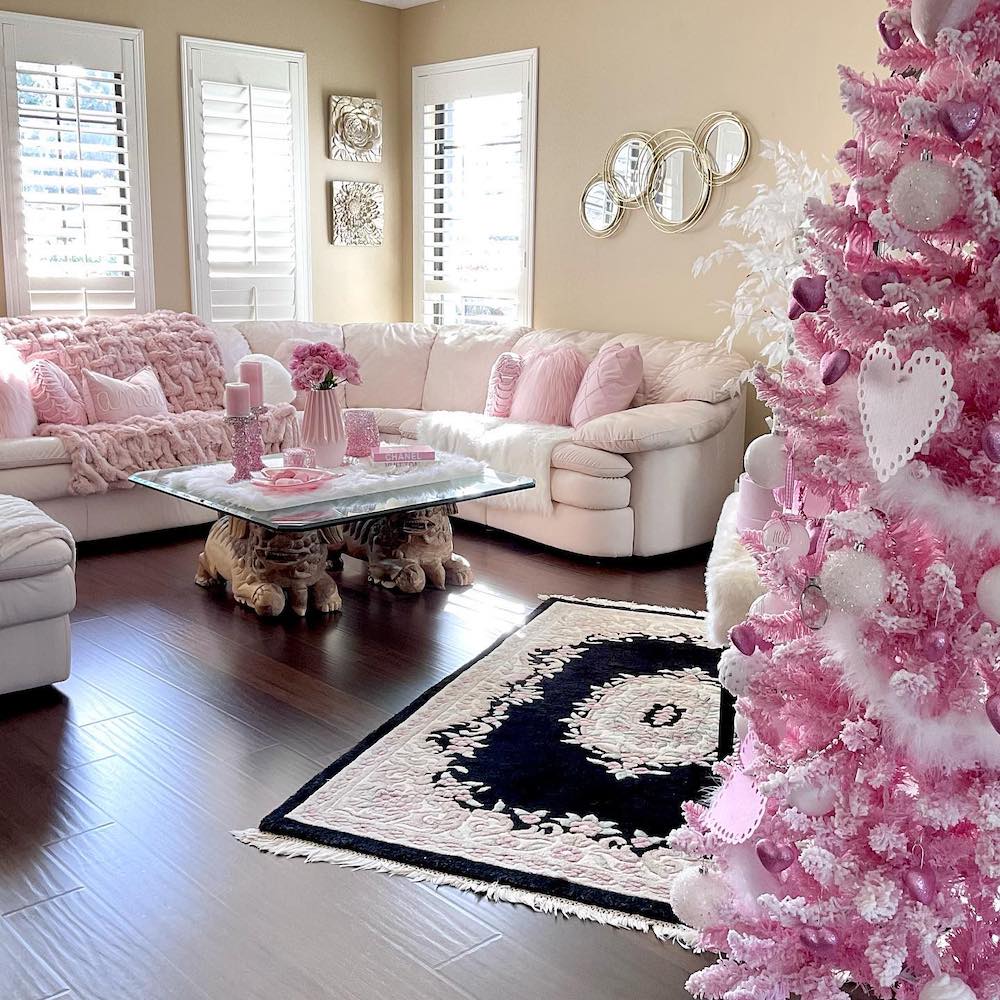 For a glam look, drape a feather boa garland around the tree. So pretty and perfectly Valentine's decor.
Make it a Double Tree – DIY Valentines Day Trees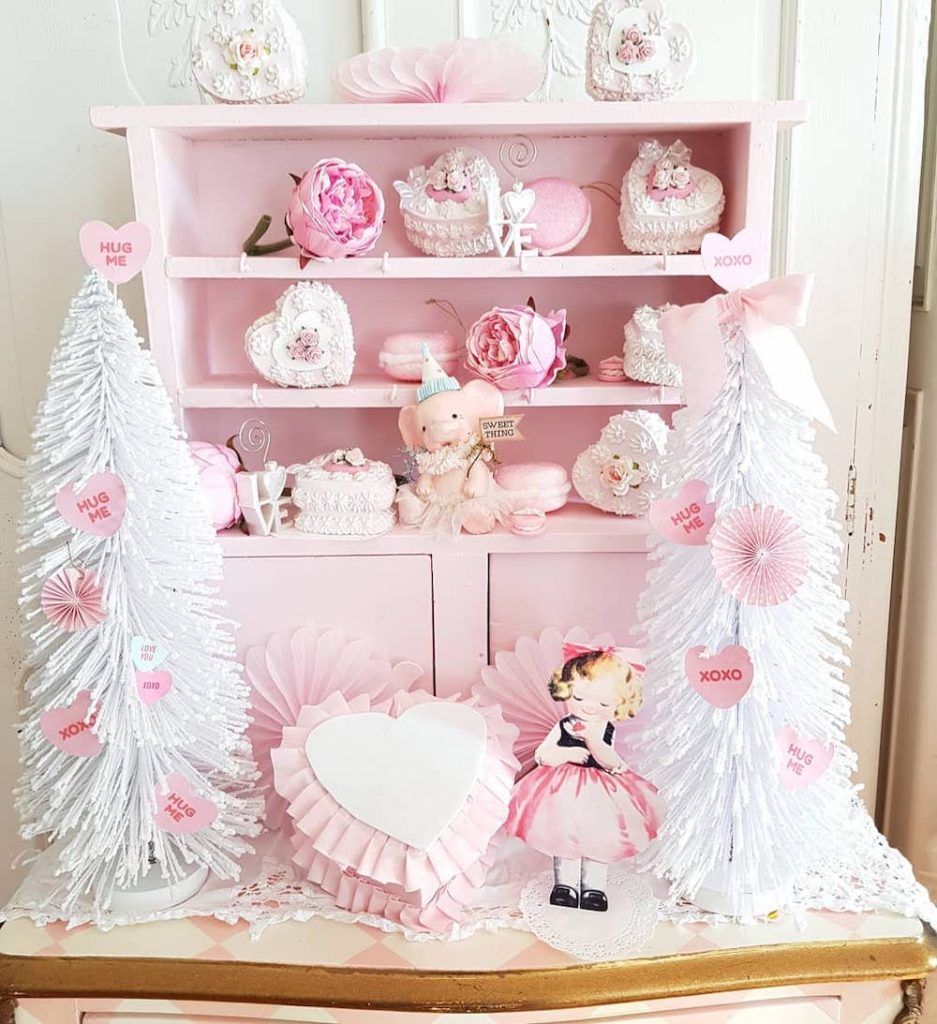 Twice is nice they say. Especially with two white faux trees decorated with pink pinwheel ornaments and candy heart-shaped ornaments.
Top it with a Heart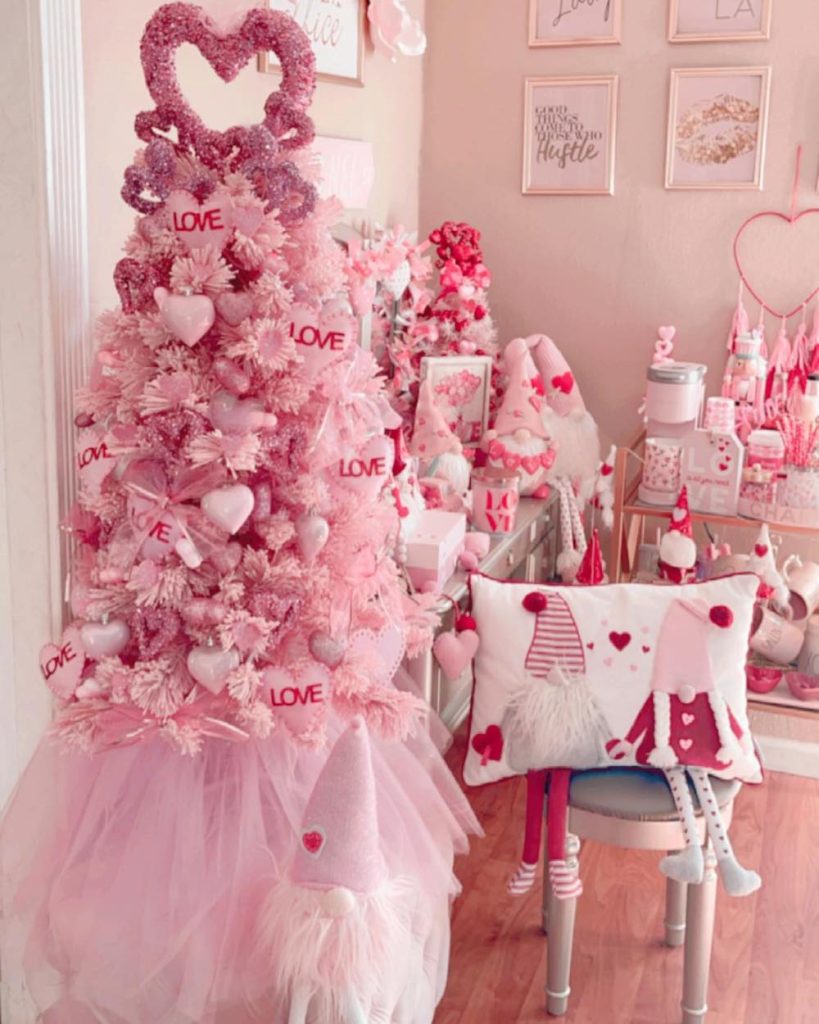 For a topper, add a big pink heart. Make it a solid pink tree with gnomes to stand by.
Get Your Inspiration From a Cupcake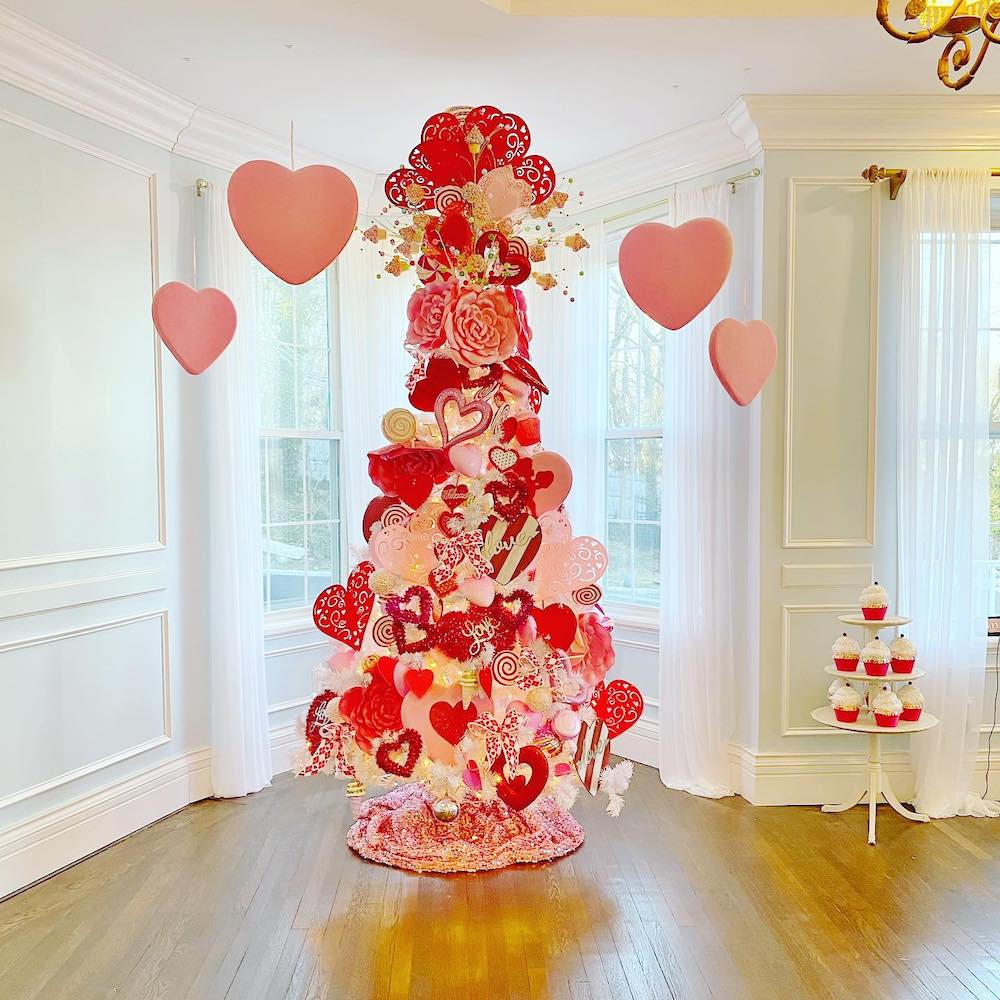 Add pink and red lacy paper ornaments along with lollipop ornaments. We love that tree topper behind the ice cream come.
Keep it Natural Looking – DIY Valentines Day Trees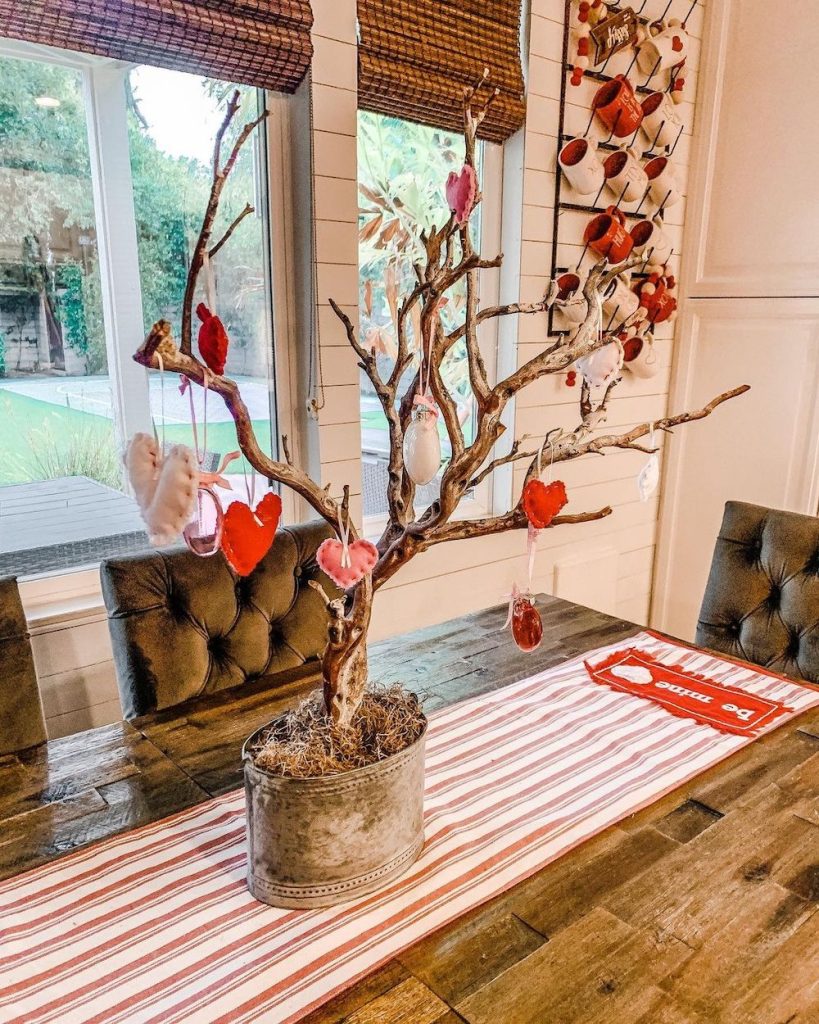 For a natural decor style, use a branch plucked from the woods. Hang a few pink, red, and white felt heart-shaped ornaments on the branch. Easy and just the right amount of color for a natural setting.
Double your Fun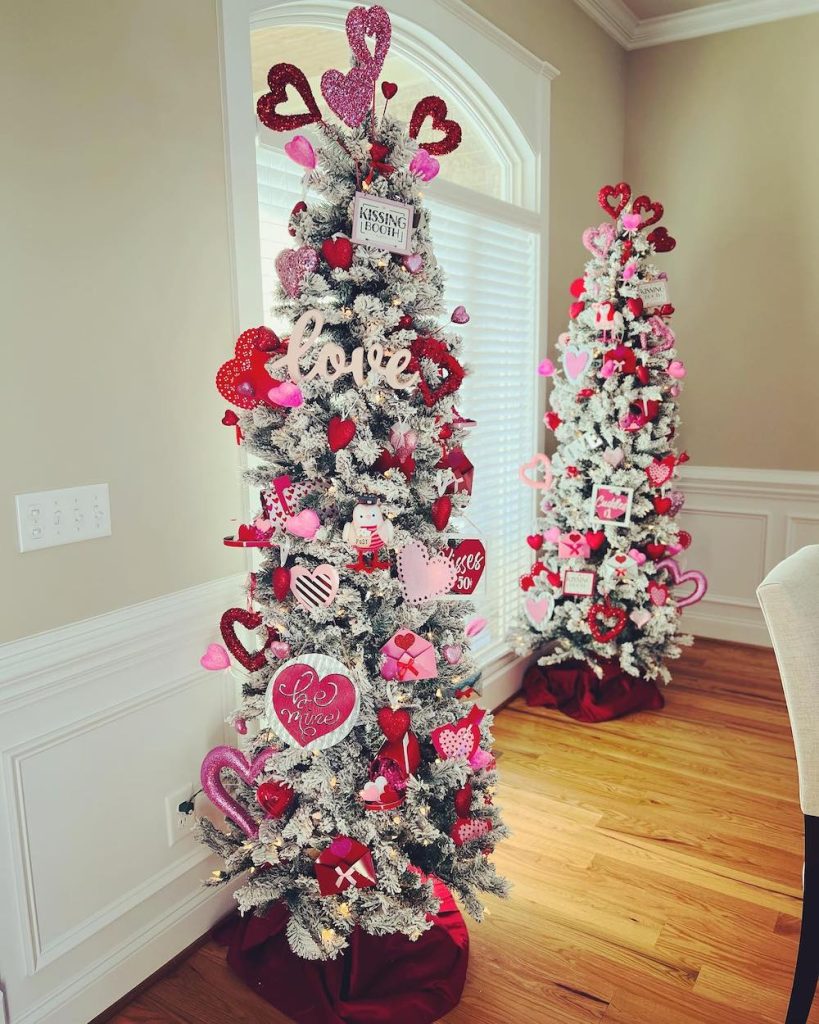 Set up two faux trees with Valentine's Day decorations. Keep the love flowing from room to room.
Cover the Tree with A Faux Fur Skirt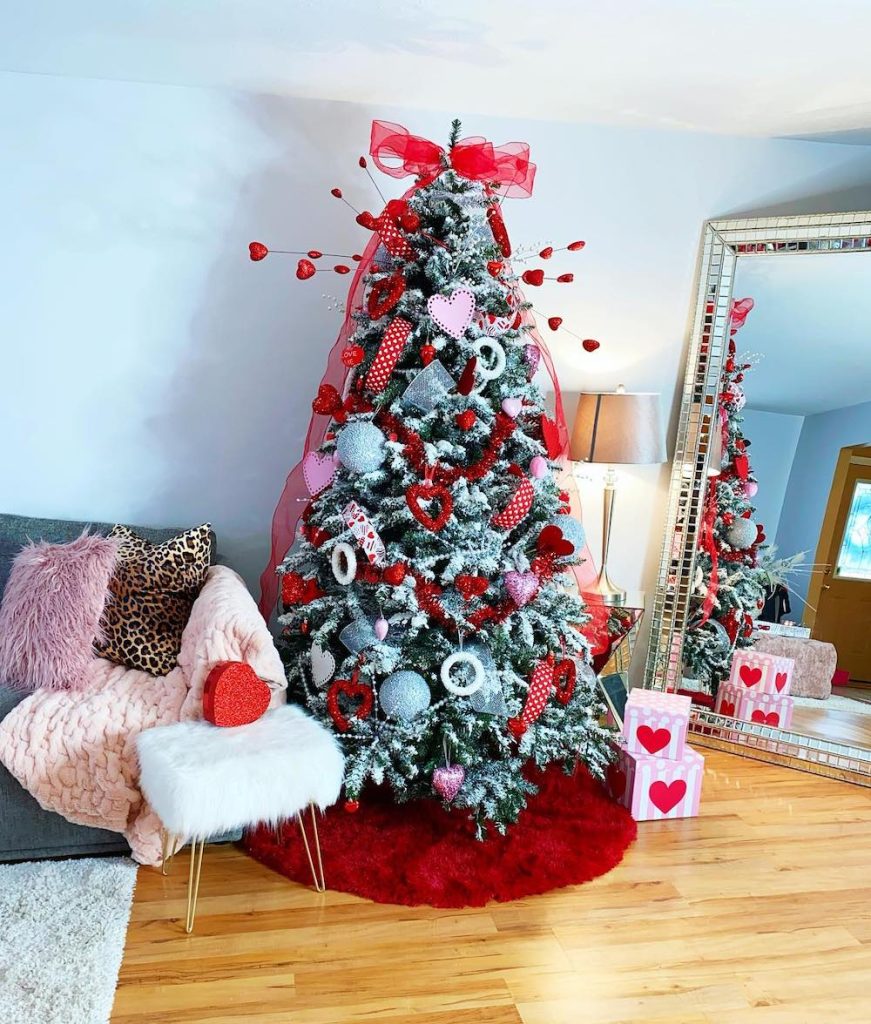 Add a pop of color to the base of the tree with this faux fur tree skirt. We love the brillant red color of the tree skirt.
Style it with Jewel Colored Ornaments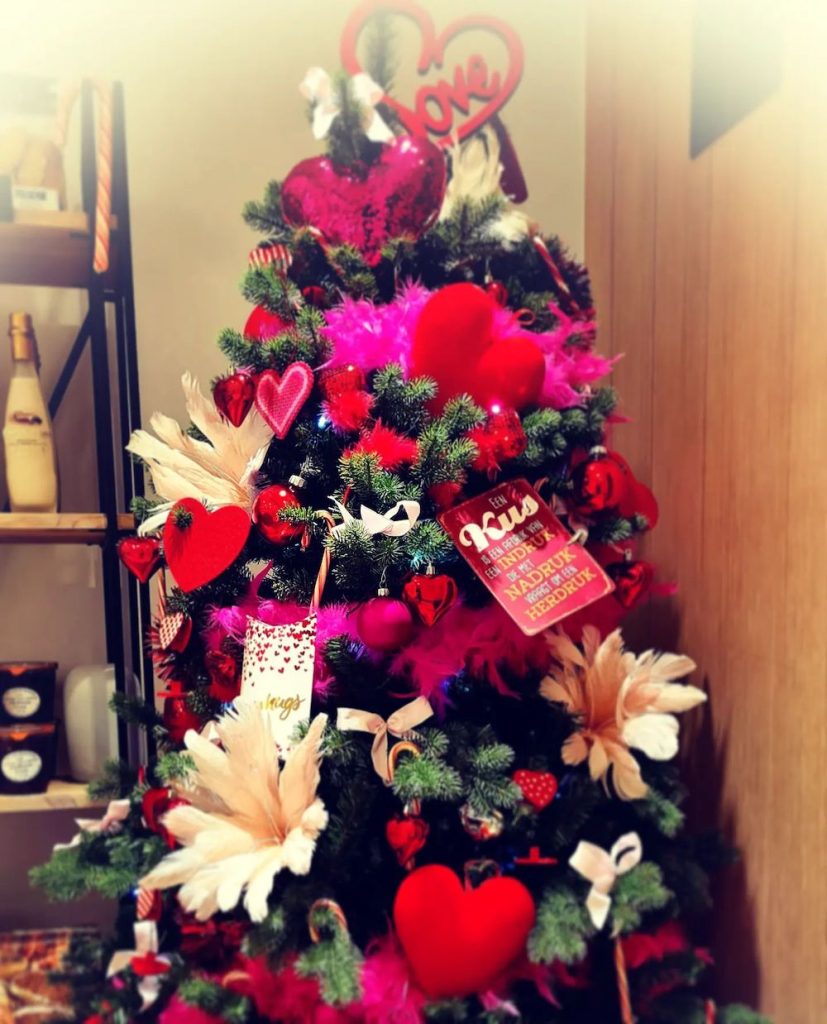 Display jewel-colored ornaments for added brightness and pops of color. And use a few natural colored faux flowers to make the jewel-colored ornaments really pop.
Decorate a Tinsel Tree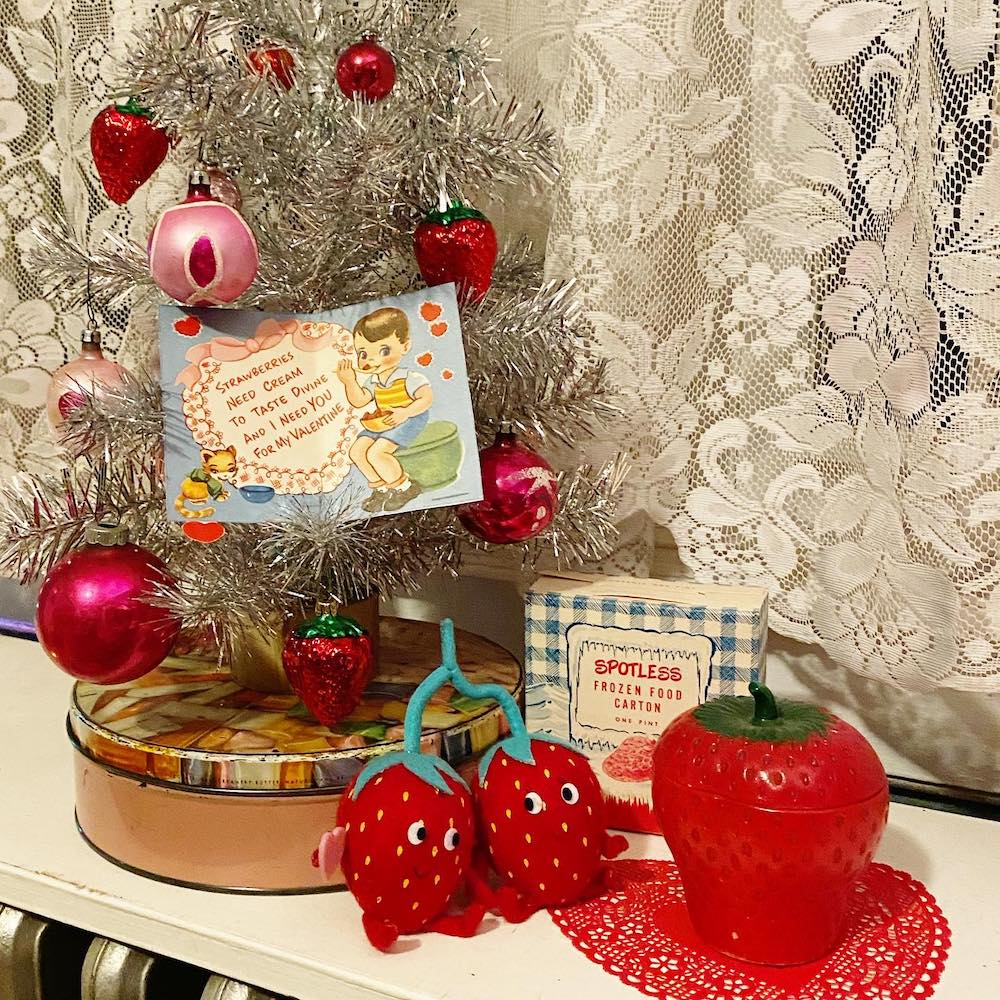 Hang a few brightly colored red ornaments on a silver tinsel tree.
Stick to the Pinks – DIY Valentines Day Trees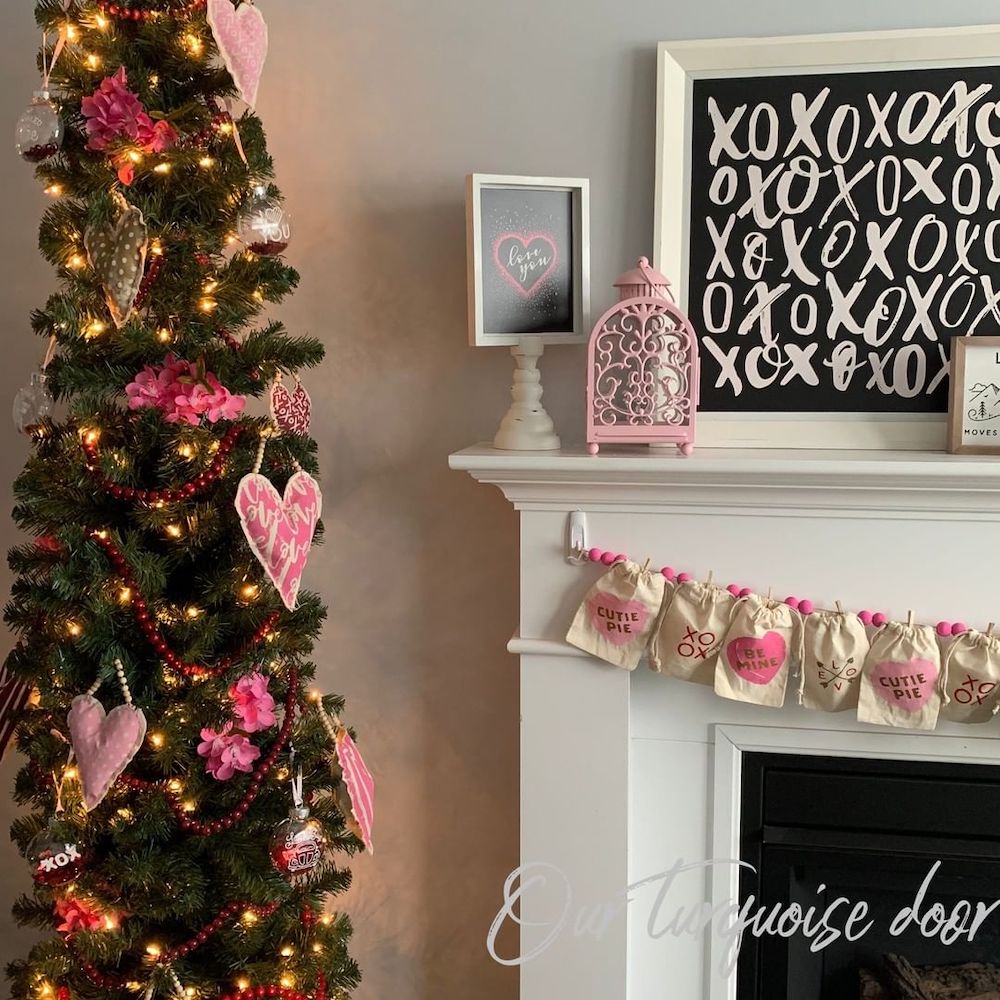 Style your tree in glorious pinks. Add a few pink accessories and a pink goodie bag garland across the mantel. Perfectly pink for the pink lovers in your family.
Decorate with Bright Red Garland Strands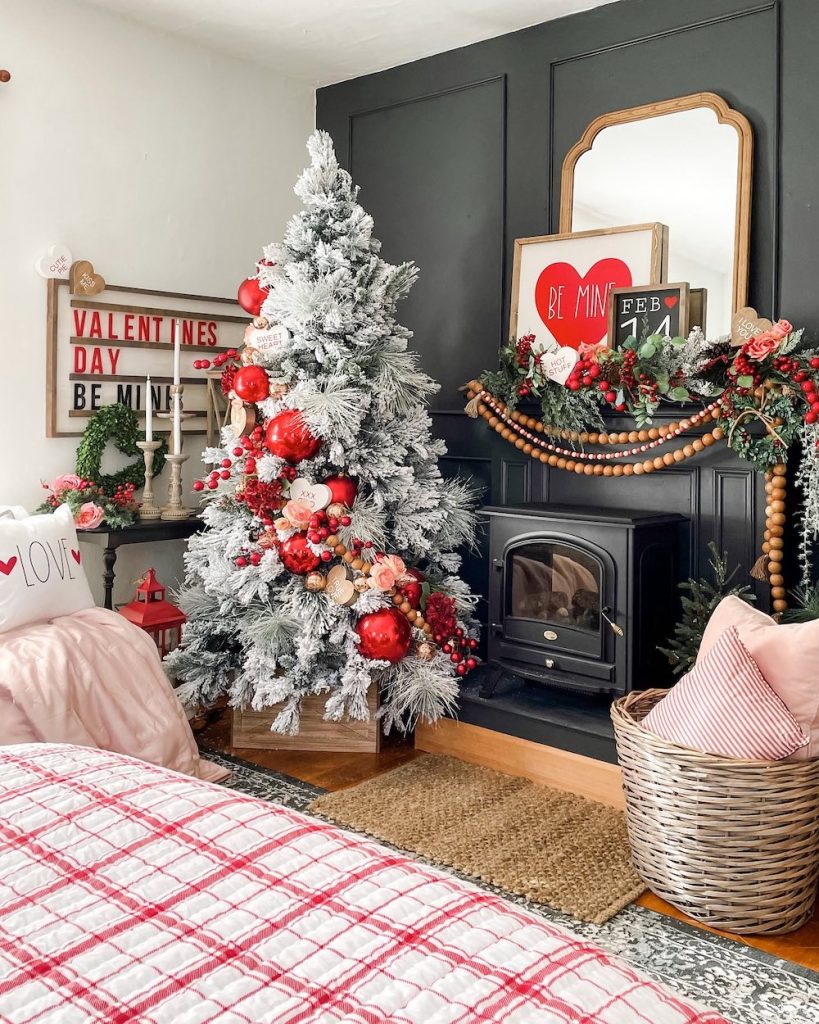 In this guest room, the designer added beautiful bright red garland strands. A beautiful combination with wooden bead garland too.
Give Them Kisses
Style it with pink, red, and hot pink hearts then top it off with sweet kisses.
In Closing – DIY Valentines Day Trees
This ends our list of DIY Valentine's Day trees – decorative ideas for the Valentine season. Decorate your office and home this Valentine's day using one of these beautifully decorated trees. 15 ways to decorate a tree this Valentine's Day season.
Be sure to check out our other posts for additional Valentine decor inspiration.
Reach out to us with any questions. We are always ready to help you out. Thank you for stopping by our blog.
Wishing you Valentine's Day filled with love this year!
Mary
Pin this for Later: