Valentine vignette decor ideas to brighten your home this Valentine's Day. After the Christmas season has ended and your decorations packed away, your home may feel a little bland. It may seem less festive or even plain. The best way to brighten your home is to decorate for the upcoming Valentine's Day. The day we show our families how much we love them.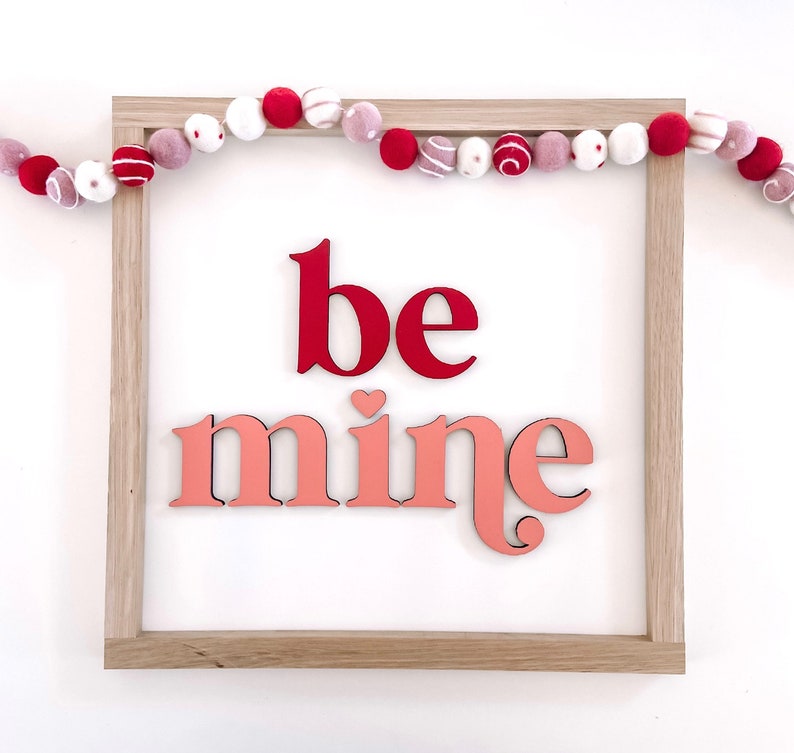 As Sherry's Vintage Style explains, Cupid is the son of Venus and the goddess of love and beauty in Roman mythology. Also known as the god of affection. It is thought that Cupid shoots magical gold-tipped arrows at both gods and humans. When an arrow pierces someone's heart, the recipient falls deeply in love. Who wouldn't want to fall deeply in love? Now is the time to transform your home for the upcoming season of love, beauty, and affection.
Valentine Vignette Decor Ideas
Sounds like a great time to sprinkle a little pink and red around the home. In today's post, we are sharing ideas for creating a Valentine vignette for your home. A vignette is a curated style that is made up of a group of objects displayed on a shelf, table, or surface in the home. Celebrate the season of love this holiday with inspiration from these gorgeous ideas. Take a look at these vignettes for Valentine's Day. Be sure to let us know which are your favorites!
Style it Vertical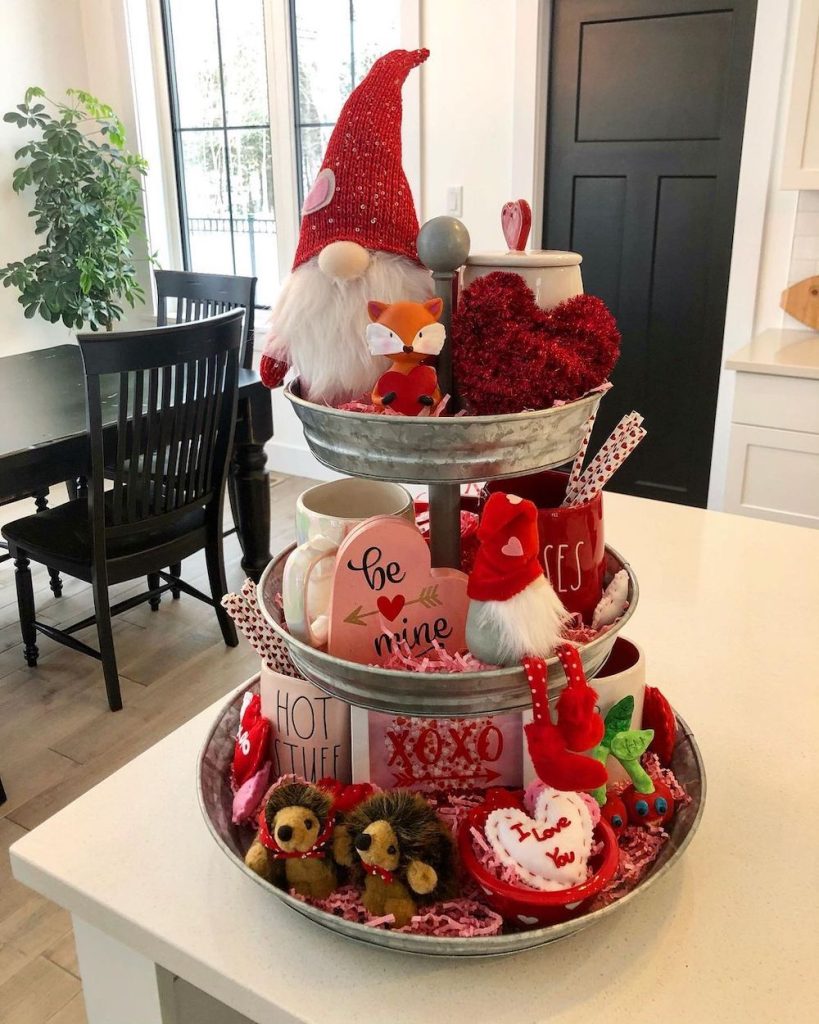 Pile your valentine decorations in a three-tiered shelf such as this one. Perfect to add a few gnomes, wildlife, hearts, and pink filler. This is a great way to make it personal by adding your favorite objects.
Blend with a Few of Your Holiday Decorations – Valentine Vignette Decor Ideas
Keep a few of your red Christmas decorations and blend them with your Valentine's decor. These bright red berry trees and boxwood wreath fit in perfectly with Valentine's decorations.
Display a Valentine's Message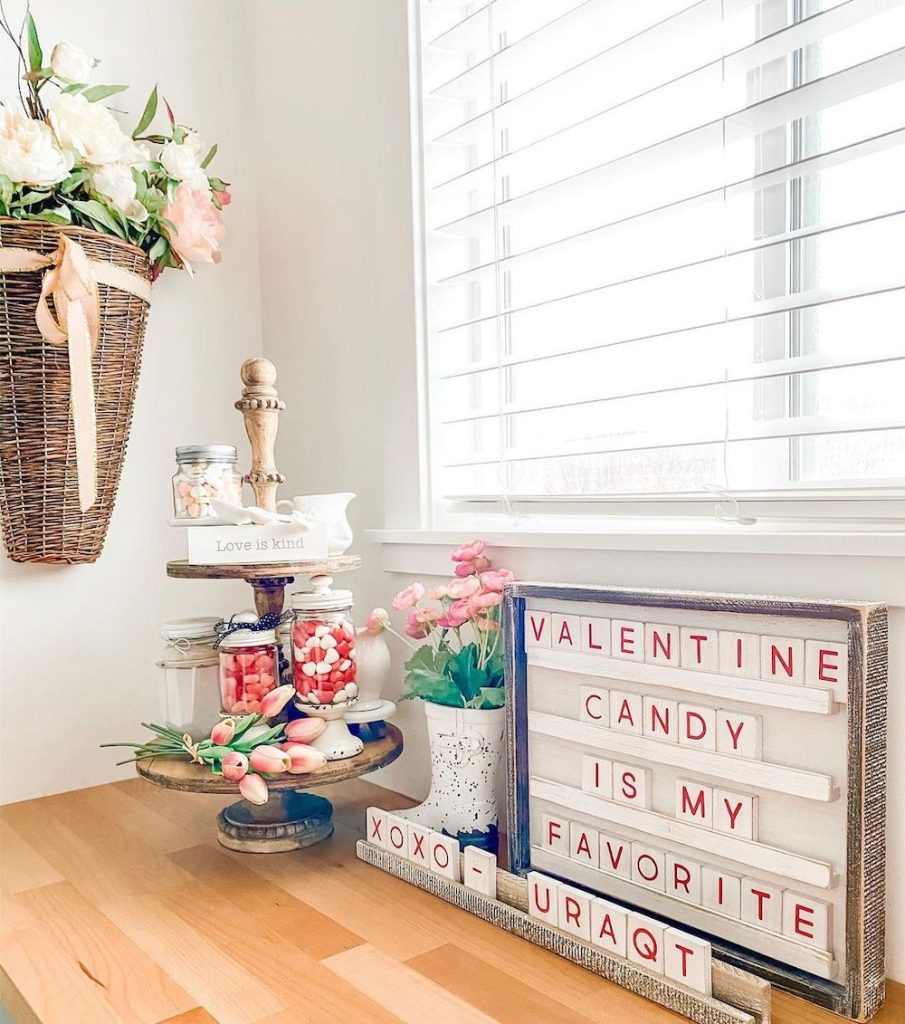 Fill a clear jar with your favorite Valentine's Day candy. Then add a message that celebrates the season.
Make it Vintage – Valentine Vignette Decor Ideas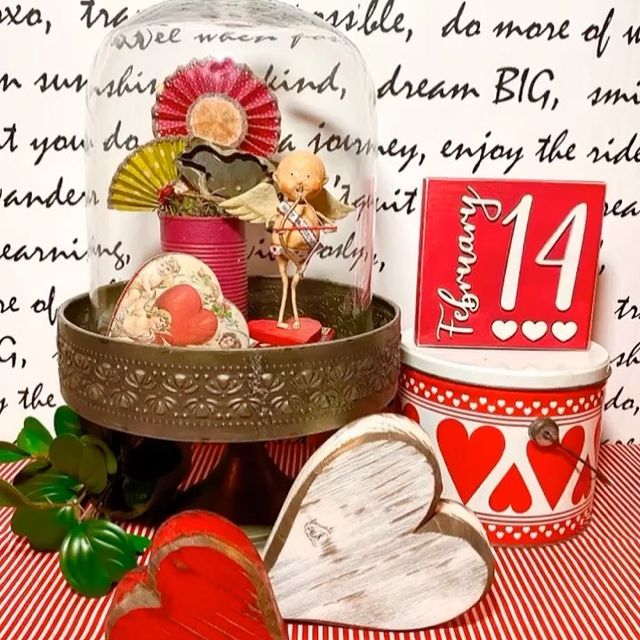 Display your collection of Valentine's vintage decor. Old vintage Valentine cards and decorations make great pieces when styling a vignette.
Dress it Up for the Season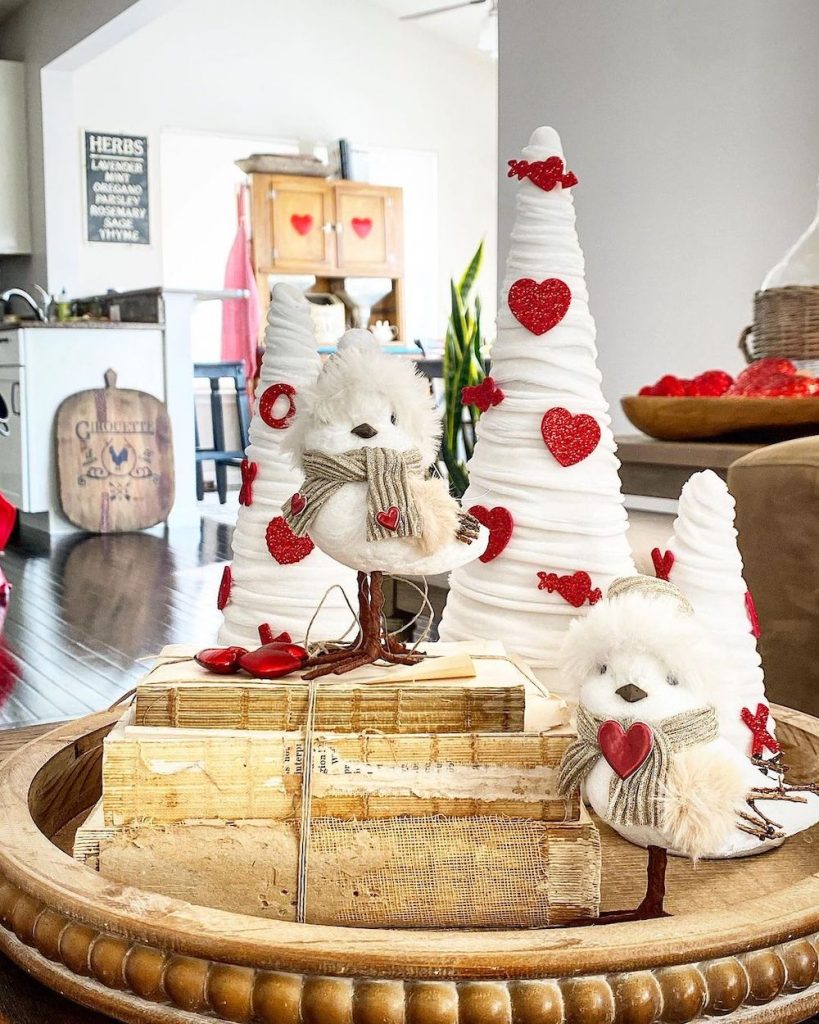 Bundle up your favorite wildlife friends for the season. These two guys are dressed for the cooler winter season and Valentine's day.
Bring out the Tartan Plaids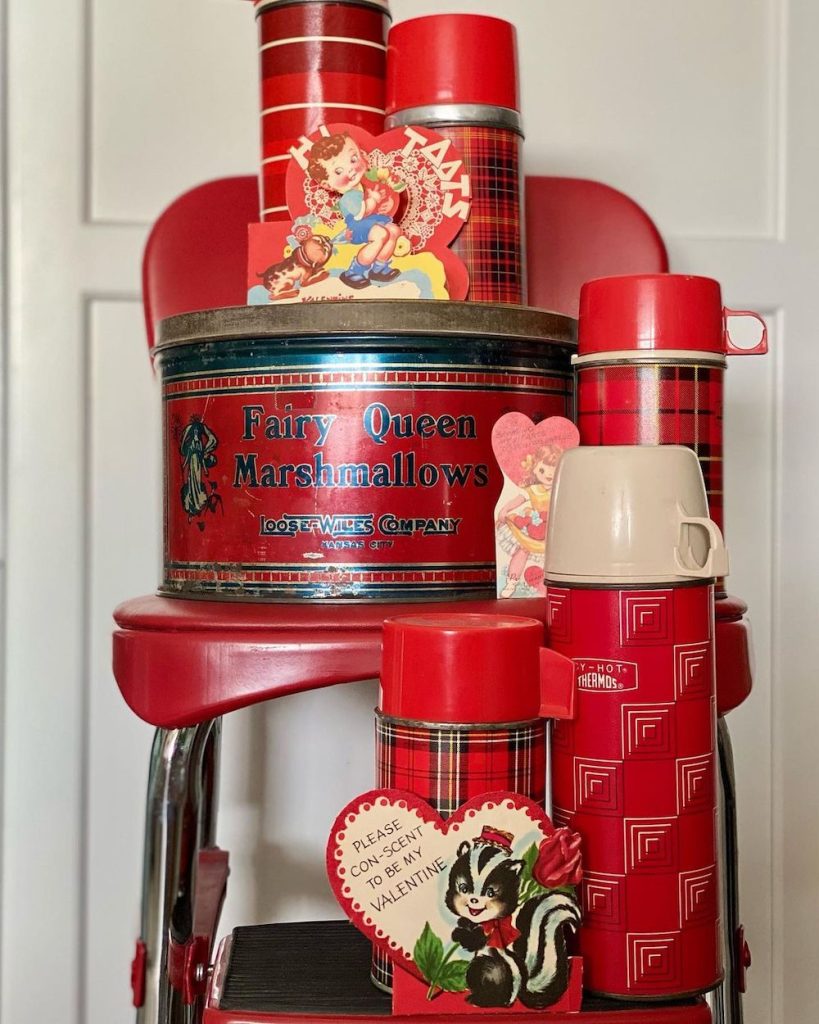 Style it in bright tartan plaids. These plaid cannisters not only add height but visual interest with the assorted designs.
Use Wall Art – Valentine Vignette Decor Ideas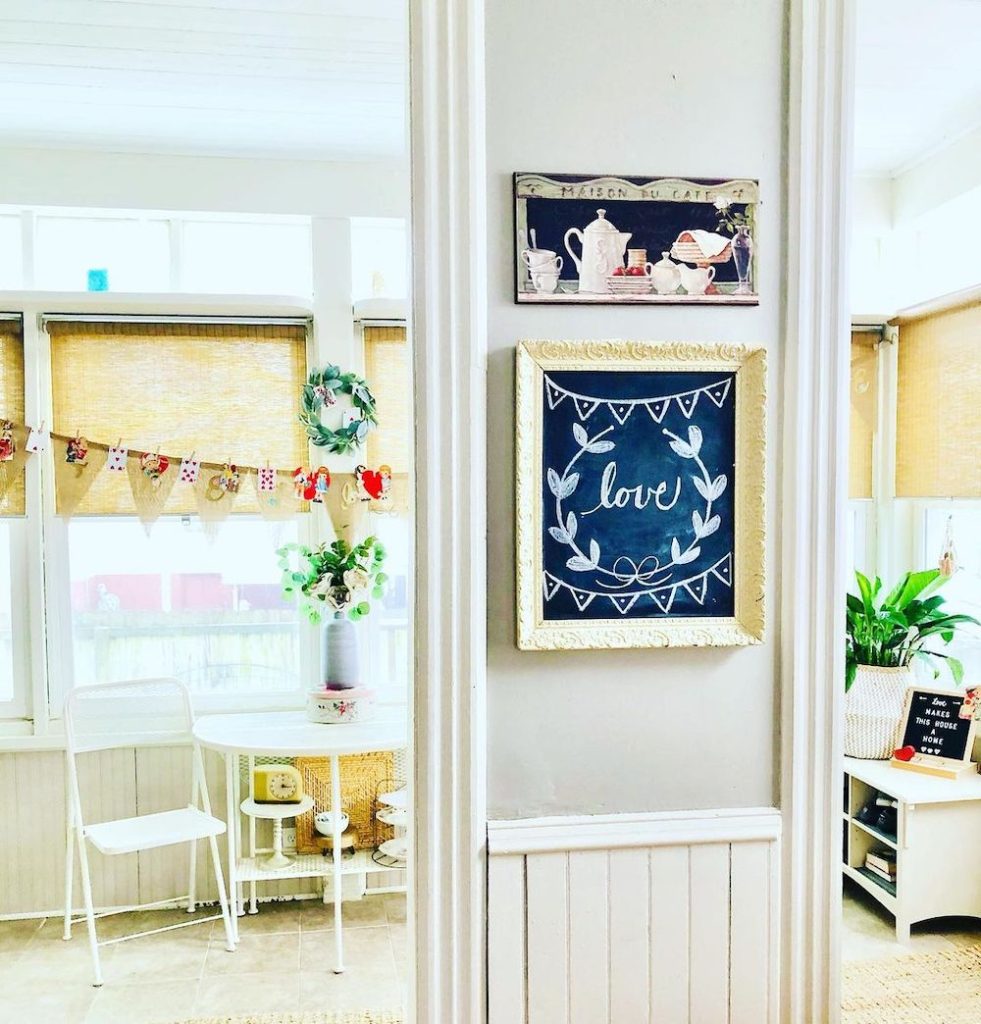 Create a vignette on the wall with everyone's favorite mood.
Add Flowers for a Quick Update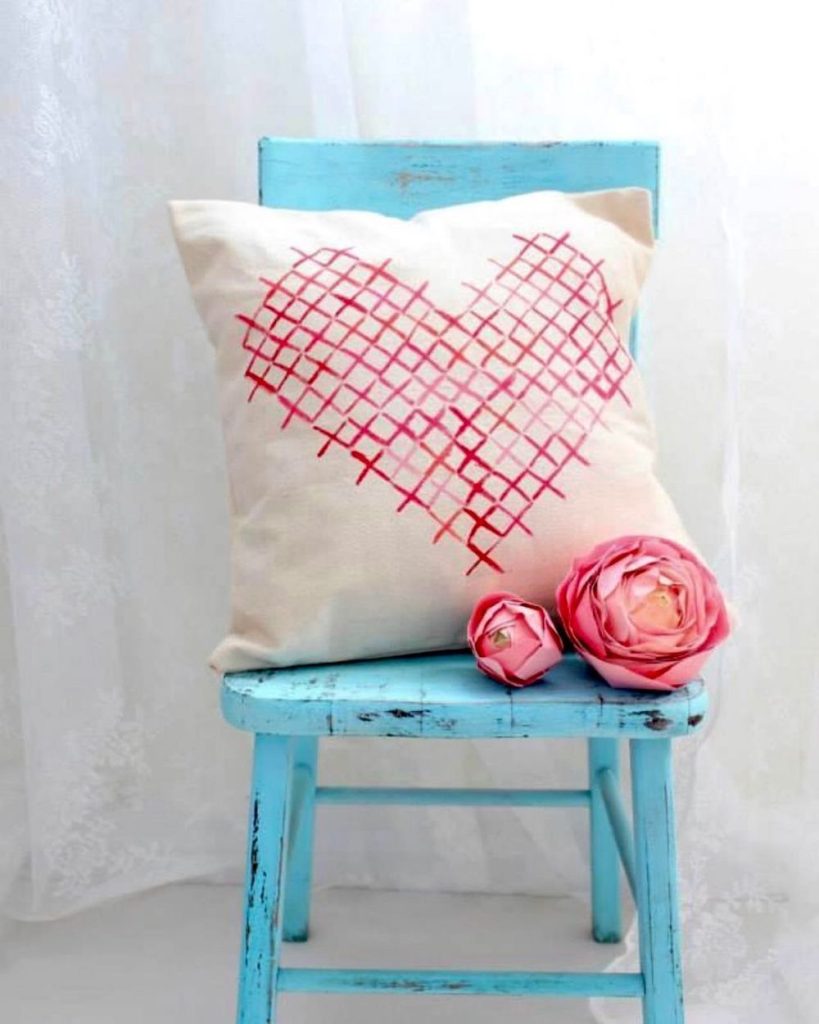 Make it simple and easy. Add a cozy pillow for comfort and either faux or fresh flowers.
Keep it Tidy in a Tray – Valentine Vignette Decor Ideas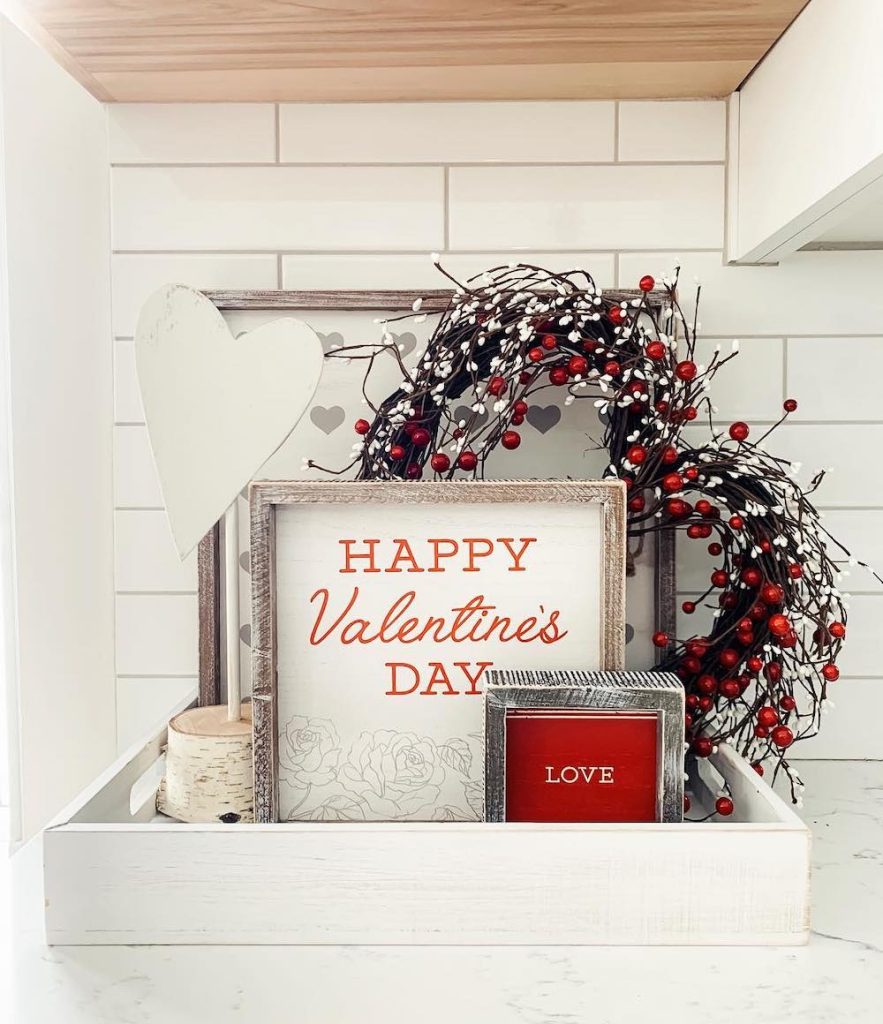 Add wall art to a tray. Include a festive wreath and a small heart shaped decor piece. The use of a tray keeps the objects corralled and organized.
Make it a Season for all Love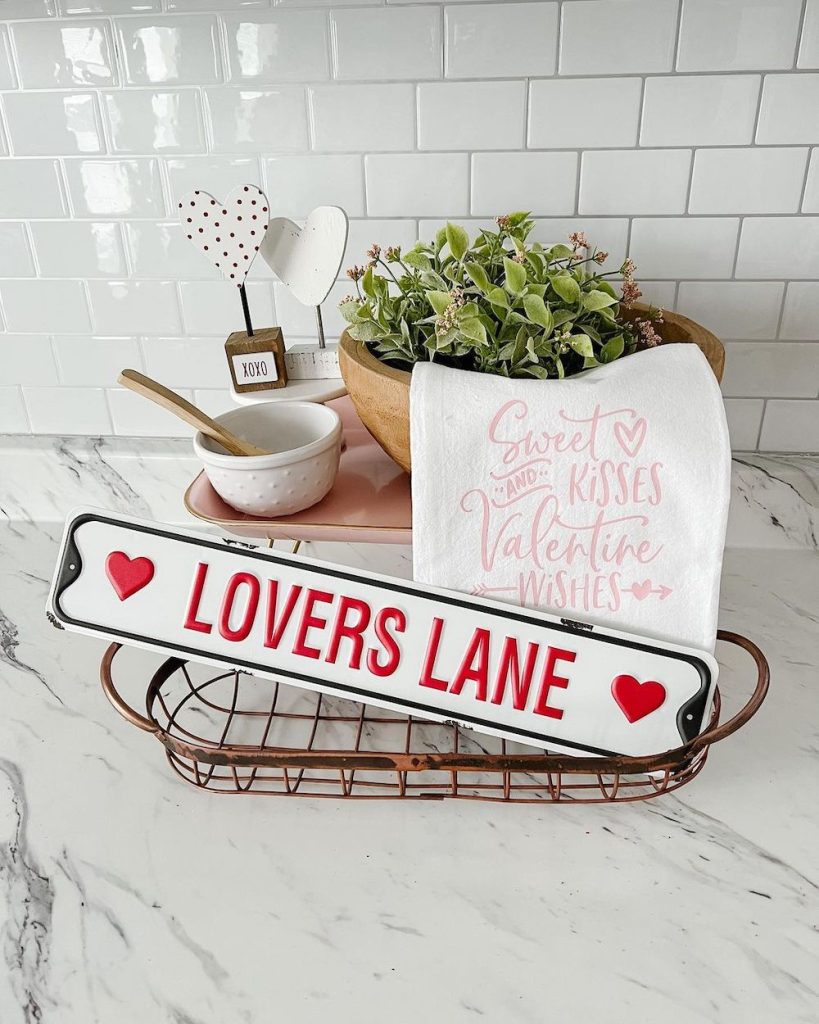 Use a metal street sign and a holiday dish cloth with a pink font. Add a couple of hearts and pink dish for Valentine touches.
Display a Vintage Valentines Card – Valentine Vignette Decor Ideas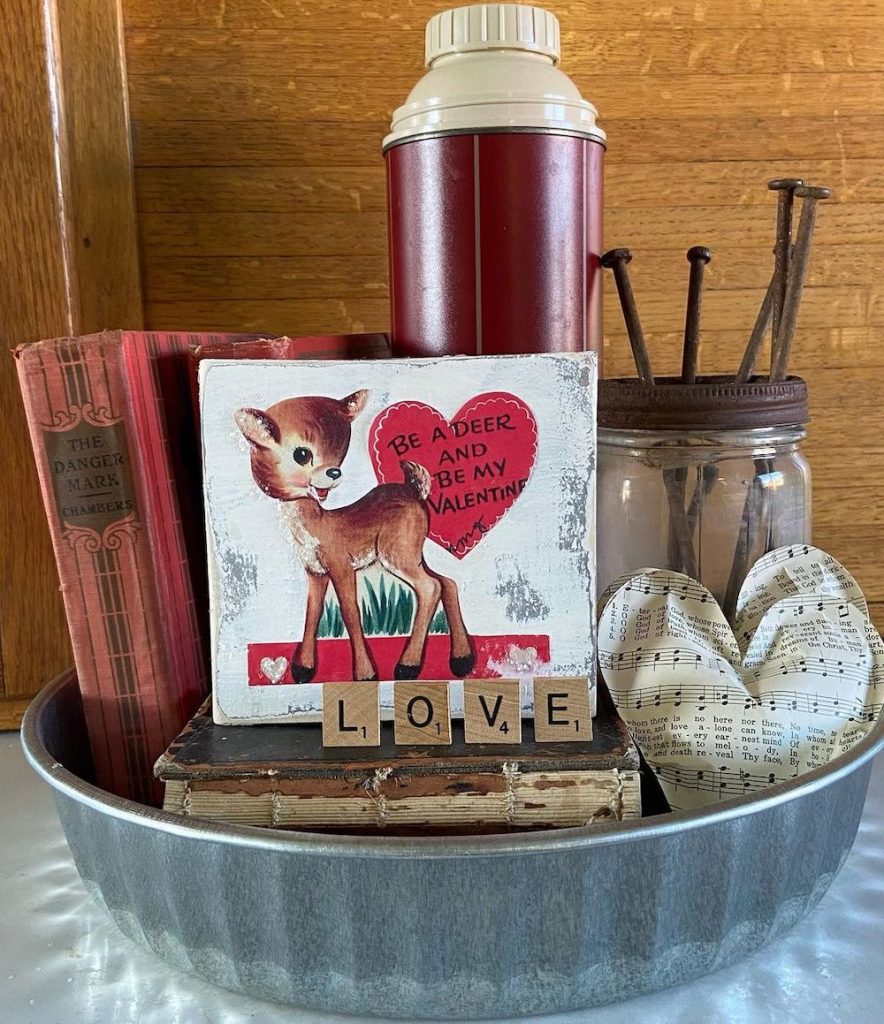 For a rustic decor style, use a vintage Valentines card with worn books inside a galvanized tray.
Include Your Antique Camera Collection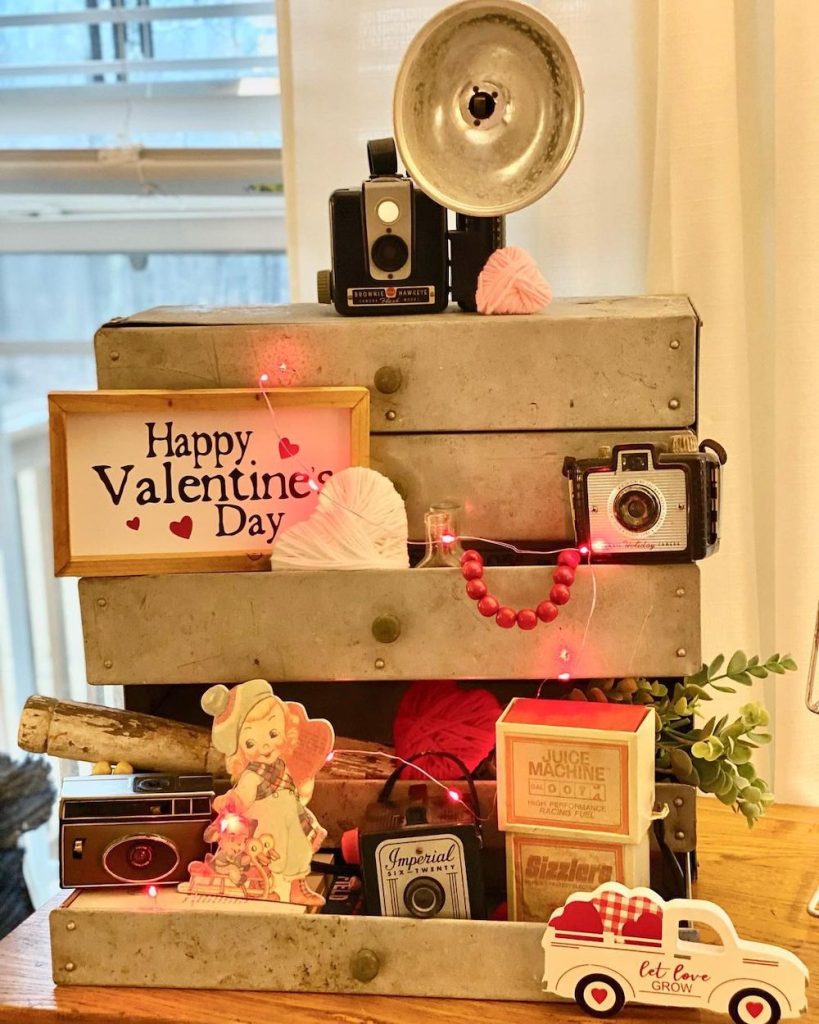 Mix your antique camera collection with vintage Valentine's cards and other objects. Included in this vignette is a replica vintage truck where love grows.
Decorate a Weathered Shutter Shelf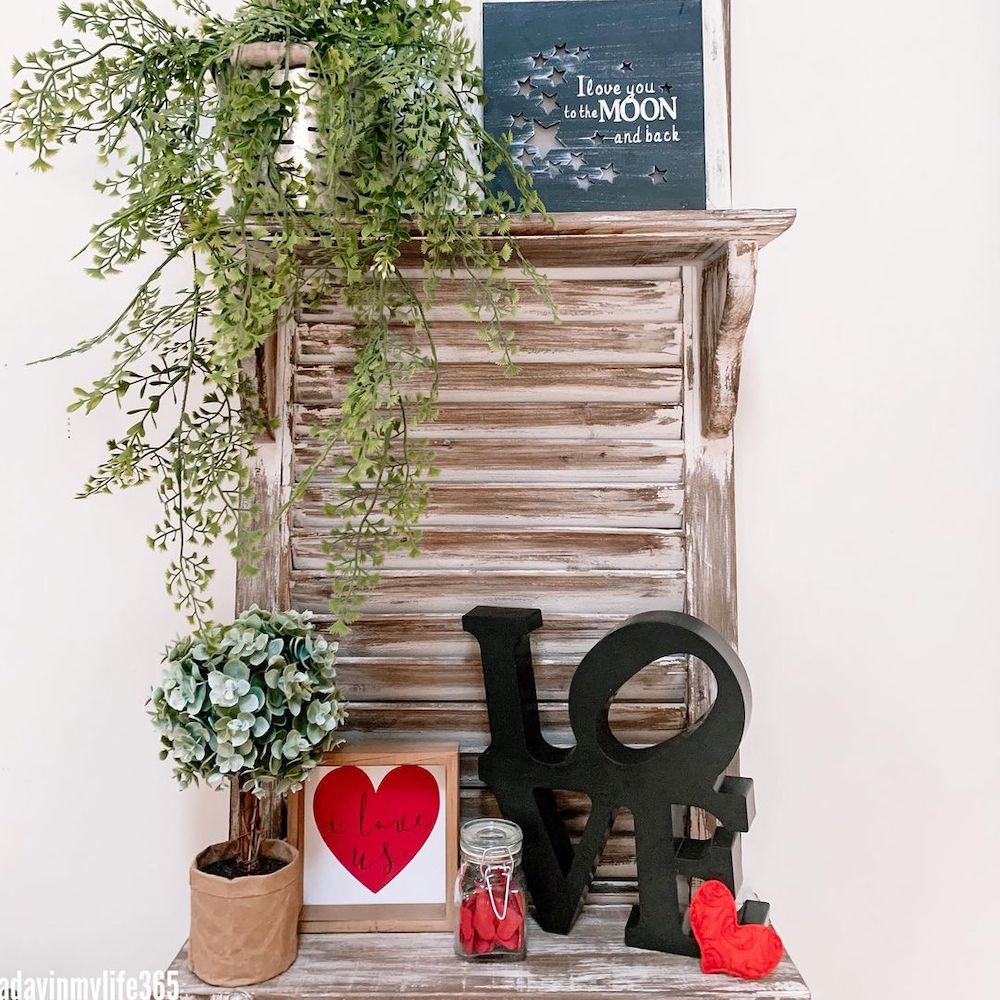 As a contrast use a weathered shutter with shelf as a back drop to your vignette. Display brightly colored pops of red objects such as the framed heart and a jar of sweets. Even the black lettered Love sign stands out against the weathered shelf.
Use an Unexpected Color – Valentine Vignette Decor Ideas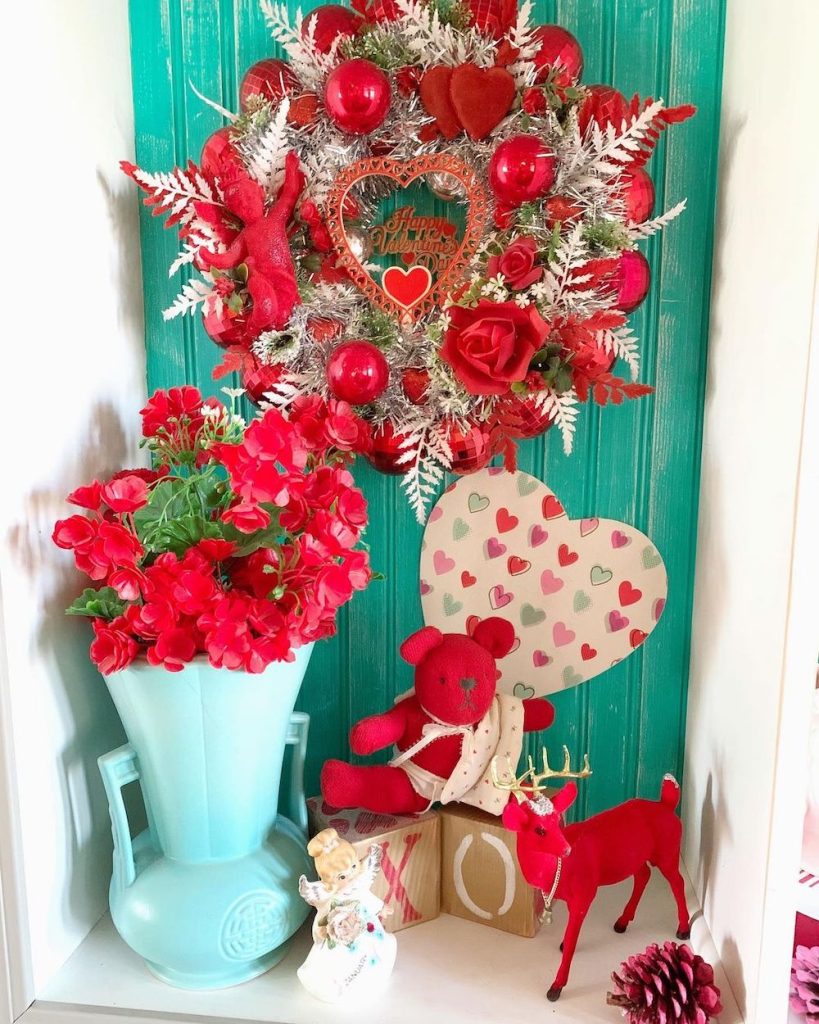 Hang a Valentine wreath against a turquoise wall for an instant pop of color. Follow with a few objects that have a similar hue such as the Valentine wall art and vase.
Decorating Accessories
Here are a few Valentine's Day decorating accessories to consider when styling a vignette:
In Conclusion
This ends our list of Valentine Vignette decor ideas. Create a vignette for Valentine's day this year using one of our ideas. Style it easy and simple.
For additional Valentine decor inspiration, be sure to check out our other posts.
Reach out to us with any questions. We are always ready to help you out. Thank you for stopping by our blog.
Wishing you a Valentine's Day filled with love this year!
Mary
Pin this for Later: