Christmas tablescape ideas for a festive dinner table this holiday season. Create a tablescape that will leave your dinner guests talking about it for weeks. With the use of a few basic materials, create a fabulous table decoration. Make this table decoration one that will make your dinner guests want to return year after year. In today's post, we are sharing inspirational ideas for the dinner table to celebrate Christmas.
Here are a few Christmas table runners that you might find useful in creating a tablescape:

Start building your tablescape with a foundation using fabric, paper, or greenery. Some options that can be used are a table runner, greenery, paper, or garland. For greenery use either fresh or faux evergreen boughs. Use wrapping paper or specialty decorating paper instead of a cloth-made table runner. And garland made from faux greenery or ornamental faux berries and pine cones. Then from there add holiday accessories and objects in the color scheme that fits your style and home decor. 
Here are a few Christmas garlands that you might find useful in creating a tablescape:

Create Your Own – Christmas Tablescape Ideas
Consider these ideas as you begin to build your holiday table decorations. These decorations are easy to style. And of course, can make a huge impact on that special day. Assemble these ideas quickly. And dinner guests will be amazed. Take a look at our festive ideas that instantly add beauty to your table. 
Style it in Bright Colors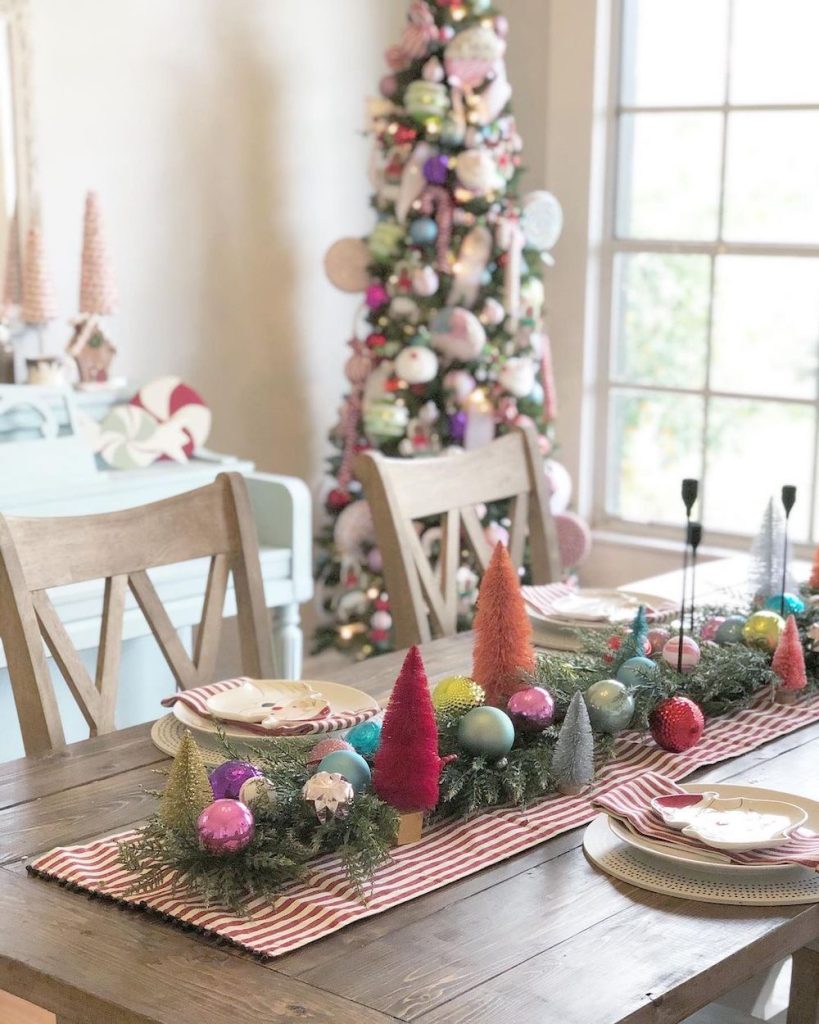 Start with a striped table runner. Then add a little greenery. Follow with brightly colored bottlebrush trees and ornaments for pops of color.  
Design a Small Town or Village – Christmas Tablescape Ideas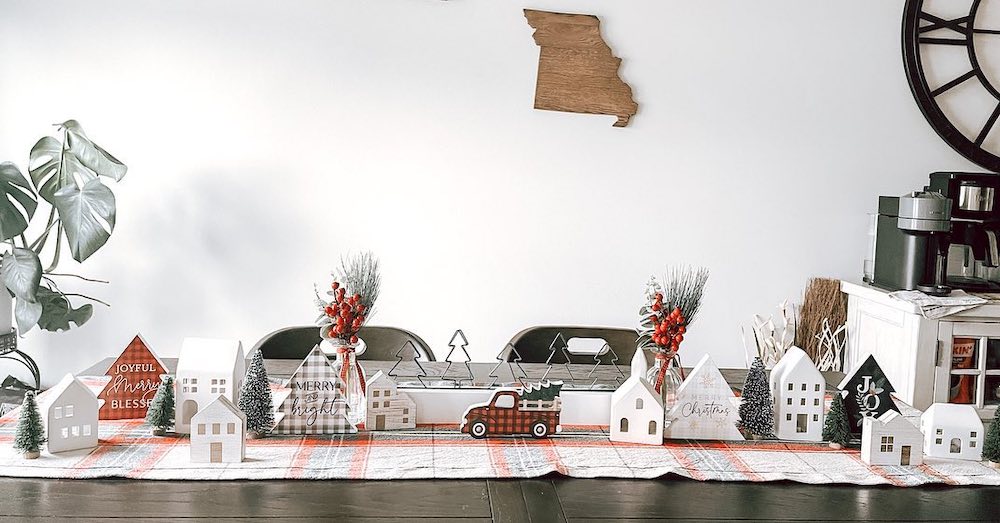 Recreate a town village for the holiday season. Add houses, holiday trees, and a truck or two. Perfect for the kids to assemble too.
Mix Candles with Bottlebrush Trees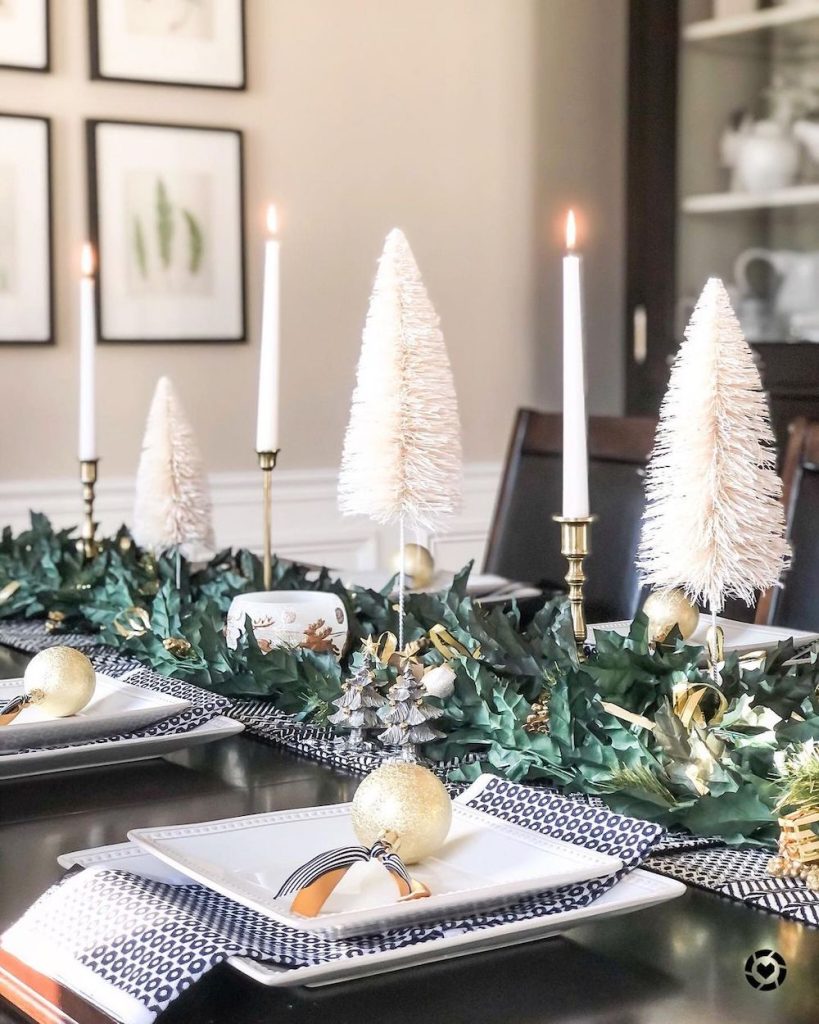 Add alternating bottlebrush trees and candles to the tablescape.
Use Paper Stars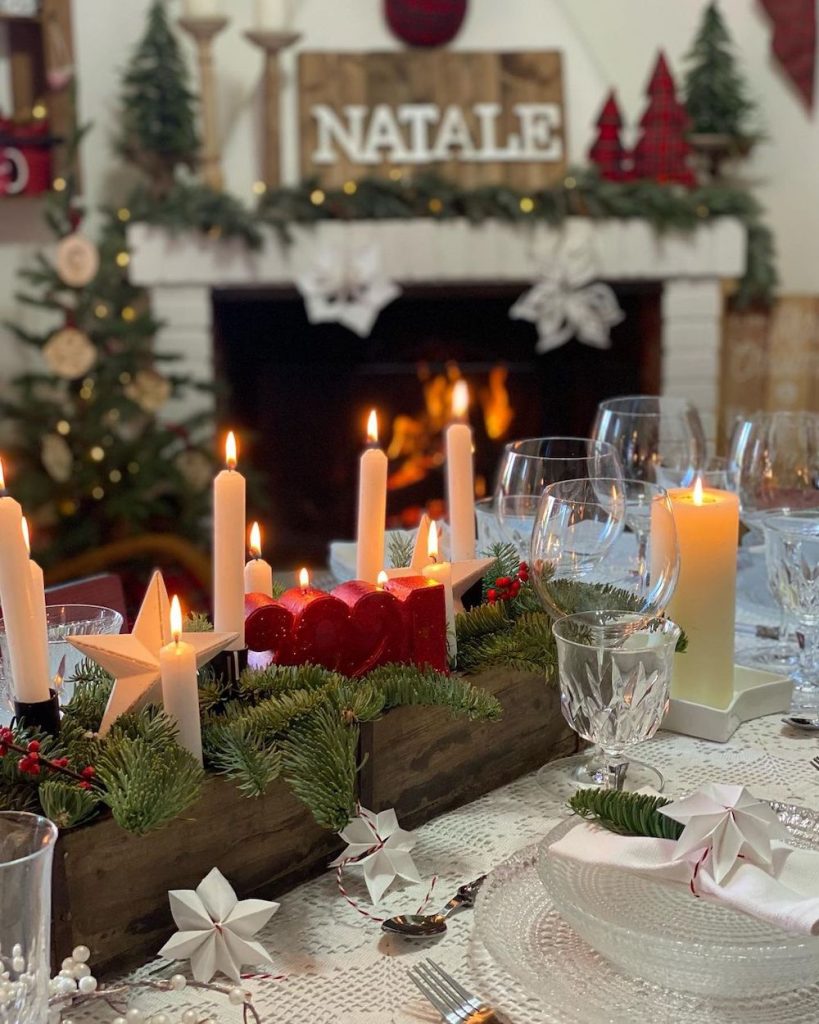 Add paper stars to your tablescape. So easy to make and the children can help too.
Drape Your Table with Eucalyptus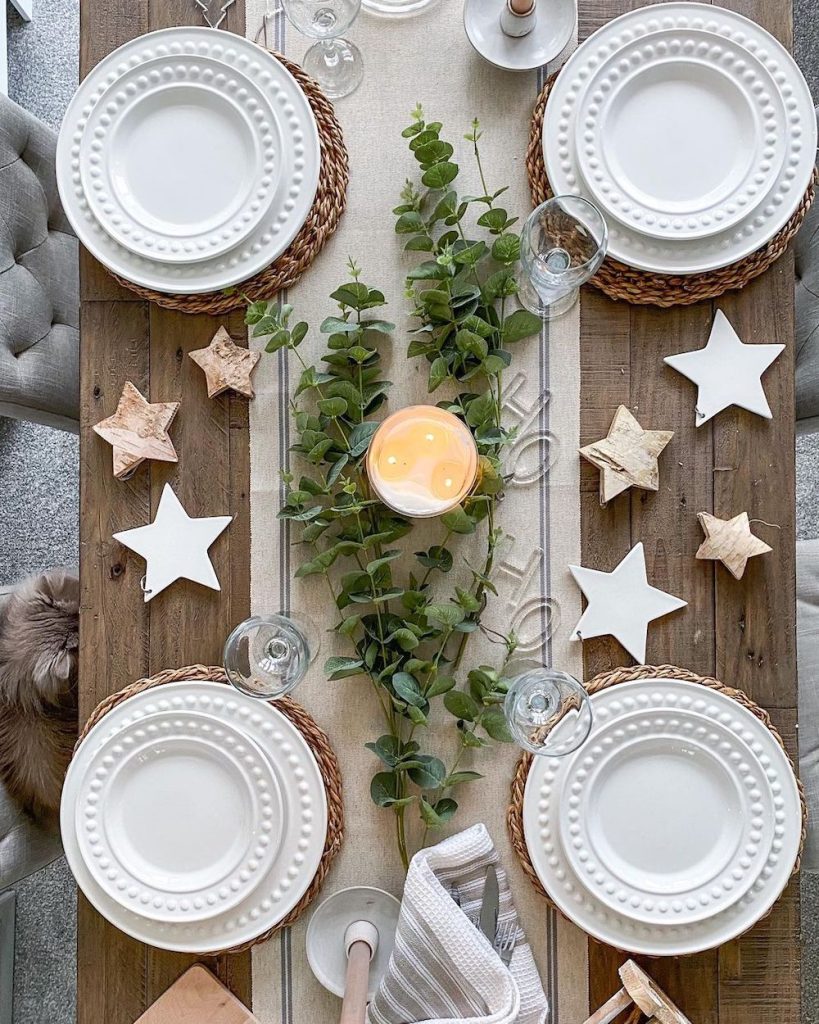 Spread fresh eucalyptus stems across the table for visual interest and fragrance.  
Use Dried Orange Slices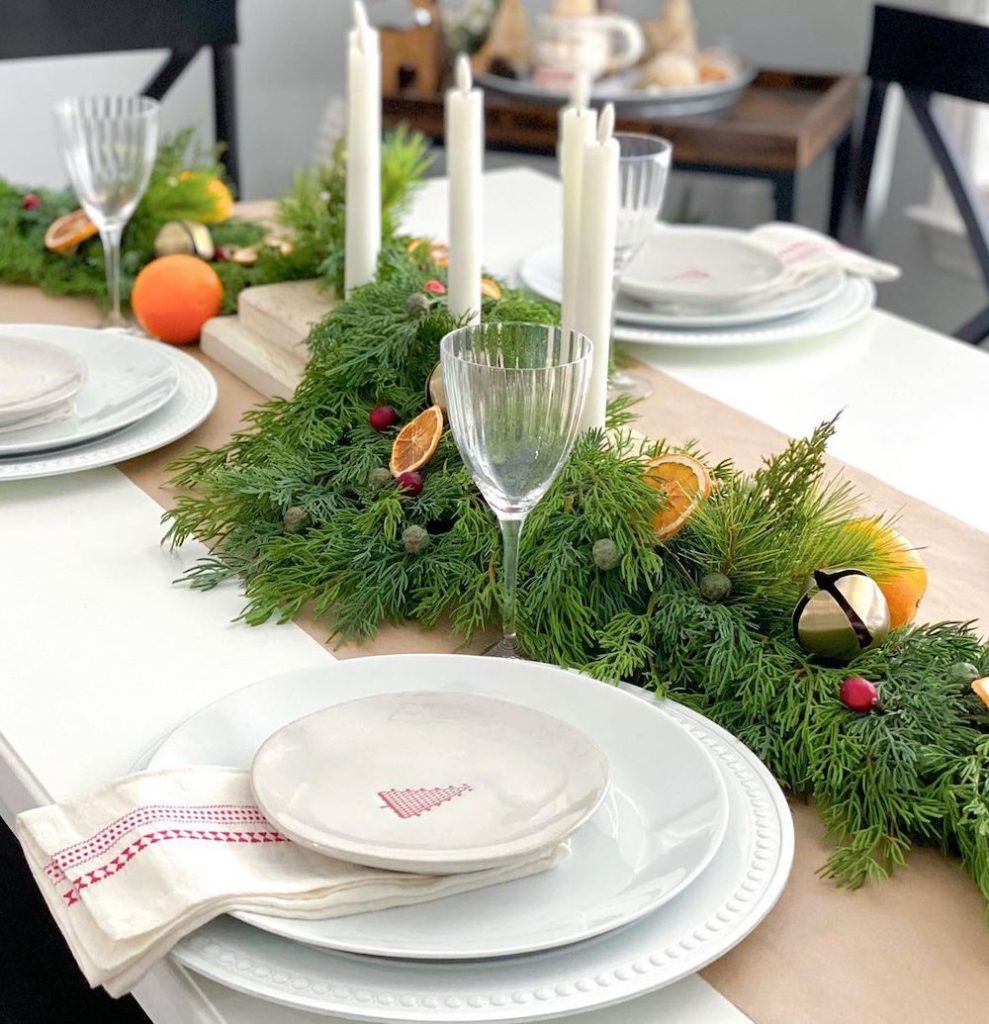 Add fresh greenery to the table. Decorate the greenery with fresh oranges and dried orange slices.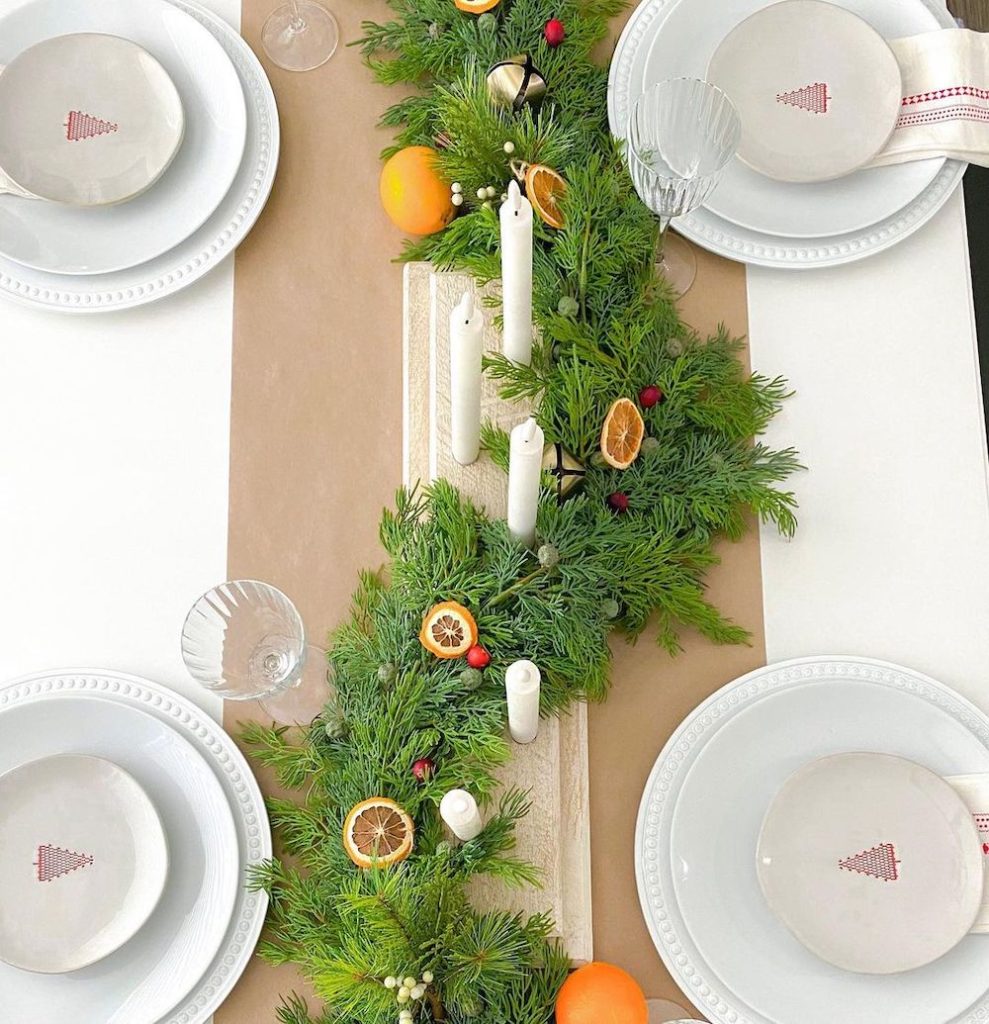 Add Round Ornaments and Antlers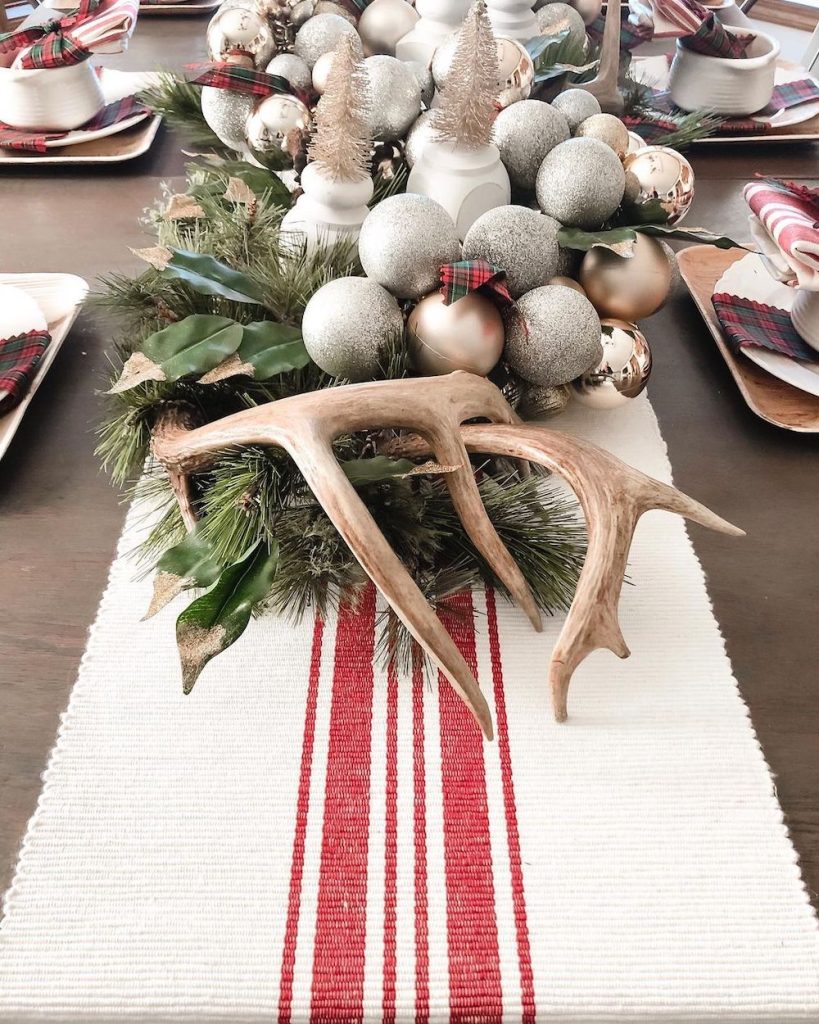 Mix glass ornaments with greenery and top off with some antlers.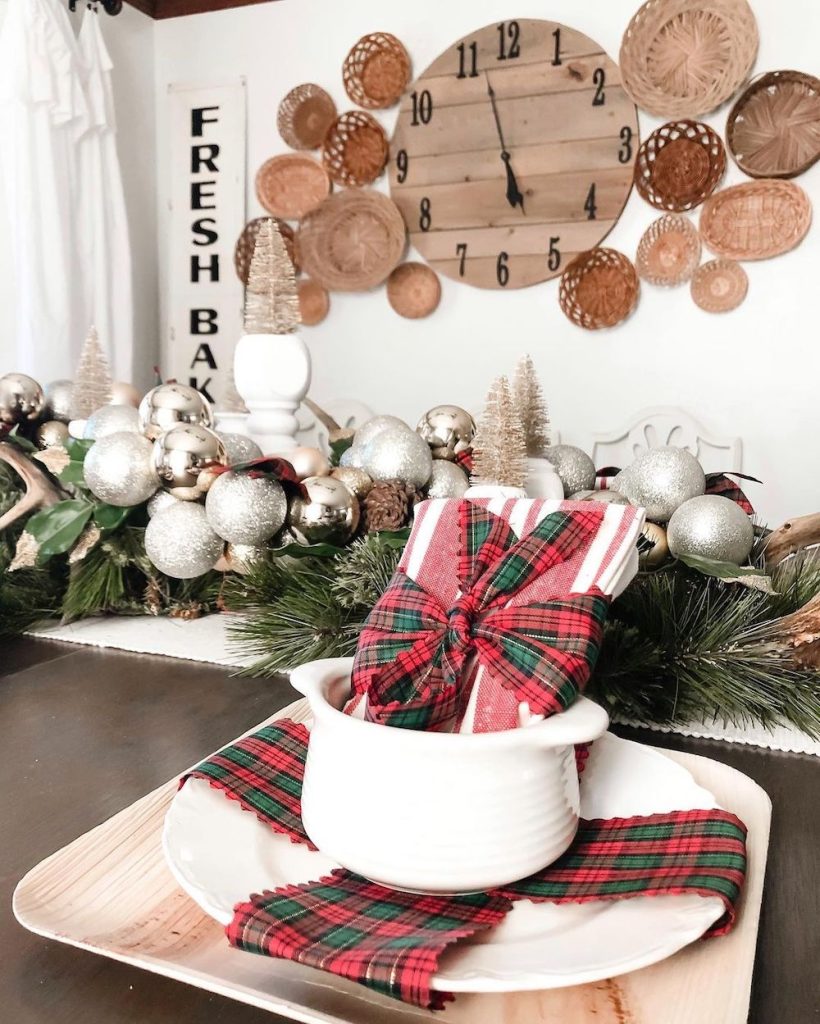 Create Sugar Jar Houses – Christmas Tablescape Ideas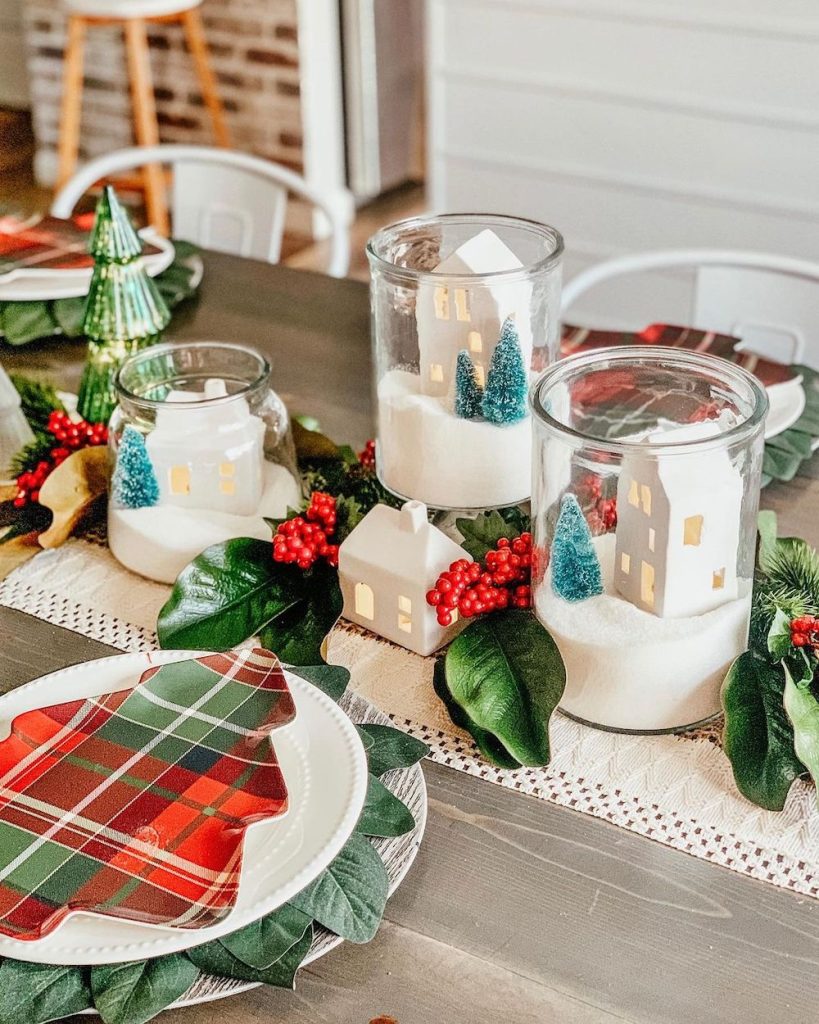 Create a tablescape using sugar jar houses. So festive and bright.
Group a Few Miniature Trees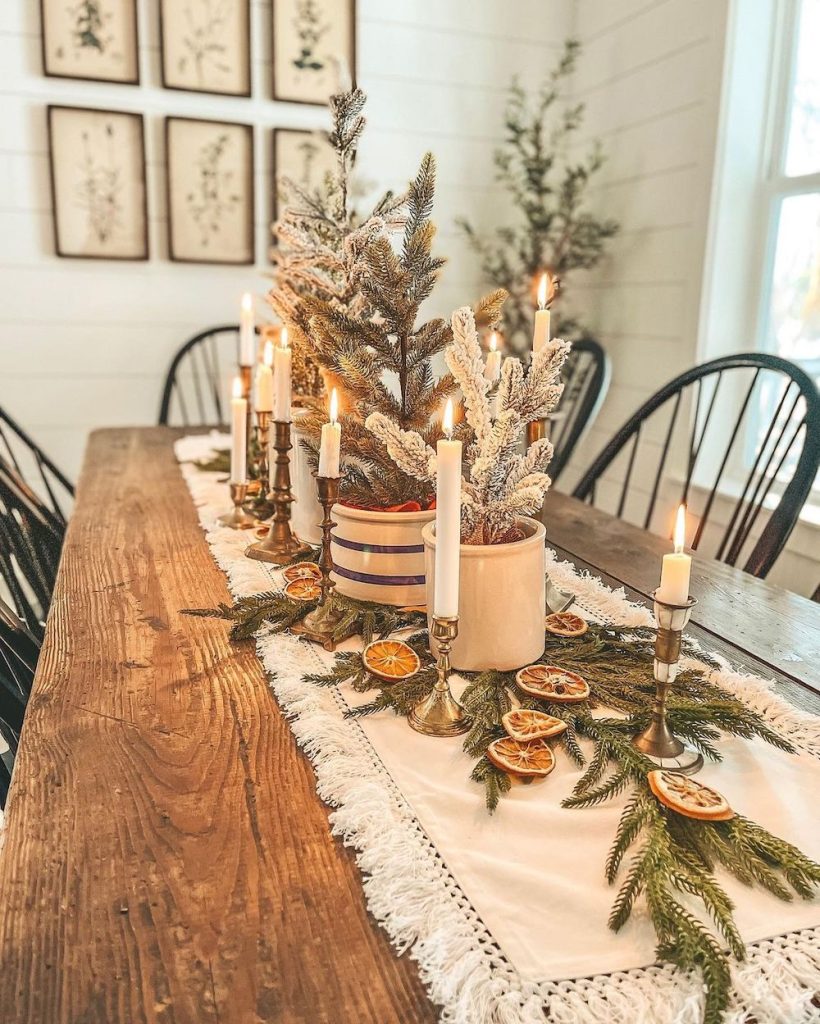 Display a grouping of faux holiday trees in pottery containers.
Style it Green, Red, and Wood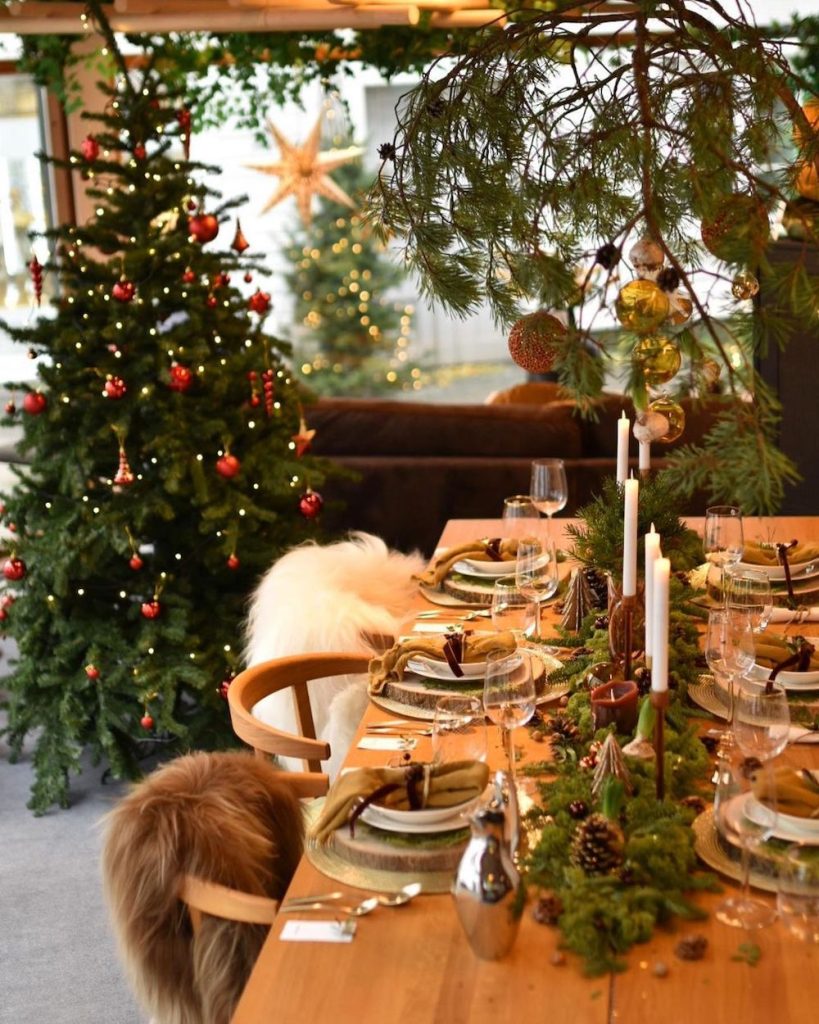 Start off with some greenery, add red candles, then wood accessories.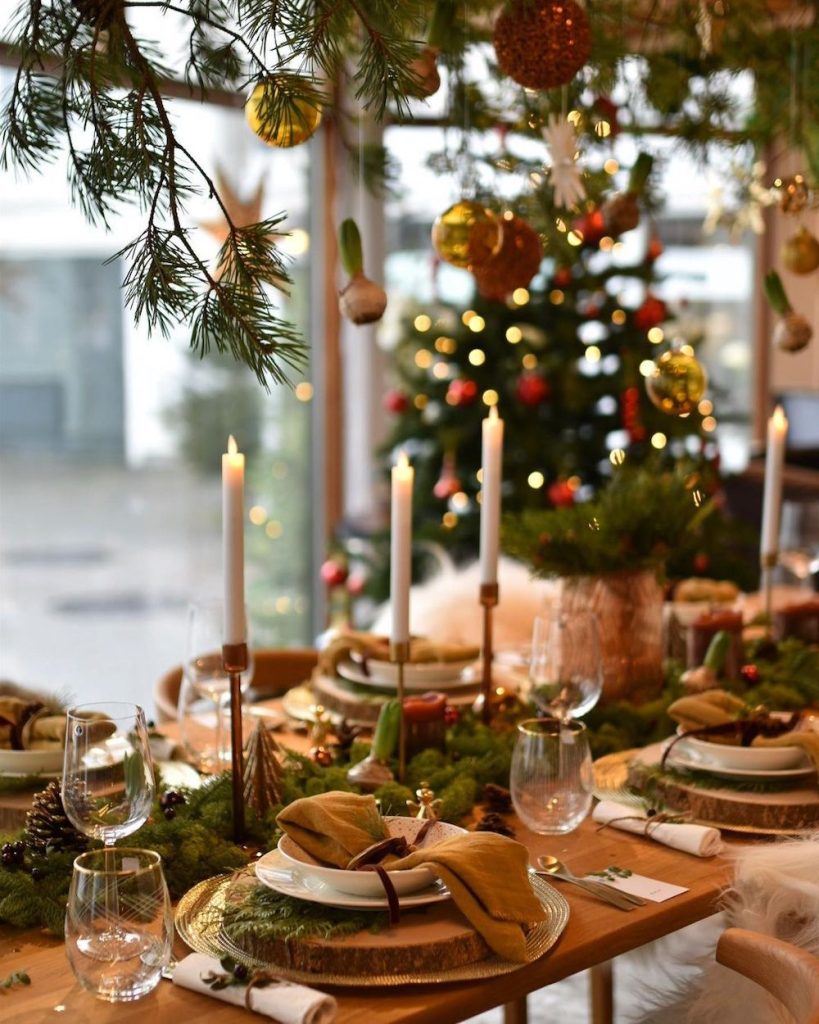 Bring a Nutcracker to the Table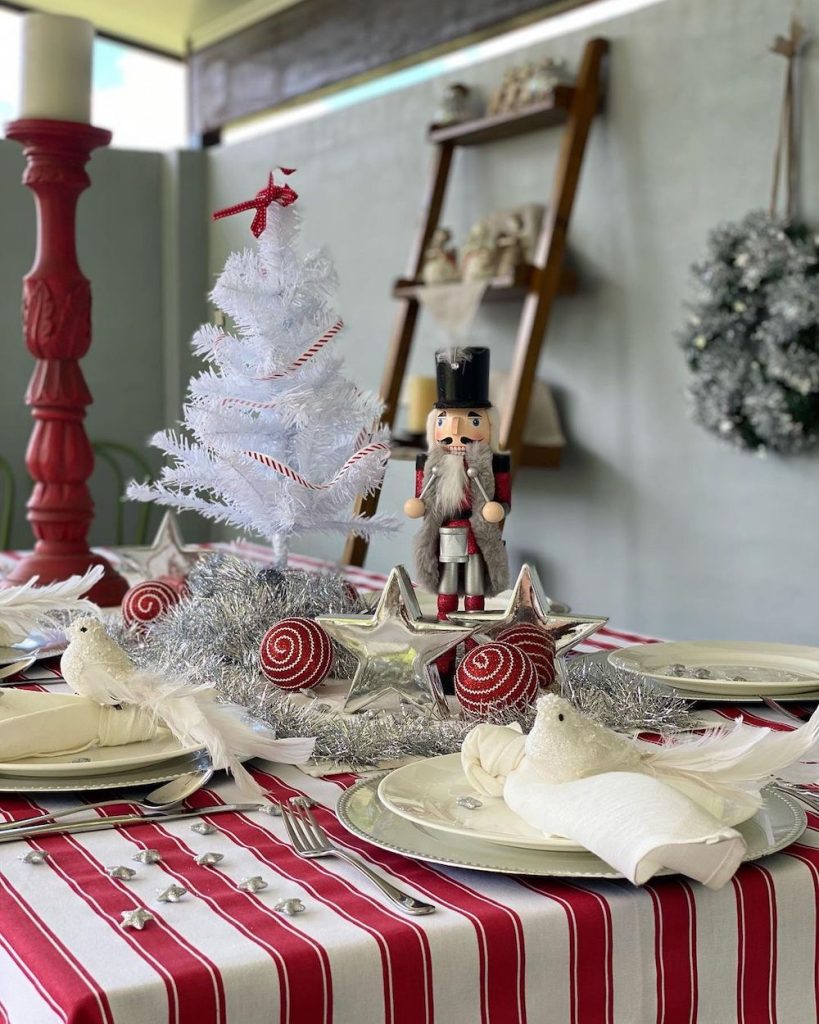 Display your favorite nutcracker along with other holiday accessories.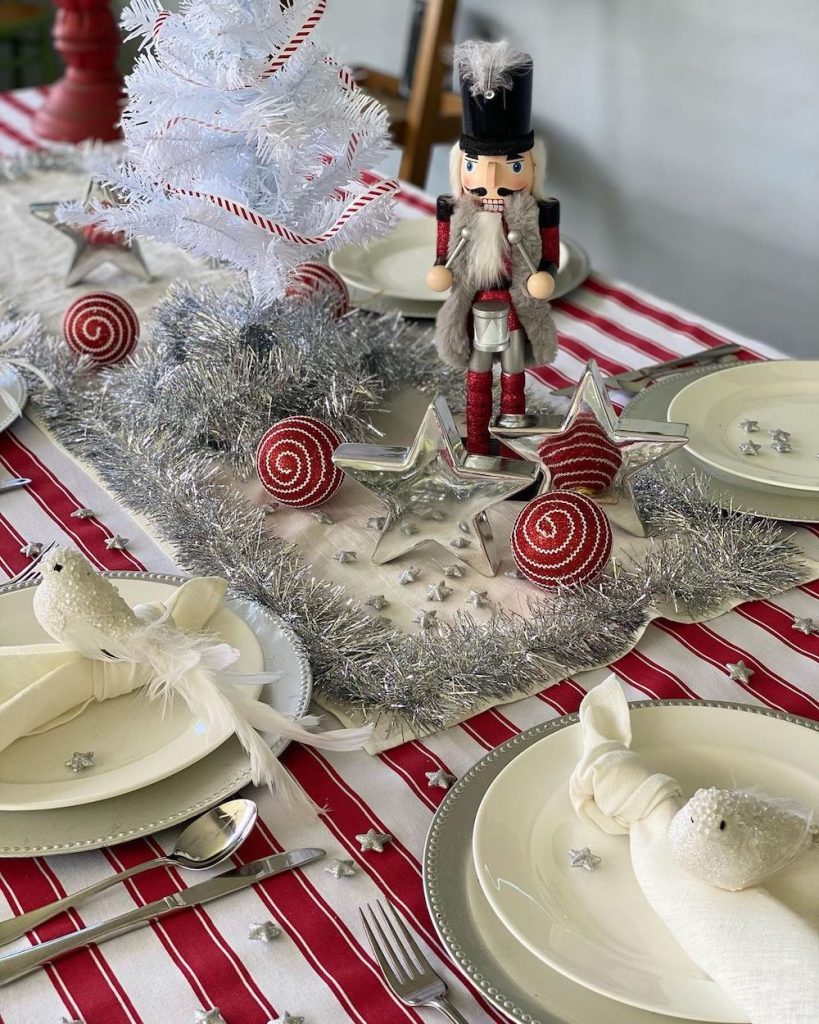 Create an Enchanted Forest for Wildlife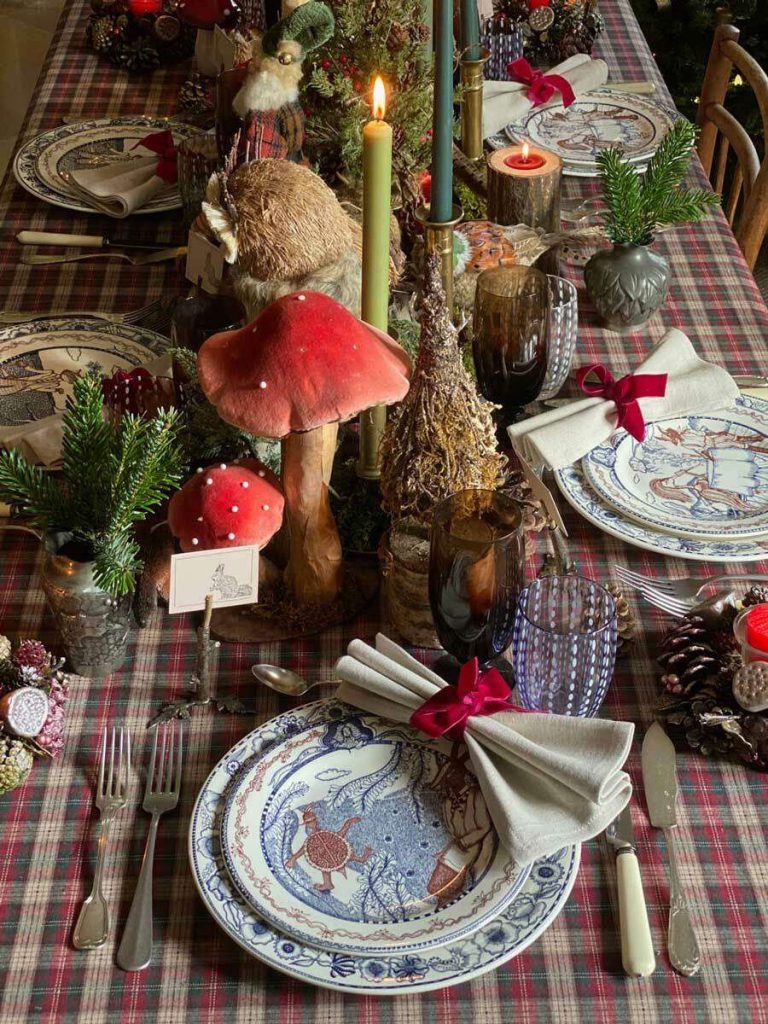 Create a tablescape depicting an enchanted forest with wildlife. Perfect for animal lovers everywhere.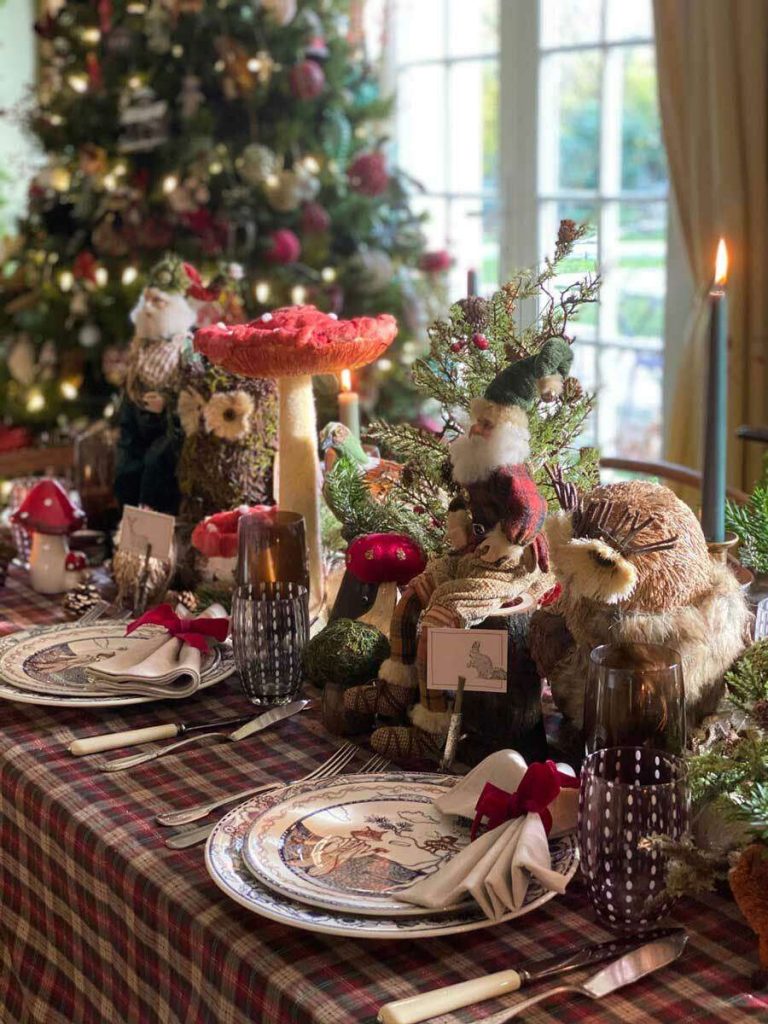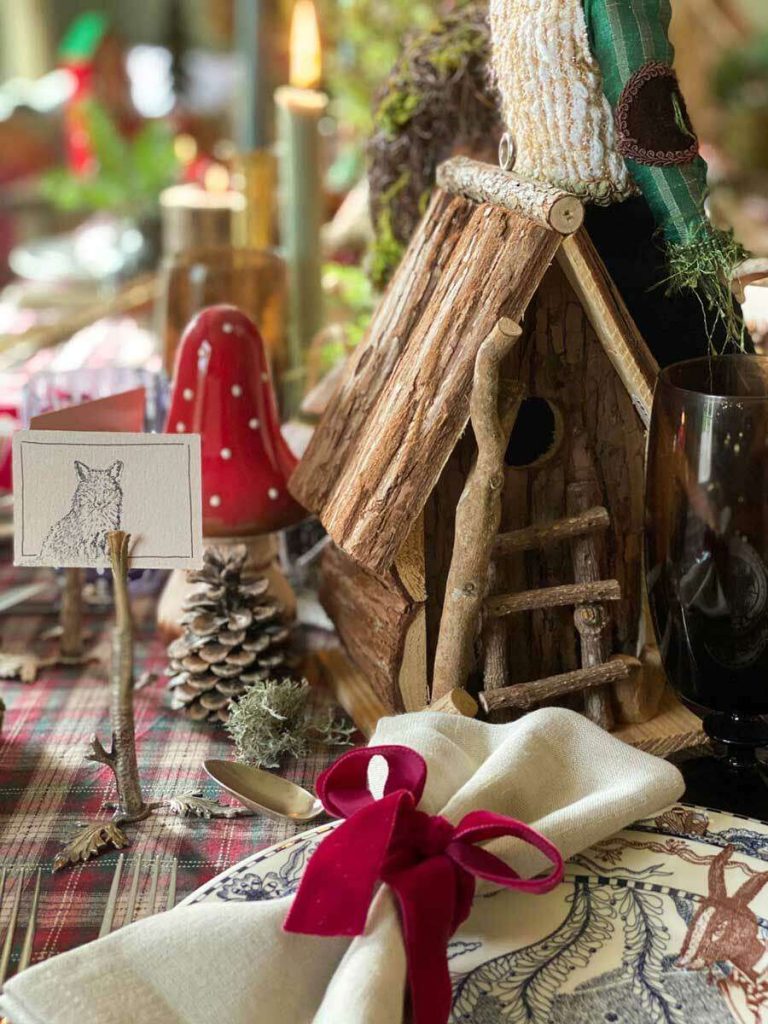 Add Gold Touches – Christmas Tablescape Ideas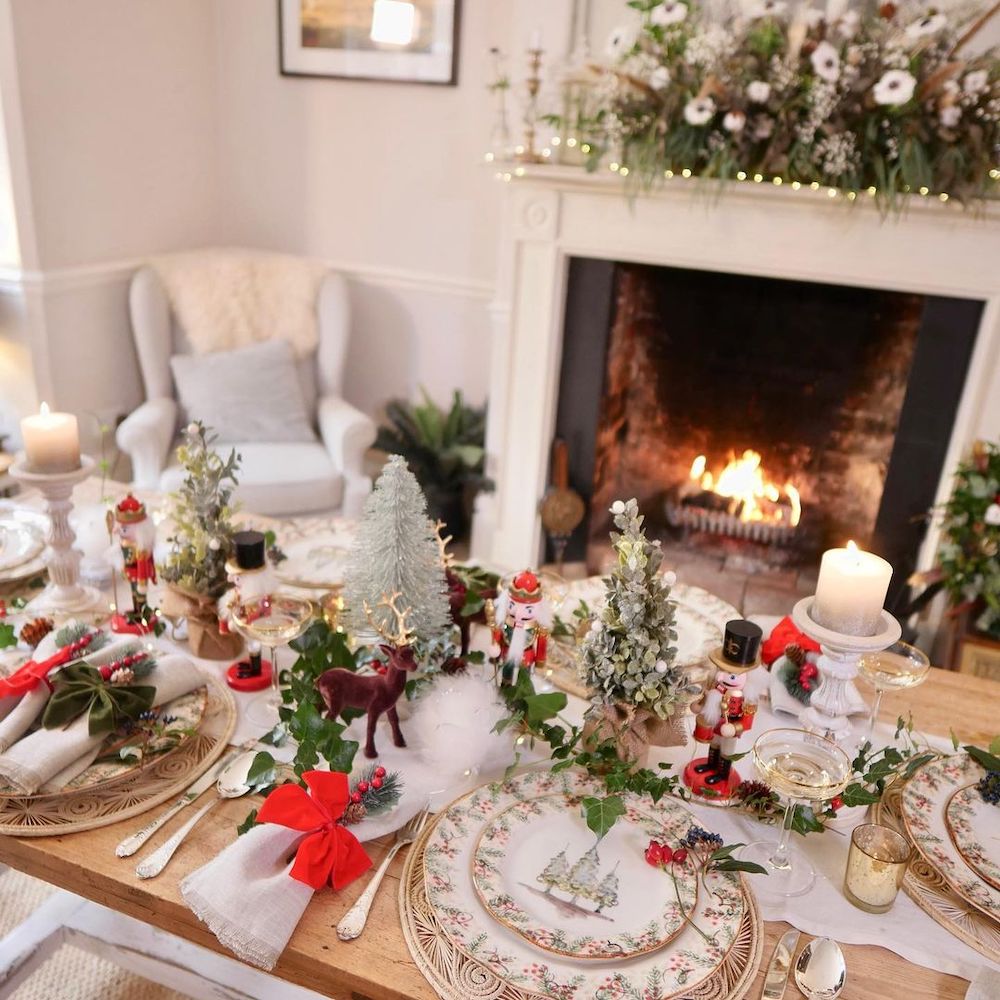 Add a few touches of gold to the tablescape for a glistening effect.  
Glam it Up – Christmas Tablescape Ideas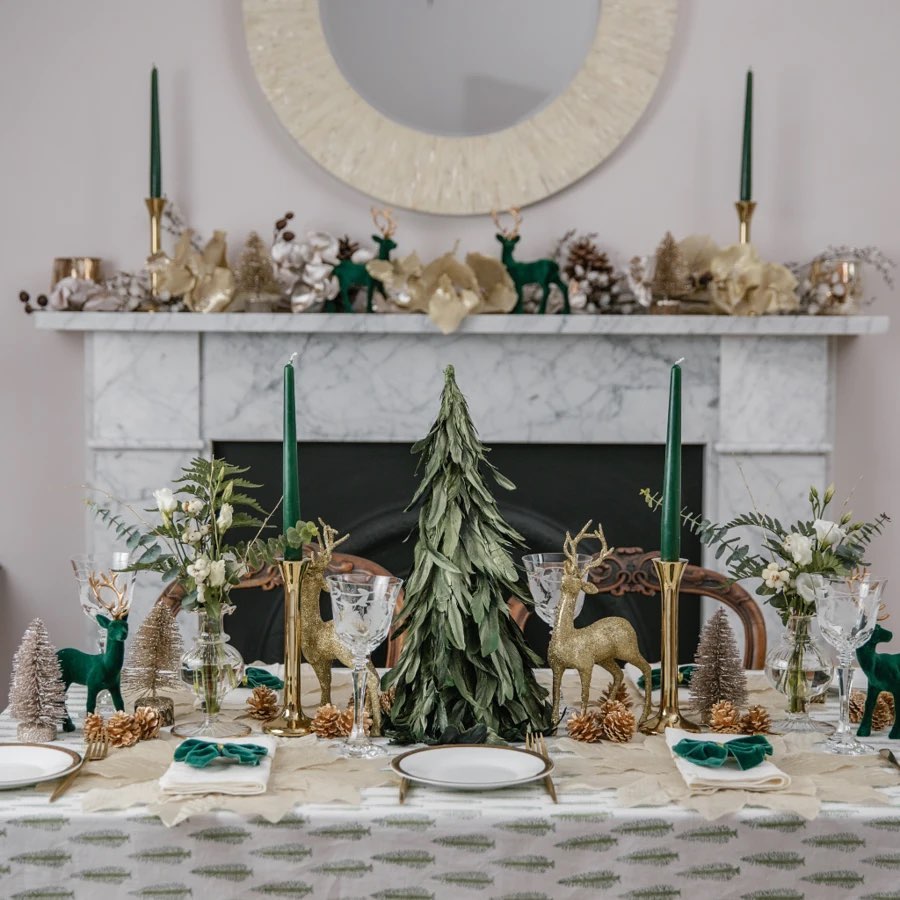 Use gold and green accessories for a glam tablescape look.
Use Birch Stumps to Elevate Your Decor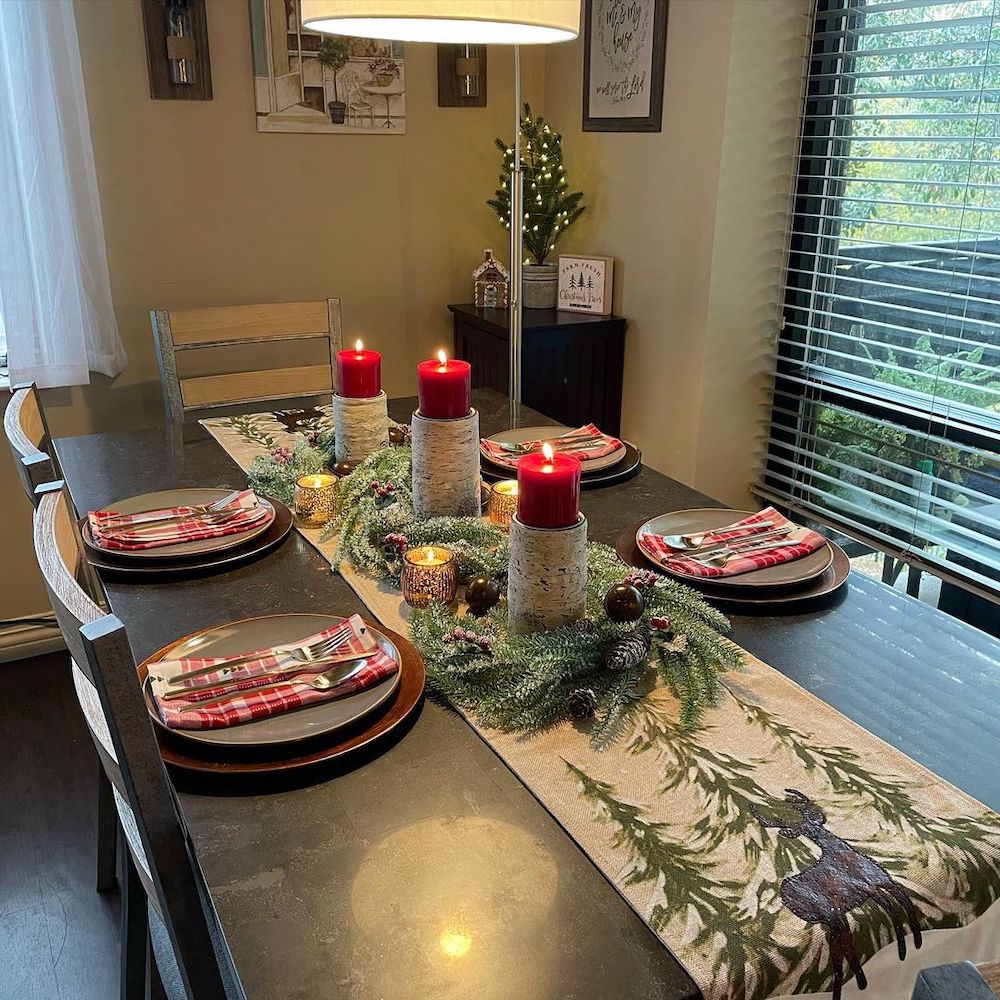 Wood stumps such as the birch stumps above can elevate your accessories. In this design, the birch wood pieces elevate pillar candles.  
Go for a Traditional and Rustic Style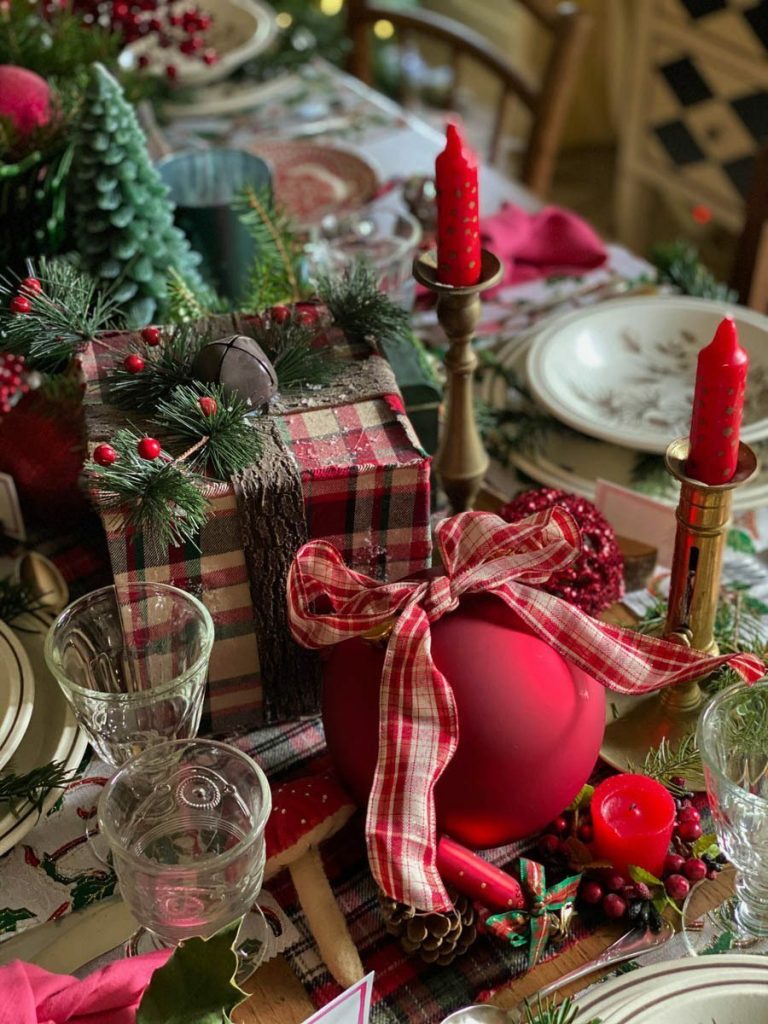 Style it with traditional and rustic colors such as these reds. Plaid ribbons and wrapping really make this table setting stand out.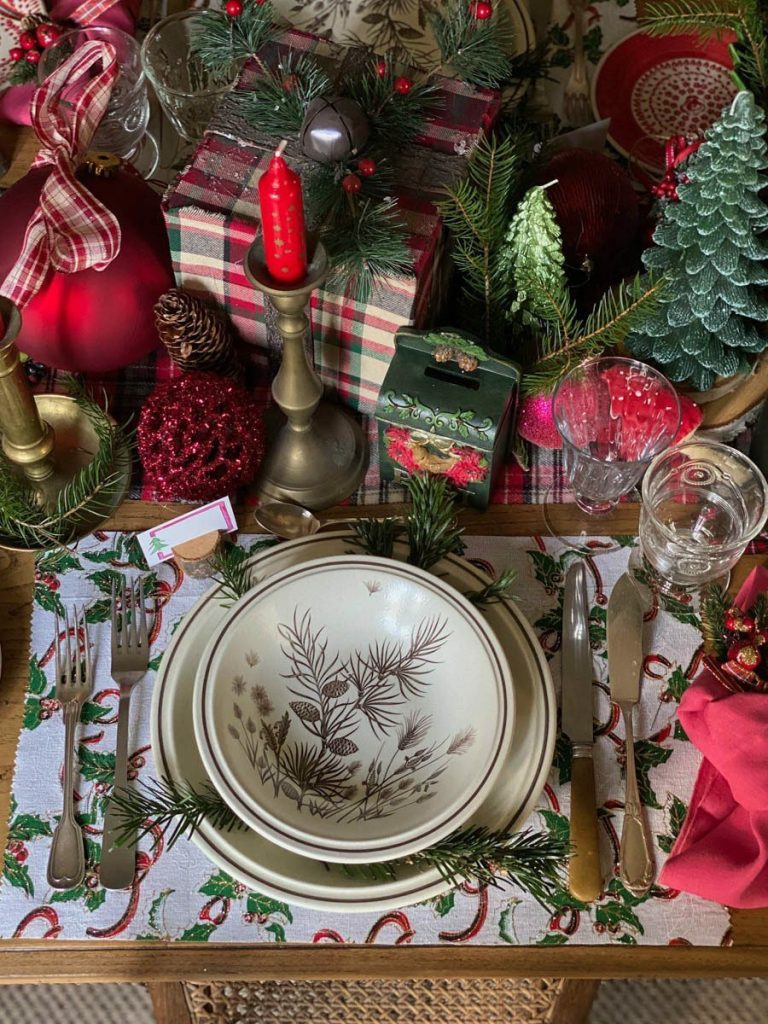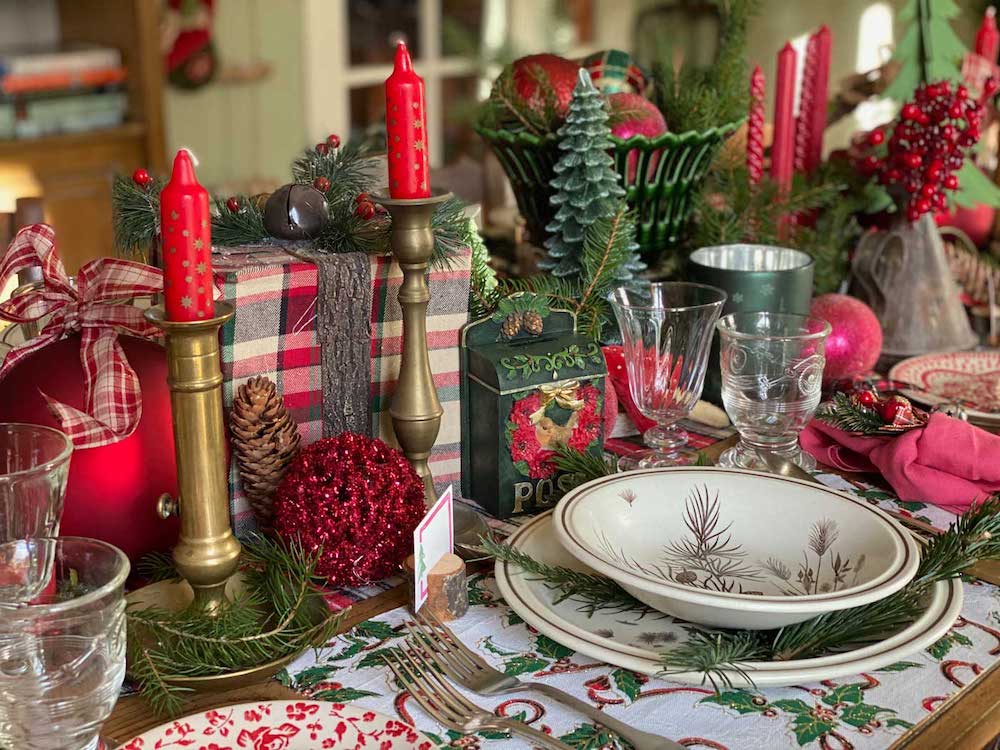 Make it Magical – Christmas Tablescape Ideas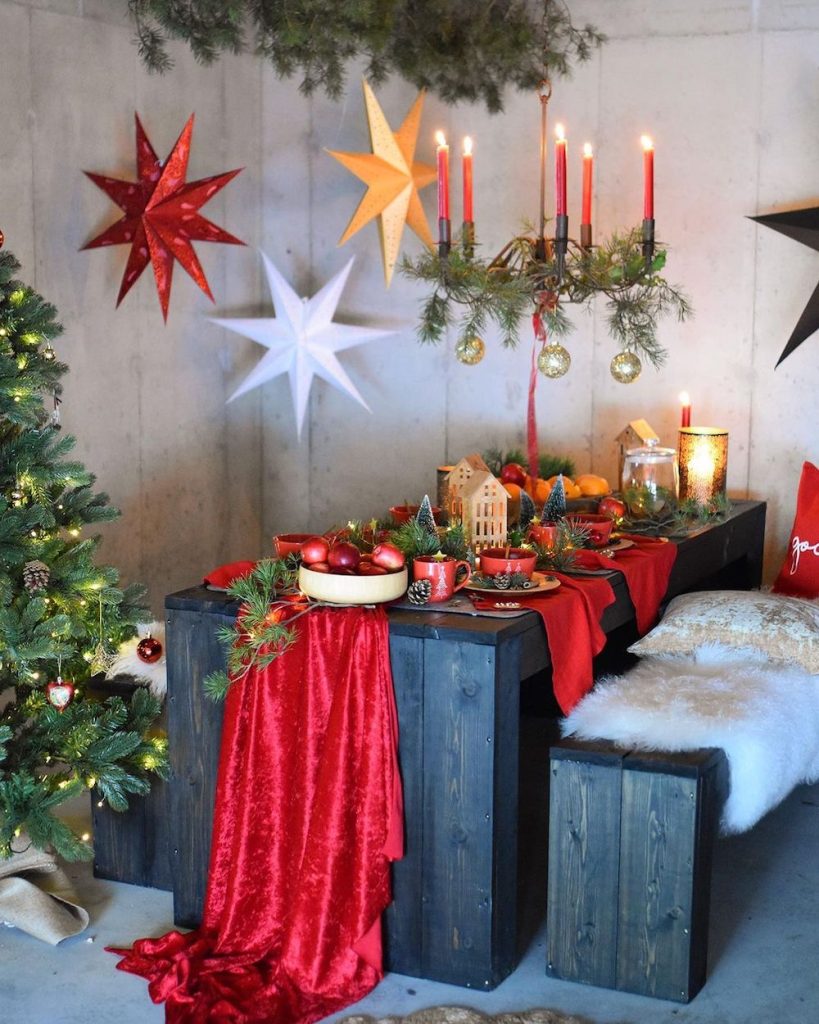 Pull all of your accessories together with the red tablecloth that drapes across the table. Then top it off with a group of paper stars.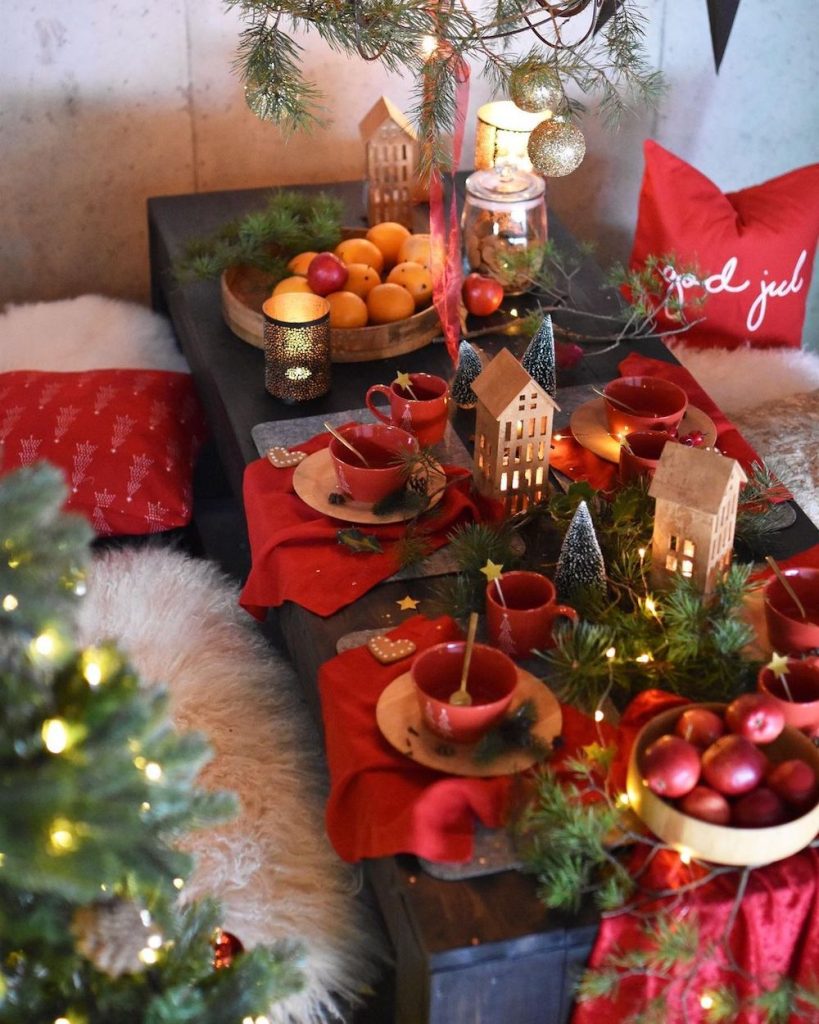 Blend in Pine Cones with Snow Covered Accessories         
Use pine cones in different colors and natural as well.  
Design a Grove of Mercury Glass Trees – Christmas Tablescape Ideas
In a wood dough bowl, create a grove of mercury glass trees. Then add white glass ornaments at the base of the trees.  
Keep it Blue – Christmas Tablescape Ideas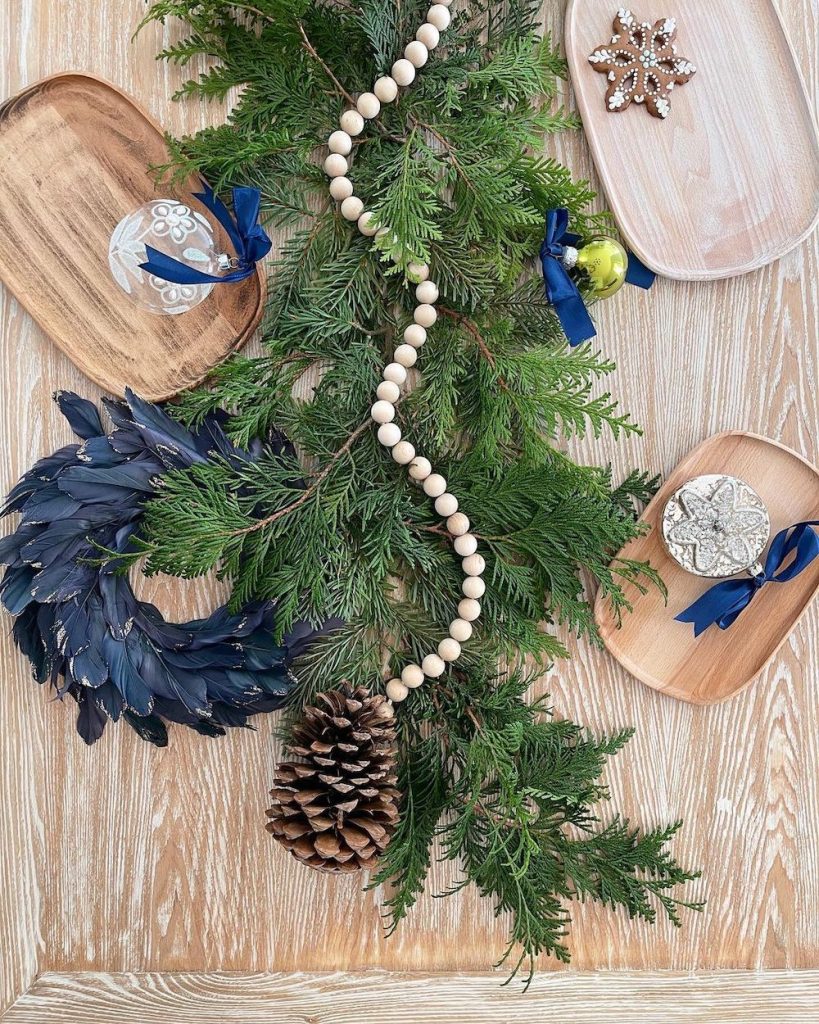 Use blue accents for a pop of dramatic color.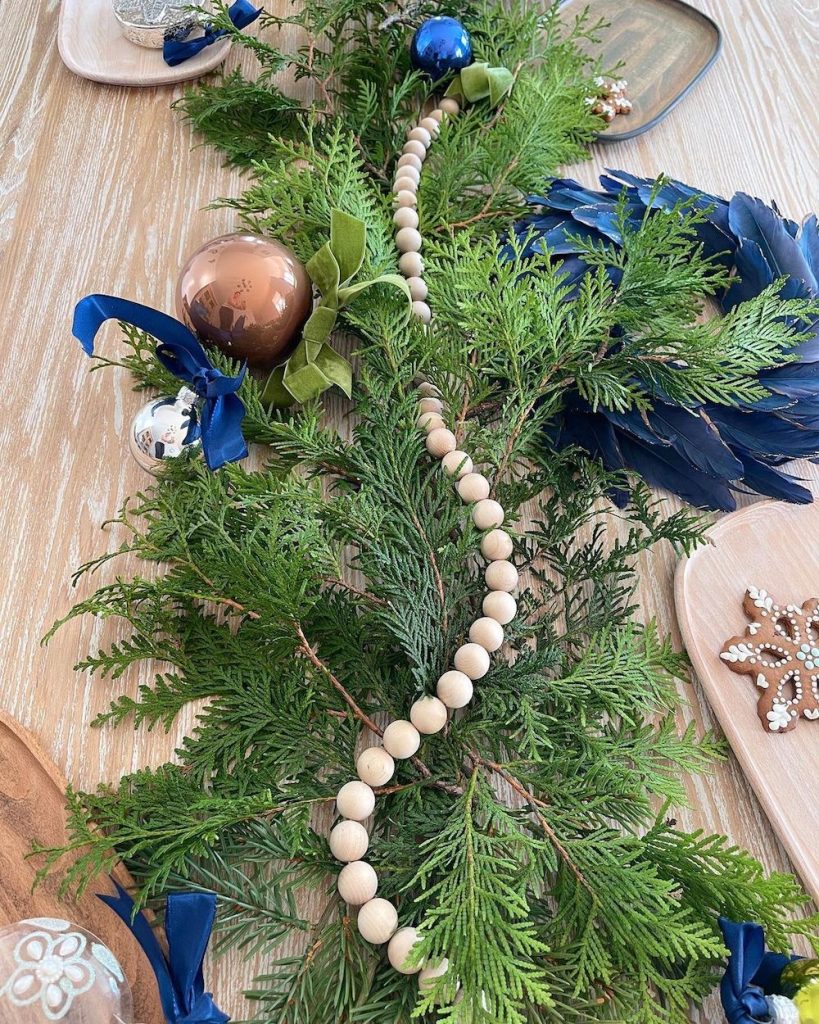 Mix Your Candles – Christmas Tablescape Ideas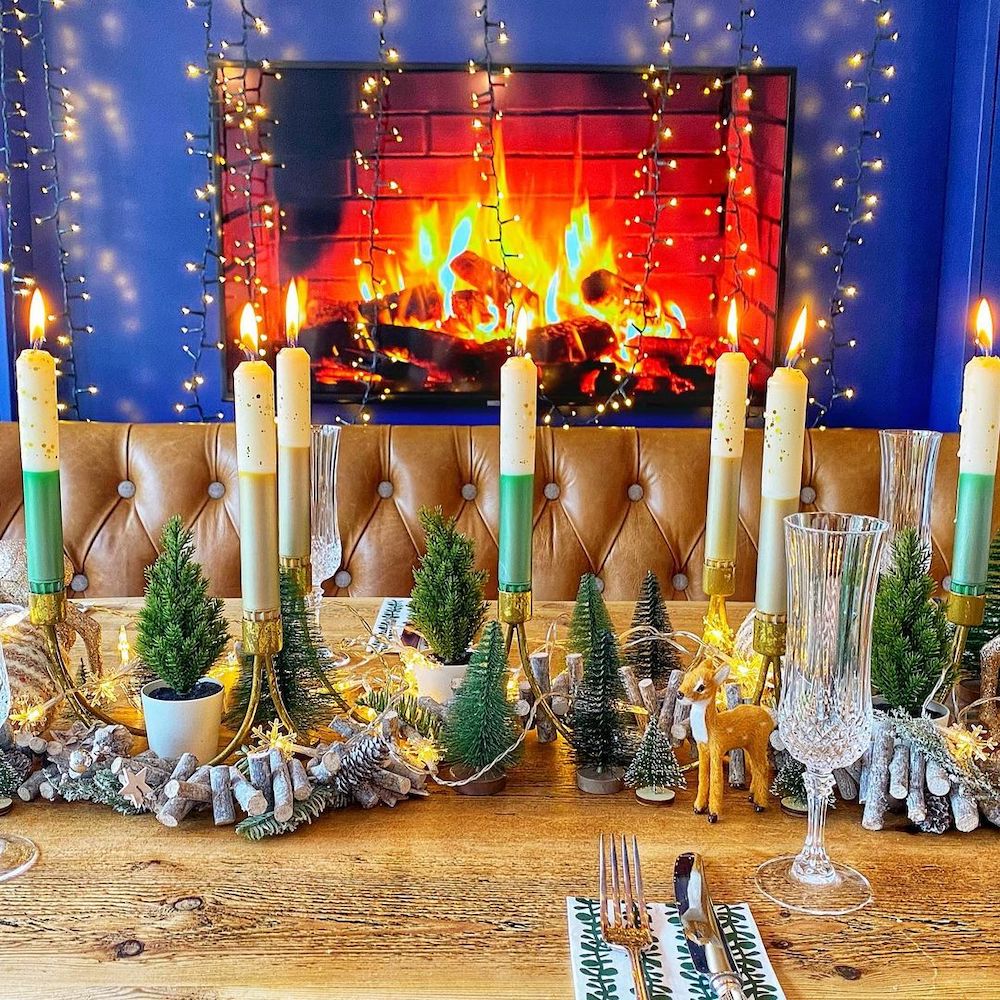 Use two candle colors. In this design, use green and gold candles to light up your table.  
Corral it with Trays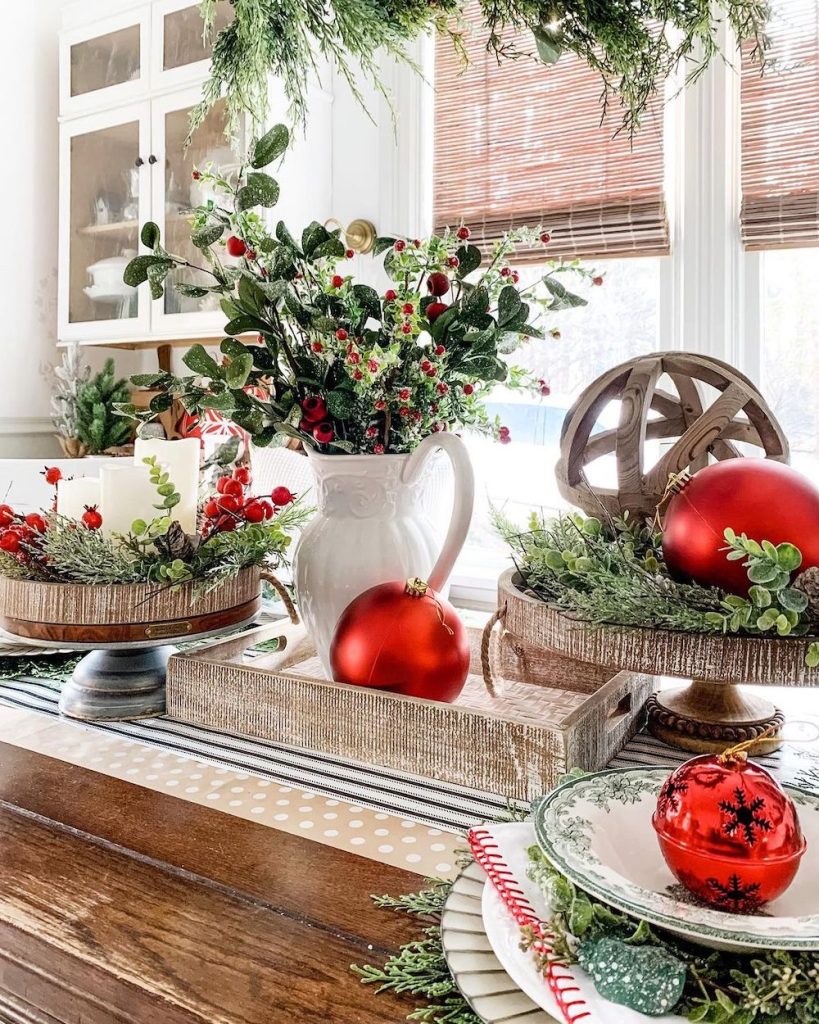 Combine square and round elevated trays. These trays keep your holiday accessories in a single space.  
Make it Snow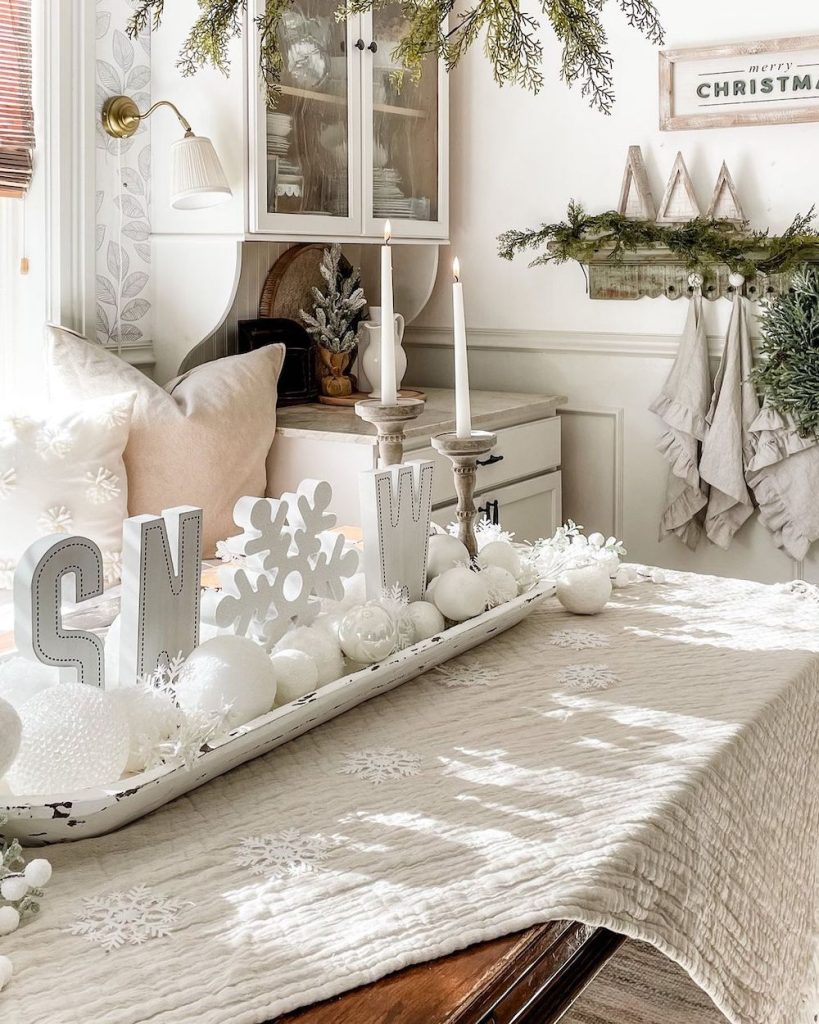 Using a distressed wooden dough bowl, load it with snowballs, snowflakes, and accessories.  
Stay with Neutral Colors – Christmas Tablescape Ideas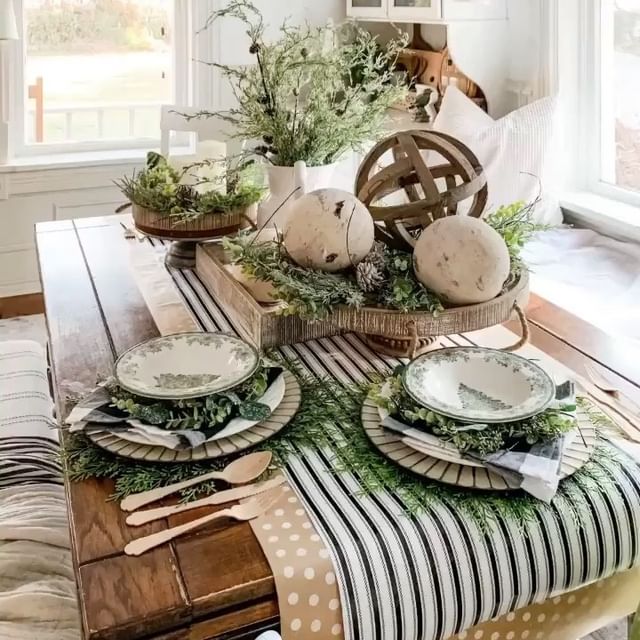 Stick with neutral colors by using cream, beige, and distressed whites for your tablescape.  
Here are a few Christmas tabletop trees that you might find useful in creating a tablescape.

In Conclusion …
This ends our list of holiday tablescape ideas for the holiday table. We hope our ideas inspire you. Style your best ever holiday table this holiday season.
For additional Christmas decor inspiration, be sure to check out our other posts.
Reach out to us with any questions. We are always ready to help you out. Thank you for stopping by our blog.
Wishing you a blessed Christmas this year!
Mary
Pin this for Later: