Rolled arm loveseat sofas with gorgeous neutral shades perfect for every home. A loveseat is known by many names. Some of those names include tete-a-tete, vis-a-vis, love seat, courting chair, or mini-sofa. And of course, the less glamorous name of a two-person couch. The original design intent was to accommodate two people. Upholstered with two side arms and a backside as well, the loveseat is a perfect choice in many homes.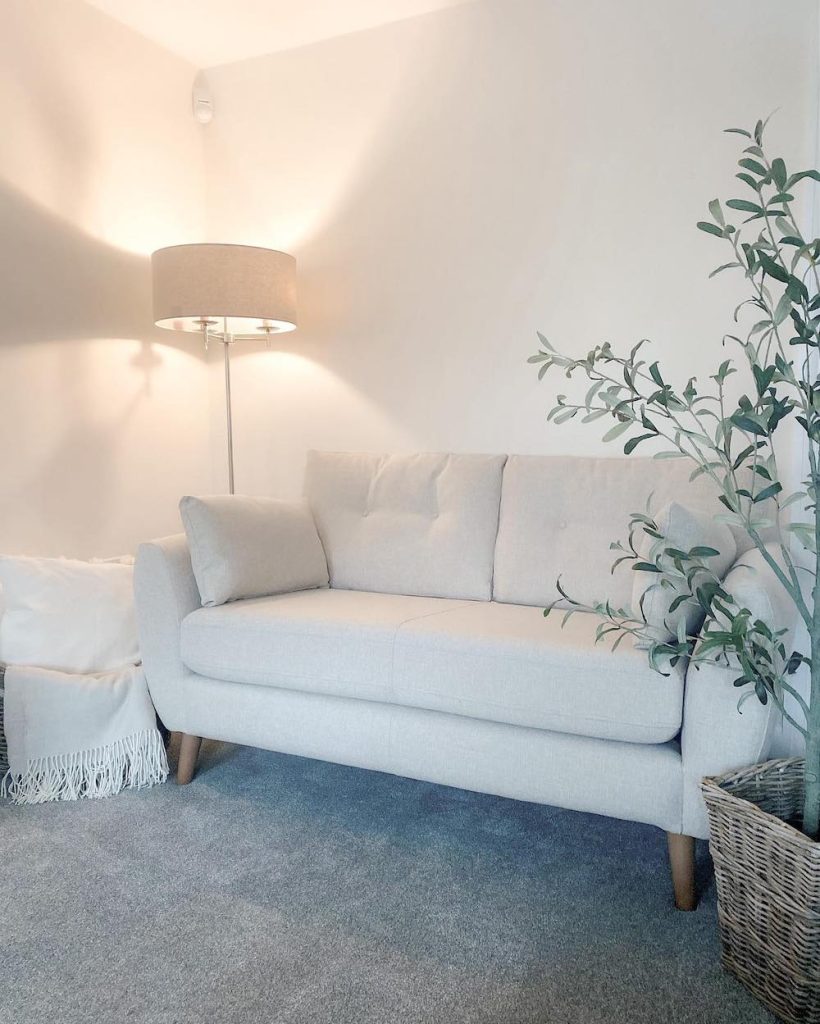 There are two styles of loveseat or two-seat chairs. The first is called a British two-seater. It has two upholstered seats. The second style is known as a tete-a-tete, courting bench, kissing bench, gossip's chair, or conversation bench. In this second style, the two seats are arranged in an S shape. This allows the two occupants of the sofa to speak while facing each other. Although they may be within reach of one another they remain separate.                  
Designed for a Purpose – Rolled Arm Loveseat Sofas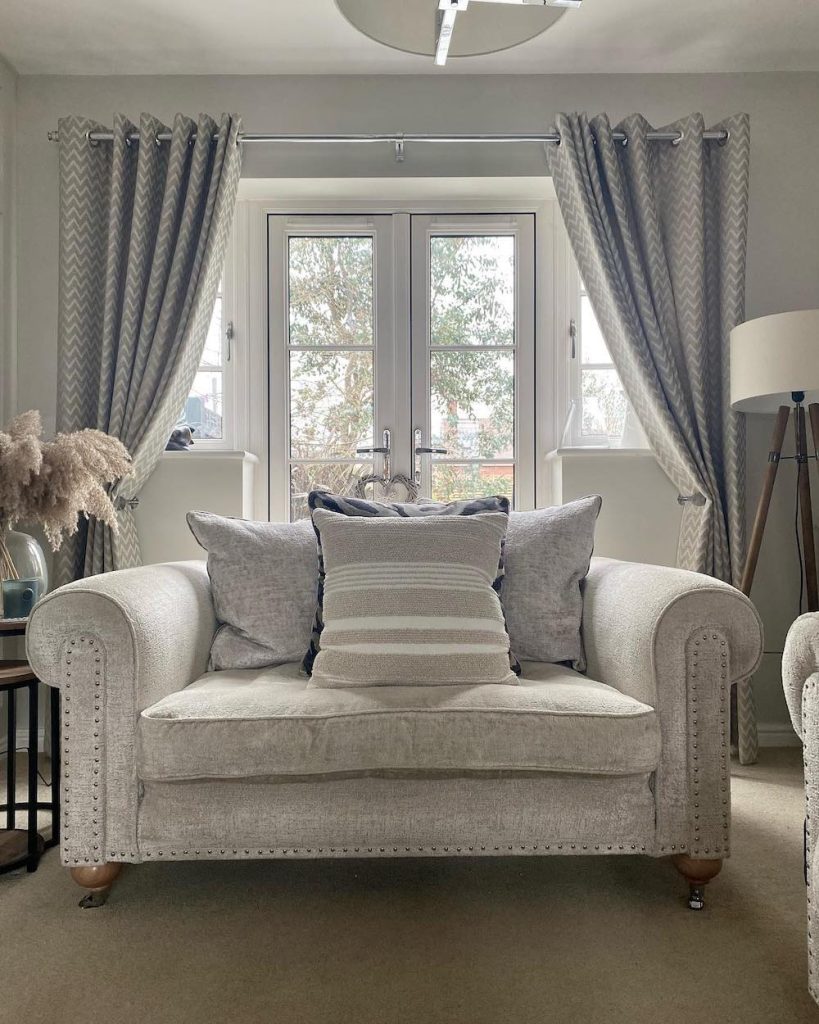 The loveseat name came from the original design intent for a couple to closely be with one another yet separate. Initially designed in the 17th century, the two-person chair was designed for the women of the time. Where women with large hooped dresses needed extra room for comfort. A loveseat allowed for a couple at that time to share a seat closely while sitting comfortably.

Originally the term "couch" was French and began in the 1300s. Although in those early days the couch was referred to as a bed. Sometime in the 19th century, the couch meant a chaise-longue that had a low back and one side piece. In the parlor of the 1830s, live entertainment in particular live music was featured in many wealthier homes. Rather than having multiple chairs to seat houseguests during these live events, a couch could easily and comfortably seat several guests. So several sofas were used to seat houseguests.
A loveseat was used for seating two people. It was designed to look like a sofa yet smaller in size where two people could sit together. In today's homes, loveseats offer a solution in two different settings. First, it is the perfect solution for a smaller area that may not fit a regular-size sofa. Second, a loveseat can offer supplemental seating when paired with a full-sized sofa.     
Sizing Explained – Rolled Arm Loveseat Sofas
The courting chair, mini-sofa, or loveseat was initially designed for seating two people that might have been romantically involved. However, over the years, the loveseat has been made in several width sizes.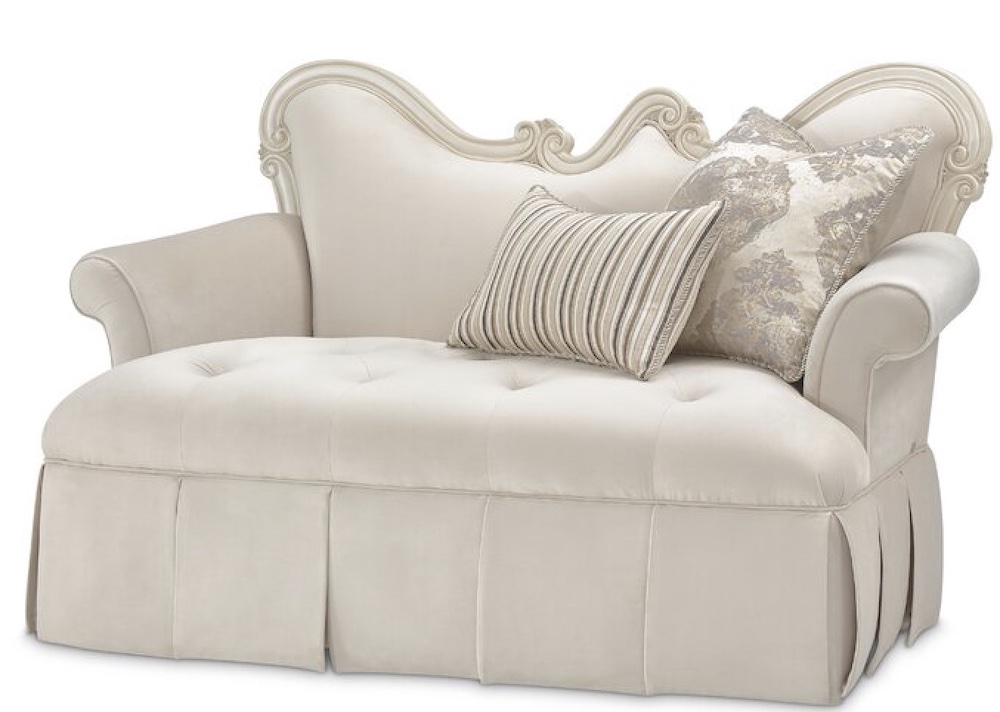 A small love seat is a settee or a small sofa that features two arms and a back. It typically seats two people but is not as wide. Traditionally, the slender settee was upholstered however today, settees are available in many sizes and made from different materials. Some settees are made with a wood back side and an upholstered seat. And settees are available in several sizes and can seat up to 3 people. One difference between a settee and a love seat is that a settee will always have a backside. Whereas a loveseat could have either a lower back or a backless feature.       
Choose a loveseat from a variety of lengths. Pick a short loveseat that is about 52 inches wide. A medium loveseat is about 58 inches wide. The length of a large-sized loveseat is about 64 inches even though they can be as wide as 71 inches. Narrower seats that range between 45 to 51 inches wide are for single seats for one adult. Again, these are average width sizes for loveseats.
The smallest loveseat size can be as small as 48 inches wide and about 36 inches in seat depth. For small space living such as apartments and small houses, there are loveseats that have a seat depth of 28 inches with various widths.
Differences Between a Sofa and a Loveseat
There are size differences between a sofa and a loveseat. Those differences are in the width, height, and depth of the seating. Generally, loveseats are shorter in terms of length or width but not in height or depth. So a loveseat usually has the same height and depth as a regular sofa but not the length. Sometimes the length of a sofa or loveseat is referred to as the width. A loveseat seats fewer people than a regular sofa.
Select the Best Sofa for Small Space Living
Wondering what kind of sofa is best for a small living room? For small space living or smaller living rooms, a loveseat might be the right solution. Since a loveseat tends to be not as long, loveseats can fit in smaller spaces. Substitute a sofa by replacing it with a loveseat especially when space is limited. Whether you have an apartment or a smaller home, a loveseat can squeeze into smaller areas. Replace a chaise lounge or side chair in a bedroom with a smaller loveseat. The places for a loveseat are many.

Use a loveseat in place of a regular-sized sofa in a living room. This is absolutely a possibility. If you are wondering if a loveseat is big enough, yes since a wide range of sizes is available. Don't forget you can use two loveseats that either face each other or are perpendicular to one another in the same room. There are many possibilities for using loveseats in your home. Remember that today, loveseats are available online in a wide range from 52 to 71 inches in length or width.     
Consider a sleeper sofa for overnight guests when you lack extra bedrooms or guest bedrooms. Add a space-saving sleeper sofa that offers an alternative to guest bedrooms for weekend visitors. The number of benefits easily outweigh any disadvantages.
Go with a Sofa or a Loveseat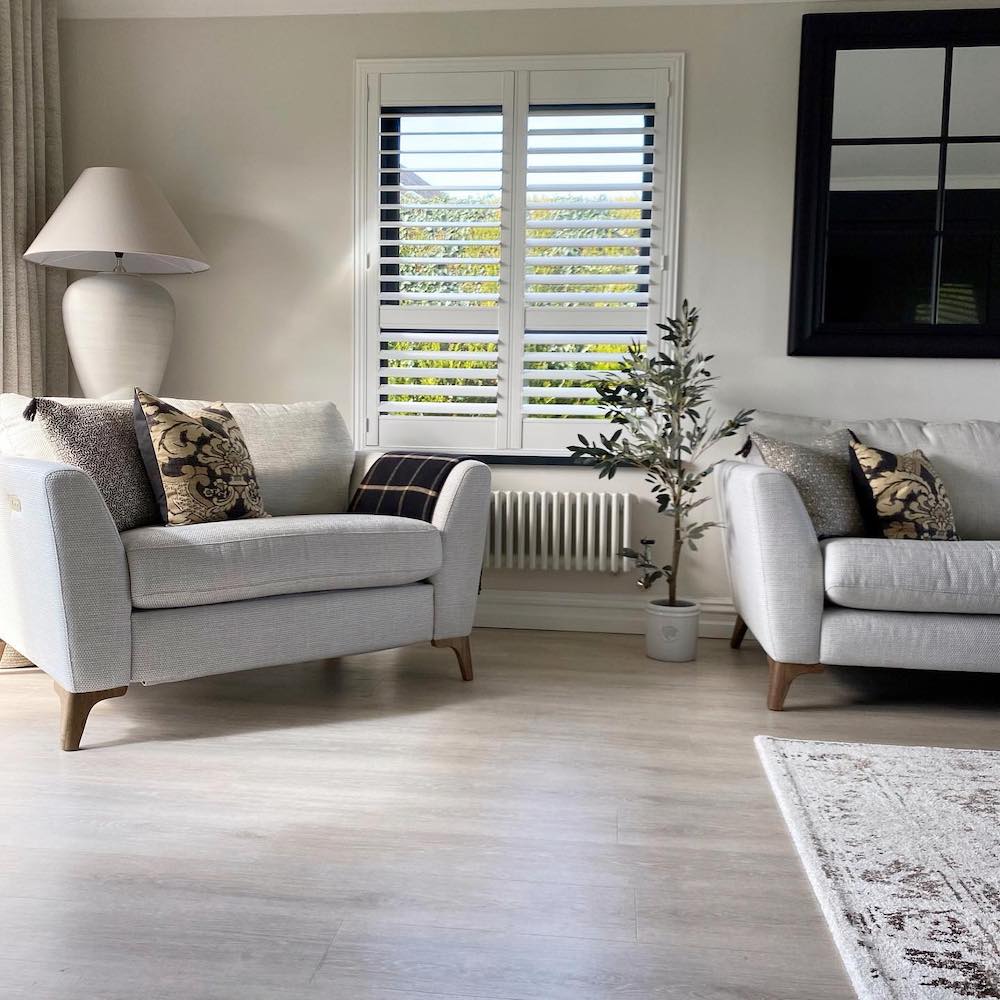 Use sofas in larger rooms and bigger homes. Seat four or more guests with a full-size sofa. Perfect for entertaining large gatherings and guests. A loveseat usually has two seat cushions and can comfortably seat two people at most. The purpose of a loveseat originally was to provide a semi-private place for a couple to talk to one another. This was in times when a couple was courting.
In today's post, we are sharing loveseat sofas with rolled arms in neutral tones for your living room. So is the rolled-arm loveseat sofa out of style? No, it is not. In fact, the classic rolled-arm sofa and chairs are just as popular as ever. Find several sofas that are more traditional in style as well as some with an updated transitional style design. In the event that you prefer more modern styled contemporary furniture then you may not care for a classically designed rolled arm sofa.
Style it in Neutral – Rolled Arm Loveseat Sofas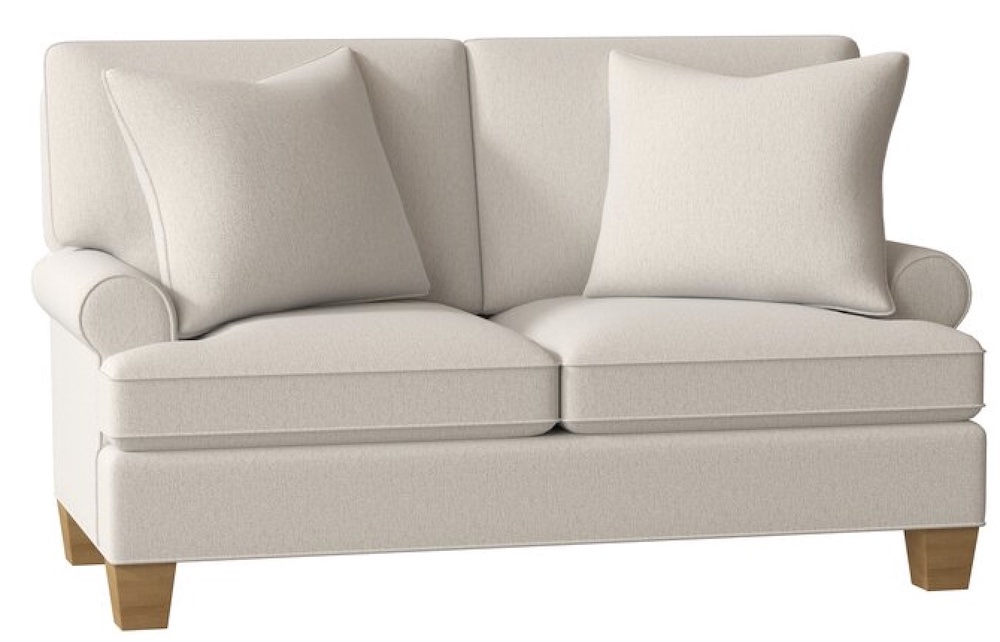 We searched numerous online resources for some gorgeous loveseat sofas for your living room and family room. And we found some fantastic sofas. Here is our list of loveseats in neutral tones for hosting houseguests during year-round gatherings. Take a look. Drop us a comment below in the comment section. Let us know about your home decor projects. 
This ends our list of sofas for the home. Give your home a cozy stylish sofa for keeping houseguests sitting on a comfortable loveseat sofa. Be sure to take a look at our other posts for home decor inspiration. Tell us about your home decor projects in the comments below. We always love hearing from our readers.
Enjoy our other sofa home decor posts for additional ideas.
Are you interested in a different type of sofa or loveseat for your home? Try these posts for additional sofa ideas.
Coastal White sofas
Blue and White striped sofas
Coastal Loveseats
Wicker Patio Sofas
French Country sofas
Farmhouse sofas
Sofa beds
Coastal sofas with chaise lounge
Classic white sofas
Reach out to us with any questions. We are always ready to help you out. Thank you for dropping by and taking a look at our blog.
Mary
Pin this for Later: