You see more and more front doors painted with beautiful, bold colors.  Bold colorful doors have been common in tropical locations and foreign countries for many years.  Colorful doors are a more recent trend in the US but in foreign countries bold colored doors and homes are prevalent.  In fact, it's more common to see bolder, brighter colors on front doors, shutters, and throughout the home in European and Caribbean coastal communities.  Bright fuschia, oranges, yellows mixed with greens and blues!  So refreshing.     
We've selected a few examples of front doors with big, bold colors that would look stunning on a coastal home.  If you've been thinking about refreshing your front door to give it a more coastal look, maybe you should consider one of these paint colors below?  Painting is an easy update to increase your coastal curb appeal.  In an afternoon, you can transform your front door with a fresh coat of paint.  Take a look and let us know what you think!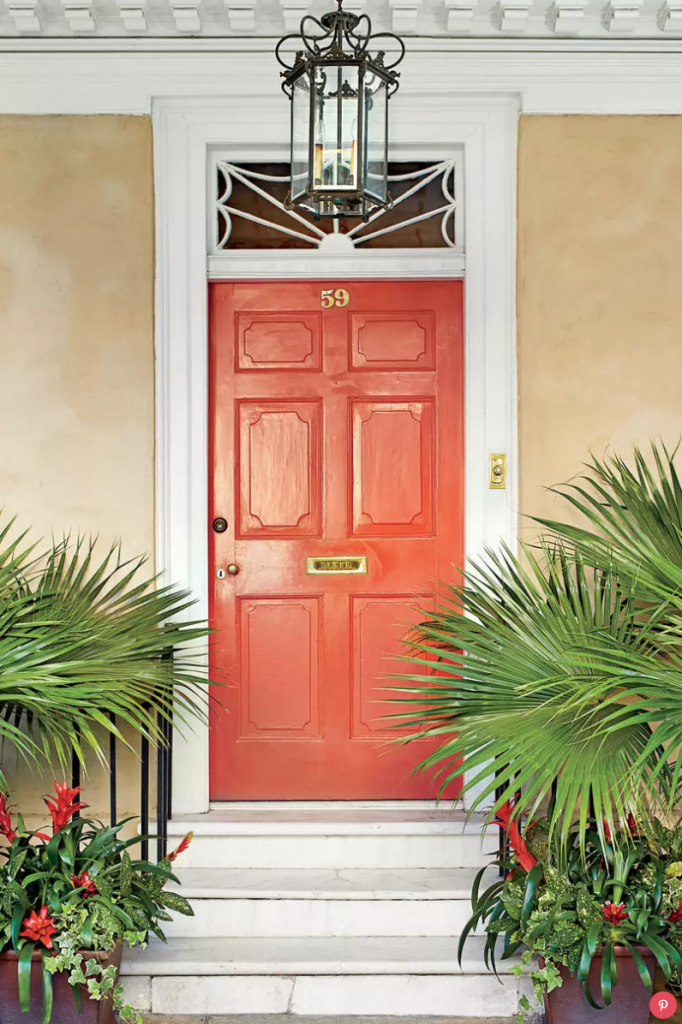 The first door is painted in Hot Orange (IB67), a Ralph Lauren Paint color.  Orange paint colors are seen more often on contemporary homes.  But with the right hue, this color will work with more traditional homes as well.  There are many shades of orange from apricot to tangerines to select from.  Orange colors can work well in a coastal home setting.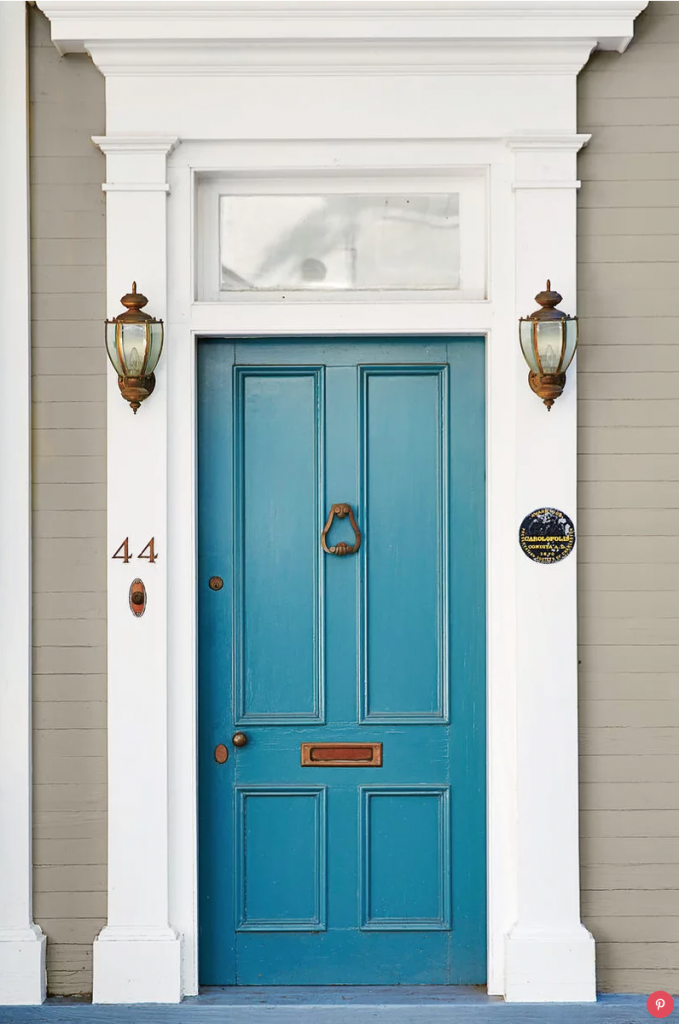 The second door is painted in a Pratt and Lambert color, Daydream.  We typically associate blue with the ocean, sea, coastal waters and it is commonly used in coastal homes.  Blue paint colors are versatile and work with a variety of home styles interior and exterior.   Blues are pleasant feeling, soothing colors and perfect for a seaside home.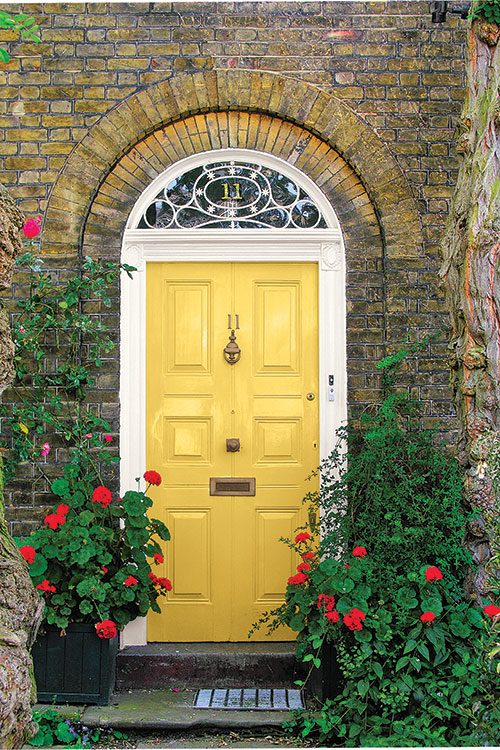 This beautiful arched facade door is painted in Forsythia Blossom by PPG.  Yellow paint is seen as a happy cheerful color.  Yellow has long been a popular color for interiors but take the yellow hues to a more daring side and use a bolder yellow for your coastal front door.  A far better way to say "Welcome!" to your guests.  
 

Lime Green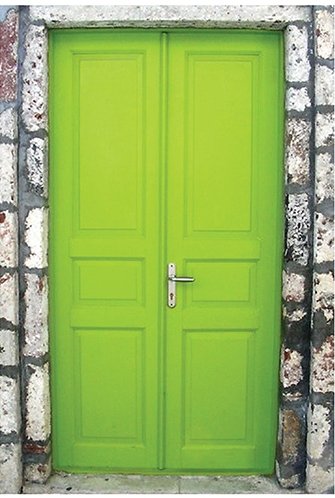 Our next door is a beautiful enchanting lime green front door.  Lime green exudes playfulness and great fun.  Lime green is reminiscent of the many bright colors often seen throughout tropical islands.  A great color for coastal homes.  
5.  Gentleman's Gray by Benjamin Moore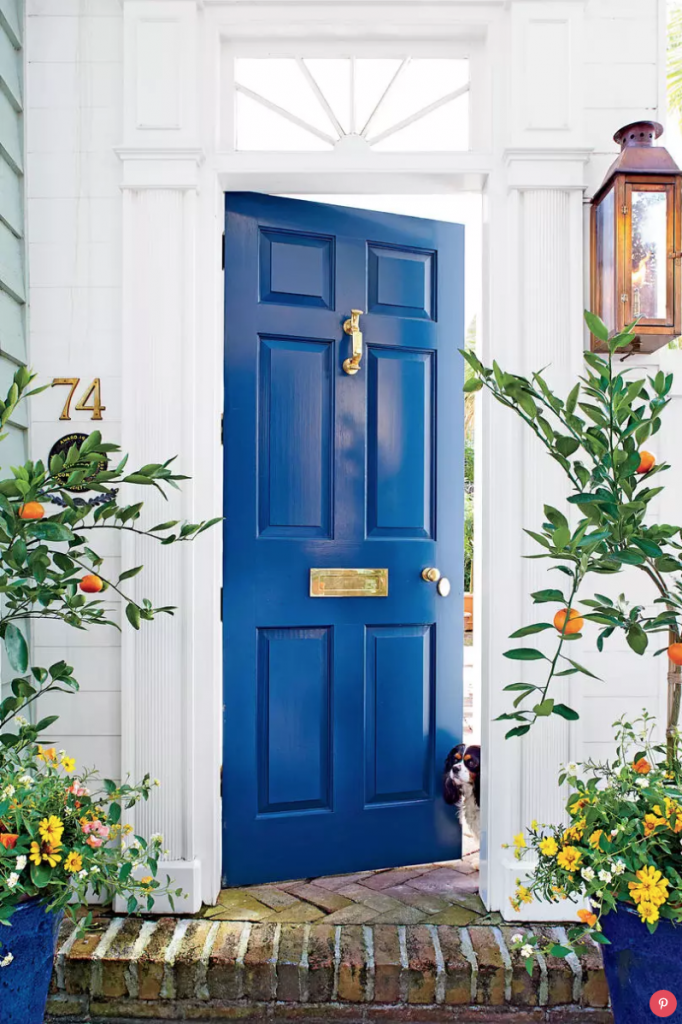 This beautiful, classic door is painted in Gentleman's Gray by Benjamin Moore.  Although the door color is very elegant it still appears as a very warm, welcoming home because of the vibrant oranges and bright yellow daisies.  Gorgeous Gentleman's Gray perfect for a coastal retreat!    
6.  Tinos Island Greece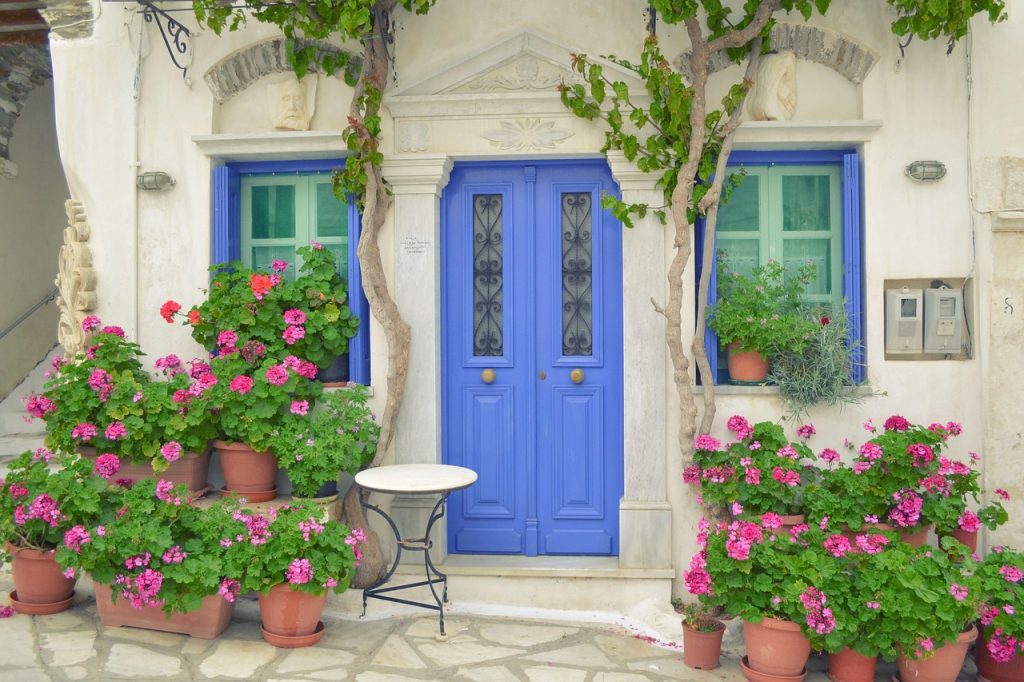 This beautiful eye-pleasing blue adds curb appeal to any coastal home.  A popular color blue is seen in many European seaside communities.  The window shutters were painted a mint green and the window trim was painted blue to match the front door.  A great combination of mint green and blue to create a calming coastal flair.  This eye-pleasing blue is a stunning bold color for any coastal home.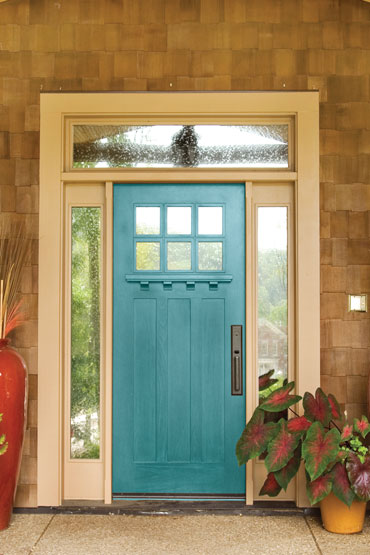 This beautiful door painted in Plumosa by PPG has a very soothing and calming positive effect on those around.  Plumosa is a great balance between the front door and the cedar siding.  Plumosa lends itself to partnering with other colors such as oranges, yellows, and greens.  Great color for beach homes.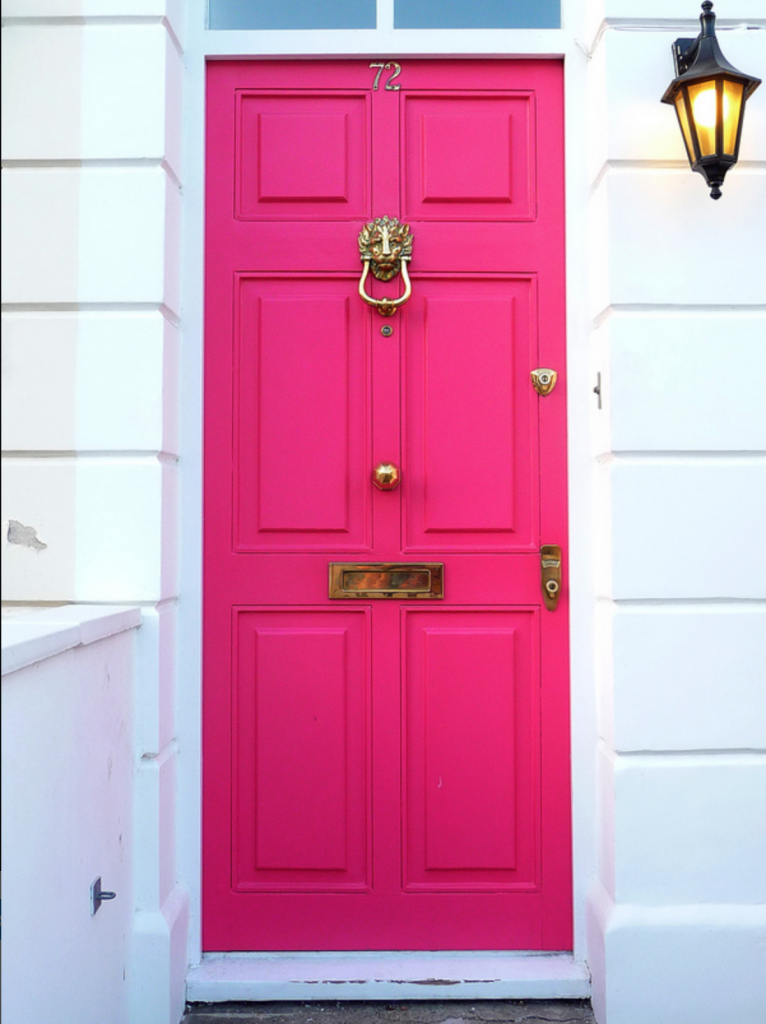 This beautiful fuschia front door commands attention.  So stately, pretty, and feminine.  A great cheerful color for any seaside retreat or coastal home!
 

Quarry by Pratt and Lambert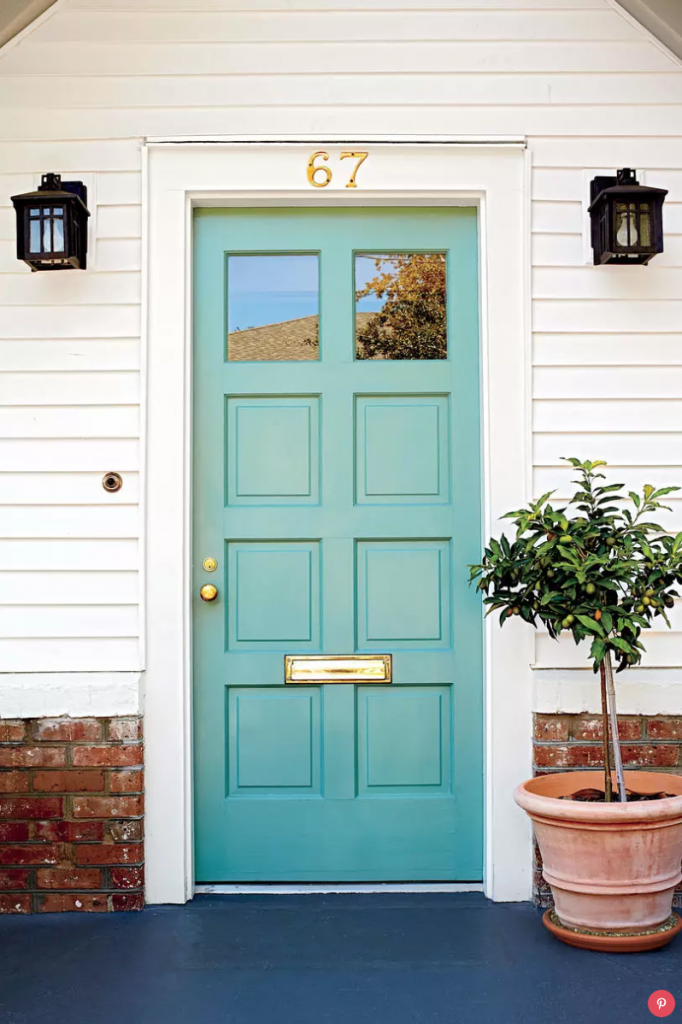 This beautiful Quarry painted door by Pratt and Lambert Paints is simply stunning!  With this color you get the best of both worlds – blue and green.  There isn't a better combination of two colors that depicts the natural beauty of the sea.  A truly seashore-worthy entrance for any coastal home.    
These are 9 stunningly bold coastal front doors that give you a sense of how your home could have greater coastal curb appeal.  An easy solution to refresh your front door by painting it with a bright, bold coastal color.  Painting is one of the easiest and least expensive home updates you can do yourself.  All you'll need is a warm, dry day, an afternoon, and a can of your favorite bold, colorful paint.
Give it a try and let us know how you make out.  If you have any questions feel free to reach out to us.  We are always ready to help!