Inspirational coastal bunk beds for get-togethers, sleepovers, and family fun. Expecting a house full of guests this Summer? In fact, it just might be a crowd? One way to squeeze more people into your home overnight is to add built-in bunk beds. You may think that full-size bedroom furniture looks better but we have a few ideas that may convince you otherwise. As an alternative to store-bought bedroom furniture consider the following. Built-in furniture such as bunk beds requires less space than full-size bedroom furniture. And of course, it is possible to accommodate large groups in built-in bunk beds. You can squeeze in more family and friends into your home with built-in bunk beds.
Pin this for Later: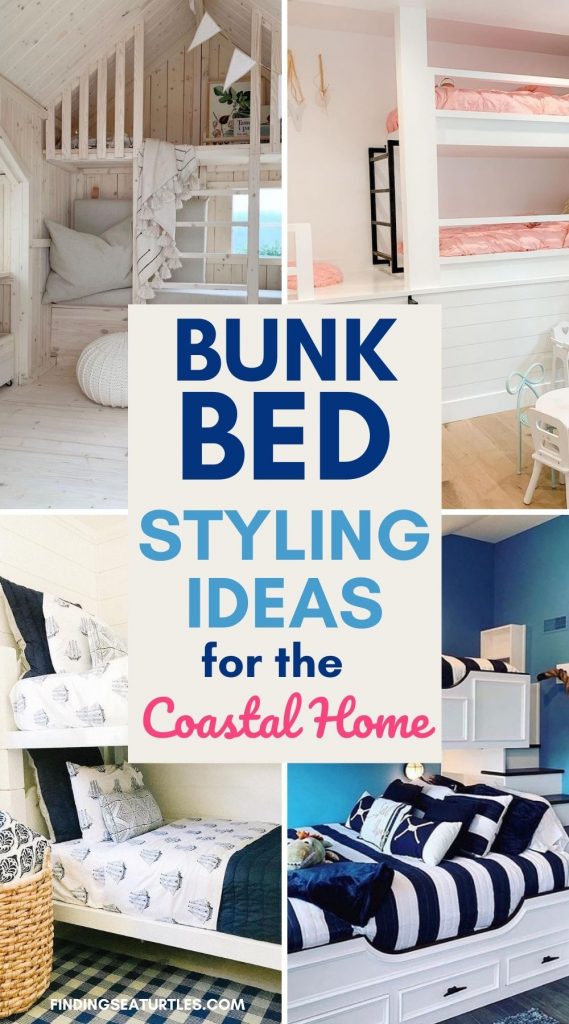 In today's post, we are sharing ideas and inspirational ways to decorate bunk beds in your home. Bunk beds have been a way of life in beachside cottages with limited space for many years. The early beach cottages at the turn of the previous century were smaller homes with limited space. As an alternative to renting more than one beach cottage, many beach homes added built-in bunk beds. These beach homes could accommodate larger families and family groups.
Beachside Home – Inspirational Coastal Bunk Beds
In more recent times and in larger homes today, bunk beds have made their way into more coastal homes. Since they can accommodate a larger number of overnight family gatherings. And as you'll soon see, there are many ways to style a bunk bedroom. Including the use of marine, nautical, ocean life, or beach accents to create your own specially styled family bunk bed interior.
Some homeowners love the idea of bunk beds since they too grew up in a home with bunk beds. Maybe you grew up sleeping in a bunk bed as a kid and have fond memories of those days. Now is the time to relive those moments of sleeping in a bunk bed with these ideas for creating your own bunk bedroom. Take a look at our inspirational coastal bunk bed ideas. Be sure to let us know what your thoughts are.
Give it a Porthole Window – Inspirational Coastal Bunk Beds
Install a porthole window next to every bunk bed. Make it feel like you are on a boat or cruise ship with nautical sheets and colors.
Use Nautical Rope Details
Substitute rope for the handrails and ladder leading up to the top bunker. Toss in a few pillows with rope details as well. We love the different blues in this room.
Add a Rustic Coastal Feel
Although, this setup isn't near the beach it makes for a great rustic style. The natural wooden bunk beds work well in a coastal setting.
Light it Up
Turn on the nautical cage-covered sconce for nighttime reading. Not to mention, the berth-type privacy curtains for each bed. We love those bright yellow toss pillows for a pop of color. Designers think of everything!
Keep the Oars Ready – Inspirational Coastal Bunk Beds
Use oars as decor in your bunk bedroom. Follow up with cheery sunshine yellow bedding. And you'll have happy overnight guests that may not want to leave the following morning!
Show your Love of Sea Life
A shark, in this case, that is Bruce the shark! Add visual interest to the bunk bedroom with sea life. There are so many sea life accessories to choose from. You can find starfish, shells, octopus, fish, and many more sea life accents.
Celebrate the Beginning of Summer Using Bunting
Create a space for play and rest in this bunk bedroom. All in neutral colors. Add bunting to your space to celebrate the beginning of the Summer season.
Cover a Wall with a Tropical Ocean Mural
Give your room visual appeal with a wall-size mural. This black and white ocean mural stands out among the brightly colored linens. As a bonus, the steps have drawers for extra storage with boat cleat pulls. A clever design.
Paint it Gray
As an alternative to blue walls, paint it gray. Gray gives a calm, relaxed look to the bunk bedroom space. Add a little orange pop of color in the tray, comforter, and toss pillows.
Color me Perfectly Pink – Inspirational Coastal Bunk Beds
Add pink accents to the bunk beds and room. As a bed rail use an X brace rail system.
Add an X Brace Rail Around the Top Bunk
Install an X brace rail on the top bunk not only for a nautical look but for safety as well.
Top it Off with a Wood Bead Chandelier – Inspirational Coastal Bunk Beds
Elevate the look with a wood bead chandelier. Every little girl would love a bunk bedroom like this. Of course, the crowning piece is the gorgeous wood bead chandelier.
Go Ahead and Make Some Waves
Give your walls some waves with this colorful coastal wallpaper. Carry the coastal wave theme to the ceiling light fixture.
Sail Away with the Navy
Color this space navy and nautical sailboat blues.
Add Stainless Steel Cable Railing – Inspirational Coastal Bunk Beds
Although this setup is for adults, we included it anyway since they are bunk beds. Of course, you can always have children stay here as well. We love the coastal details. Use stainless steel cable for the upper bunk. Paint the rustic wood walls a distressed whitewash. Of course, the white anchor between the two beds gives this room its nautical appeal.
Make it Green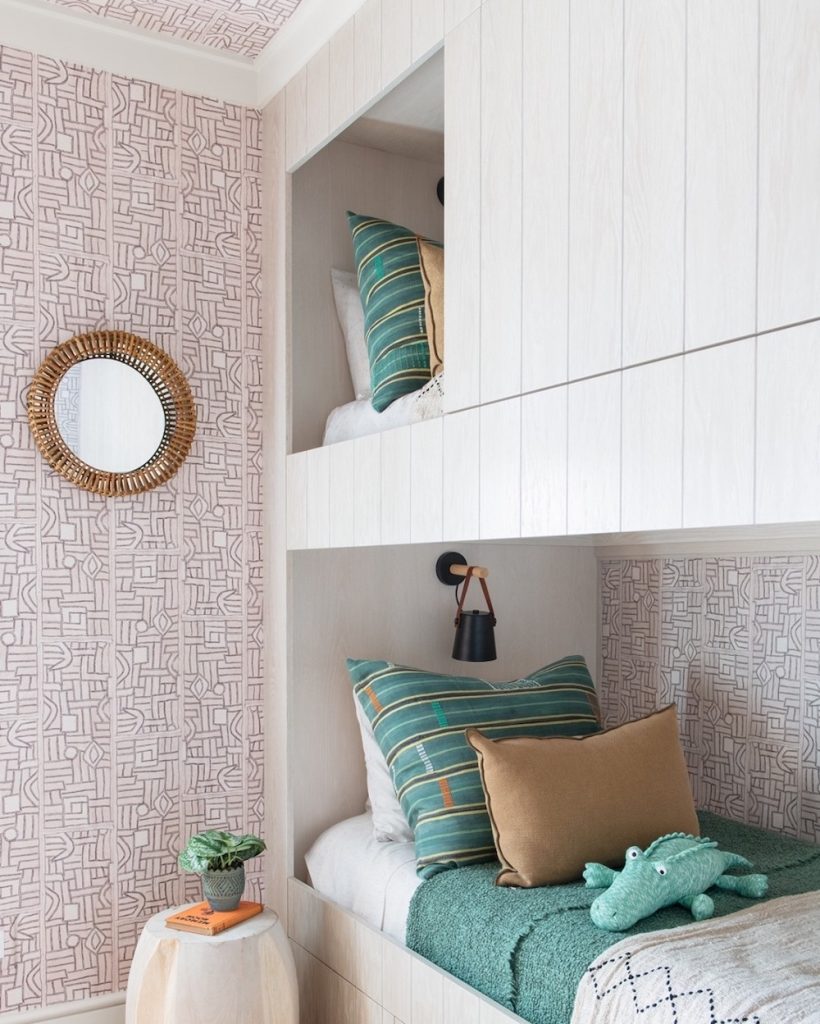 Give your space some organic green.
Color it Pink
Style it tropical pink! Love those pink-colored cleat drawer handles.
Pin this for Later: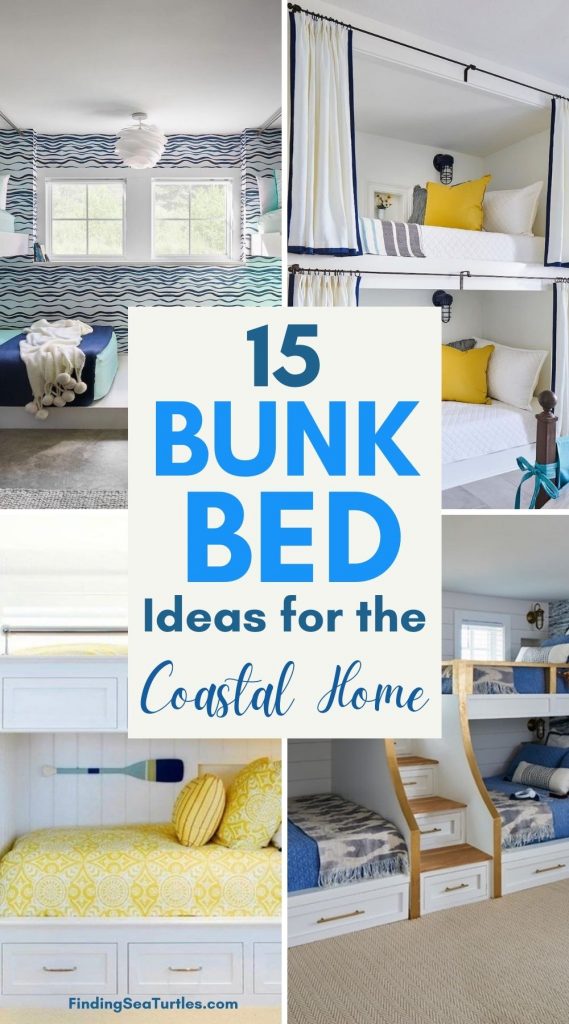 This ends our inspirational coastal bunk beds list. Do you have a special decor style tip for bunk beds? Hopefully, you've found a styling tip or two that inspires you with your bunk bed project. As an additional coastal decor resource, be sure to check out our coastal decor post. Take a look at 12 Ways to Add Coastal Decor to your Home.
Enjoy our other coastal home decor related posts for additional ideas.
Best Inspirational Coastal Beds for Restful Nights
Coastal Beds for Dreamy Nights
Coastal White Sofas for Beach Homes
Console Tables with Seaside Style
31 Coastal Table Lamps We Love
Rattan Coffee Tables
Rattan Mirrors for the Coastal Home
Thank you for reading our blog at Finding Sea Turtles. Reach out to us with any questions. We are always ready to help you out.
Mary
Pin this for Later: