Industrial Pendant Lights. Love the turn-of-the-century vintage look? Not only factory inspired details. But also the warehouse elements. Industrial decor style has many fans. Popular as a result of its exposed hardware parts and the basic, simple color palette.
Industrial Pendant Lights provides essential lighting to the home space. In addition to essential lighting, lighting plays a huge part in setting the right stage for industrial decor. That is to say that the right lighting will accentuate colors most commonly found in factory and warehouse converted lofts. For example, the rustic details combined with the warehouse grays and neutrals deliver a warmness to the home space. In addition to the overall warehouse feel, furnishings with rich factory details provide drama. And provide a glimpse of the history of years past. A reminder of the glorious American industrial period.
These factory details are more commonly found in studio and loft spaces. Many of which have been converted from warehouses or former factories. However, any home or workspace can be converted into a warehouse decorated area.  No matter the size of your home space.  
Many of these pendant lights can be installed as a single fixture. Or installed in multiples or groups. It all depends on the space size and purpose. 
We've found 11 industrial pendant lights with rich factory warehouse influence.  A few work well in small spaces. And others can be grouped together for larger lighting areas. Take a look at these industrial pendant lights. And let us know what you think.   
Antique Silver Industrial Dome Pendant Light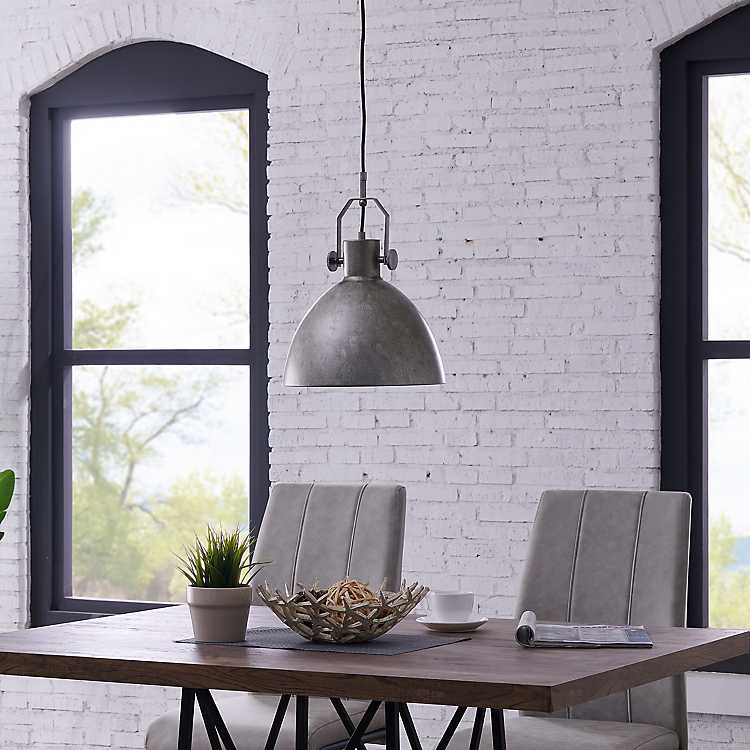 An industrial dome styled pendant light. Crafted of metal. Finish is antique silver. Antique Silver Industrial Dome Pendant Light is an old-school, classic lighting style. Pendant measures 16.5 inches high by 11.75 inches wide. Diameter is 11.75 inches. 
2. Barbosa Cluster Geometric Pendant 
Vintage inspired pendant with rustic industrial details. Wire shades are geometric. Finish is oil rubbed bronze. Barbosa Cluster Geometric Pendant with three wire shades. Interchange the shades to create a custom light source. Pendant measures 8.5 inches high by 7.2 inches wide. Second pendant measures 7.3 inches high by 6.9 inches wide. Third pendant measures 8.1 inches high by 8.9 inches wide.  
3. Hambrick Industrial Style Caged Metal Globe Pendant  
A combined modern style with industrial details. Shade shape is globe style. The shade finish is Matte Black. Constructed of metal. A blend of rustic and chic style. Hambrick Industrial Style Caged Metal Globe Pendant includes a vintage-style Edison light bulb. Weighs 4.55 pounds. Measures 13.25 inches high by 14 inches wide. Finally, the diameter is 14 inches. 
4. Donovan Dome Industrial Pendant Lights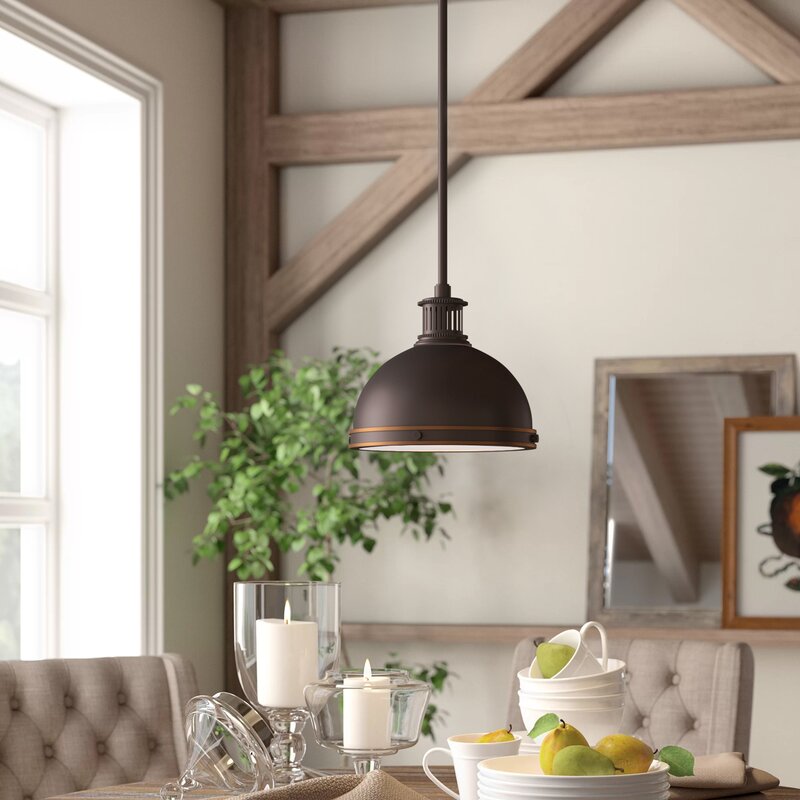 Factory inspired Lighting. Shade is dome shaped. Crafted of glass. With an Autumn Bronze finish. Install the Donovan Dome Pendant as a single light source. Or multiple light sources. Weighs 9.22 pounds. Measures 8.5 inches tall by 9.5 inches wide. Diameter is 9.5 inches. In addition to this size, there are other sizes available. 
5. Pauline Wire Cage Pendant Lamp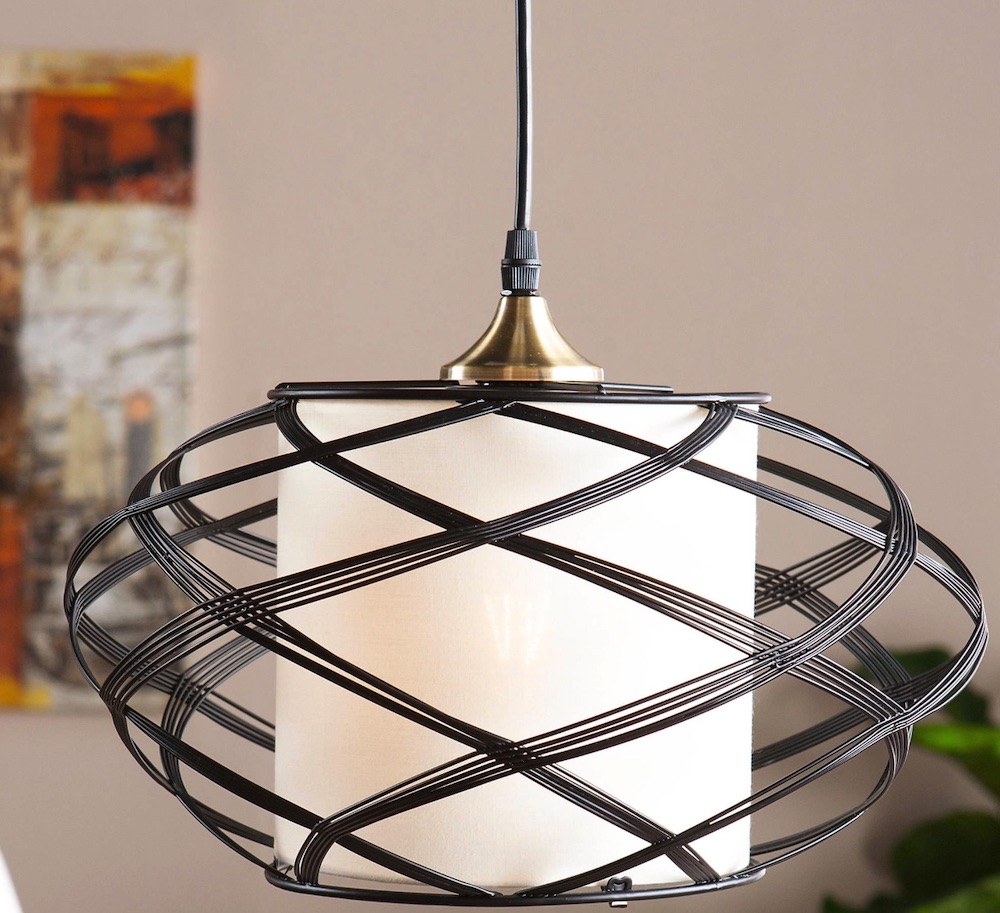 Warm industrial style lighting. Crafted of metal. Finish is black. Inner shade is covered in soft back cream fabric. LED bulb is water droplet Edison bulb. Pauline Wire Cage Pendant Lamp has a curved metal wire cage design. Industrial cage measures 9 inches high by 14 inches in diameter. And lastly, the inner white shade measures 7.25 inches high and 7 inches in diameter.  
6. Demi Globe Industrial Pendant Lights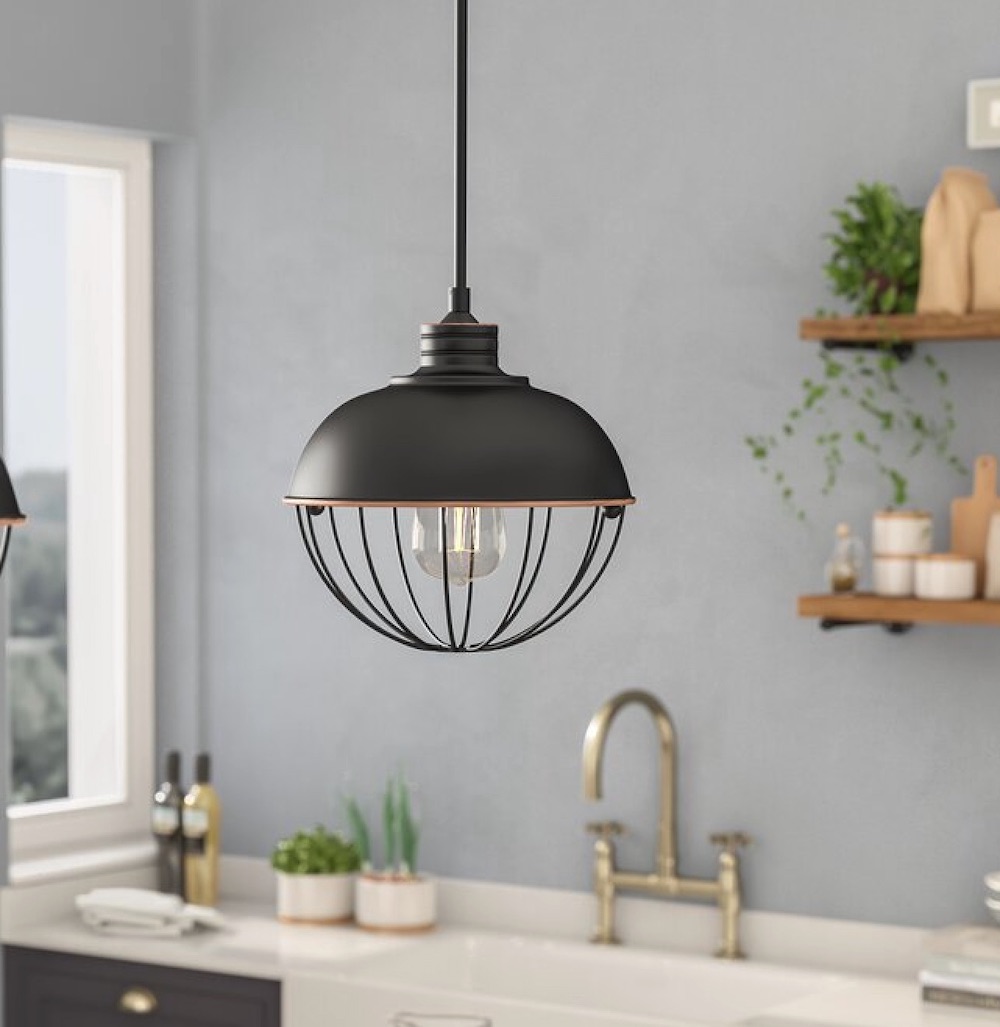 Vintage industrial inspired pendant. Shade is made of metal. Shape of the shade is globe. With an oil rubbed bronze finish. Demi Globe Pendant has a caged shade with exposed bulb. Weighs 2 pounds. Measures 63 inches high by 9.84 inches wide. Diameter is 9.84 inches.  
7. Frederickson Bowl Pendant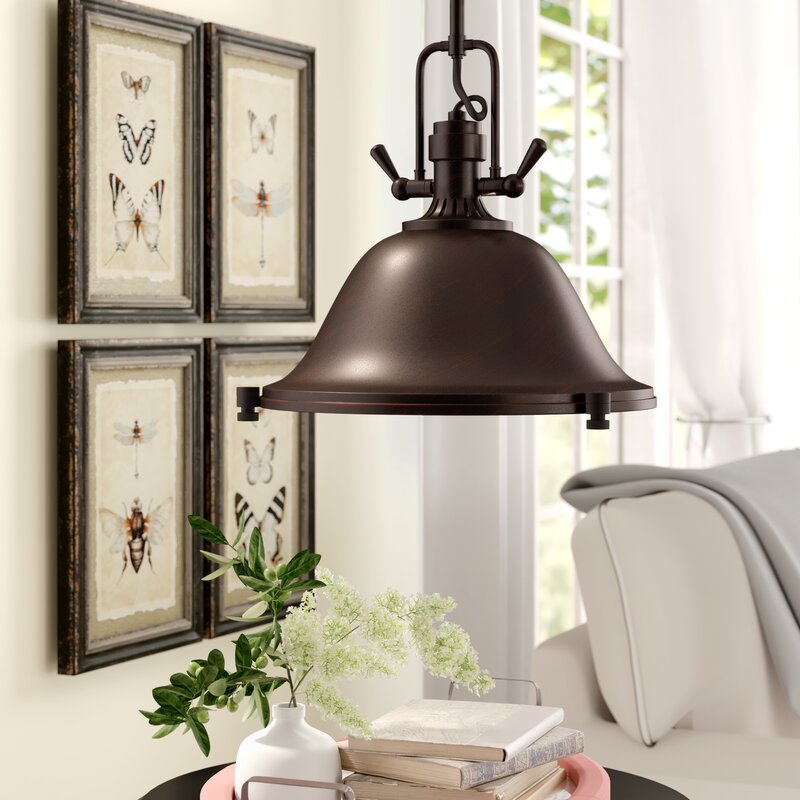 Factory inspired design. Crafted of metal. Finish is Burnt Sienna. The satin etched glass diffuser results in a soften light source. Frederickson Bowl Pendant is a bell shaped pendant. Weighs 7.79 pounds. Measures 12 inches high by 13.25 inches wide. Diameter is 13.25 inches. 
8. Ariel Dome Pendant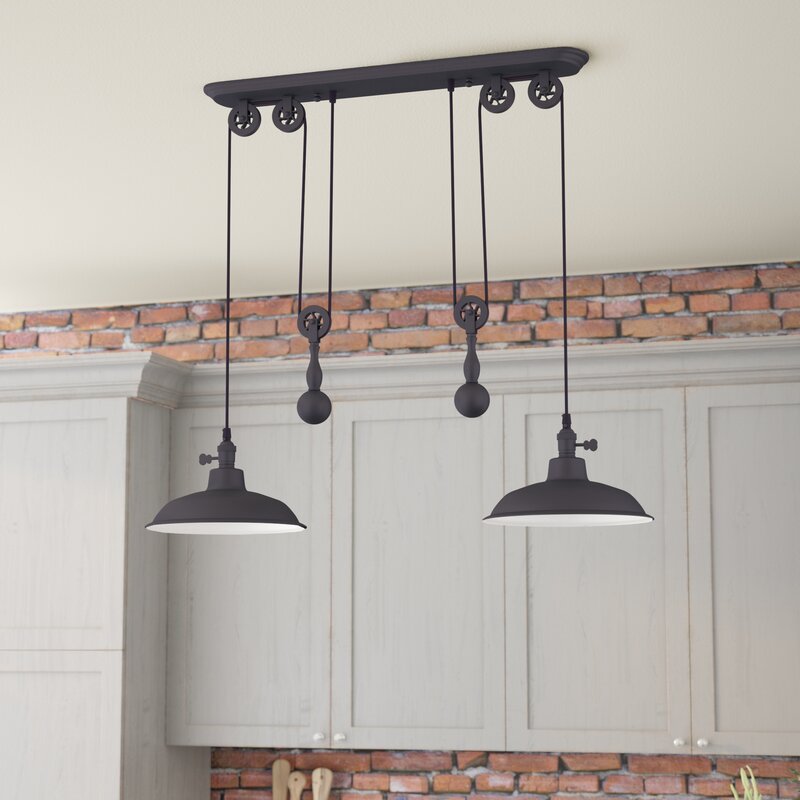 Aesthetic vintage style. Pendant is a pulley-inspired design. Factory inspired metal dome shaped lighting. Ariel Dome Pendant has an antique bronze finish. Weighs 12.35 pounds. Canopy measures 1 inch high by 30 inches wide. Diameter is 4.75 inches. And finally, the pendant fixture measures 6.88 inches high by 38.25 inches wide. Diameter measures 12 inches. 
9.  Carmen Cone Pendant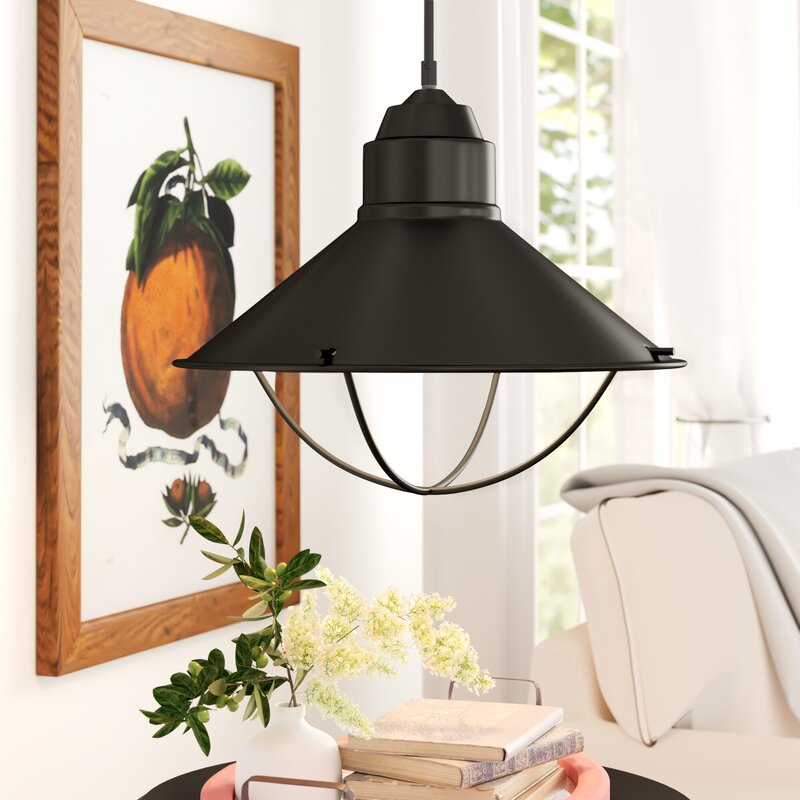 Minimalist industrial design. Shade is constructed of metal. The shade shape is cone. Lastly, the finish is oil rubbed bronze. Carmen Cone Pendant has a minimalist cage. Weighs 5.4 pounds. Measures 13 inches high by 15.5 inches wide. Diameter is 15.5 inches. 
10.  Rockfield Geometric Pendant 

An excellent small space lighting. A geometric design. Cage finish is black metal. Rockfield Geometric Pendant is crafted from metal. Weighs 1.8 pounds. Measures 10 inches high by 4.5 inches wide. Diameter is 4.5 inches. 
11.  Cardwell Bell Pendant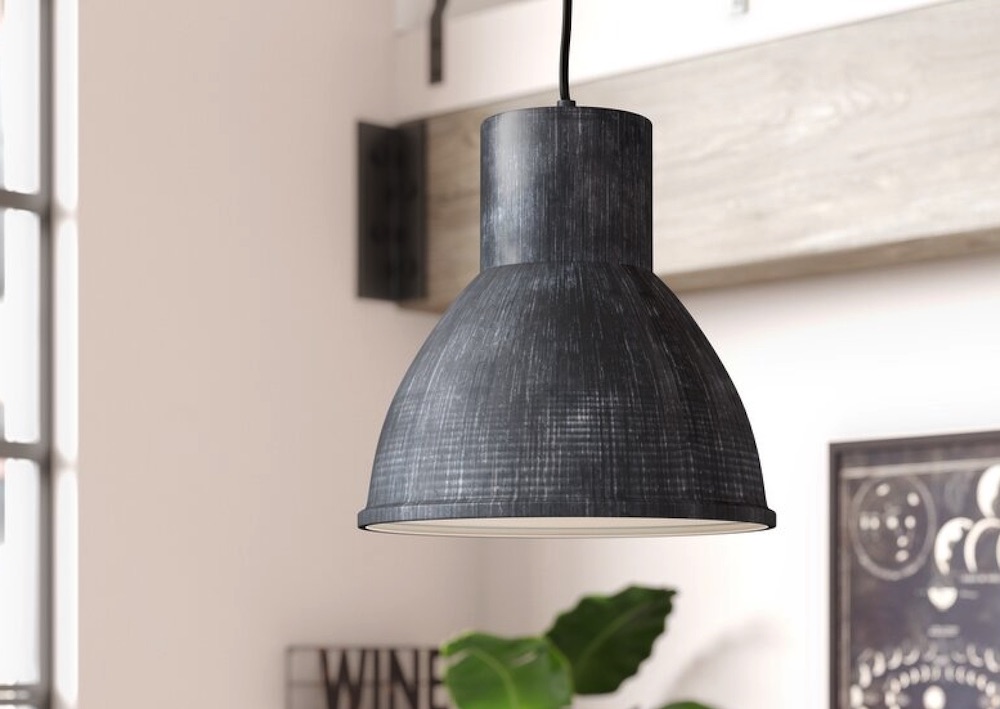 A chic industrial design blend. Crafted of metal. The shade is bell shaped. Finish is dark weathered grey or Stardust. Cardwell Bell Pendant has a classic warehouse sleek look. Weighs 4.41 pounds. Measures 14 inches high by 15 inches wide. Diameter is 15 inches. Additionally, the pendant is available in burnt sienna and brushed nickel finishes, too. 
In conclusion, these 11 Best Industrial Pendant Lights are a beautiful blend of style with utility. A plus for the factory warehouse decorated home or office. And more importantly, they work well in a variety of decors including contemporary spaces. 
Interested in Industrial decor? If you found this helpful . . .
Enjoy our other Industrial factory inspired decor related posts. 
17 Industrial Bookcases for the Home Office
9 Industrial Desk Lamps for your Workspace              
23 Home Office Desks for Industrial and Country Decors 
If you have any questions, feel free to reach out to us. We always are ready to help you out. Thank you for stopping by.
Mary