Interested in a few hanging chair styling ideas for your home? If you are, we are sharing in today's post 12 ways to style your hanging chair. Hanging chairs are more popular than ever. So, if you've brought your chair home and need some inspiration, we'll give you a few ideas to help you.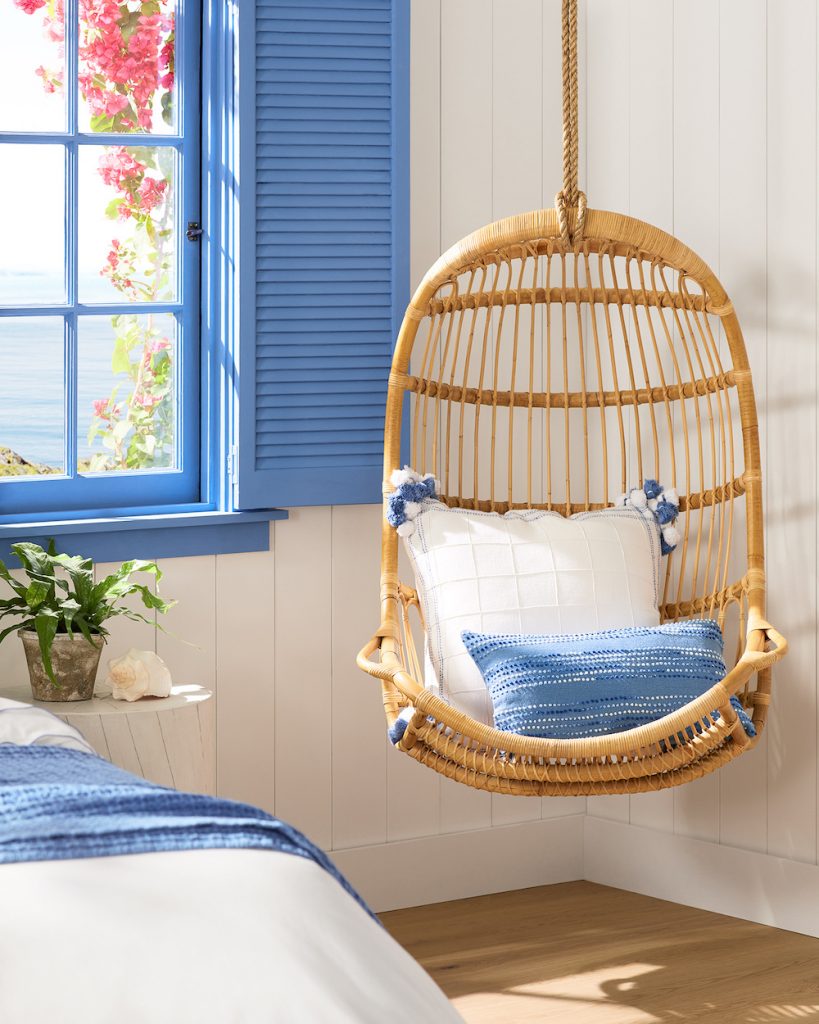 Style your hanging chair to enjoy a little downtime and relaxation. Or use your hanging chair by creating a reading nook. One of the best things about hanging chairs is their incredible style. They add a whimsical look to the home. These chairs can be used throughout the house and look equally good on a porch or patio. Many of the hanging chairs can be used indoors and outdoors. However, not all chairs can be used outdoors. Be sure to check the manufacturer's instructions to see if your chair is suitable for the outdoors.
We've included a list of our best hanging chair picks for your home. Take a look.

Style it Timeless – Hanging Chair Styling Ideas
Creating a style that you love with your hanging chair. The styling doesn't have to be hard. Drape a throw for covering up on chilly nights. Then follow with a few toss pillows for comfort. And to accessorize the surrounding area, add a few essentials. Place a side table near the chair. Over the side table add a small table lamp and a plant, or reading material. Use accessories that you are most likely to use.
Now onto our list of 12 hanging chair styling ideas. Take a look at the many ways to decorate your chair.
Go Outside in Boho Style – Hanging Chair Styling Ideas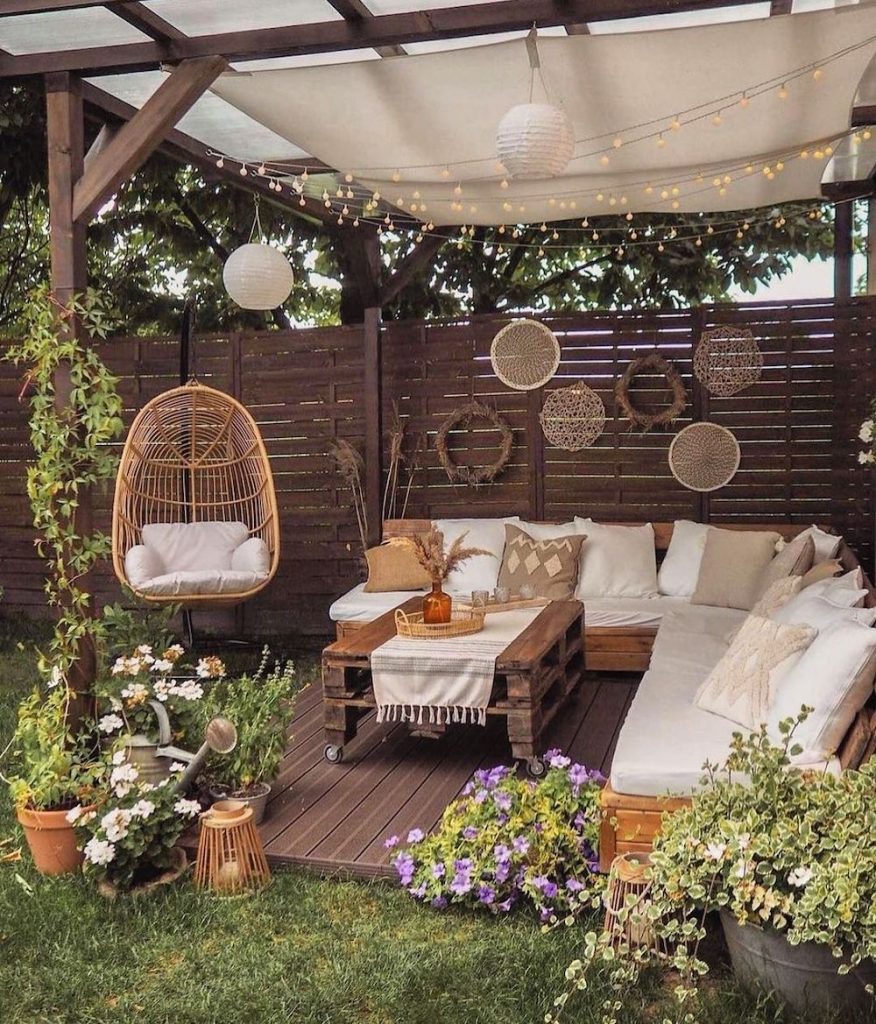 Install a hanging egg chair on your outdoor deck. String a set of outlook lights across the deck for nighttime celebrations. Grow a few container plants that repel bugs. Lemongrass and peppermint are two annuals that bugs don't like! Plant lemongrass or peppermint in a container near your deck to keep it bug-free.
Select a Sun Filled Space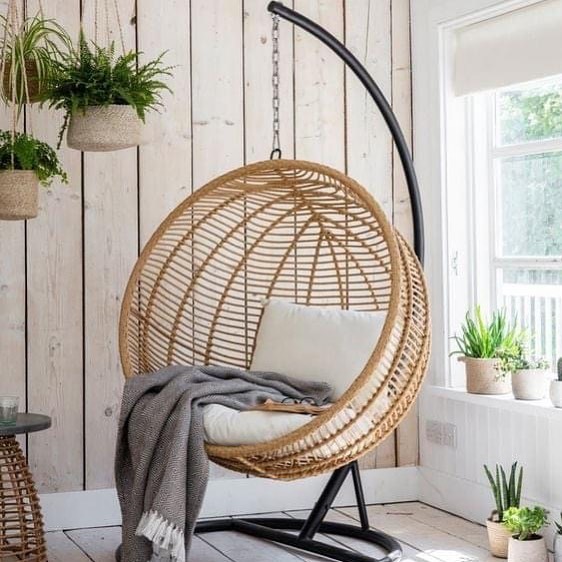 Give your chair a sunny room where you can hang out. Add toss pillows, a throw, and a rattan side table topped with a fragrant candle. Grow air-purifying plants to keep the home air healthy.  
Take it to the Loft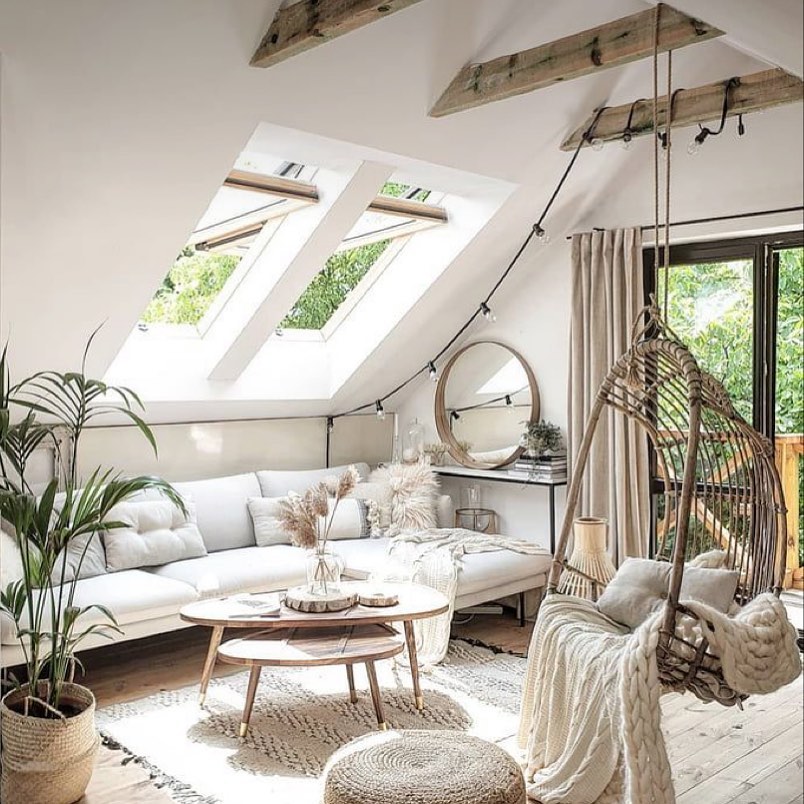 Set up your hanging egg chair in the loft using one of the rafters. Add organic and natural accessories loaded with texture. String a set of globe lights for evening get-togethers.
Surround your Chair with Warm Wood Tones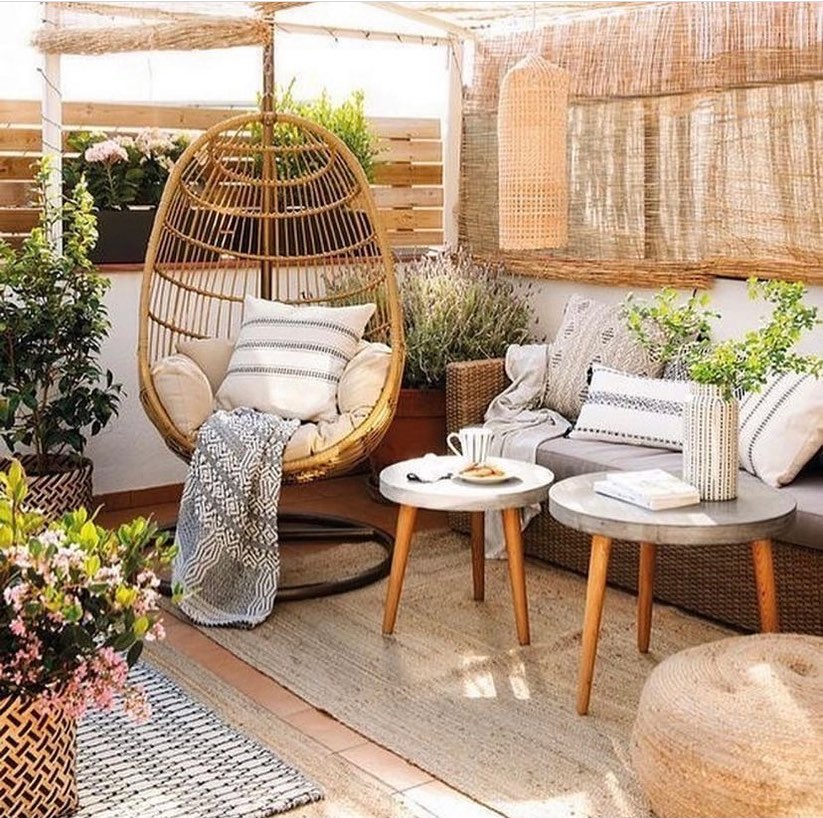 Keep it natural with warm wood tones. Soften the space with the wooden tones of timber, and rattan lighting, rattan furniture, and screens.
Even the outdoor pouf and rug help create a cozy outdoor space.
Bring the Tropics Indoors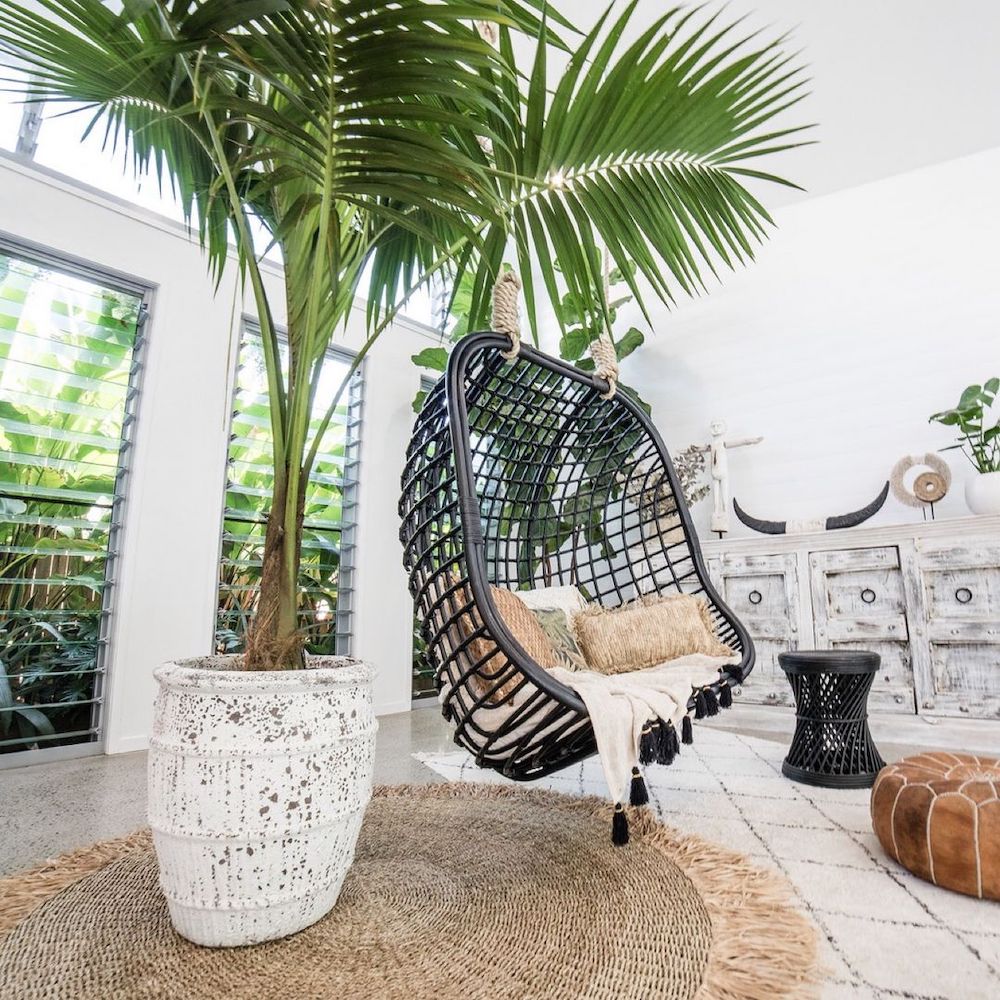 Take your style from the tropical outdoors. Grow a beautiful palm indoors such as a Majesty Palm. Use a seagrass rug to cover the floor. And always decorate with accessories that are sourced from nature for an organic decor appeal.
Go with Sustainable Rattan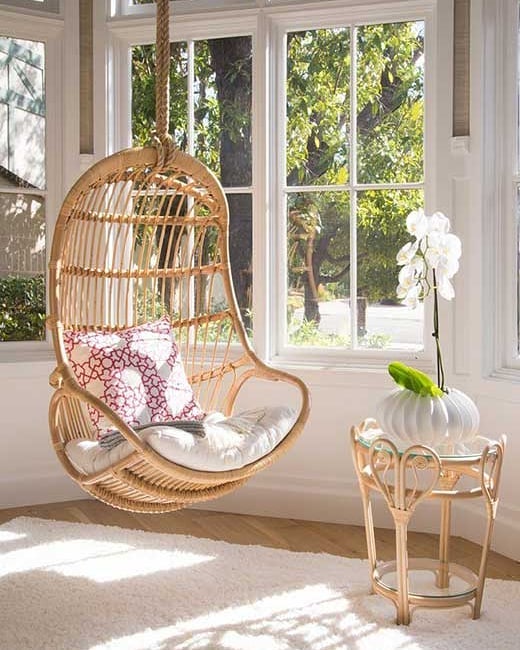 Use sustainable and eco-friendly rattan furnishings to make your home stand out. You can never go wrong with green. Give your chair a room with a lovely view. Pair it with a side table to set your morning coffee or afternoon tea on. Top off your side table with an orchid for extra beauty.
Sip Your Morning Coffee in the Garden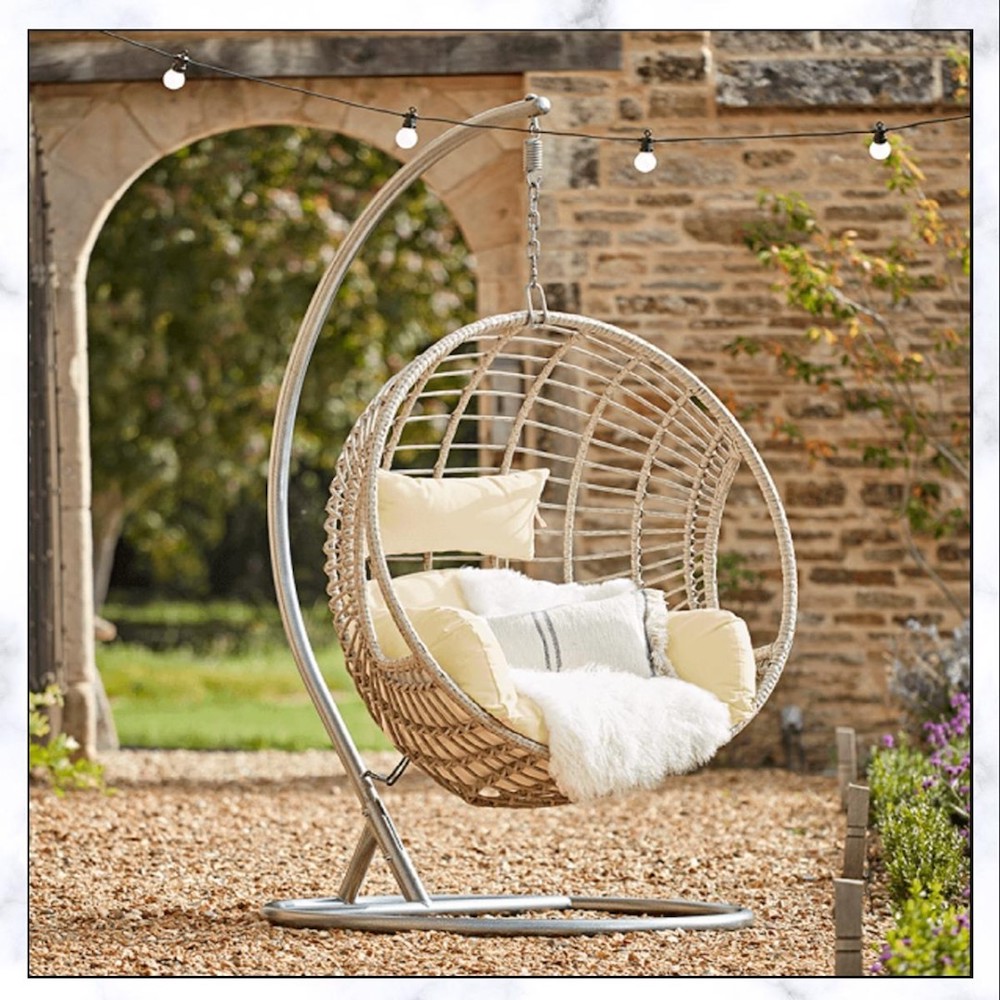 There is no better place to drink your morning coffee than while sitting in the garden. Inhale the fresh morning air to get off with a good start every morning. Keep it cozy in this nesting chair every morning.
Make it a Modern Coastal Style – Hanging Chair Styling Ideas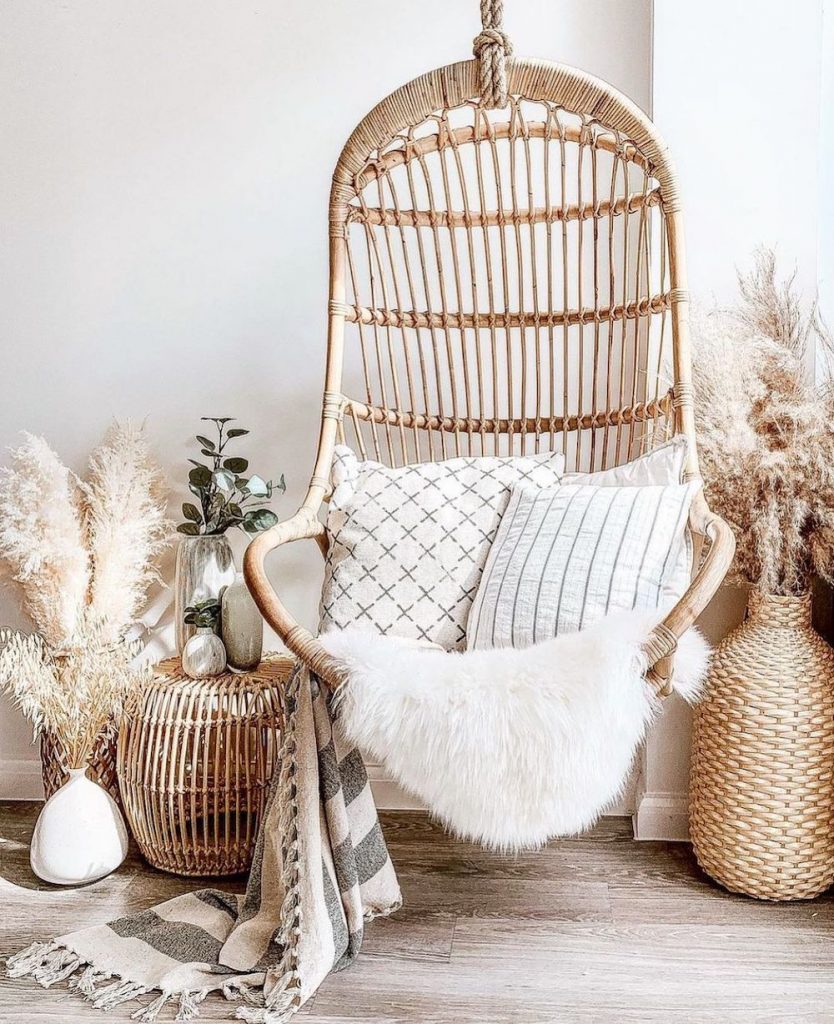 Add layers of soft color palette elements mixed with natural wood for a tranquil setting. Evoke a Summer coastal vibe year-round with organic accessories. Mix a few toss pillows and a cozy throw over the hanging chair. And now you are ready for some much-needed downtime.  
Refresh Your Deck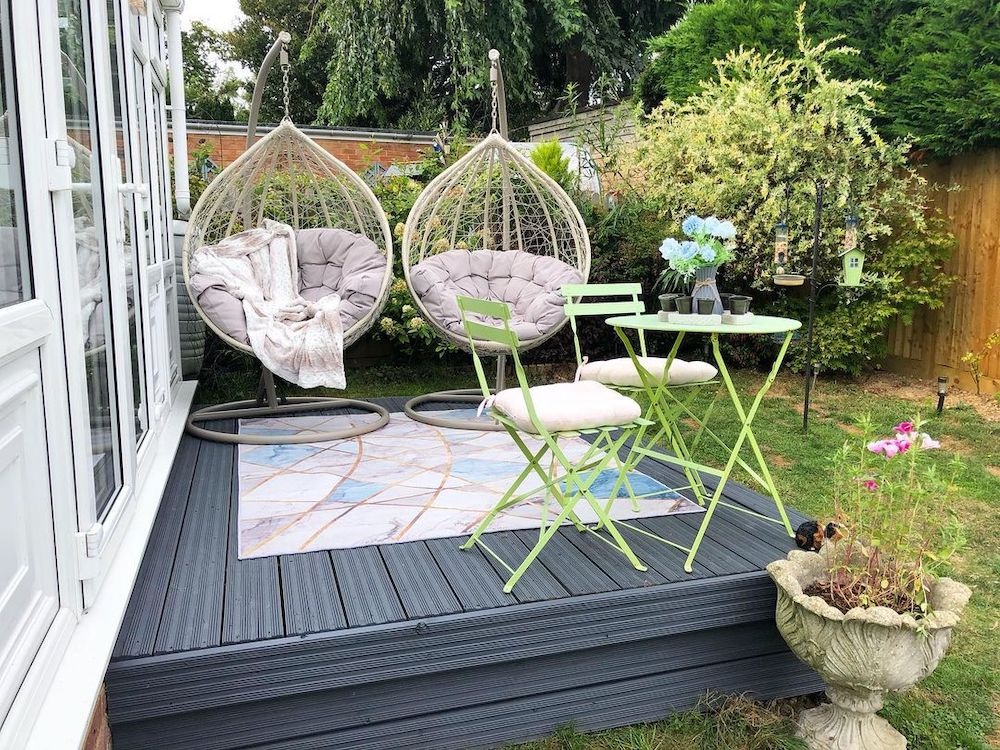 Upgrade your outdoor space with a fresh coat of paint. Set up a bistro table with chairs. Follow with a set of two hanging chairs for late-day lounging. Create the perfect outdoor space for daytime relaxation.
Make it a Double – Hanging Chair Styling Ideas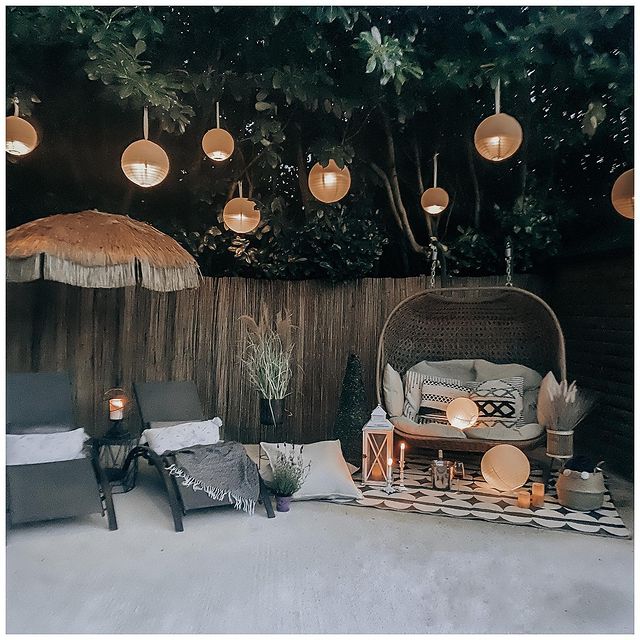 Create a space for two with a double hanging chair. Give your space extra lighting that carries you into the evening. For evening meals and celebrations, add lights at different elevation levels. Outdoor spaces are not only meant for use during daylight hours but for evenings too. There are many lighting options to choose from. As in this setting, the outdoor space includes large lanterns hung from the tree to candle-filled lanterns. All create a welcoming ambiance.
Go Full on Ibiza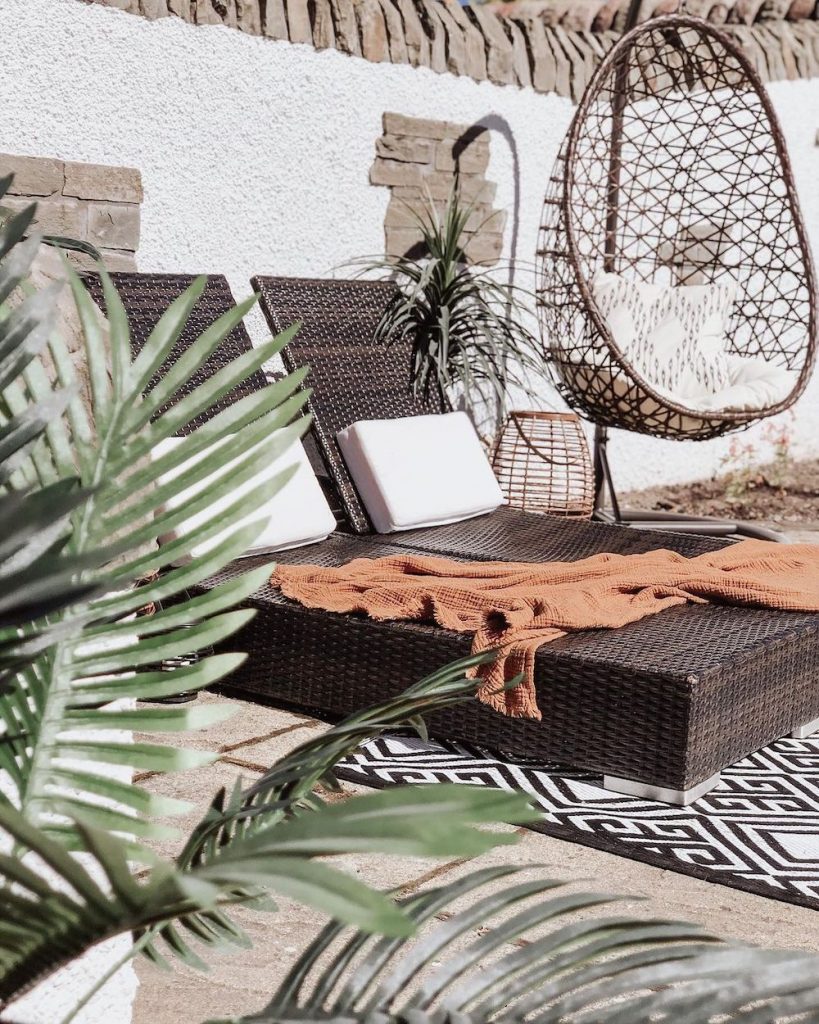 Style it with warm brown tones against white walls. Add a Greek Key rug for a texture filled flooring.
Keep Your Cool this Summer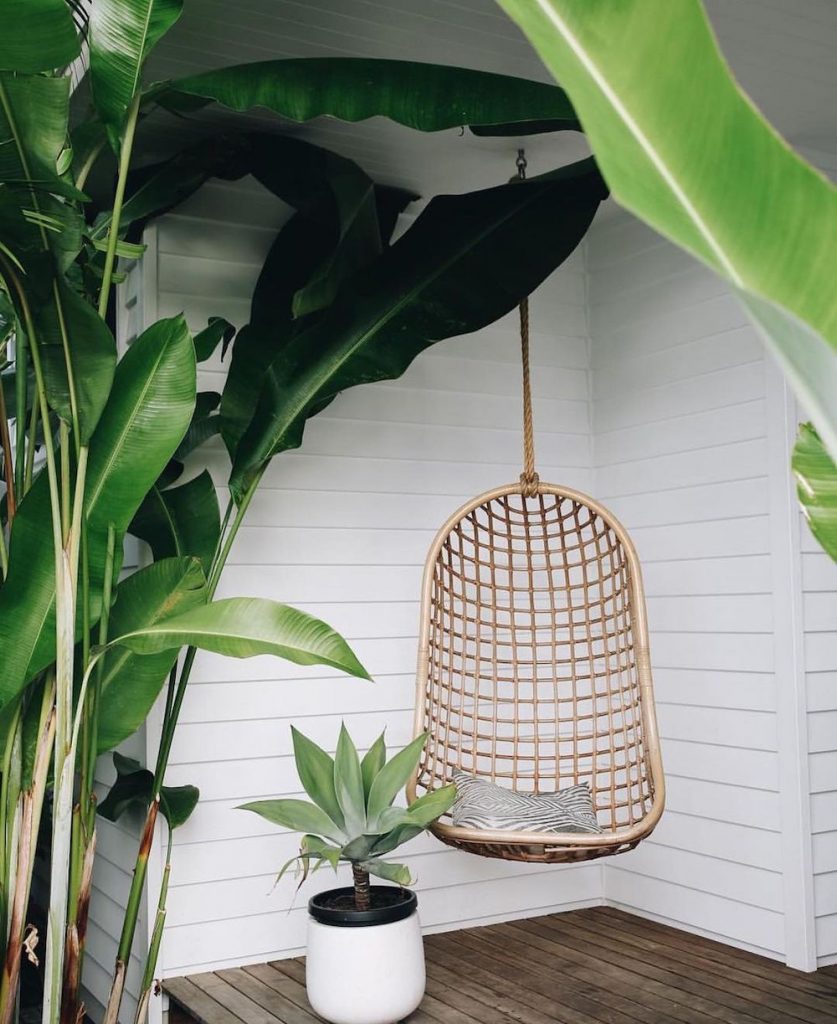 Stay cool all summer long in this hanging chair. Perfect in a covered breezy porch area. Garden plants provide much-welcomed shade and shelter from the heat of the Sun.
For timeless decorating with a twist, style your hanging chair with a soft color palette and natural wood elements. Whenever possible, use sustainable and eco-friendly design furnishings and products such as rattan. As many of you may already know, rattan brings a coastal vibe to any home.
In Closing – Hanging Chair Styling Ideas
This ends our hanging chair styling ideas list. As you've seen, there are many ways to use hanging chairs in your home and on your porch or patio. Hanging chairs are always a welcoming decorative seating option. We know that you'll love your hanging chair for years to come.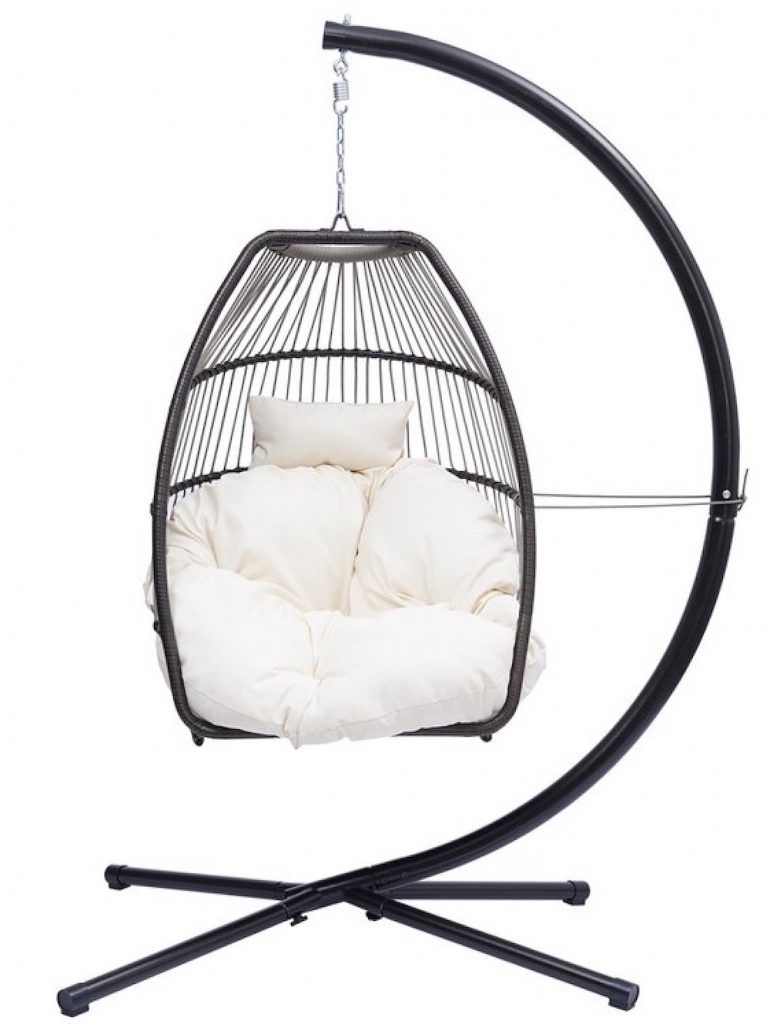 We hope that our list helps inspire you. If you try any of these hanging chair styling ideas, we would love to hear from you, our readers. Let us know how you make out with your decorating projects. For additional coastal decor resources, check out our coastal decor post with helpful tips. Look at our 12 Ways to Add Coastal Decor to your Home post. And for additional coastal inspiration, take a look at some of our other posts.
Enjoy our other coastal related posts for additional ideas.
Reach out to us with any questions. We are always ready to help you out. Thank you for stopping by our blog.
Mary
Pin this for Later: