Sip on a beverage or dine on your patio or balcony with one of these stylish outdoor bistro sets.  All of our best outdoor bistro sets include a table and 2 chairs. Usually these tables are smaller than typical dining tables, thereby making them perfect for compact spaces.  These are great for when there are just the two of you, or when outfitting a tight space.
Bistro dining table and chair sets come in many styles and materials.  We've picked some of the best in several categories so you can find something perfect for your needs.
Brinson 3-piece Bistro Set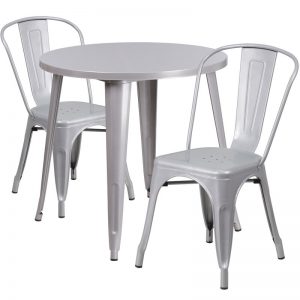 The 3-piece Brinson set borrows from simple school house styling. In addition, it features sturdy metal construction powder coated in several bright colors including white and silver.  The table measures 35 1/4″ round and the chairs are stackable for easy storage.
Lemus Sunflower 3-piece Set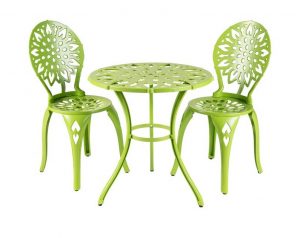 Ordinarily, people are nervous to use a bright color on a large piece of furniture.  But since outdoor bistro sets tend to be smaller, be bold and have fun!  Here, try the Lemus Sunflower 3-piece set.  Crafted from cast iron and powder coated in several fun bright colors including lime green shown here.  The table measures a compact 24″ round.
Metal Bixby Outdoor Bistro Set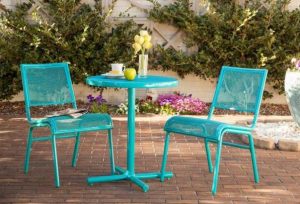 Looking for some vintage retro flair for your outdoor space?  Try the Bixby bistro set crafted from metal with a fun turquoise blue finish.  Don't worry about rain as the chairs and table feature a mesh design that drains and dries quickly.  Table measures 24″ round.
Martini Cherry Pie Outdoor Bistro Set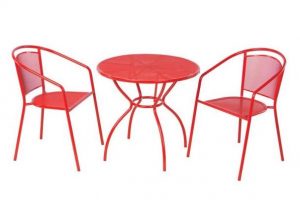 Do you love red?  Have a tight space?  Then you're going to love this Martini Cherry Pie bistro set.  You'll appreciate the durable wrought iron frame and bright cherry red powder coat finish.  The mesh design keeps water from collecting and also the chairs can be stacked for storage.
The table measures a very compact 21″ round so this is a great set for a tight space that needs a pop of fun color.
Nicolette 3-piece Bistro Set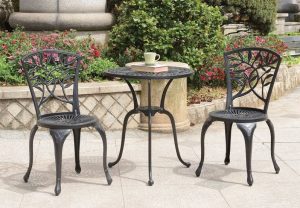 Do you have a more formal garden or patio setting?  The Nicolette 3-piece bistro set features a transitional style with flowing arches and cabriole legs that would look good in either a more traditional or contemporary design.  Made of durable, water and UV resistant aluminum and finished in your choice of black or white.
Table measures 23 1/2″ round.
Della 3-piece Bistro Set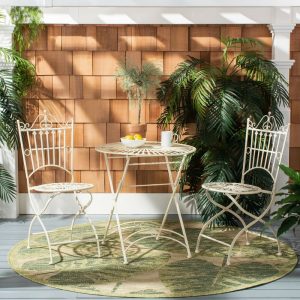 Another great option is this Della 3-piece Bistro set that would look perfect sitting in the corner of a traditional victorian or english garden.  The design screams "afternoon tea."  The Della set is made of durable metal and finished in a weather-resistant, distressed off-white finish that looks perfectly weathered outdoors.
The table measures 27 1/2″ round.
Vashon 3-piece Outdoor Bistro Set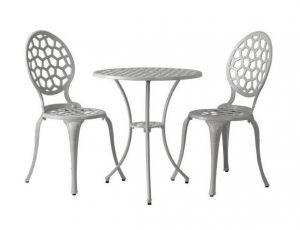 We love this Vashon bistro set if not just for the styling of the chairs that remind us of a turtle shell!  Graceful cabriole legs combined with more contemporary geometric patterns gives the set a very flexible transitional design.   The Vashon set is made from durable cast aluminum and is finished in a beautiful gloss white.  In summary, absolutely one of our stylish picks for best outdoor bistro sets!
Table measures 24″ round.
Hillside Wood and Wicker Bistro Set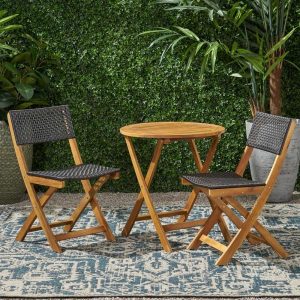 If you're looking for something with the warmth of wood, try this Hillside Wood and Wicker bistro set. This set is crafted from weather resistant acacia wood and finished in a Teak-brown stain. Also, the design uses hole-to-hole wicker caning (with weather-resistant polyethylene rattan) for the seating surfaces and a foldable design for compact storage. The table measures 26″ round.
Yorkfaire Brown Frame Bistro Patio Set
Another option if you are love the casual wicker look is this Yorkfaire bistro patio set. You'll appreciate the sturdy steel construction in a brown weather-resistant finish. The table is painted to look like stone and the chairs have wood-grain brushed arms and all-weather woven rattan seating in a bistro-style black and white pattern. Table measures 26″ round.
Ramage Acacia Outdoor Bistro Set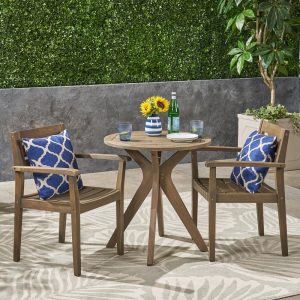 This Ramage bistro set made from solid weather resistant acacia wood will give your outdoor space a luxury resort feel. Finished in a beautiful grey stain that looks like weathered teak (much more expensive!) and a simple resort style that will add style points to any space. Table measures 27 1/2″ round.
Southington Bistro Set with Umbrella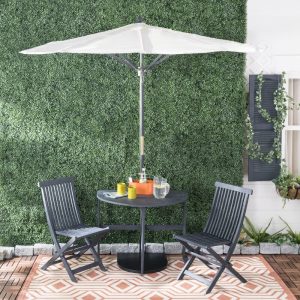 Why do only larger outdoor tables get an umbrella? Not any more! This Southington bistro set solves some common challenges with several neat features. Firstly, the folding umbrella gives you relief from the sun. Secondly, the table's design makes it easy to put up against a wall, fence or hedges. This keeps the footprint compact even in tight spaces. Even the umbrella has a flat edge to accommodate being positioned against a wall. And finally, the entire set is foldable for easy storage when not in use. In summary, with all these unique features the Southington Bistro set is easily one of the best outdoor bistro sets for that tight fit space.
Constructed of solid wood. The table extends out 23.6″ from its flat edge.
Griffen 3-piece Balcony Dining Cabinet Set
Generally speaking most smaller balconies don't have enough room to comfortably fit even a small table and two chairs. In this case, the 3-piece Griffen Balcony Dining Cabinet set by Safavieh is incredibly space-efficient for a bistro dining setup. The dining table folds away to minimize space and the chairs can be stored flat. Cabinet and chairs are made from weather resistant acacia wood and finished in ash grey. Cabinet measures 13.8″ L x 25.6″ W x 50.4″ H
French Caf 3-piece Patio Bistro Set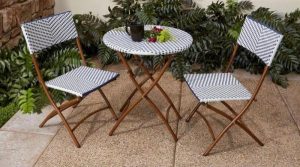 Looking for the look of wood but the durability of metal? This French Caf bistro set from Hamilton Bay has just that. The durable steel frame is wrapped in all-weather wicker in classic Parisian blue and white. The table measures 24″ round and all 3 pieces are foldable for easy storage.
Gearhart Cottage 3-piece Bistro Set
Love the wicker look but prefer low-maintenance and durable metal construction? Try this Gearhart Cottage bistro set with its "wicker-like design" made of weather-resistant and durable aluminum frame. Store the set easily with its foldable design. Finished in a dark espresso brown and the table measures 23 5/8″ round.
Du Jour Black Metal Bistro Set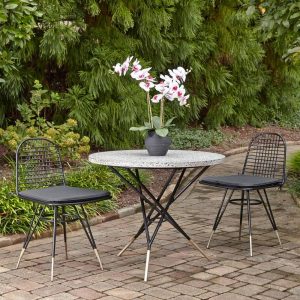 If your design sense leans towards mid-century modern, check out this stylish Du Jour bistro set. The black metal frame with polished brass accents really contrasts well with the Terrazzo tile table top. Wire framed chairs come with cushions for extra comfort. Table measures 35 1/2″ round.
3-piece Iron Bistro Set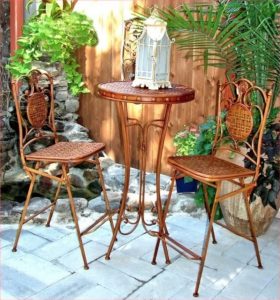 If you like a more ornate, rattan look that takes inspiration from British colonial or South East Asia, consider this 3-piece Iron Bistro set made of metal with a weather resistant finish. This is a bar-height bistro set with a 48″ height and the table measures 24″ round.
Haymont Steel 3-piece Outdoor Bistro Set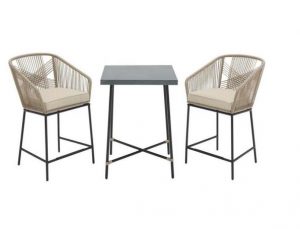 You will like the Haymont Steel Bistro set if you're looking for a contemporary nautical style with the dark steel frame and interwoven rope chairs. The steel table top is finished in grey and measures 27 1/2″ x 27 1/2″ square. The bar height table gives you extra leg room in addition to a better view of your space.
Pate Bar Height Bistro Set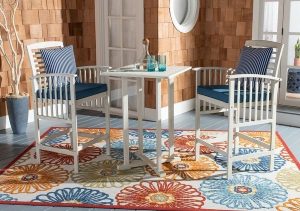 Looking for a bar height bistro set that'll fit right in with your coastal or country cottage? Try the Pate Bar Height bistro set by Safavieh. The set is made of solid wood and is finished in bright white. Also, navy seating cushions are included. Table measures 27 1/2″ x 27 1/2″ square.
Eden 3-piece Outdoor Bistro Set
Do you want to rest assured that your bistro set was made from responsibly sourced and sustainable materials? Then you will love the sleek Eden 3-piece Bistro Set which is made from 100% FSC-certified (Forest Stewardship Council) Eucalyptus wood. The set comes in a natural finish and the manufacturer also recommends using an oil to further preserve the wood's natural beauty. Table top measures 32″ x 32″.
Coral Coast Marina Mosaic Bistro Set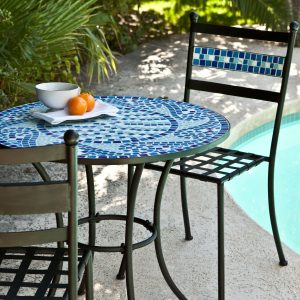 Do you love the look of colorful tile? Then you need to check out this beautiful Coral Coast Marina Mosaic bistro set. The chairs and table feature a sturdy iron frame with black powder coat finish together with a hand-laid mosaic table top in shades of aqua and blue. Also cushions are available but sold separately.  Table measures 30″ round.
Home Styles 3-piece Bistro Set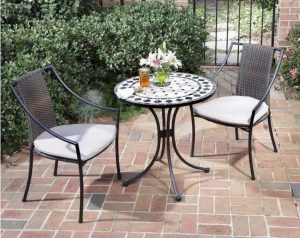 If you like the mosaic-top look but want more neutral colors, then check out this 3-piece Home Styles Bistro set.  The chairs feature durable powdercoated steel frames with all-weather synthetic woven rattan seating surfaces and taupe cushions.
The table measures 27 1/2″ round with the same powder coated black steel frame supporting a beautiful mosaic tile inlaid top in greys, beiges and black.
Hopefully this pick of best outdoor bistro sets inspired you to make the next move and outfit that unused corner!
Interested in decorating outdoor spaces? If you found this helpful . . .
You May Also Enjoy some of our other outdoor space related posts.   
8 Garden Benches for a Restful Break
8 Bold, Outdoor Bistro Tables for your Patio
Patio Chairs that Keep Cool During Hot Summers!
8 Beach Worthy Lanterns to Illuminate your Coastal Home
8 Things You Need for a Perfect Dinner on the Beach
Also, if you have any questions, feel free to reach out to us. We always are ready to help you out. Thank you for dropping by.