Thanksgiving table decor ideas that will make this Thanksgiving dinner memorable for years to come. Starting to think about Thanksgiving this year? Before you know it, Thanksgiving will be here. And everyone will make a mad dash to the stores for their thanksgiving table decorations.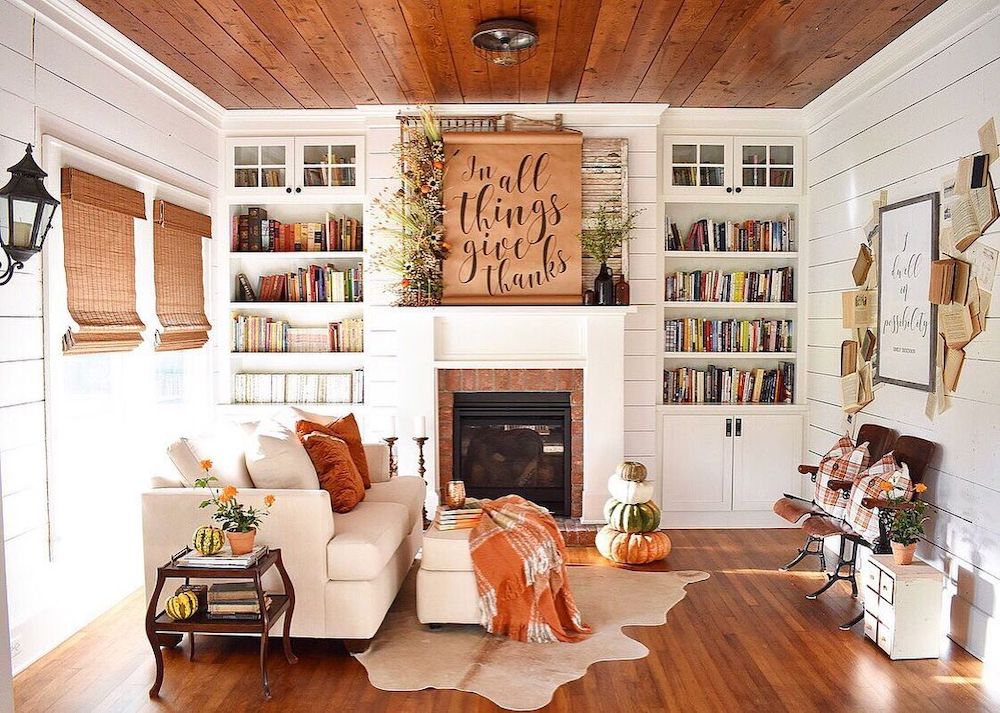 In today's post, we are sharing some great design ideas for the Thanksgiving table. Although the traditional chrysanthemums, pumpkins, and gourds are perfect for table decorations, here are some other ideas to consider for your next feast.
Make it Memorable – Thanksgiving Table Decor Ideas
You'll find some great inspirational Thanksgiving designs on the internet and of course Pinterest. In this post, we are sharing table designs for the annual family Thanksgiving dinner. Take a look at these designs and maybe they'll inspire you to design the best dining table centerpiece this Thanksgiving.
Use Blue and White Ginger Jars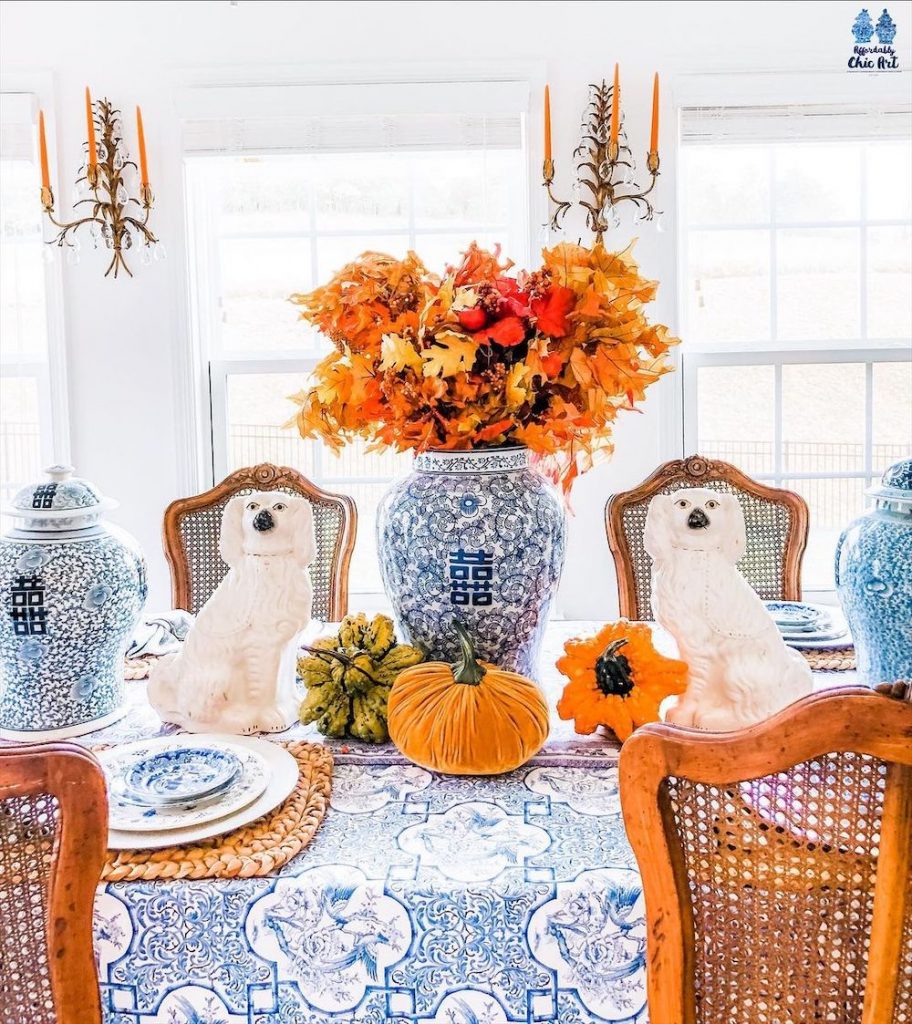 Create an impressive centerpiece using your best ginger jars. In this table styling, the beautiful maple leaf bouquet contrasts perfectly with the blue and white place settings and table cloth.
Style a Creamy White and Gold Table – Thanksgiving Table Decor Ideas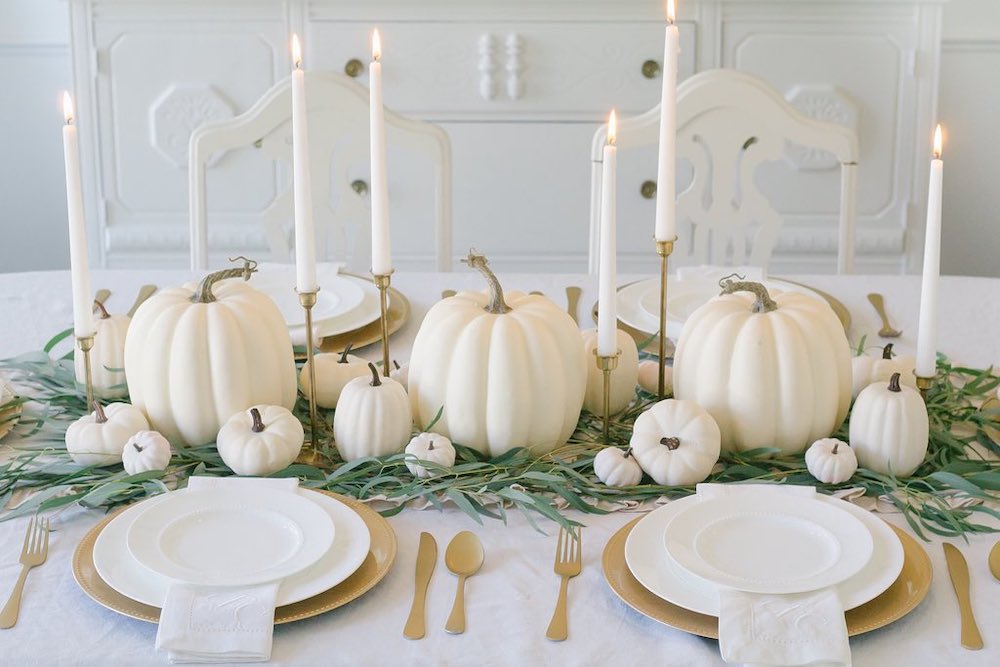 Against a gold background, the creamy-white place settings and pumpkins look stunning. The designer used olive leafed branches as a base for the creamy white pumpkins. We love the mixing of large and miniature pumpkins with gold candlesticks interspersed among the pumpkins. So elegant and festive.
Give Your Table a Natural Look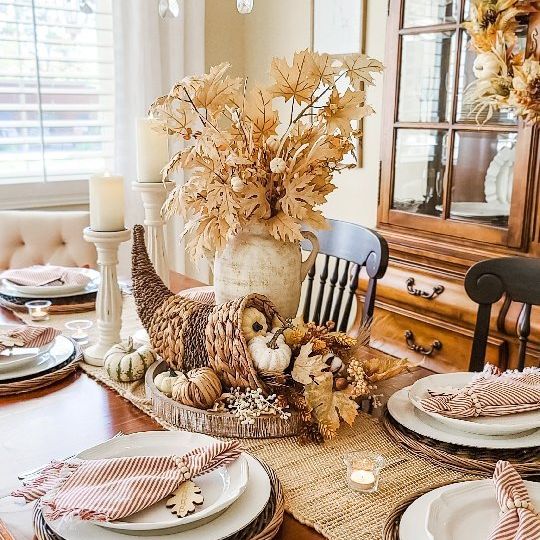 Use naturally color-toned accessories such as white or natural pumpkins. Add a few natural and dried foliage stems to the cornucopia. Finish off with a few votive candles scattered around the table.
Bring Out an Assortment of Sisal Trees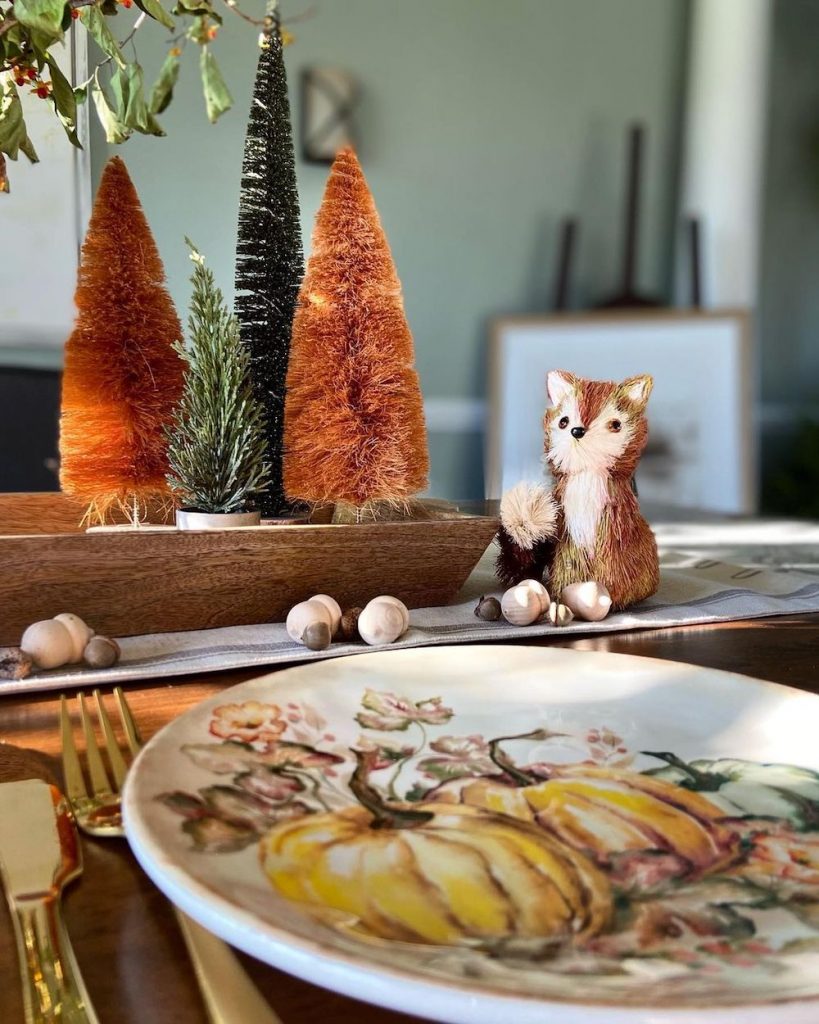 Give your Thanksgiving table the woodland treatment. Add an assortment of sisal trees to the wooden tray centerpiece. And the wooden fox sits next to a scattering of acorns.   
Elevate Your Pumpkins – Thanksgiving Table Decor Ideas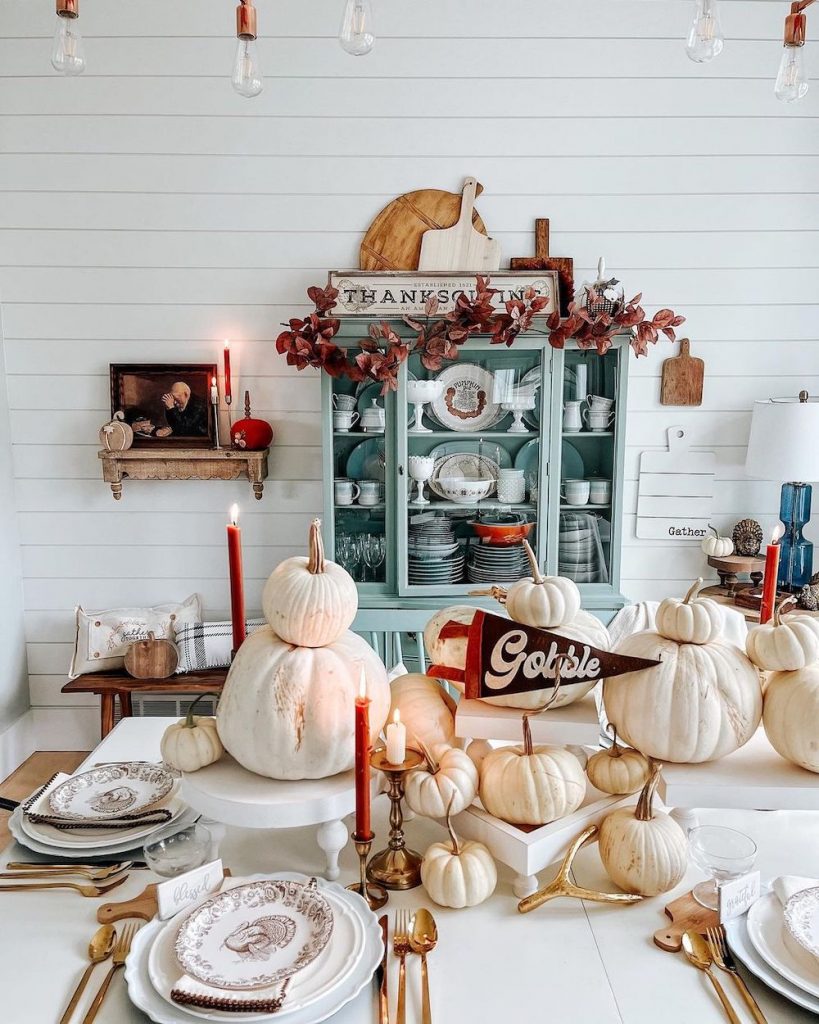 Keep your wooden risers on the table. Wood risers help elevate the pumpkins from the table. This creates a more pleasing visual style.
Use a Bit of Greenery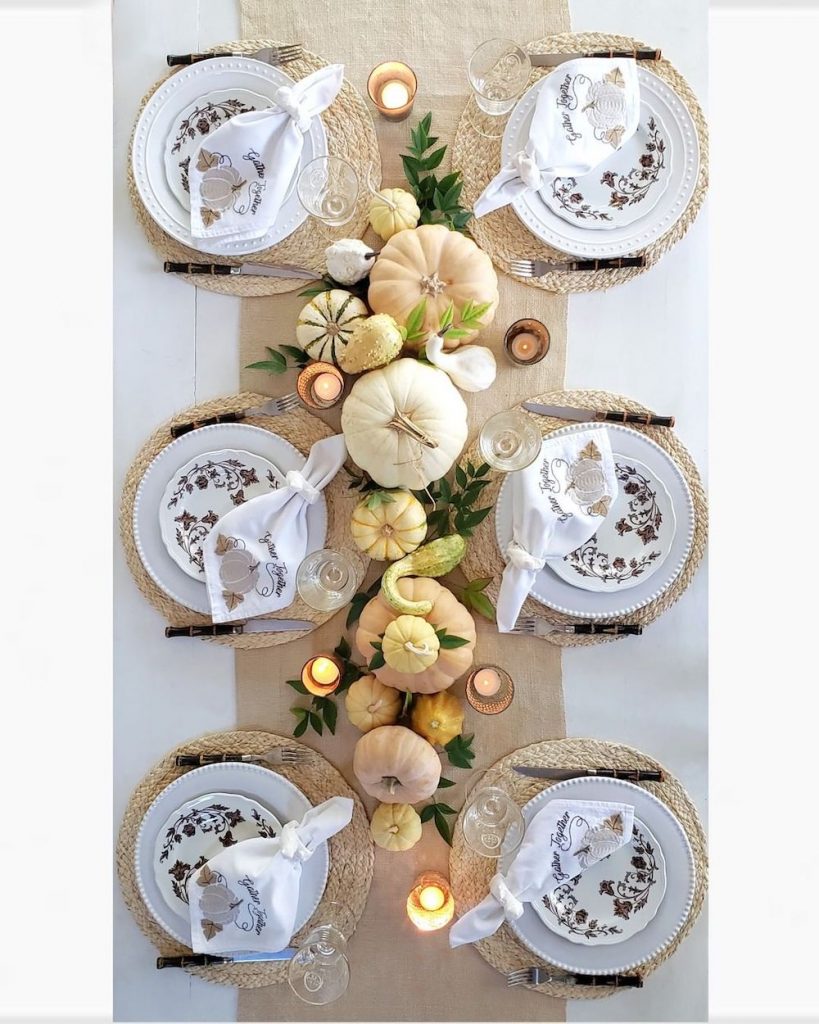 Add pieces of fresh greenery to the table arrangement. Then add a few votive candles throughout the centerpiece.
Fill a Bowl with Fresh Squash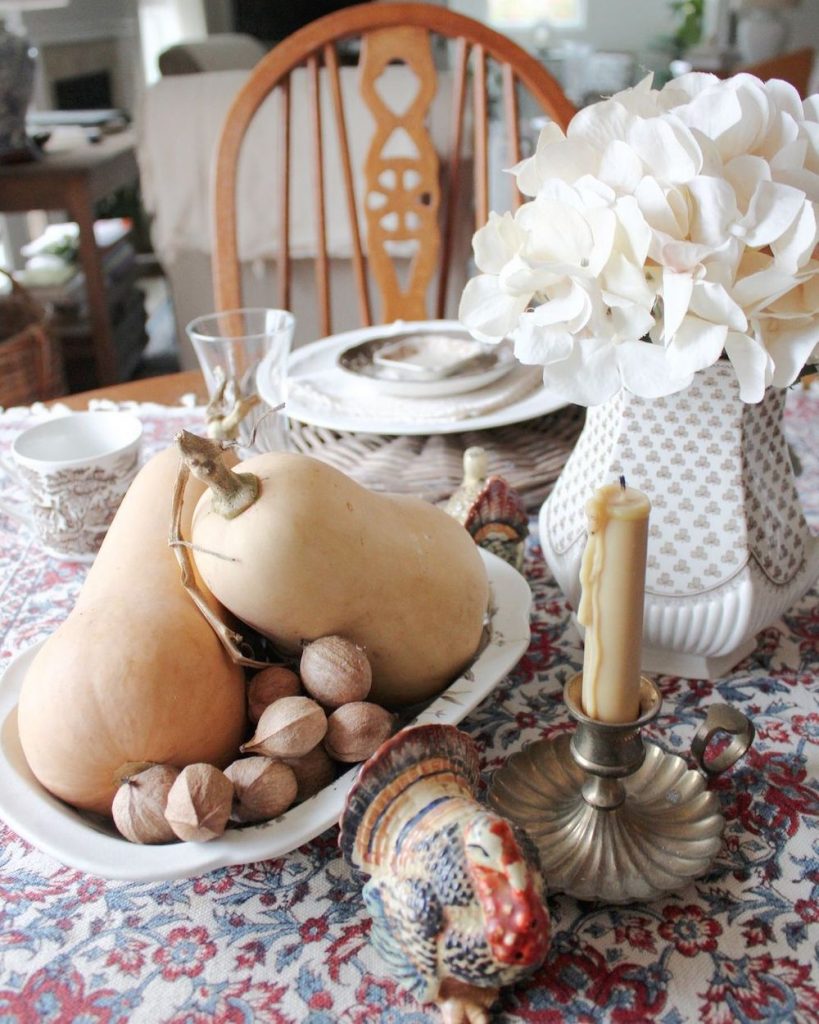 Make it a harvest-styled centerpiece by using fresh butternut squash.
Style your Table Rustic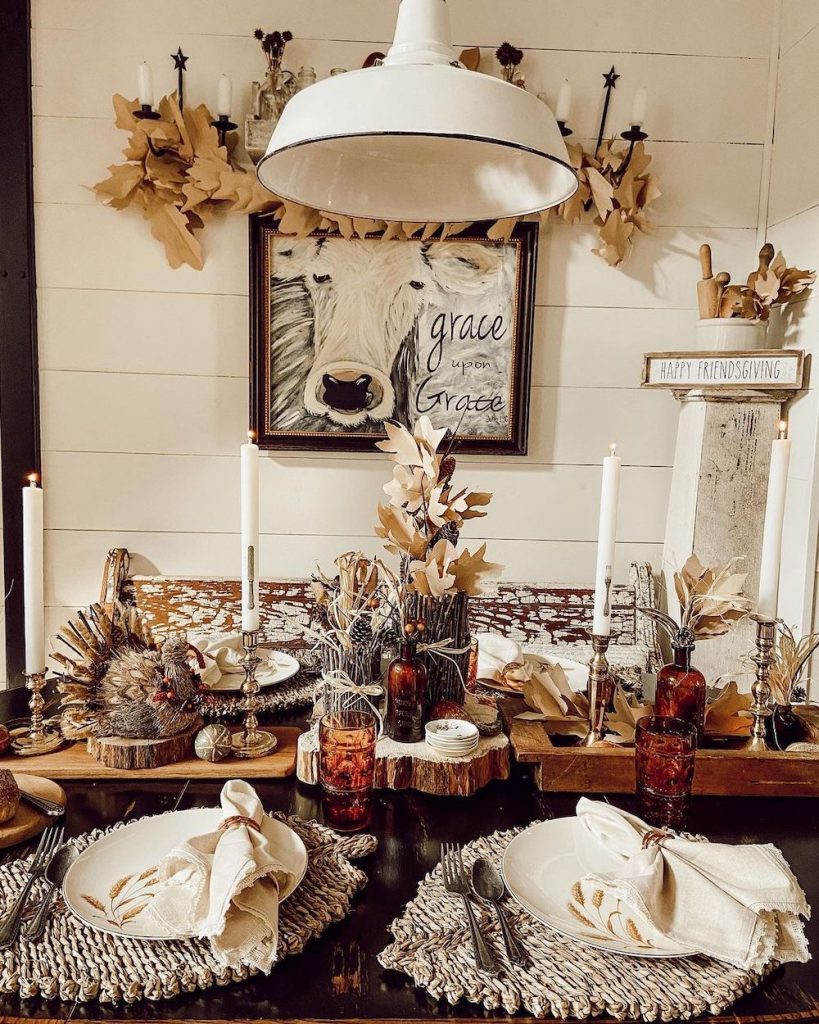 Style it full of rustic charm. Twig vases wrapped with a raffia bow hold boughs of maple branches. The amber bottles provide a little contrast to the table.
Use a Wooden Bowl with a Green Pitcher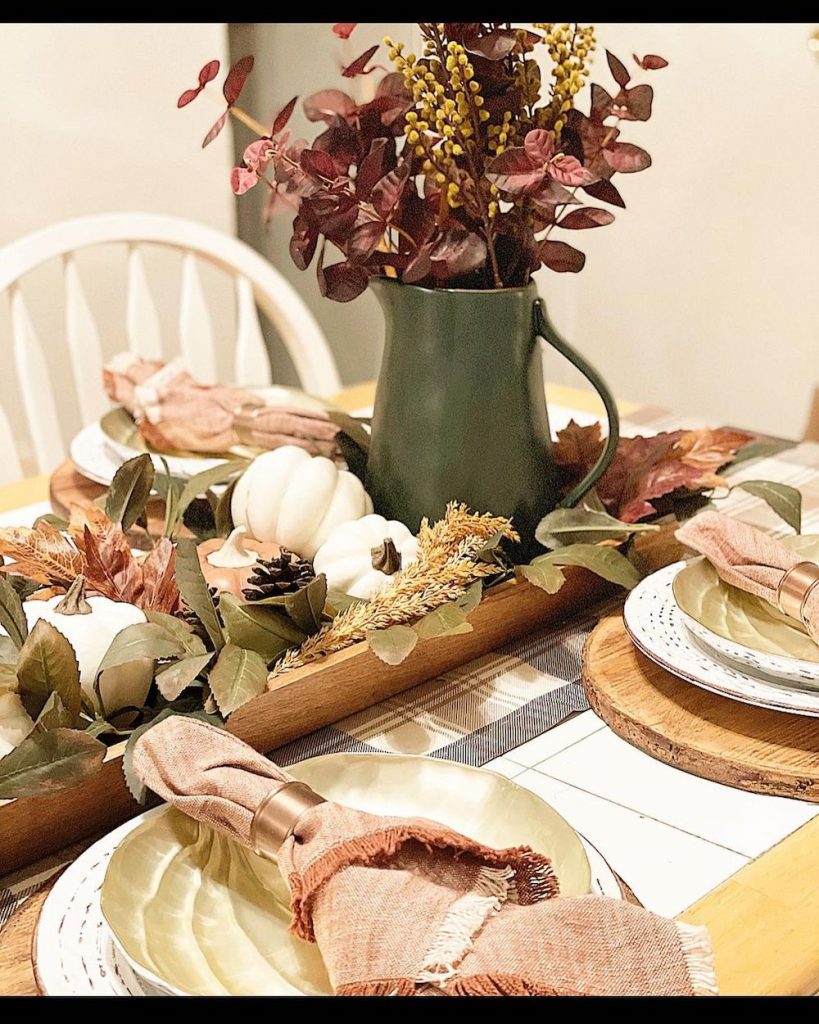 Use a wooden tray to style around the turkey meal. The sage green pitcher holds foliage in reddish-brown colors.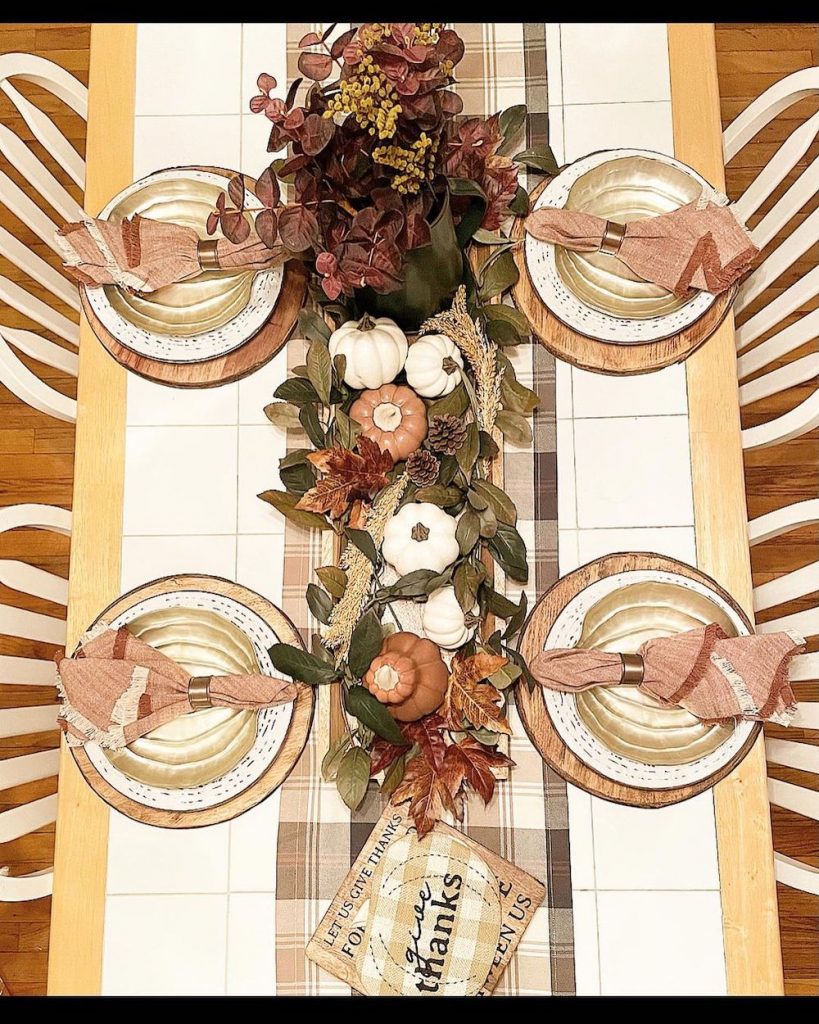 Design a Bouquet in a Pumpkin – Thanksgiving Table Decor Ideas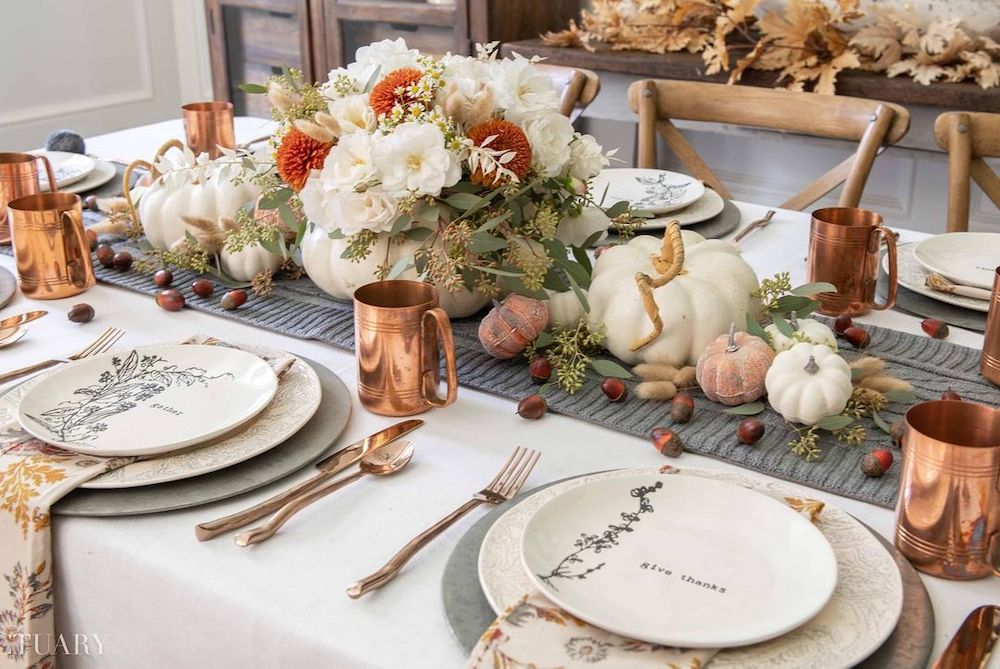 Start off with a textured cable knit runner. Add neutral and white pumpkins, using the center pumpkin as a vase for a floral bouquet. We love the copper mugs at each place setting for some hot apple cider.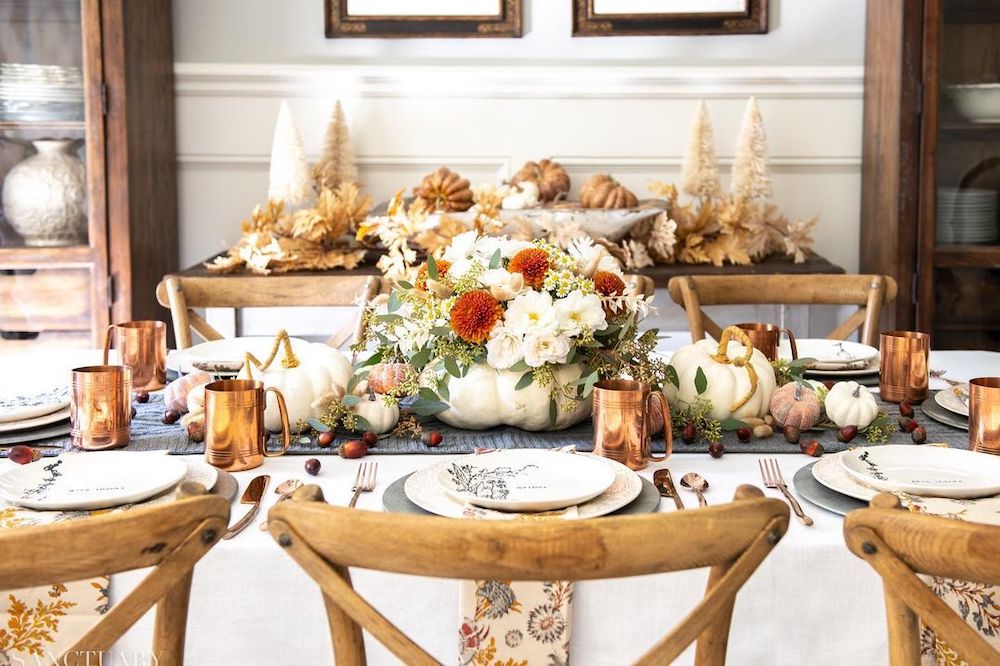 Make it a Charcuterie Board Centerpiece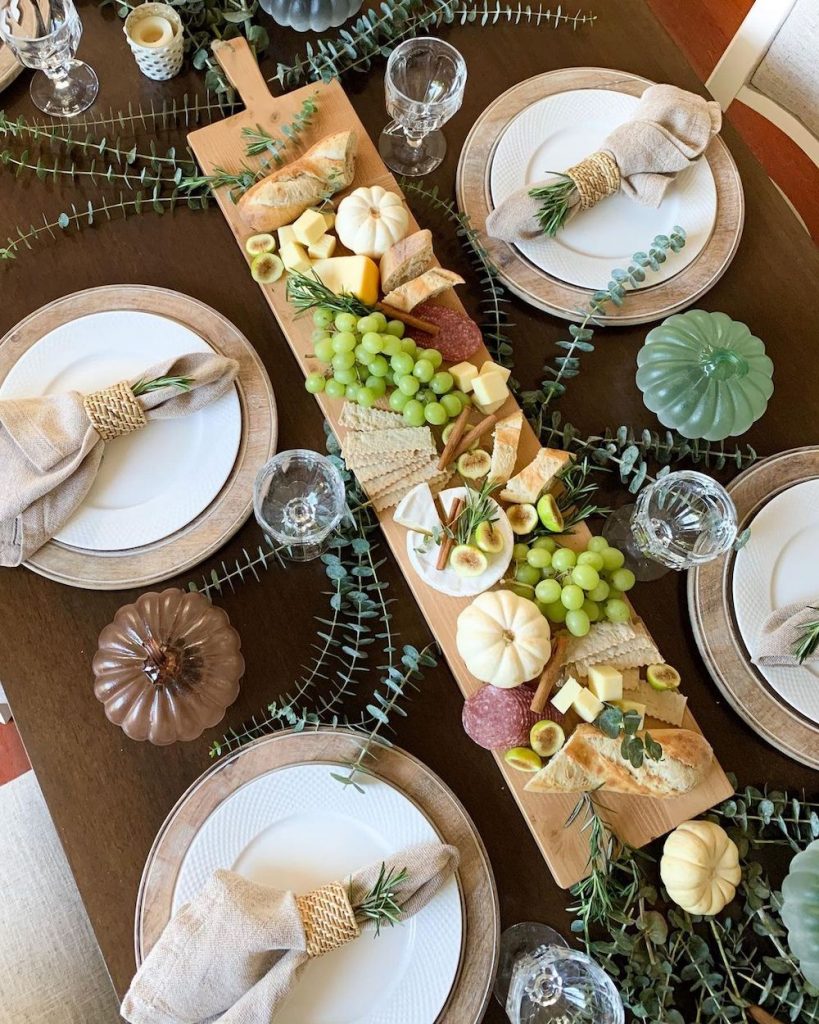 Serve fresh fruit, cheese, salami, and bread on a charcuterie board. And of course, add a couple of miniature pumpkins and rosemary twigs.
Decorate it with Gold and Forest Green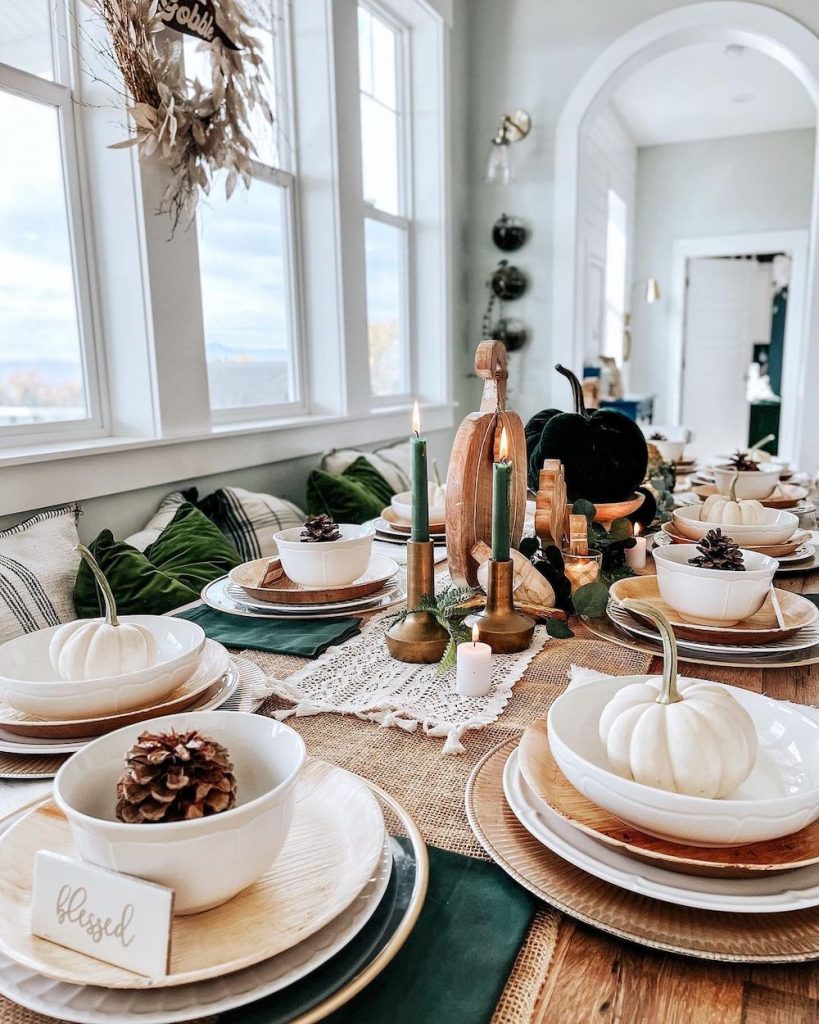 Blend forest green with creams and gold for a spectacular table setting. A warm and cozy dining table.
Use a Pedestal Bowl – Thanksgiving Table Decor Ideas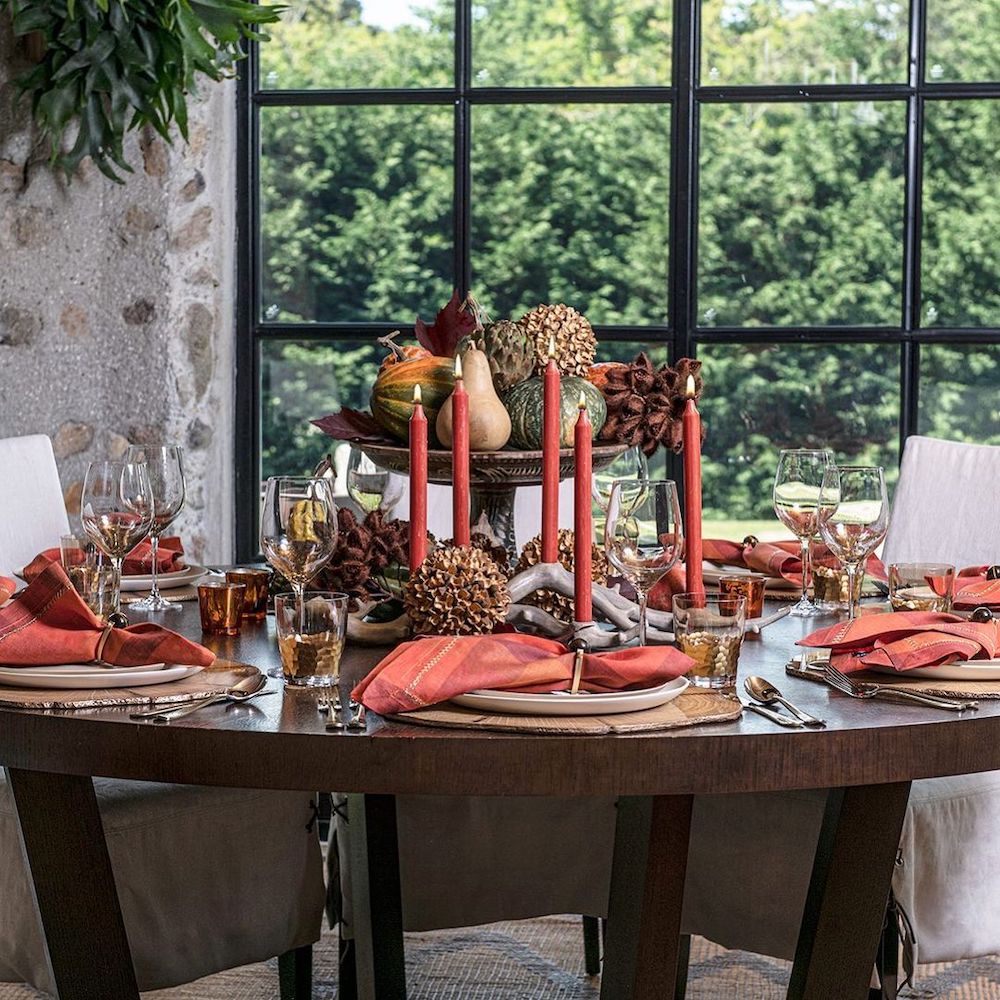 Stack your best gourds and vegetables in a pedestal bowl. Celebrate the harvest season with rust decor and your favorite vegetables.
Lay a String of Wood Beads – Thanksgiving Table Decor Ideas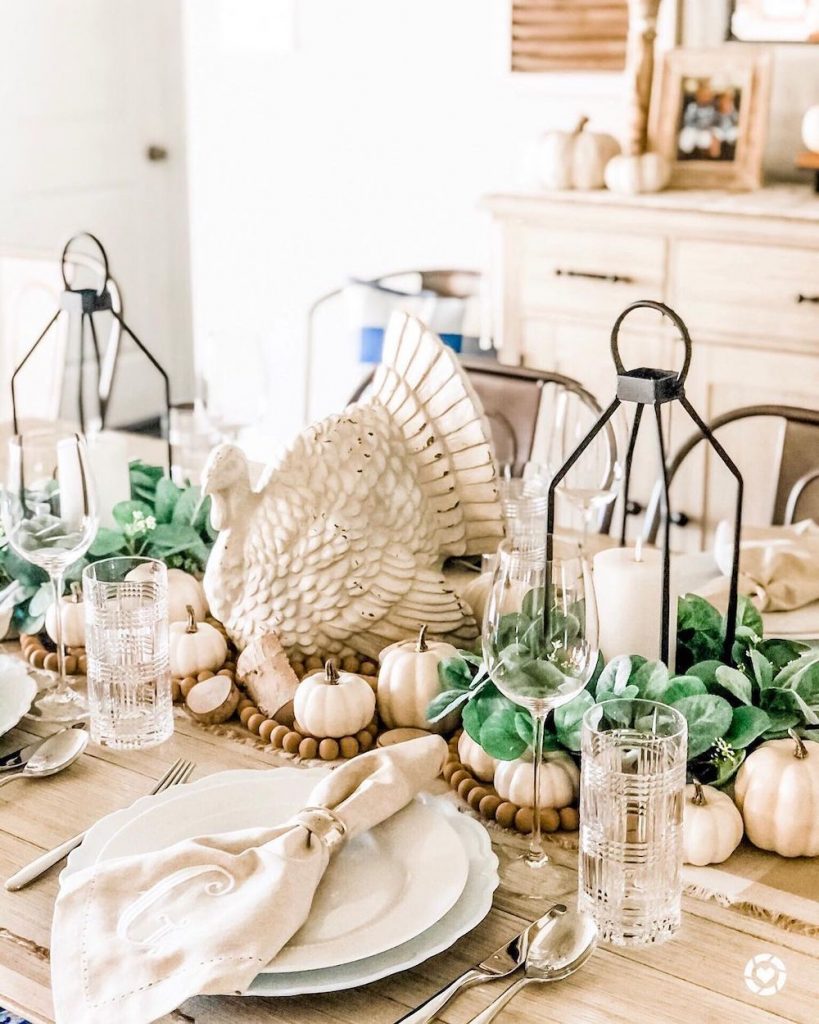 Weave a string of wooden beads around the centerpiece. At each end of the table, add a black lantern with a white pillar candle. Line miniature white pumpkins around the turkey and lanterns.
Create it on a Circular Bread Board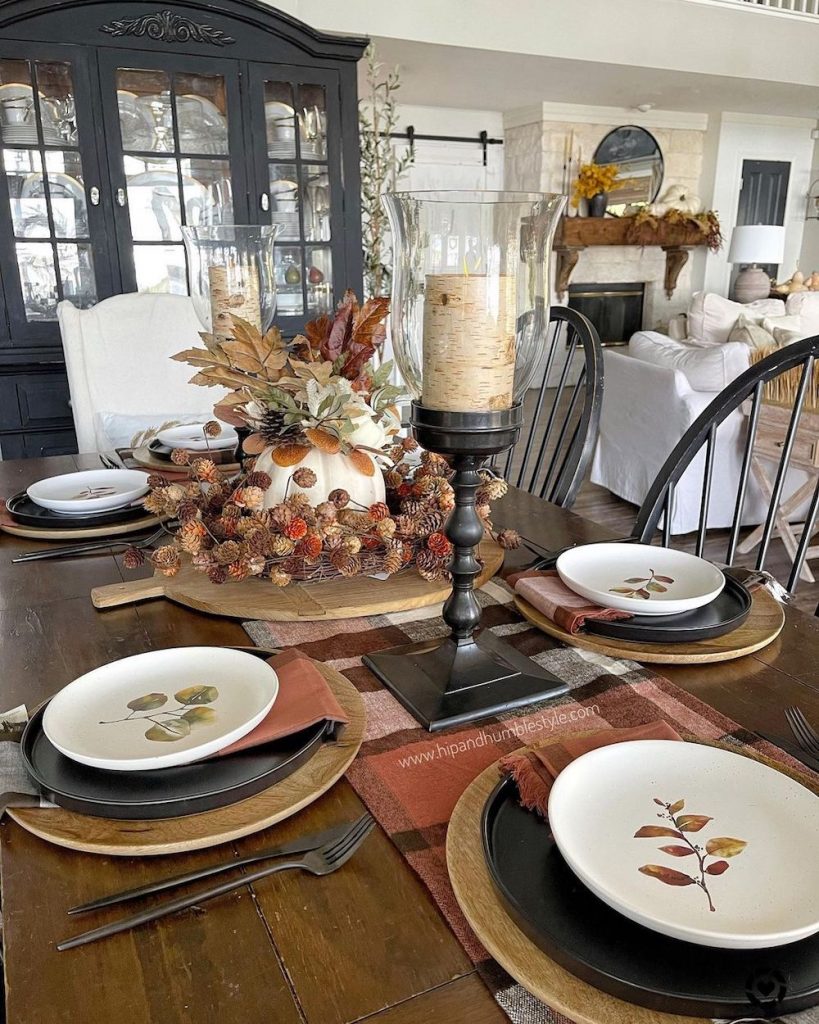 As a base, use a circular breadboard to style your centerpiece. This design starts with a white Casper pumpkin. Then embellishes the pumpkin with small mini pine cones. Nice harvest colors make this a wonderful fall dining table setting.
Start with a Wooden Box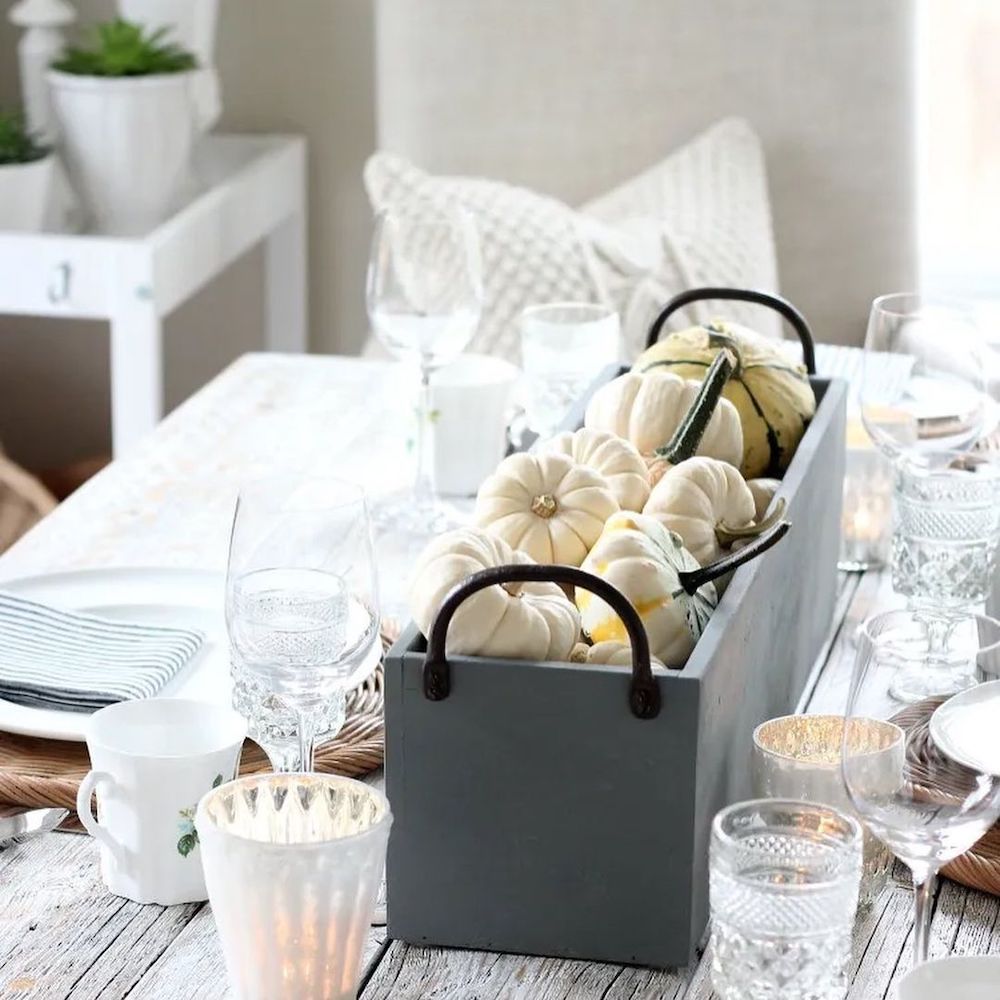 Use an old utility box and repurpose it as a centerpiece box. In this iron-handled box, the designer filled it with white miniature pumpkins for a beautiful contrast.
Sprinkle Some Berries and Pine Cones – Thanksgiving Table Decor Ideas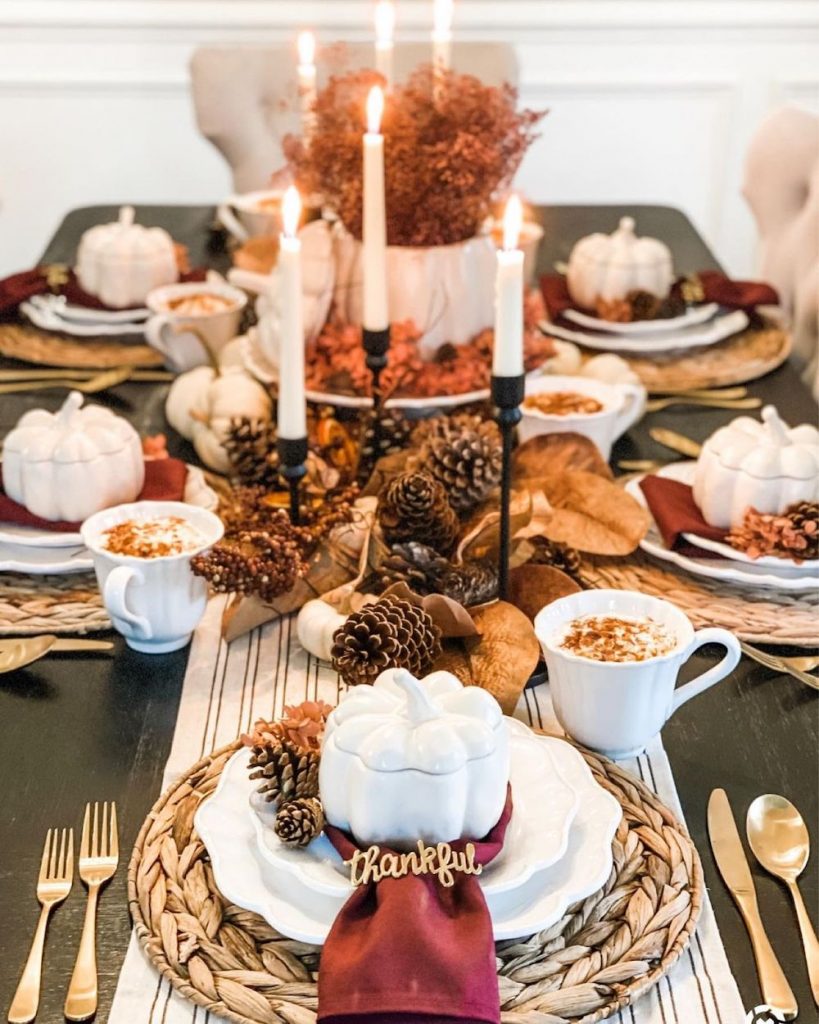 For a natural look, use pine cones and faux berry clusters in browns and burgundy colors. Love the mix of metals. Black candlesticks and gold-tone flatware.
Stack Them High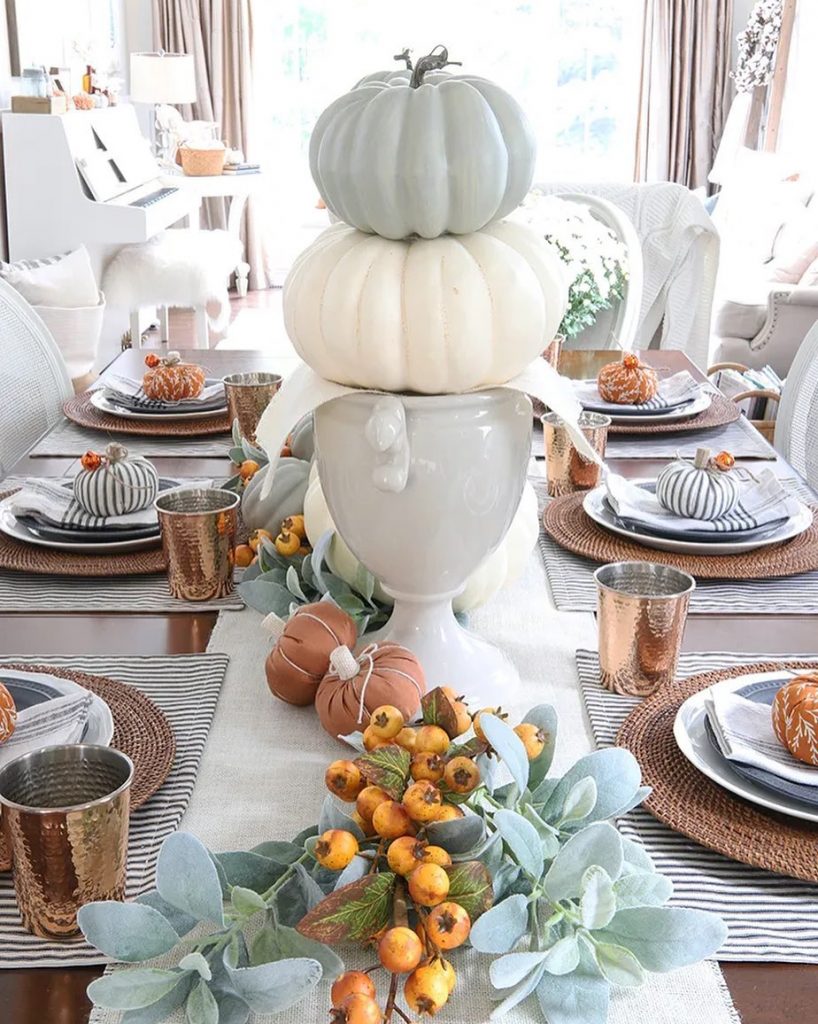 Use an urn to stack your best pumpkins. In this design, branches of loquats stand out among the silver-gray foliage.
Brighten your Table with Red Accents
Set the table in red. This year pull out your red place settings. Style your dining table with copper and red fall foliage branches. Elevate a solitary pumpkin on a riser. And those that are just here for the food, they'll enjoy this every bit.
Fill a White Pitcher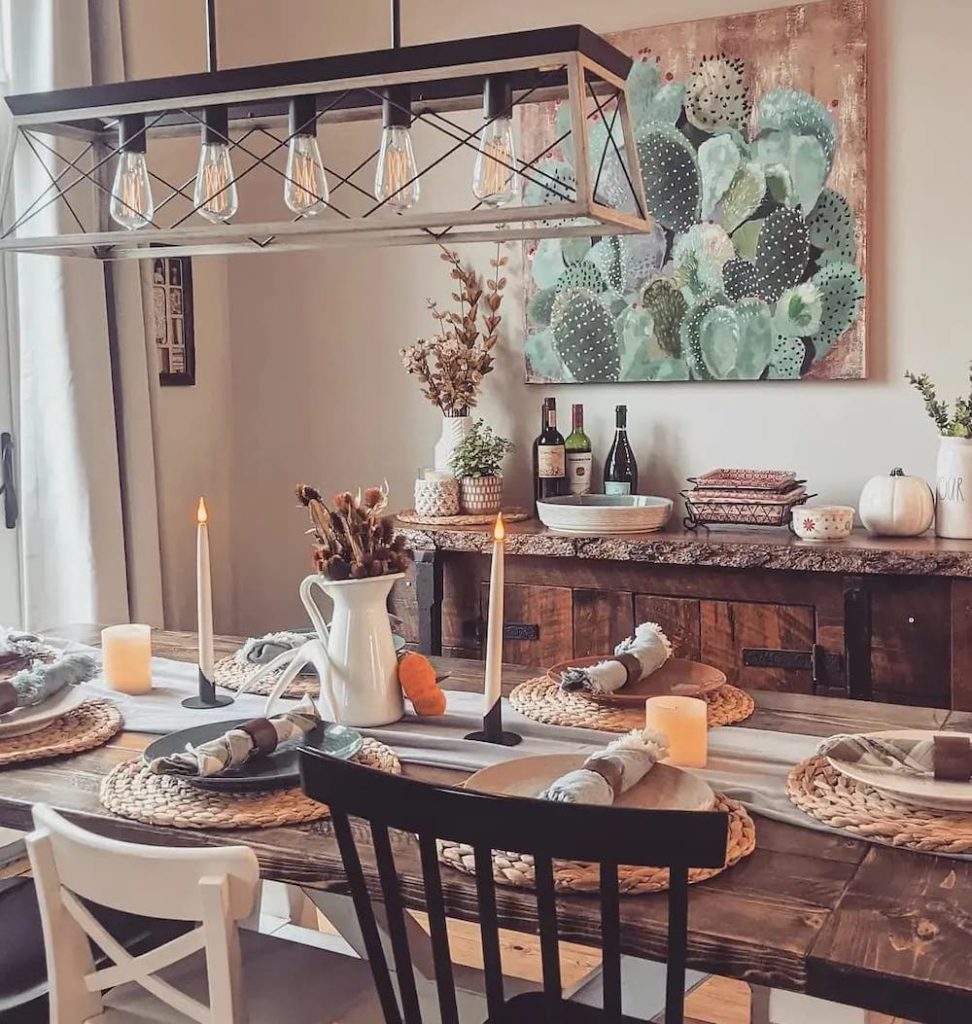 Add a bunch of bunny tails to a white pitcher. Include a set of candlesticks and pumpkins for the centerpiece.
Set the Table with Chrysanthemums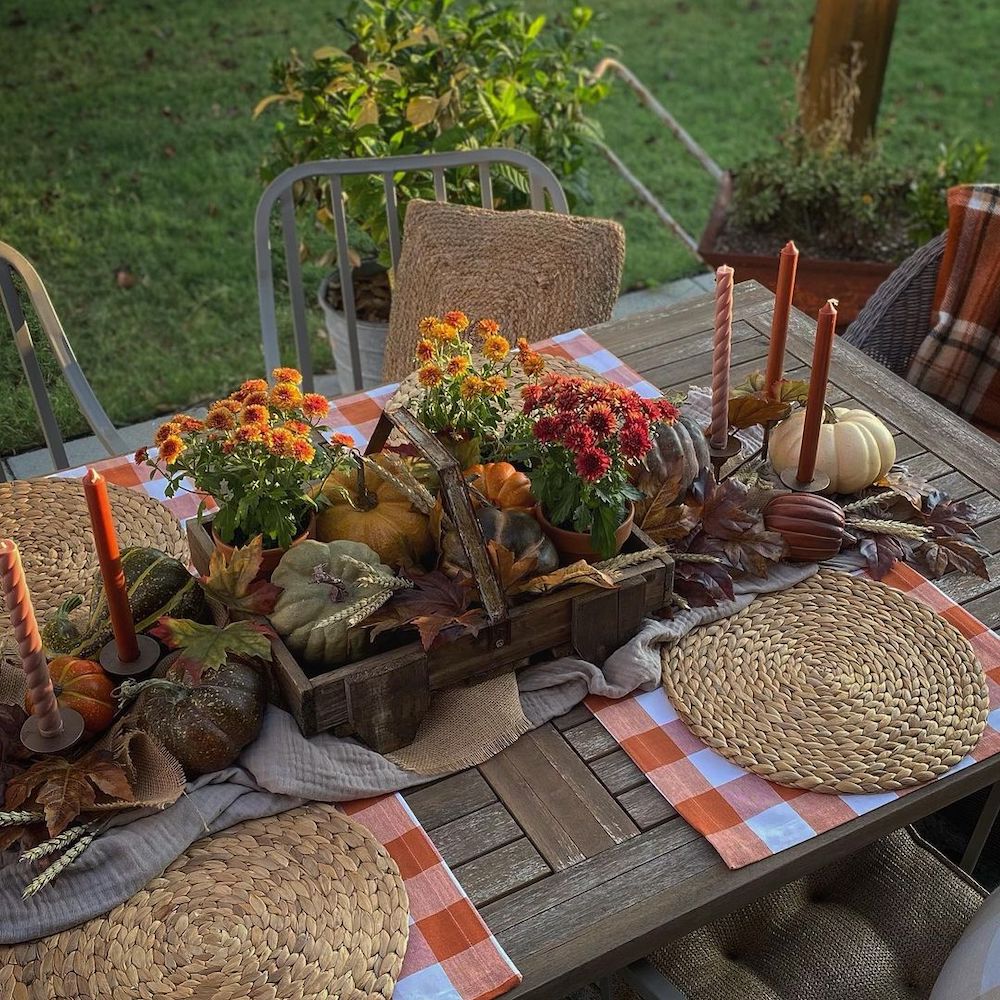 If you are lucky enough to live in a warmer climate, have your celebration outdoors. Use a wooden rustic crate to hold chrysanthemums, pumpkins, and fall foliage stems. Autumn colors make a beautiful table styling.
Easy & Quick – Thanksgiving Table Decor Ideas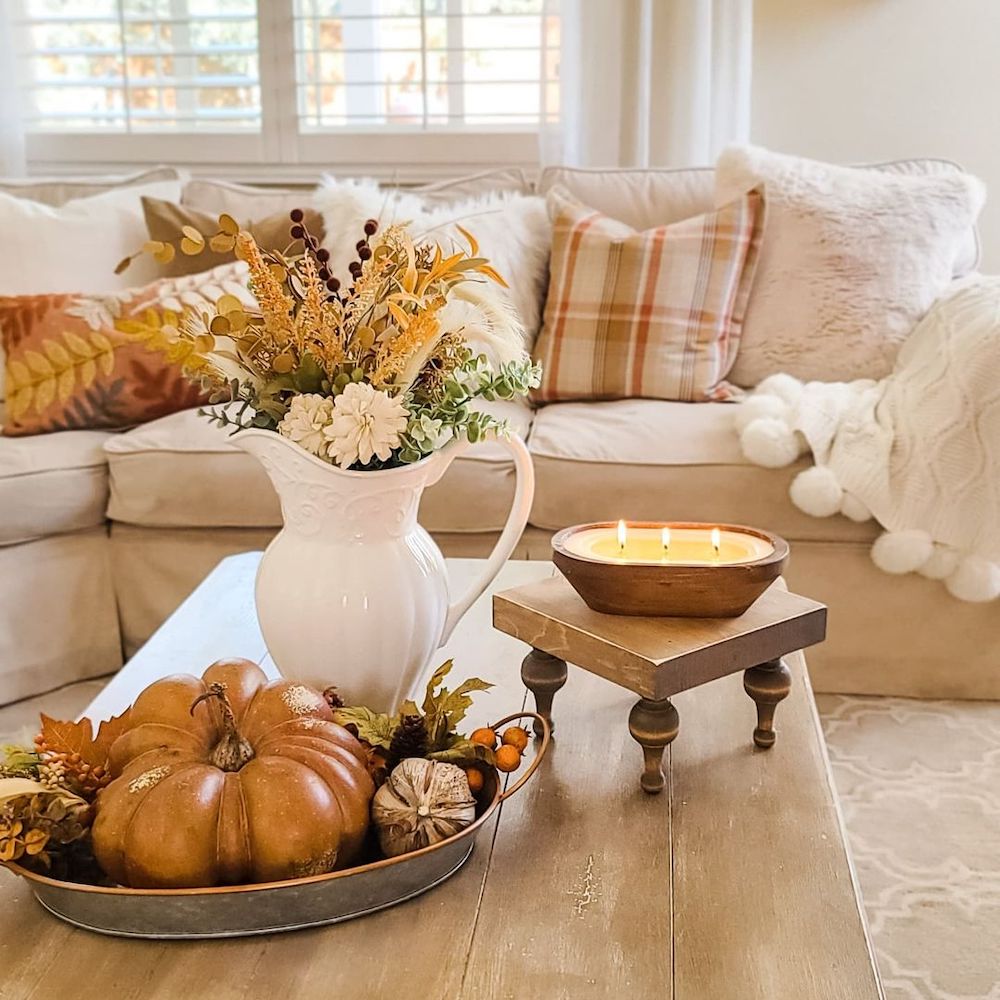 Our list of table decor ideas has ended. We hope our list inspires you to create a memorable table setting this season.
For fall decor inspiration, be sure to check out our other posts.
Reach out to us with any questions. We are always ready to help you out. Thank you for stopping by our blog.
Wishing you a blessed Thanksgiving this year!
Mary
Pin this for Later: