Round mirrors with strap ideas to add a stylish touch to your coastal home. In today's post, we are sharing styling ideas for using a round mirror with a strap. We all love the look of the classic round mirror frequently seen inside a ship captain's cabin. Notice that the roundness of the mirrors takes its cue from a ship's porthole window. Such a lovely touch! So, if you are looking for ways to style the iconic mirror, then this post is for you.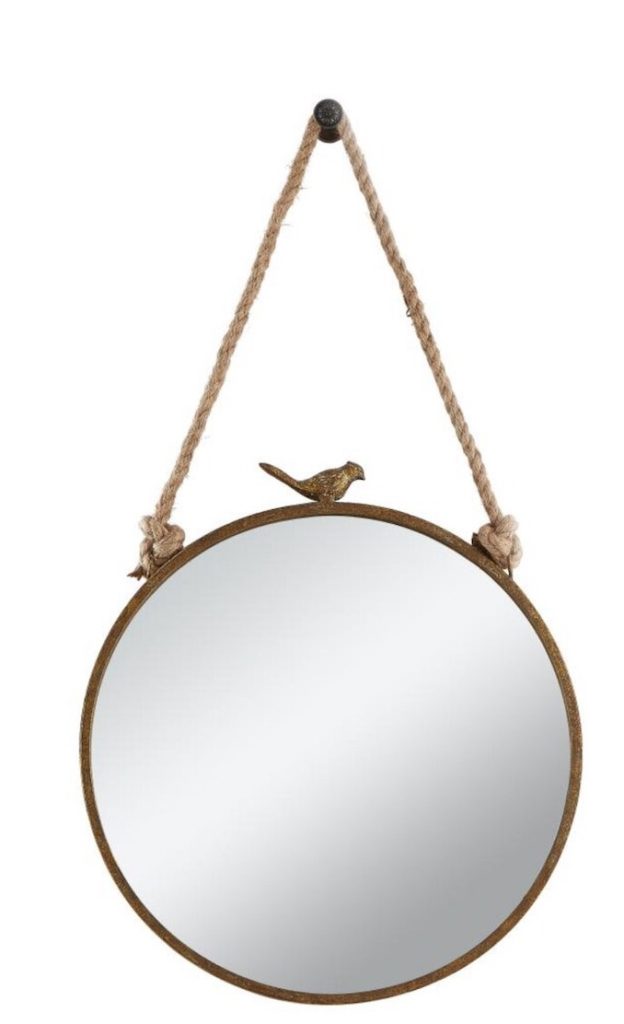 Popular Styling – Round Mirrors with Strap Ideas
These mirrors look great in a variety of settings and decor styles. Today we will show you some ways that you can style your round mirror with a strap. We know you will love these ideas. Take a look at these incredible ways to style with a strap hanging round mirror. Be sure to let us know what you think in the comments below.
Style it with Pampas Grass – Round Mirrors with Strap Ideas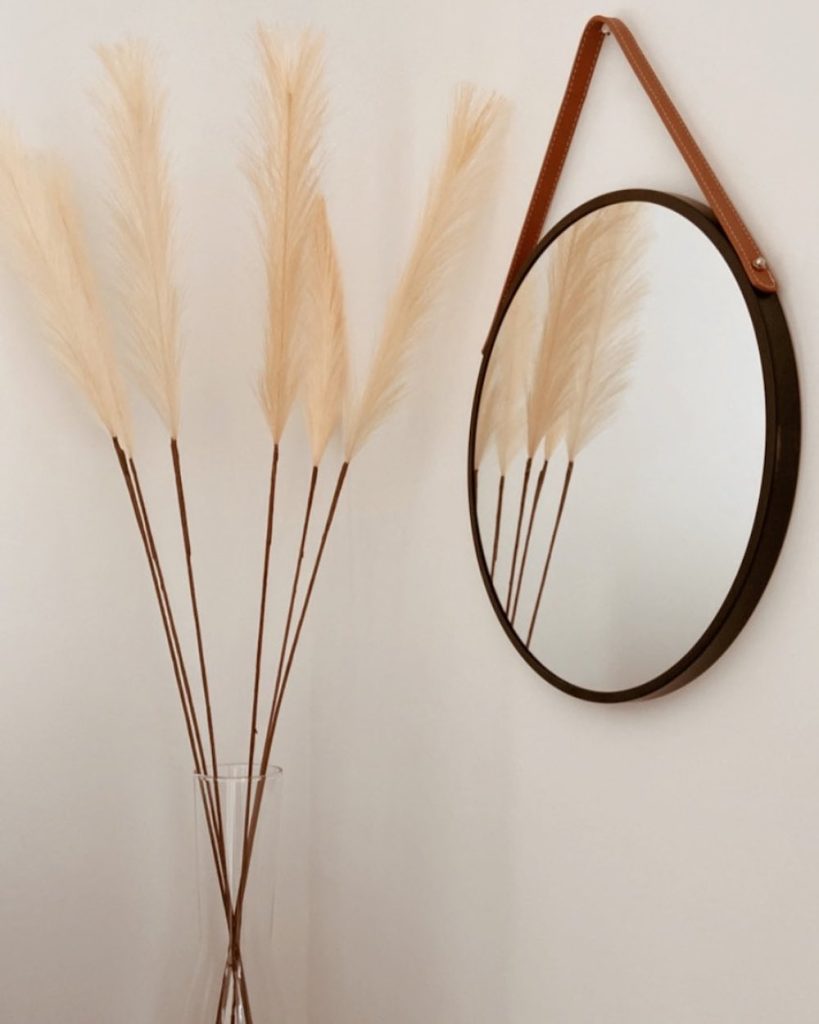 Pair with long stems of willowy, pampas grass. The hanging mirror seems to belong next to the bundle of pampas grass stems. Don't you agree?
Go for a Natural Setting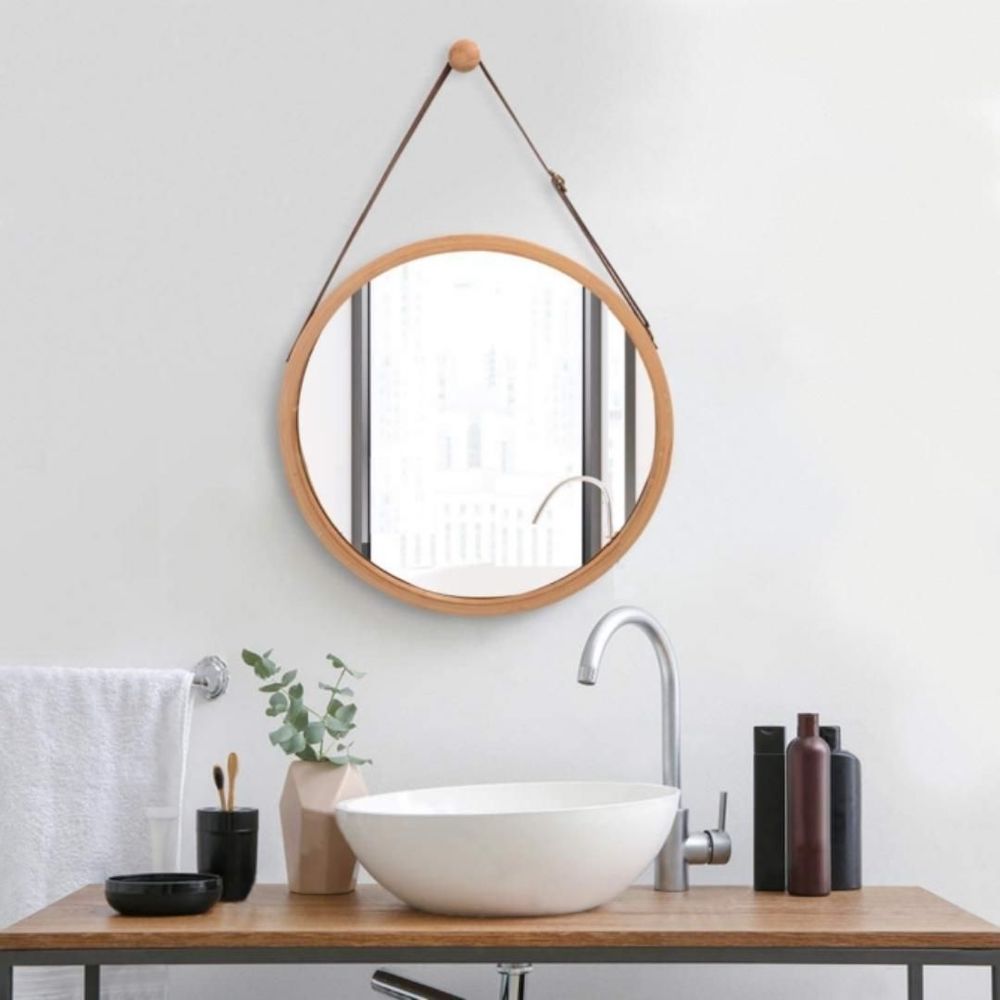 Keep it natural with a neutral mirror finish hung over a white sink basin and neutral table.
Match it with Teak Furnishings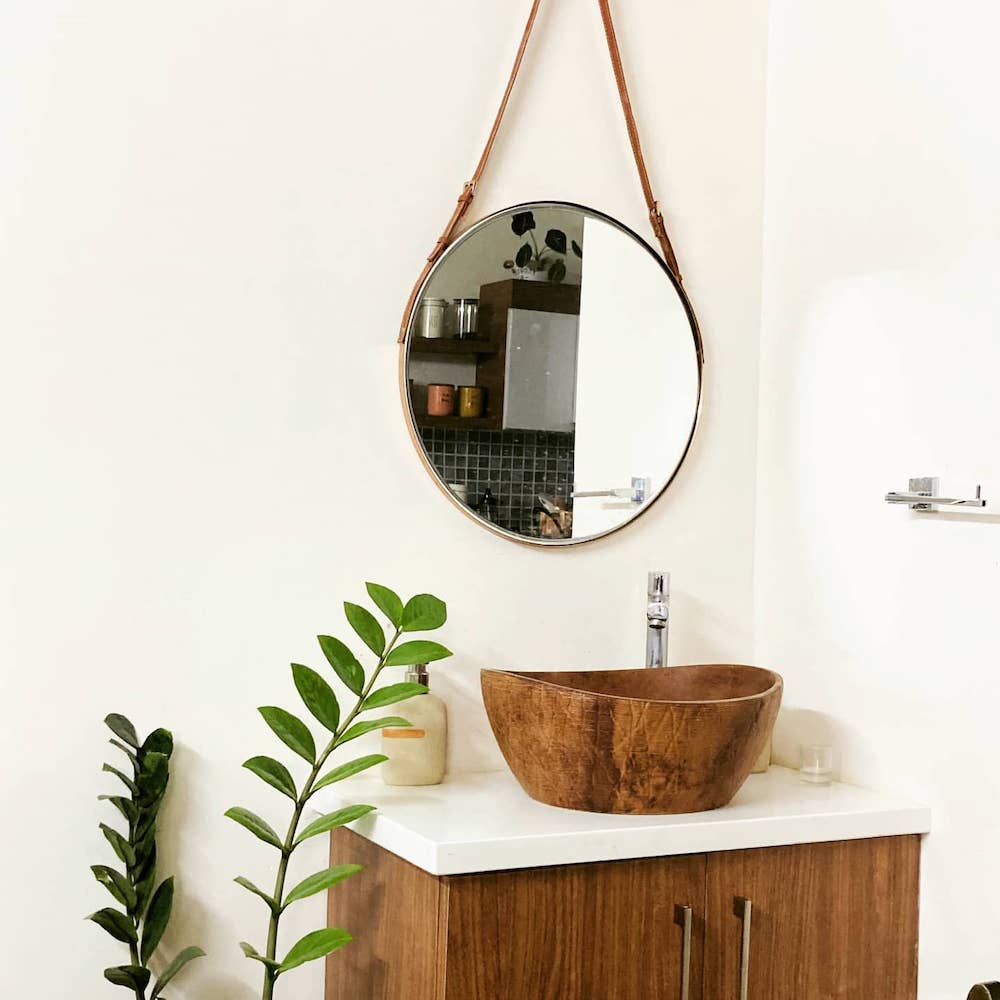 Combine it with a teak sink basin and vanity. Add a pop of lovely green color with a ZZ plant. By the way, did you know that the ZZ plant is a drought-tolerant indoor plant? The ZZ plant only needs water every few weeks due to its root system of rhizomes that stores water. Easy to grow and maintain.
Create an Elegant Space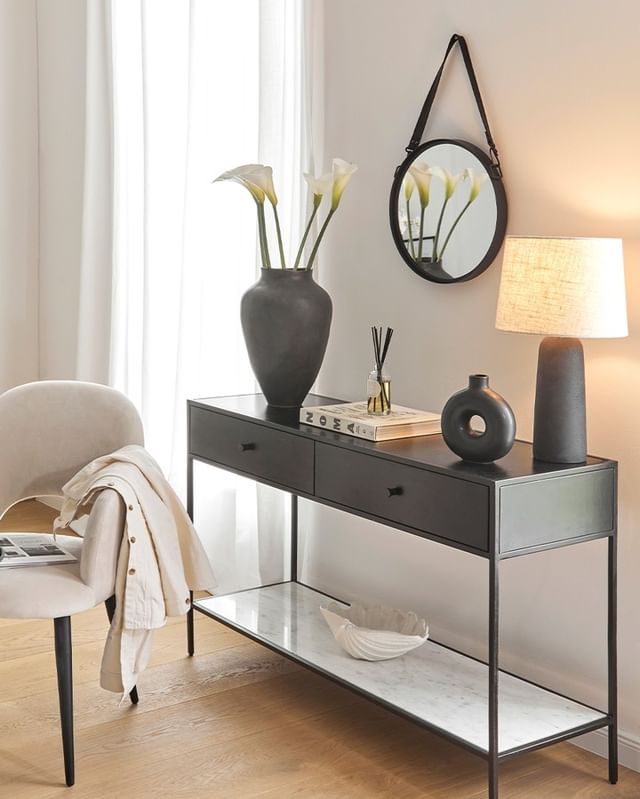 Ramp up the style with elegant Calla Lillies. Create a neutral but elegant space with Calla Lillies and a few coastal accessories.
Make it a Gallery Wall – Round Mirrors with Strap Ideas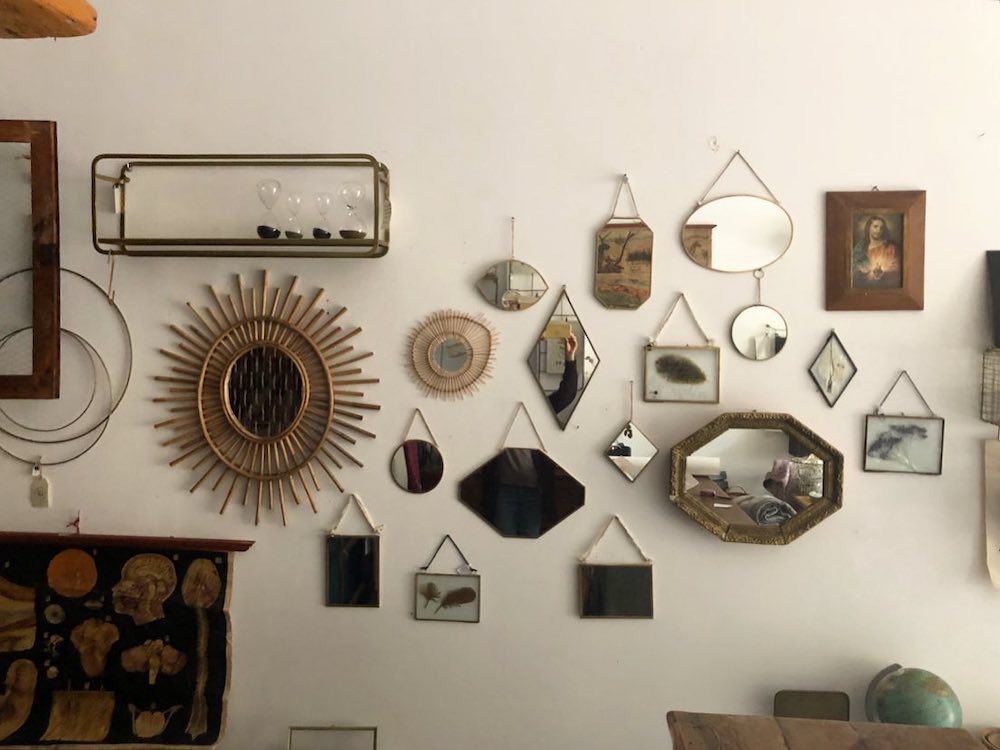 Adorn your walls with several pieces of mirrors and wall art. Gallery walls always provide visual interest in any room.
Style it with Unexpected Details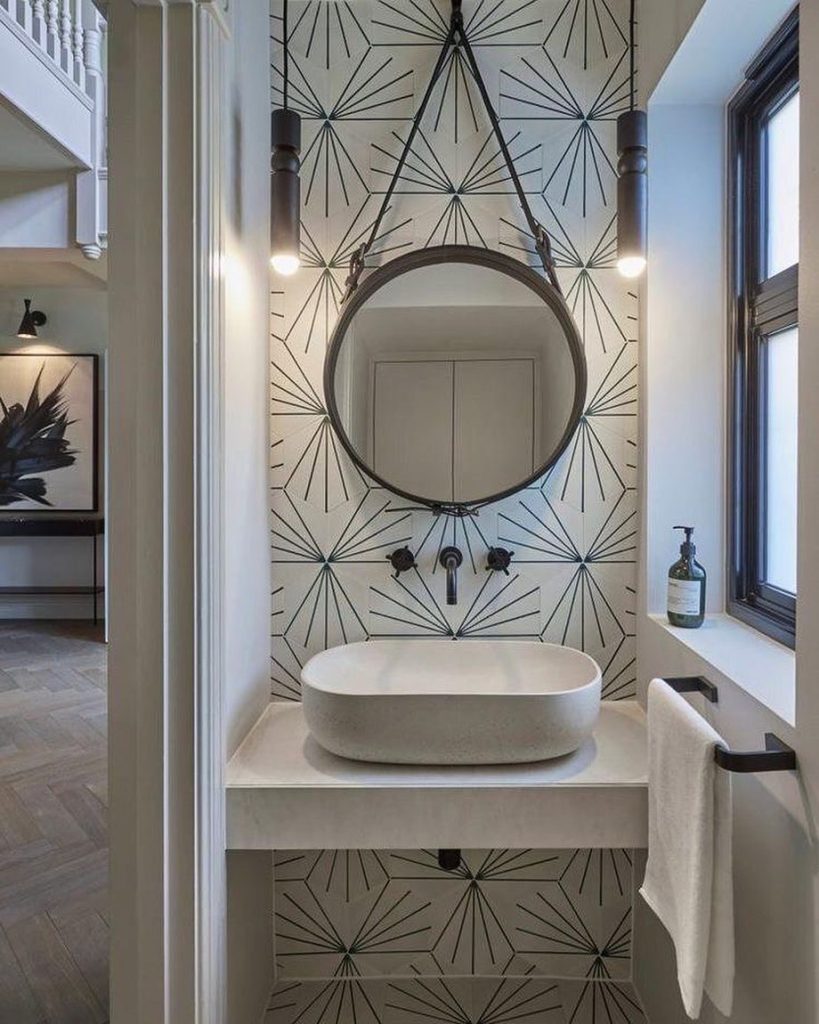 Cover your walls with interesting wallpaper then hang your round mirror in front of it. Gorgeous look and feel to this bathroom.
This ends our list of hanging mirror ideas for the home. Did you see an inspirational idea that you liked? Maintain the coastal look you love with any of these ideas.
If you are searching for a hanging mirror for your home, check out our list of mirrors. Although these mirrors traditionally have a leather strap for hanging, our selection of mirrors mixes it up a bit. We selected mirrors with an updated look perfect for the coastal home. Some of our mirrors use other materials in place of the traditional leather strap. This list includes mirrors that have a rope, jute, or wooden beads for hanging that lends itself to many decor styles. Which includes boho, coastal, nautical, and industrial decorated spaces. Take a look at these beautiful mirrors for the home.
Check out our coastal decor post for additional ideas – 12 Ways to Add Coastal Decor to your Home as an additional coastal resource. Find great tips and tricks for styling a coastal home, in this important post. We hope you found a round mirror that suits your home's needs and that you love!
Enjoy our other coastal decor related posts for additional ideas.
Thank you for reading our blog at Finding Sea Turtles. Reach out to us with any questions. We are always ready to help you out.
Mary
Pin this for Later: