Get that Luxurious Spa Feel at Home with these 18 bathroom accessories
Home spa bath accessories for a relaxing space. We all wish we could renovate and expand our bathrooms, but it doesn't have to cost a fortune to recreate that spa feel at home. We found 18 luxurious bathroom accessories that you can add to your existing space. These simple home spa bath accessories can bring the spa a zen-like look and feel without breaking the bank (or a wall).
Maybe you have enjoyed a spa visit on a recent vacation. Or maybe you have a local spa that is your guilty pleasure once in a while. What your senses enjoy about these visits can be added with just a couple of things. Let's start with lighting. While the bright but harsh lighting of your vanity is good for brushing teeth, it's not so great for enjoying a little 'me-time.' Candles are always a great way to begin setting a calming mood in a space.
Unscented Pillar Wax Candles
These pillar candles in 3″ or 4″ diameter and in various heights will help set the mood. Look for larger, pillar candles if you have the room in your space, as they'll burn longer than tapers and be safer to manage. Always put a non-flammable tray or plate under your candles and never leave them unattended. Make sure your smoke detectors are working in the room as well before lighting them up.
Aroma Diffuser – Home Spa Bathroom Accessories
With tranquil lighting setting the mood, you'll want to focus on the smell. Bathrooms are usually the last place you think of being pleasant smelling, but with a little help, we can fix that. Essential oils are potent concentrations of your favorite smells, everything from lavender to peppermint and lemongrass, etc. While too much is overwhelming, a small diffuser can help circulate your favorite scent throughout the space. Aroma Oil makes many diffusers that are likely all very similar mechanically and in function, but in different shapes and lighting features. We love this particular one in a natural wood-tone vase look with a calm blue glow. The wood-look brings some more organic textures into your home spa.
Artizen Aromatherapy Top 14 Essential Oil Set
Not sure what scent or combination of scents you'll enjoy? That's the fun of creating your own space – you get to find your own perfect environment. With Artizen's Essential Oil starter set, you'll get 14 different oils that you can sample and mix and match until you find the perfect combination. Or try something different every time you're in the mood to chill!
Anker Soundcore 2 Bluetooth Speaker
It's important to get the right sounds in your space to help you relax. Silence actually isn't the most comforting sound (or lack of sound). But it doesn't have to be just trickling water or white noise machines. Whatever tunes help you relax are the right sounds for your space. This could be some environmental background music or your favorite artists. Grab your phone or wherever you stash your tunes and connect them through this Anker Bluetooth speaker. With 12 watts, this is no light-weight and it's splash-proof to boot. (Note: splashproof is NOT waterproof so please don't drop it in the water!). Anker makes some great electronics (we love their line of iPhone cables and portable battery charging packs) and this speaker carries on with the trusted brand's quality.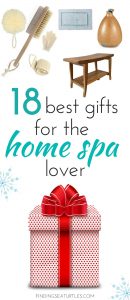 Ballard Designs Marble Corner Shelf
You'll want a spot to rest all these accessories so how about a corner rack in beautiful marble and stainless steel? Marble is always a great natural material to bring up the level of luxury in space. And this substantial but space-saving corner unit is perfect for fitting into tight spaces. Available in either a polished or satin nickel finish.
Emanuelly Teak Shower Bench – Home Spa Bathroom Accessories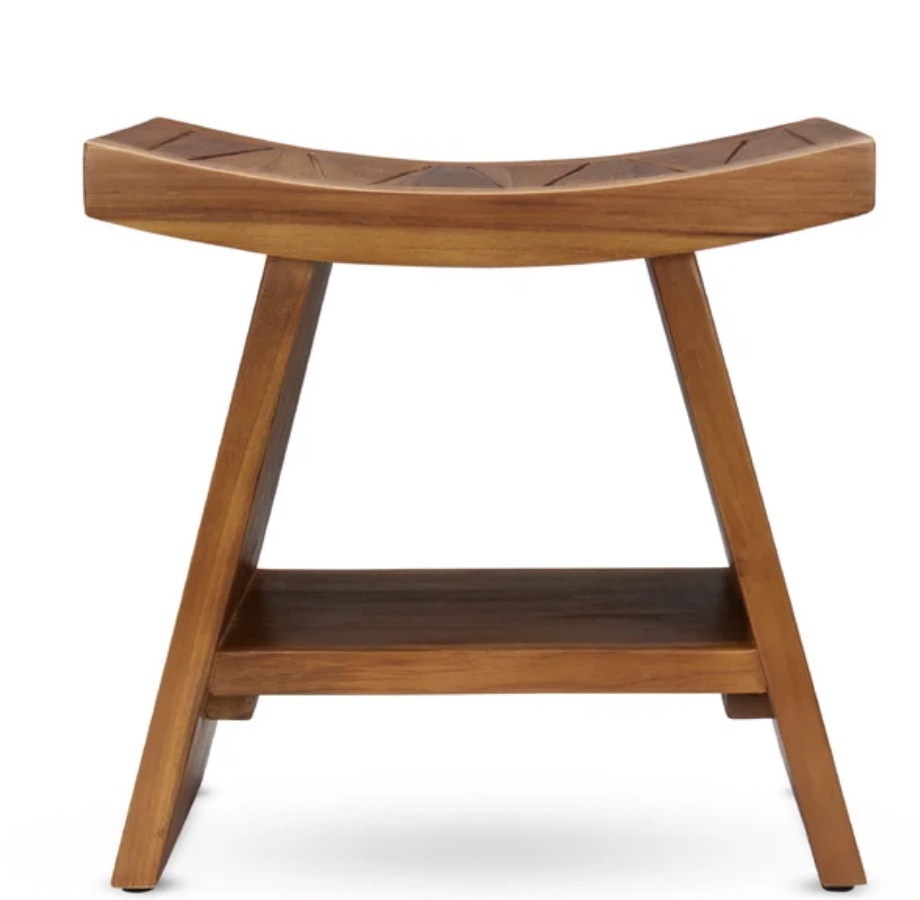 Now let's add a spot to rest your feet. This is a great little bench seat that gives you somewhere (other than the toilet) to set down while you're not in the shower or tub. It's compact (only 18″ x 18″ by 12″) so it'll fit in the smallest of spaces, and still squeezes in a small shelf underneath for a couple of accessories or towels. The bamboo material brings more natural tones into your space.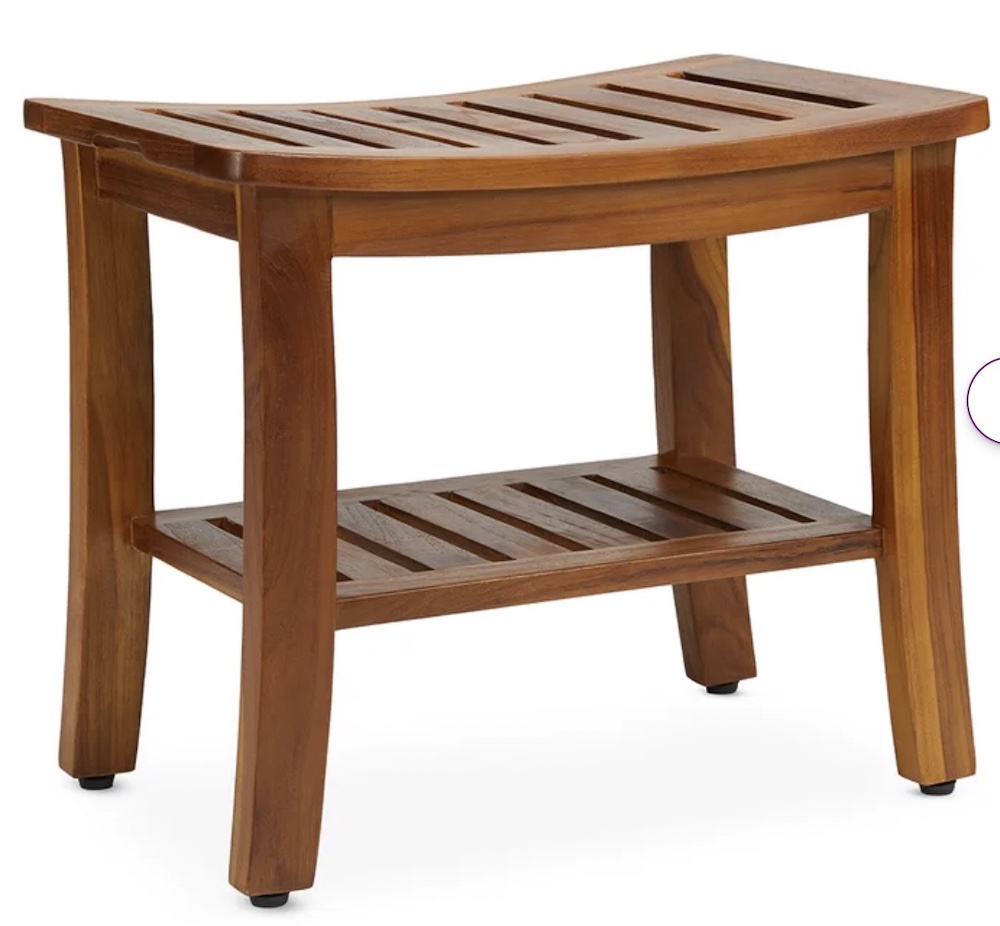 If you are fortunate enough to have enough space for a larger bench, here's one we love. The Elfete Teak shower bench is 21″ long and built out of beautiful, durable teak which is known for its water-resistant and weathering properties.
Olivia and Aiden Bath Brush Set – Home Spa Bathroom Accessories
Since we have some space under our new bench seat, let's add some always useful brush sets for those longer baths. This four-piece deluxe bath spa set includes bamboo-handled pumice and brush, a loofah back scrubber, exfoliating gloves, and a bath pouf.
HotelSpa 10″ Stainless Steel Rainfall Square Showerhead with Adjustable Extension Arm
Unlike traditional showerheads that use a few higher pressure nozzles to 'massage' you like a hot tub, rain showers give you the opposite effect. They stream low-pressure water out of many finer nozzles to mimic rainfall. When you're looking to decompress after a long day with the kids or at work, this effect is very calming and peaceful. It also has the added benefit of usually using less water on average than your old 'massage-o-matic' shower head that feels more like a power washer!
This square shower head by HotelSpa is a sizable 10″ in diameter. It also comes in a more compact 8″ version if you are tight on space. It features a sturdy adjustable extension arm in solid brass to accommodate everyone in your household.
Tip: With so many fine nozzles, make sure you regularly demineralize and clean your shower head so it keeps flowing. This is especially important if you have hard water that leaves deposits. Check out our post 36 Vinegar Cleaning Tips for Kitchen and Bathroom. Using white vinegar to easily clean mineral deposits.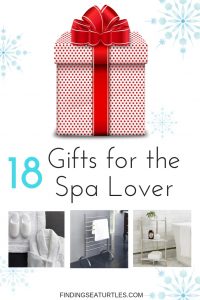 Adjustable Curved Chrome Shower Rod
With your newfound luxurious rain shower, you'll want all the space you can get to enjoy it. If you have a typical tub and shower curtain set up, this nifty curved shower rod is a smart solution that gives you a little extra elbow room. By replacing your straight shower rod with this curved one, you'll gain a few inches where it counts. Your shower will feel that much bigger and airy without any major renovations! Make sure you measure your wall-to-wall distance and ensure that this adjustable rod's range will fit your space.
Hermosa Collection Heavy Waffle Weave Shower Curtain
And since we've already updated the shower rod, how about a classy waffle weave shower curtain in crisp spa white to help transform your bath from 'functional' to spa-like! Made of 100% polyester for easy care (machine washable) and water repellent. You must use a vinyl liner with this curtain.
Resort Skid-Resistance Rug
The minute you step out of that updated shower you're going to want your feet to hit something other than cold hard tile, or even that worn-thin shower mat that looks like it's seen too many dryer cycles. Treat yourself (and your feet) to something luxurious like this ultra-plush resort-style shower mat with an anti-skid backing for safety. Memory foam mats have become very popular but sometimes they just don't look the part. These are available in 5 sizes (including a rare square shape) and 30, yes 30 colors! We'd recommend going with white to keep the Spa theme going. And besides, what doesn't go with white.
Resort Collection Organic Bath Towels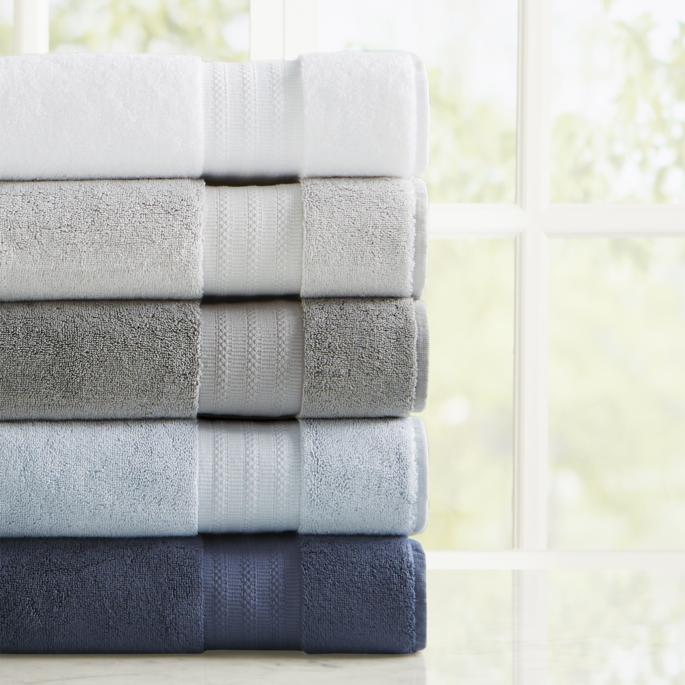 You've landed on your comfy new rug and you go to reach for a towel. Don't settle for that tattered Disney kids towel you cringed to buy when your 4-year-old spotted it in the store or that worn towel that just isn't soft anymore. Spas are nothing if designed to lavish you in plush, soft, soothing textures and fluffy spa towels are just the tickets.
We love these Turkish cotton towels from Frontgate. Turkish cotton is famous for making some of the finest bath towels. Like bed sheet thread counts, marketing will have you believe heavier cotton towels are better and more absorbent. These towels aren't the heaviest we've ever used, but they are beefier than your average $10-15 bath towel and feel plenty luxurious. They absorb water better than towels we've spent twice as much on. And they don't need a lot of washes to get soft or absorbent. They come in enough soothing colors to match your home spa makeover. Available in standard towel and bath sheet sizes, along with matching hand towels and face cloth sizes.
Organize It All Natural Bamboo wall shelf with towel bars
Don't store those fluffy new Turkish cotton towels in the dark linen closet. Keep them handy and show them off on this wall shelf with spa design in natural bamboo. The bamboo wood tones, like the essential oil diffuser above, lend a natural wood warmth to your home spa design and keep it from getting too "ceramic tile and hospital white" cold.
Electric Towel Warming Racks
There's nothing better after a shower on a cold morning than wrapping yourself in a warm towel. And even if you don't live in a colder climate, warm towels are a nice luxury to add to your home spa experience. Professional spas usually have special warming drawers to keep towels toasty. You can recreate the effect by just adding a towel warming rack to your home bath. If you have some wall space and can reach an outlet or have an electrician hard-wire it, the best option would be a wall-mounted towel warming rack like this one. It keeps towels off the ground and it won't take up any valuable floor space.
Free Standing Electric Towel Warming Rack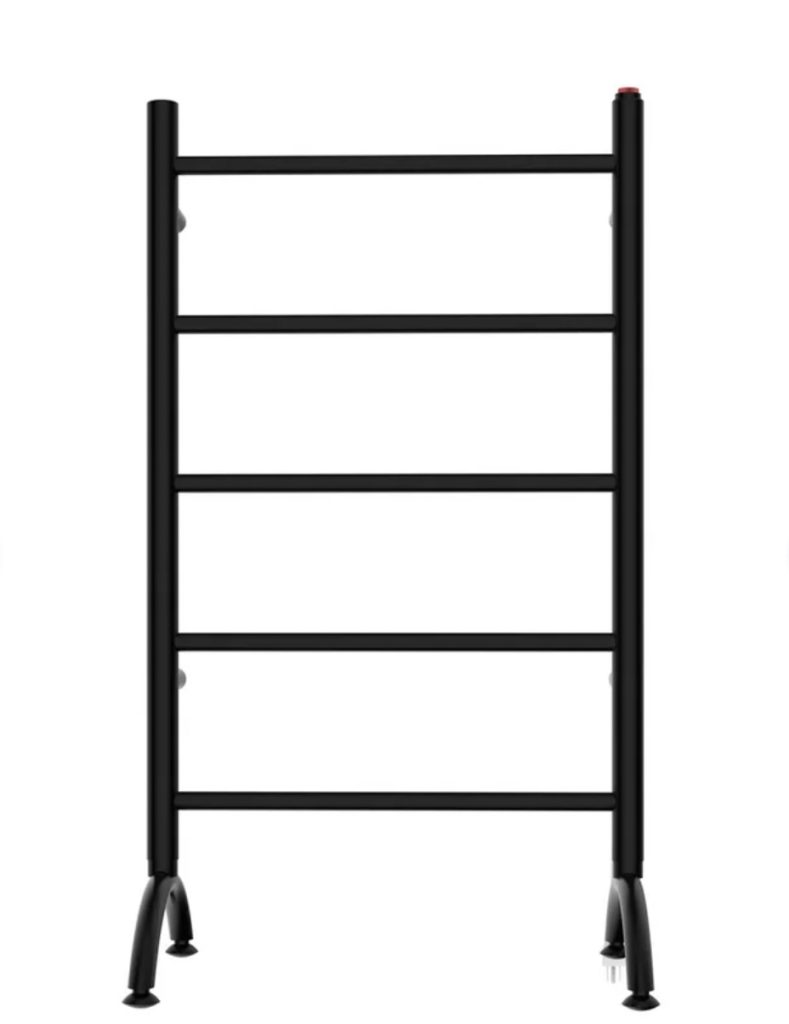 If you don't want to permanently install a unit or just want to be able to move one between two bathrooms, try a free-standing towel warming rack like this one. Safety may be a concern if you have little ones in the house. So please think twice about one of these devices if you have young children. Maybe install it in a separate bathroom off-limits from the kids. They can get hot enough to burn little fingers at their highest setting. And because they are electric, free-standing units in bathrooms pose the usual risk of electrocution. Be safe and be smart!
Speaking of safety, a great preventative measure, if you invest in a plug-in electric towel rack (wall or floor mounted), is a timer. This will ensure that the warming rack always shuts off after a certain amount of time. This can help prevent wasted electricity or worse, a safety hazard if you forget to shut it off when you're done.
Heavy Duty Timer – Home Spa Bathroom Accessories
This heavy-duty timer can handle the heavy electrical loads of a towel warming rack (up to 1875 watts, 15amps). It also features a mechanical timer which we prefer over digital for ease of setting and reliability. Make sure the electric load of the warming rack or other device you attach is within the limits of the timer.
Put on the Plush Robe and Slipper Set – Home Spa Bathroom Accessories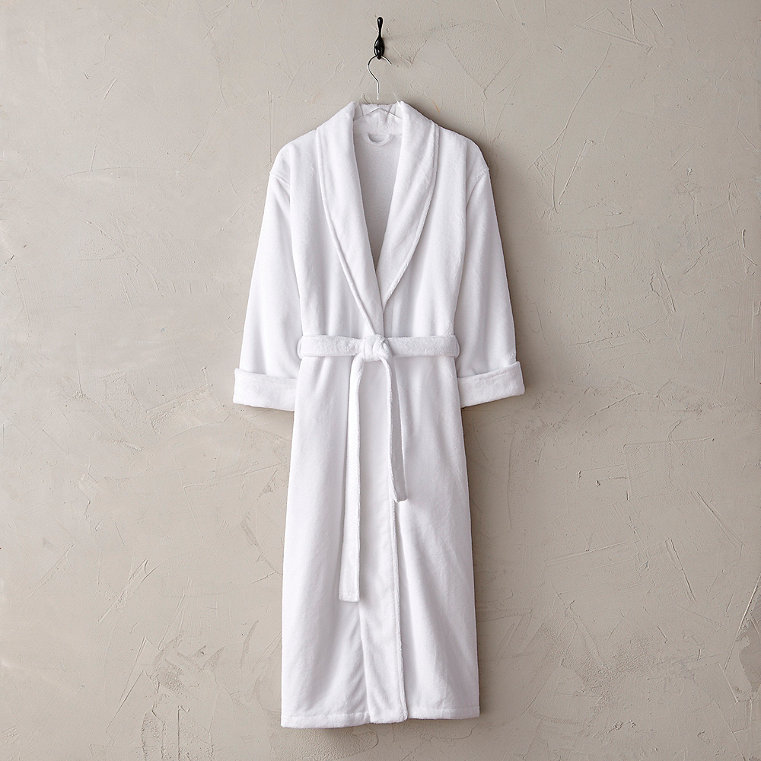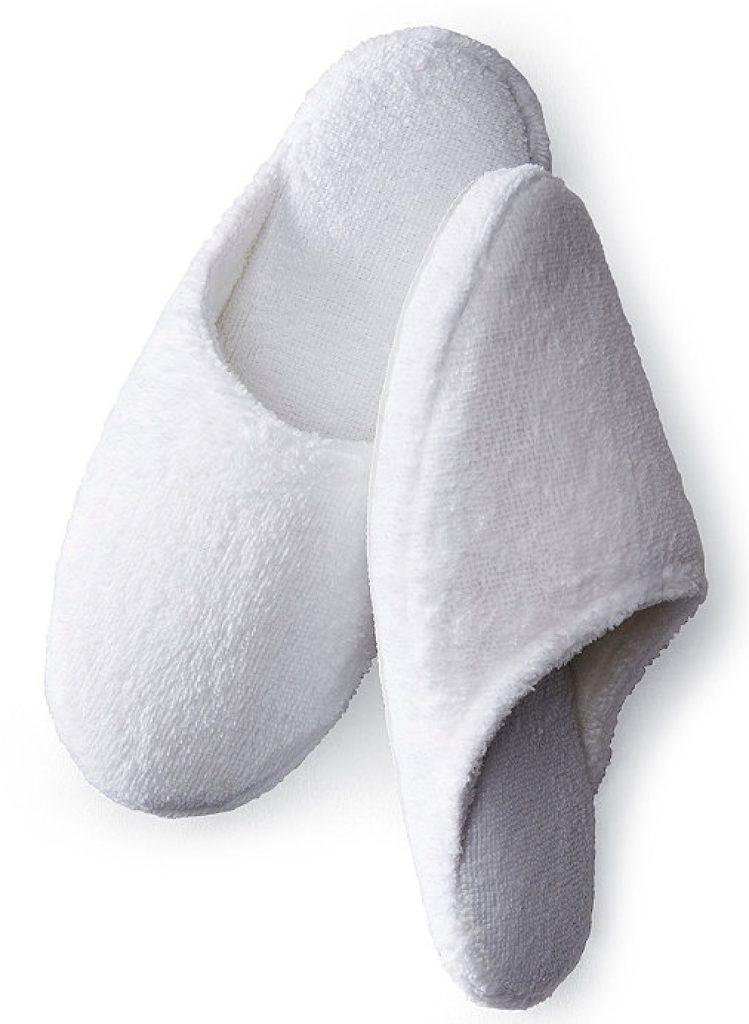 OK, so you toweled off but why are you rushing to throw on sweats and tackle more house chores? Remember, we're going for a calm, 'me time' spa-like process. How about wrapping yourself in a super plush robe and slipping your feet into matching slippers? The common waffle weave robes are ok but usually thinner – we prefer these ultra-plush resort robes and slipper sets. Your skin (and mind) will thank you!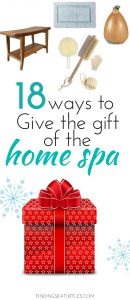 We hope this list of ideas inspires you to try even a few so the next time you want to take a break and pamper yourself at home, it'll feel that much better. Let us know if you've successfully set up your own personal spa at home and what tips or tricks you recommend. We're always looking for better ways to spoil ourselves!
As always, please leave comments or questions, and thanks for reading!
Pin this for Later: