Besides the 'Kraken' and other mythical creatures (or just very very large versions of today's animals), the shark is one of the most feared and respected ocean dwellers.  Little boys are fascinated with the ferocious appeal of something that can have three rows of teeth and the extreme speed of an underwater torpedo to chase down its dinner.  We've encountered nurse and reef sharks in our travels snorkeling tropical waters but haven't gone as far as 'swimming with the sharks' in some unique places around the world like Cocos Island off the coast of Costa Rica where sharks of several species tend to congregate in scary numbers.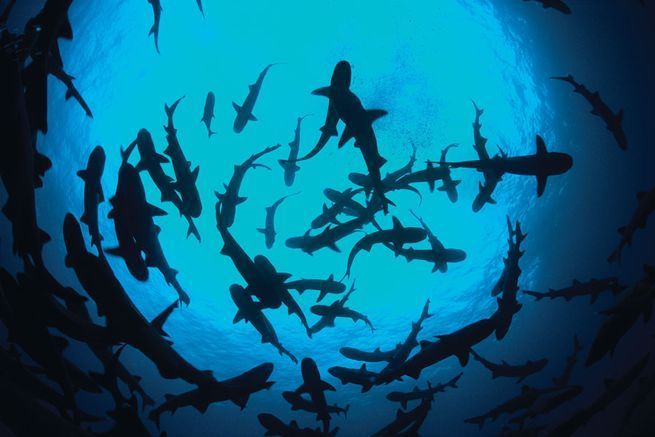 And as many things in nature, form follows function and when you look at the shark's shape you can find the sharp aerodynamic lines and muscular bulges that define sports cars, fighter jets and all things that go fast.  So it's only natural to find inspiration for your decor in the aggressive lines of what ironically is technically classified 'a fish.'  You know, like a goldfish.  Yes, we disagree too!
Designers have long incorporated our love for all things coastal and the shark has inspired many decor items. Let's take a look at ten interesting items that can infuse some 'sharkness' into your home decor.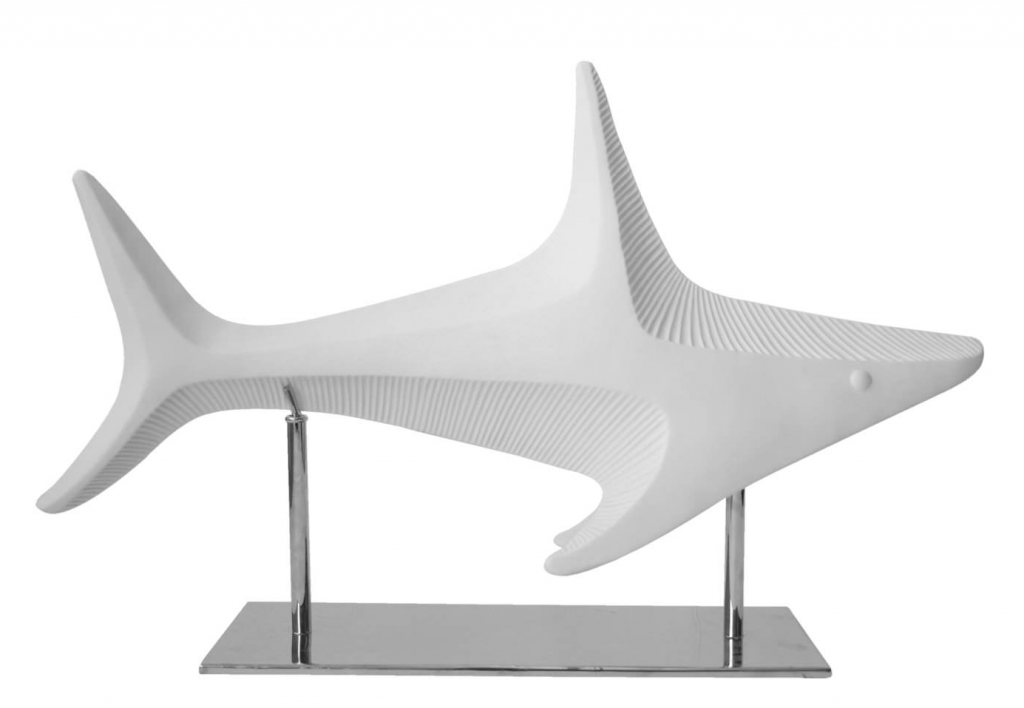 Re-knowned designer Jonathan Adler is arguably most famous for his Menagerie collection that features various representatives of the animal kingdom boldly featured in contemporary stoneware figures with his signature soft satin white 'Porcelain bisque' glaze.  Designed in SoHo, NYC and made in workshops in Peru.
This sculpture would be great for a sofa console table, entertainment center or large bureau as it measures a sizable 24" long and 15.5" tall.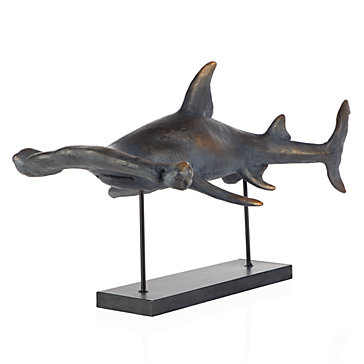 The hammerhead shark is one of nature's stranger looking sharks.  Z Gallerie captures this alien-looking predator in a mounted sculpture made of resin.  A stunning piece for a centerpiece or large console accent.  Measures 32" long x 16" tall.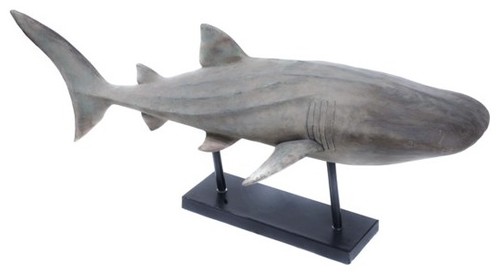 This sculpture of the gentle giant Whale shark captures the graceful but massive lines of the largest fish in the ocean, sometimes reaching over 40 feet in length!  Fear not, it swims slowly as its primary diet is plankton which is filters out of the water as it cruises.  This sculpture sold by Houzz measures 18.5" long by 10.5" wide.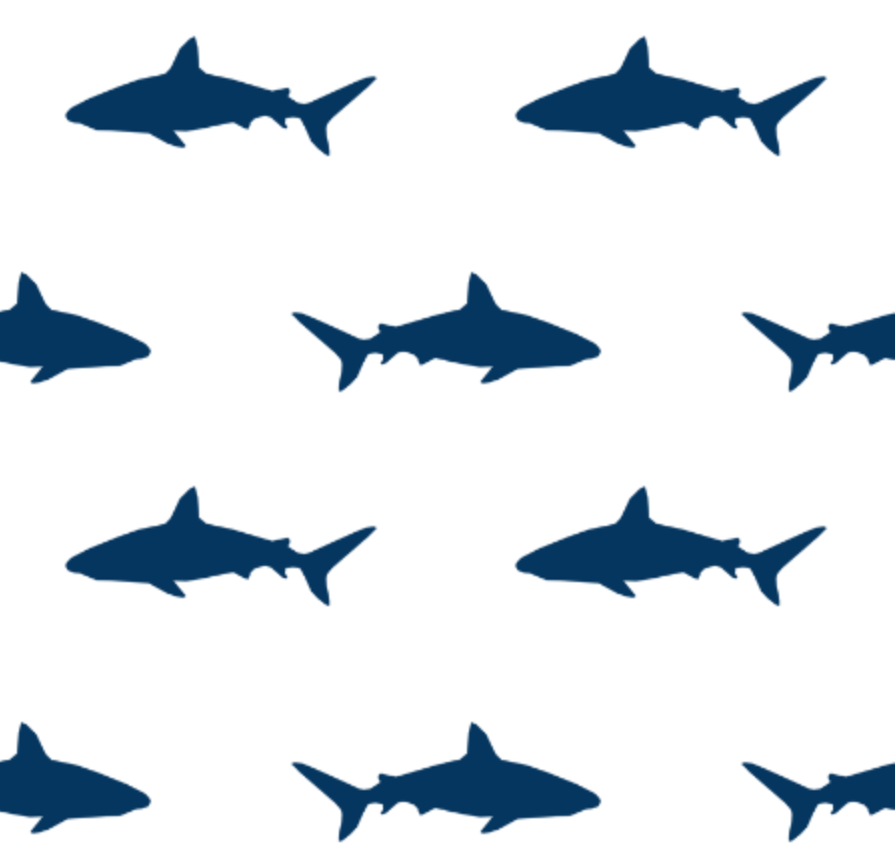 Maybe you want to incorporate the shark into your design but want to soften the lines?  How about a shark print cushion or throw?  This simple shark silhouette pattern by Charlotte Winter and sold by Spoonflower by the yard can be applied to various fabrics, ranging from basic cottons to woven linen, velvet and suedes to suit your particular need.  Available in several colors including navy and gray and printed wall paper too!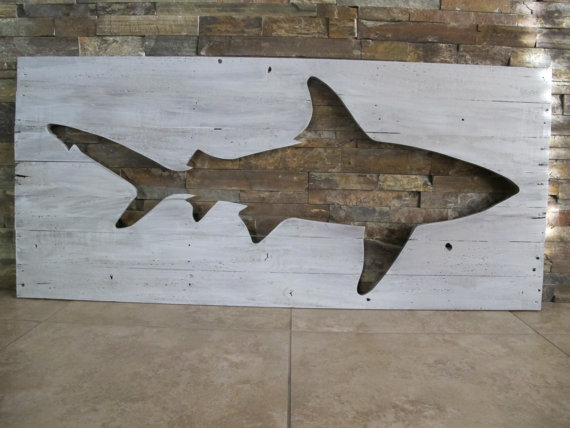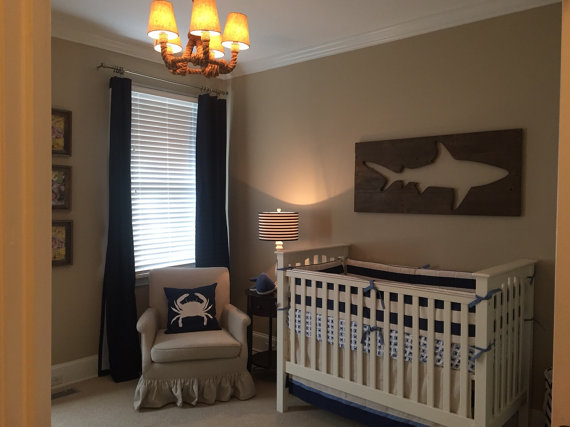 Becca and Brett of BB Signs and Design feature hand made signs and art pieces fashioned from reclaimed wood pallets.  We came across them on Etsy and low and behold, they have a shark design!  The silhouette of a shark is featured cut out of a hangable pallet-wood wall art.  The wall art is available finished in several features including brown and blue – we're fond of the beachy grey wash finish!  Measures 24 inches tall x 48 inches long.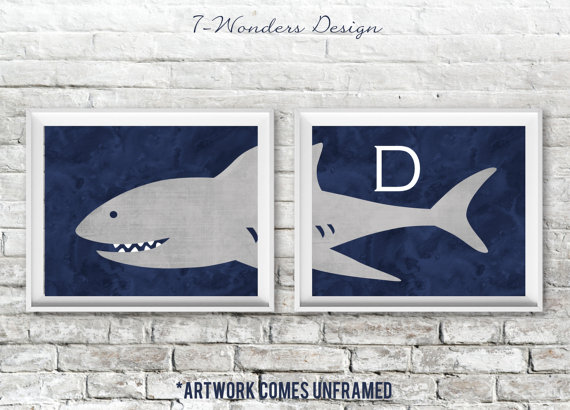 Leslie from 7 Wonders Design (Spokane, WA) features an adorable shark print that can be custom monogrammed with a block-print initial for that young shark fan in your life.  The initial monogram is also customizable in dozens of colors so you can be sure to match it to his or her favorite!  Available in several sizes up to 11×14 and comes as a set of 2 panels, unframed.  Printed on smooth matte Epson paper with archival inks.  Perfect to "sharken up" a bedroom or playroom.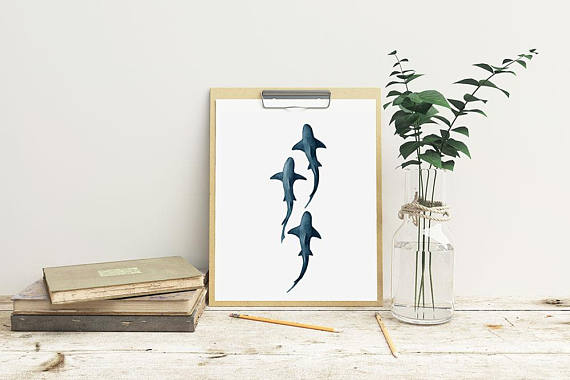 Cindy from CindyLaneArt on Etsy produced this beautiful print of a school of 3 swimming sharks in a graceful aerial pattern.  Cindy provides a digital scan of her watercolor original that she says is high resolution enough to make prints up to 18"x24". Then you can print and frame to match your decor!  We love this print and how it returns the shark to its most basic form, a schooling fish.
PERSONALIZED SHARK WHISKEY GLASS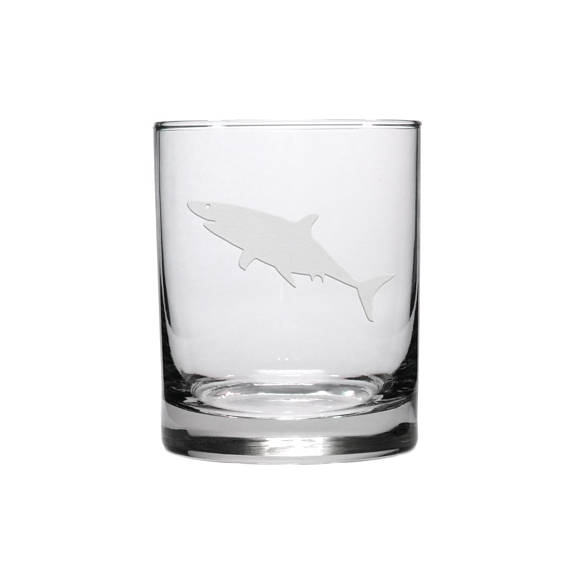 Glass Island Designs from Ennismore, Canada offers a shark-engraved whiskey glass in a 12.5oz size.  The shark pattern is sand-carved with a sand blaster and not chemical etched, so it is deep and durable.  The company offers free personalization as well, so you can include a name, name and date or short message for no extra charge, making these great gifts as well.  What's more exciting than your guests sipping their favorite liquors from these shark glasses at your next party or event?  Also available in sets of multiples.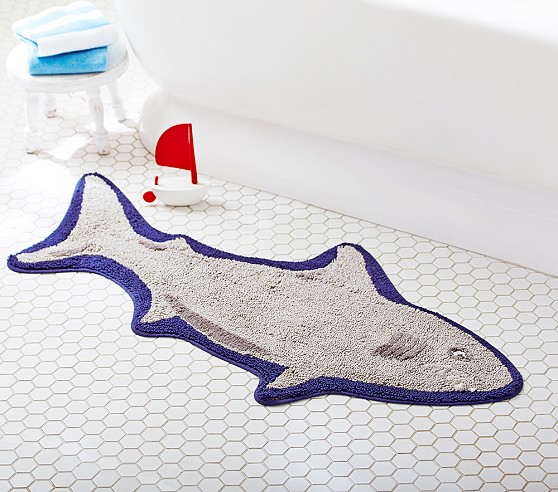 Pottery Barn Kids offers this whimsical shark-shaped bath mat that makes sure bath time is as exciting as possible!  Made of ring spun cotton and backed with a non-slip latex backing, this is sure to be a hit with kids and adults alike!  Measures 21 inches by 45 inches.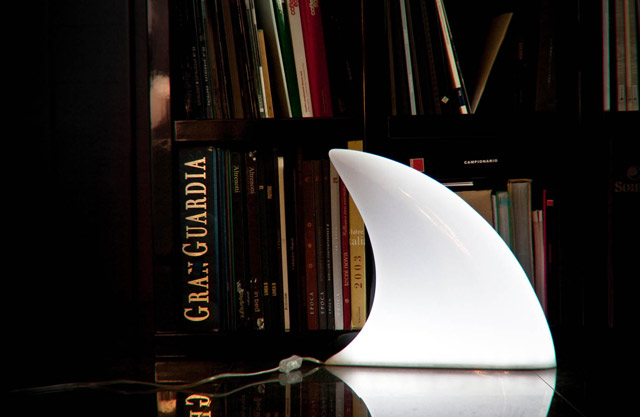 Industrial designer Aleksandr Mukomelov created this very unique 'shark' lamp, in the form of just a lit shark dorsal fin.  The signature dorsal fin piercing the surface of the water is the classic tell-tale sign that you're about to meet the business end of the ocean's alpha predator, and Mukomelov kept his design to a minimum.  How cool would this light look sitting in the corner of your den or living room, just piercing through the floor and making you imagine what might be underneath the surface.  Very cool design!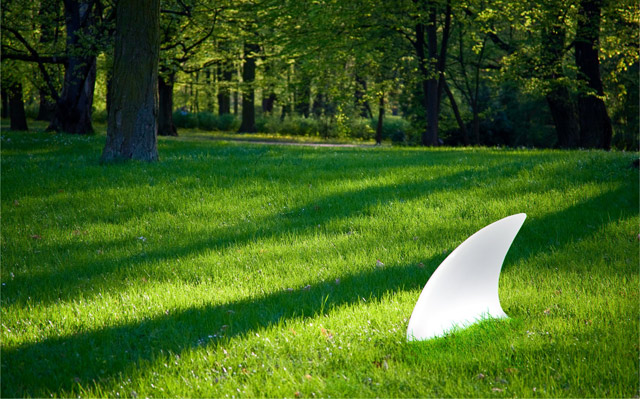 Sharks can offer a frightening and dangerous encounter in unexpected situations but we should try and respect and appreciate the beauty of these creatures.  If you'd like to learn more about sharks, check out our post Sealife Spotlight: 20 Shark Facts you Didn't Know.  If you (or your little ones) are totally enamored by the shark in all its variants, we hope this list of items will give you some inspiration about how to incorporate some shark-ness into your lifestyle!
Enjoy and please leave us comments if you have any experiences with these items or ideas for other shark-themed decor pieces.
Looking for other coastal animal-inspired home decor accessories?  Check out these posts in the "Decor Via:" series:
10 Cool Octopus Accessories for your Coastal Home
10 Cool Dolphin Accessories for your Coastal Home
10 Cool Penguin Accessories for your Coastal Home