Dolphin-inspired coastal home decor accessories
The playful, intelligent dolphin:  seemingly nature's link between the ocean and humans.  We're back with another installment of our "Design Via:" series where we highlight some home decor inspired by our spotlight ocean critter.  This month we're looking at coastal home decor accessories inspired by the dolphin.  If ever there was a PR spokesperson for the ocean, always trying to get the human's attention, it would seem to be the funny, inquisitive dolphin.  Whether racing alongside your boat, circling some snorkelers or hailing water sports fans with their clownish antics, dolphins have always had the desire to connect with us.  So we honor their hospitality and spirit with these decor finds in hopes you might be able to incorporate some dolphin-inspired design into your home.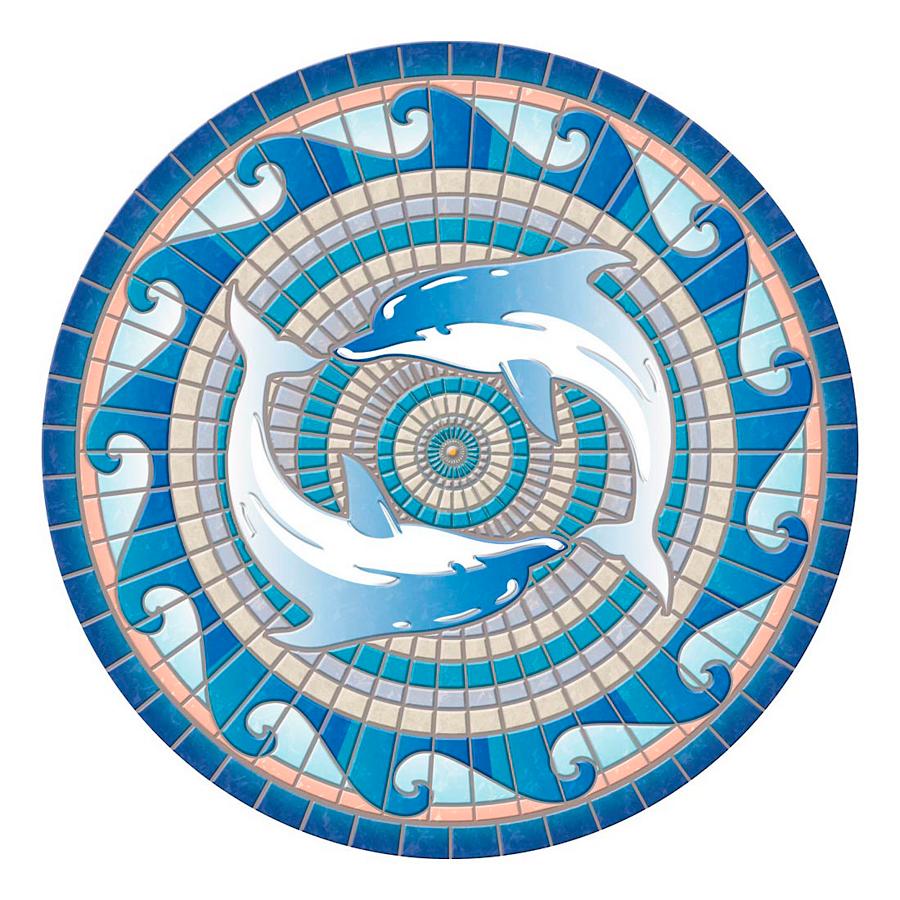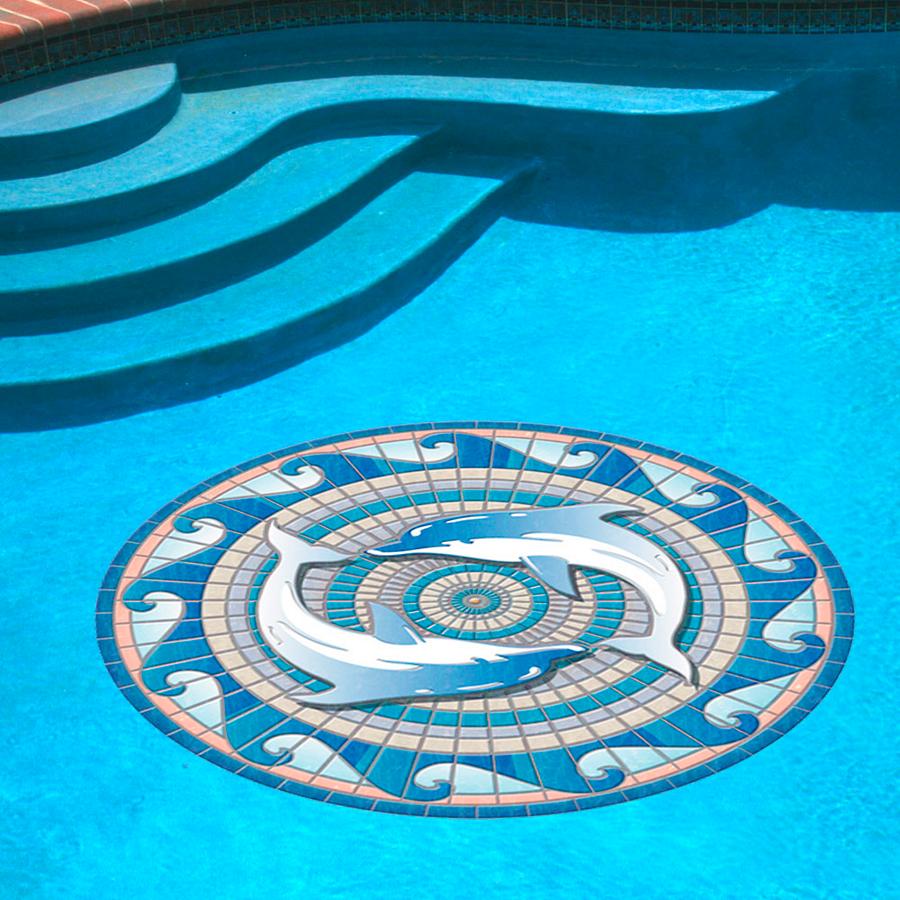 This ingenious, heavy vinyl mat is designed to sit on the bottom of your pool and look like a fancy in-laid tile mosaic featuring two swimming dolphins. This is a great option to dress up your older or more basic monotone in-ground pool or above-ground pool. Comes in a couple sizes to fit your needs. This is a really neat accessory as it is a lot cheaper than going the custom tile approach (especially if you already have a pool and it would be a retrofit) and great for non-permanent 'dress-up' so you don't have to agonize over a long-term commitment to the design!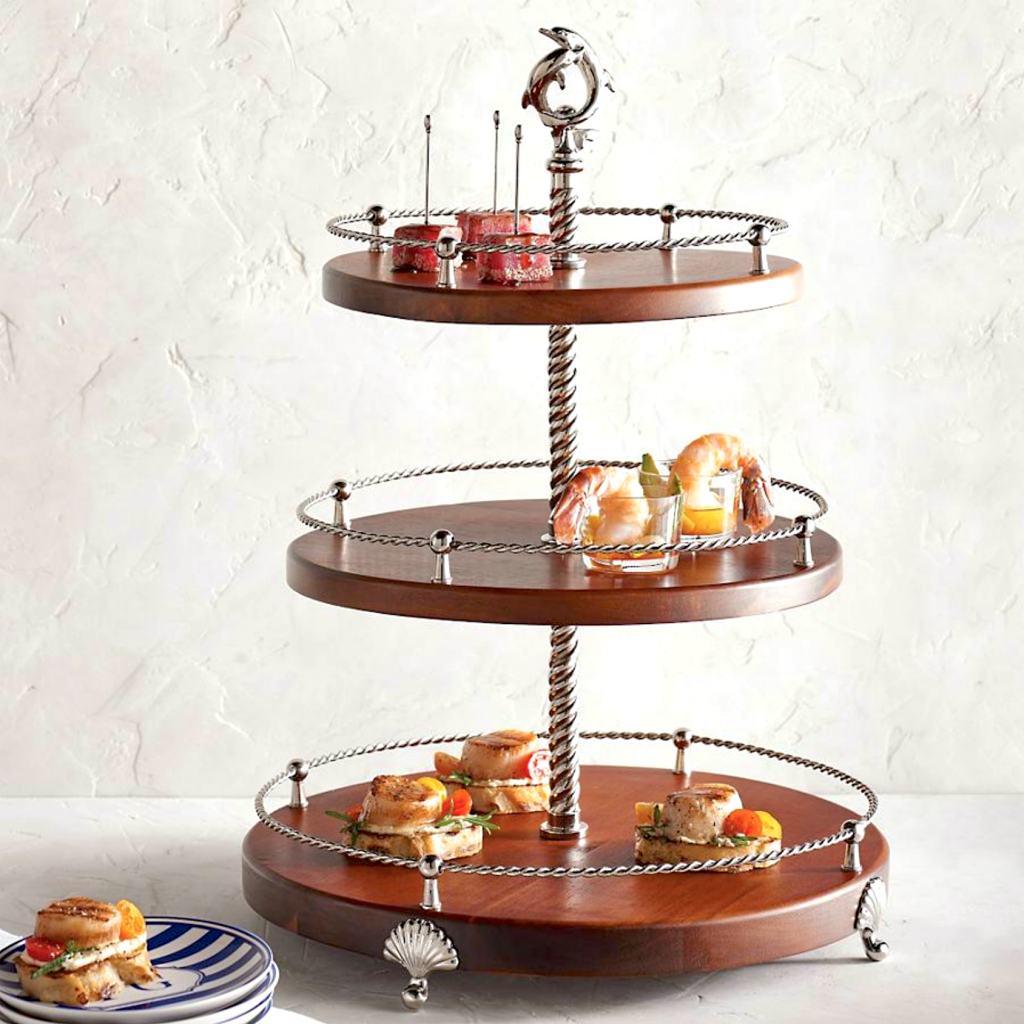 This 3-tiered etagere features sturdy acacia wood shelves ornamented with solid cast aluminum/iron alloy features of dolphins, scallop shells and spiraled nautical trim.  This would look great on the kitchen island holding fruit or breakfast treats or on a side buffet to hold desserts or other snack foods. Or bring it out when you have company for hors d'oeuvres.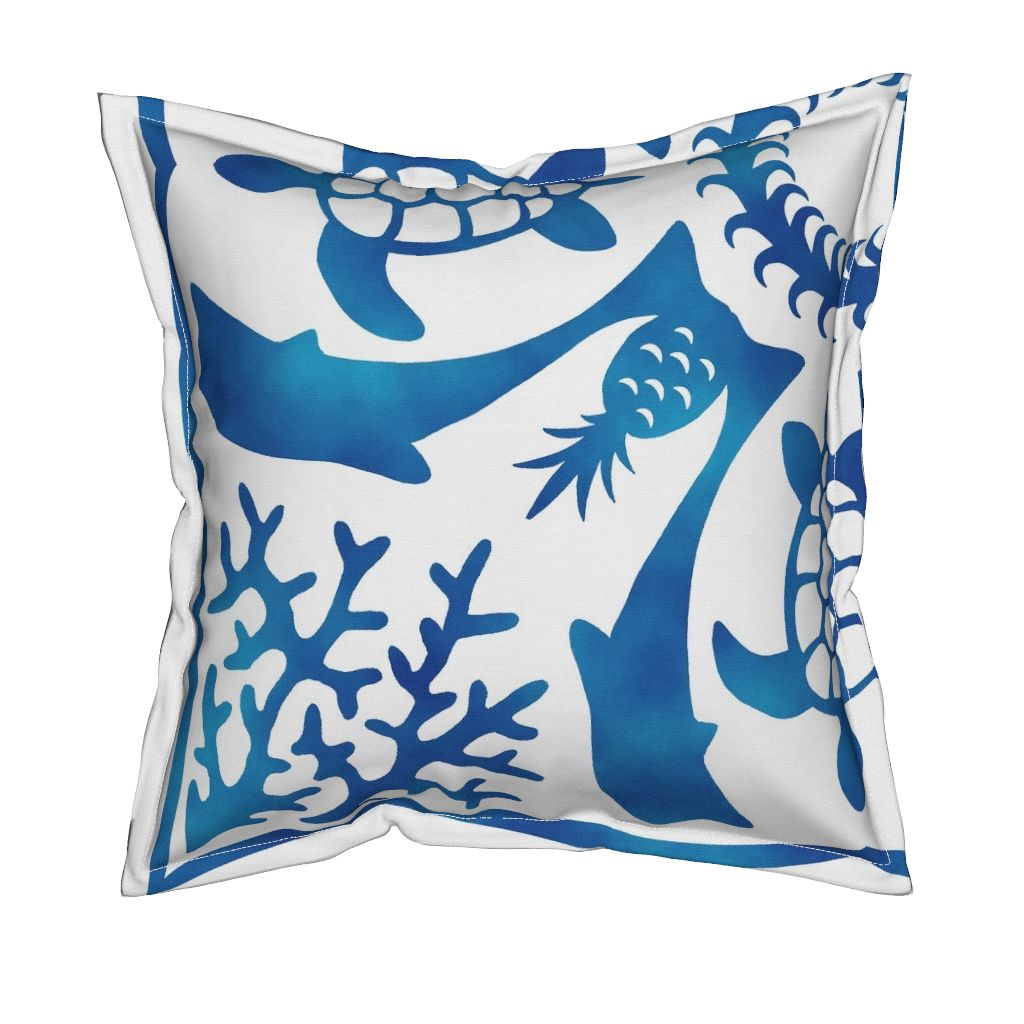 This bold graphic print with dolphins and coral makes for a great decorative throw pillow.  The pillow would look great against a solid color sofa amongst other pillows, particularly with a coastal blues and turquoise color scheme.  The design can also be made on other items like table cloths, linens, etc.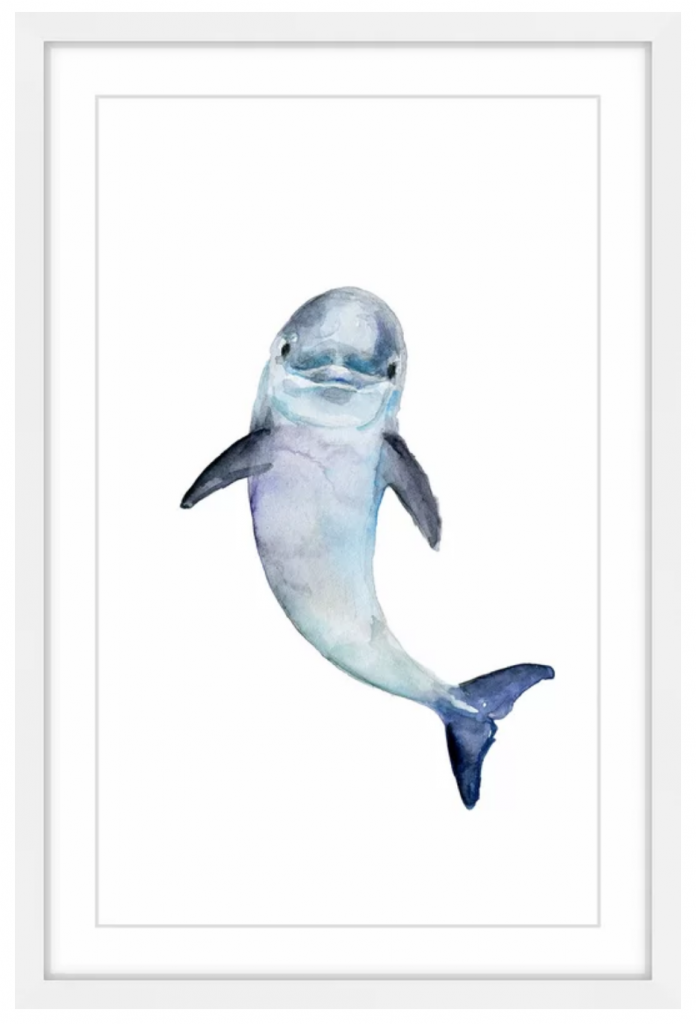 This absolutely adorable framed print of a baby dolphin by artist Michelle Dujardin would easily find a home anywhere you need a coastal smile.  Ms. Dujardin's watercolor art is printed on archival-grade giclee paper and framed and matted in simple white. Offered in 6 sizes, from 12"x18" all the way up to 40"x60".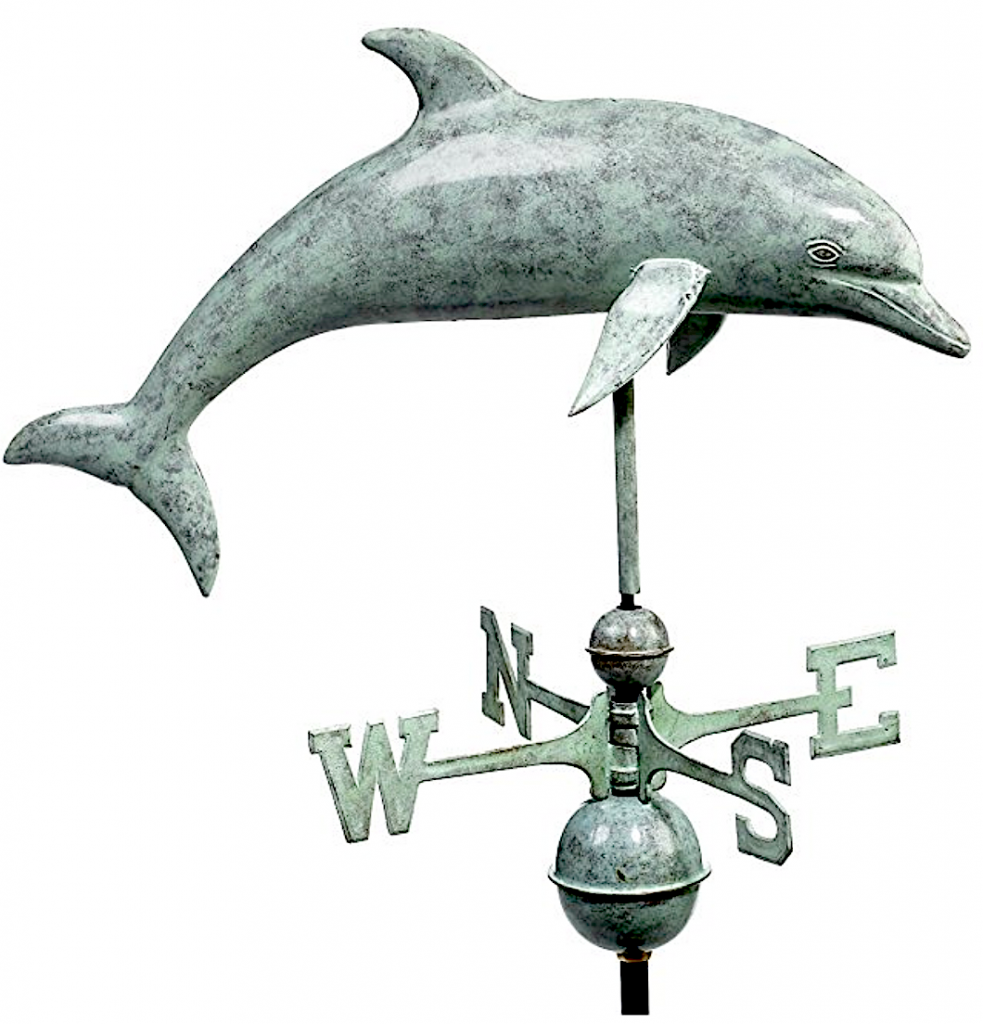 Coastal homes always benefit from a breeze and what better way to catch the action of those breezes than with a weather vane. This cute weathered copper-patina finished weather vane features directional spinners, globe and a dolphin.  This would look great on one of your home's roof peaks, on the garage, a cupola or even a detached barn, shed or gazebo in your yard.  Measures: 27" L x 34″H x 18″W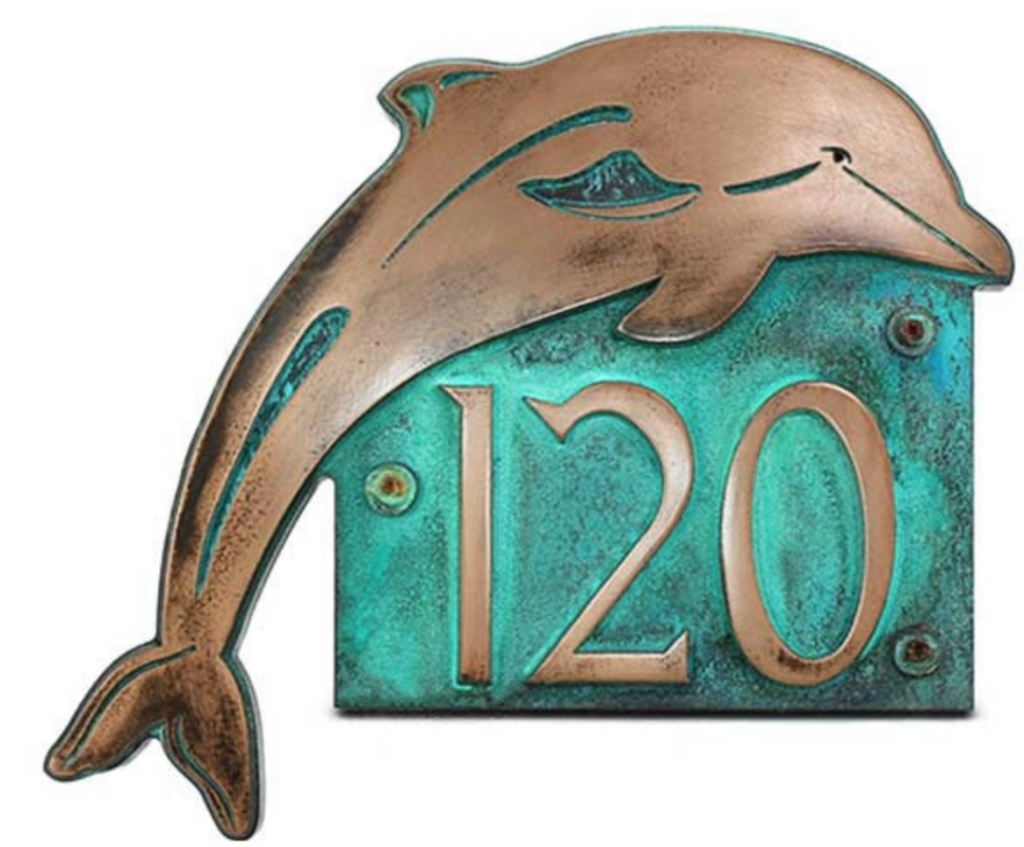 This cute address plaque features leaping dolphin.  Featured here in a weathered copper patina finish but is available in 6 other finishes to match your decor needs.  Very durable with a HDU plastic core, and then finished in a real metal coating in one of 7 finishes. Your house number can be finished in your choice of raised or recessed finish.  Sized to fit up to 4 numbers and measures 13"x11". Also available in a larger 18" x 14.5" size.
Wallpaper is making a big comeback after getting a bad rap for being beyond frustrating to remove (which, it still is!).  You still won't see designers or decorators plastering every wall in a house with wallpaper, but applying a fun or bold pattern on an accent wall is a great way of dressing up otherwise boring walls.  This pattern features a cute trio of smiling dolphins playing in the waves and palm trees. This would look great in a powder room or entry half bath, or applied as a feature on an accent wall of a living space or bedroom.  How about as a framed headboard to provide a coastal background for your bed pillows? Or maybe against the inside back wall of a built-in cabinet or open shelves? Think small applications and you'll find wallpaper to be a lot more versatile than you thought!  Made from expanded vinyl.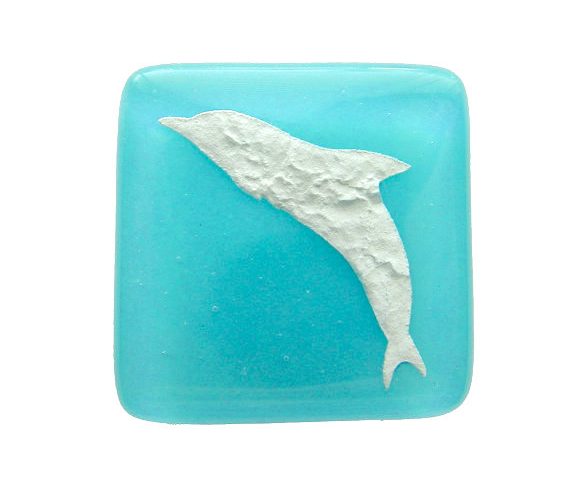 These handmade glass cabinet or drawer knobs feature a white dolphin silhouette fused into the glass.  Very sea-glass coastal looking and available in 5 metal finishes as well as your choice of 5 glass colors.  We're partial to the turquoise or navy knob on a brushed nickel or chrome metal. Other sea life patterns are also available.  Make sure the size works for your particular need – these measure 1 ¼" square.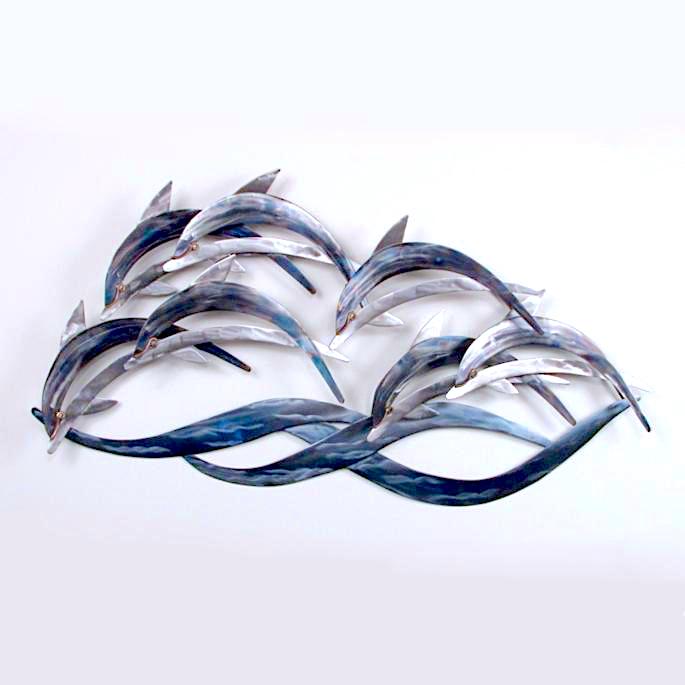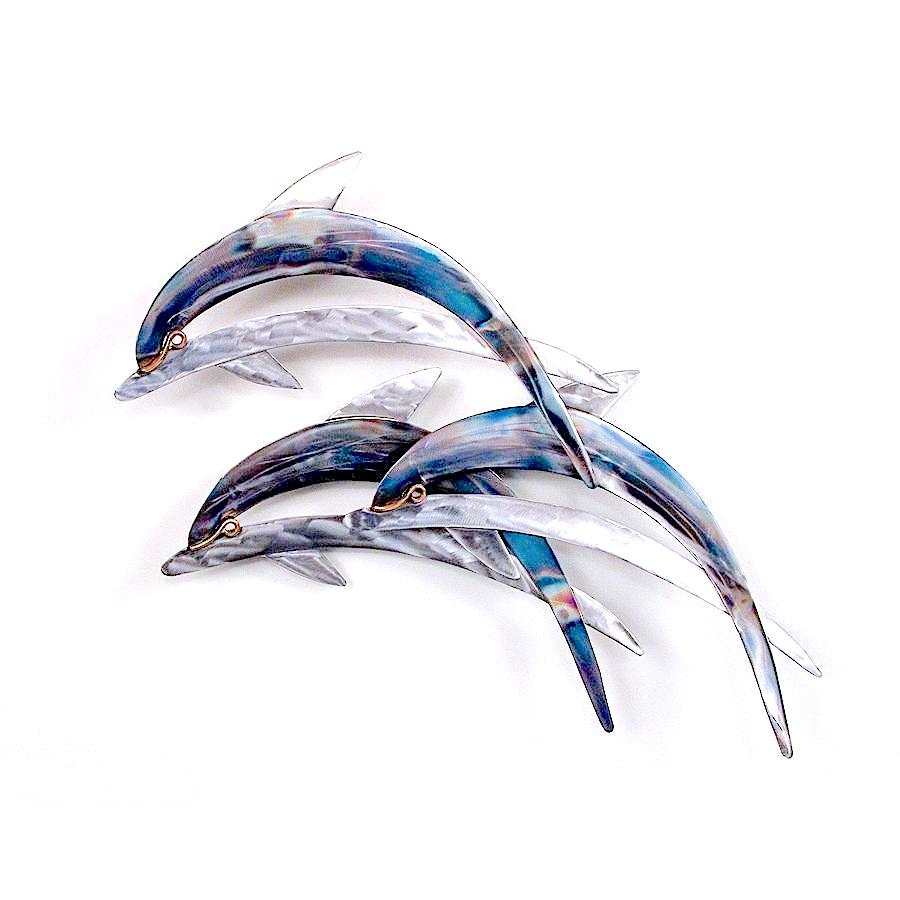 Handmade by artist Mark Malizia out of stainless steel, these wall art pieces are suitable for indoor or outdoor with their hand-applied clear protective coating.  The enameled look comes from a color-enhanced heat patina. The design captures the gracefulness of the dolphin and the lines of both their leap and the sea.  Available as a large wall art with 5 dolphins and waves, or as either a pair or trio of dolphins without the waves. The largest piece measures 42″L x 4″D x 20″H.  This would look great in an alcove or stairwell, or featured outdoors on a patio, maybe behind your pool bar?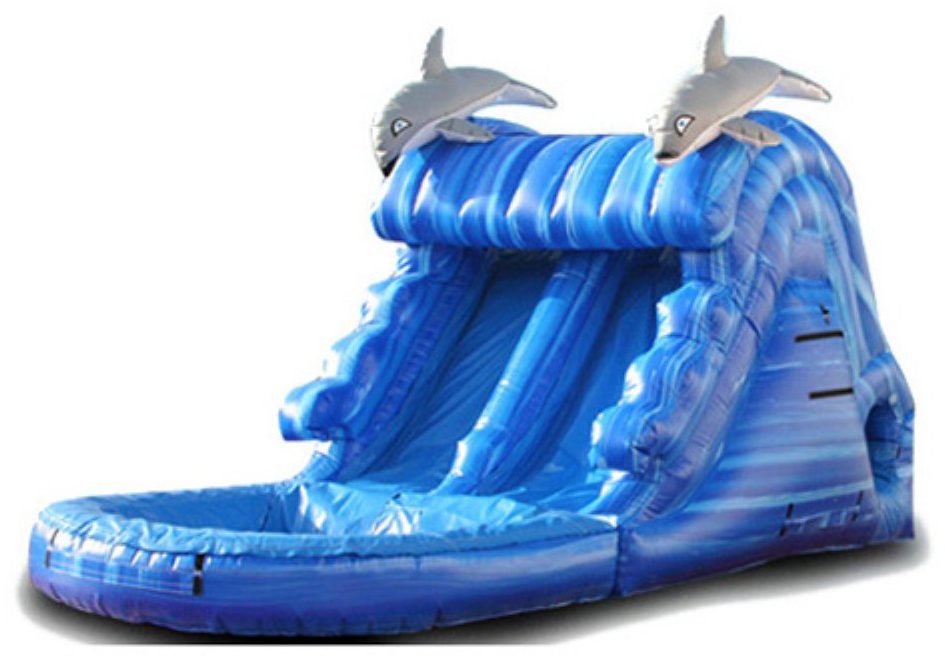 OK, so this is on the pricey side, it's not exactly home decor and it's probably best used outdoors but LOOK at this setup!  In our defense, it DOES have 2 dolphins! Talk about summer (or year-round depending on where you live) fun for adults. (oh yeah, and maybe the kids too..)  Measures a whopping 24 feet long and is 12 feet high and wide. Hey, you'll certainly be a hit with the neighborhood kids, and you can probably rent this out since its described as being built to commercial durability standards.  Someone please buy one of these and come back and tell us how much fun it is!
We hope you found some inspiration in this list and love the fun-loving, super-intelligent Dolphin as much as we do.  Have you incorporated some of these or other dolphin-inspired accessories into your home? Leave us a comment and let us know.  
And if you want to discover more coastal decor ideas, check out the other spotlights in this "Decor Via" series:
10 Shark-Inspired Home Decor Ideas
10 Octopus-Inspired Home Decor Ideas
10 Penguin-Inspired Home Decor Ideas