Barrel chair styling ideas that you'll want to copy. If you have a barrel chair and wondering how to decorate with it, take a look at these ideas. Originally this chair was constructed using an old crude whiskey barrel. Since then the chair has evolved into a more refined, upscale accent chair. First popular in the US during the mid-20th century, today this chair is just as popular as ever. And many of these accent chairs have a swivel base feature that makes them even more desirable.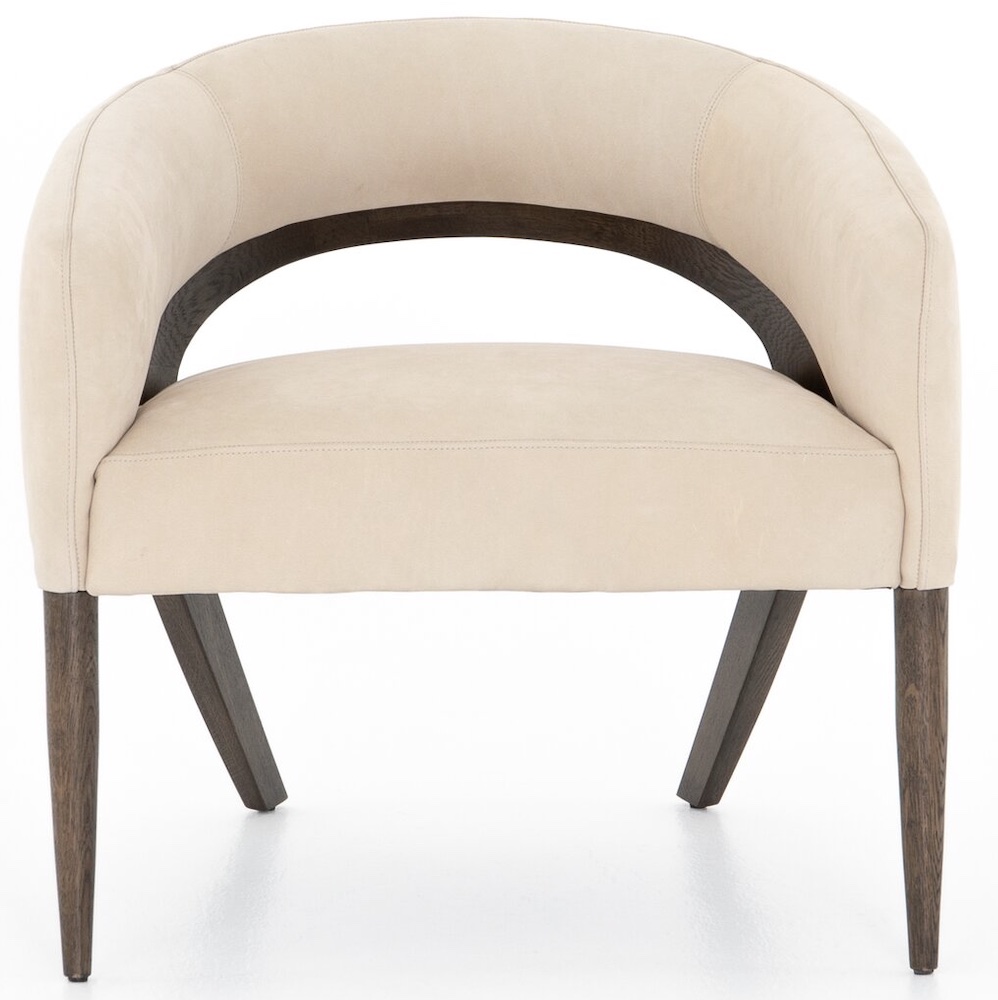 In today's post, we are sharing the 11 inspirational barrel chair styling ideas. These are ways that you can decorate your home using a barrel chair. Sometimes referred to as half barrel chairs, the chair made its debut in a rustic, country setting. Repurposed using old whiskey barrels, the chair was used in lodges, wood cabins, and country homes. The chair was a perfect fit because of its rustic appearance. In this post, we are sharing ideas with an updated decor style that is found in today's homes.
Slip Into Comfort – Barrel Chair Styling Ideas
Step into pure comfort with a barrel chair. Specifically designed for comfort, this accent chair is suitable for many decorative styles. Go for the timeless look of a barrel chair.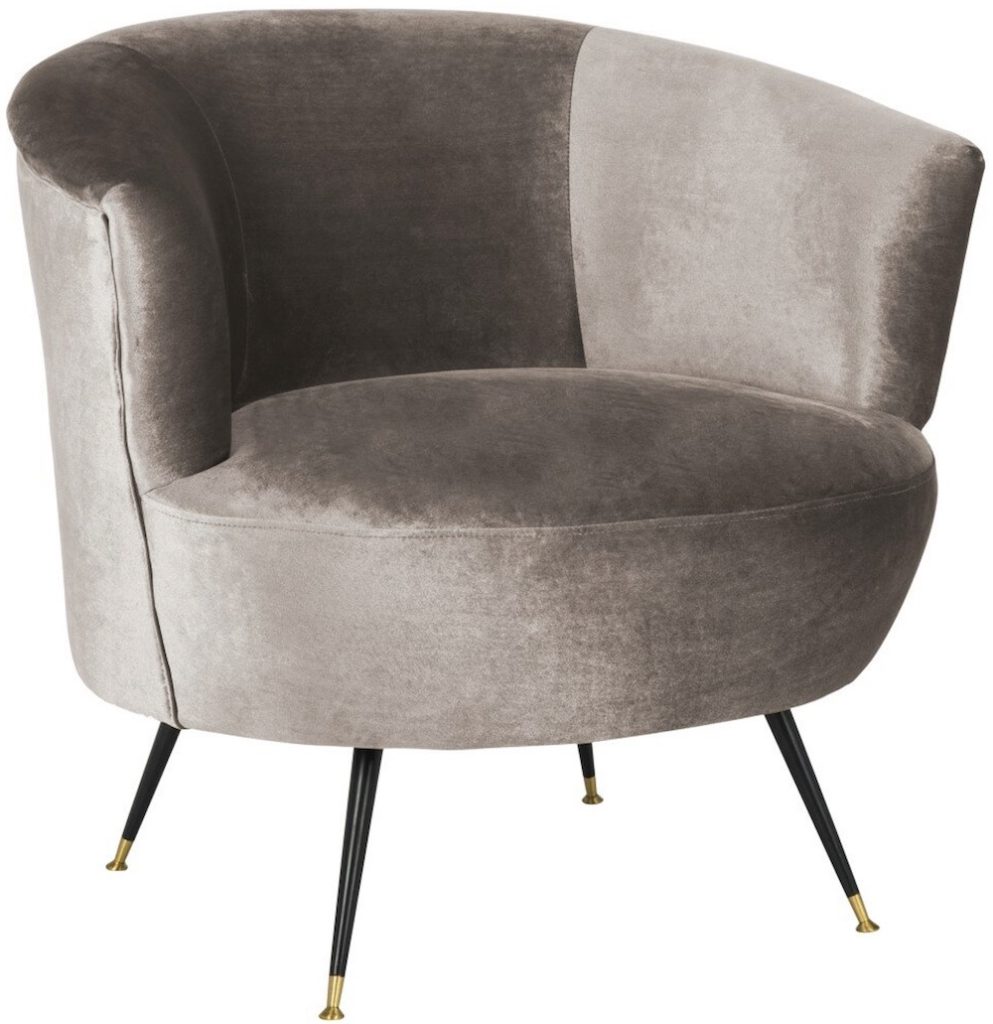 This begins our inspirational styling ideas using the gorgeous barrel chair. Take a look. Be sure to drop us a line below in the comment section. Let us know all about your favorite styling ideas.
Style it in Warm Earthy Tones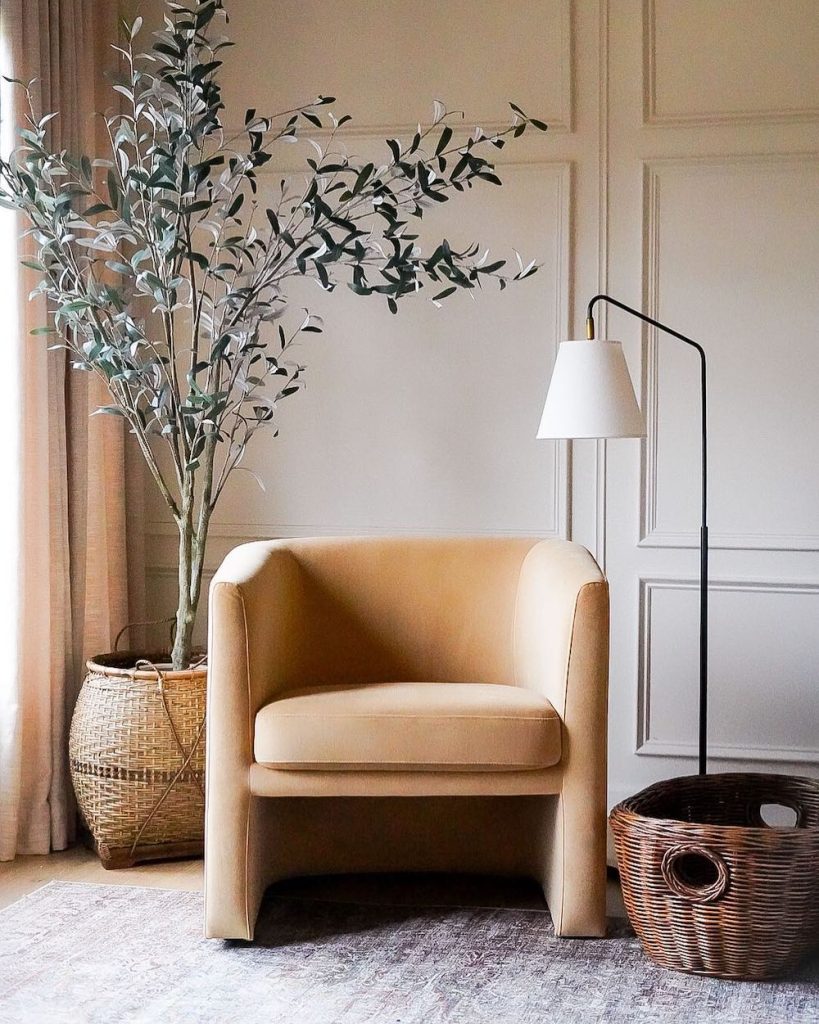 Give it warm, earthy tones and textures. Pair with a wicker basket for storing your favorite reading books. Add a faux tree such as this olive tree. Mix in organic accessories such as faux plants and trees.
Display in a Corner Against Paneling – Barrel Chair Styling Ideas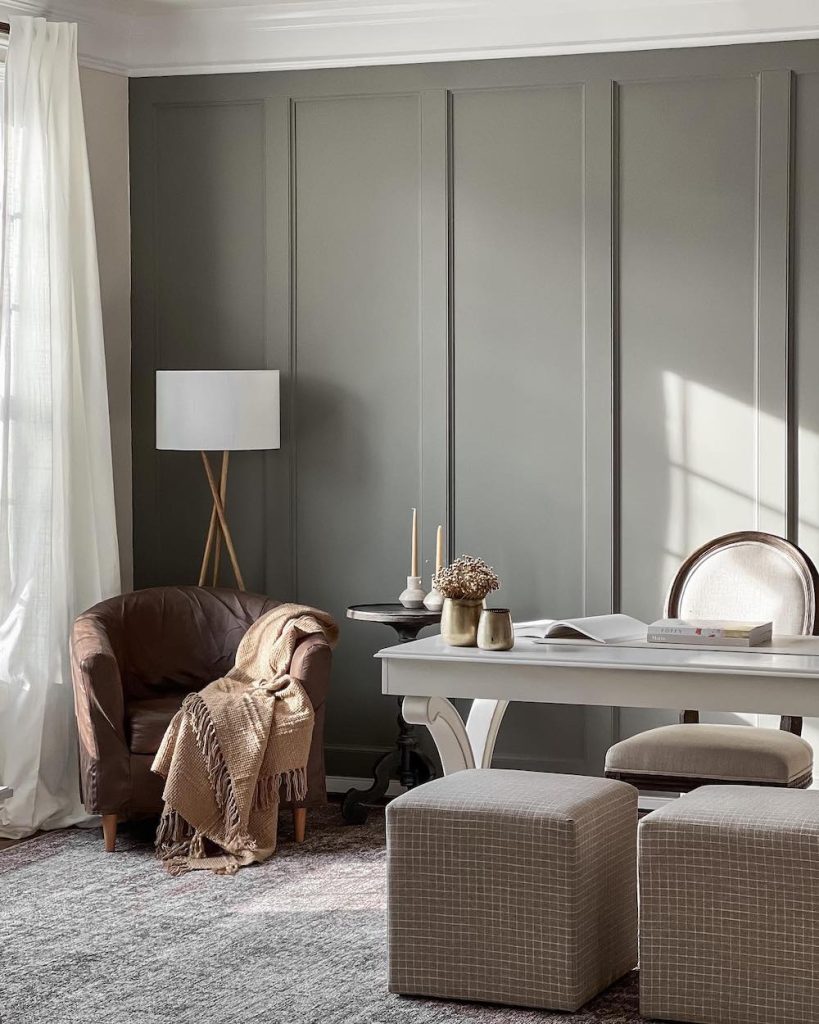 Keep a barrel chair in the corner of your office space. Against the dark greenish paneling, the accent chair really stands out.
Keep it Cozy Near the Mantel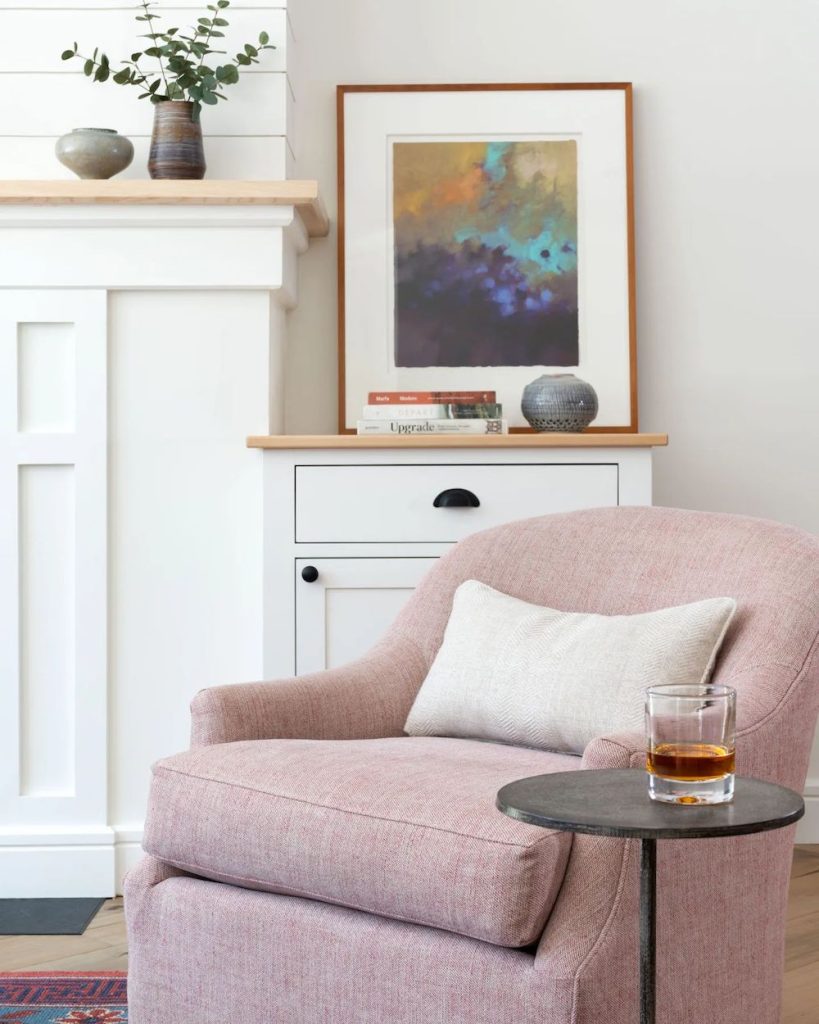 Place one near the mantel for those chilly evenings. And keep a side table for refreshments.
Form a Grouping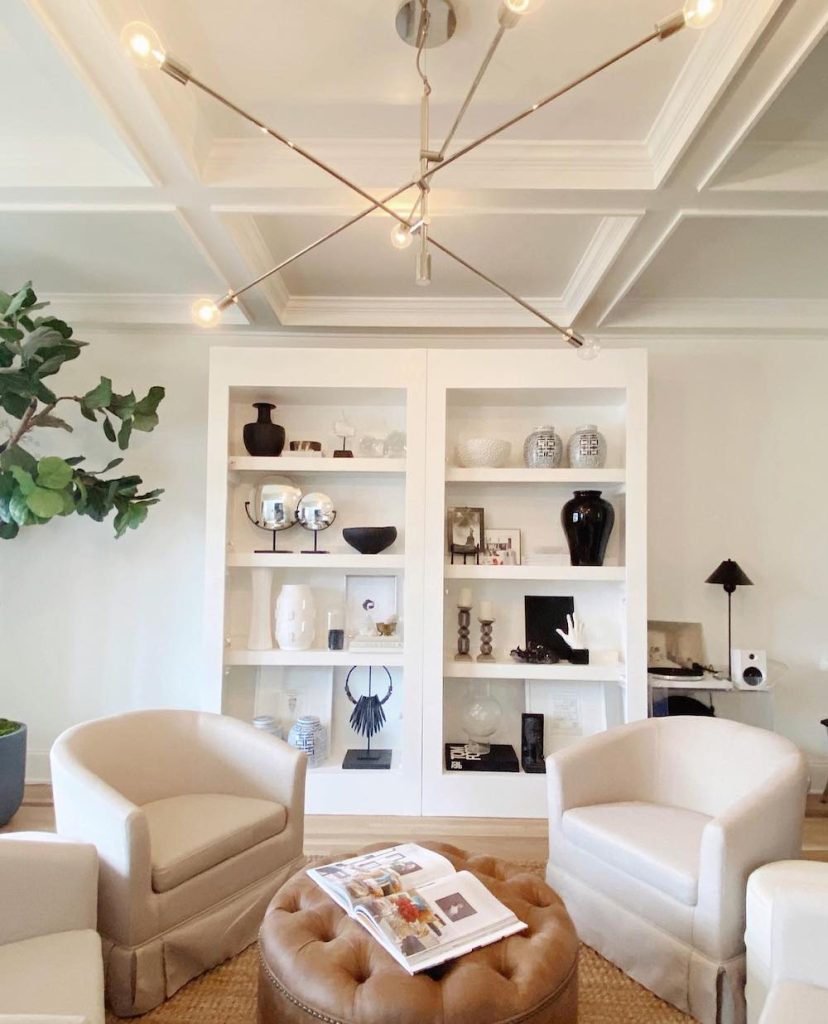 Pull together a group of chairs together with a coffee table ottoman. In this inspirational idea, the group provides a space for guests to mingle and visit comfortably.
Stay Neutral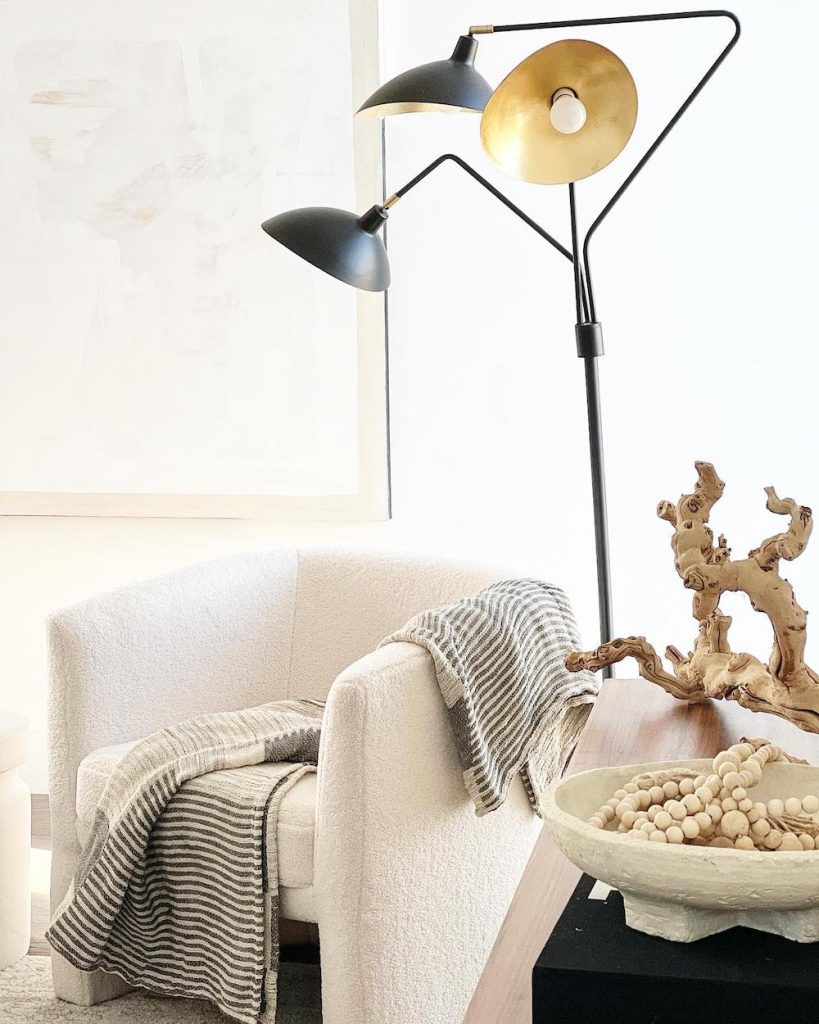 Continue the neutral color scheme. We love the string of wooden beads in the bowl and the gorgeous grapewood branch decor. The floor light adds the perfect metallic touch to the room.
Give it a Moody Vibe – Barrel Chair Styling Ideas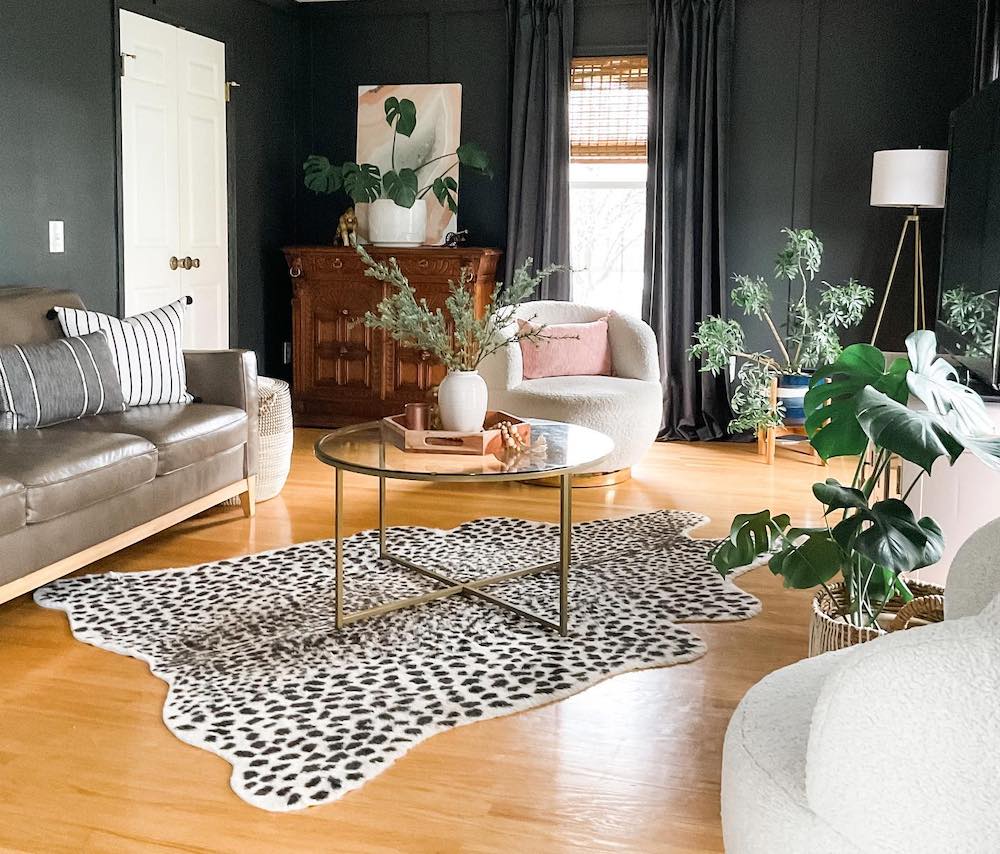 Go with dark paint for a moody and cozy vibe. The iron ore wall paint gives this room depth and instant moody vibes. We love the greenery spread throughout the room.
Make it Blush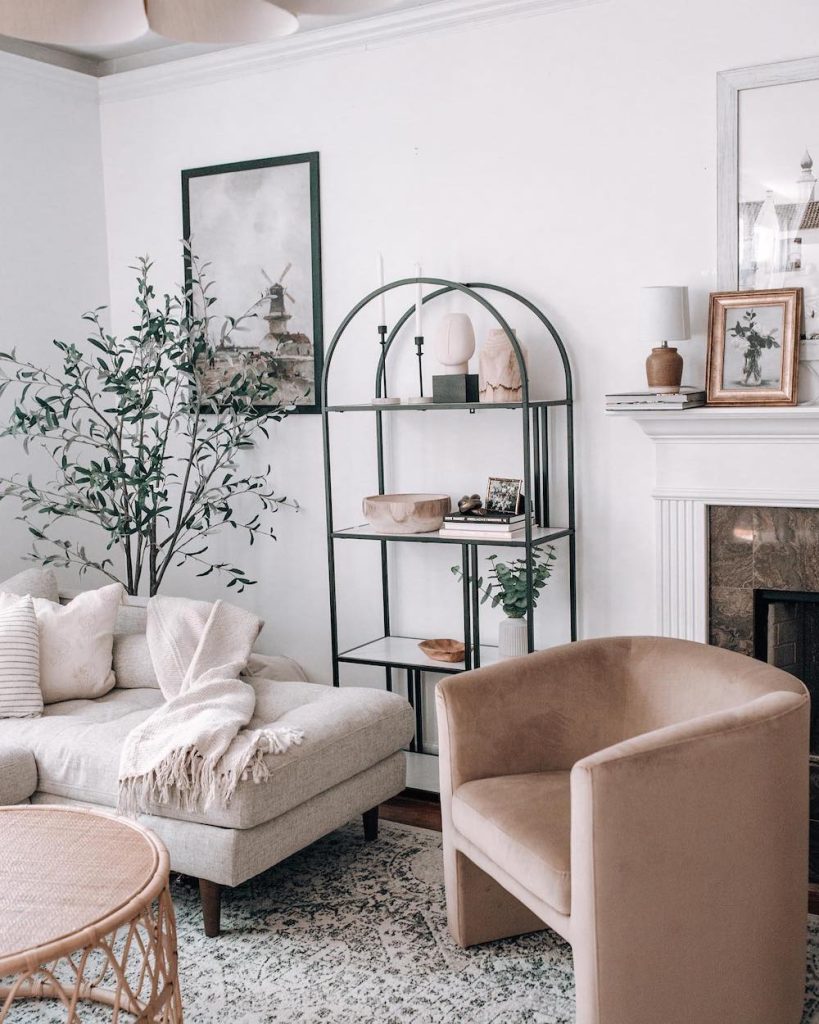 Keep it neutral and blush. Add a few blush-colored accessories. We love the color of the fabric that covers this chair.
Embrace the Retro Style – Barrel Chair Styling Ideas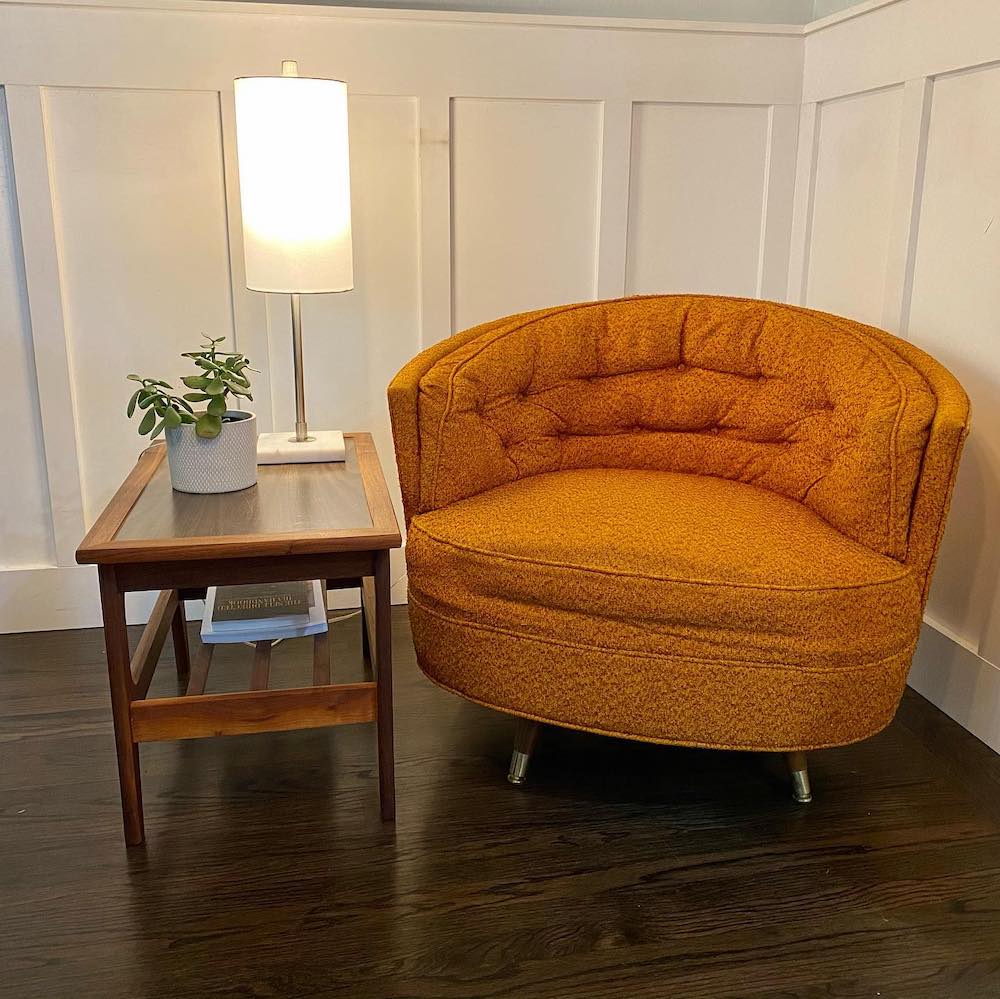 Make it retro. We love this mid-century style – chair, table lamp, and side table. Mid-Century against a paneled wall. Stunning home space.
Make it Quintessential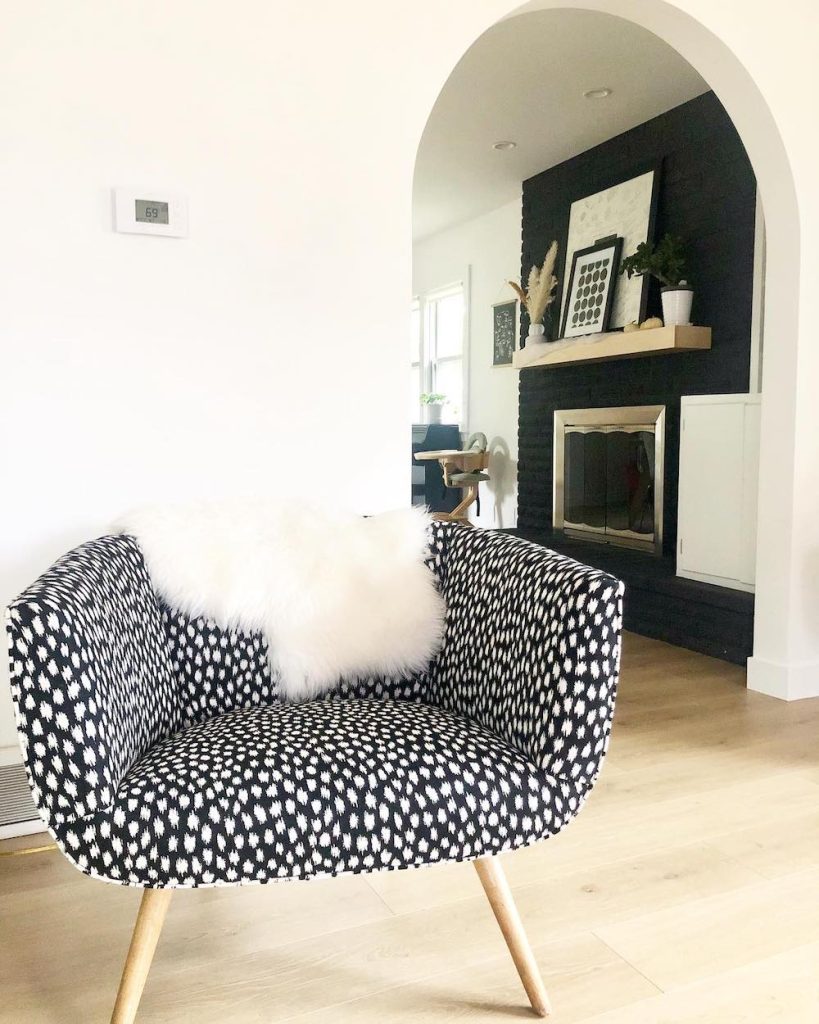 Keep this roomy chair for your best guests. Mid-Century at its best. We love how this was styled with a faux fur accessory.
Do a Double Take – Barrel Chair Styling Ideas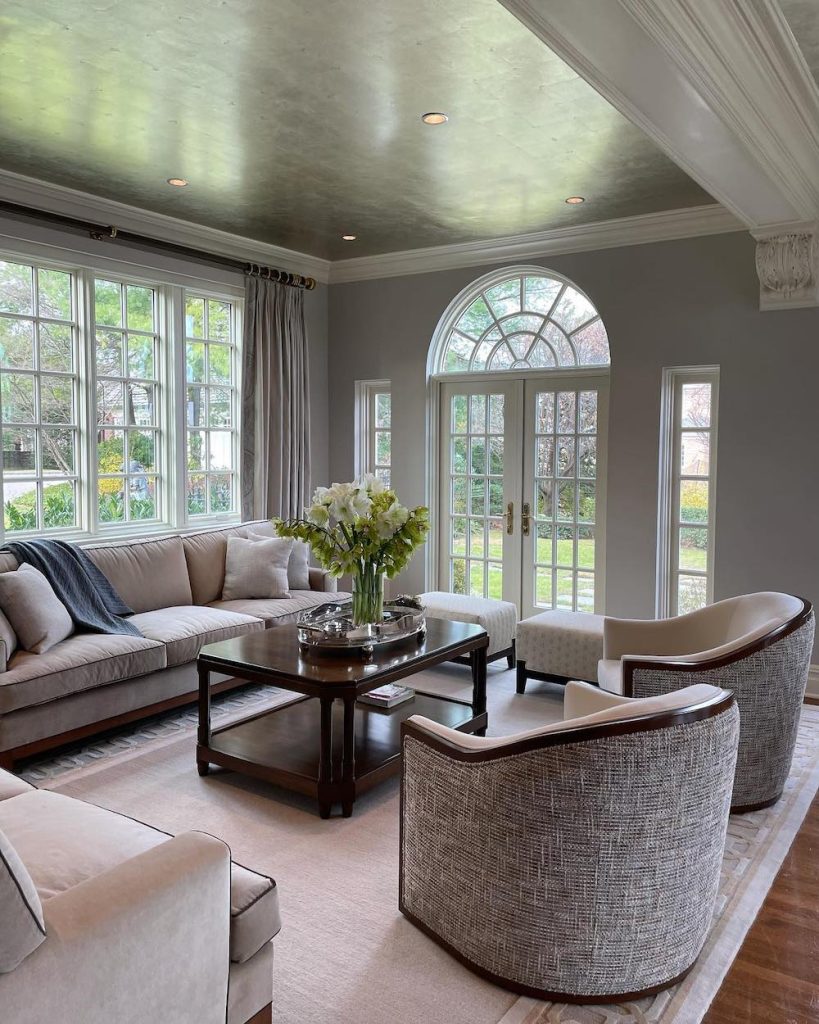 Go with a pair. Add accent chairs in pairs around a sofa. Perfect for large gatherings at home.
Style it with Cane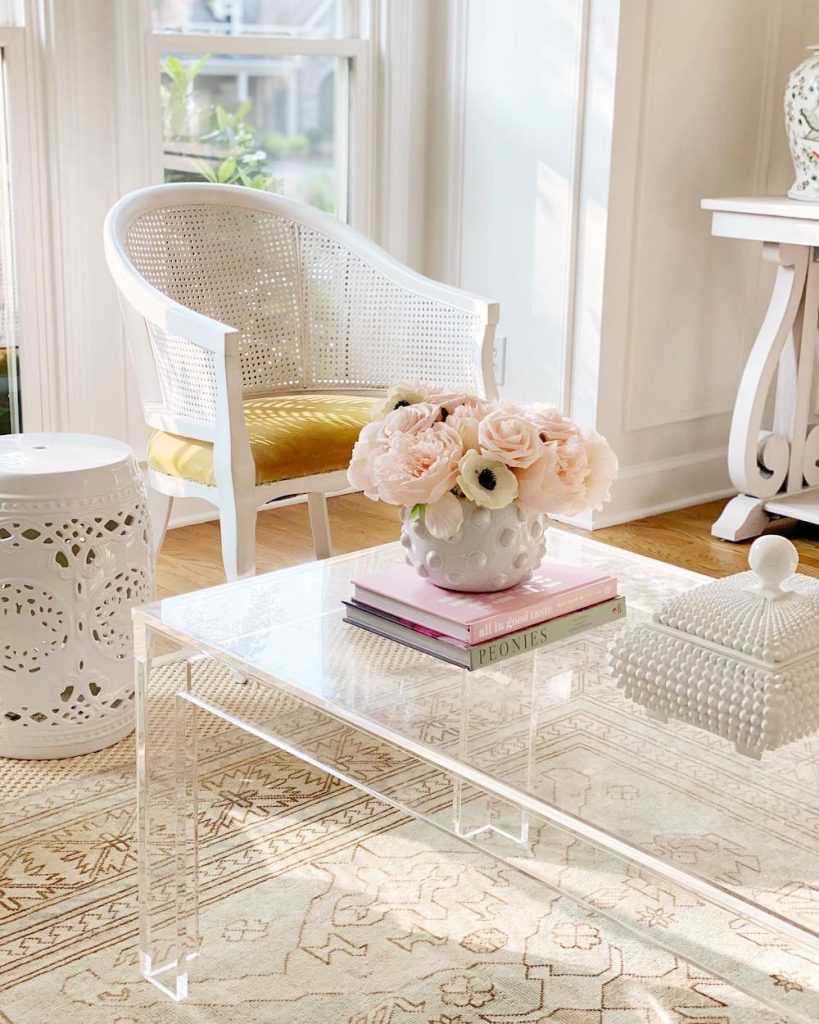 The cane chair is a versatile piece of furniture. Looks fantastic with other furnishings. In this inspirational image, the ceramic garden stool and lucite coffee table add visual interest to this room. Well done!
In need of a barrel chair for your home? Take a look at these amazing pieces. We think you are gonna love these chairs!

This ends our list of comfortable styling ideas using a barrel chair for your home. Hopefully, you found the perfect piece for you and your home. Take a look at our other posts for home decor inspiration. Be sure to tell us about your home decor projects in the comments below. We always love hearing from our readers.
Enjoy our other accent chair-related posts for additional ideas.
Hanging Chairs
Egg Chairs
Barrel Chairs
Papasan Chairs
Boucle chairs
Parsons chairs
Wingback chairs
Accent chairs
Rattan chairs
Reach out to us with any questions. We are always ready to help you out. Thank you for dropping by and taking a look at our blog.
Mary
Pin this for Later: