White table lamp ideas that are perfect for styling a console table. Whether you are designing your first entryway table or are in need of a refresh to your entrance, this post is for you. Provide the right lighting for your front entrance with a white table lamp. Some entryways or foyers have either a ceiling flush mount or a pendant light hanging overhead. If you lack a ceiling light fixture or need additional lighting for the foyer, you'll want to consider our styling ideas for the front entrance. Remember the front entrance is the first place your houseguests will see. And you'll want to style this room to always look its best.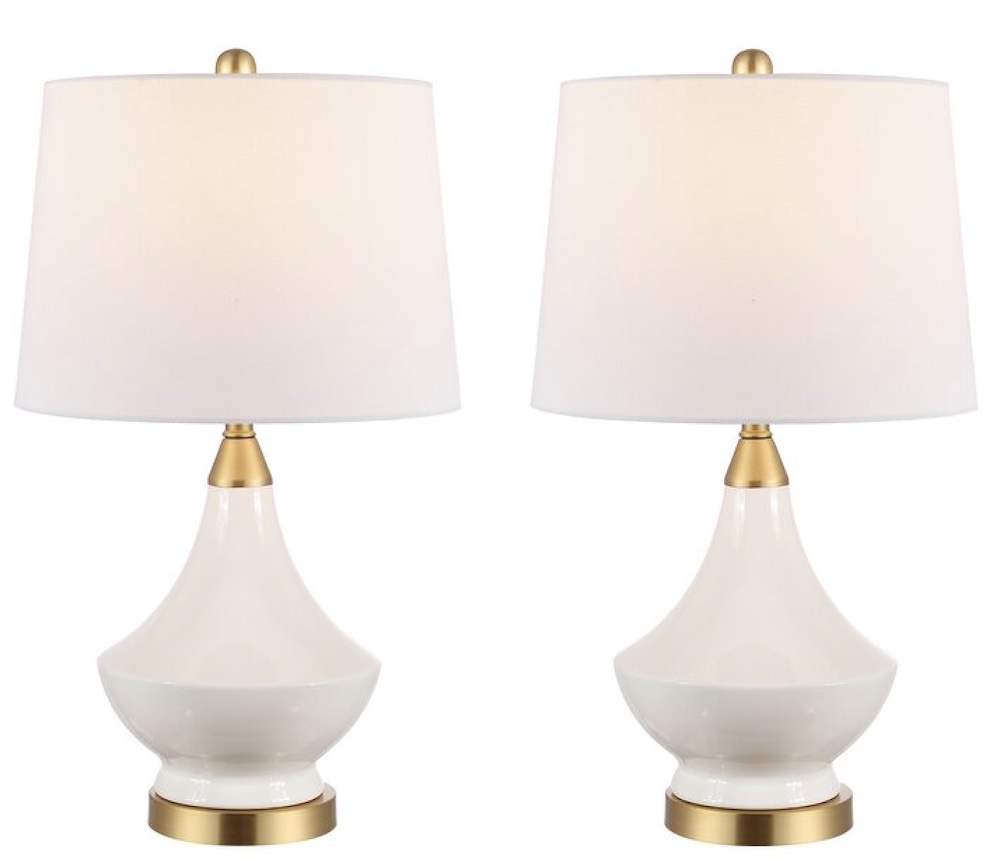 In today's post, we are sharing some fantastic ideas for white tabletop lamps which you can use on an entryway table. The popularity of white lamps has been ongoing for a while since they work with neutral interiors and many other color schemes. We in particular love lamps in white and cream colors for their refined and simple looks. As you'll see in our list of ideas.
Make it Right – White Table Lamps Ideas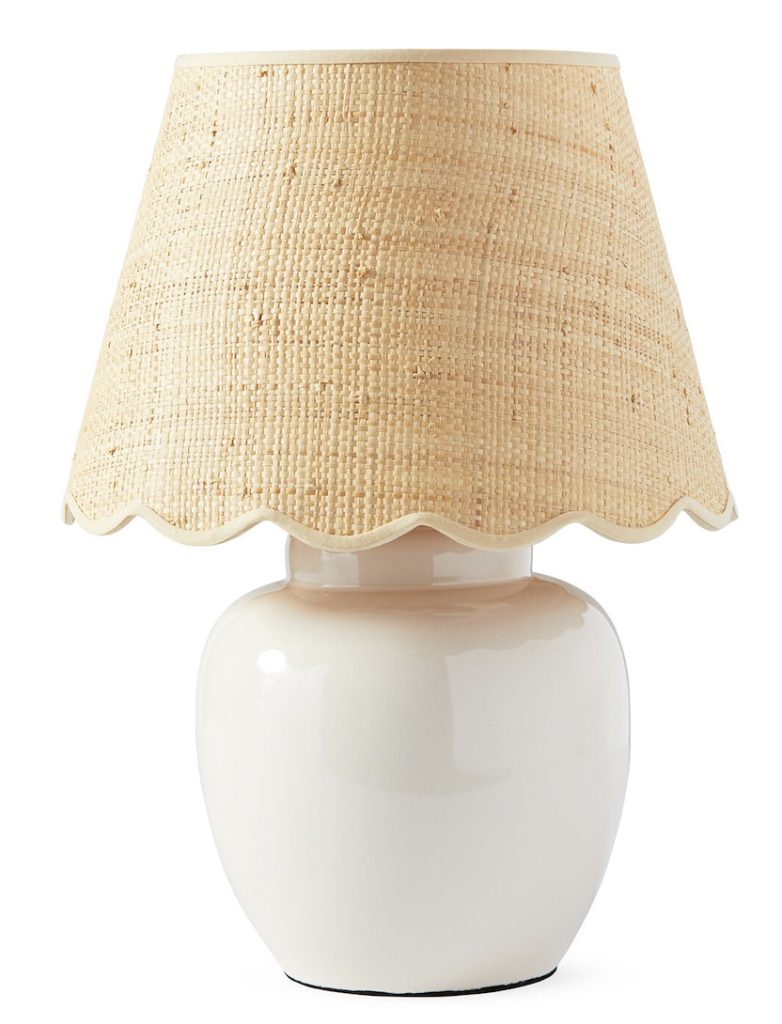 Basically, there are three types of tabletop lamps for a console table. Select from these three options of lamps. Choose either an accent, table, or buffet lamp. Each of these lights illuminates the home in various ways.
Draw direct focus to a smaller room area with an accent lamp. For example, an accent lamp on a console table primarily focuses on the table itself. Smaller in size, an accent lamp primarily focuses on the tabletop. It is not intended to light a large area of the room. This type of lighting is an accent lighting statement with a low-wattage light bulb. Create ambiance with a minimal amount of light that emphasizes that small table area.
Style it with a Table Lamp
Go for a table lamp if you need a medium-height lamp. In this type of lighting, a table lamp is usually between 24 to 36 inches tall. Always consider the length of the console table before selecting a table lamp. The range of sizes in a console table is from 24 to 84 inches long with a depth of 14 to 18 inches deep. As you can see, the size of the table will give you an indication of how large the lamp can be. You want to select a lamp that is proportional to the size of the table. Pick a larger table lamp if your table is broader and longer. On the other hand, if your console table is 3 or 4 feet wide, a smaller table lamp would be the better option. In fact, you could also consider an accent lamp.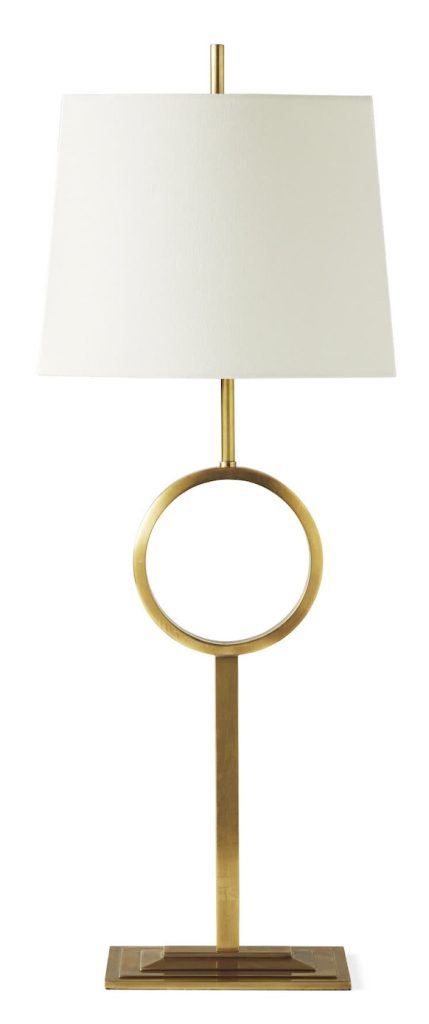 The final option for a tabletop is a buffet lamp. In this type of lighting, a buffet lamp tends to be narrow, and taller. Buffett lamps are about 36 inches tall or more. A buffet lampshade will also be smaller too since it is covering a smaller light source. With this type of lighting, a buffet lamp provides an elevated lighting source for your tabletop.
Light it Up – White Table Lamp Ideas
And now we begin our list of styling ideas using a table lamp in white on the entryway table. Stay inspired with these tips we are sure you'll love. Take a look. Be sure to drop us a line below in the comment section. Let us know all about your favorite white lamp styling ideas.
Style it with a Glam Look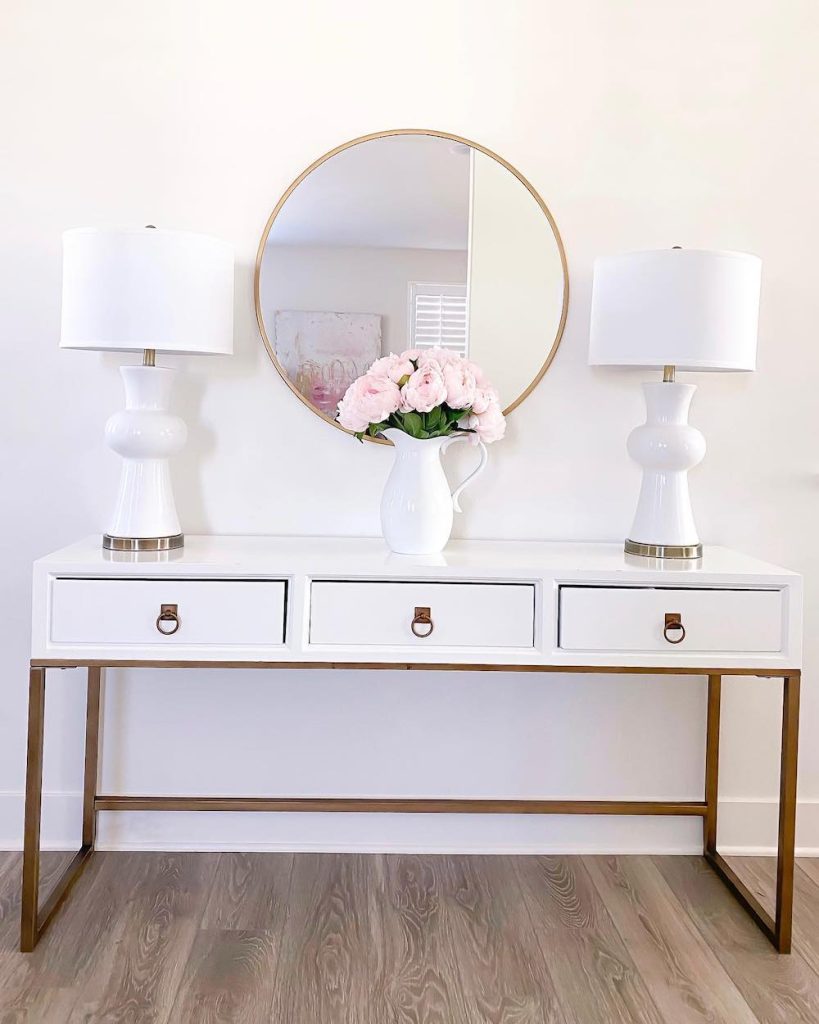 In this inspirational image above, the round gold mirror sets the tone for the remainder of the entryway. Perfectly styled with a duo of white table lamps.
Top it Off with a White Framed Mirror – White Table Lamp Ideas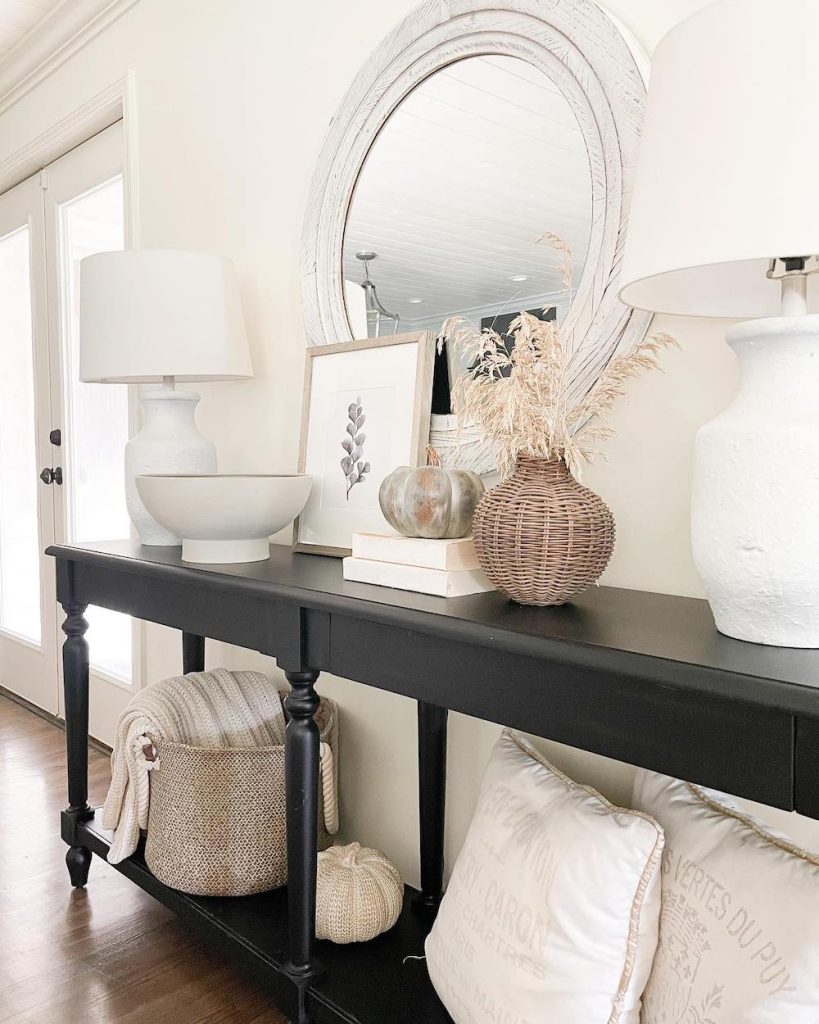 Add a pair of cream-colored urn-shaped lamps for an earthy style. The cream, off-white, and distressed white finishes of the lamps and round mirror provide a good contrast to the dark-stained console table.
Blend Cream with Beige and Gray Colors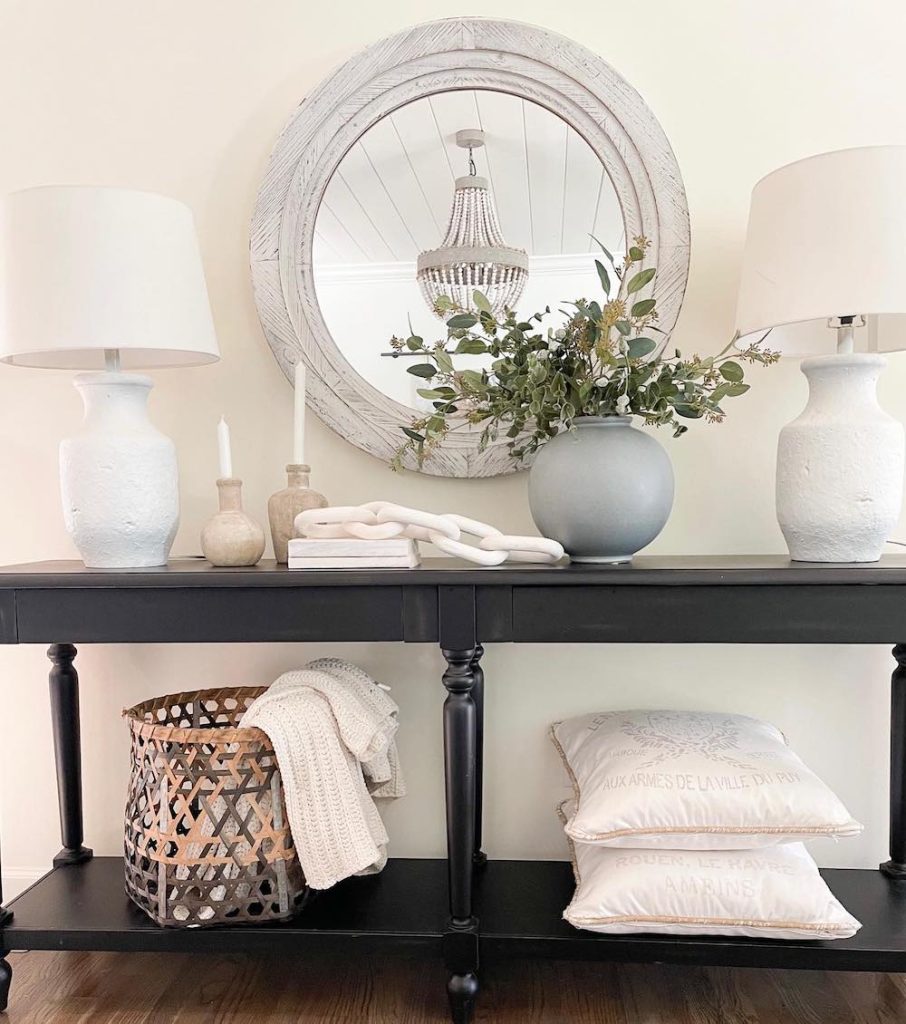 Mix your cream-colored lamps with beige and gray accessories that compliment the table lamps. It's all about the curves on the entryway table surface.
Elevate Your Lamps – White Table Lamp Ideas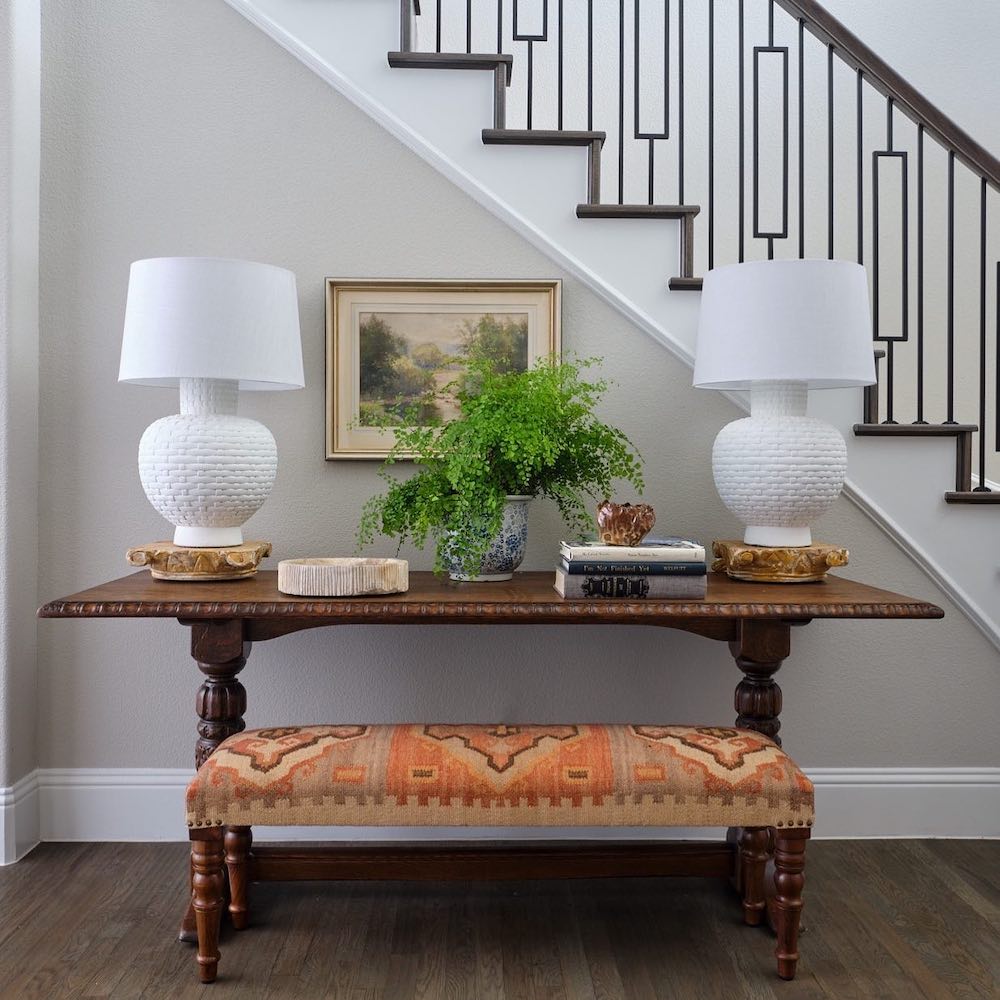 Give your table lamps a boost. Set your table lamps on a replica of a capital pedestal with a wood-like finish. The capital pedestal provides a great contrast to the white table lamps with a basket-weave texture.
Make it a Double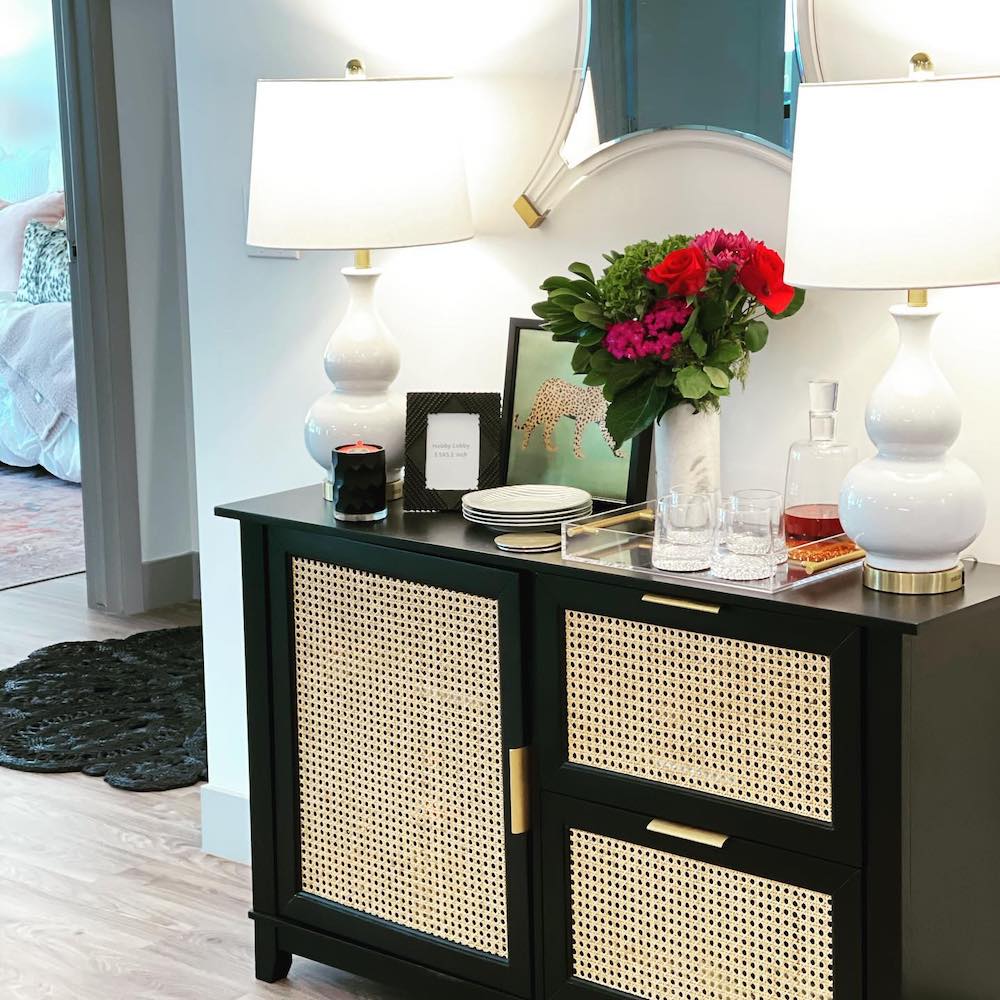 Use a set of double gourd lamps with lots of curves.
Keep the Gray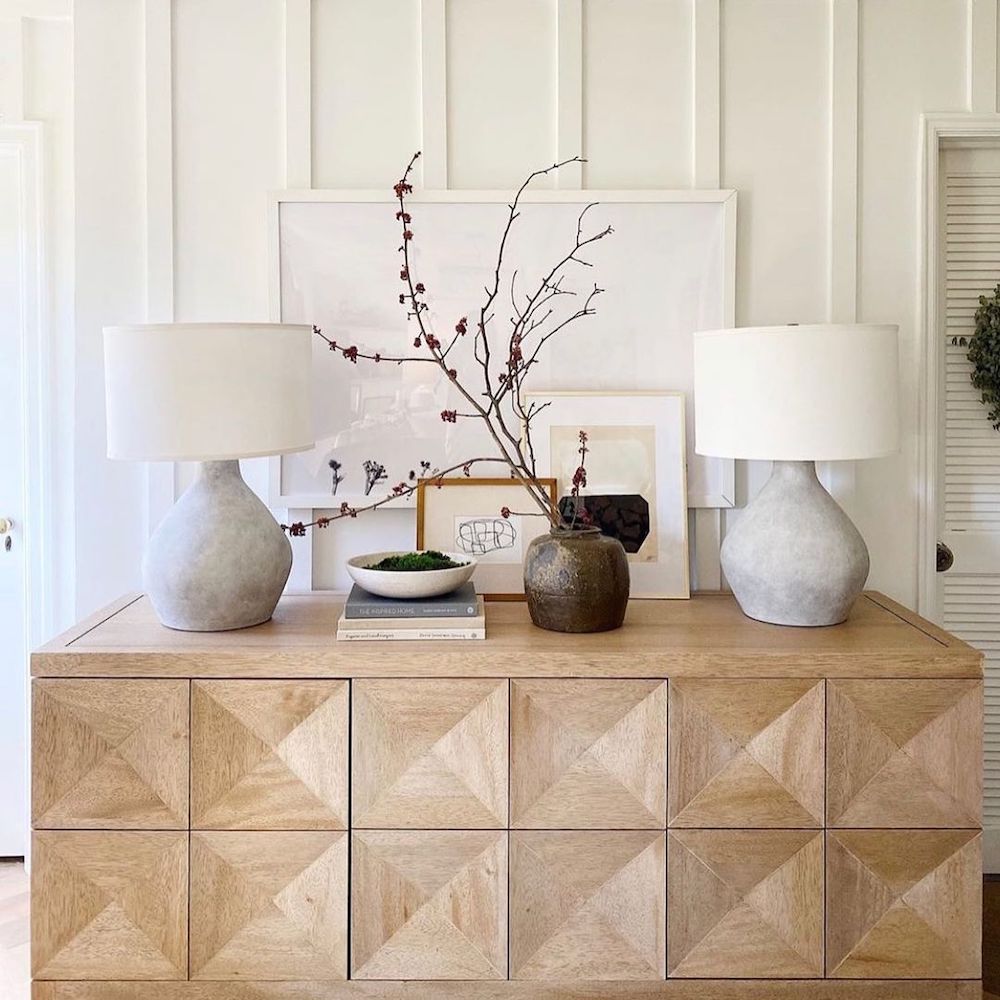 Style it in neutrals. Use a set of gray textured lamps in front of a white wall and natural console cabinet. We love the muted color scheme of this inspirational image.
Go Formal with Gray and White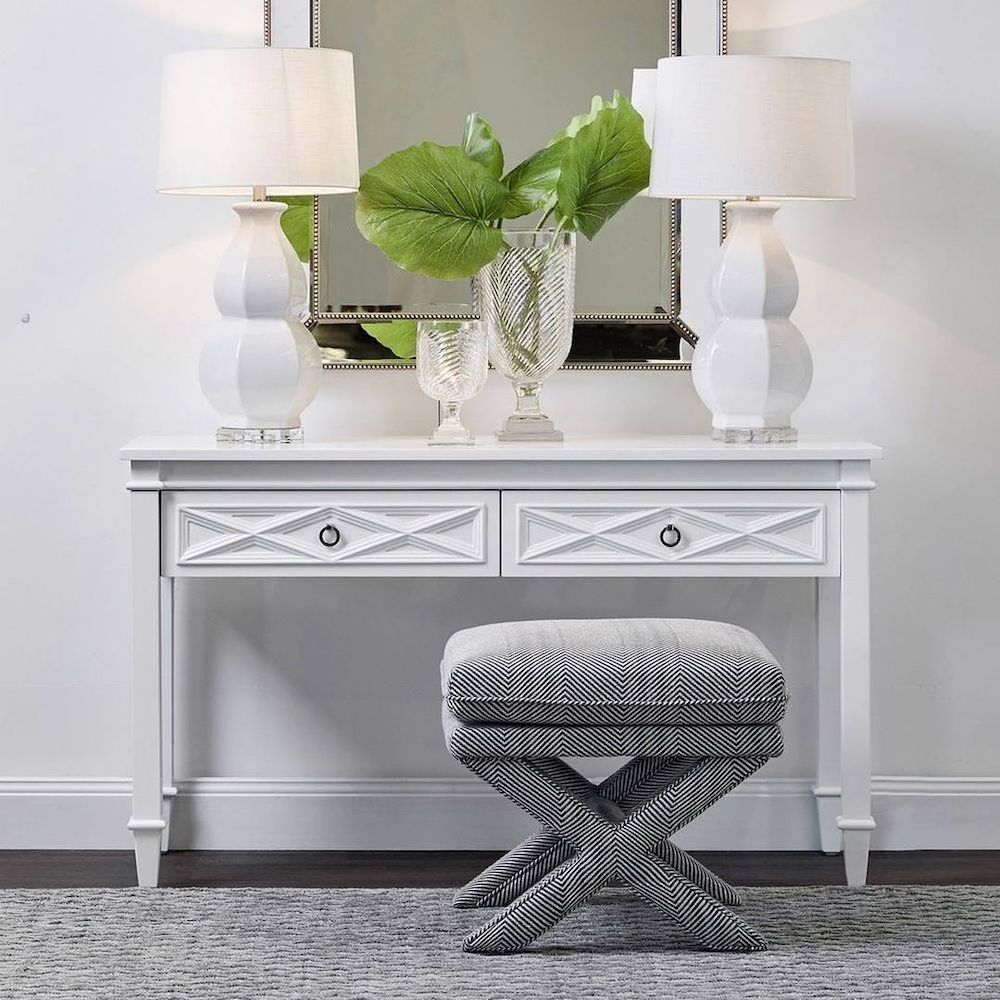 Add a touch of gray furnishings to your mostly white entryway.
Give it a Dramatic Look – White Table Lamp Ideas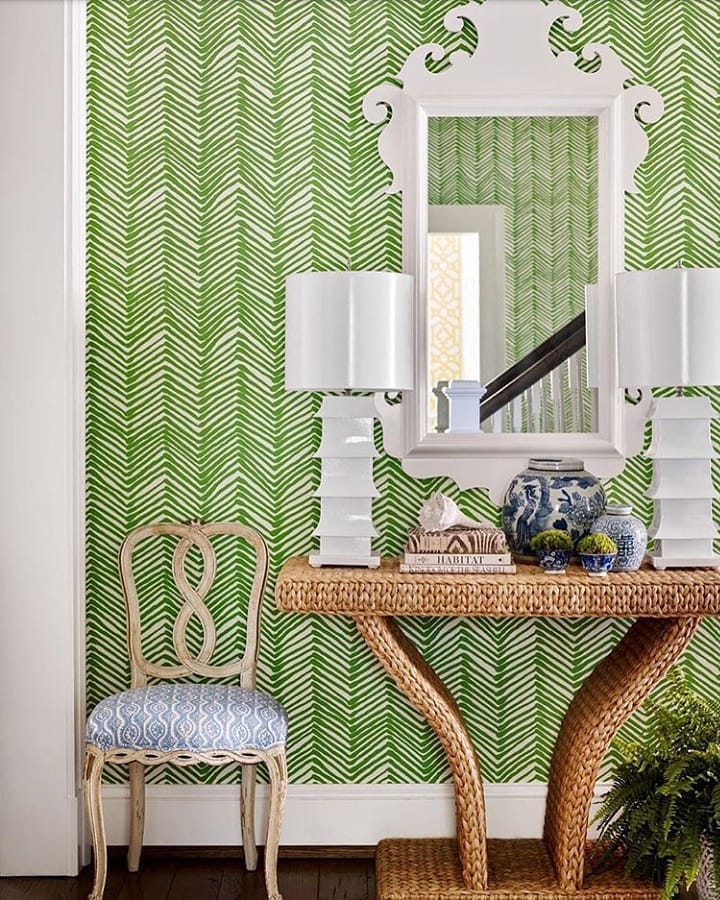 Use a vibrant green wallpaper behind a rattan console table. Add a set of Pagoda-styled lamps and ginger jars for an Asian-influenced decorative style. So beautiful and definitely an inviting entryway.
Make it Bright – White Table Lamp Ideas
As we continue our effort to select the best lamps online, we searched numerous online resources for the most stylish lamps in white. These are our list of amazing lamps that we know you'll love. Below is our list of tabletop lamps in white that will brighten your home. Take a look. Drop us a comment below in the comment section. Let us know about your entryway or hallway table decor style.

This ends our list of white table lamp ideas for the entryway or hallway. Make your entrance always look its best. And one way to do this is with the right kind of lighting and a wall mirror. Be sure to take a look at our other posts for home decor inspiration. Be sure to tell us about your home decor projects in the comments below. We always love hearing from our readers.
Enjoy our other lighting posts for additional ideas.
Are you interested in a different type of lighting for your home? Try these posts for additional lighting ideas.
Coastal table lamps
Neutral table lamps
Nautical pendant lights
Rattan pendant lights
Pink table lamps
Coastal floor lamps
Reach out to us with any questions. We are always ready to help you out. Thank you for dropping by and taking a look at our blog.
Mary
Pin this for Later: