12 Best Home Office Upgrades that improve your comfort and productivity
Working from a home office is a great option for flexibility and sometimes a must-do.  These 12 best home office upgrades will make your home office more comfortable and increase your productivity.  Let's take a look at these simple updates that can boost your performance.
1. Bose 700 Noise Cancelling Headphones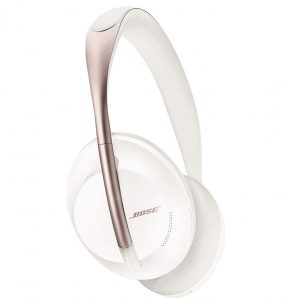 First is a good set of headphones.  You may like to listen to music while working.  Or maybe your work requires you to watch videos or web conferences.  Your simple wired headphones or earbuds work in a pinch but think about all-day comfort.
These Bose 700 headphones are much more comfortable for all-day use. They also include advanced noise canceling technology that blocks out background noise.  In a home office (or a shared work space) this is important if you don't have a very private area. Also, unlike other headphones, these even help reduce noise for your microphone so this is the best option if others need to hear you clearly.
2. Belda Height Adjustable Standing Desk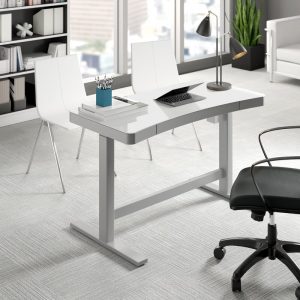 You may already have a place to write or use a laptop but one of the best home office upgrades you can still make is your desk.  What are very popular now for good reason are standing desks.  This helps keep your circulation healthy and avoids the impact of sitting all day.  If you have the space and prefer an integrated solution, there are many options like this adjustable free standing desk from Belda.  This has a smooth glass top, sturdy metal base, drawers and a curved front edge for a very stylish workspace.  The desk adjusts from 29.5 inches to 47 inches tall and is power motorized with modern touch controls.  It also has convenient USB ports on the side.
If you already have a desk, consider a standing desk adapter like this one from Vivo.  It uses an assisted manual lift and adjusts from 4 inches to 20 inches and includes a keyboard shelf.  Available in black or white to match your decor.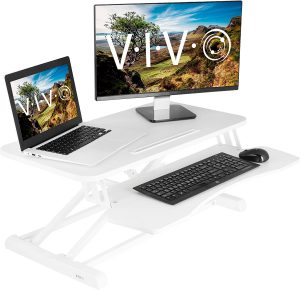 3. Blazek Mesh Task Chair
Are you still sitting on that mismatched extra dining table chair or worse, a folding chair?  If you need to spend hours at the desk, another sure bet for best home office upgrades is your seating.
Mesh chairs are popular because the material breathes, keeping you cooler.  Mesh also doesn't sag or compress over time like foam cushions.  Here is a great option – an adjustable mesh task chair from Blazek available in several colors: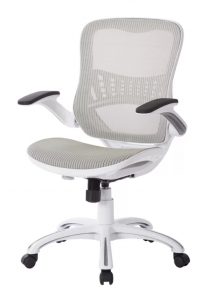 If your home office doubles as a guest room and you're more concerned about not having a corporate-office look in your home, consider something a little more stylish.  This Pinero desk chair from Mercury Row is available in several colors and looks sharp with its chrome highlights and faux-leather seating.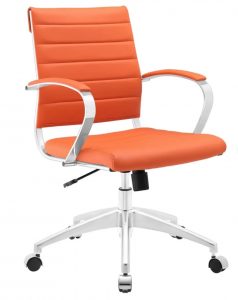 4. MEIKEE LED Desk Lamp
One of the best home office upgrades is improving your lighting.  Don't just rely on that ceiling lamp for lighting up the room.  Upgrade your home office with efficient and bright task lighting.
Here is a stylish desk lamp from MEIKEE that features adjustable LEDs for both brightness and color temperature (cool to warm white).  It also features a bonus USB charging port.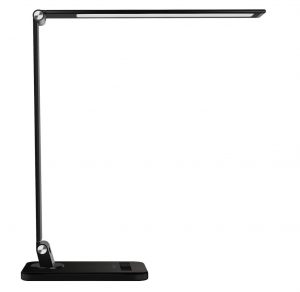 If you prefer to keep your workspace clear, try this simple LED floor lamp from Orren Ellis. Standing 63" tall and featuring slim line LED illumination in an L-shape.  This lamp's modern style nearly disappears in a room when off and provides ample lighting when you need it.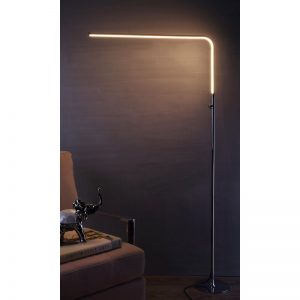 5. Anker Wireless Charger, Powerwave Stand
Even when you are working at your computer or laptop, these days it is critical to have your mobile phone handy.  Here is a simple wireless charging stand that works with newer Android and Apple phones that are compatible with wireless charging.  Having a stand that keeps your phone standing upright makes it easy to see notifications come through or set timers while you work.  The wireless charging feature is convenient and also saves wear and tear on your phone from plugging and unplugging. The Anker Wireless Charger with Powerwave Stand is indispensable.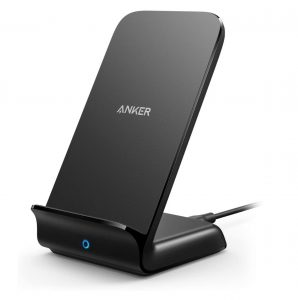 If your phone isn't compatible with wireless charging consider this option.  This stand from Lamicall supports an angled view for watching messages and still allows plug-in charging from below.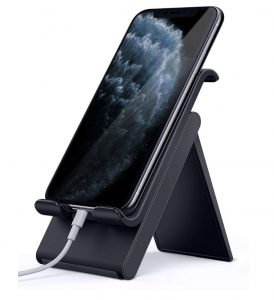 6. AstroAI Mini Fridge
This next item may seem like a luxury but haven't we all wanted a fridge in our bedroom since we were kids?  This desktop mini fridge from AstroAI is a cute addition for your home office.  It's just large enough for a couple cans or bottles of water or maybe a yogurt or snack.  It could save you a trip to the kitchen when you are trying to stay focused.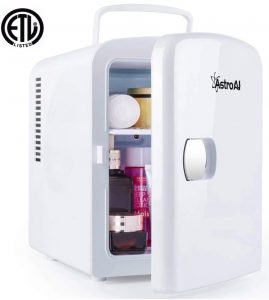 7. Kuando BusyLight
Now, this next item will NOT prevent pets, children, roommates or spouses from barging into your home office unannounced.  But it might help.  The Kuando 'busy light' can connect with your calendar or meeting application (like Skype) and you can set it to glow red when you are in a meeting or call.  Note this uses a USB connection so you will need to run an extension wire outside your door.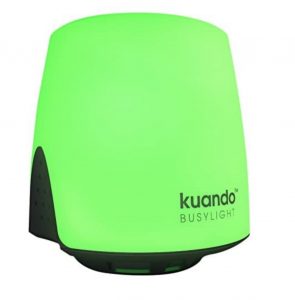 8. Govee LED Strip Lighting
Upgrade the mood in your home office with some back lighting.  Even a little mood lighting can transform a dull space into a comfortable work environment.  This USB-powered LED lighting on tape strip is very flexible.  You can add these to the back of your monitor or a TV to provide just enough accent lighting.  Keep it white or add a little more color as these are adjustable for both brightness and colors.  Get creative, add some under desk edging, behind picture frames or under a wall shelf.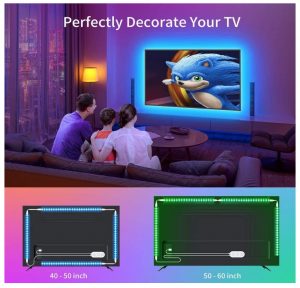 9. Wyze Cam 1080p Wireless Smart Home Camera
If you have pets or kids at home with you, having eyes in the back of your head is a must.  Try these Wyze cams to help you watch the household while you work.  Unlike other cameras, Wyze cams are relatively inexpensive, very easy to set up and don't require any monthly subscriptions.  They are cheap and small enough to add several around the house.  You can install their app on your phone or tablet and keep it on your desk for real-time monitoring.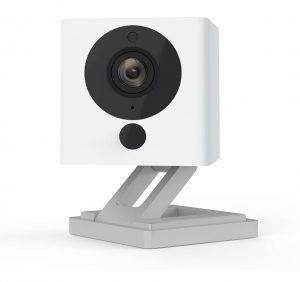 10. Charlotte Handmade White Area Rug
You might think of boring hard surfaces when it comes to an office space. Since this is your home office, prioritize yourself and make it comfortable for you.  An often forgotten item is the warmth and softness under foot.  Even if you have carpeting, consider putting a warm and fuzzy rug under your desk area to pamper your feet.
Sheepskin is a luxuriously soft and silky material and very warm.  For extra comfort, add a rug that fits under your desk.  Here is a faux sheepskin rug from House of Hampton that looks the part: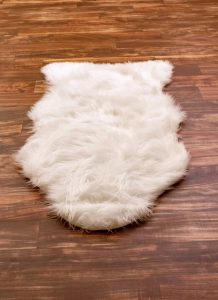 And if you prefer a real sheepskin rug, here is one that is available in a couple colors.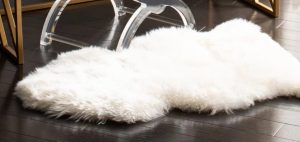 If you live in a more humid or temperate area a humidifier may not be necessary.   But if you live somewhere dry or cool in the winter, you likely suffer from dry air.  And that brings all the usual problems like dry eyes, allergies and headaches.  You may already use humidifiers in your home but consider a smaller desktop one like this one for your home office: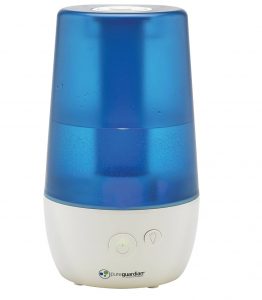 Not too small that you need to constantly refill it, but not so large as to take up valuable work space.  Upgrade your home office with more comfortable, breathable air.
12. Money Tree (by Proflowers.com)
Indoor plants make for wonderfully serene decor and a great home office upgrade.  And live plants help filter and clean your air.  Even if you don't have a green thumb, consider an easy houseplant for your home office.  This money tree (Pachira aquatica) sold by proflowers.com is one of those hardy indoor plants that just needs bright indirect light from a window.  Keep a shallow tray with pebbles filled with water under the pot to keep humidity higher and water when the soil starts to feel dry.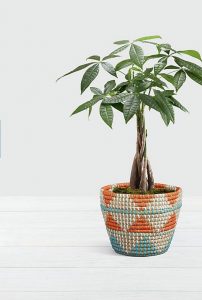 Hopefully this list of 12 home office upgrades will inspire you to make some changes in your space. Make your home office more comfortable and convenient and improve your productivity!
You May Also Enjoy some of our other Interior Decor related posts.   
9 Industrial Desk Lamps for your Workspace
18 Modern Farmhouse Office Chairs for Your Workspace
Simple Accessories to Create a Home Spa
25 Organization Hacks for Your Garage Workshop   
And if you have any questions, feel free to reach out to us. We are always ready to help you out. Thank you for stopping by our blog.
Mary