I'm sure everyone is thinking about Spring and the warmer days ahead of us.  Pretty soon St. Patrick's Day will be here and you are probably thinking about how you can green it up a bit.  Well, I have a few ideas that you may want to take a look at.  But don't wait too long, St. Patrick's Day will come before you know it.  We've listed some quick and inexpensive DIY ideas that you might think about as you turn your coastal home to green for the occasion.  
I selected these particular ideas because they are quick and easy, inexpensive, and lend themselves to a coastal or beach decor.  Take a look and let us know what you think about these St. Patrick's Day decor ideas!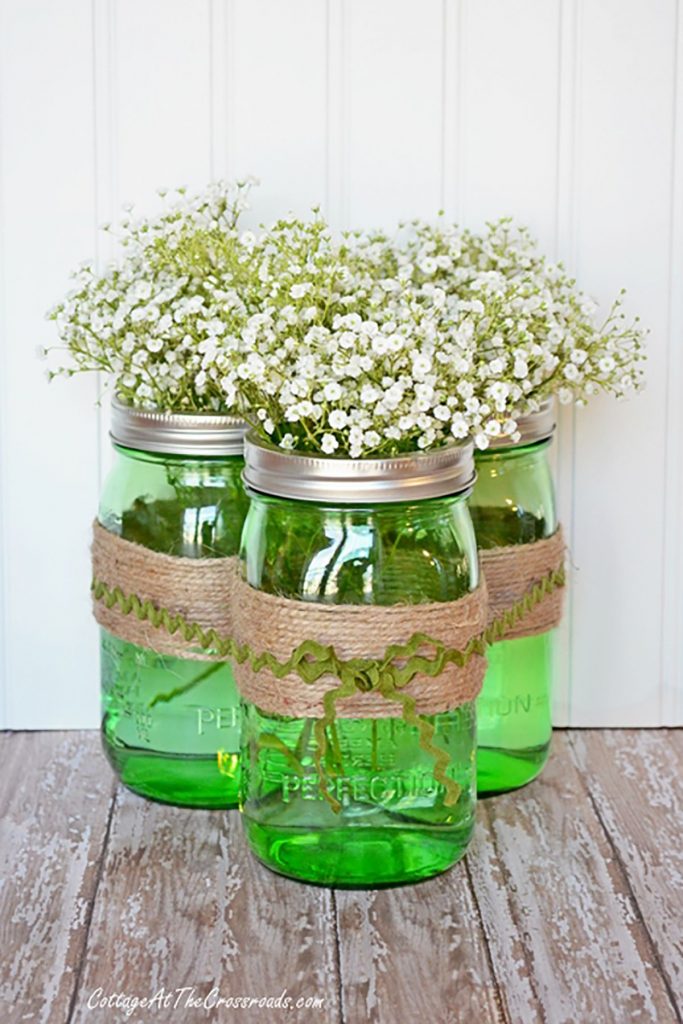 The Easy Spring Centerpiece with Green Ball Jars are a quick and easy, inexpensive centerpiece that looks great for St. Patrick's Day and can be used right into Spring.  The instructions for the centerpiece are by Cottage At the Crossroads.  This centerpiece will work for you in many ways.  You can change the decor to suit a coastal theme by adding a shell to the front of the ball jars.  You can use either be a clam shell or a white finger starfish.  You can glue the shell right on to the rope for a coastal setting.  The green ball jars can carry you into Spring and Easter by replacing the baby's breath with either tulips or daffodils.  A great look and can continuously be refreshed from season to season!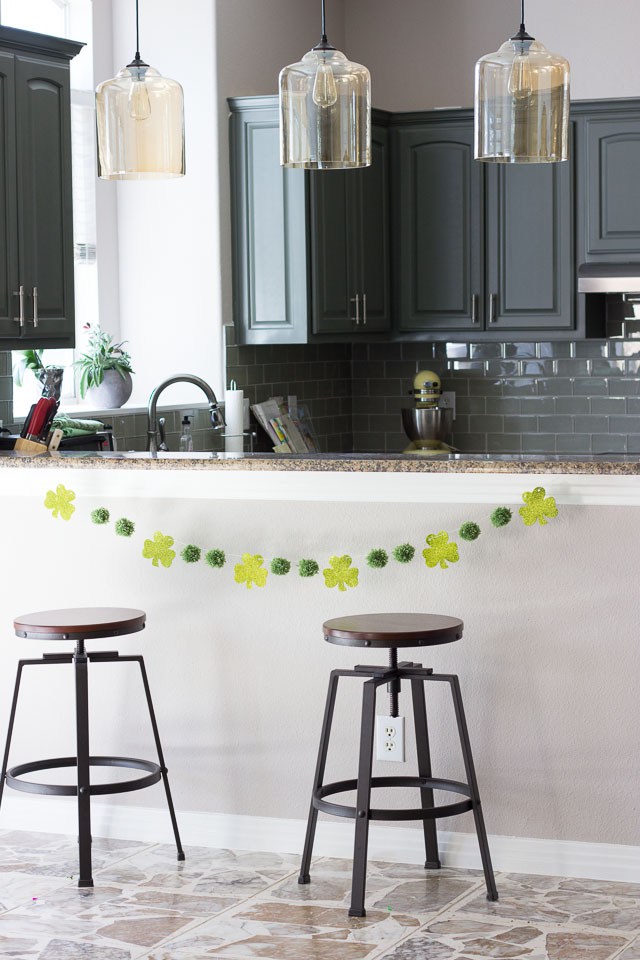 The St. Patrick's Day Garland is a quick and easy garland to make.  It alternates a glittery shamrock with two green pom poms and then repeats for the length on the garland you need.  This garland can be made with the help of your children and is a fun family activity.  Instructions are by Honest to Nod.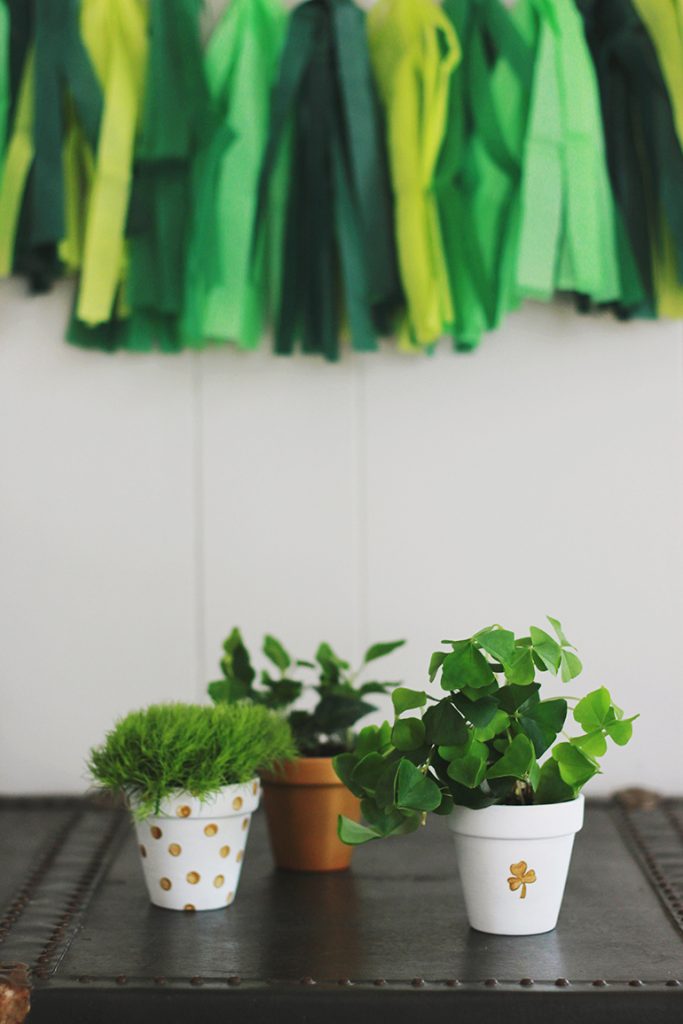 The St. Patrick's Day pot planters are inexpensive to make.   Clay pots can be painted a white or green color then using a gold paint stencil a shamrock, pot of gold, gold coins, or leprechaun's hat.  After the pot is dry, simply place a small green plant inside the painted clay pot.  You'll find instructions by The Merry Thought.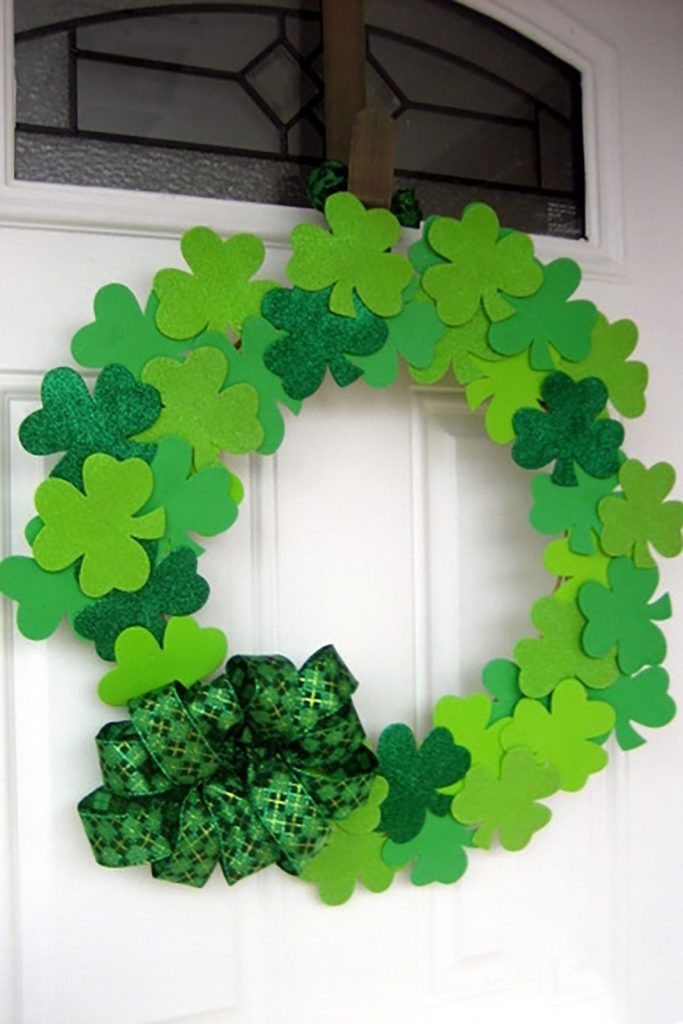 The St. Patrick's Day Wreath is a quick, easy and inexpensive wreath to make.  The wreath instructions are by DIY playbook.  If you'd like to give the wreath a coastal look, you can add a shell to the front green bow.  Just glue the shell to the bow.  Great family project to celebration of St. Patrick's Day.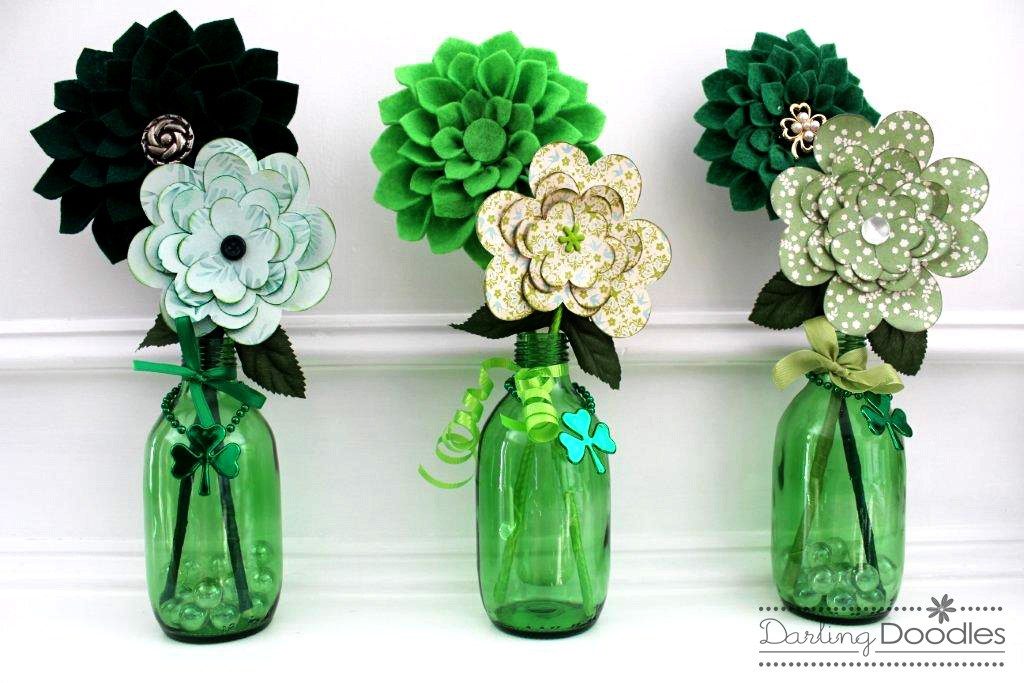 The Green (and Green) Decorating are made of green felt and green paper flowers simply placed in a green bottle.  The instructions are by Darling Doodles.  If you would like to make this project a coastal one, you can add a small shell to the center of the flower rather than using a button or pin to secure the petals together.  The shell center gives it a beach look that goes well with the green floral decor.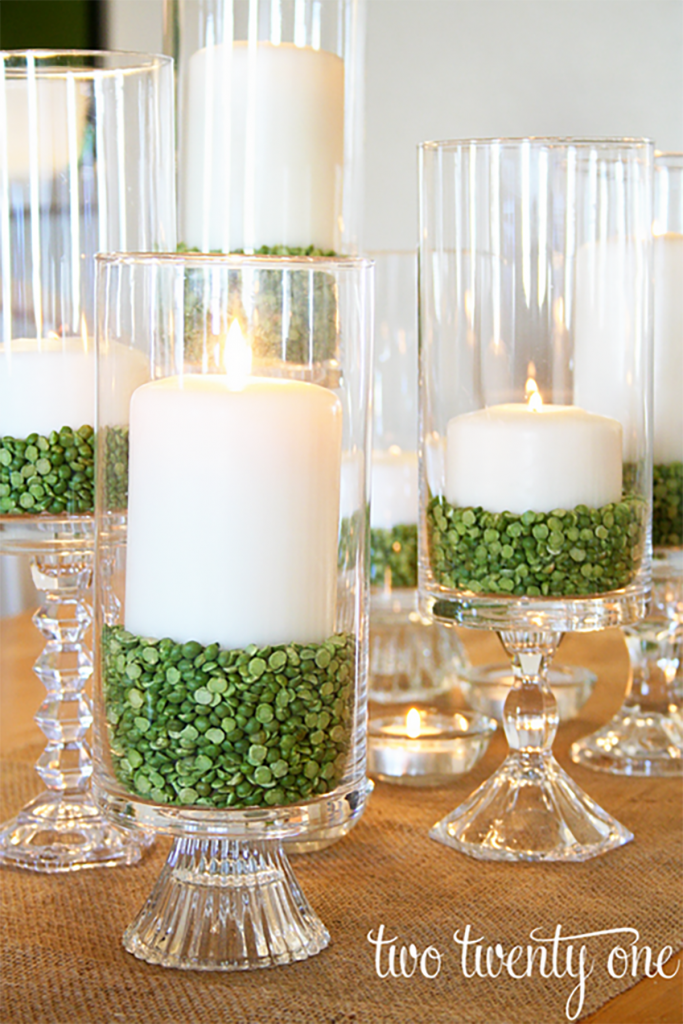 The Thrifty Hurricane is a beautiful centerpiece that is incredible easy to make.  The instructions are by Two Twenty One.  The candle centerpieces use split peas at the base of the hurricane lamp.  To achieve a coastal St. Patrick's Day look, I would add a few small shells randomly scattered over the split peas in the hurricane lamp.  Quick and easy centerpiece that is so inexpensive.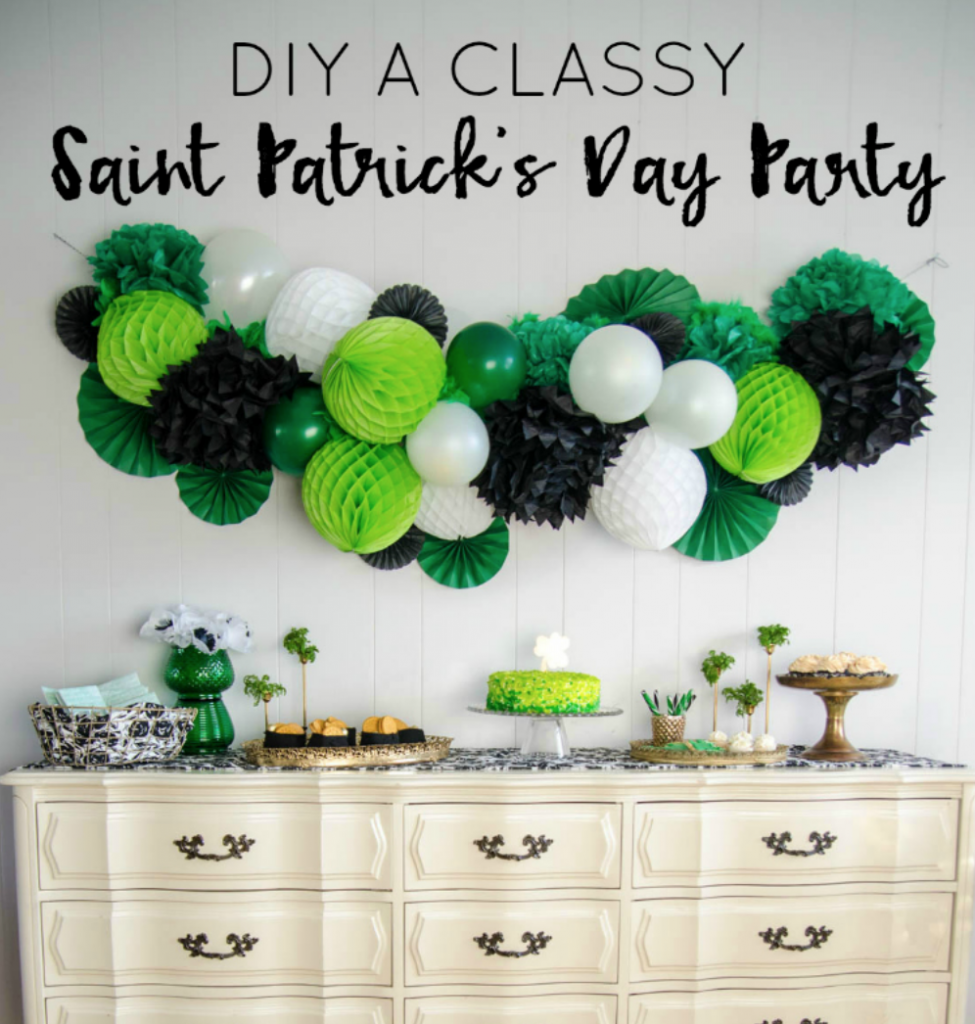 The St. Patrick's Day honeycomb garland is another great and inexpensive decoration to make.  And it is so much fun to make too!  The honeycomb garland instructions are by Lemon Thistle.  You simply add honeycomb party balls, tissue paper poufs, pinwheels, feather boa, and balloons in white and green to bakers twine.  These beautiful, festive garlands have many uses.  They can be used directly on a wall, around a mantel, stair rail, or around counter.  You just adjust the length of the garland to fit the area you would like to decorate.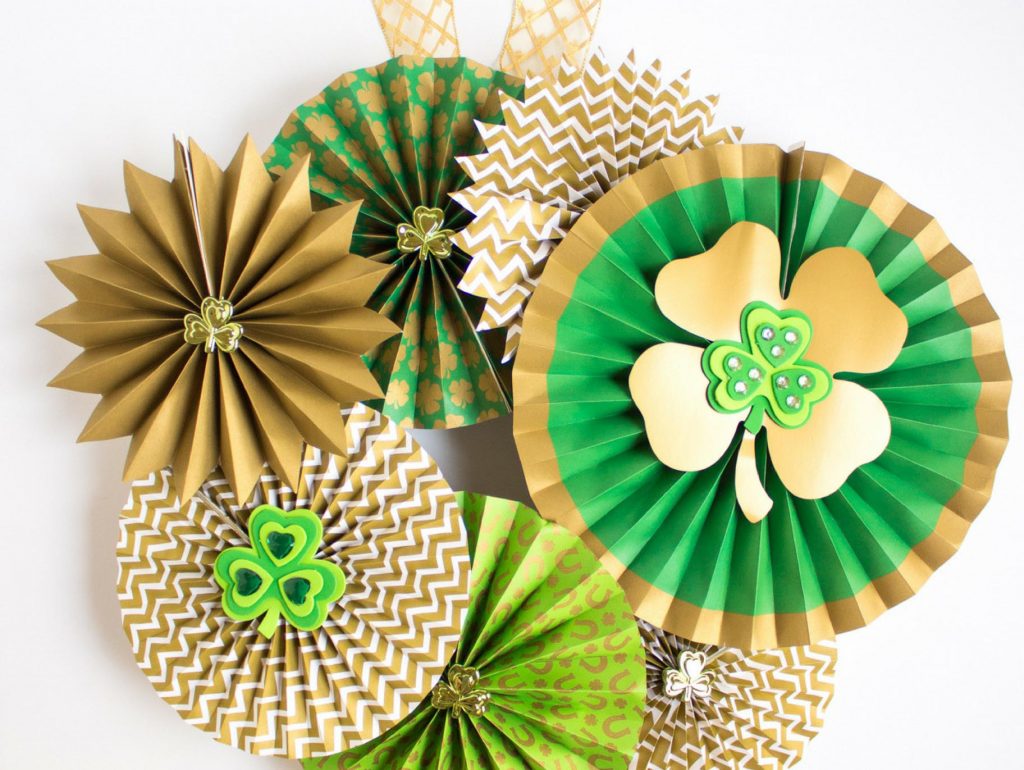 The St. Patrick's Day Paper Fan Wreath is a quick decor project that can be done with the help of your kids.  The instructions are by Design Improvised.  The wreath takes little time to create and gives such a dramatic affect.  
These 8 DIY decor projects are a great way to bring a little luck of the Irish into your coastal home.  The most important thing to remember is that they are quick, easy, and inexpensive to make.  We hope you enjoyed the coastal decor DIY projects we listed.  If you try any of these coastal decor DIY projects, be sure to let us know how you make out!   
If you have any questions, feel free to reach out to us in the comments below.  We always like to hear from you and help out.