Interested in some egg chair styling ideas for the home? In today's post, we are sharing 16 ways to style your egg chair. Egg chairs are more popular than ever. If you've recently purchased an egg chair and brought it home you may be thinking about styling your chair. Where do you begin? Well, we'll show you some inspiring ideas.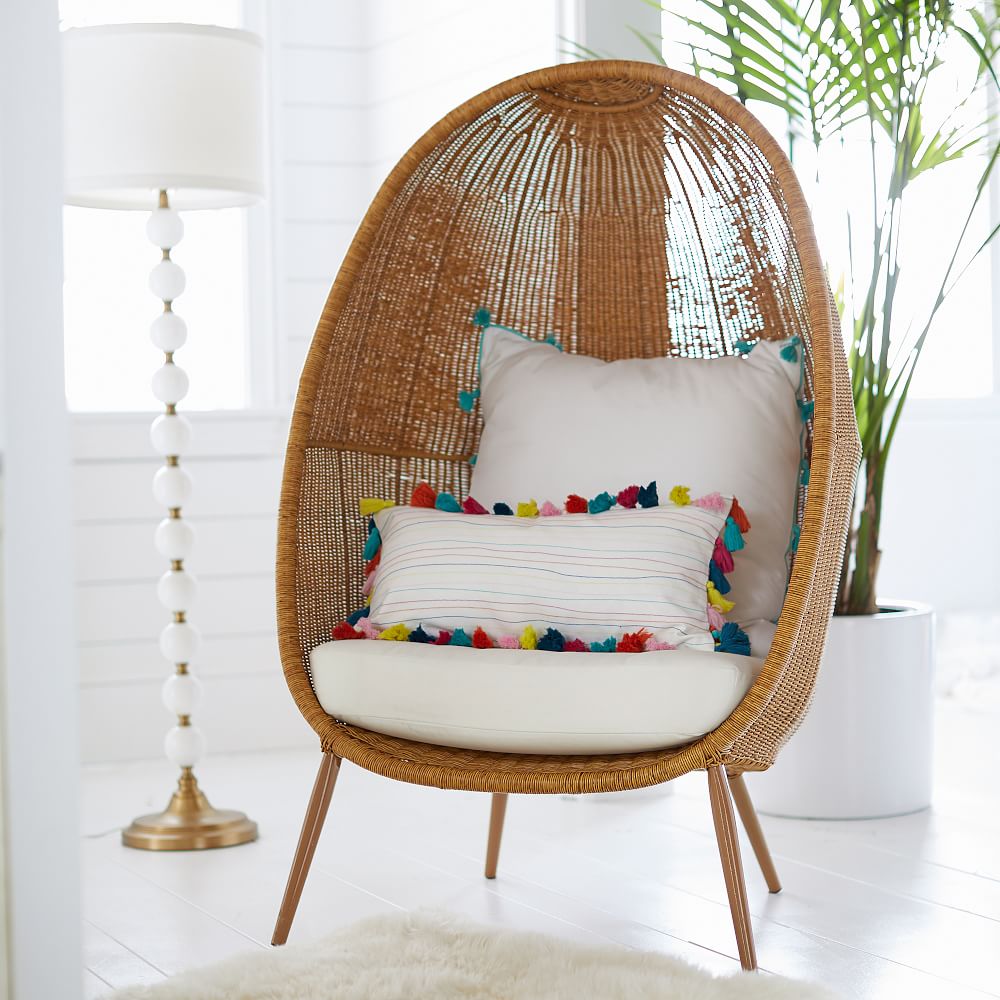 Style your egg chair so that you get the most out of it every day you use it. Whether you use the chair for downtime and relaxation or as a reading nook, we have some ideas. One of the best things about egg chairs is their incredible style. These chairs add a whimsical look to your room. Egg chairs can be used throughout the house and look equally good on a porch or patio. Many egg chairs can be used indoors and outdoors. However, not all chairs can be used outdoors. Be sure to check the manufacturer's instructions to see if your chair is suitable for outdoor use.
Below you'll find our list of best egg chair picks for your home. Take a look.

Style it in Comfort – Egg Chair Styling Ideas
Make it special. A place to relax or a quiet spot to catch up on your reading. Add a side table to keep essentials nearby. Place a light source on the side table or the floor. Add either a small lamp or lantern if the chair is used outdoors. Use a wicker basket to keep extra throws for cooler evenings. And add lots of toss pillows for a quick snooze when needed. For flooring, use an organic rug. Outdoor rugs are especially useful in warmer areas. Outdoor rugs protect your feet from burning on decks and patios during the hot summer months. Essentials are items that you are most likely to use.
Now onto our list of 16 egg chair styling ideas. Take a look at the many ways to decorate your chair space.
Create a Cozy Corner – Egg Chair Styling Ideas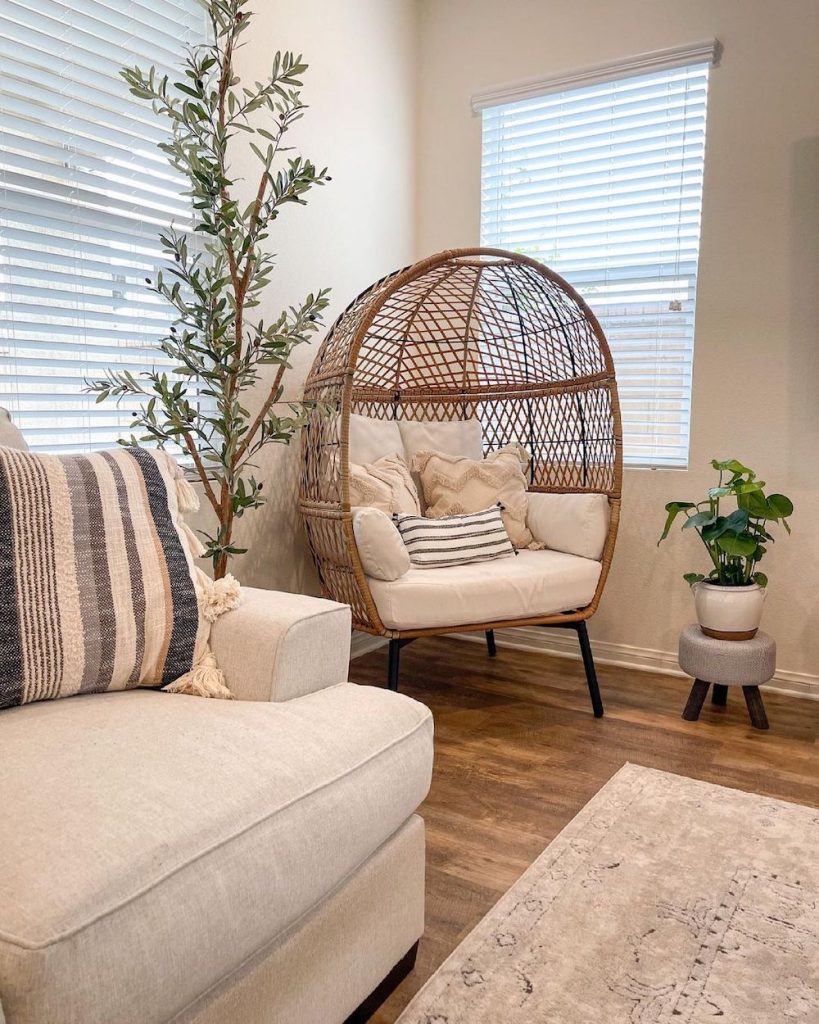 Find an out-of-the-way corner in your home to tuck an egg chair in. Extend the neutral color scheme of the room and sofa to the egg chair. Add a plant or two such as the Monstera on the cute little side stool.
Layer with Texture Covered Accessories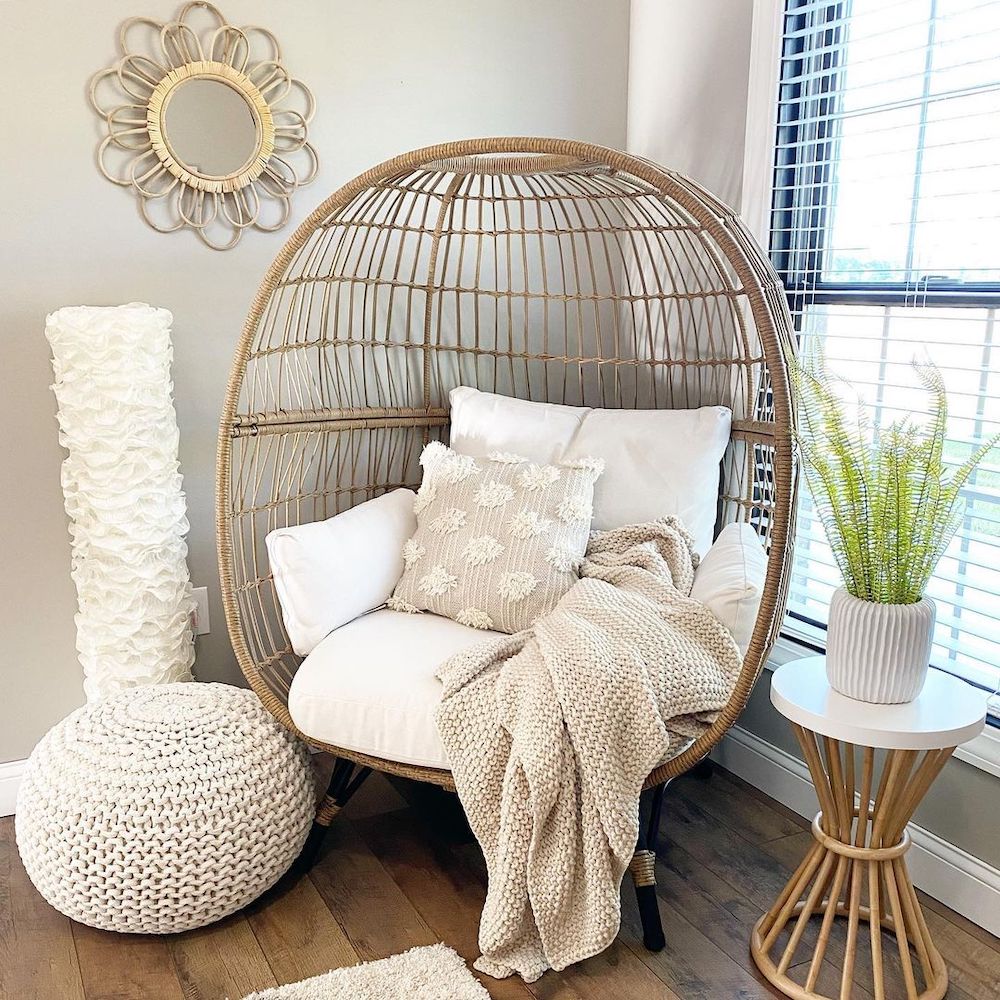 Layer your egg chair with texture covered accessories. Not only inside your chair but around the chair as well. A cream topped rattan side table adds to the rattan's warm wood tones and the flooring.
Adorn with Flowers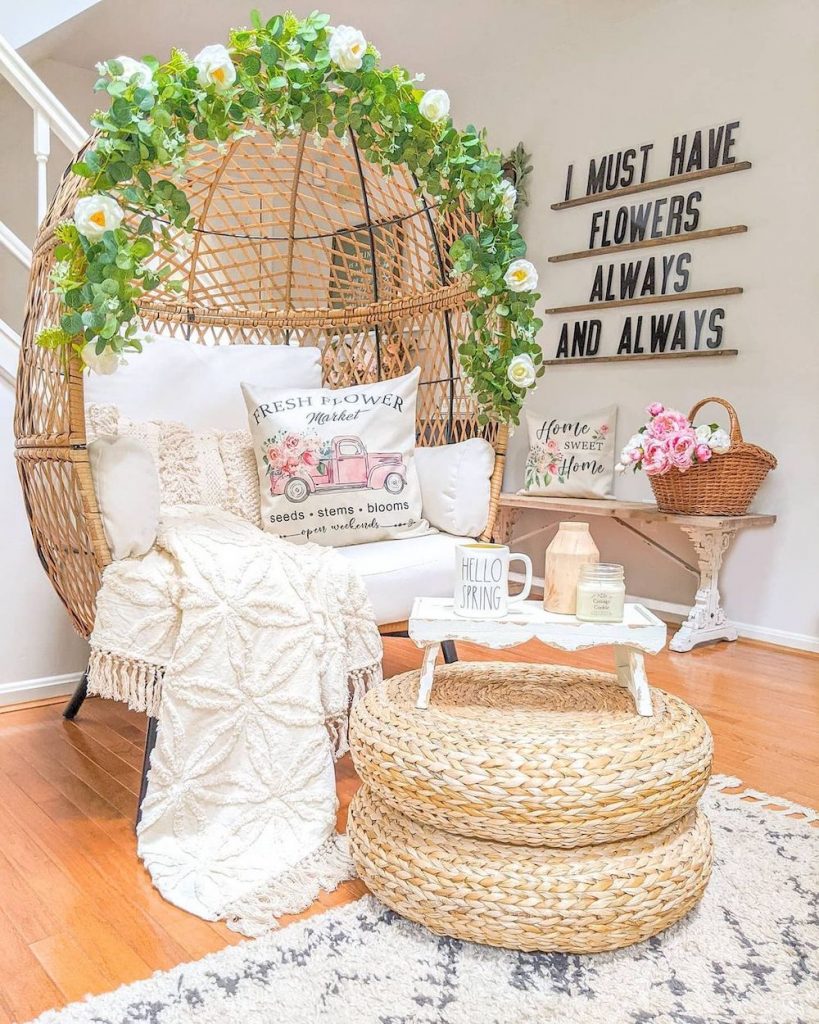 Cover the egg chair with a white rose eucalyptus garland. Perfect for the flower lover in your home. Bring the elements of the garden into your home.
Double the Fun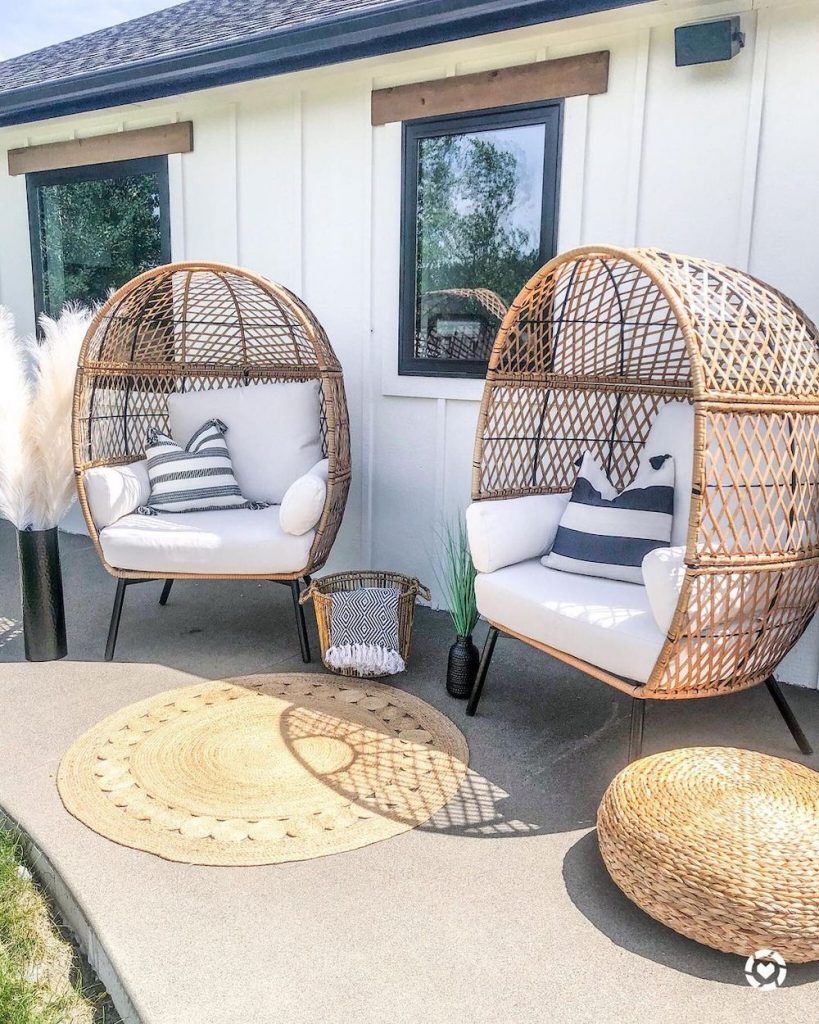 What could be better than an oversized chair like an egg chair? Well, two egg chairs are better than one. A place for you and your tiny pal to hang out either on the porch or patio. We love the floor covering, a round rattan mat!
Make it Festive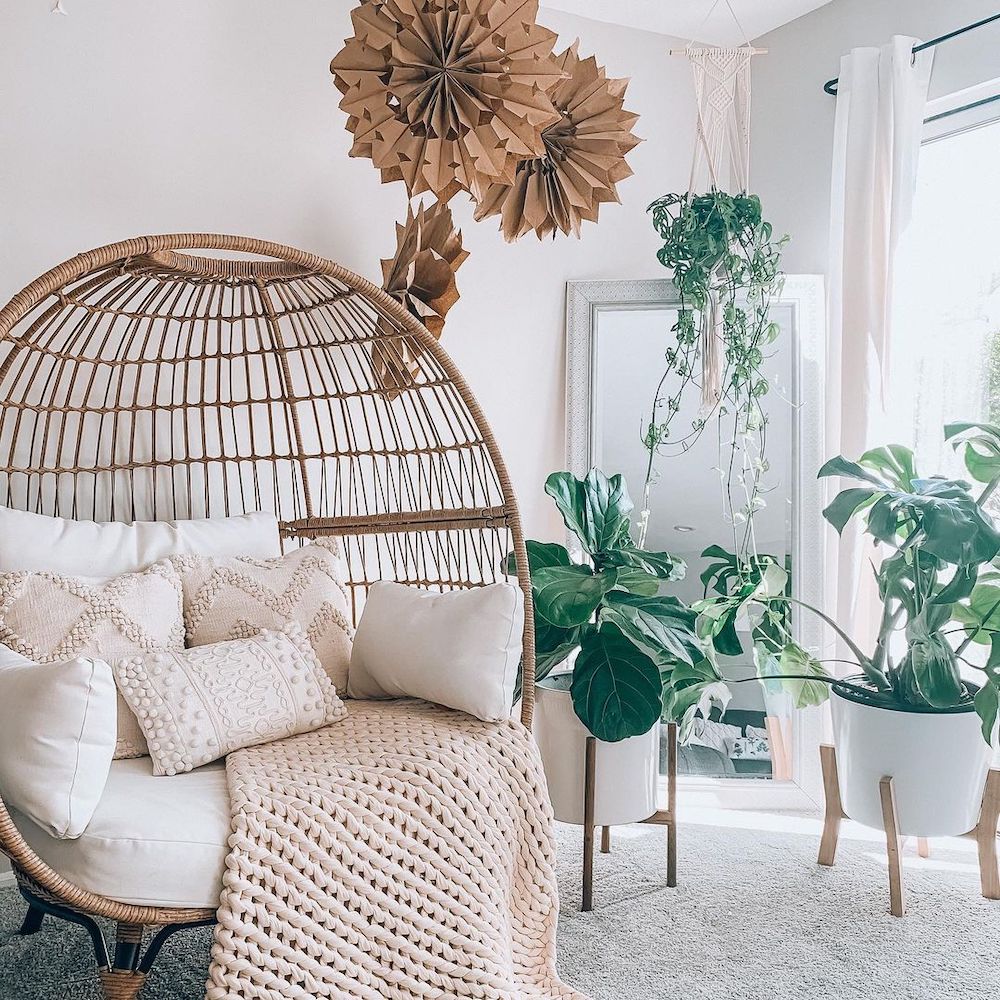 Add your favorite toss pillows, some greenery, and a few paper stars. Make it festive with paper stars. Paper Stars are perfect party decorations.
Take it Outdoors – Egg Chair Styling Ideas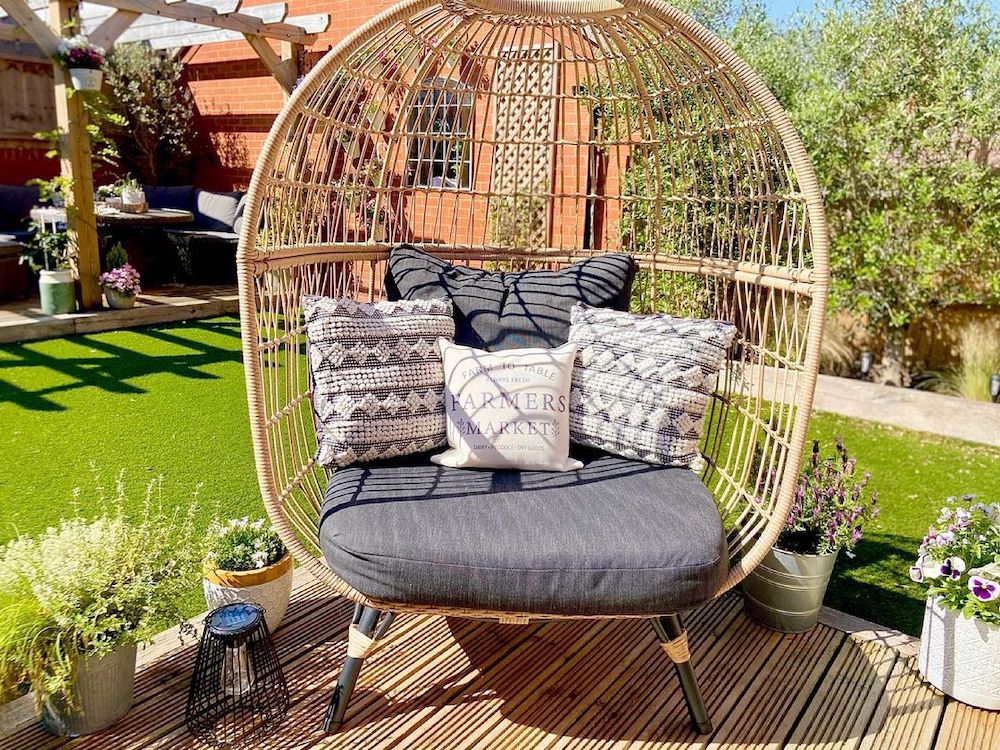 If you love the outdoors, take your egg chair outside. Create an outdoor space to unwind after a day working in the garden. While relaxing outside, take the opportunity to admire your handy work in the garden.
Stay Warm on Chilly Nights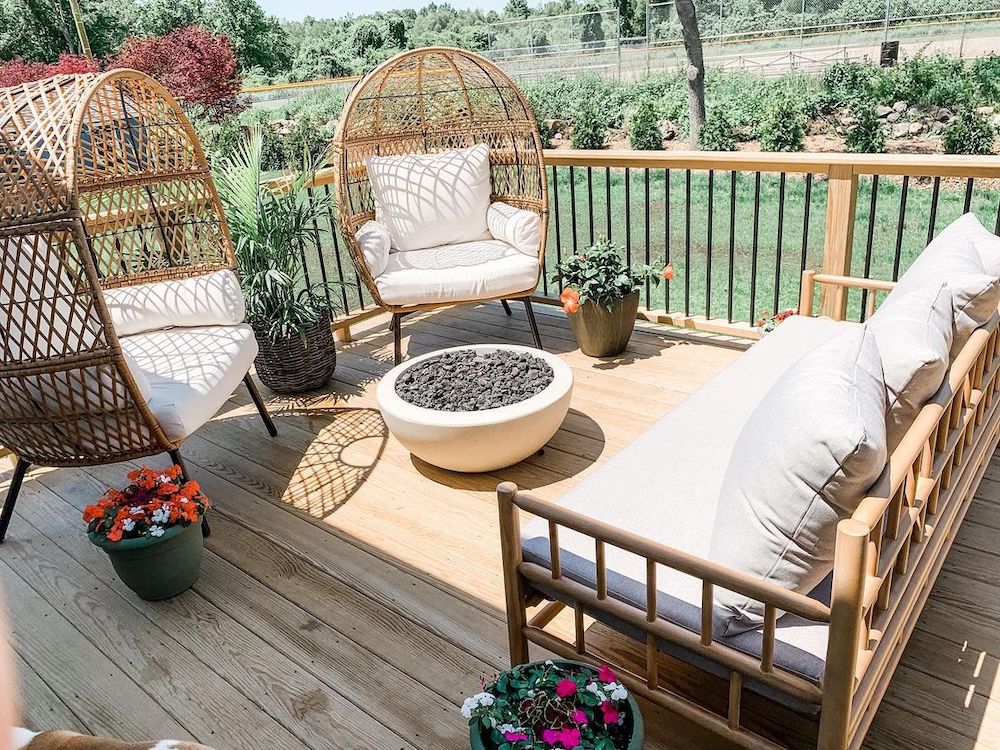 Add a fire pit to keep warm on chilly nights. And be sure to keep a few throws handy for those really chilly evenings in the Fall.
Style it in Cream and Stripes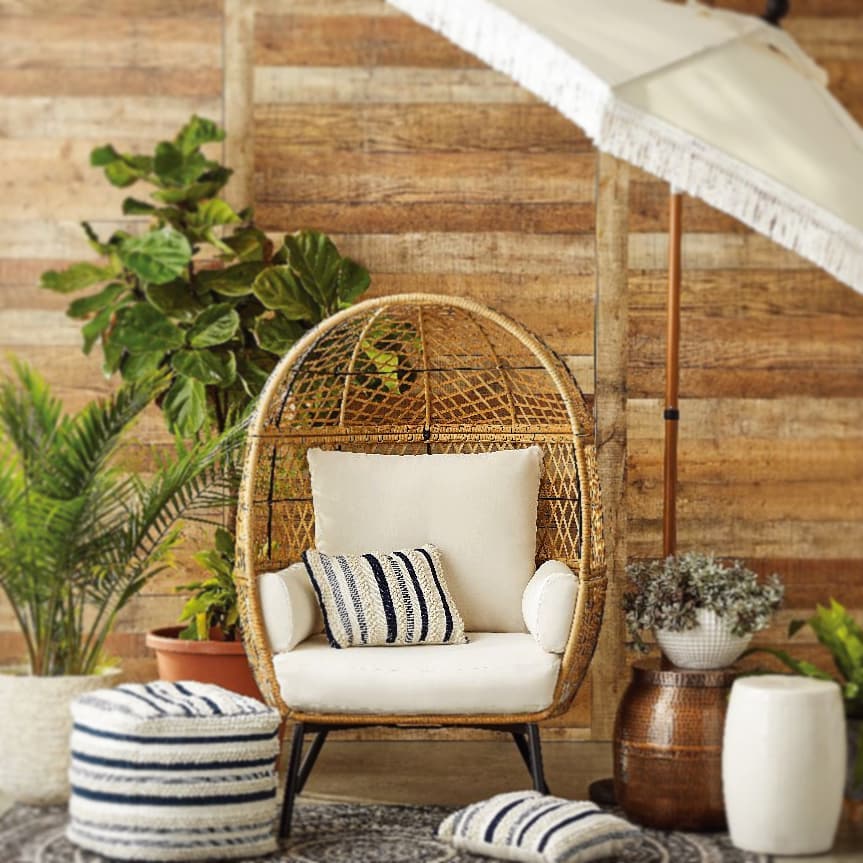 Style the egg chair on your porch, patio, garden, or outdoor space. Using the back fencing panel as a backdrop, the egg chair is decorated in cream furnishings. And as accents, striped toss pillows and a floor pouf give this space a sense of comfort. Always a great idea to add container plants to your space indoors or outdoors. For an indoor space, use air purifying plants that keep your air healthy. And for an outdoor space, use plants that repel bugs, especially flying bugs. Lemongrass, lavender, and peppermint plants are known to repel mosquitos and other flying pests.
Make it a Family Affair – Egg Chair Styling Ideas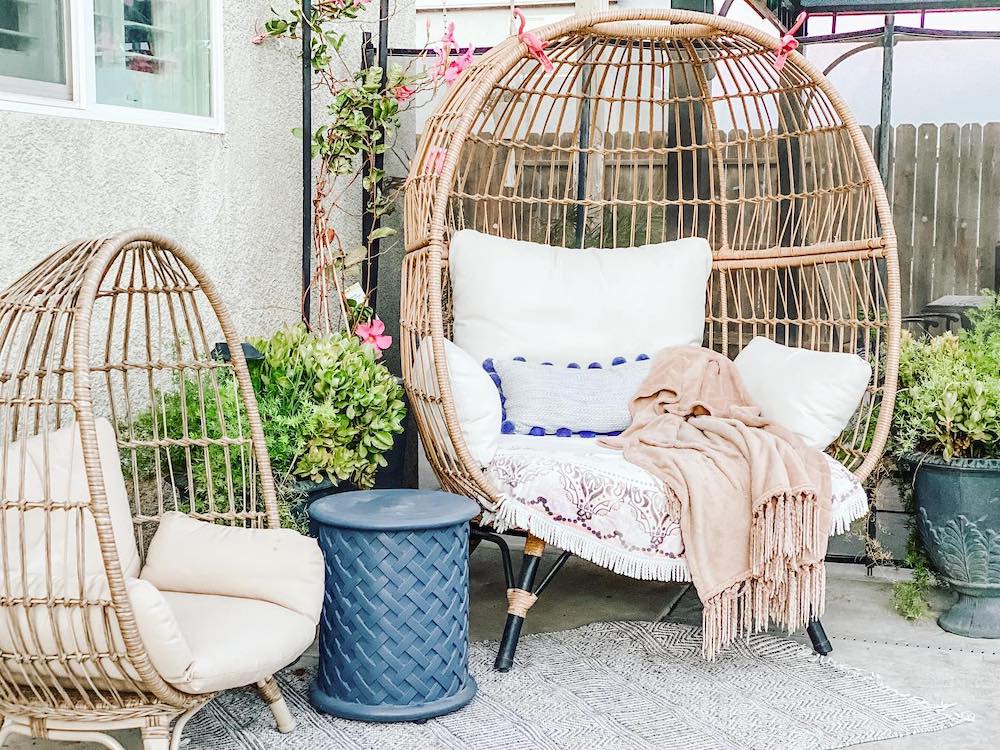 Style it with a child's egg chair. Create a special space for family time. In this case, it was styled for a mom and her daughter. Like mom, like daughter space to enjoy and relax.
Go Boho All the Way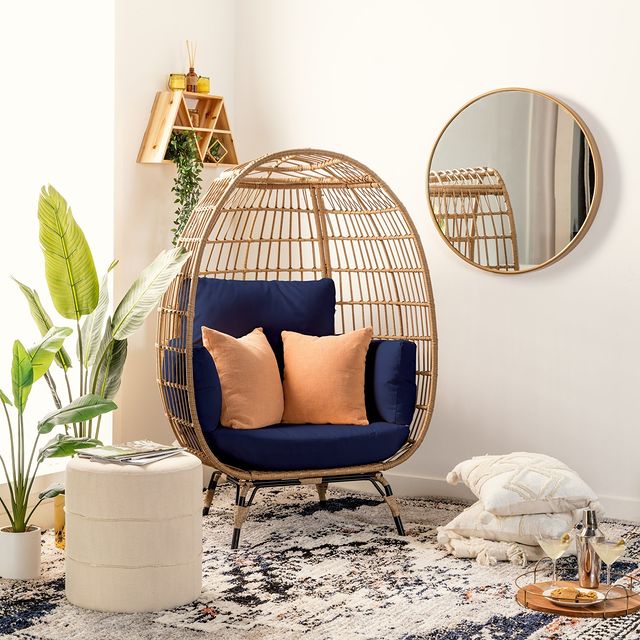 Love the Boho style? Then decorate your room in a Bohemian style. Add a cute mini wall shelf and mirror. A small space to spend a quiet afternoon.
Color Me Pink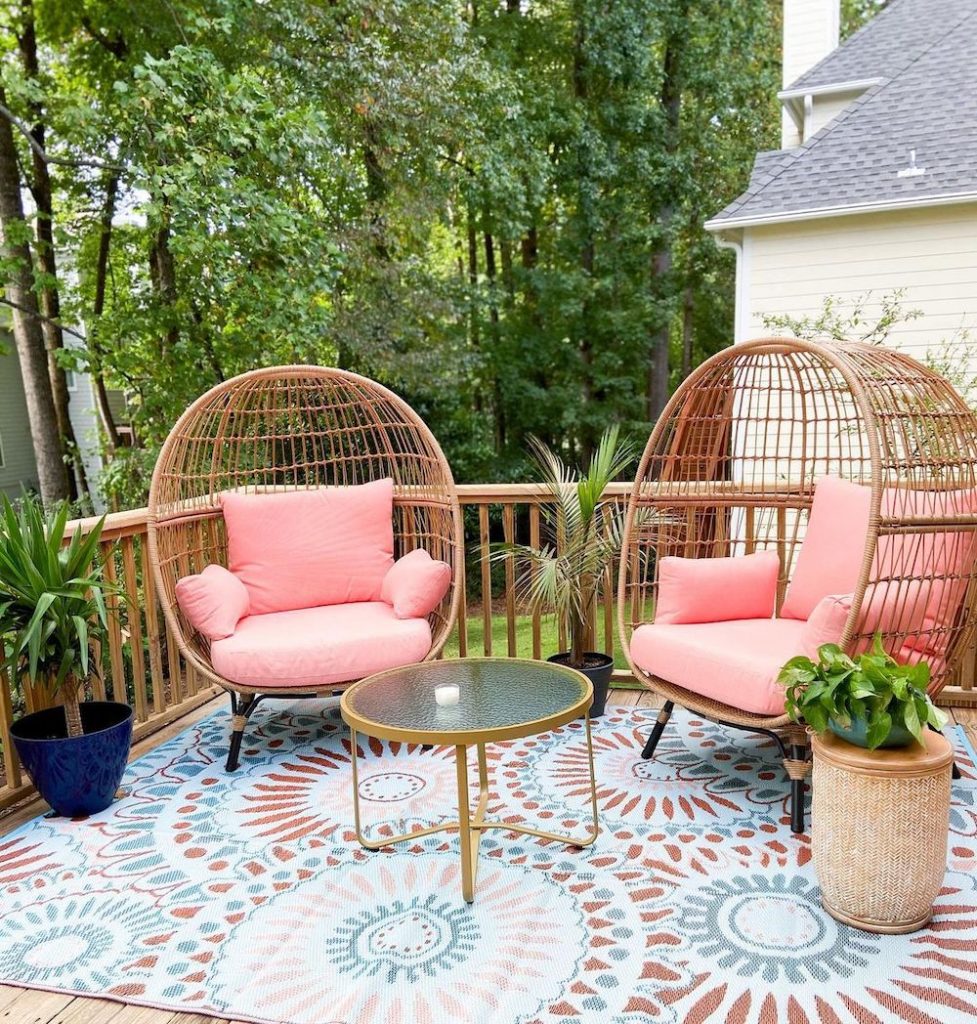 Give your space pink egg chairs. All in a serene setting.
Be Cool – Egg Chair Styling Ideas
Style it cool with an egg chair and fringe-edged umbrella. A fern-filled rattan plant stand gives a little greenery to the deck space. And don't forget candle lanterns for evening outdoor activities.
Pair it in Acapulco Style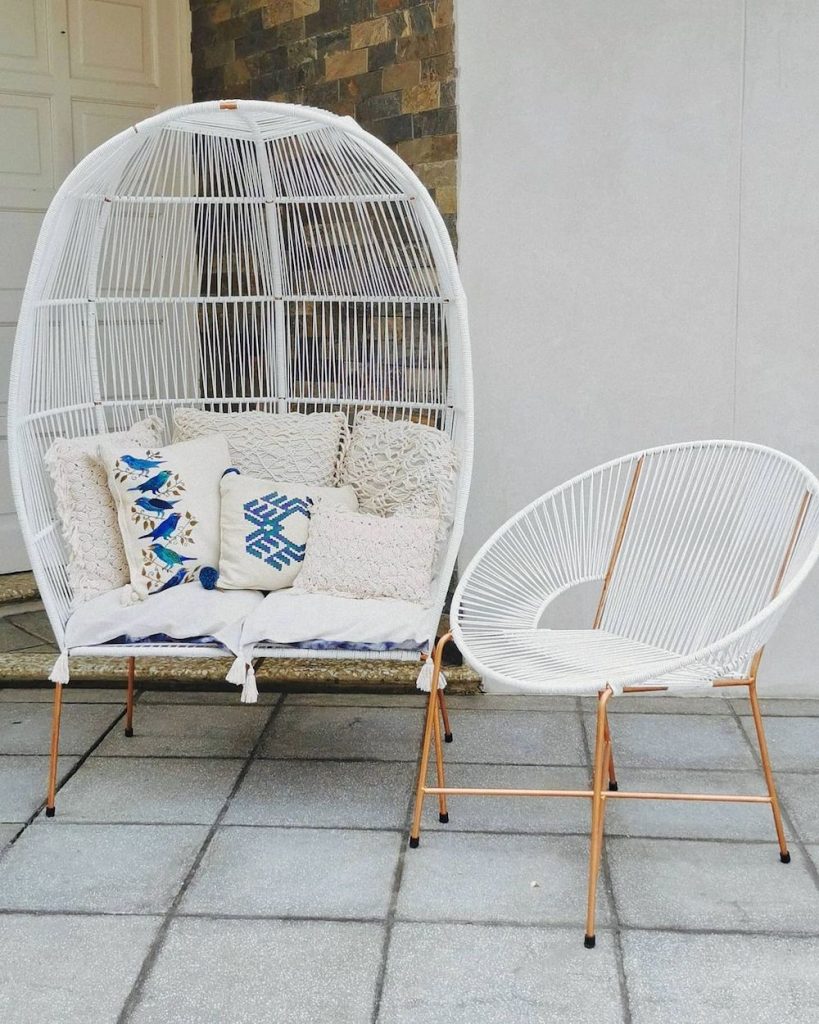 Use an Acapulco Chair next to your egg chair. Looks like a match made in heaven to me. Add a couple of toss pillows with blue accents.
Go Green – Egg Chair Styling Ideas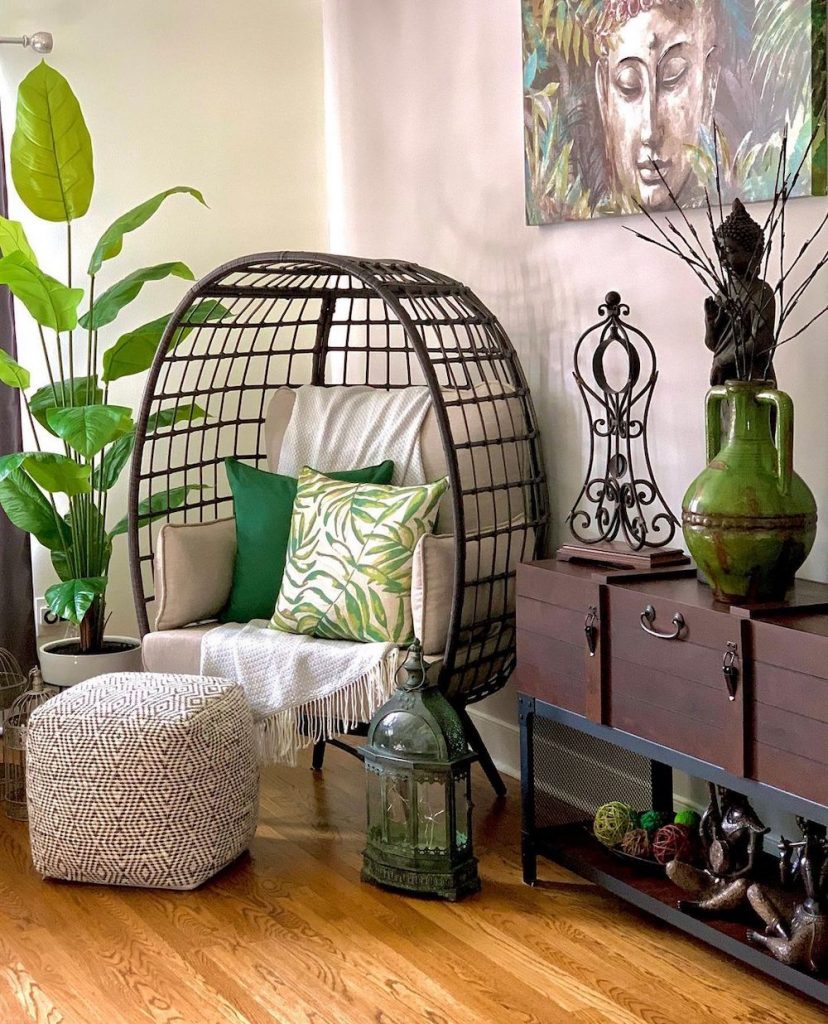 Make it with green as your accent color. We love the color green because it reminds us of life, nature, and the outdoors. Add green accent pillows, green objects including a green urn. The bird of paradise plant brings greenery to the room. This egg chair looks fantastic next to the many green accents used throughout the room.
Style it Blue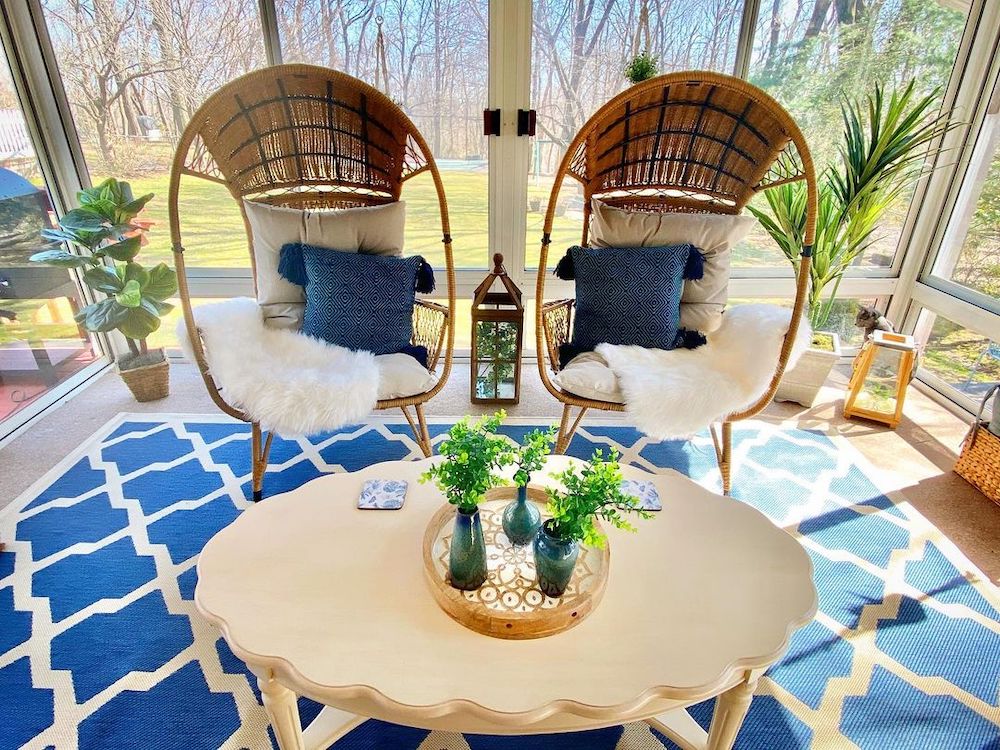 Style it with blue accents. Add a blue pattern rug and toss pillows for an easy update. Grow a few green plants to give the space a warm feeling. Perfect for morning coffee.
Bring the Sunshine Yellow Home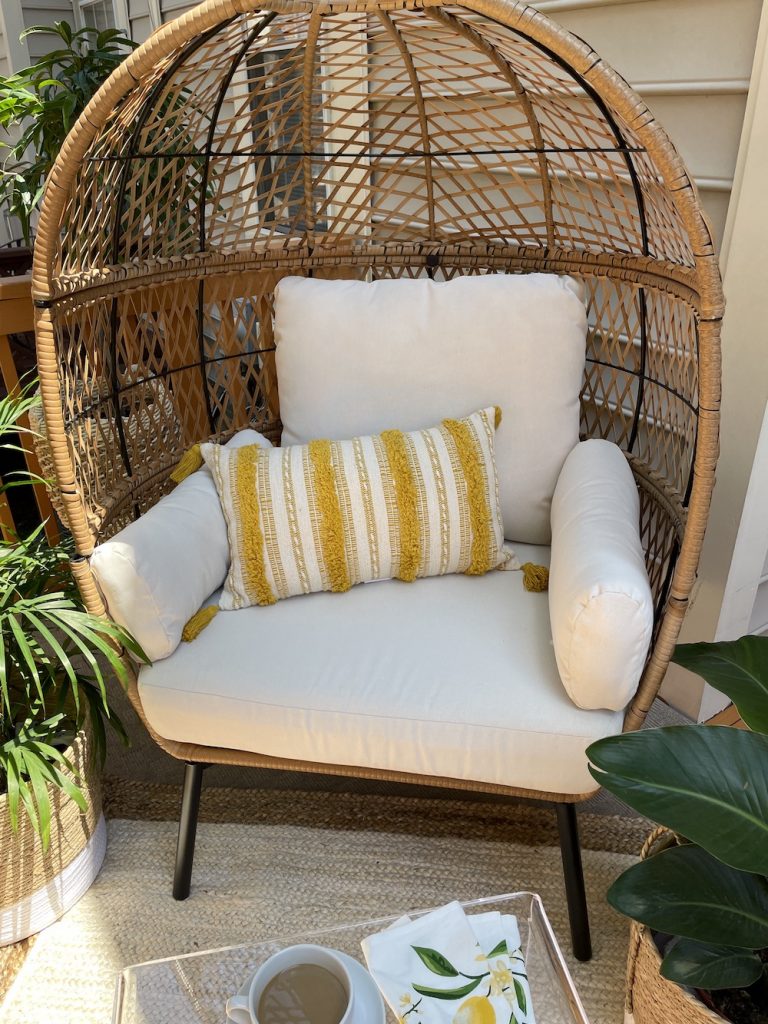 Head out in the morning to the deck. Sip your coffee while basking in the Sun. Keep it cozy for evening comfort with a throw.
For effortless styling, consider the purpose of your egg chair. Will it be primarily used as a lounging area or a space for reading? Once you've decided on the purpose, you can proceed with styling your chair and its surrounding area. When possible, we love using sustainable and eco-friendly designed furnishings and products such as rattan. Rattan lends both a coastal and boho vibe to the home. A more relaxed style of home living.
In Closing – Egg Chair Styling Ideas
This ends our egg chair styling ideas list. There are so many ways to style egg chairs in your home as you've seen. And just as many ways to style on your porch or patio. We know that you'll love your egg chair for years to come.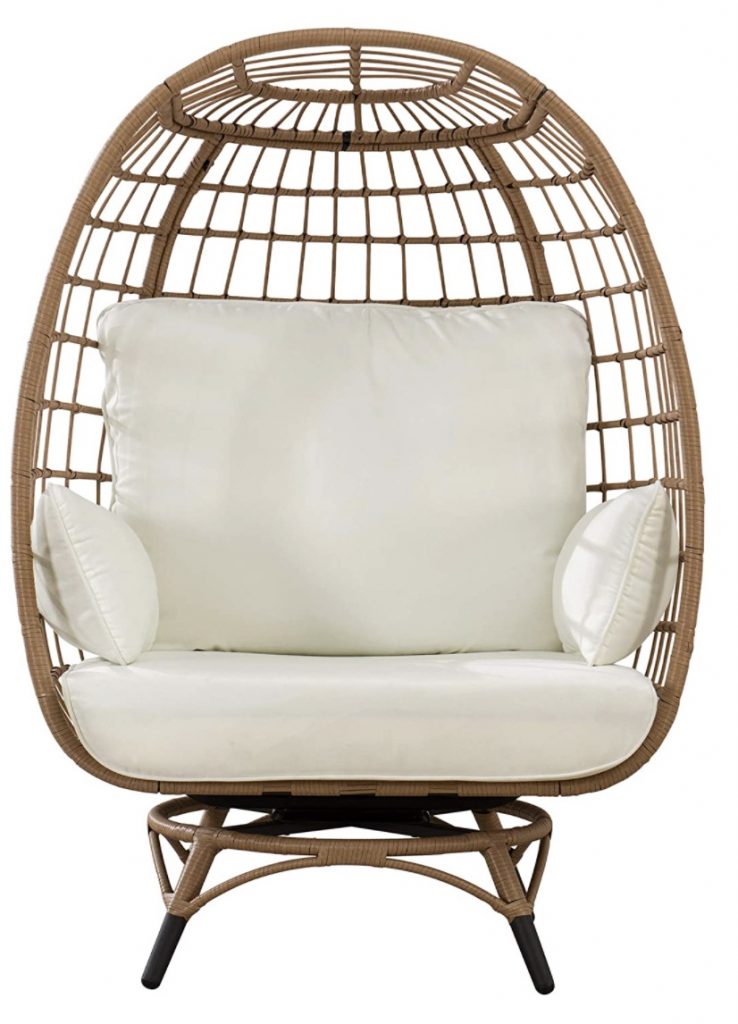 We hope that our list helps inspire you. If you try any of these egg chair styling ideas, we would love to hear from you, our readers. Let us know how you make out with your decorating projects. For additional coastal decor resources, check out our coastal decor post with helpful tips. Look at our 12 Ways to Add Coastal Decor to your Home post. And for additional coastal inspiration, take a look at some of our other posts.
Enjoy our other coastal related posts for additional ideas.
Reach out to us with any questions. We are always ready to help you out. Thank you for stopping by our blog.
Mary
Pin this for Later: