Inspirational coastal sideboards for your dining room. Gain extra storage in the dining room with a sideboard. The sideboard is sometimes called a buffet table and is frequently used in a dining room. Decorate the sideboard top with objects that appeal to you. Although selecting the right sideboard for your coastal dining room can be tricky, to help you we've listed a few ideas. 
Today's post covers the sideboard for coastal decor. We are sharing ideas for styling a sideboard and the different types of sideboards. These sideboards are made from wood or timber. However, some sideboards are also constructed with rattan as decorative accents. Inspired by the relaxed coastal living style popular in Summer homes, beach houses, and lake houses.   
Sideboard Uses – Inspirational Coastal Sideboards
Sideboards serve a dual purpose. First, they provide storage in the dining room. This is especially important if your dining room doesn't have built-in cabinets. Increase your storage space with a sideboard for storing glassware, dishes, china, napkins, tablecloths, and more.  
Second, while hosting dinners or get-togethers the sideboard top surface acts as a side table for laying out food dishes or platters. The display of food dishes is similar to a buffet service style. Hence, the name of the buffet table or sideboard. Create buffet-style dining with food dishes positioned across the sideboard. Another use of the surface or top side of the sideboard is to create a refreshment station. For breakfast or brunch meals set up a self-serve drink station with coffee, tea, juices, or milk. Customize the drink station or food station with your particular menu. 
As a decorative touch, add a floral centerpiece, green plant, or an object that reflects the season or a particular event. Be as creative as you want. When the sideboard is not in use, add a few decorative objects to create visual interest.
Types of Sideboards – Inspirational Coastal Sideboards
Sideboards usually have larger cabinets with shorter legs. Designed to maximize storage. Another feature is that sideboards have sliding doors. Whereas, buffet tables and some sideboards tend to have higher legs with fewer storage cabinets. The third type of cabinet is a server as seen in the image below. Servers are typically smaller in width size than a sideboard and buffet table. Because servers are more compact and usually a more formal serving piece.   
Now onto our inspirational coastal sideboards to help you decorate your home. We listed 9 different sideboard ideas with a cool coastal look. Transform your home space with any of these ideas. As an additional resource, take a look at our post – 12 Ways to Add Coastal Decor to your Home.
Coastal Sideboard Ideas
Whether you are doing a minor refresh or a total dining room update, you can use these ideas to help you style your dining room. We hope you find these informative and helpful. Take a look at our inspirational coastal sideboards ideas.
Show Off Your Curves
Not only is this sideboard a great statement furniture piece but the rounded ends provide visual interest. Tuck this piece into a smaller space with rounded edges.
Use Louvered Doors – Inspirational Coastal Sideboards
Louvered doors on this seaside sideboard are reminiscent of window shutters, a staple in many tropical and Southern homes. An island decor style.
Go for a Weathered Look
Change it up a bit with this washed, weathered sideboard. Rustic in appearance and perfect for a beach house.
Embrace the Neutral Warm Wood Tones
This stunning piece in warm wood tones creates the perfect platform for staging decorative coastal objects. Vases, ginger jars, and gold accented objects exude a styled tropical feel.
Contrast Crisp White with Natural Tones and Dark Hardware
Blend crisp white with natural tones. Then follow with dark hardware. Coastal colors topped with rattan decorative pieces.
Go for the Modern Coastal Look – Inspirational Coastal Sideboards
Add metallic accents, geometric patterns, and stone details. The sideboard features a geometric pattern finished with a gold accent. Lamp hardware and inner shade have a beautiful gold finish.
Splash Some Blue – Inspirational Coastal Sideboards
Decorate with the blues. Every shade of blue works perfectly with the coastal style. From baby blue to navy, blue colors create a peaceful, tranquil aesthetic feel.
Bring the Tropical Island Home
Inspired by the Bahamas Islands. Summon the coastal vibe with this sideboard. Beautifully curated with a vase, tray-filled goodies, and unforgettable artwork. 
Go Fish – Inspirational Coastal Sideboards
Beach house ready sideboard. Weathered, washed finish with fish details, a sideboard waiting to be discovered at your local store.
Give it a Refined Look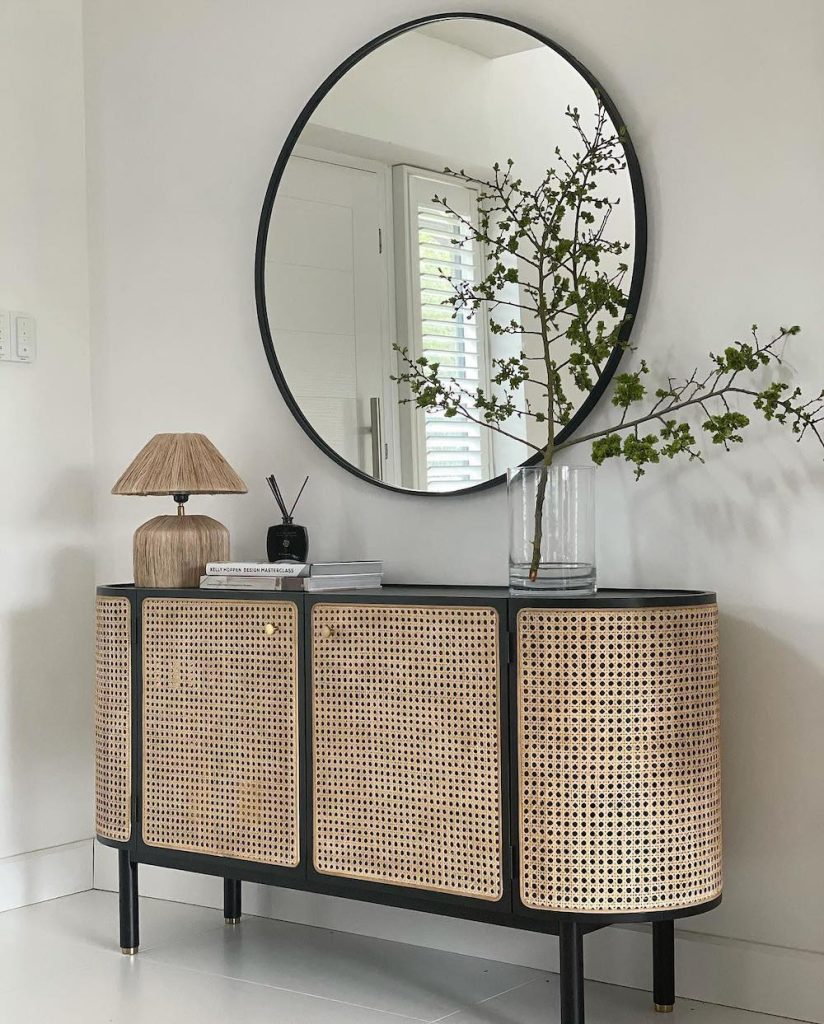 Style it in a refined way. Top it off with a round black mirror. Then finish it off with a cute rattan lamp with a rattan shade.
As an additional resource, check out our post called 12 Ways to Add Coastal Decor to your Home. Find some great tips and tricks for styling a coastal home in this guidepost. We always love hearing from all our readers. In the comments below, don't forget to let us know which sideboards are your favorites. 
On a Final Note 
This ends our list of inspirational coastal sideboards. We hope you found some ideas that you can use while decorating your home. Is there a sideboard style that you liked in particular? We feel that every sideboard piece has its own unique qualities. We hope you found a few styling ideas for your home.
Enjoy our other coastal decor-related posts for additional ideas. 
19 Coastal Dining Tables for a Summer House
27 Coastal Dining Chairs with Seaside Style
13 Coastal Dining Sets for the Summer Home
Best Inspirational Coastal Dining Rooms
Coastal White Sofas for Beach Homes
Coastal Console Tables with Seaside Style
Thank you for taking a look at our blog. And stopping by Finding Sea Turtles blog. Reach out to us with any questions. We are always ready to help you out.
Mary
Pin this for Later: