Spa towels to keep your spa-inspired bathroom well stocked. Searching for bath towels this season? And wondering whether to stock up on Turkish or Egyptian towels? But you're not sure what the difference is? Well, we can help clear up the difference between these two popular types of towels.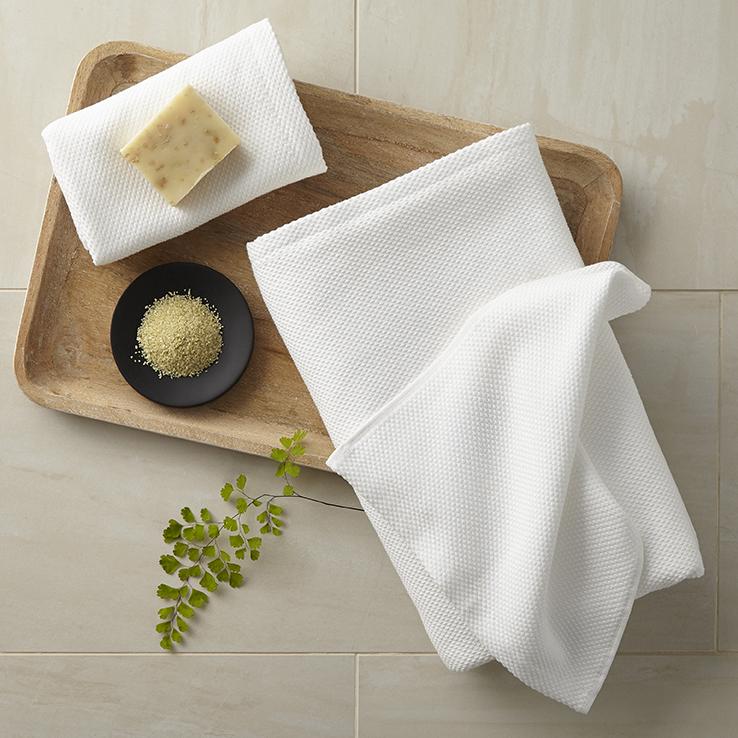 Turkish Cotton Spa Towels
Cotton grown in the Turkish areas is used in Turkish towels. They tend to be less absorbent. The flip side of this is that Turkish towels dry far quicker than a towel made from Egyptian cotton. For a frequently used towel, a quick-drying towel is more desirable than one that is slow to dry. As an example, when you are in a swimming pool area you may prefer a quick-drying towel. A great accessory when you are in and out of a pool throughout the afternoon or day. 
Of course for those that are conscientious about the environment, a quick-drying reusable towel is the preferred choice. Rather than washing towels more frequently by machine.  
Egyptian Cotton Spa Towels
Egyptian cotton is known for its luxurious feel. This Egyptian-grown cotton makes for towels that are fluffy and thick. These towels provide a super absorbent experience while drying off after a bath. Moisture is quickly trapped within its fibers. However, the cotton towel takes more time to dry between uses. Moisture trapped within its fibers takes longer for the moisture to be expelled from the towel. This is because of its density and superior moisture absorbency management.   
If you love the feeling of Egyptian cotton towels, then consider a towel warmer to dry towels quickly between uses. Towel warmers are available as free-standing or wall-mounted devices.
Spa-Inspired Details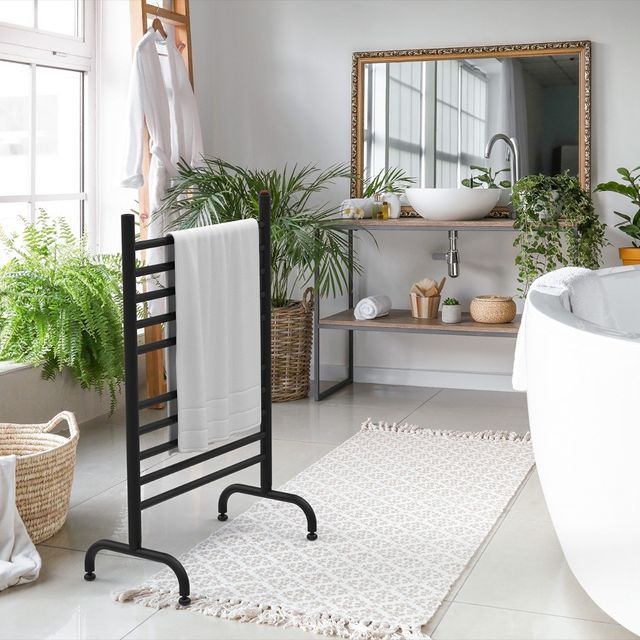 In today's post, we are sharing the best spa towels for your spa-inspired bathroom. The main difference between Turkish and Egyptian cotton is the absorbency of the cotton fibers. Egyptian cotton absorbs moisture very quickly. Whereas towels made from Turkish cotton do not absorb as quickly as Egyptian cotton towels do. However, Turkish towels dry faster.
The right towel for you depends on your needs. For an afternoon of soaking in a bathtub, you may prefer a super absorbent towel that feels heavenly. A towel that you can wrap around yourself and feel pampered. Create the perfect spa treatment at home and pamper yourself. 
For a long day at the beach, you may prefer a fast-drying towel that can do the job in a matter of minutes. Especially when you are in and out of the water. Although on summer days when the sun is out in full force, towels tend dry quickly.
Towel Warmers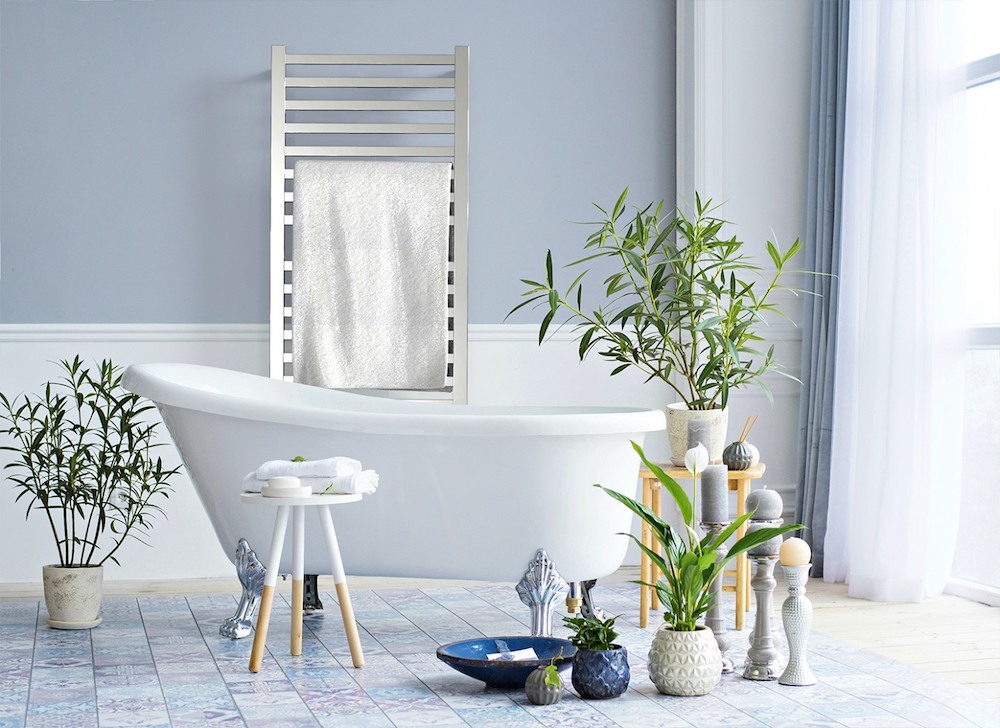 In this inspirational image, the small round stool provides a spot to place your favorite soap and spa towels. Strategically placed near the bathtub. We love the wall towel warmer. Create a space that promotes well-being. A place to relax at the end of the day. Boost your energy and mood level with a good long soak in a bathtub. Nice way to end the day!   
Keep your bathroom stocked with the best spa towels. We search numerous online resources for the best bathroom towels. Luckily in our search, we found the best towels that we are sure you'll love. Take a look. Be sure to drop us a comment below in the comment section. Let us know all about your spa-themed bathroom.

This concludes our list of spa towels for your bathroom. Hopefully, you found a perfect set of towels for your bathroom. Take a look at our other posts for spa inspirational ideas for the bathroom. Be sure to tell us about your bathroom decor projects in the comments below. We always love hearing from our readers and their projects.
Enjoy our other spa-related posts for additional ideas.
Home spa bath accessories
Teak shower bench ideas
Teak shower benches
Houseplants
Drum tables
Reach out to us with any questions. We are always ready to help you out. Thank you for dropping by and taking a look at our blog.
Mary
Pin this for Later: