Coastal bunching coffee table styling ideas are the topic for our blog today. This post provides some ideas on how to style bunching coffee tables with the surrounding furniture and space. Coffee table sets are available in groups of two, three, four, and sometimes five smaller tables. Rather than using a single coffee table, a group of smaller tables collectively serve as the coffee table. Using a cluster of smaller coffee tables is helpful when you have an extra large-sized sofa or accent chairs further apart. A group or bunch of smaller tables that act as a coffee table are more portable. They easily transition from one end of a sofa to the other end.
Sometimes the coffee table grouping can be informal. In this instance, the table group may have a similar finish or stain but a different design. Likewise, the table grouping can have a similar design but each table has different finishes. In another table grouping that is sometimes used, designers pair a coffee table with a side table that has the same finish and design. In this type of grouping, the side table is typically taller than the coffee table.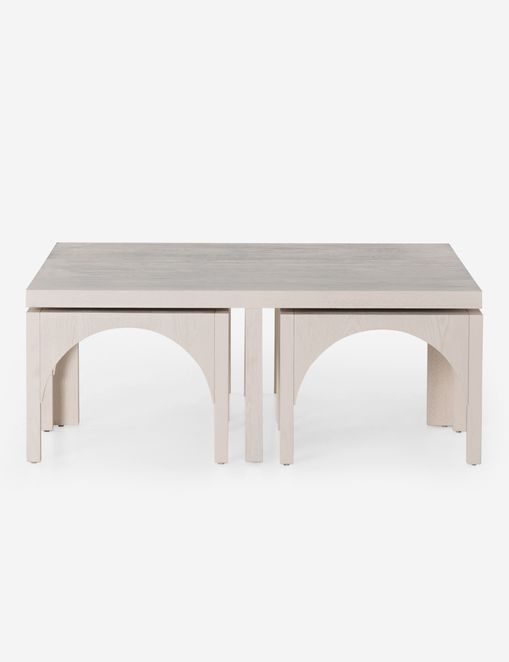 Valued for its Utility – Bunching Coffee Table Styling Ideas
You may have also heard these table groups called by another name. They are sometimes referred to as nesting coffee tables. A true nesting table set means that the smaller table can easily slide underneath the taller, larger table. The best benefit of nesting tables is space-saving. Which makes it ideal for small space and apartment living. 
In a nesting table design, the tables fit snugly inside the larger table. At any time, the smaller tables can be pulled from underneath for individual use. When needed, the tables can be spread in different directions. This makes for customization of your home space according to your needs at any particular time. The nesting design allows the expansion of table surface space. Afterward, the expanded smaller tables tuck back away when no longer in use. A perfect small space solution that allows for extra table room when needed.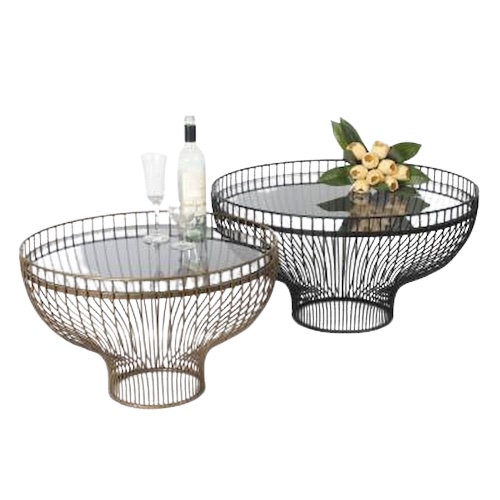 We've listed 9 ideas for styling bunching coffee table sets in coastal home decor. These rooms are styled with sofas and bunching coffee tables. Each one of these ideas is perfect for coastal, summer, or beach-style homes. 
Show Your Style – Bunching Coffee Table Styling Ideas
As you decorate your living space, remember that the coffee table is the centerpiece of the room. And the coffee table is a great place to let your personality show as you style your coffee table. While styling around the coffee table, be sure to allow plenty of room between the furniture pieces. As a rule of thumb, allow between 14 to 18 inches from the coffee table to the sofa or set of chairs. Allow 30 to 36 inches between a sofa and chairs or ottomans. Keep in mind that guests should be able to maneuver around the room effortlessly. Without fear of bumping into furniture. 
Look at these Ideas
Create a comfortable living space at home with these coastal bunching ideas. Take a look.
Bunch Two Together with a Coastal Wall Mural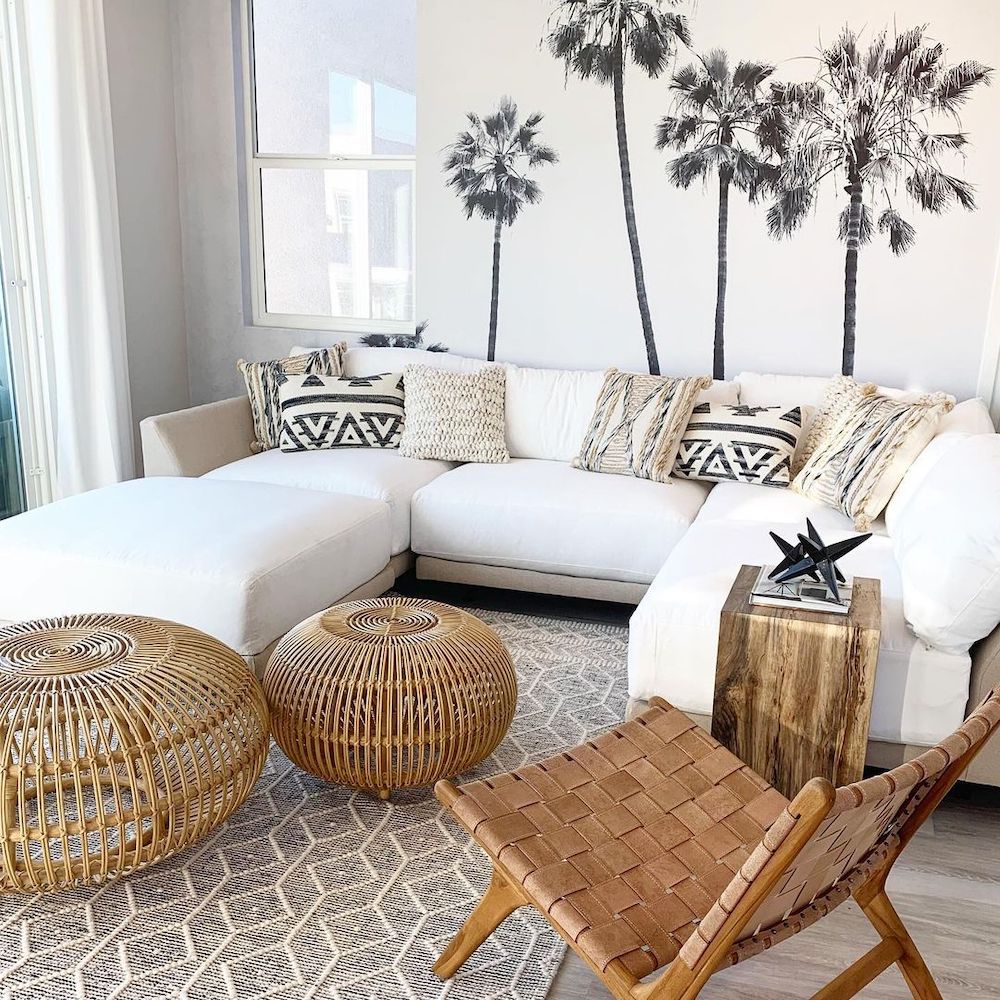 Place two rattan coffee tables side by side in front of the sofa. Add some textured toss pillows and rug. Bring the beach to your home with a palm tree mural. So uplifting, don't you think?  
Make it a Double – Bunching Coffee Table Styling Ideas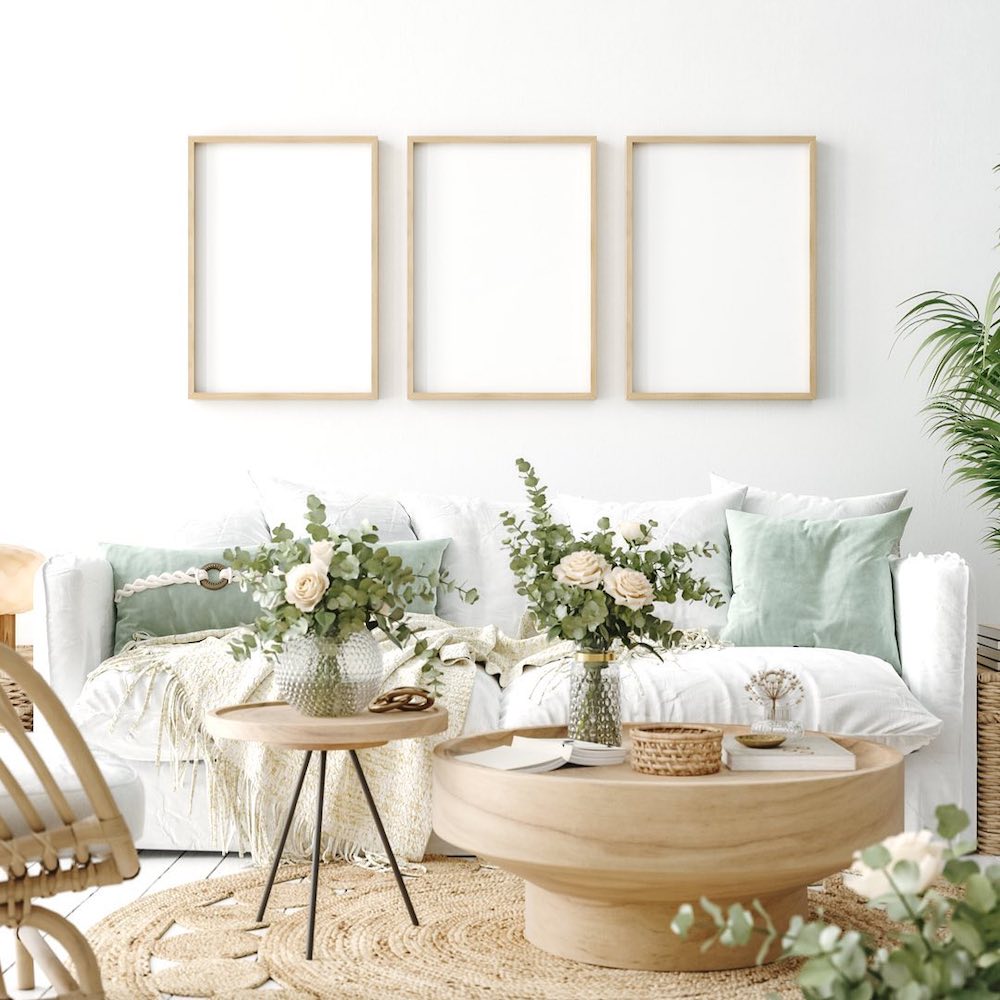 Use a coffee table and a side table made from similar materials to create a bunching table setting. In this instance, two round light-stained tables in different sizes serve as the resting place for refreshments while on the sofa. This allows guests on the sofa to have a table close enough to rest their drinks on.
Load your vases full of minty fresh Eucalyptus stems. Add some toss pillows in minty green and white colors and drape a throw across the sofa. Now you've created a comfortable place to lounge while you read.    
Keep it Cool with Poolside Wall Art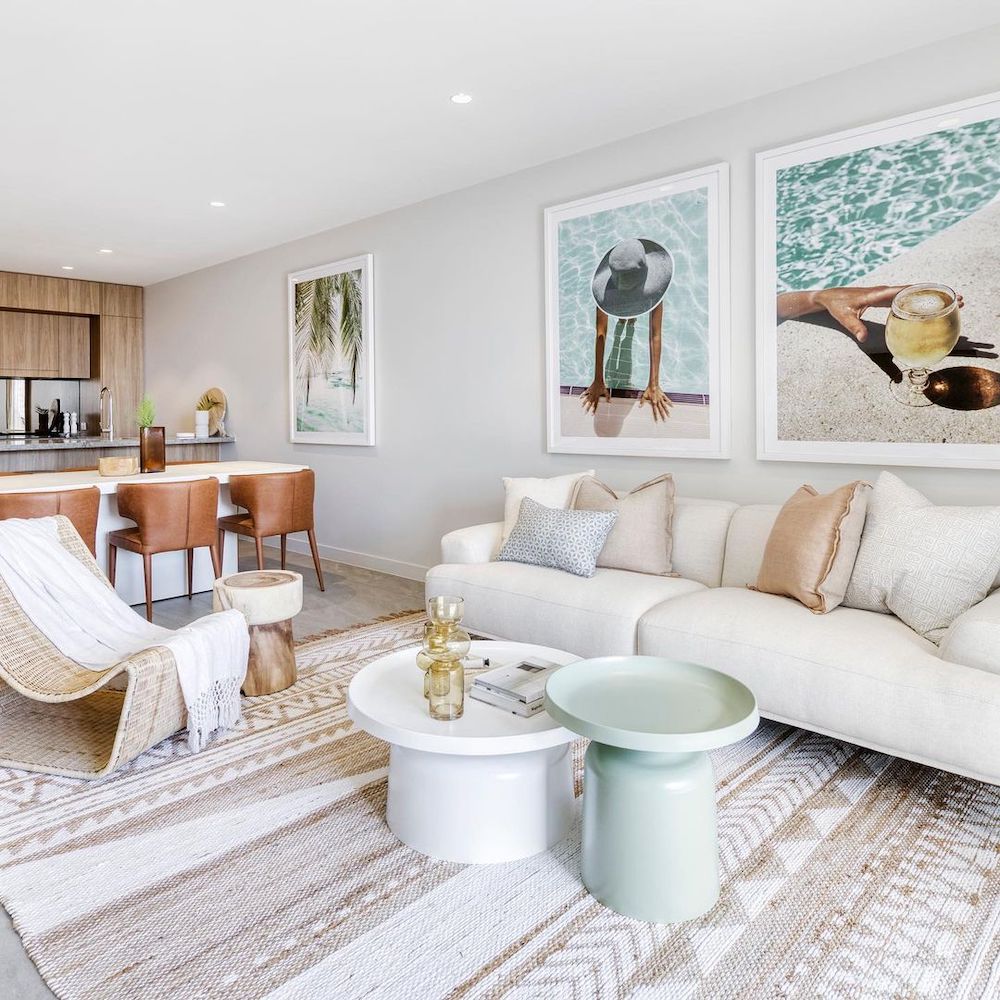 Style a set of two coffee tables with a large series of poolside wall art. Fresh tones and textures of beige, white, and greens create a summer vibe. Refreshing and cooling.
Clear the Coffee Table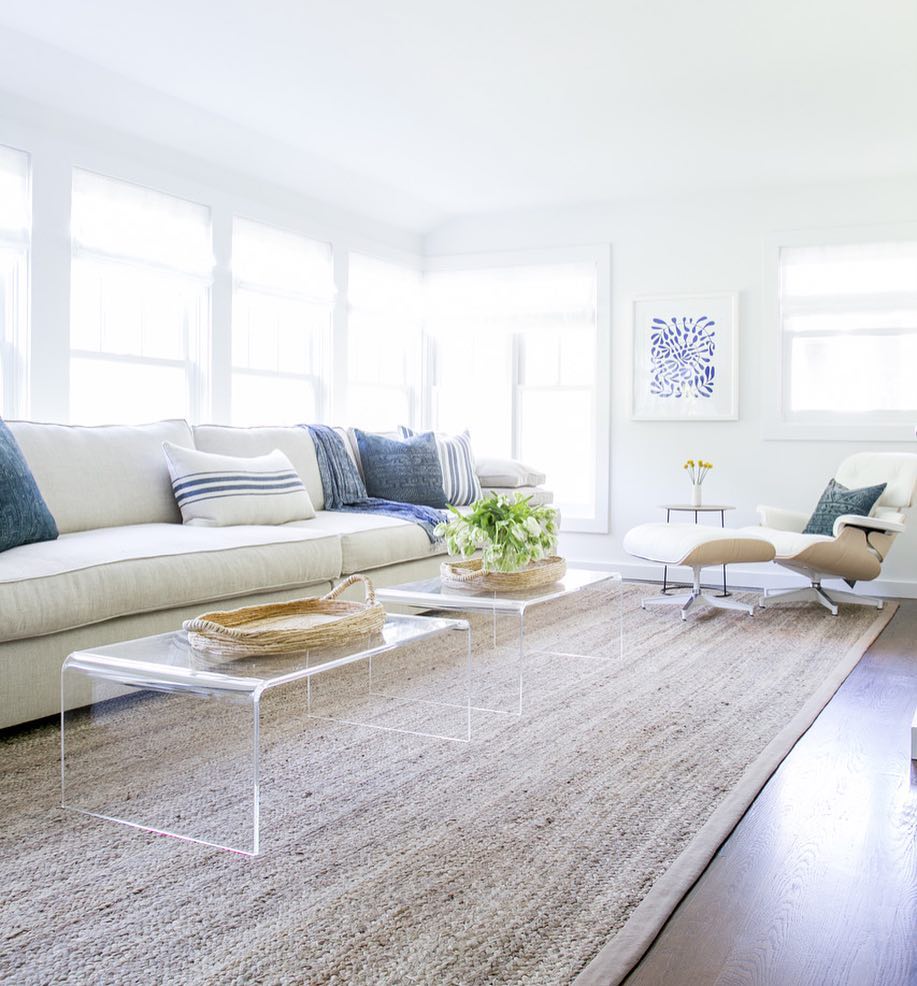 Give your sofa a set of lucite coffee tables for extra space. Portable and chic all in the same piece.
Make it a Cluster of Tables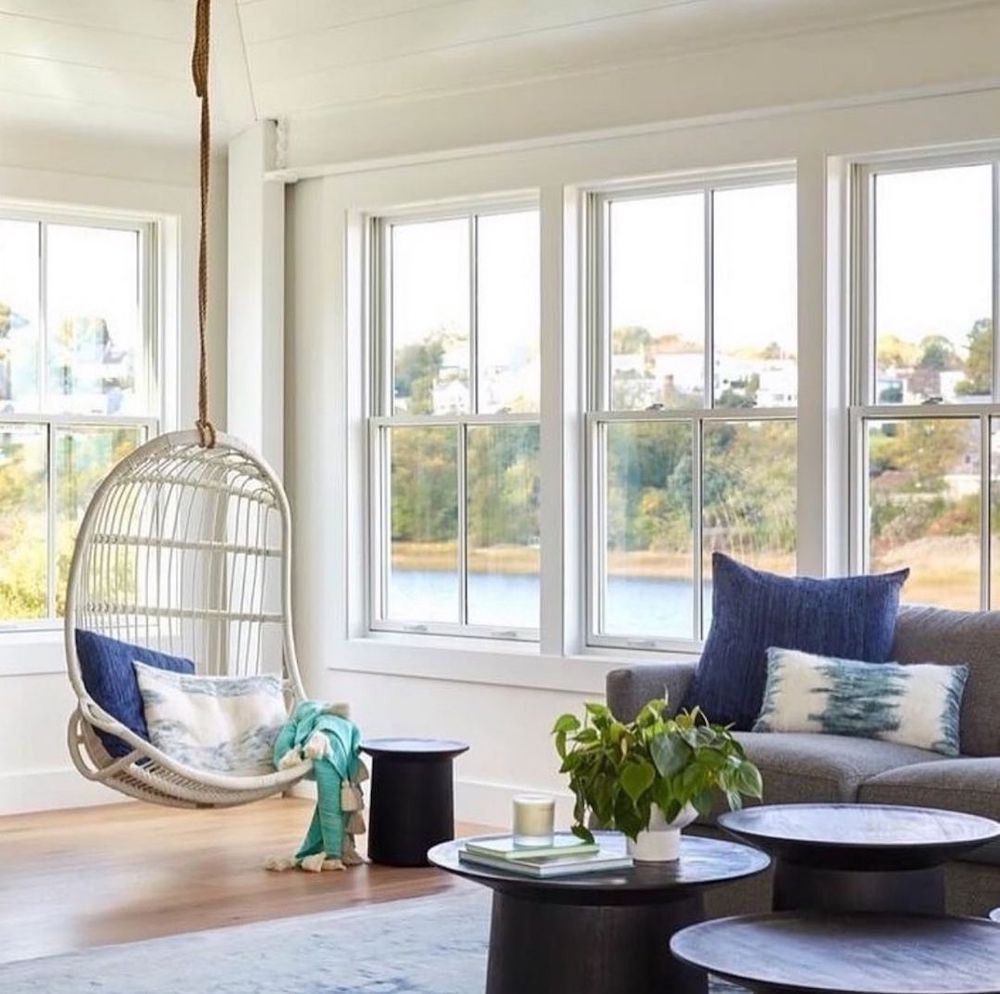 Group a set of three similar tables together that can easily be rearranged. The beauty of this set is they can easily be formed together or separated apart for individual use. And always keep the windows free from anything that might obstruct those glorious ocean views.   
Save Your Space – Bunching Coffee Table Styling Ideas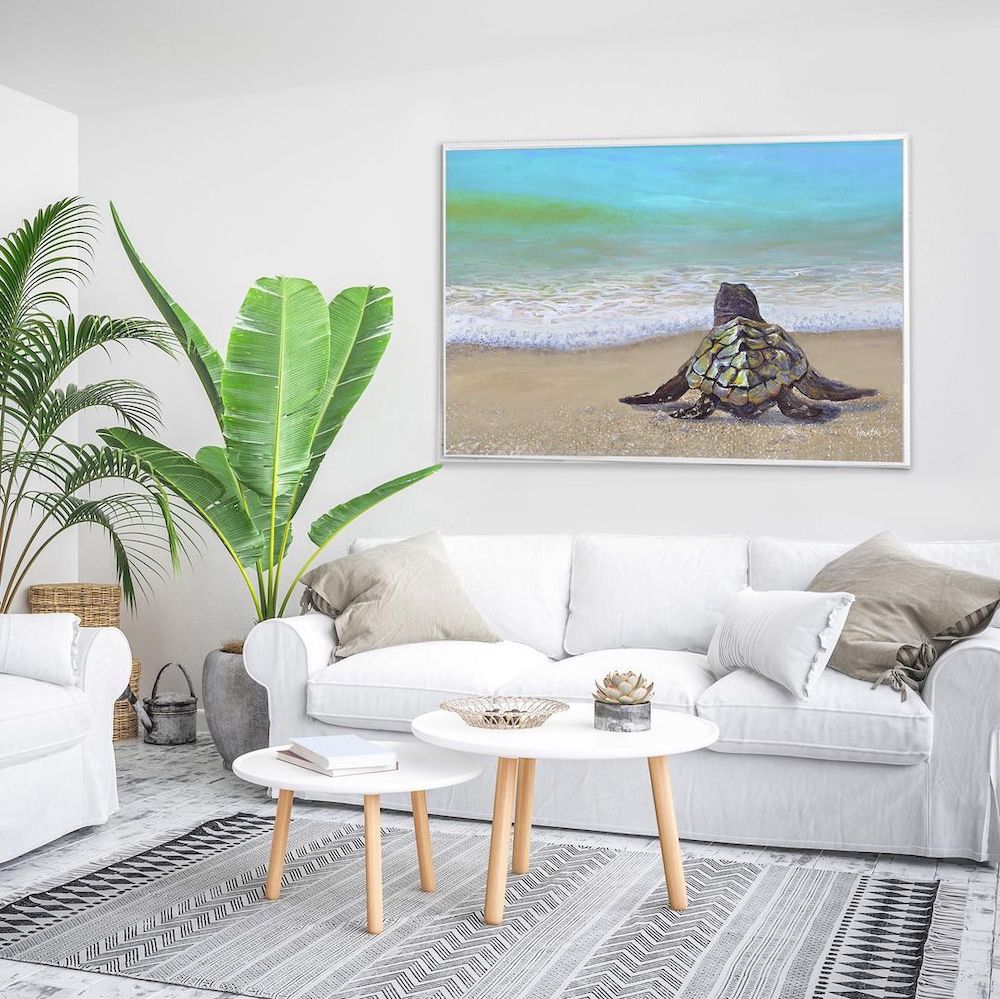 Utilize space-saving furnishings such as these two tables. And a table set such as this can quickly expand table surfaces when needed. Also a great option for small space living. Top your decor style off with a special piece of sea turtle wall art. 
Spread the Warm Wood Color Around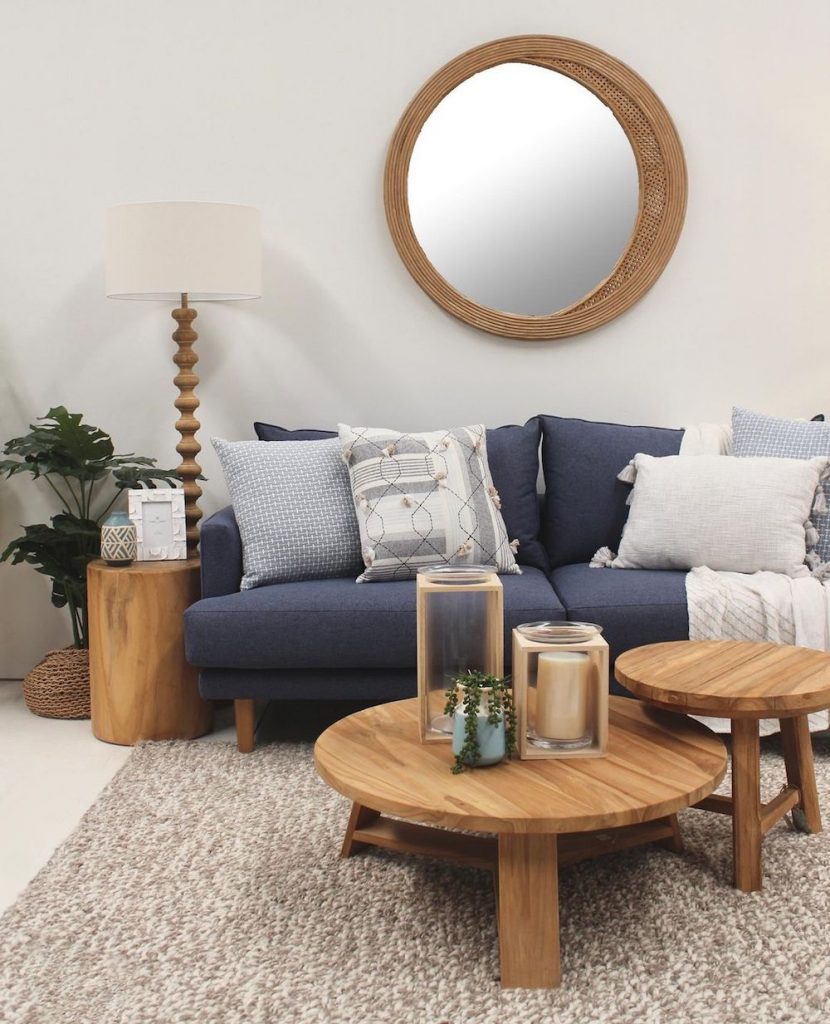 Continue the warm wood colors throughout the room. The coffee table duo carries the wood tones to the front of the sofa. A single floor lamp, tree stump side table, and rattan wood mirror add a soothing feel to this space. Roll out the textured rug on the floor. Make it pop with a navy sofa. The result is an open, natural home space for relaxing.
Capture the Beauty of the Ocean – Bunching Coffee Table Styling Ideas
Style it with the ocean as the backdrop and create a calm, relaxed space. Group three tables that accommodate the extended sofa. In this living room set, the designer uses three tables finished in a similar stain but with different styled tables. Include plenty of toss pillows and two exceptionally warm throws for chilly evenings. Sit back and enjoy the cool summer breezes. Below is the view directly across from the sofa above.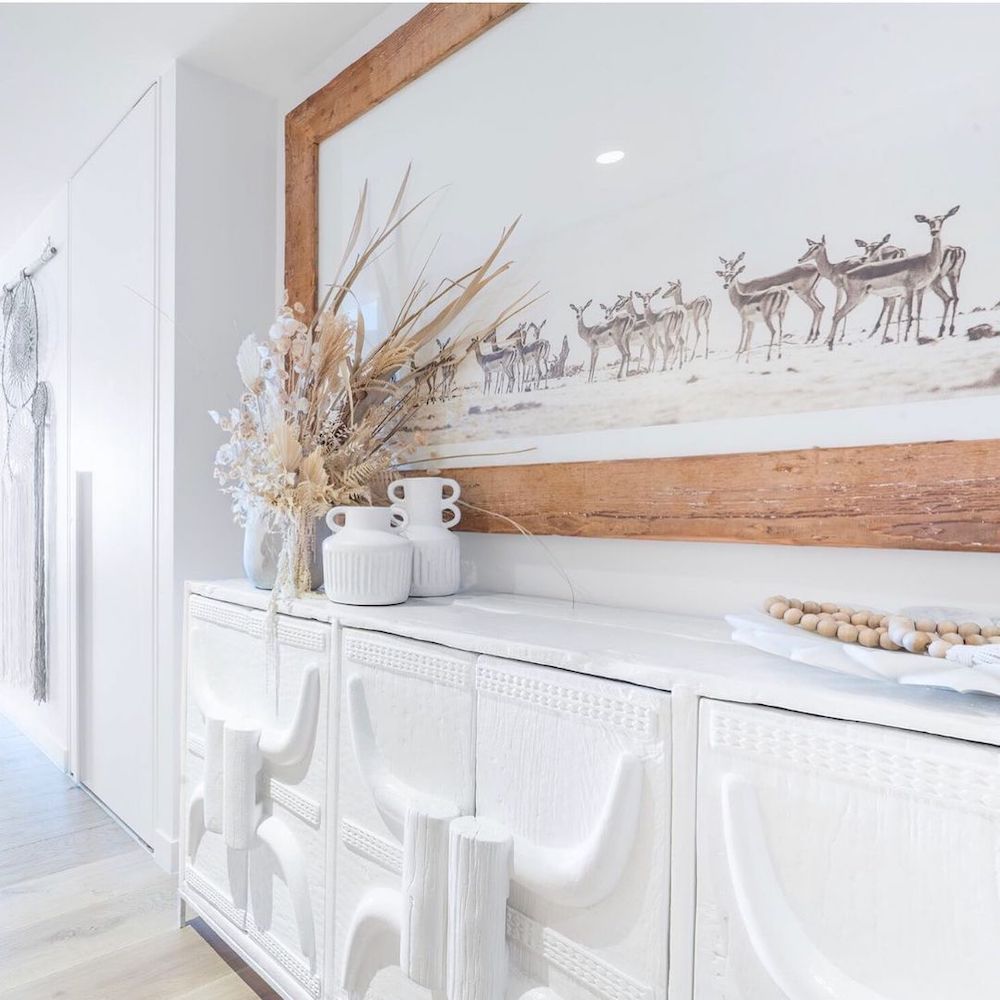 Give it the Boho Coastal Look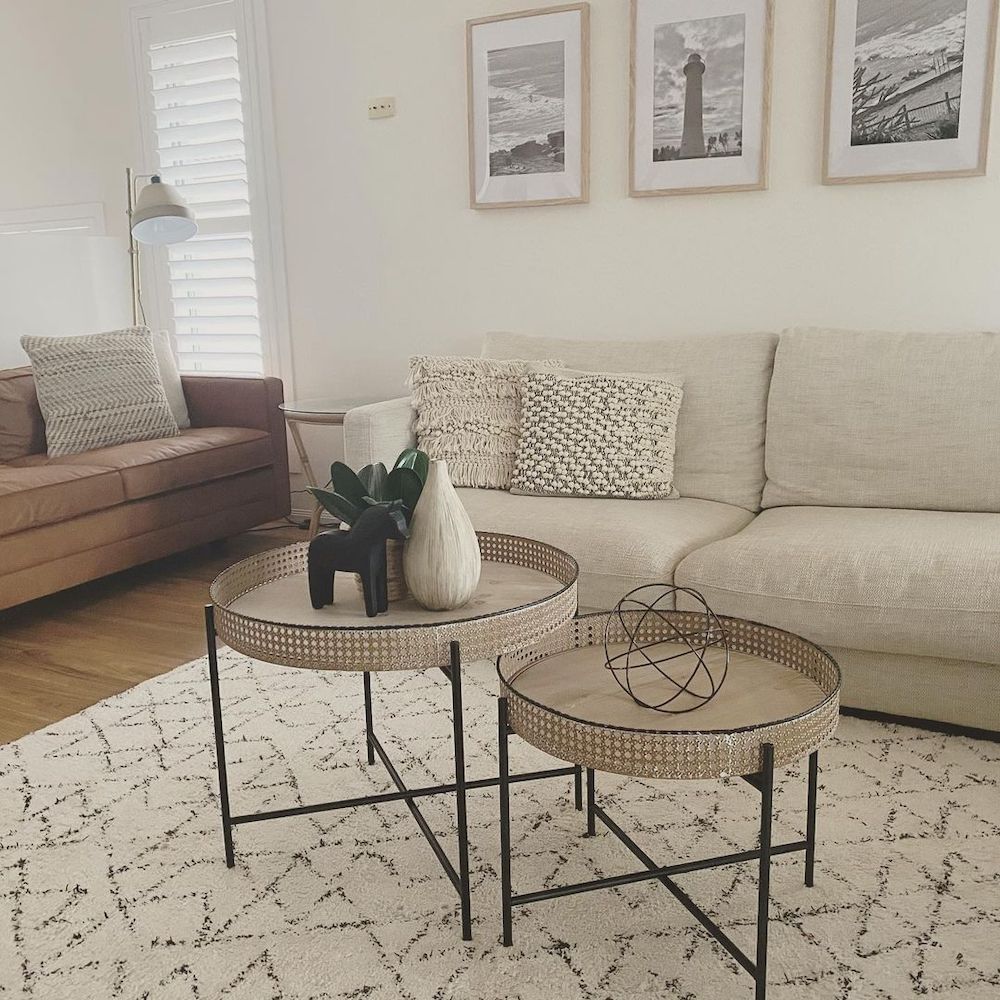 Start with beige and white decor. Follow with small touches of black decor. Love the set of round bunching coffee tables! Great space-saving solution.
Go Natural – Bunching Coffee Table Styling Ideas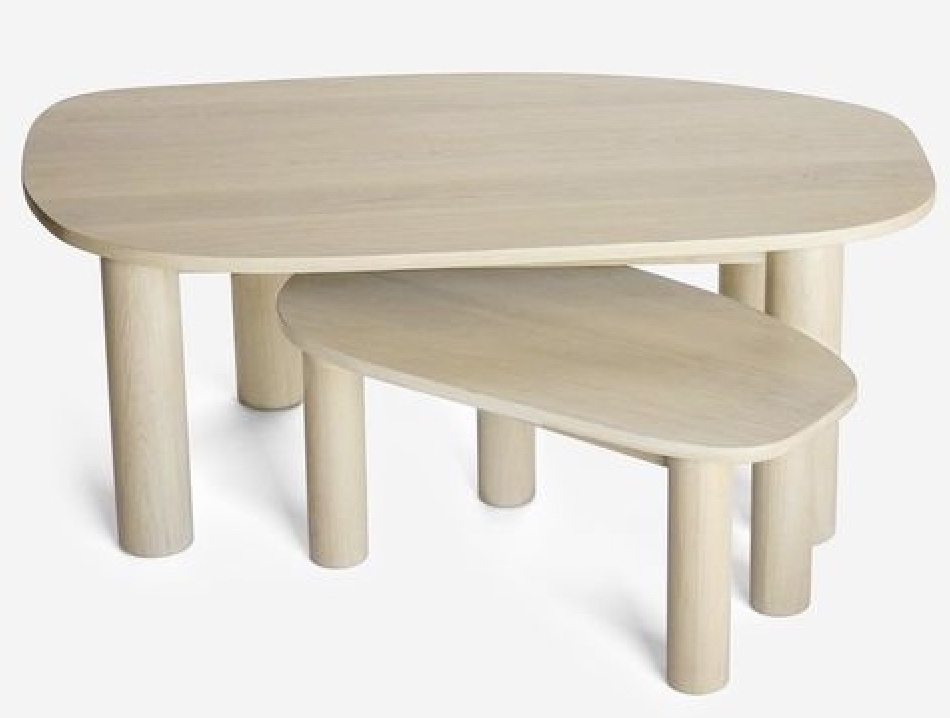 As an alternative to traditional coffee tables, go with a natural finish. Take any opportunity to bring the outdoor elements indoors such as these coffee tables. Create a space that shows your personal style.
If you are in search of bunching coffee tables for your home, we have included a list of our favorite bunching coffee tables. You'll find the best coffee tables right below. Take a look at these beautifully designed bunching coffee tables for the home.  

More than ever, it is easier to buy furniture online. Luckily online furniture stores ship right to your front door. No need to cart heavy boxes into your home or rent a van from a home improvement store. Online furniture stores make it incredibly easy to furnish your home by shipping your order directly to your front door.
In Closing – Bunching Coffee Table Styling Ideas
This ends our list of styling ideas for your bunching coffee tables. As you've seen, there are many ways to style a room with a coffee table. We know that you'll love thinking of new ways to style around your table at home.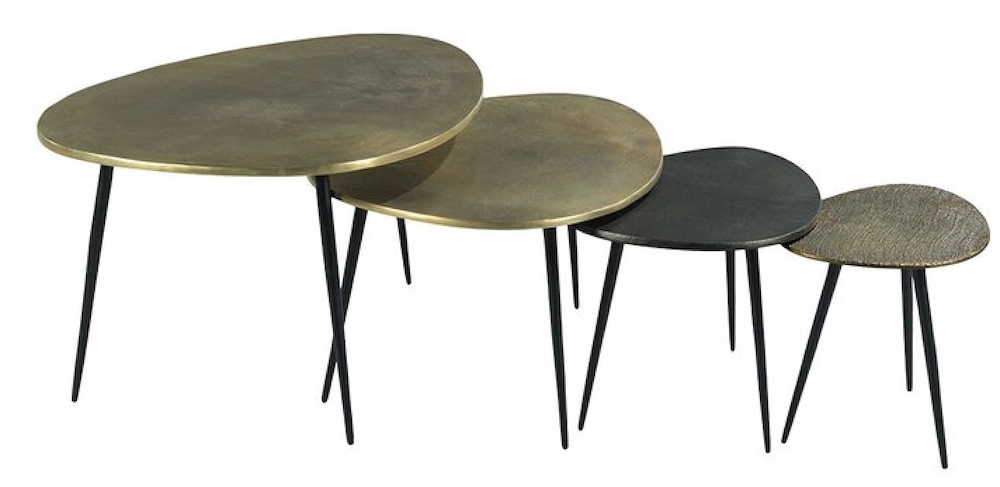 We hope that our 9 bunching coffee table styling ideas help inspire you. If you try any of these styling ideas, we would love to hear from you. Let us know how you make out with your styling projects. For additional coastal decor resources, check out our coastal decor post with helpful tips. Look at our 12 Ways to Add Coastal Decor to your Home post. And for additional coastal inspiration, take a look at some of our other posts.
Enjoy our other decor related posts for additional ideas.
Reach out to us with any questions. We are always ready to help you out. Thank you for stopping by our blog.
Mary
Pin this for Later: