Valentine's Day gift baskets to send to those you love. Send your favorite people Valentine's greeting and a gift that'll delight them. In today's post, we share 9 Valentine's Day baskets for gifting to the special people in your life. Show them how much to care about them with a uniquely designed Valentine's Day basket.
Share the Love this February 14th – Valentine's Day Gift Basket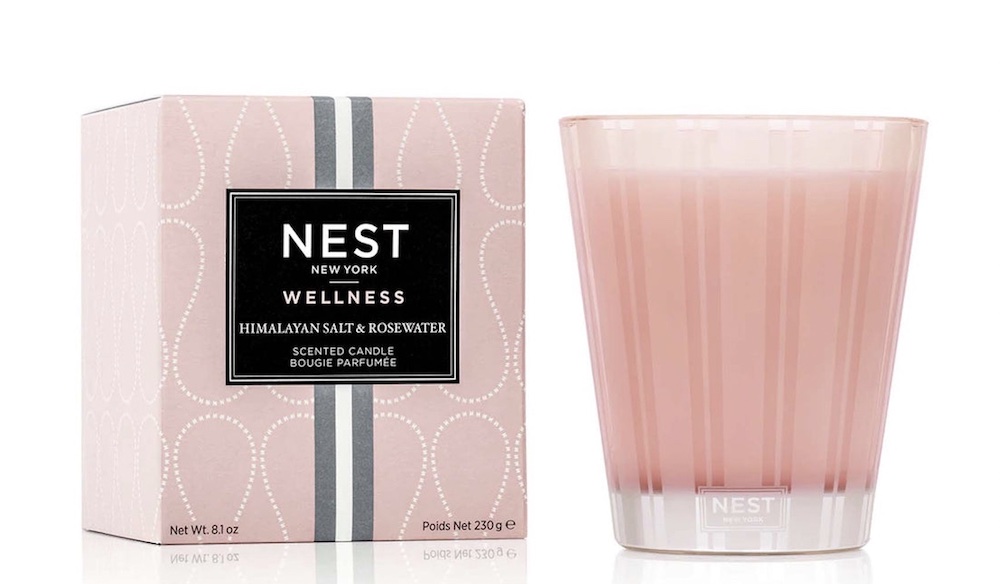 Searching for the right Valentine's gift to send to a loved one? The solution is a gift basket to share. There are many to choose from with a variety of goodies and specialty items tucked inside.
Show the Love – Valentine's Day Gift Baskets
Take a look at these incredible gift baskets to share with loved ones this holiday season. Treat family and friends to some of the best gift baskets that show them how much you love them. Drop us a line below in the comment section. Let us know which are your favorites.
Love Bug Gift Basket – Valentine's Day Gift Baskets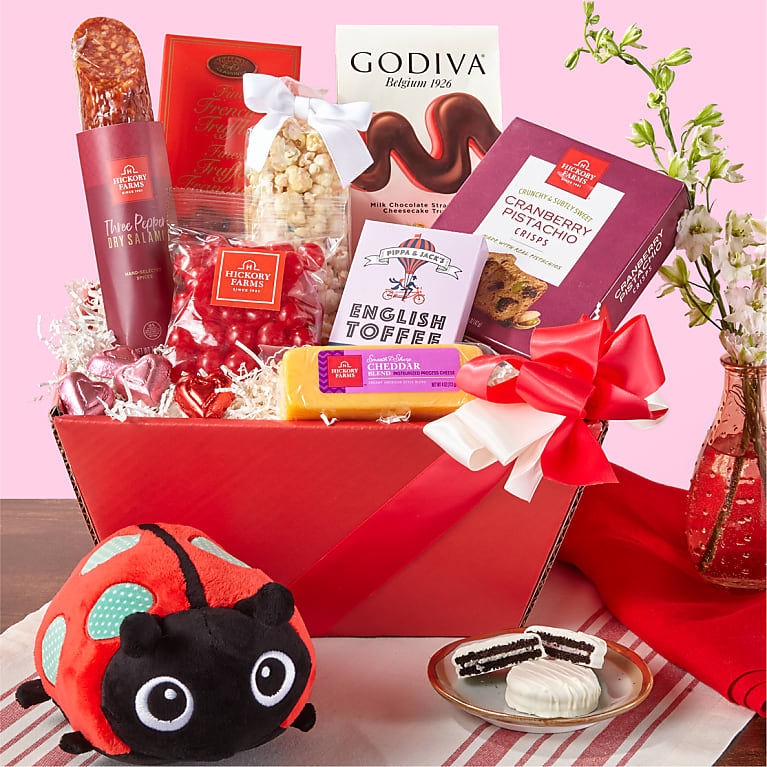 Give them the Love Bug. Make your Valentine feel special this year with a medley of flavors and sweets. Tucked inside this basket you'll find delicious charcuterie snacks, a plush lovebug, and an assortment of chocolates.
Crimson Valentine's Day Box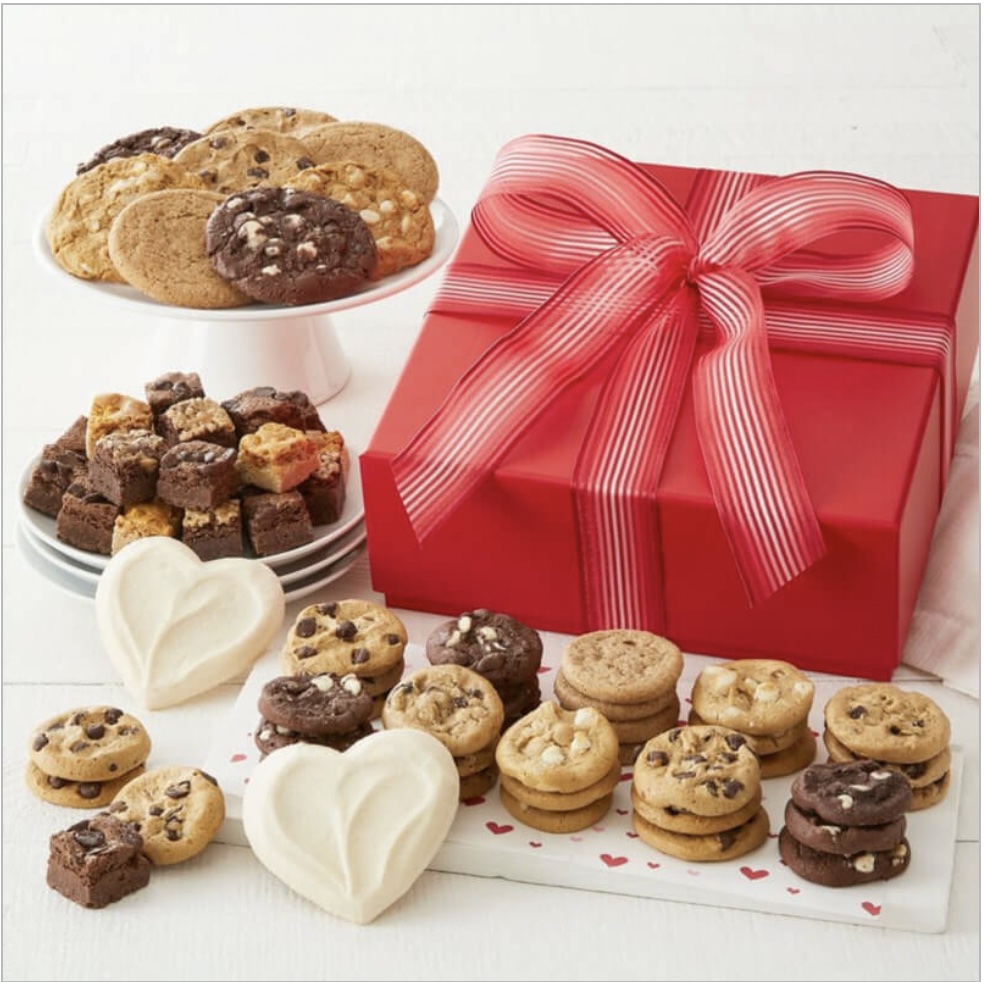 Keep your cookie monster at bay with this assortment of cookies and brownie bites. They are presented in a lovely red Valentine's Day box.
Heartfelt Snacks Gift Box – Valentine's Day Gift Baskets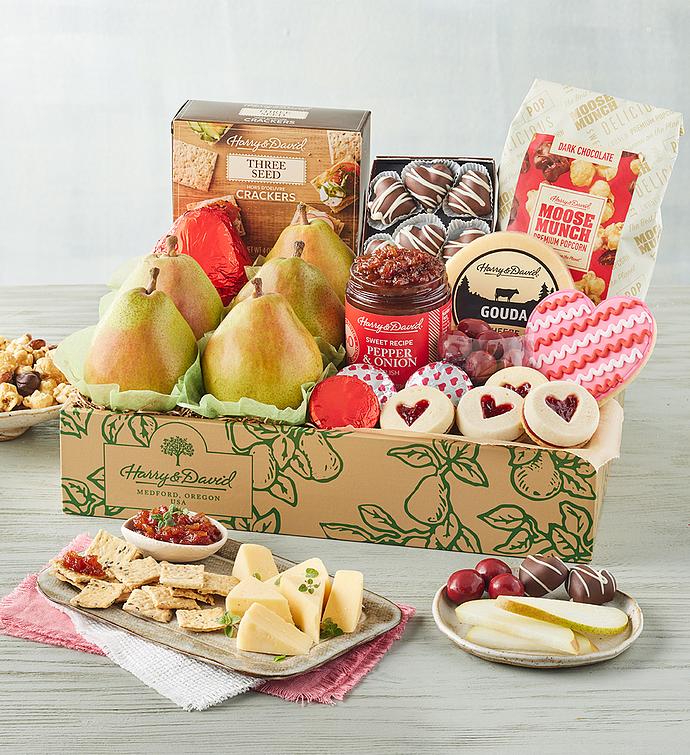 Go big on style with a box full of gourmet goodies. Enjoy juicy pears, premium popcorn, chocolate-covered cherries, heart-shaped truffles, and more. Packed with many favorite treats.
Valentine's Day Gourmet Collection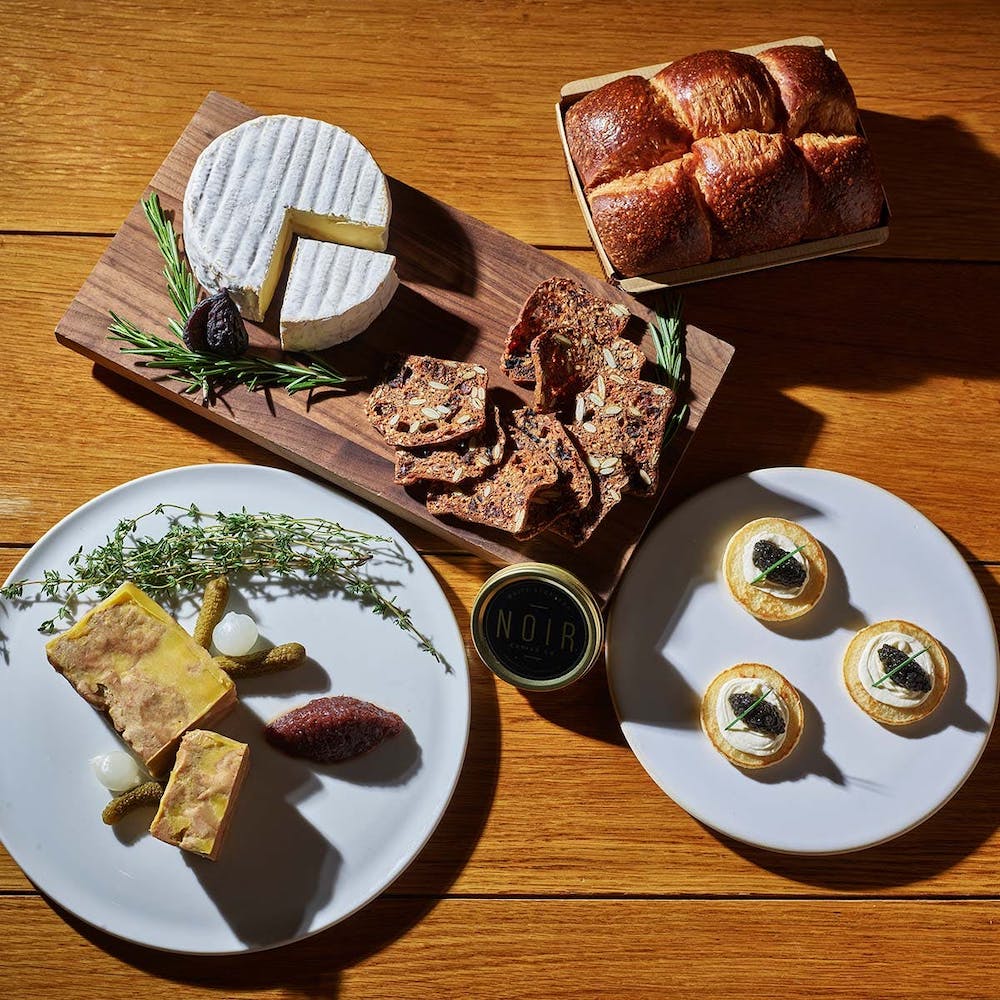 Celebrate the day with Chef Daniel Boulud's elegant gourmet collection. Discover these delightful treats. Feast on these scrumptious hors d'oeuvres such as Foie Gras Terrine, Brioche Loaf, Red Onion Compote, Camembrie Cheese, crackers, and much more.
Beary Sweet Gift Basket – Valentine's Day Gift Baskets
Make it a huggable gift with the Beary Sweet Collection. Discover a cute plush bear nestle next to a Godiva Chocolate bar, raspberry cookies, and chocolate hearts.
Valentine's Day Gift Box – Valentine's Day Gift Baskets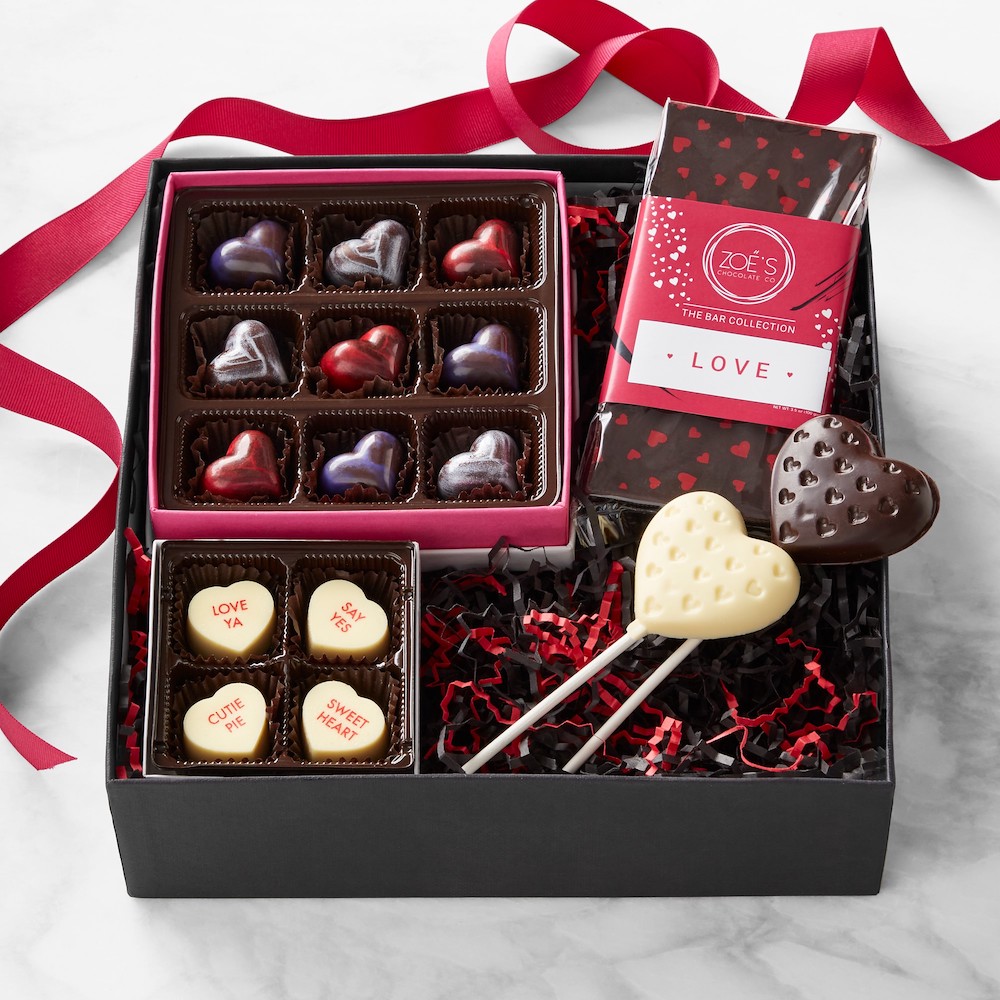 Treat your favorite family and friends with a whimsical medley of sweet treats. Spoil them with servings of a dark chocolate bar, heart-shaped pops in both white and dark chocolate, and sweethearts. Discover these and more delights in a beautifully displayed gorgeous gift box.
Valentine's Day Chocolate Carmel and Crunch Grand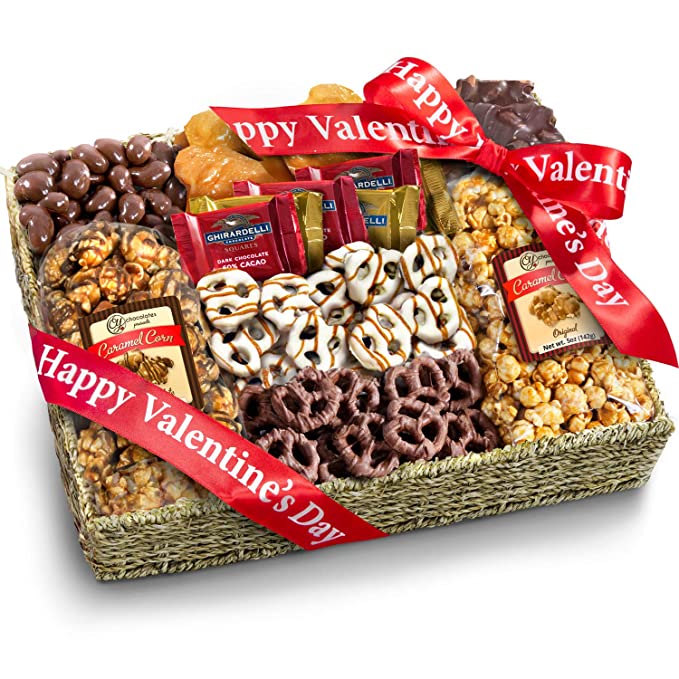 Delight them with a variety of treats this holiday. Filled with an assortment of goodies for everyone to enjoy. Find chocolate-covered pretzels, caramel-covered popcorn, chocolate-drizzled treats, chocolate-dipped nuts, and more. Share the love with these treats tucked inside a seagrass basket.
Valentine's Day Mixed Nuts Gift Basket – Valentine's Day Gift Baskets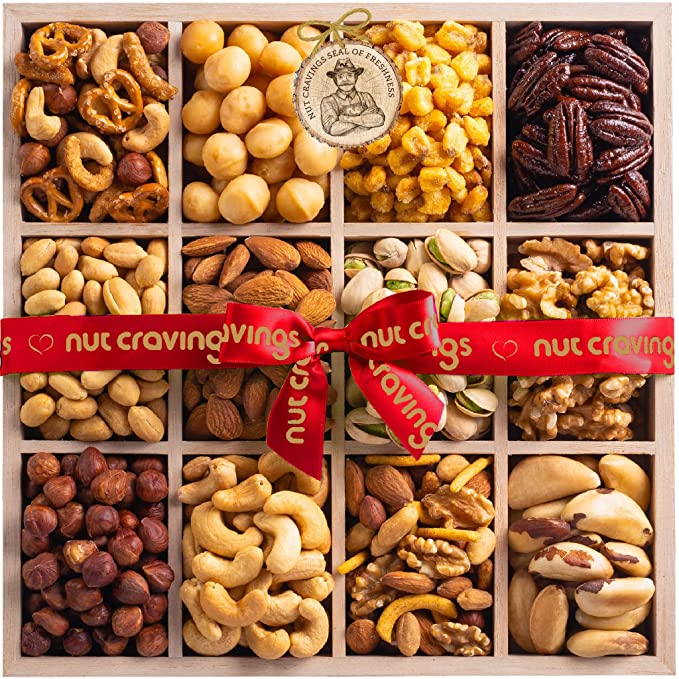 Drive them nuts this Valentine's Day. Present them with a boxed set of 12 nut combinations. From seasoned nuts to nut and pretzel mixes, and more. A healthy way to celebrate your love this season.
Heartfelt Snacks Gift Box – Valentine's Day Gift Baskets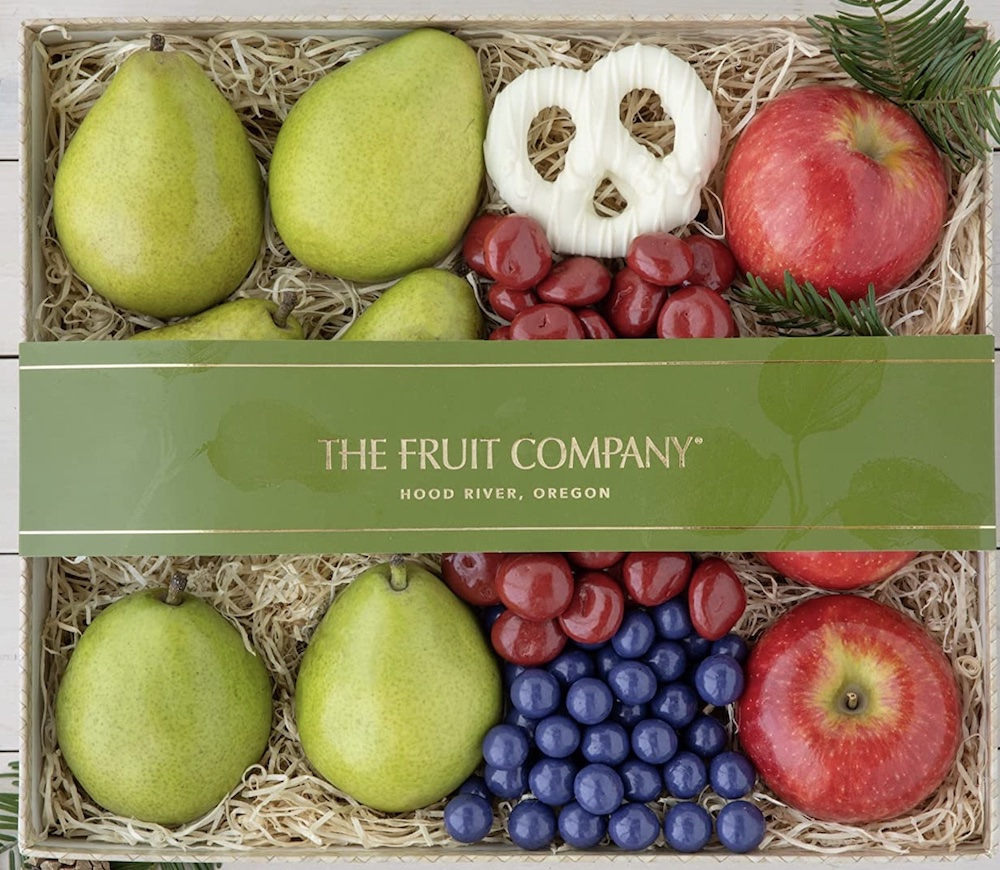 Stay healthy with this colorful fruit basket. Send them a bamboo crate of fresh from the orchard fruit and yummy candy treats. Inside are a group of fresh French d'Anjou green pears with Imperial Fuji red apples. Find chocolate delights tucked in between the fruit for an amazing presentation.
This is the end of our list of Valentine's Day gift baskets for your loved ones. Show those you love just how much they are thought of and loved with a gift basket. The perfect February treat to celebrate the season of love! Please take a look at our other Valentine's Day posts for decorating inspiration. Tell us about your home decor projects in the comments below. We always love hearing from our readers.
Enjoy our other Valentine's Day-related posts for additional ideas.
Are you interested in more ideas for decorating your home this Valentine's Day? Try these posts for additional decorating ideas this Valentine's season.
Cute Valentines Porch Ideas
DIY Valentine Decor Ideas
Valentine Bedroom Decor Ideas
Valentine Table Centerpiece Ideas
Vignette Valentine Ideas
Best Valentine's Flowers and Plants
Reach out to us with any questions. We are always ready to help you out. Thank you for dropping by and taking a look at our blog.
Mary
Pin this for Later: