The basic ingredients are pasta, bell peppers, sweet onions, garlic and tomatoes.  This dish is so flexible it will tolerate substitutions well, including dried vs fresh pasta, canned vs fresh tomatoes and additions of a variety of proteins including seafood (shrimp, scallops, etc), chicken or tofu.  This is certainly one of our most commonly used base dishes and depending on what's in the fridge, gets frequently 'expanded' upon.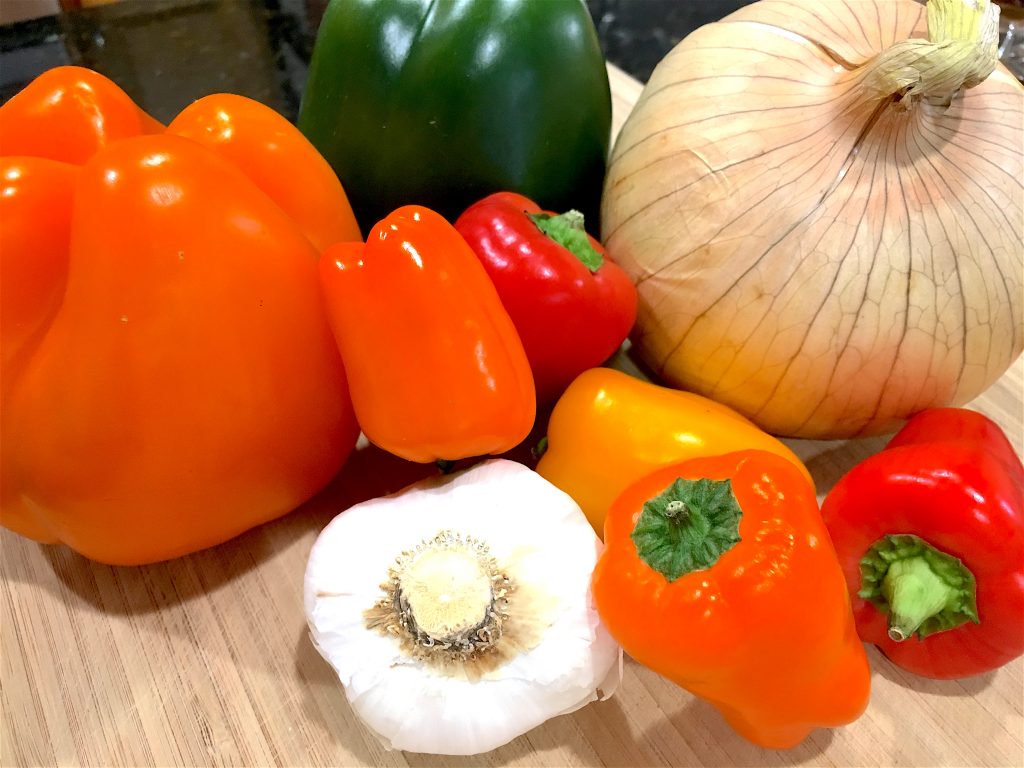 We love and prefer using fresh ingredients when possible, but keeping everything on-hand can be challenging.  That's one of the things we love the most about our travels to Europe – culturally they shop more frequently and for smaller portions to keep things fresh.  Now if our schedule at home just allowed for that!
Timesaver tips:
Fresh pasta cooks *much* faster than dried and obviously tastes better – the fresh, refrigerated angel hair pasta we like to use cooks in 2 minutes versus the usual 8-12 minutes of most dried pastas.
Canned goods have come a long way and canned diced tomatoes are a quick substitute.  We prefer to use un-seasoned, diced ripe tomatoes in cans.
Similar to slicing up veggies for snacks, bell peppers and onions tolerate pre-prep better than most ingredients.  If you wash and slice up the peppers ahead of time, you can store them in a ziplock bag in the fridge for a couple days so this mid-week meal is even quicker.
How thin you slice your peppers will dramatically reduce cooking time.  It takes a sharp knife and some prep skills (we use Japanese knives which are not only razor sharp but ultra thin) but doing so can reduce the sautee step a few minutes..
Without further ado, here is the recipe:
Pepper and Onion Marinara over Pasta (serves 2-3)
3 large bell peppers (mix green, yellow, orange, red for color) sliced thin
1/2 large Vidalia or sweet onion, sliced thin
1 can of diced ripe tomatoes (or 3-4 medium, ripe fresh roma or plum tomatoes)
3 cloves of Garlic, chopped
4 tbsp of Extra Virgin Olive Oil
splash of cooking sherry or white wine
Sea Salt and fresh ground black pepper to taste
1/2 tsp Rosemary
1/2 tsp Oregano
fresh basil or cilantro (optional)
grated aged parmesan cheese for garnish (optional)
Directions:
Heat oil in high-walled skillet over medium heat, add onions and saute for 3-5 minutes or until onions begin to turn translucent.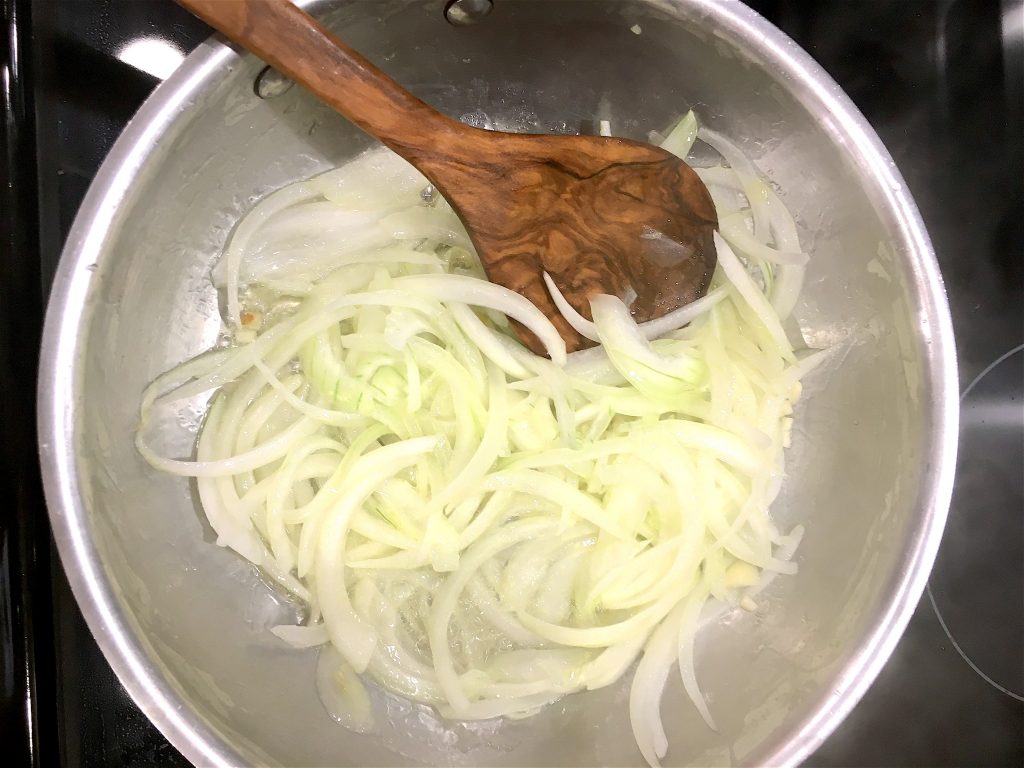 Add peppers and garlic, salt, pepper and all seasonings.  Continue sauteeing until peppers soften, 4-6 minutes depending on how thick you sliced the peppers.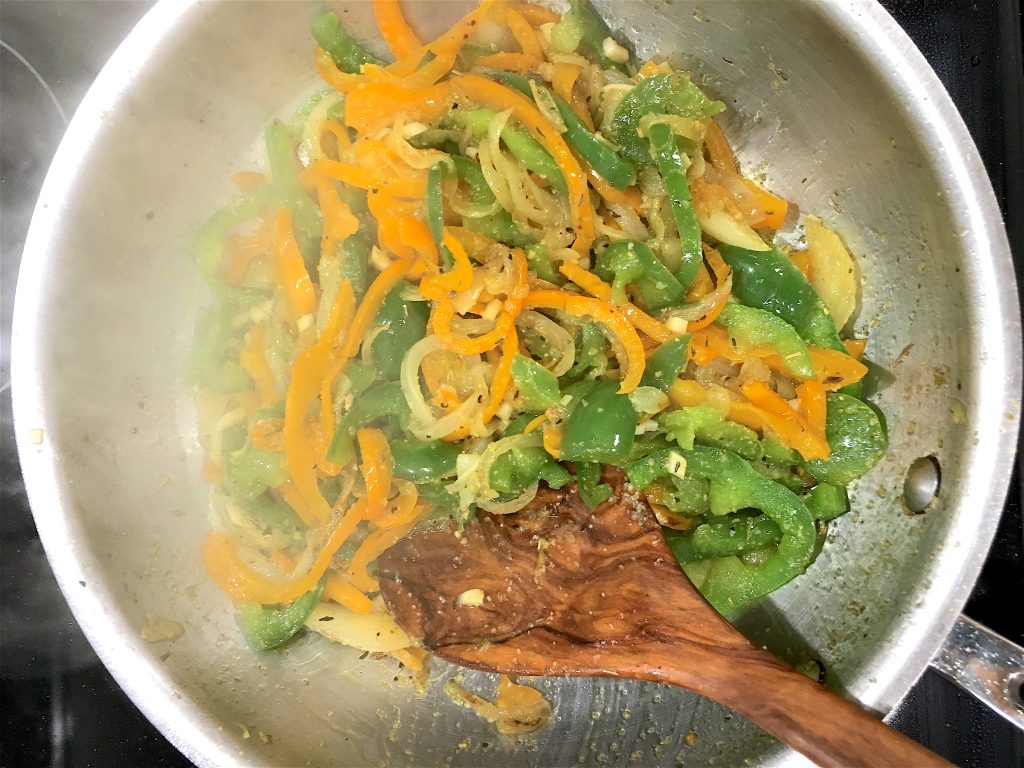 When the peppers have softened, add a splash of cooking sherry or wine to deglaze and accent flavors.  Add diced tomatoes to the pan and turn down the heat a little below medium.  If you prefer a thicker sauce, simmer uncovered.  If you want to retain more water, cover with lid.  Simmer for another 6 – 8 minutes.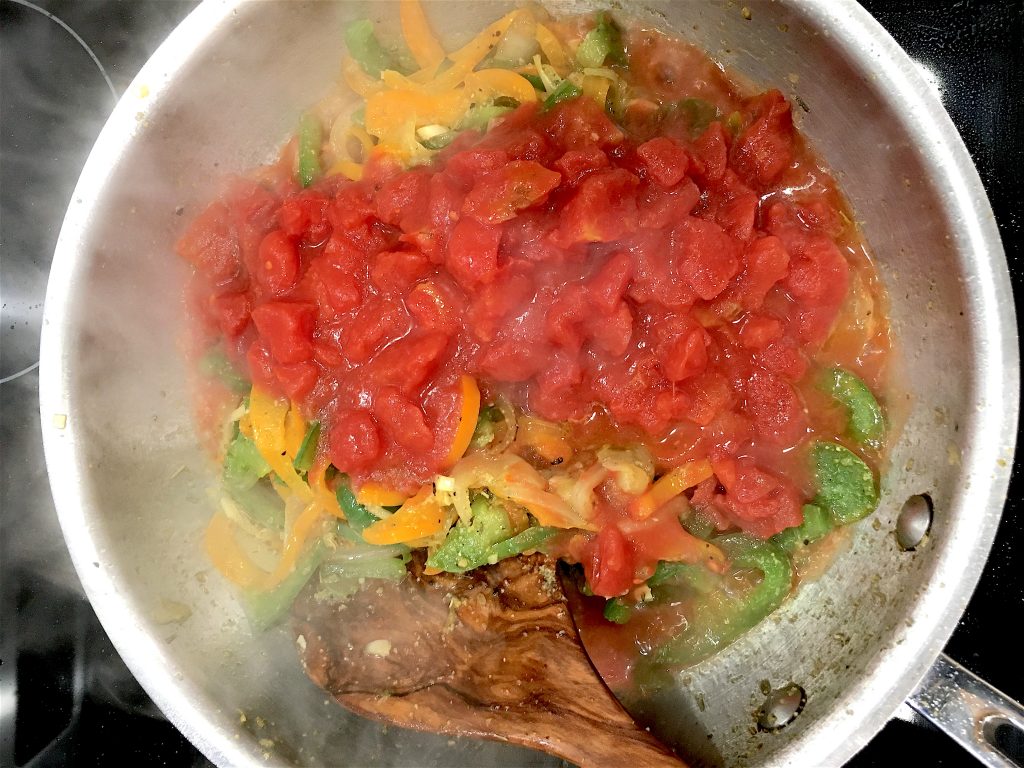 If you are using fresh pasta which cooks in less than a third the time of dried pasta, now's the time to heat up a pan or pot of water.  Using finer pasta like angel hair pasta shown here cooks in under 3 minutes.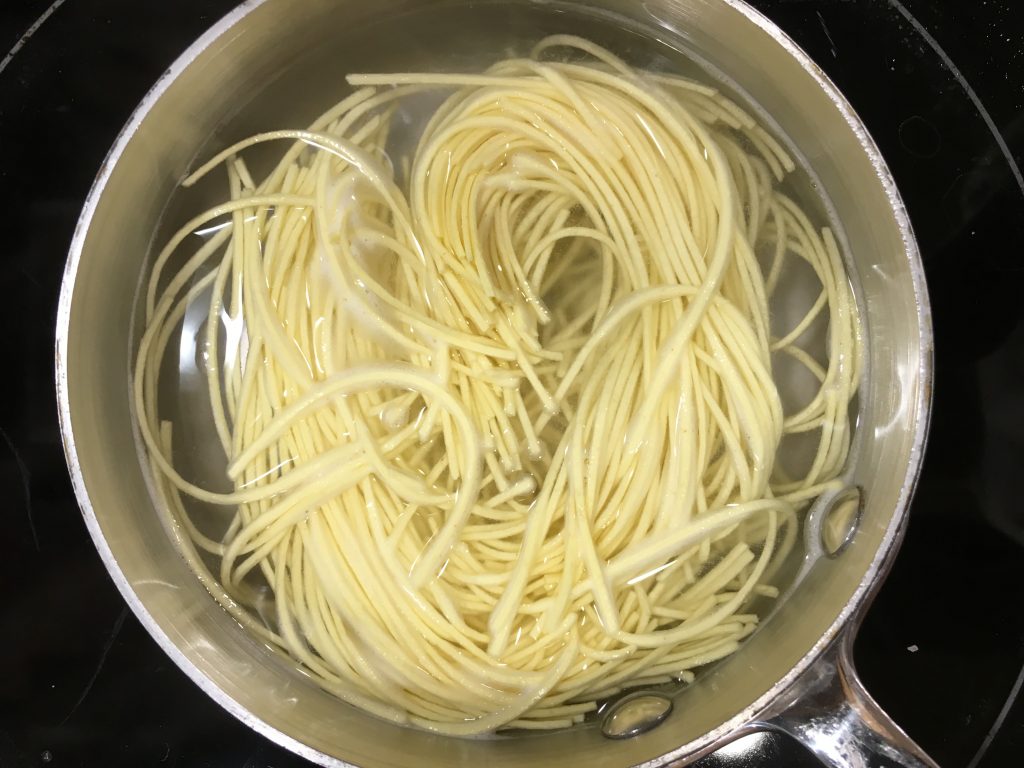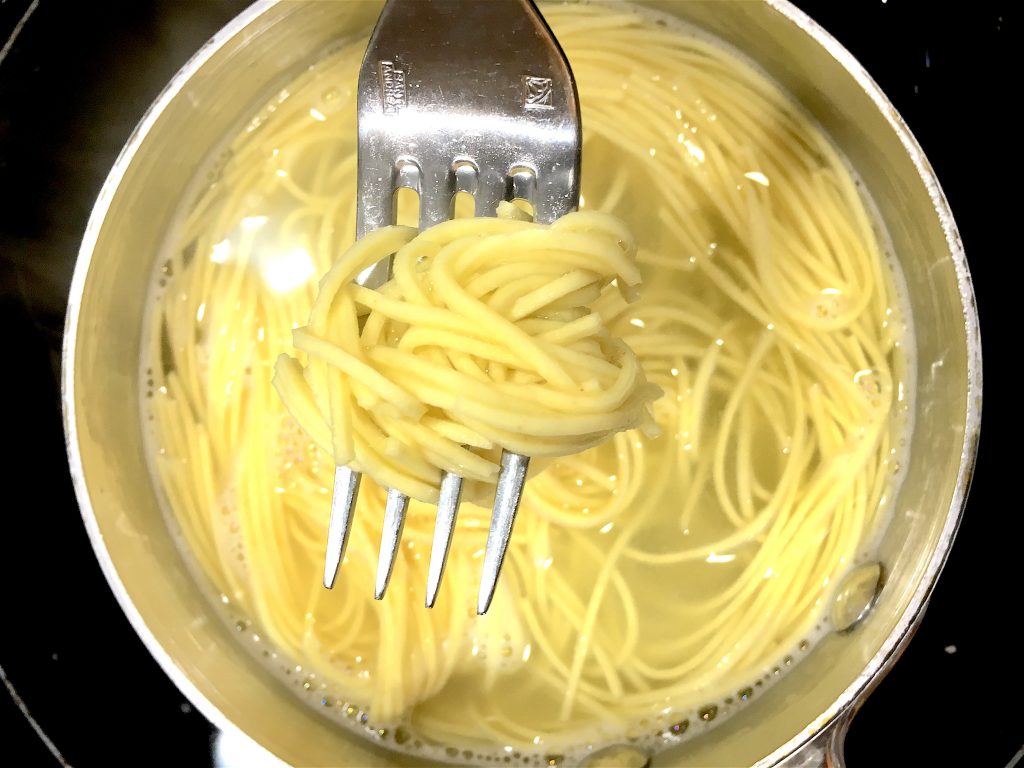 When the tomatoes have cooked a bit and easily break down, turn off heat and remove from stove.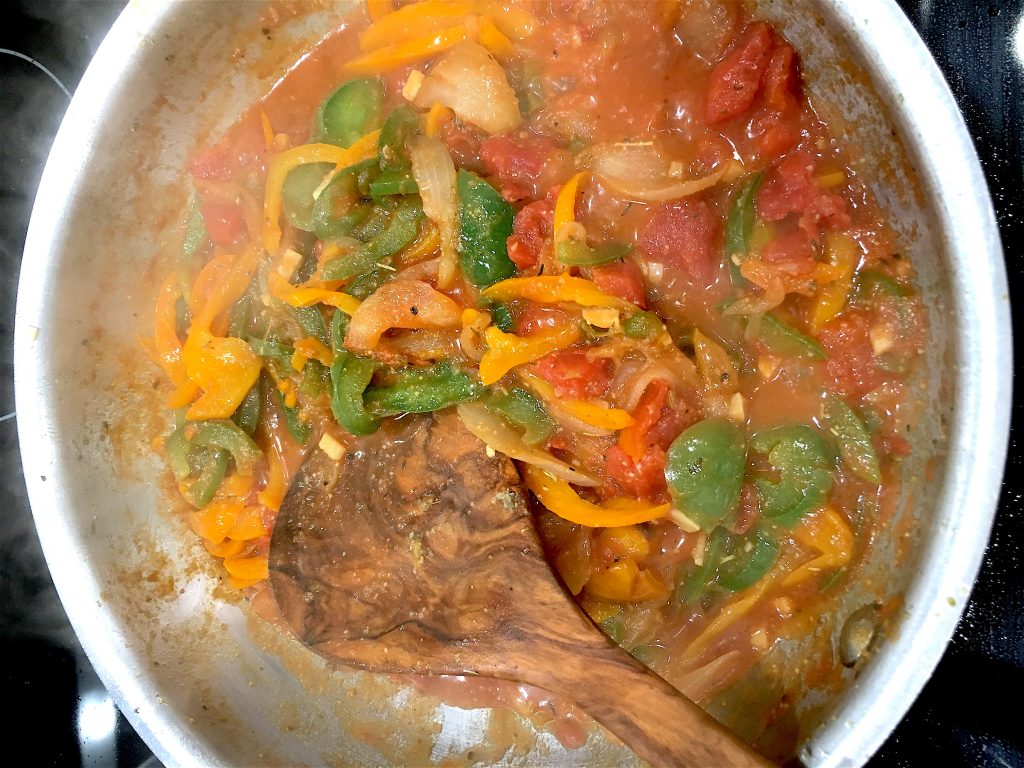 Serve over plated pasta and grate fresh parmesan cheese if desired. Enjoy!