In our travels to Spain we have truly come to love the fresh seafood whether from the Atlantic coast in the Basque region to the Mediterranean coast along Catalonia and around the Balearic Islands.  With such fresh and delicious raw ingredients, the preparations are typically kept simple, grilled or sauteed quickly with hardly any complex sauces, sometimes only olive oil, cilantro and salt and pepper to accent natural flavors.
Calamari (aka squid) is an underappreciated shellfish in the US but in Spain and many other parts of the world it is a staple ingredient and actually comes in many variants. Large, whole bodied squid will be seen grilled on Spanish menus as 'calamares' while tiny baby squid known as 'chipirones' will be seen fried or grilled.  It is rare to come across baby squid here in the US in mainstream grocery stores, at least here along the North East and Mid-Atlantic coast.  It's a shame because these delectable bite-sized morsels play center stage to many typical Spanish and Catalonian tapas.
The Calamari and White Beans recipe listed below is our approximation of a dish we first had at one of the many food stalls in the famous Boqueria food market in Barcelona.  The original combined sauteed chipirones no bigger than one inch with white beans simply with olive oil, salt, pepper and cilantro.  We've played with this recipe a bit and it seems to be quite flexible.  We've seen this dish served in Spain with a small fried egg on top and with a soft yolk, the flavors mix well.  We've substituted the fresh squid Spain has in abundance with good-old frozen squid from our Atlantic coasts.  And we use canned Cannellini beans for the 'white beans' which seem to have many alternatives that appear and taste very similar (e.g. Northern white Beans).  We've also added chopped garlic and a couple common herbs used in Spanish cooking (fennel, thyme, oregano) to cover for any faults of the frozen squid.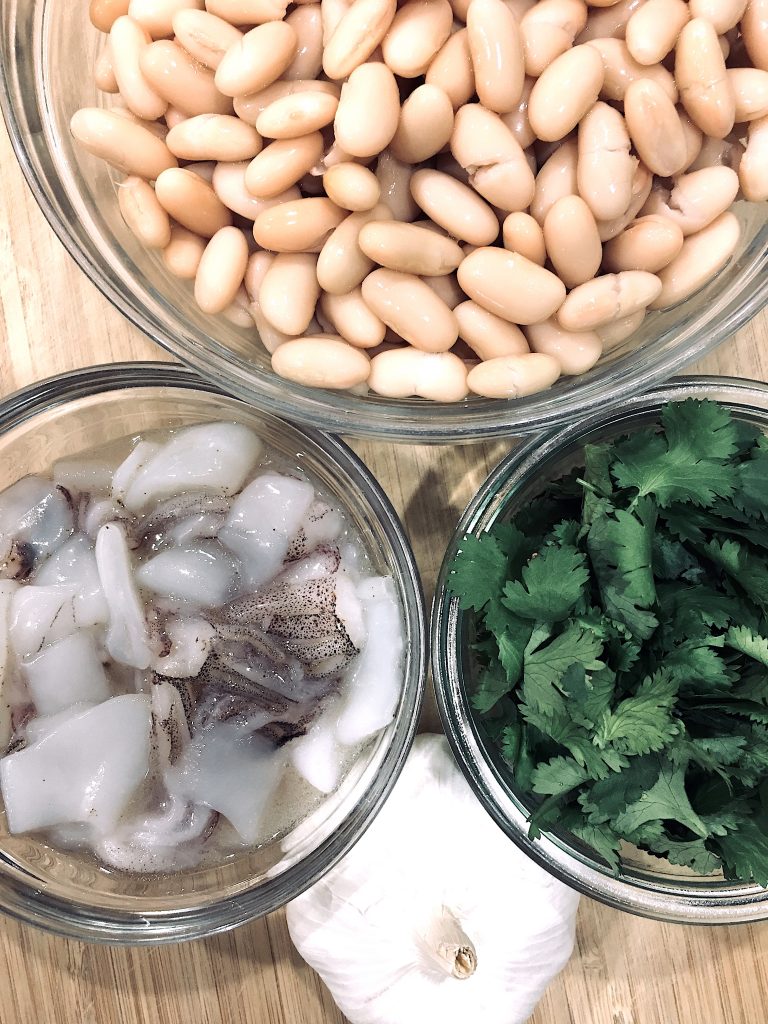 Our substitutions, although still not nearly as good as what you get sitting by the beach in Mallorca (that part about the beach might have something to do with it!) make this a very quick, low prep mid-week meal or as an unexpected appetizer for your next dinner party.
Without further ado, here is the recipe:
Calamari and White beans (serves 2-3)
1/2 lb fresh or thawed Calamari / Squid
2 cans of Cannellini or White beans, rinsed and drained
1/2 bunch of fresh Cilantro (rinsed,dried and leaves removed from stems)
3 cloves of Garlic, chopped
4 tbsp of Extra Virgin Olive Oil
1/2 tsp Sea Salt
2 pinches of ground Black Pepper
1/4 tsp Rosemary
1/4 tsp Oregano
1/4 tsp Thyme
1/4 tsp Fennel
Rinse and pat dry calamari.  Slice any tubes into 1/2″ wide rings.
Heat oil in high-walled skillet over medium heat, add garlic and saute for 2 minutes.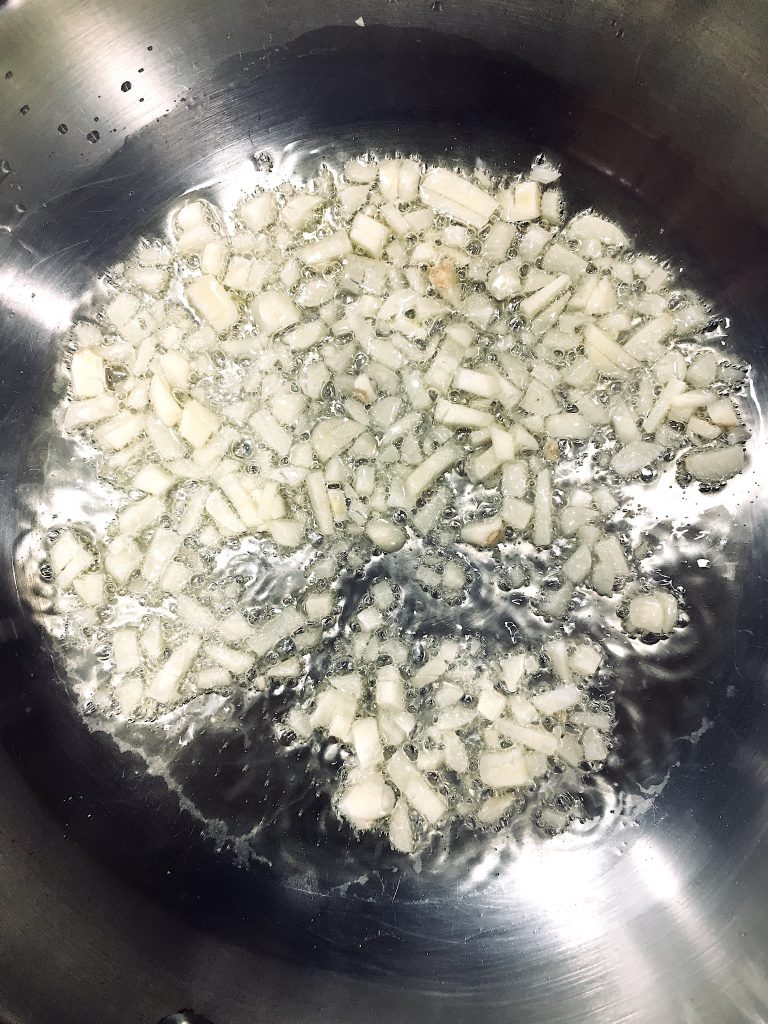 Add beans to skillet and toss thoroughly to coat with oil.  Add all seasonings and saute for 3-4 minutes, turning gently to evenly heat.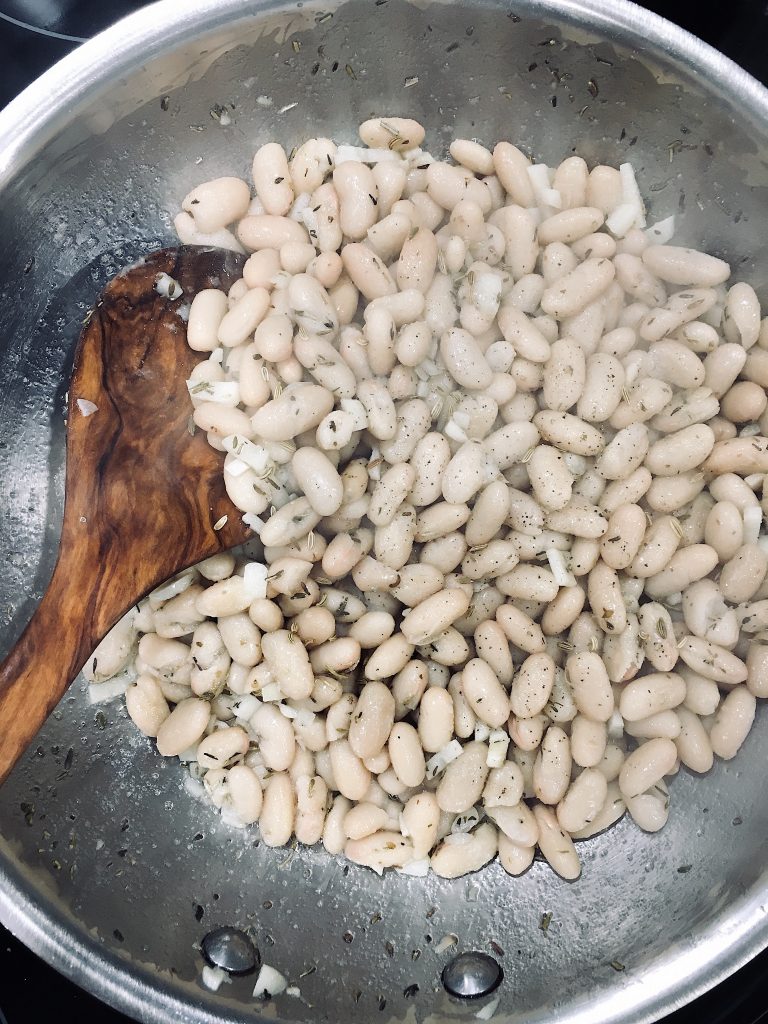 Add cilantro and cook for another minute or two.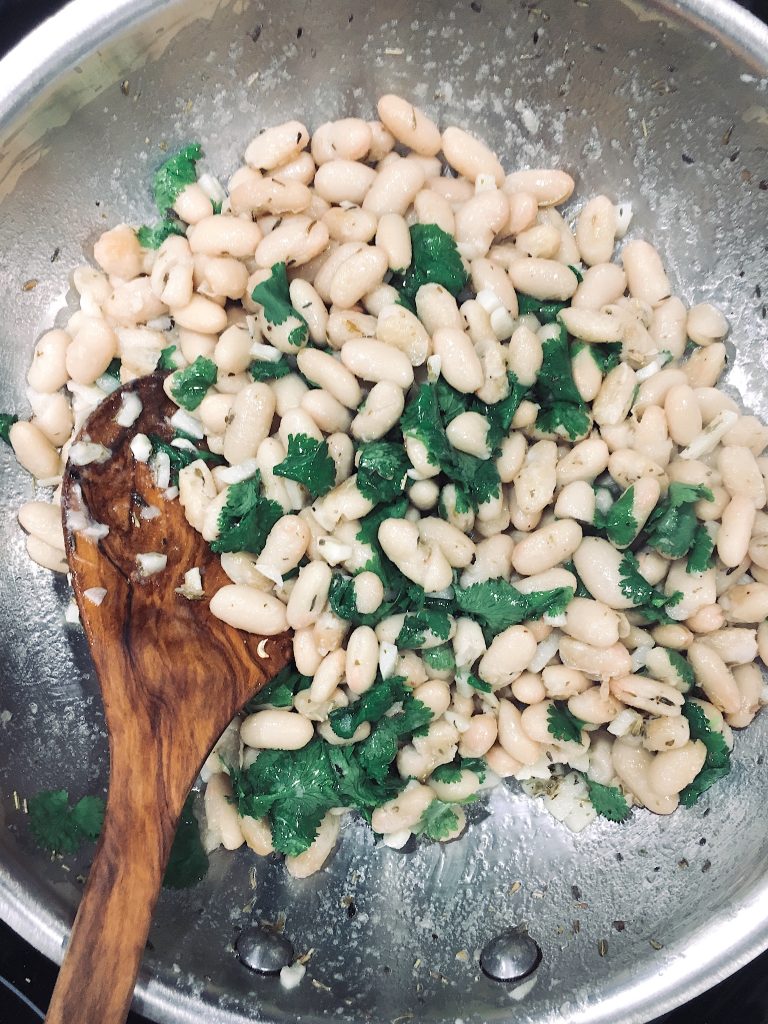 Finally, add squid and toss evenly – cook for another 5 – 7 minutes or until squid is just cooked through.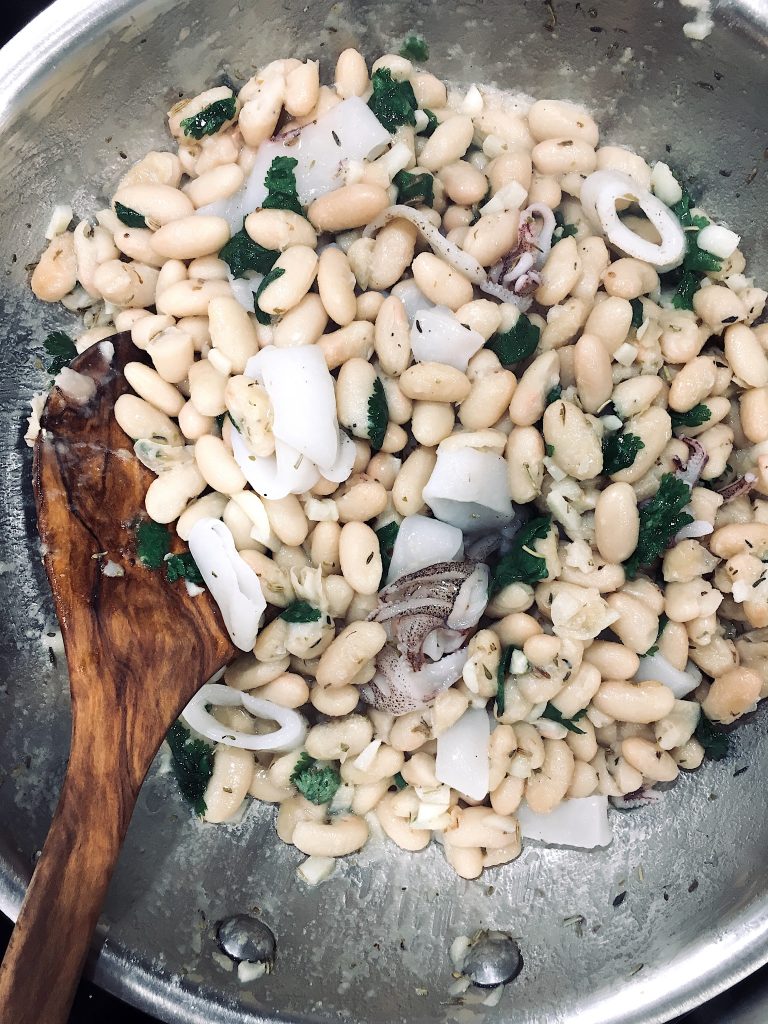 Serve and garnish with fresh cilantro and a pinch of sea salt.  Enjoy!