Craving a flavorful grilled steak?  Short on time?  Try this grilled skirt steak dressed with a simple but tasty chimichurri sauce.
While the usual recipe calls for a skirt or hanger cut, we use a super-thin sirloin beef cut with nice marbling from the local Korean grocery store.  The cut is so thin it takes no more than 5 or 10 minutes once the grill is warmed up.  And the marbling keeps the meat from becoming chewy.  This cut is also cheaper ($6.99 per pound here) than skirt or hanger steaks which can run $15 – $20 per pound or more.  The store calls it 'Sirloin Flap' and it resembles the skirt cut.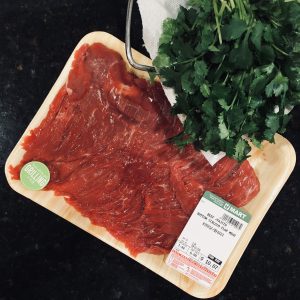 This is a very flexible protein that you can adapt for many meals.  You can serve it whole with a Chimichurri sauce as the recipe below.  We also slice up the grilled meat and serve it taco-style with whatever garnish you prefer (think avocado, cucumber, onions, pico de gallo sauce, etc.)
Chimichurri sauce is a wonderfully simple but flavorful dressing that one usually sees served with beef but we've tried it with everything from chicken to grilled monkfish, calamari, etc.  It combines the flavors of fresh cilantro, garlic and a touch of vinegar.  There are many variants of chimichurri whether using parsley instead of cilantro and other vinegars, but our favorite combination is cilantro and a Spanish sherry vinegar.  The sauce is best served within a day of making, but it can be made a few days in advance and kept in the fridge if you want to speed up prep during the week.
Ingredients:
1 1/2 – 2 pounds of skirt or hanger steak
1 tsp sea salt
1 tsp black pepper
1 tbsp cumin
1 tsp oregano (whole or ground dried leaves)
2 tbsp McCormick Grill Mates Pork Rub seasoning
2 tbsp extra-virgin olive oil
1/3 cup soy sauce
1/4 cup barbecue sauce
Sauce:
Fresh cilantro (one medium bundle)
1 small clove of garlic
1 tbsp sherry vinegar
1/4 tsp sea salt
pinch of black pepper
pinch of ground cumin
pinch of red pepper flakes (optional for a touch of spice)
Directions:
Remove the steak from packaging and place into a medium size zip lock back that can seal tight.  Combine all dry seasonings and oil, soy sauce and bbq sauce into the bag.  Seal bag and tumble to mix the ingredients and ensure the meat is evenly coated. Be careful if you are using thin cuts of meat that can fold over and not get marinated evenly.  Let marinate for 30 minutes minimum, or for best flavor marinate overnight in fridge.
Rinse and dry cilantro.  Chop and mince cilantro finely and place in a small glass bowl.  Mince garlic and add to cilantro.  Combine vinegar, salt, pepper and cumin with cilantro and garlic and mix well.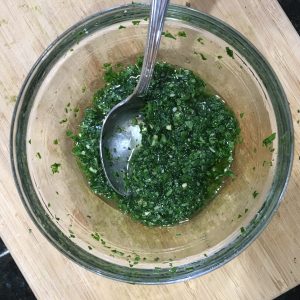 Heat grill to 400 degrees.  Grill beef 3-5 minutes per side for thin cuts for a medium finish (adjust longer for thicker steaks if you prefer more well-done).  Remove from grill.  Serve immediately with chimichurri sauce or if slicing for tacos, let stand on plate 3 minutes before slicing.  Slice against the grain for more tender pieces.
Enjoy!
Save