Valentine's Day Charcuterie Boards are perfect for celebrating the season of love. Send a Charcuterie Board full of goodies to those special people in your life. Celebrate this year with a tasty charcuterie board delivered in time for Valentine's Day. For today's post, we are sharing 9 Valentine's Day charcuterie boards for gifting to the family and friends you love. Treat them with these specially designed Valentine's boards.
What is a Valentine's Day Charcuterie Board?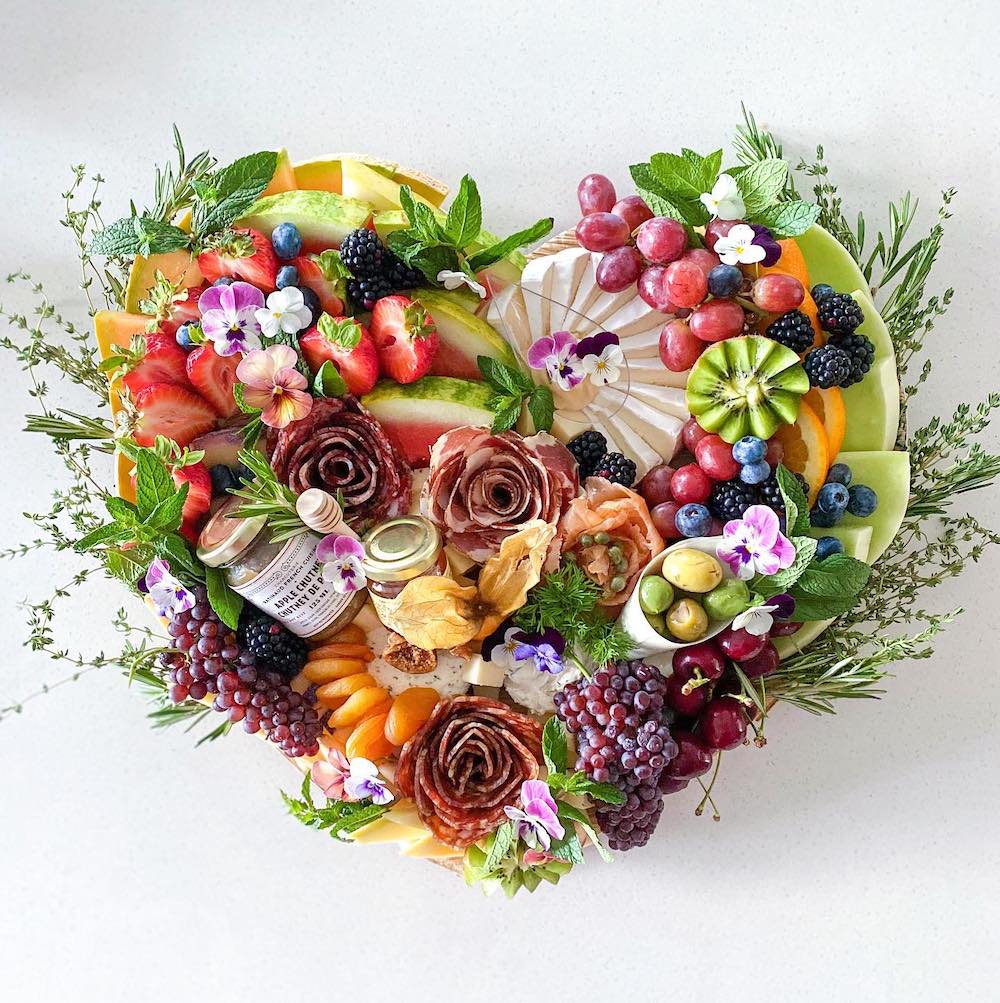 What is a Charcuterie? The charcuterie term itself dates back to 15th century France. The literal translation is fancy pork dishes. Derived from two French words, char means "flesh". While "cuit" refers to food that has been prepared or "cooked". For many centuries, Europeans have served Charcuterie foods on platters or boards. These foods are usually locally sourced and served on boards.
Charcuterie Delicacies – Valentine's Day Charcuterie Boards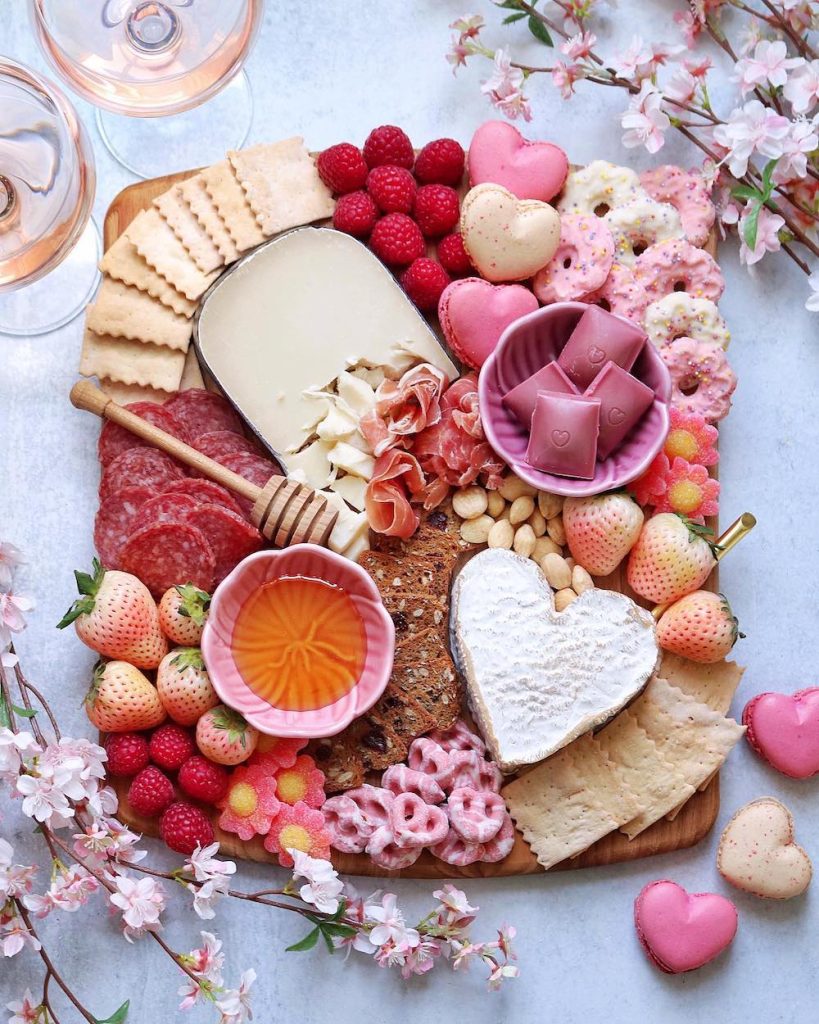 What can you expect on a Charcuterie board? Well, that varies from region to region. Whether you are in Europe or the US, many restaurants feature foods that are popular in that region. Usually, that includes a variety of smoked, cured, and cooked meats. Some of the meat products you'll find are sausage, confit, pate, and ham. Sausages such as prosciutto, salami, soppressata, and jamon iberico are prefect for creating a charcuterie board. Along with the meats, a variety of cheeses and crackers or bread is served. Tucked in between those are pickles, nuts, olives, fruits, vegetables, preserves, mustards, or sauces. Based on the availability of local and seasonal products, the board selections vary from season to season. It is all about what is readily available as well as regional favorites.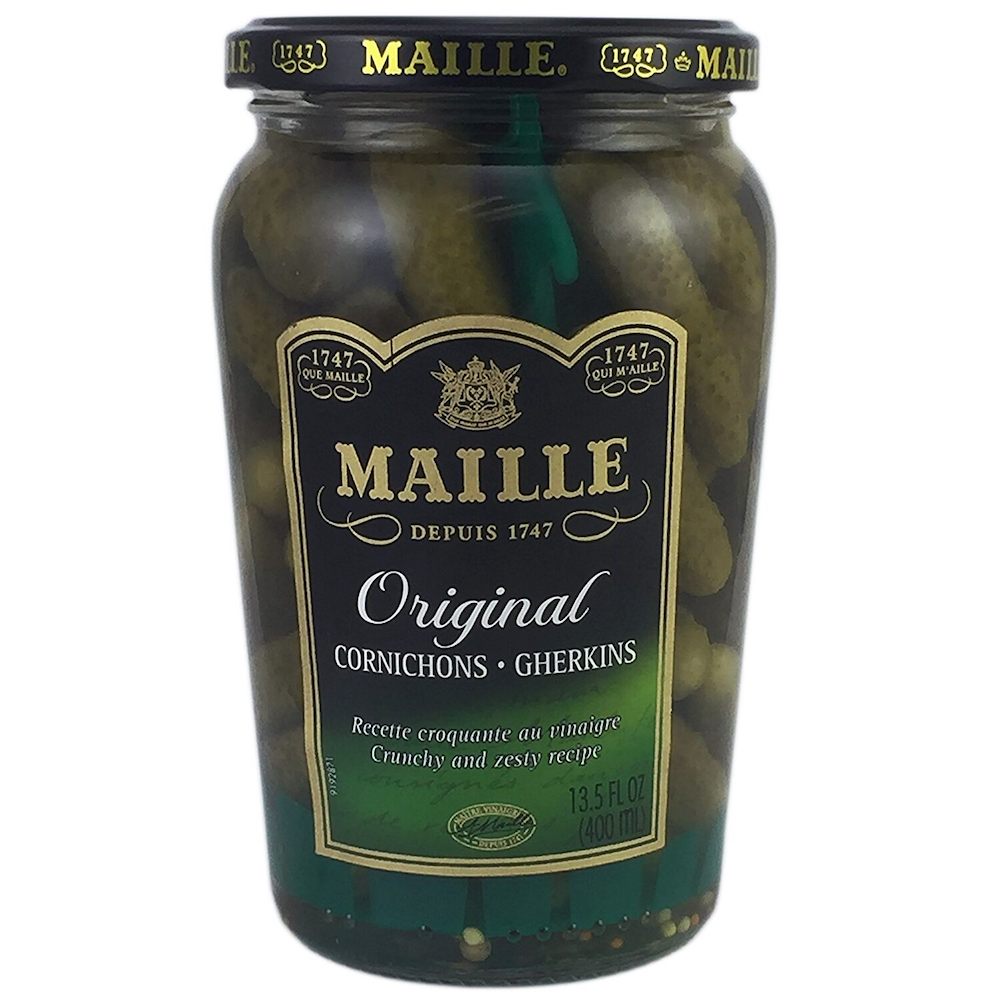 It is important to remember that a food board or tray works best with a variety of food products. Don't limit yourself to a single type of cheese. Use several small portions of cheeses that are complementary to your selection of meats. Fill with accompaniments that complement the meats and cheeses being served. For example, many kinds of cheese are paired with fruit or fruit preserves. Both fruits and fruit preserves enhance the flavor of the cheese.
Cheese Accompaniments – Valentine's Day Charcuterie Boards
Consider accompaniments for cheese such as figs, dates, apples, melons, or pears. Or use dried fruits. Dried fruits have two advantages over fresh fruit. First, they are sweeter. Second, they have a longer shelf life. Group cheeses with dried cherries, dried apricots, dried dates, or dried figs to enhance the flavor of the cheese. Likewise, preserves such as fig, peach, apricot, or quince paste are wonderful when paired with cheese. Blend the saltiness of cheese with the sweetness of fruit to intensify the flavor.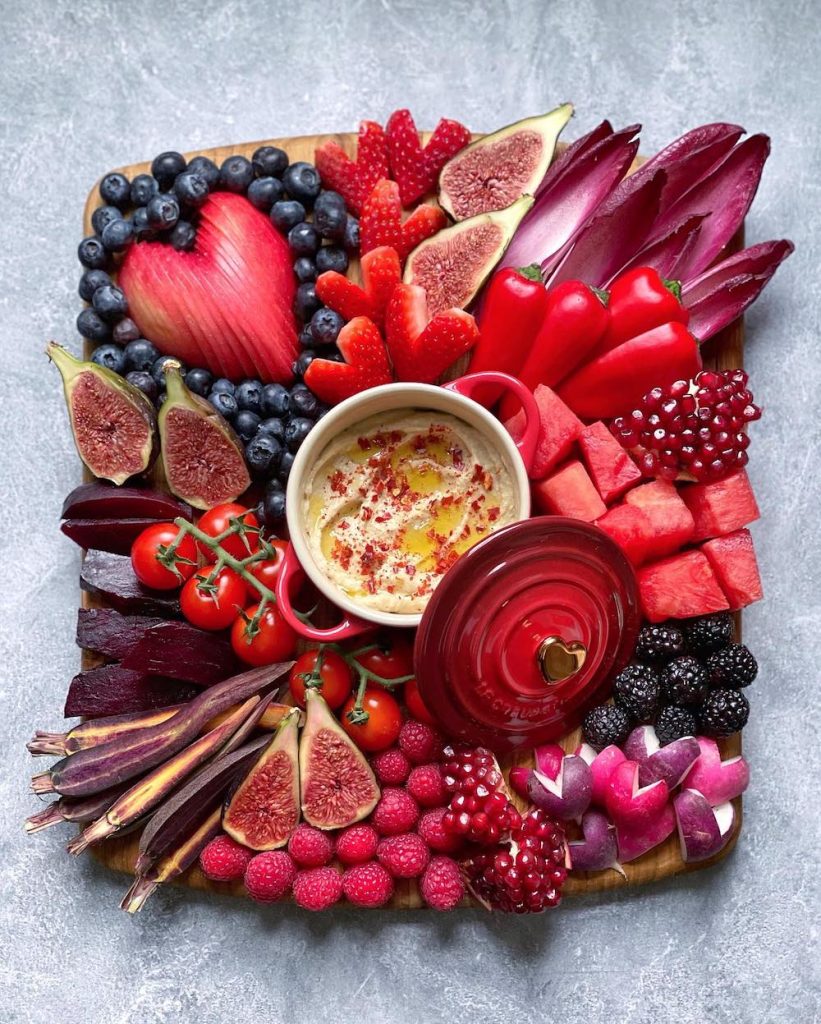 Be sure to add some cornichons, olives, mustards, and dipping sauces to the charcuterie for added flavor. Don't forget to include vegetables, crackers, or fresh bread in the charcuterie for not only variety in taste but to create visual interest.
Celebrate Love this February 14th
Searching for a special Valentine's gift to send to a loved one? With a charcuterie board, you can't go wrong. You'll find there are many boards with a variety of options carefully displayed on a charcuterie board.
Taste the Love – Valentine's Day Charcuterie Boards
Take a look at these delectable charcuterie boards to share with your family this year. Treat family and friends to some of the best gift baskets that show them how much you love them. Drop us a line below in the comment section. Let us know which are your favorites.
Heart You Gourmet Charcuterie – Valentine's Day Gift Baskets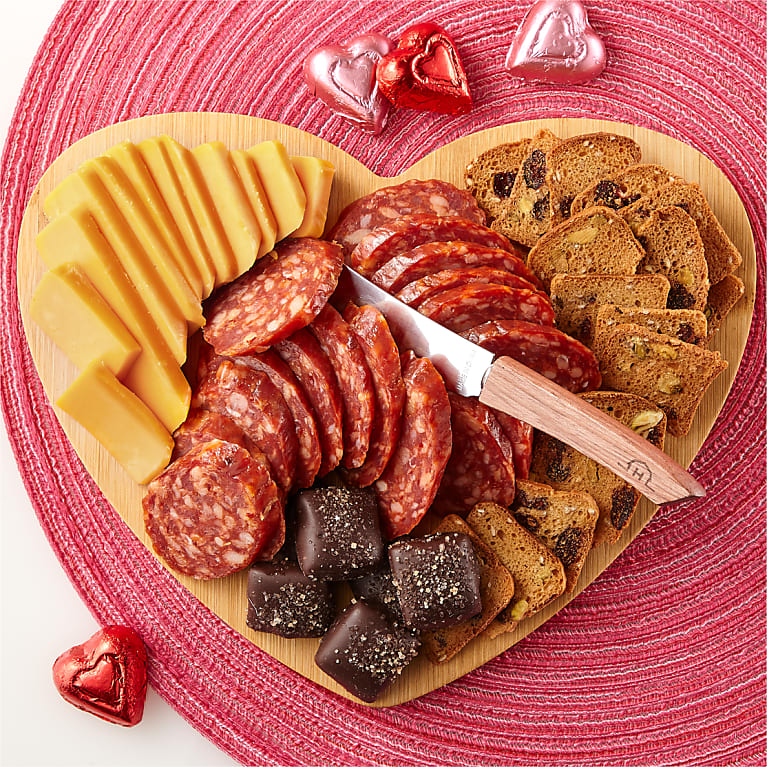 Make it their best Valentine's Day yet. Create a show-stopping board with this love-themed charcuterie. Share this with those you love. Placed lovingly on a heart-shaped bamboo board is salami, cheese spreader, chocolate hearts, crackers, and more.
Heart Shaped Chocuterie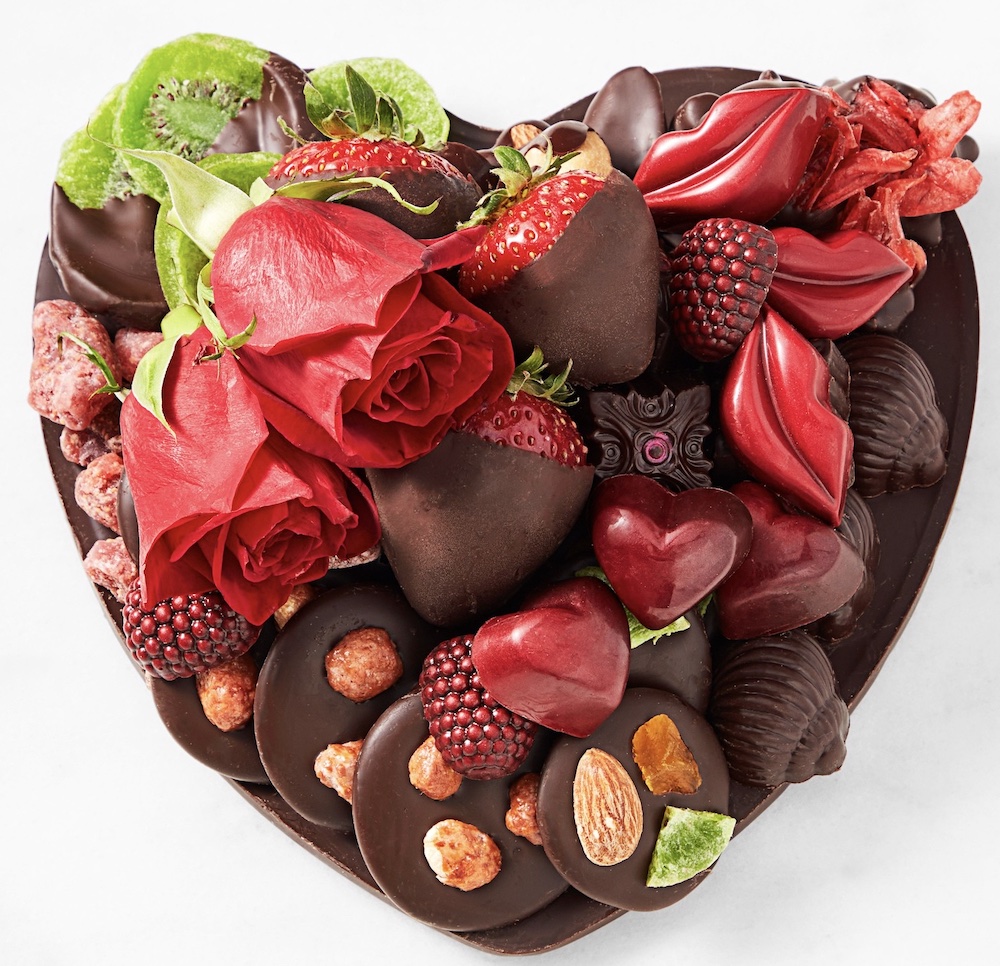 Make them ecstatic with this chocolate-filled board. Crafted by hand the Chocuterie features assorted chocolates, dried fruit, ripe berries, and fresh roses. Designed beautifully.
Artisan Charcuterie Wine Tray – Valentine's Day Charcuterie Board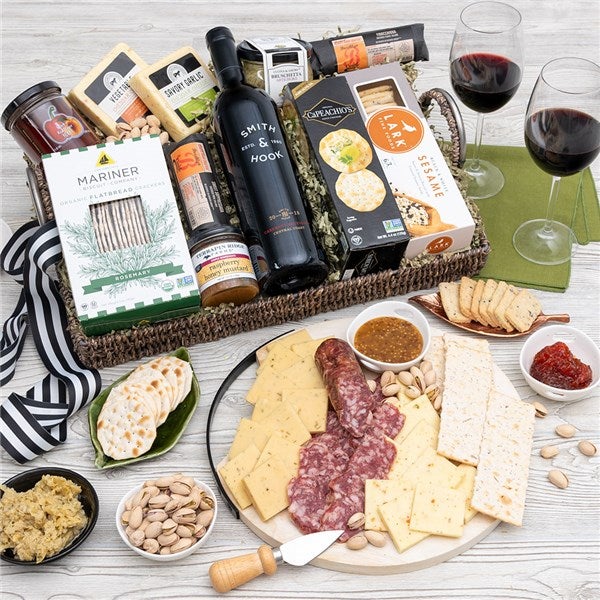 Celebrate the day with artisan cheese and Italian soppressata. Serve raspberry honey mustard, artichoke bruschetta, cheeses, and more in a seagrass serving tray. Bring instant joy with this charcuterie to your loved ones this season.
Eight Cheeses Tasting Gift Box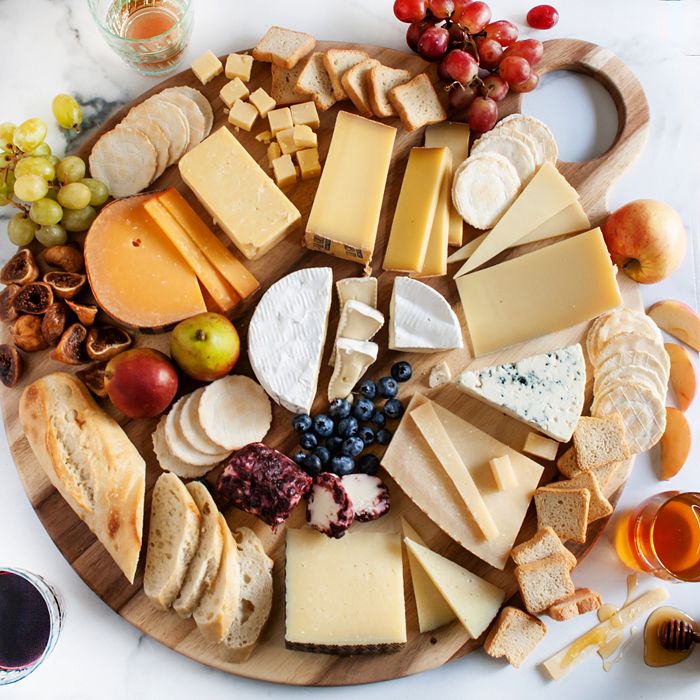 Give them cheese, fruit, and crackers to show how special your loved ones mean to you. The perfect tasting treats for the cheese lovers in your family. Included in the gift box are Manchego cheese, cranberry cheese, goat cheese, Piave cheese, and more.
Classic Epicurean Charcuterie & Cheese Collection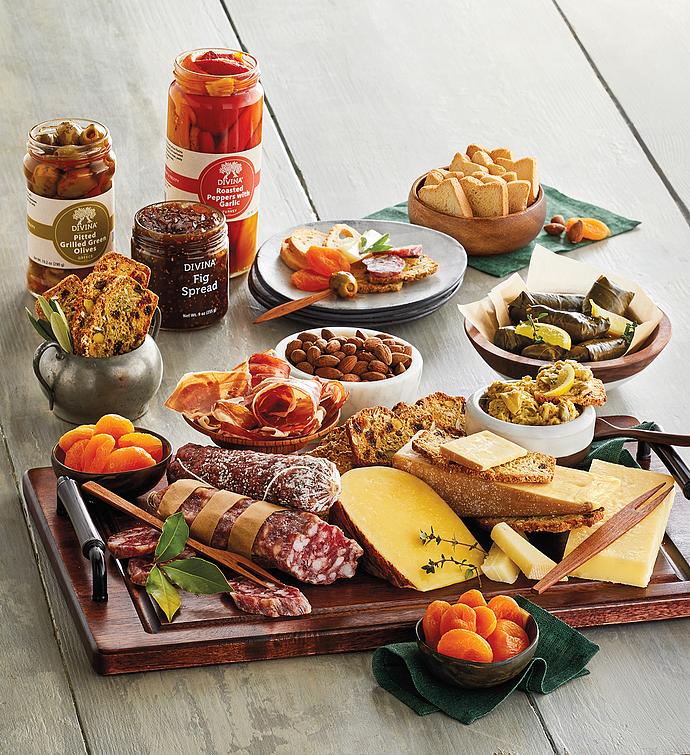 Serve some of the best delicacies from around the world with this collection. Create a charcuterie board with these popular ingredients. Included in the collection is hard salami, truffles, paleta, cheeses, spreads, olives, figs, apricots, and more. Impress your family and friends with this tasty treat.
Terza Cheese and Charcuterie Board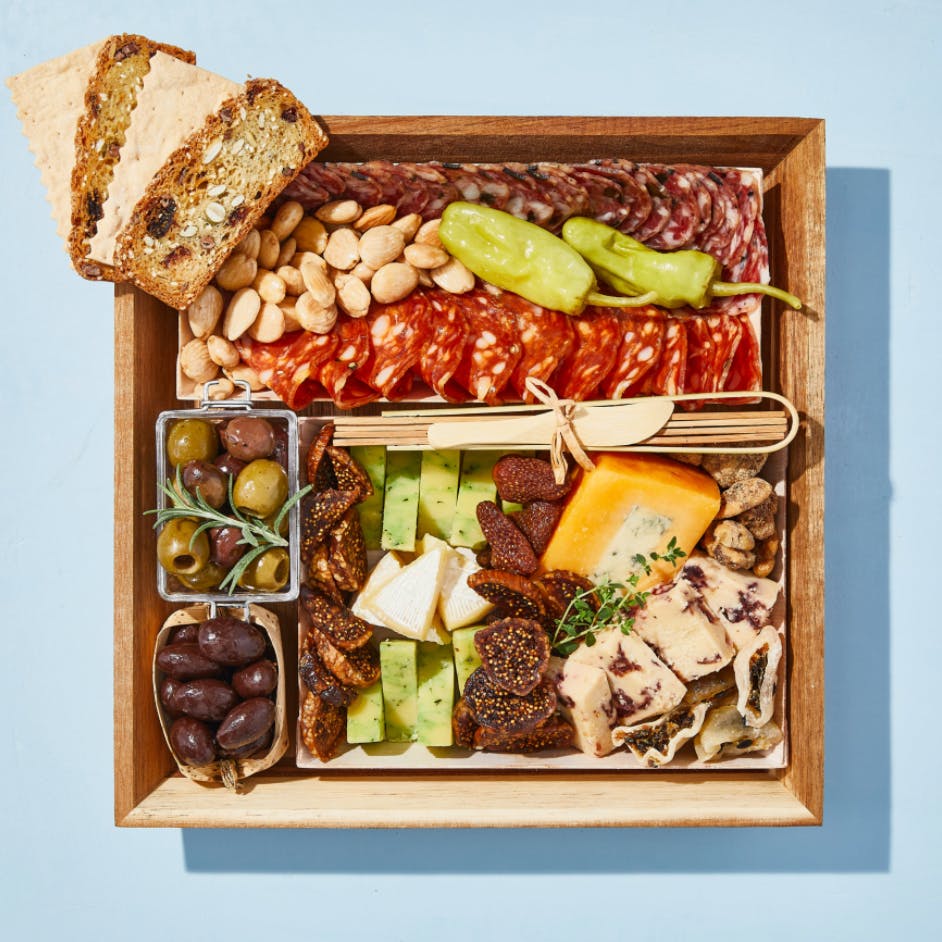 Treat your family and friends to a bountiful board full of 13 gourmet selections. Surprise them with artisan cheese, cured meats, specialty garnishes, and seasoned crackers. Create an amazing display with these artistic gourmet picks.
World Collection Gift Box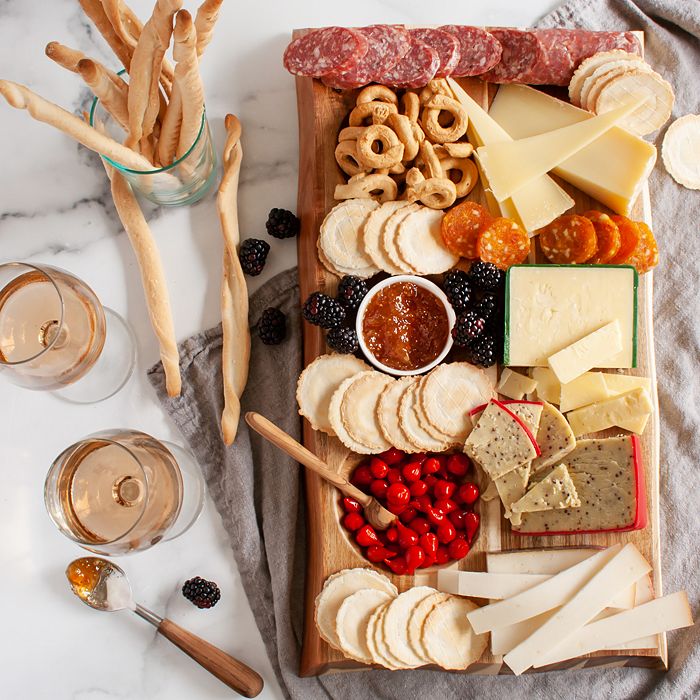 In this Valentine's gift box, you'll find Italian Grissin for dipping in the spreads and jams. Also included are several salami, various kinds of cheese, and assorted crackers. To top it all off, delight them with special sweet treats like chocolate-dipped marshmallows, chocolate-covered cherries, and shortbread cookies. You can't go wrong with this fabulous gift.
Valentine's Day Charcuterie Chocolate Gift Box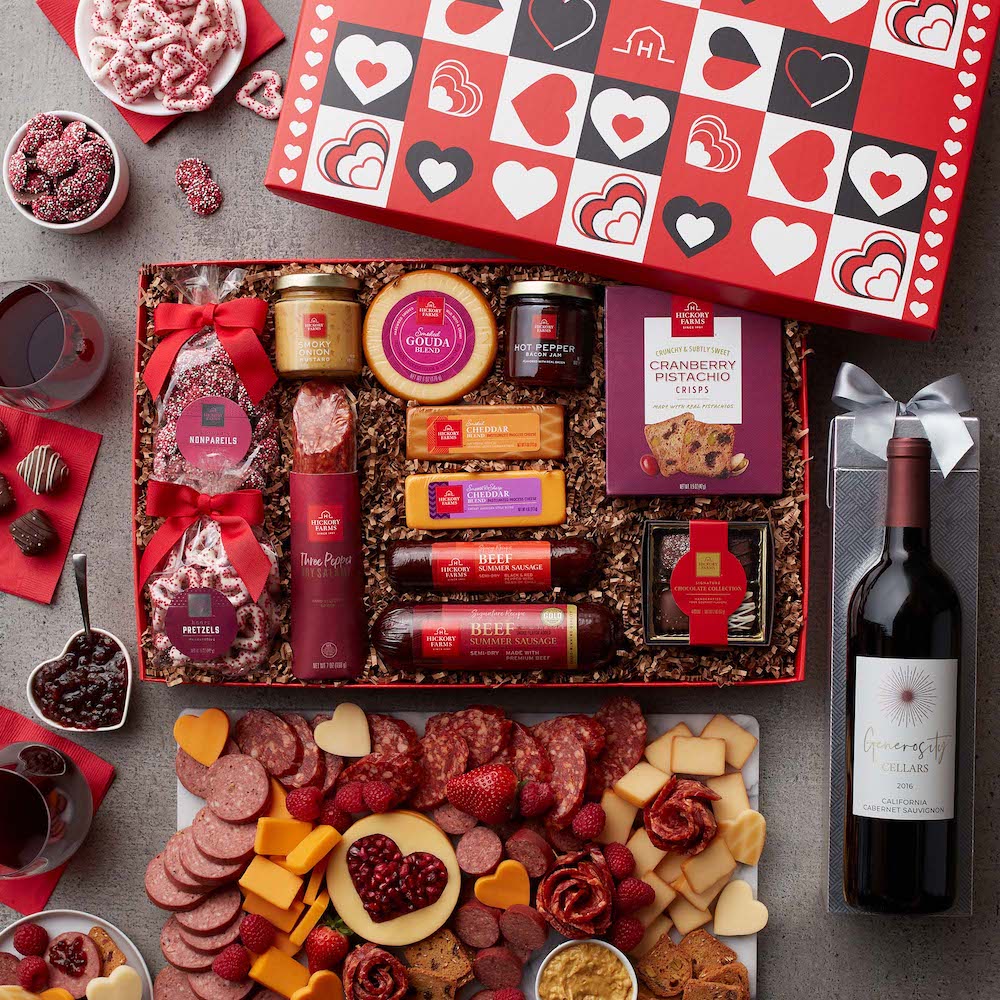 Blend traditional charcuterie foods with chocolate treats for Valentine's surprise. Wrapped in a beautiful Valentine's decorated box, the set includes sausages, cheddar cheese, jam, mustard, and crisps. Indulge them this year with sweets such as heart pretzels and chocolate nonpareils. They'll show you their gratitude.
Arte Cheese & Charcuterie Board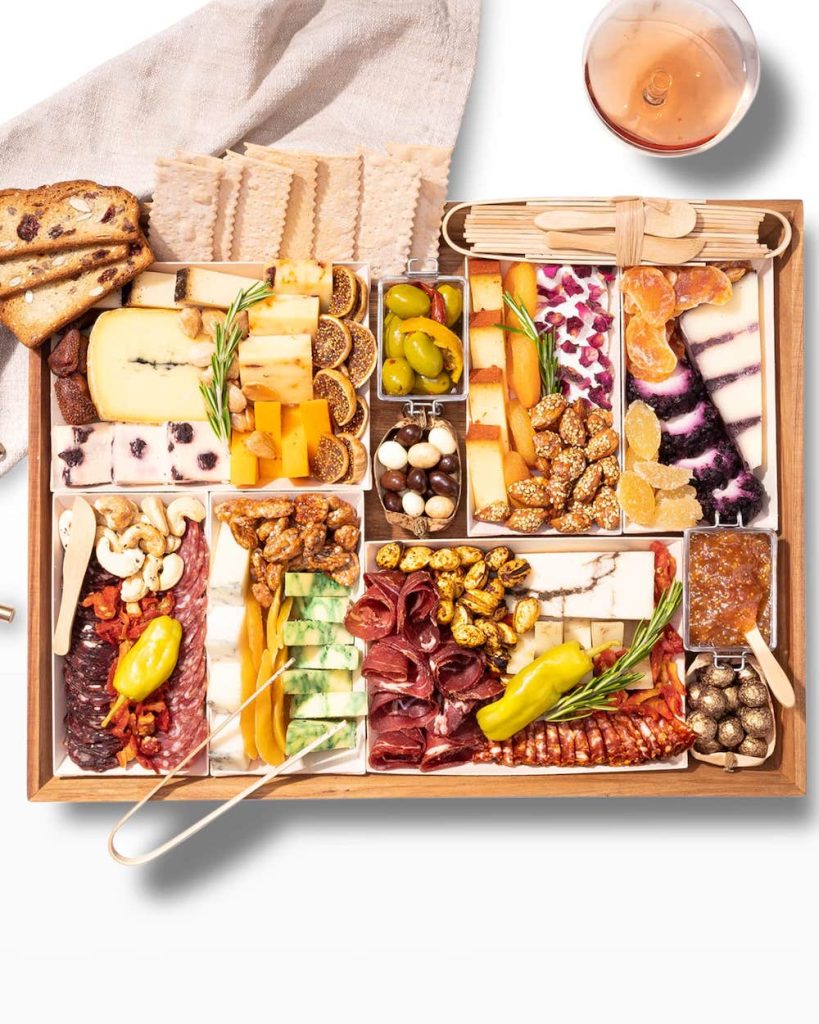 Make it beautiful with this artistically arranged charcuterie board. Loaded with lots of mouth-watering delicacies. In this grouping, are several types of salami, cheeses, an assortment of dried fruit, seasoned nuts, and more. You'll find something for everyone with this arrangement.
Spread the love this Valentine's Day with one of these delicious charcuterie boards. Elevate your Valentine's Day with scrumptious treats.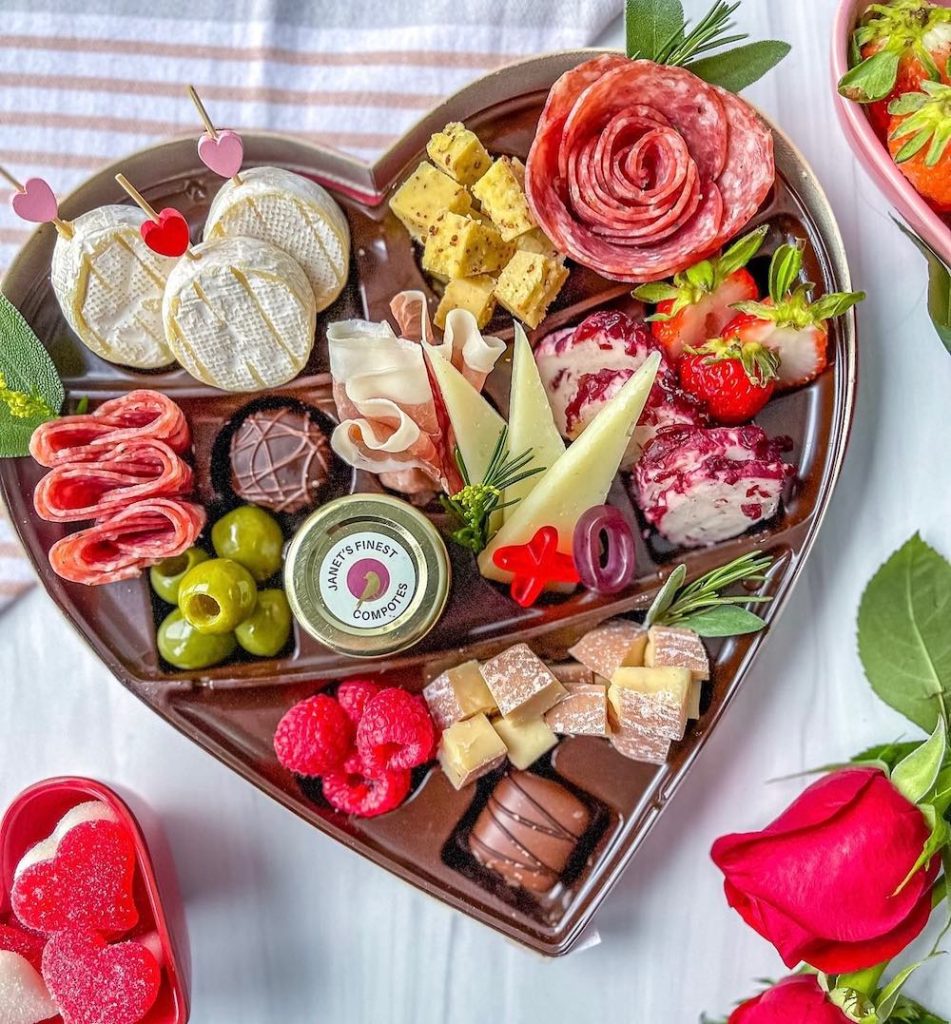 This ends our list of Valentine's Day charcuteries for your loved ones. Go big and show your loved ones how much they mean to you with a charcuterie display of tasty treats. There is no better way to celebrate the season of love! Take a look at our other Valentine's Day posts for festive and decor inspiration. Tell us about your Valentine's projects in the comments below. We always love hearing from our readers.
Enjoy our other Valentine's Day-related posts for additional ideas.
Are you interested in more ideas for decorating your home this Valentine's Day? Try these posts for additional decorating ideas this Valentine's season.
Cute Valentines Porch Ideas
Valentine's Day Gift Baskets
DIY Valentine Decor Ideas
Valentine Bedroom Decor Ideas
Valentine Table Centerpiece Ideas
Vignette Valentine Ideas
Reach out to us with any questions. We are always ready to help you out. Thank you for dropping by and taking a look at our blog.
Mary
Pin this for Later: