Barrafina is a modern, authentic Spanish Tapas Bar with three locations. The original one is located 26-27 Dean Street, Soho, London. Barrafina restaurants each have an open kitchen, a marble topped bar where you can observe the chefs make their amazing creations, and an a la carte menu of dishes from around Spain. This is easily some of the best Spanish food we've found outside of Spain and the open-kitchen bar seating reminds us of the Boqueria marketplace stalls that turn out awesome food in Barcelona.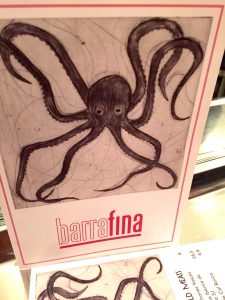 Each Barrafina location serves fresh seafood dishes and features daily specials. They offer a wine list that features the finest Spanish Sherries, Cavas, and Wines and an equally impressive list of dessert such as Santiago Tarte, Spanish Flan.
Reservations are not accepted. During the evening, wait times can be up to 2 hours so plan ahead. The wait (or queue as they say in the UK) has a specific process at each of the Barrafina locations. When you enter, do NOT just take an open stool, there are likely people waiting ahead of you and the staff manage the seating. If a waiter doesn't ask you how many and warn you of the wait, look for the line of people standing along the outer wall of the restaurant. You'll have to figure out or ask which end is the back of the line, but the staff are super friendly so take their lead. You'll be asked to move along the wall as people are seated. If there is a shelf where you are waiting, you can order drinks and small tapas from a 'waiting' menu. Enjoy a glass of wine and keep your stomach quiet with a few pimientos de padron or pan con tomate, but be careful not to fill up before you're seated!
The other two locations for Barrafina are both in Covent Garden. If you love Spanish tapas, it is definitely worth the wait!
Comptoir Café and Wine in Mayfair
Comptoir Café and Wine in Mayfair bills itself as a "Café by day, Wine bar by Night." Comptoir Café is sister cafe to Blanford Comptoir in Marylebone, serves seasonal ingredients.  Comptoir is located near Oxford Street at 21-22 Weighhouse Street, London.
For an early start, morning breakfast dishes served range from Eggs Benedict to homemade granolas, and for lunch and dinner, French Onion soup with cheese crouton, Terrine with goose and mustard, Croque Monsieur, Maldon Oysters, Lobster Roll, and much more. Perfect food and atmosphere with friendly and attentive staff.
The Wine Shop of Comptoir downstairs carries an assortment of Champagnes Rosés, Champagne, Cava, Cider, and White, Red, and Sweet Wines. The Wine Shop carries over 2,000 bottles of wine. Comptoir schedules wine tastings about once a month to a limited number of guests in their cellar. Spaces fill up quickly, so reserve your place early on.
Comptoir Café and Wine in Mayfair and Blanford Comptoir in Marylebone were founded by Xavier Rousset MS. Xavier, Master Sommelier, has worked at several Michelin Star restaurants in Paris and St. Tropez before opening his own restaurants in London.
Donostia is an authentic Cocina Vasca or Basque Kitchen found at 10 Seymour Place, London. A modern Basque menu with enough Spanish tapas to keep those unfamiliar with the Basque region interested is served up in cozy, contemporary digs near Marble Arch.
The menu lists a variety of pintxos, cold plates, tapas – plates of fish, meat, and salads. Some of the items on the menu include Marcona almonds, pan con tomate, Gordal olives, croquetas, foie gras, jamon, chorizo, pulpa, mussels, prawn, pork shoulder (so good!), salads, patron peppers, and the ever classic tortilla. Don't miss the chalkboard nightly specials.
Drinks include various gin & tonics, champagne & sparkling, wine – white, red, rosé, cava, cider, beer, sherry, port wines, and many others are available. Donostia offers a tasting set menu for groups only.
Donostia has a bar area in the front with table seating along the bar for smaller groups, bar seats at the bar counter area, and a small dining room area in the back. Seating is limited so reservations are recommended especially with a larger party. Online reservations are taken and you can specify stools at the bar or one of the several tables in the restaurant.
Fortnum & Mason is a 4-level department store with a grand Food-Hall as well. They are known for their customize wicker hampers full of Fortnum & Mason food products such as biscuits, tea, coffee, preserves, marmalade, chocolates, truffles,  champagne, wine, and more!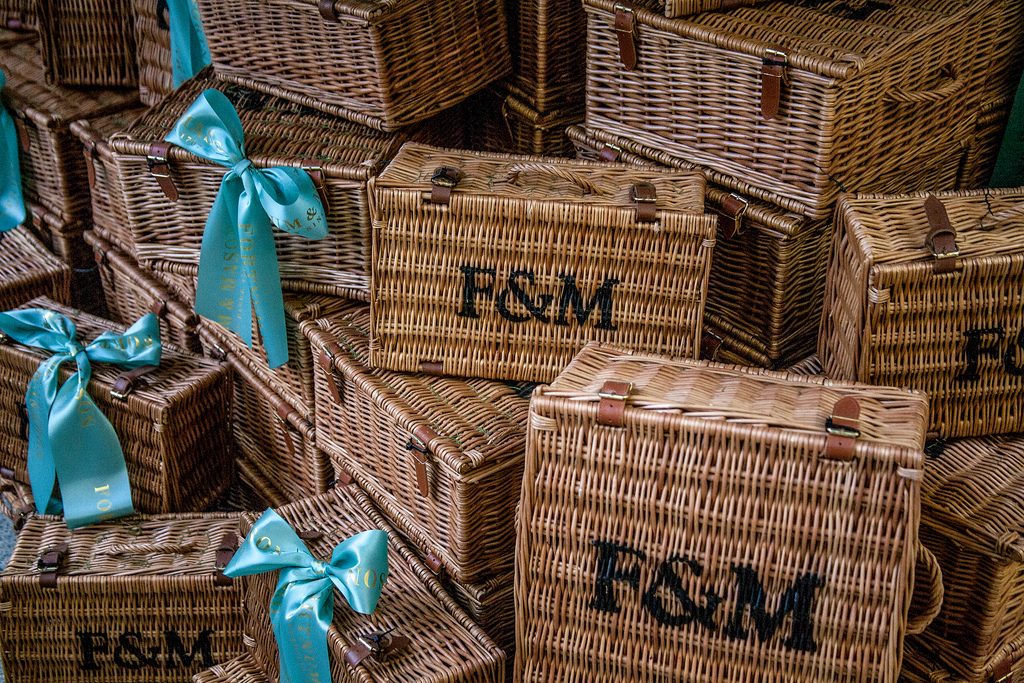 The pistachio & clotted cream biscuits are a favorite in our household. Incredible biscuits! A good size selection of biscuits, teas, and preserves are available on the ground floor. Fortnum & Mason is located at 42 Jermyn Street, London.
Located at 87-135 Brompton Road, Knightsbridge, London, UK. Harrods is a multi-level large store where the Queen is said to shop. They feature luxury brands from furniture to designer gowns to jewelry and watches. Harrods has a travel department as well.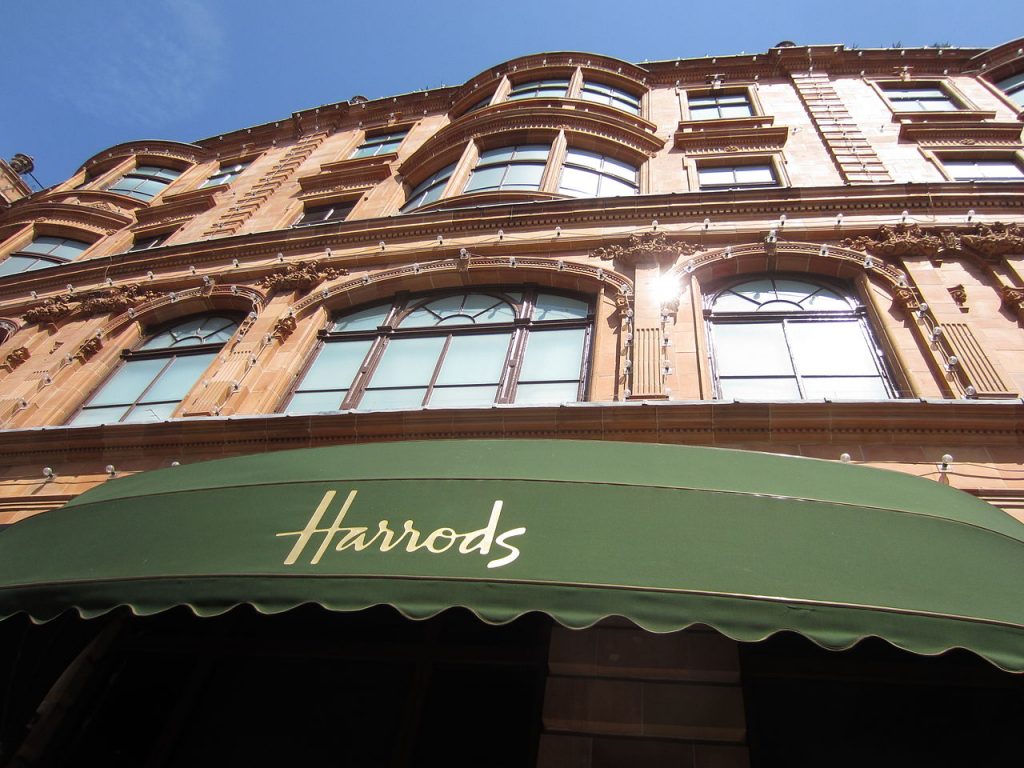 The Food-Hall is amazing with many cafes and food bars (seafood, bakery, desserts, tea). You will find an extensive selection of food items. Absolutely worth the trip to Harrods.
Hyde Park, one of the Royal Parks
Hyde Park is the largest of four Royal Parks that covers the area from the Kensington Palace entrance through Kensington Gardens. Hyde Park has the Long Water area from the Italian Water Gardens stretching underneath the W. Carriage Drive to the Serpentine lake. Hyde Park is open from 5 am until midnight year around. There are events and concerts year around. There is a Diana, Princess of Wales Memorial Fountain near the Serpentine.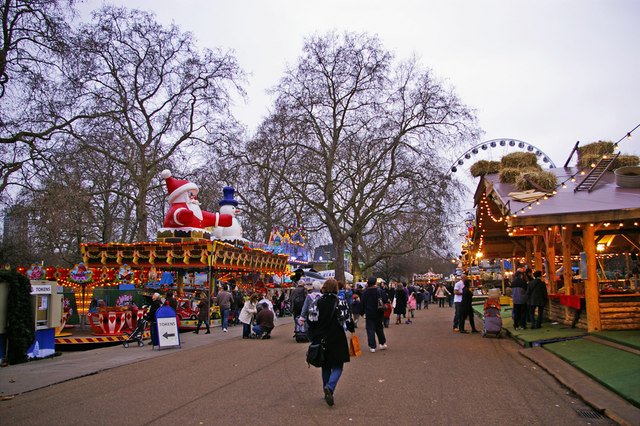 Some of the many activities you can participate while at Hyde Park are boating, swimming, tennis, horse riding, jogging, walking, or cycling at Hyde Park. There are over 350 acres to explore. There are various events at Hyde Park including the Royal Gun salutes which mark special royal occasions and the Hyde Park Winter Wonderland.
John Lewis department store is located at 300 Oxford Street, Marylebone, London. John Lewis has a basement full of wonderful home furnishings, home accessories, garden items, and DIY items such as wall paper, paint, tools, hardware, and many more items for the homeowner.
Liberty London Department Store
Regent Street, London W1B 5AH. Note: the main entrance is located on Great Marlborough Street, By Tube:  Oxford Circus – Central, Bakerloo, and Victoria lines or Piccadilly Circus – Piccadilly and Bakerloo Lines
This is a really cool department store unlike anything you've likely seen before. Housed in an old building built back in the 1920's in a Tudor revival style with all the original exposed beams and plank flooring still present. The building is actually constructed from the original timbers of two ships, the HMS Impregnable and the HMS Hindustan. It's absolutely worth a visit to explore the different floors, covering everything from men's and women's fashion to home goods and collectibles. In particular, they interestingly highlight up and coming artisans and their wares. Beware, the elevators are really slow so plan on getting a stairs workout while you shop!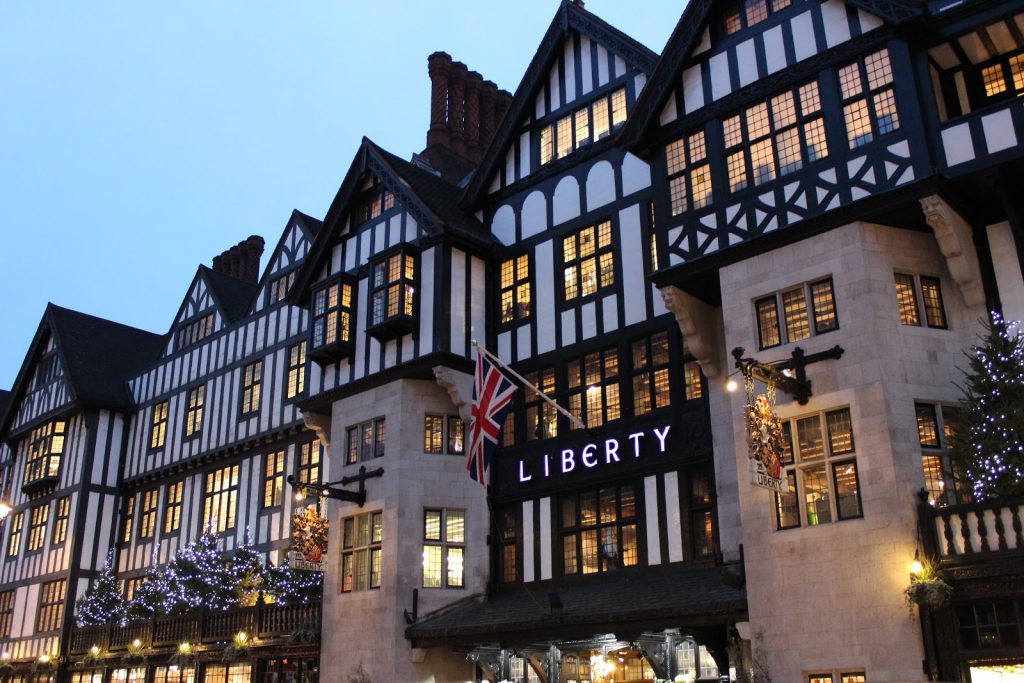 Some of the interesting items we found on our last visit:
Burleigh Products Cornishware tableware is available.
Falcon enamelware available in red, grey and black colors. You can purchase teapots, mugs, plates, serving trays, pie dishes and more.
Bitossi Italian vivid-blue ceramic in whimsical animal figurines are from the 1950's collection.
Astier de Villatte Super-thin French porcelain ware in a 'refined artisinal' style (e.g. each piece is hand made with unique imperfections), glazed in country white. Also on display was a collection created in collaboration with American designer John Derian (NYC) who's iconic decoupage of vintage prints appear on the Astier de Villatte plates and other items.
Henrik Dybdahl The Norwegian artist features a curated collection of reprints of vintage nature plates and sketches from books. Colors that Dybdahl reproduces are amazing!
A visit to London would be incomplete without a meal of fish and chips. The Mayfair Chippy more than satisfies that item on your bucket list. The haddock fish & chips are particularly good! Also, don't miss the Crab and Avocado on toast – a very flavorful combination.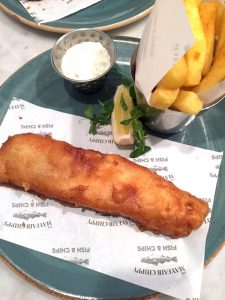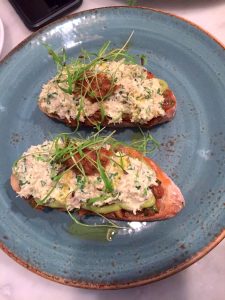 10 Bucket List Worthy Places to Eat, Shop, and See in London! MayFair Chippy
Located near the Marble Arch in Hyde Park, Soho at 14 North Audley Street, Soho, London.
When we went on a weekday for lunch the place was packed and we decided to come back another day. We highly recommend reservations as the place is popular with tourists and locals looking for a quick bite.
The Tower of London houses the world famous collection of jewels used in many of today's royal ceremonies in the UK. The Crown Jewels are part of the Royal Collection and symbols of the British Monarchy. The Crown Jewels are under guard at the Jewel House at the Tower of London. When an "in use" sign appears, the jewels are being used by the Royal Family.
The Crown Jewels have been stored at the Tower of London since 1661. The Royal Collection includes crowns, robes, and many coronation regalia is stored at the Tower. Allow about 2 ½ hours to see the Tower and additional time for the surrounding grounds. Definitely worth the trip to the Tower!
Save
Save
Save
Save
Save
Save
Save
Save
Save