The Loja Das Conservas at Rua do Arsenal 130, Lisbon is a small and brightly decorated store that sells a variety of sardines, sardine paté, and other fish products. You can shop and select from a number of sardines in tin cans that you like. The canned sardines will then be boxed so they are ready to travel with. Loja Das Conservas or the House of Canned Goods has over a dozen Portuguese fish packing companies that they sell at their three locations – one in Porto and two in Lisboa. 
I've included some information about three of the canned goods companies that Loja Das Conservas sells. Below is some interesting facts about Ramirez Conservas, Conservas Pinhais, and Santa Catarina Indústria Conserveira.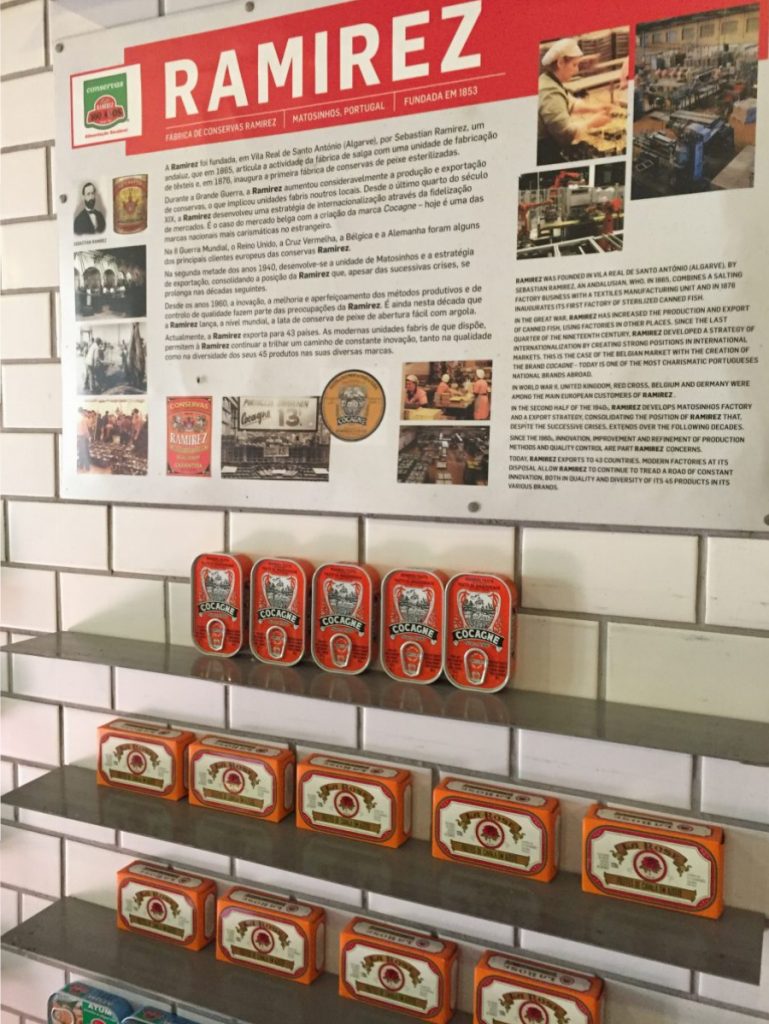 The Ramirez Conservas is a five generation family company and the oldest of canned good companies. Sebastian Ramirez, founder of the company, began in 1853 in Vila Real de Santo Antonio, Algarva, Portugal which is close to border of Spain. Ramirez Conservas sells over 50 seafood products including sardines, mackerel, horse mackerel, codfish, codfish with chickpeas, anchovies, tuna, calamari, squid, mussels and much more.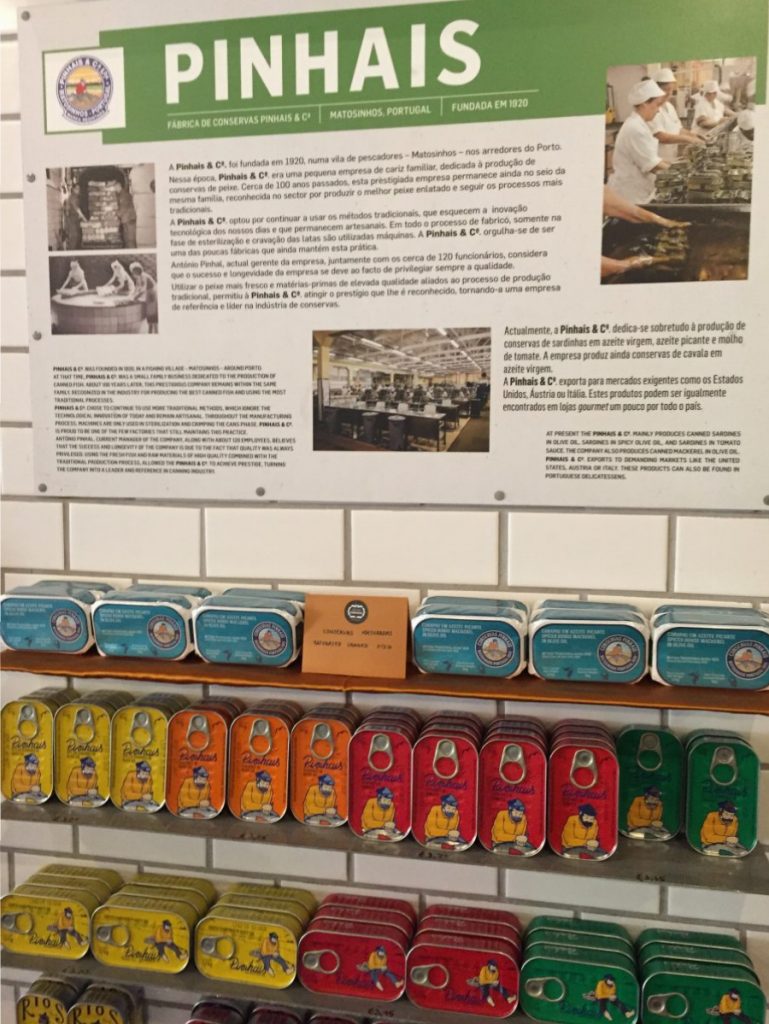 Pinhais and Cia was founded in 1920 by four partners. Conservas Pinhais has two lines – Pinhais and Nuri. They offer sardines, mackerel, mushrooms in a variety of sauces, and more.
Santa Catarina Indústria Conserveira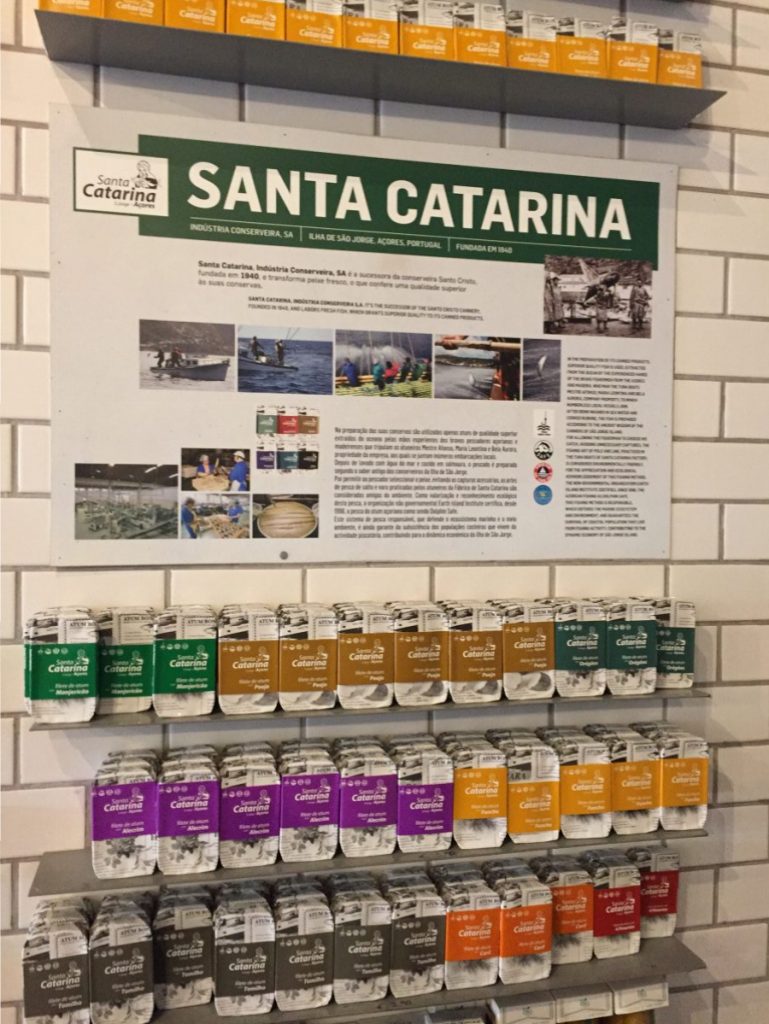 The Santa Catarina Indústria Conserveira is located on the São Jorge Island in the Azores about 1,062 miles from the Portuguese coastline. Santa Catarina uses the pole and line method of fishing in the Azorean Sea. The pole and line method involve the use of a single fisherman, one fishing rod, one fish hook, and a single tuna fish. This method prevents catching any other fish that the Santa Catarina does not prepare in tin cans. Santa Catarina is a Dolphin Safe and Friends of the Sea safe company.  Santa Catarina produces various tuna products with a variety of sauces and tuna paté.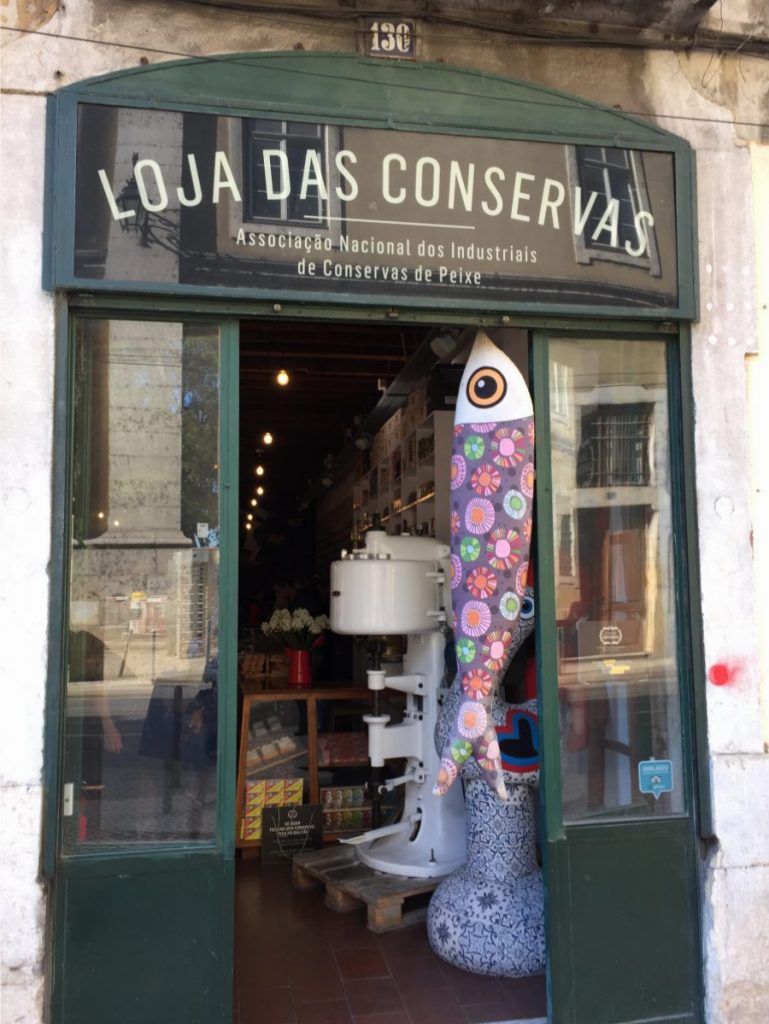 Loja Das Conservas in Lisbon is easy to recognize with the large sardine fish hanging in the doorway of the storefront. Also, available for purchase is Tuna Paté and Sardine Paté at Loja Das Conservas. Tuna Paté and Sardine Paté is typically served with olives and bread as an appetizer. The olives, bread, and patés are outstanding!
For information about old world Portuguese tiles be sure to read our post – Old World Tiles of Lisbon, Portugal. And if you have any questions, feel free to reach out to us in the comments below. We always want to help you out.