Lisbon has the most amazing tiles on the facades of buildings and homes. As you stroll up and down the quaint, winding and narrow streets of Lisboa (Lisbon), you noticed the most beautiful, old World tiles on many older apartment buildings. Intricate, ornate patterns that gives you an idea of the Portuguese tile decor in years past.     
In the Alfama neighborhood of Lisboa, we discovered a variety of beautiful tiles on many apartment homes. The Alfama neighborhood has many narrow, steep streets and some with narrow stairways or sidewalks that visitors can explore. Take a look and let us know what you think of this gorgeous tiles!  
Fleur de Lis Tile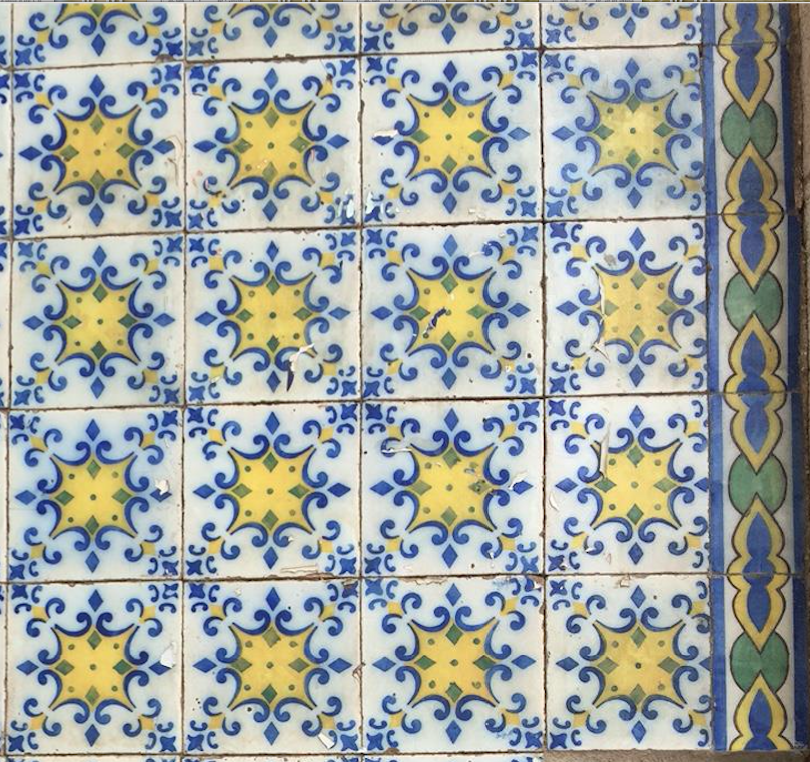 The Blue and Yellow image on the tiles are made up of four Fleur de Lis, one at each corner. The yellow and blue square tile colors reminds one of the gold and blue Fleur de Lis pattern of the Royal Arms of France. The small blue diamond pattern further accentuates the center yellow medallion created by the Fleur de Lis.
2.  Blue Quatrefoil with Interior Green Plumes Tile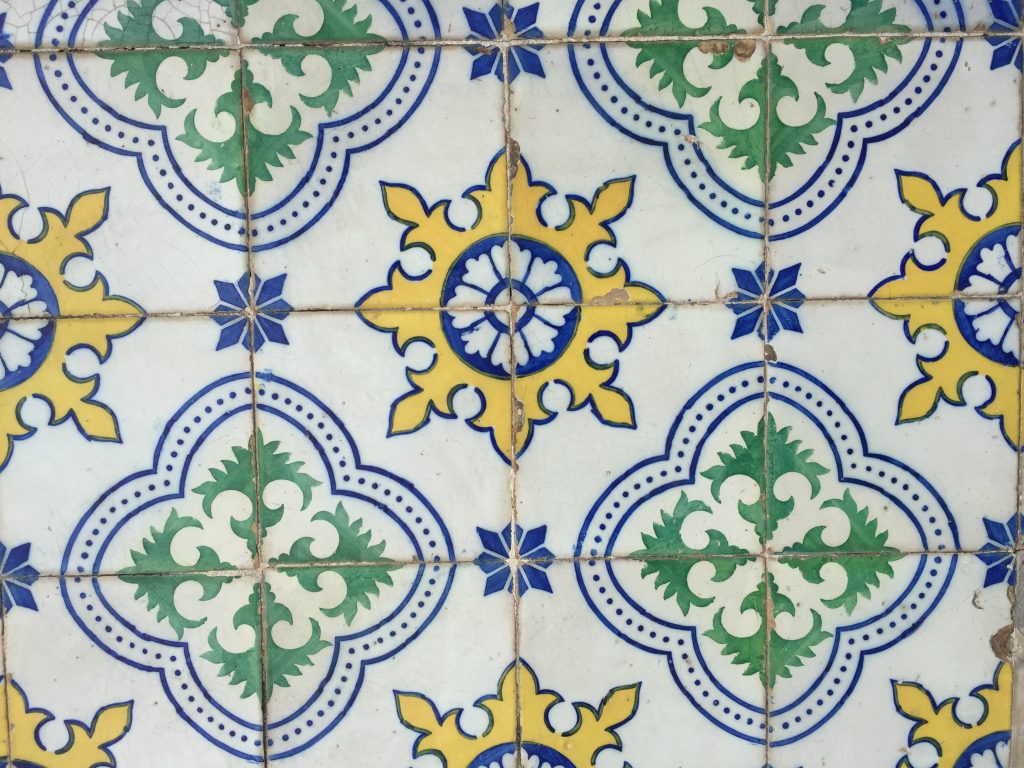 The largest design is a blue Quatrefoil shape with surrounding blue dots and interior green plumes. The second largest design is a white flower on a navy background with yellow Fleur de lis circling the flower, then outlined in navy. The smallest design is a series of alternating navy diamond and kite shapes. So beautiful done!
3.  White Petals on Navy Background Tile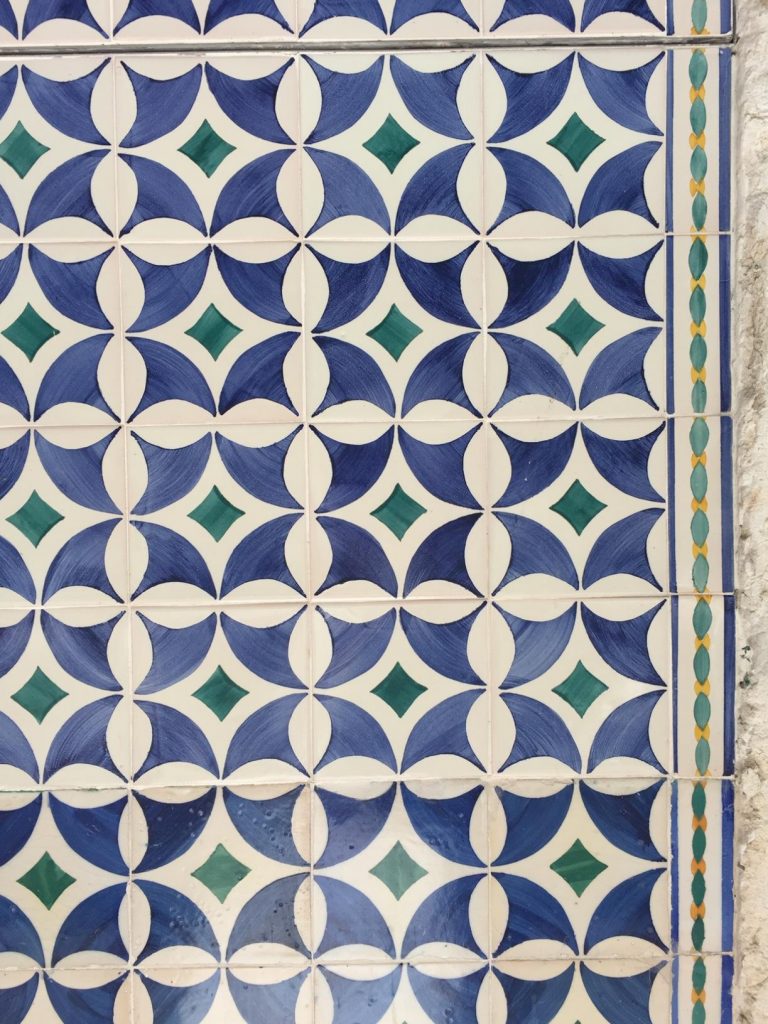 This basic design of white petals on a blue circular background makes for a cheerful image. A green rotated square adds a third color to the tile. The border tile outlines the entire image giving a nice transition to the exterior white stucco wall.
4.  Greenish-Blue Tiles with Fleur de Lis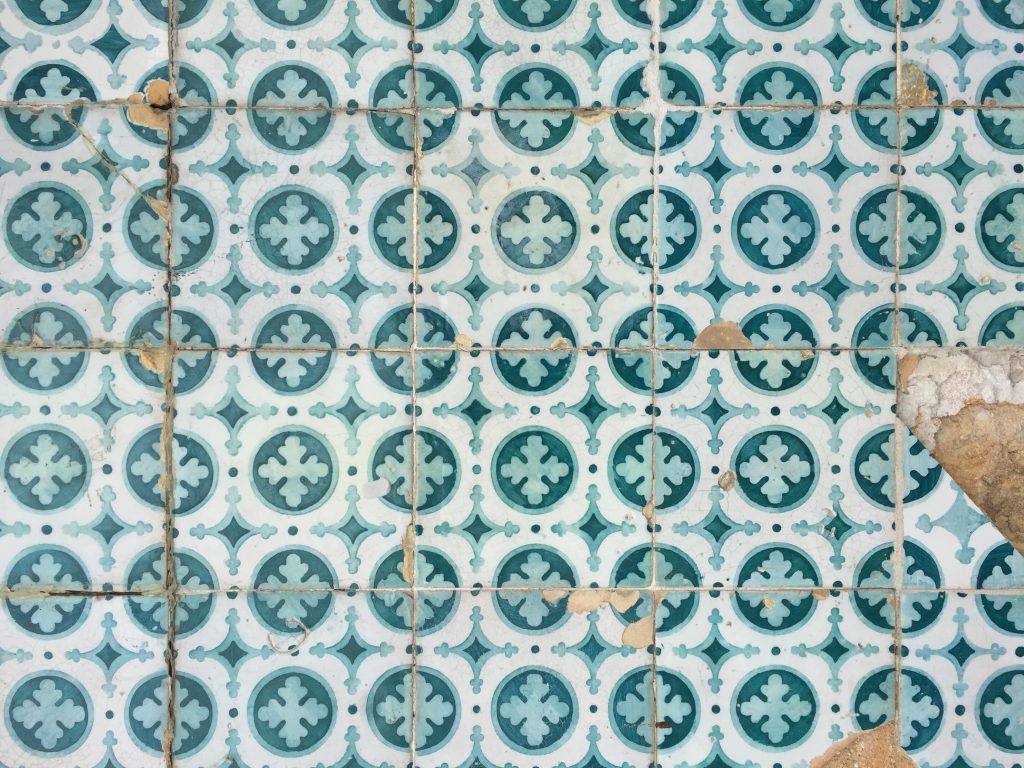 This Portuguese tile is a greenish-blue color tile. The circles have tips of four Fleur de Lis on a darker greenish-blue background with a light greenish-blue outline. The repeating pattern between the circles are a small diamond surrounded by a Fleur de Lis on each corner with alternating dots. A pretty clever design that can be used for many applications.
5. White Roping on a Green Background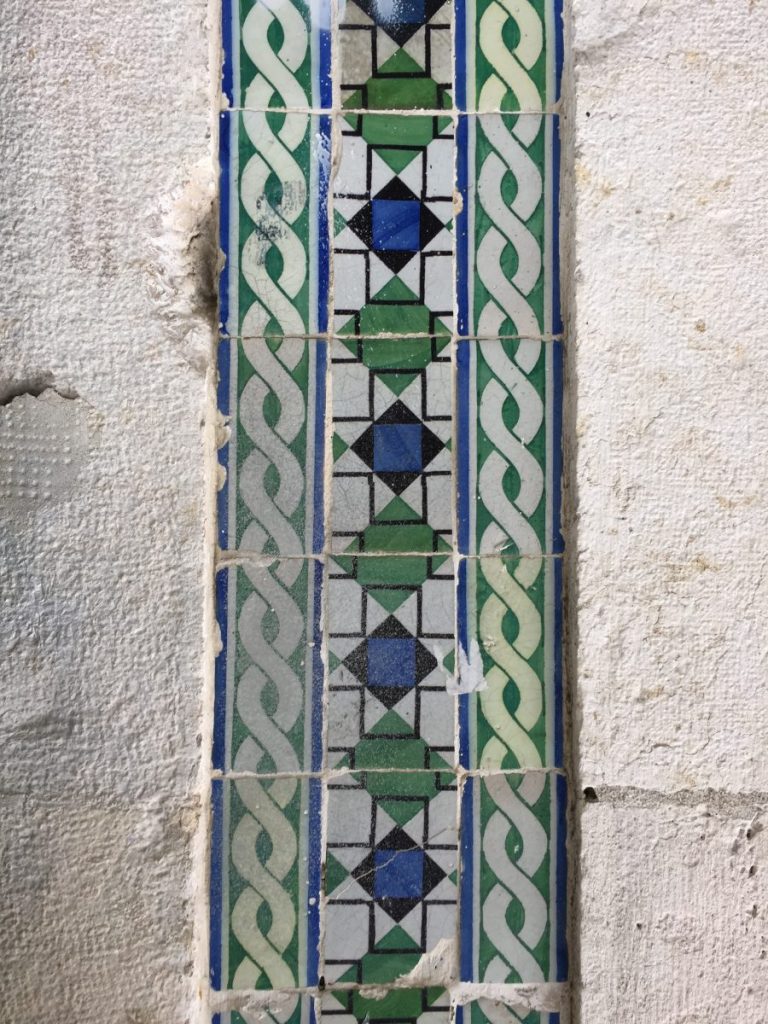 This border tile has a white rope design on a green background outlined in white and then blue on both edges. The center has green and blue/black squares over black lines with a white background. I wondered if this design is in reference to the fishing industry not only in Lisbon but throughout all of the Portugal coastline communities. A beautiful design for a coastal look.
6.  Blue and Cream Floral Tiles with Fleur de Lis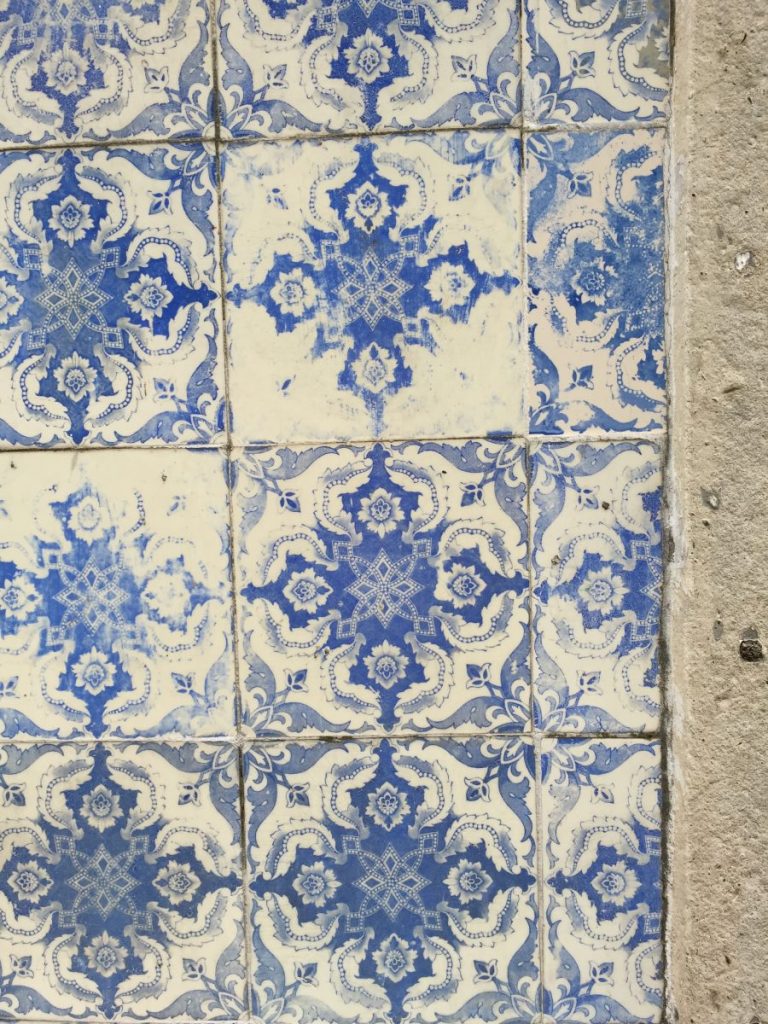 This Old World Tile is blue and cream consists of Fleur de Lis, flowers, and plumes. A beautiful and intricate design with many repeating patterns within patterns.
7. Blue and Cream Tiles with Scroll Border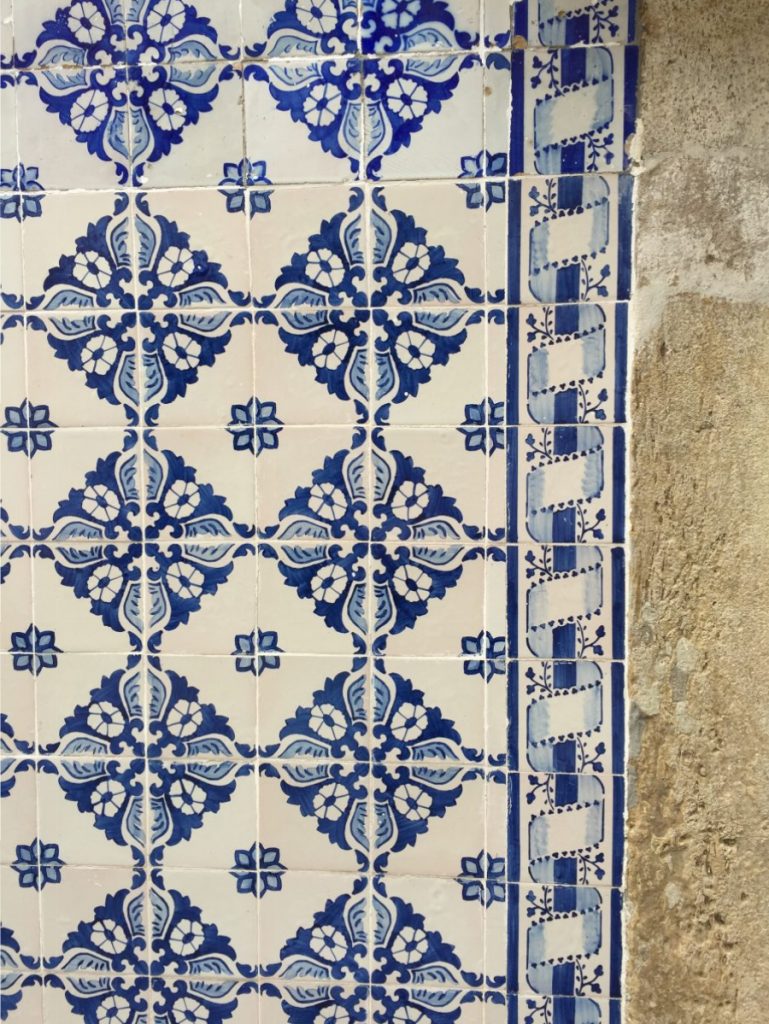 This blue and cream tiles create a beautiful diamond-shaped floral bouquet. The tile work is framed by a scrolling border to finish the look.
8.  Morning Glories Vine with Exquisite Border Tile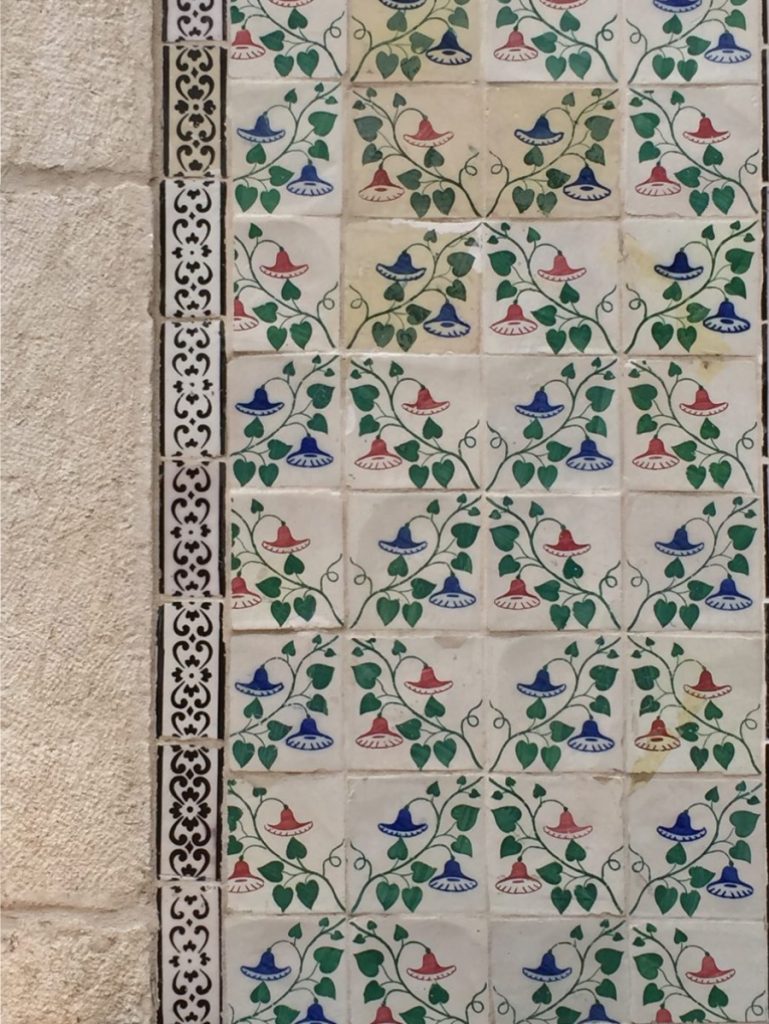 This lovely Morning Glory Vine tile is reminiscent of the Morning Glories that grow in the countryside. The crisscross pattern resembles the growth of Morning Glories when trained on a trellis. We especially love the black and white floral border tile. A wonderful site in the morning on your way out.
9.  Floral Tile with Blue Border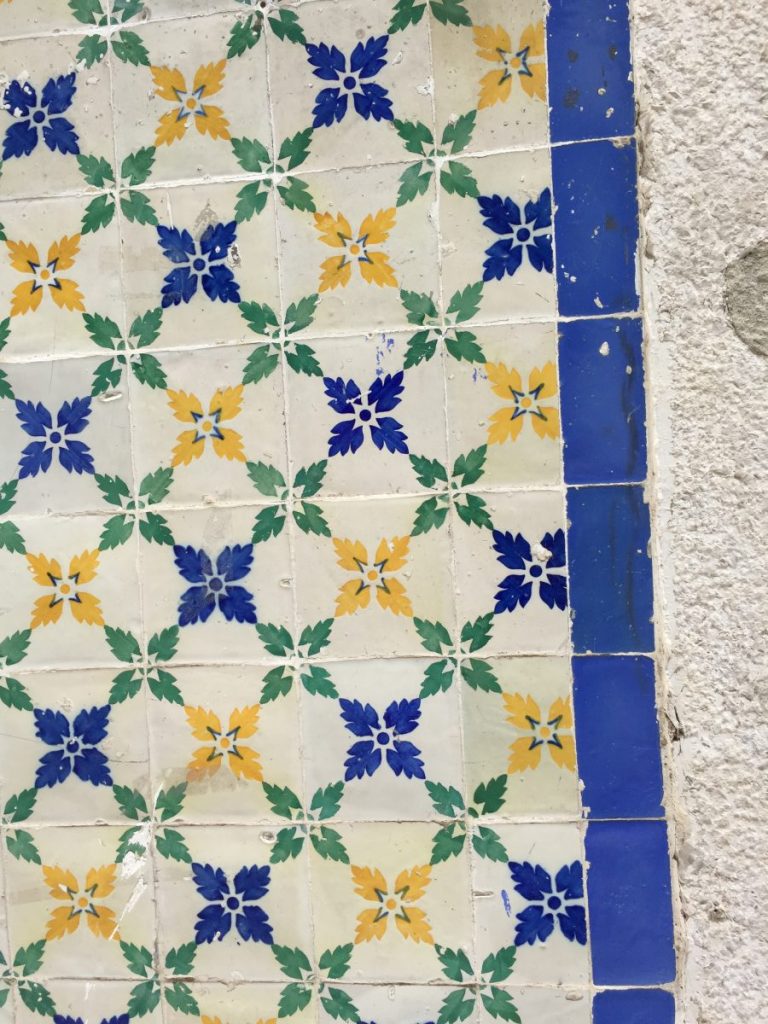 These tiles have a simple repeating pattern of flowers. The center flower is either yellow or blue with the four corner petals in green. The green petals form their own flower that creates a trellis image that becomes more noticeable as   you step back from the tile wall.
10. St. Anthony Tile with Soaring Birds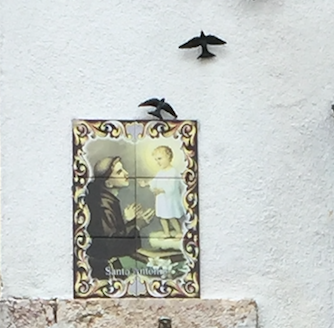 This tile work is an image of St. Anthony with soaring birds above the image. The entire tiles are edged in Fleur de Lis and scroll artwork.
These are a small sampling of the old world tiles that you can find in the Alfama neighborhood of Lisbon. If you go to Lisbon exploring the many neighborhoods be sure to dress appropriately. The days can be very warm and the nights are cool. In late May, the weather was warm during the day and cool, breezy at night. It seems the hot to cool transition can happen very quickly. Take a light sweater or jacket, scarf, and comfortable pair of shoes as you go off exploring the beautiful streets of Lisbon.  
For more information on Lisbon, check out our post on Loja Das Conservas Lisbon, Portugal where sardines as well as many other fish products are sold. And if you have any questions, feel free to reach out to us in the comments below. We always want to help you out.