Punta del Este is a coastal town in the southeast coast of Uruguay.  It is referred to as the St. Tropez of Latin America because of its beaches, excellent seafood, fashion, and nightlife.  So what is there to do in Punta del Este?  Well, below are some of the activities we found to do once you arrive in Punta del Este!     
Beaches of Punta del Este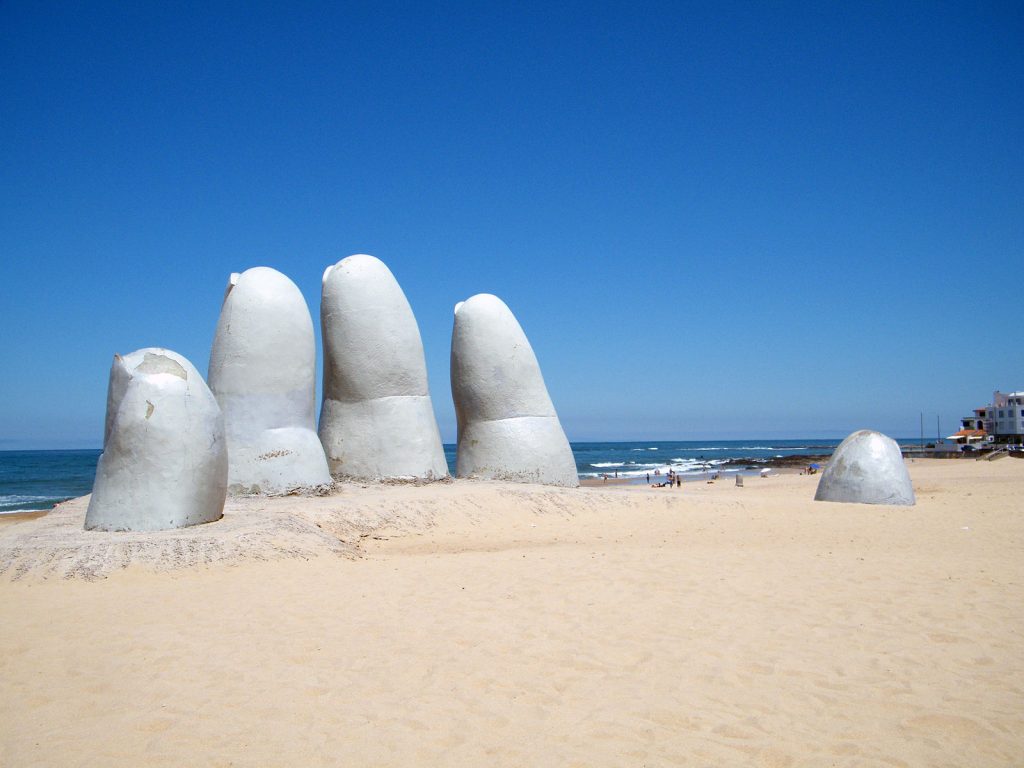 There are two main beaches: Playa Brava (Brava Beach) and Playa Mansa (Mansa Beach).  At Brava Beach, you'll find the famous giant sculpture of fingers rising from the sand.  The sculpture by Chilean artist Mario Irarrázabal, rises from the sand.  The sculpture is called La Mano or Los Dedos (the hand or the fingers).  The concrete sculpture commemorates the lives of drowned local sailors in the treacherous waters off the coastline.  The other hand sculpture is in Chile's Atacoma Desert.  Brava Beach or Playa Brava is more windy than Mansa Beach.  It is known for its strong surf which is a favorite of the local surfers.  
Mansa Beach on the west coast of the peninsula has calmer, more shallow waters.  If you're more interested in the well-heeled crowd, head over to Bikini Beach in the nearby resort town of La Barra.  Puente de La Barra is a short drive north of Punta del Este, La Barra is a beach community with art galleries, ice cream parlors, and surf shops.  And great beaches to enjoy!   
At the very southern tip of the peninsula, you'll find the Faro de Punta del Este or the Punte del Este Lighthouse.  The lighthouse was built in 1860 and if accessible that day, you'll have fantastic views of Punta from a viewing platform.  The walk to the Faro de Punta del Este is a definite "must see" for the many picturesque lighthouse and ocean views along the peninsula.           
Boat Tours Around Punta del Este
If you're feeling like a boat ride while visiting Punta del Este, you can boat off to the Isla de Lobos.  Isla de Lobos is an island about 5 ¼ miles away from Punta del Este.  The island has a large colony of sea lions – about 15,000 or so.  There is a lighthouse on Isla de Lobos that is the tallest in South America.  
Another island a short distance away is Isla Gorriti.  Isla Gorriti has two beautiful sand beaches, small restaurants, and a relaxing atmosphere.  
Yoga Studio
The Shack Yoga is an airy, beautiful smoothing yoga studio with its open-level Vinyasa-style classes.  Yoga visitors can awaken their senses through yoga practice, meditation and massage therapy.  Visitors can drop by this José Ignacio yoga studio during December to March for the South American summer season.  The Bridgehampton, New York (Hamptons) location of The Shack Yoga is open from May to September.  
Food of Punta del Este  
The Punta del Este harbor is a great place to eat fresh shellfish.  A favorite seafood restaurant is Lo de Tere Restaurante.  At Lo de Tere Restaurante, you can enjoy great food and fantastic views of Isla Gorriti and Maldonado Bay.  The rack of lamb is especially good.     
Closer to downtown Punta del Este eat at La Bourgogna where Chef Jean-Paul Bondoux a native of Burgundy serves fresh produce from his nearby farm.  You can request a seat in La Bourgogna's beautiful garden and order the chef's tasting menu.  There is a French boutique next door that serves brioches, croissants, and cheeses.    
Consider lunch or dinner at Narbonne, there are two locations.  One on an estancia (a cattle ranch), Narbonne Carmelo, Ruta 21, Carmelo, Uruguayan.  At Narbonne Carmelo you are surrounded by vineyards on the estancia.  There is a cellar where you can enjoy a private dining area.  They serve the best Mediterranean countryside style food and order from the restaurant's vineyard.   
The other location at Narbonne Punta del Este, Ruta 104, Camino del Golf, Punta del Este.  Narbonne Punta del Este has a original wooden bar that was relocated from the old warehouse.  During the day, you can lunch under the wisteria terrace and in the evening, dine by candlelight in the garden for a romantic atmosphere.       
A beachside parilla (a simple iron grill barbecue commonly seen in Argentina) in José Ignacio called Parador La Huella.  Parador is a hotel or grill typically owned and operated by the government.  La Huella is on the beach and during peak season reservations are recommended.  The sleepy fishing village of José Ignacio is north of Punta del Este.       
Fashion and Shopping in Punta del Este
If you are interested in either clothing or art, the most popular shopping area is El Remanso, sometimes called "Little Paris".  El Remanso runs along Avenida Gorlero and Calle 20.  El Remanso is mall shopping.  During the summer, fashion shows are held where prominent Latin American designers often are featured.    
At Plaza Artigas or sometimes called Plaza de los Artesanos, near the upscale stores of Avenida Gorlero, you can purchase local handicrafts for souvenirs.  It is referred to as a street fair with stalls selling inexpensive folkloric souvenirs.  It is an interesting place to shop.   
Nightlife in Punta del Este
The biggest disco in Punta del Este is on Brava Beach, The Ocean Club – a popular beach dance club.  One of the most popular places at the port is Moby Dick Pub, where you can sit in the beautiful terrace and take in the warm sun.  Another place more exclusive place is Tequilla, a nightclub that draws celebrities.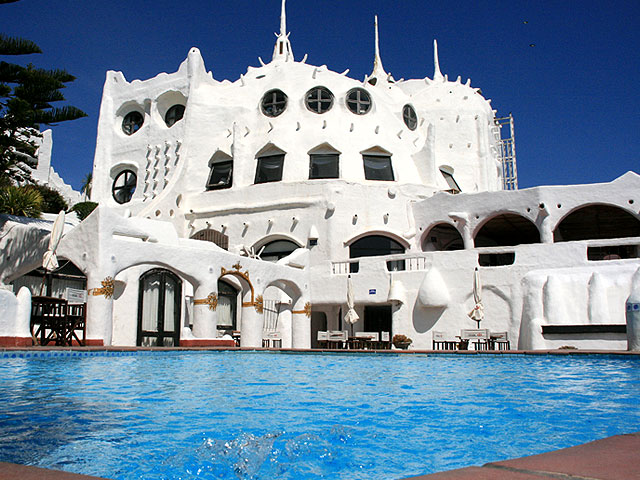 A great place to see the sunset is on the oceanfront terrace from the Hotel Casapueblo in the tony neighborhood of Punta Bellena.  The sprawling white compound was hand-built by Picasso trained artist – Carlos Páez Vilaró over 36 years.  The structure has no straight lines and is styled similar to homes like those in Santorini.  Currently, Casapueblo has an art gallery, museum, and hotel with cafe. 
There are many activities to see and do in the seaside resort town of Punta del Este.  A great coastal community that we would love to visit!  What do you think?  Does this sound like a place you would be interested in visiting?