Barcelona – 3 Foodie Restaurants with Unique Experiences
Barcelona is a fabulous city and one that we find ourselves back in year after year.  There are thousands of restaurants and eateries in this city and while we certainly haven't tried even a large sampling of them, we've found a few favorites over the years that we daydream of when not there.  Unfortunately Barcelona has become very touristy and with all the international cruising out of its harbor, the flocks of visitors have given rise to mediocre-at-best, overpriced food. Our first trip to Barcelona we followed many of the tour book suggestions and quickly found that tourist meal quality was worse than the Spanish and tapas we can get here in the US.  Over the last 10+ years of visiting, we've explored more spots and less traditional restaurants and though some of these are still found in the tour books, they definitely deserve to be recommended. This post will take a look at three unique dining experiences that are must-eats in our book. Don't expect a traditional sit-down meal at any of these – but if you're a foodie at heart, these are some of the places we always recommend to Barcelona newbies.

Love fresh seafood?  La Paradeta is a great concept taken from the marketplaces where you pick out your seafood off the ice and then the kitchen cooks it for you right there.  As with each of these three eating experiences, these are not your typical sit down restaurants with kid's menus and international fare. Eating at La Paradeta is more like a cafeteria where you run through the line, pick out what you want, pay, and then sit down and wait for your number to be called. It's very self-service so set your expectations accordingly.
What you do get in return for busing your own tables and simple but clean decor is great seafood simply cooked (mostly grilled or fried) and at a very reasonable price.  You can feed 2 or 3 people for here for the price of an entree and appetizer at a typical seafood restaurant in town. So when you have a large group in tow or if you truly just enjoy the cooking like we do, La Paradeta is a gem.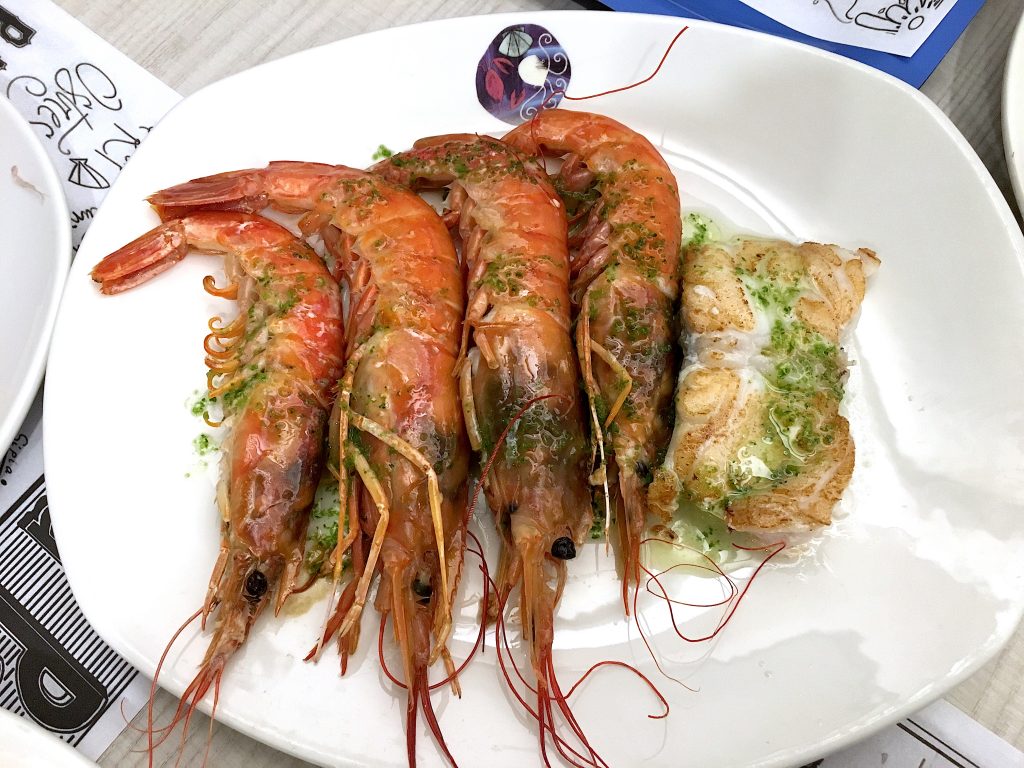 There are now multiple locations around the city. 6 to be exact (as of March '18) and a 7th in the nearby coastal town of Sitges.  Depending on where you are staying, hitting up one of the less prime locations can net you a meal without a long wait. In the summer and on the weekends in particular, lines can queue outside the door, waiting for the 8pm opening time for dinner.  If you can wait until 8:30 or 9pm, you can avoid the initial rush. Although we always visit for dinner, the locations are also open for lunch. We tend to stay very central in Barcelona (near Plaça de Catalunya) and have had good luck with limited lines at the newer Passeig de Gràcia location.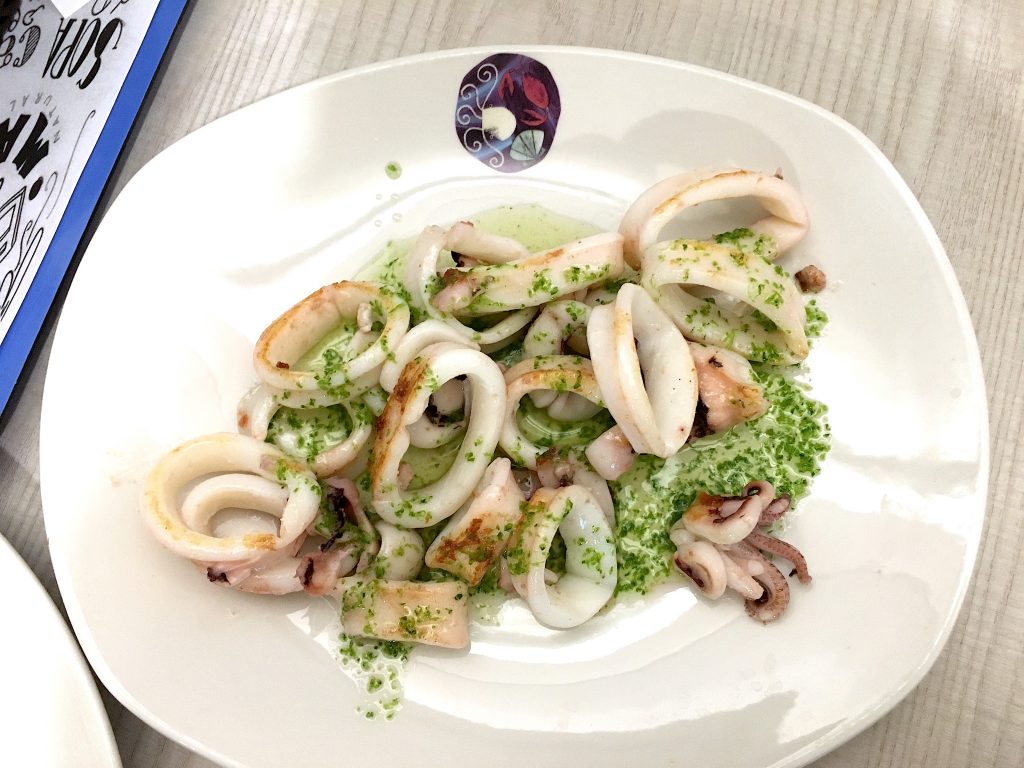 The staff doesn't speak all that much english but are genuinely accommodating and try their best to help you out.  Every time we visit it is truly an international crowd – plenty of other Europeans and Asian travelers.  But even the locals frequent the place. There aren't any signs explaining the process so i'm sure a lot is learned through trial and error.  If you read this before going (or speak Spanish or Catalan), you'll be way ahead of most of the turistos in line:
Hopefully you'll avoid the wait but if so, bring an umbrella if it's rainy as they can't usually accommodate waits indoors

Once you get to the seafood counter, one of the attendants will first ask you how many in your party.  This is to help with sizing of portions but they also mark it down for the rest of the line.

They'll then ask you what you would like.  Start pointing at the seafood in front of you.  They have a pretty solid selection of seafood, ranging from mussels, razor and other clams and oysters to crab and lobster (bogavantes), prawns and shrimp (gambas), large squid or cuttlefish (sepia or calamares), baby squid (chipirones), monkfish (rape) and other items.  If you're not used to ordering seafood by weight for cooking at home, and certainly if you don't know the metric system, this can be challenging. But just let them select and you can always tell them a little more or less.  Pricing is by weight, so be careful that your eyes are not bigger than your stomach! Most things are very reasonable, with mainly the large prawns and lobsters being the pricier items on the menu.

With each item they might ask how you want that particular seafood cooked.  There was a new sign last time we were there in September '17 describing the available options by seafood.  For example the mussels can be steamed or cooked in tomato style sauce. Some items like the chipirones (baby squid) only come deep fried in batter, and trust us, they are perfect this way!

When you're done, they will ask if you want any soup or salad.  Again, not an extensive selection but there is at least one or two soup and salad options to choose from.  We can't speak to these as we have always saved our room for pure seafood bliss!

The attendant will then tell you your table (mesa) number.  This is important – remember this number as you will likely hear it multiple times during your visit.

Move down the line and head over to the folks by the register.  They'll generally know which order is yours but you can always remind them of your table number.  They will ask you what you would like to drink. Beer and wine are the staple here, although water is available as well.  They have two sizes of beer and there are bottles of wine on display behind the counter, only served by the bottle. The bottles are priced exceptionally well – there were quite a few under 15 euros and several under 10e so even if you don't plan on polishing off a bottle, you're not spending a whole lot.  

Once you settle beverages, they'll ask about bread and sauces.  There is only one bread, a roll of sorts, similar to a portuguese roll.  I'll admit these aren't the best in the world, and get stale very quickly but when you're looking for something to sop up the awesome oil and seafood mess on your plates, you'll be glad you added a couple (charged per piece).  They offer a couple sauces for dipping but honestly the seafood here that is prepared with salt and olive oil is more than enough flavor for us. Keep in mind all sauces are charged per item as well, so waive them off if you're not sure you want them.

Time to pay – cash is always accepted and they also take credit cards.  As with most international travel, stick with Visa and Mastercard and you'll be fine.  Amex is a close third. Americans, you can leave your Discover card at home.

Once you have your receipt, go find a table and look for a small window or counter in the back area where food is being prepared.  This is where you will pick up your meals. Listen for the numbers to be called over the PA system. Sometimes the speaker will call numbers in Spanish and then in English but don't rely on that.  Learn your 'mesa' number in Spanish and stay alert. When your number is called, hustle up to the counter and hand them your receipt – they'll strike off the item(s) that are ready and send you off to eat.  Keep doing this until you've received everything.  Warning:  your food will come out in the order it's ready, which always seems quite random.

The system sounds a tad complex but it works.  We've never missed any plates or had any mixups.  The worst that has happened has been a long wait on a busy night.  Remember to bus your tables when you're done. There usually is a window or ledge near where you picked up your meals where you can drop off dirty trays and plates.
We absolutely love the chipirones, little baby squid battered and deep fried.  We eat this everywhere we can find it in Spain, but this is truly one of the best places we've had it.  The batter is perfect and the squid fresh.
La Paradeta may not win any awards for a date-night spot or a romantic special event spot, but it's quality seafood, delicious, very reasonable and approachable without reservations or a lot of attitude.  That works for the foodie in us.
The boqueria marketplace is a must-see and on every tourist's list.  The stands' displays are a sight to behold and the fish market is always abuzz.  You may be tempted to eat at one of the stalls and while the experience is not for everyone (e.g. with young kids in tow), if you pick wisely and understand the etiquette and timing, you can find some of the best seafood and dishes.  All dining here is casual given the counter-service and waiting for stools. But the quality of the ingredients and the simple cooking rival many of the sit down restaurants around the city.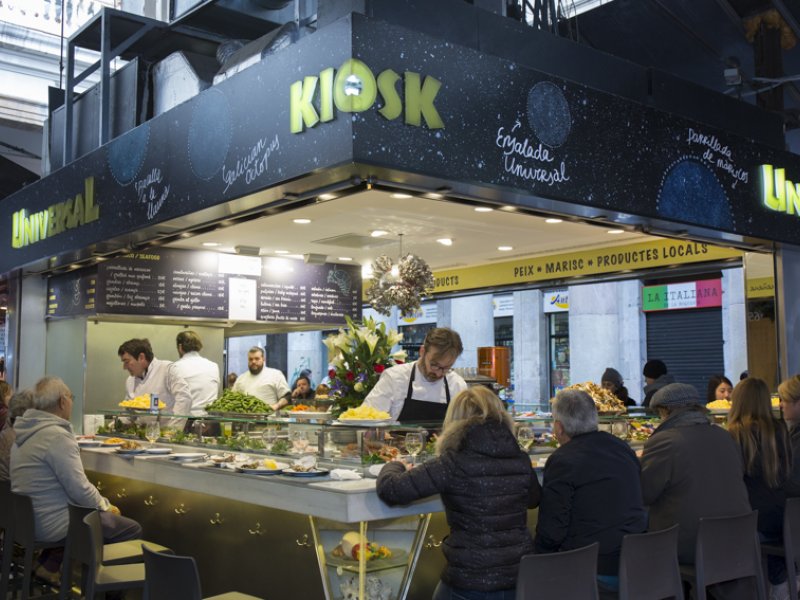 El Quim and Pinotxos Bar are the most famous stands in the Boqueria and if you stumble upon seats at either of these, grab them.  The food at either is excellent and deserving of the international praise. We've settled in on frequenting a quieter, very consistent and less hectic experience at Kisoko Universal.  This stall is at the very front left of the marketplace (as you look at the Boqueria's main entrance). It is two to three times as large as some of the other stalls, making for easier seating.  And, here's the important detail: they have an ACTUAL seating process. If you walk up to Kiosko Universal (which has seating on 3 of the 4 sides, as well as bar-height tables along the outer walkway) and see some empty seats, do NOT just grab them.  You need to put your name on a list and in due time you will be called up for seating. While this might mean a longer wait at times, it also means you won't have to stand behind a stool two-people deep guarding your spot. This actually happens at other stalls, particularly Pinoxtos and El Quim given their popularity.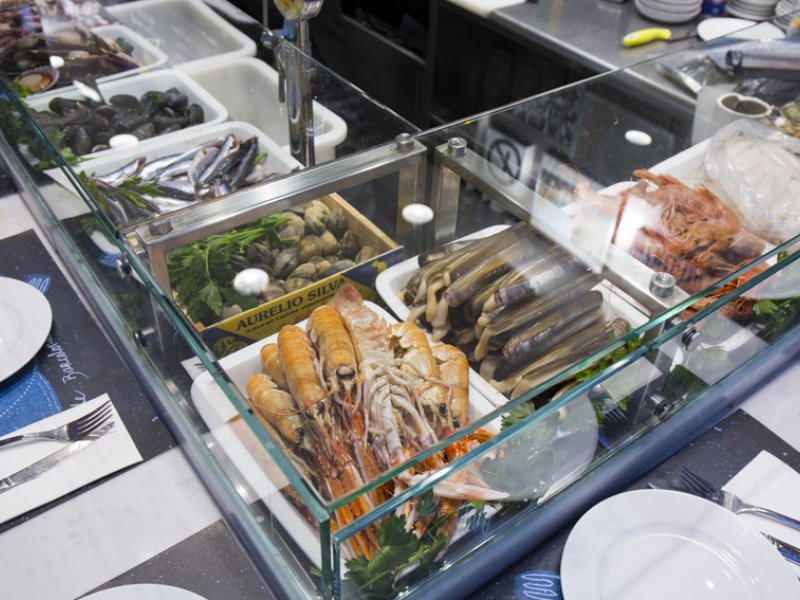 To get your name on the list at Universal Kisko, head over to where the cash register is, and wave down someone behind the counter.  There is always one or two main waiters who are in charge of the list, so don't be surprised if you get tossed over to one of them. Give them your name and how many, and then wait your turn.  Stay within earshot because it's honestly hard to tell how long the wait will be. We've never waited more than 15-20 minutes, but we've learned the timing of the boqueria over the years. The tourists all hit the market by 11am (particularly on weekends) and drown the place in early afternoon.  If you want to squeak in, aim for late morning (before 11), after the noon rush (between 1:30-2pm) or late afternoon (after 3:30pm). Most of the market closes by 4:30 or 5pm, but Kiosko now opens until 8pm most days. The entire market is closed every Sunday.
That's a lot of info just to sit down, right??  Well, we find the food absolutely worth the hassle. (Mind you, we've waited 2.5 hours standing in a line for awesome Spanish in London, and similar times for BBQ in Austin, TX, so your priorities in life may vary!)
We love eating breakfast here.  A simple, reasonable one at that.  Huevos con setas: two fried eggs served over sauteed wild mushrooms, with a splash of olive oil/cilantro puree and some sea salt.  That's it. 12 euros. Considering the hotel wants 40e+ for breakfast, this is a steal. The eggs are deliciously fresh and the wild mushrooms are flavorful and not your run of the mill 'shrooms.  Think fancy wood ear, shitaake and oyster-type mushrooms. Always served with a few pieces of complimentary crusty baguette. Add a cortado (shot of espresso with a splash of steamed milk) or a glass of cava and this is how we start our morning.  Keep in mind, Catalonia takes their breakfast closer to 10am-12pm so plan accordingly. We showed up at 9:30 one morning and they were still setting up and not ready to serve. Sleep in!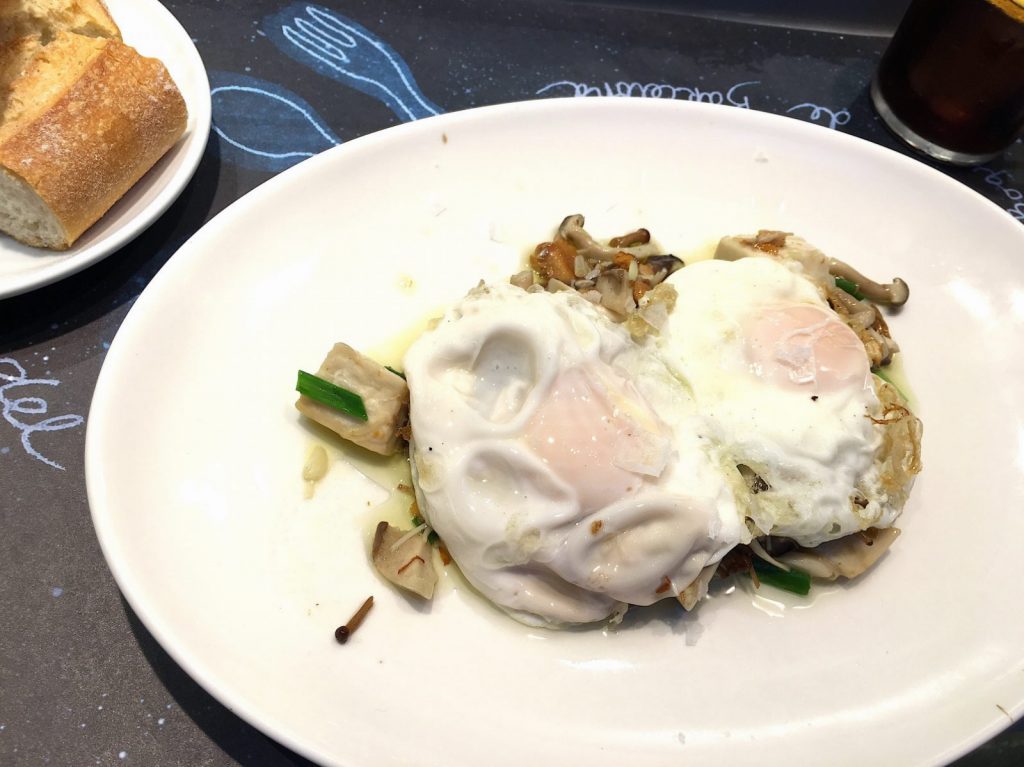 If you find yourself at the Boqueria for lunch (which in Barcelona runs after 1pm and well into 4pm) all the typical seafood dishes are available.  The basic chalked menu is essentially a run down of the phenomenal local seafood. No fancy sauces, just sauteed or simply grilled – and trust us, it's wonderful.  It's a reminder that the quality of the ingredients can overcome the need for extra sauce or seasoning. The seafood still takes like seafood and not the density-farmed fish from the big commercial growers. Much of the seafood is sitting in front of you on ice and that's exactly what you're eating.  If you don't know what to try, start with the parrillada de marisco or seafood selection. A great sampler and introduction to the best seafood of the area. Little clams, razor clams, prawns, mussels, etc.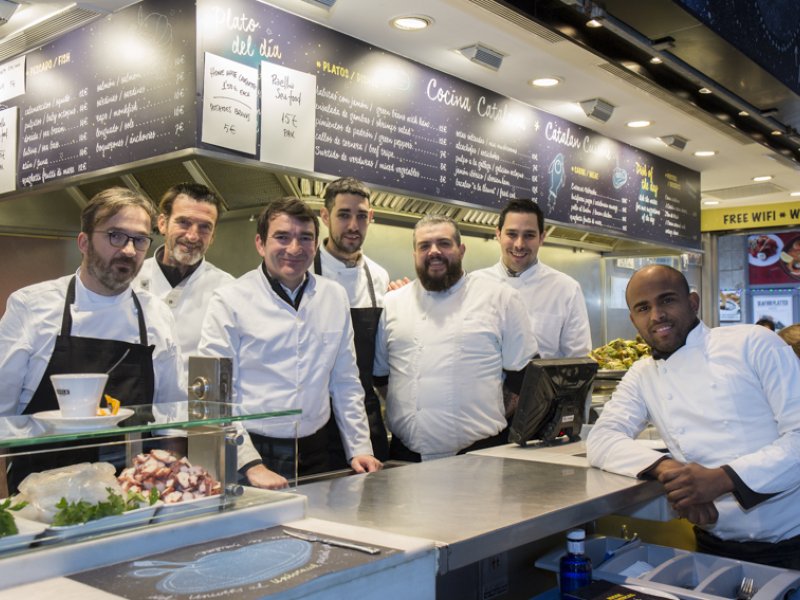 The menu is not as extensive as the other stalls but they hit all the basics and the fresh seafood is of equal quality to everyone else in the marketplace.  El Quim and Pinotxo Bar have some recipes that are more traditional Catalan cooking which is why we still recommend trying them. Service is brusk no matter where you go – it's like Paris. They know you want to be there, they're not expecting tips, and if you're not happy the three groups of tourists behind you are more than willing to take your place.  So set your expectations! Oh, and if a local shows up for a nibble, don't be surprised if you get temporarily bumped or ignored.  That being said, the crew at Kiosko Universal have consistently been efficient and never rude.
If you have never experienced a pintxos bar crawl, then Barcelona has a few touristy places to do it while you're in town.  The ultimate pintxos crawl is up in Basque country, most famously in San Sebastian.
What are pintxos?  In a nutshell, these are small hors d'oeuvres portioned items usually served on a small piece of bread with a large toothpick or skewer.  These delectables are typically cold-prepped items and can be rather intricate in flavors, everything from a simple slice of awesome Spanish ham (jamon) to a piece of chorizo and manchego cheese or a spoonful of cold salads like tuna.  I won't try and offer the origins of the pintxos but I will say they were never meant to be haute cuisine. Nowadays, it's a decent taste of catalan food and a fun way to spend an evening with family and friends.
The way pintxos bars work is they prep trays of these pintxos and rotate them out onto the bar counter.  Patrons ask for a plate and start to self-serve what they want from the trays. When you want more, just grab it.  Don't throw away your toothpicks or skewers, as that is how you will be charged. Yes, it's the honor system but that just adds to the experience.  Bartenders are always available to serve a glass of wine or beer with your snacks. For a more authentic experience, ask for a glass of cidre or hard cider.  The cidre itself is decent but it's the show that the bartenders usually provide that makes it fun for the newbie. To aerate the cidre, bartenders will pour either from a bottle or tap on the wall but position the glass a good 3 or 4 feet away.  Txakoli is another more authentic Basque drink, essentially a light bubbly white wine.
Careful not to fill up too much bread – since many of the pintxos are served with it, you'd be surprised how only after 5 or 6 pintxos you're ready to move on.  The price of pintxos varies by bar, but it usually isn't more than 1.50e to 2e each.  And don't forget, the traditional pintxos crawl has you taking your group from one bar to the next and grabbing just one or two and a drink at each stop.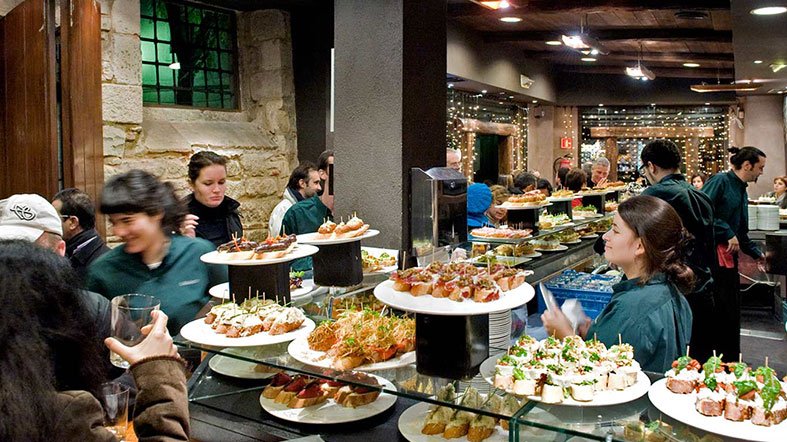 Sagardi is a bit of a local chain but the variety of pintxos is decent and the atmosphere is lively at this particular location in the Barrio Gotic.  There are many so-called pintxos bars around town but the quality can be sub par and no better than eating stale hors d'oeuvres. Many small bars drop a couple trays up on the counter but you can see they don't turn over all that often and are a bit of a tourist trap.  At Sagardi, watch for the waiters bringing out new trays for the freshest bites.
This specific Sagardi location is well situated and opens out on to a busy pedestrian intersection so there is good people watching all day and night.  There are several other Sagardi bars around town but we have the most experience with and prefer the ambiance of this one.  This location also has a sit down restaurant menu with tables in the back and out front, and although it appears to have good reviews we have never tried it.  This is a great spot to swing by in the evening as you zig zag through the Gothic quarters streets, grab a beer and munch on a few pintxos to refuel.