Galápagos Islands is a volcanic archipelago in the Pacific Ocean about 600 miles off the Ecuadorian coastline. The archipelago has about 19 islands with dozens of islets and a few of the islands are still volcanically active. Galápagos Islands are a great place for not only wildlife viewing but for plant species viewing as well. The archipelago became a national park in 1959, the first national park in Ecuador. The Galápagos Islands were named a UNESCO World Heritage Site in 1978. And in 1986, the Galápagos Marine Resources Reserve was created to protect the surrounding Galápagos Island waters. The Galápagos Islands are a coastal community we would love to visit.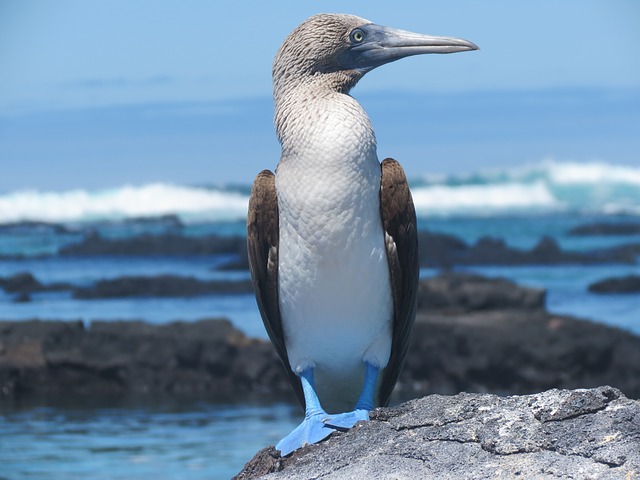 The Galápagos Islands are a great coastal community to visit. The Galápagos Islands cover about 3,093 square miles of land and are spread over 23,000 square miles of ocean. There are many islands and islets, some that are remote and inaccessible but many with beaches that are perfect for diving or snorkeling around the islands. There are hiking trails in some of the islands. We've listed the larger islands but not all of the islands since I mentioned previously that some are inaccessible or off limits to visitors. Below are some of the islands that are accessible or islands with surrounding waters are accessible. Take a look and let us know what you think.  
Baltra Island or Isla Baltra (also known as South Seymour Island)
Baltra Island is not part of the national park.  Baltra Island has one of the two airports in the archipelago, Baltra Airport the largest airport which runs entirely on sun and wind power.  During World War II, Baltra had a US Air Force base but is now used as a Ecuadorian Military base. Most visitors travel through Baltra on their way to the islands of the National Park.  
Only the Ecuadorian Navy and Ecuadorian Air Force live on the Baltra Island.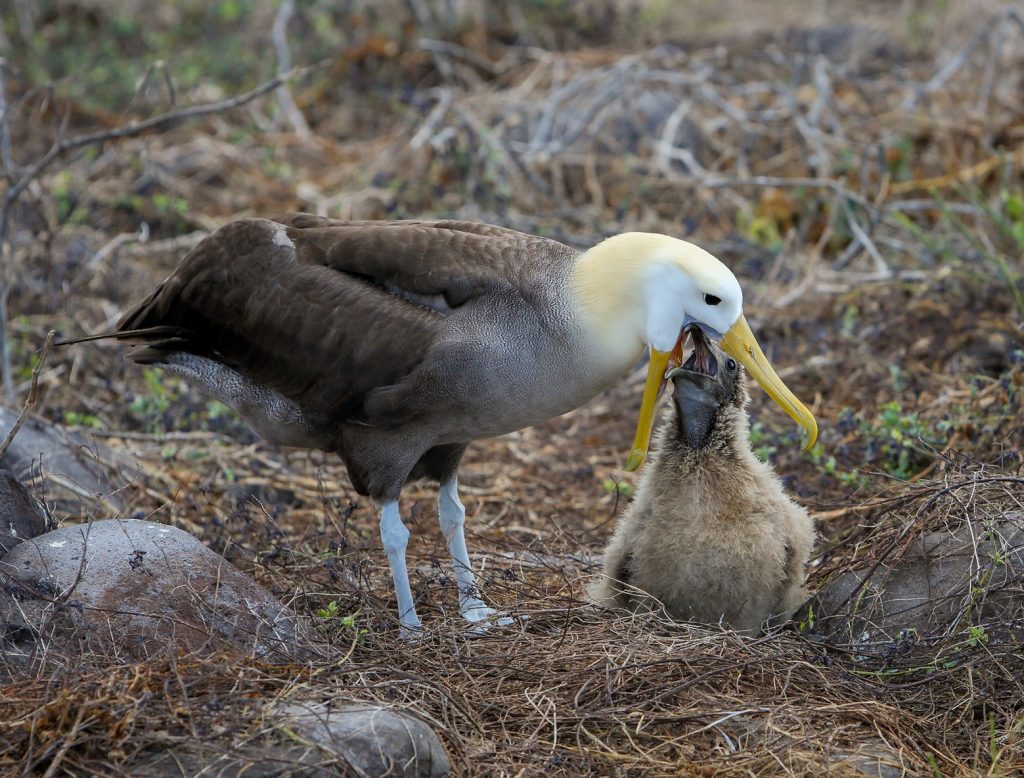 Española Island or Isla Española   
Española Island was named in honor of Spain, is southernly located and has its own unique wildlife. It is 10 to 12 hours by boat away from Santa Cruz Island. Bahia Gardner or Baía Gardner (Gardner Bay) has a beach, the Gardner Beach that is accessible to visitors. There visitors can see the waved albatross nest and a large population of sea lions that inhabit the beach. Punta Suárez or Point Suárez has a variety of birds such as the Española Mockingbird (native to the island), it is a popular area for bird-watchers. Visitors may see the Española lava lizard, swallow-tailed gulls (native to the island), and many other tropical birds.
Diving is popular on Española Island because of the abundance of marine wildlife including the Galápagos eel, the Black Spot moray, King Angelfish, Red-lipped Batfish, Hammerhead shark, White Tip Shark, and the Eagle Ray.          
Fernandina Island or Narborough Island    
Fernandina Island was named in 1832 after King Ferdinand II of Spain. It is the most westerly island, erupted in April 2009 and known for being pristine. There are no inhabitants but a visitor's center is located on the northeast area of the island.
Punta Espinoza is a strip of land where marine iguanas gather on black lava rocks. You may see flightless cormorant, penguins, pelicans and sea lions on the island. Snorkeling and diving are popular with two diving sites located on Fernandina Island where there are Galápagos penguins, seahorses, Pilot whales, Bryde's whales and Bottlenose dolphins.       
Floreana Island (formerly the Charles Island and Santa Anna Island)
The Floreana Island was named for Juan José Flores, the first president of Ecuador that during his administration took possession of the archipelago. Previously, it was call Charles Island (named after King Charles II of England) and Santa Maria after one of Columbus' boats. It is the longest inhabited island in the Galápagos. It was used as a water and food source by pirates and whalers in the 17th and 18th century. Human presence has hurt the wildlife such as the native Floreana Tortoise that has become extinct. Rats, goats, and pigs were brought to the island which were detrimental to the native flora and fauna. Overall the human population is 100 or less.   
Puerto Velasco is a small town that offers accommodation to tourists on the island. Punta Cormorant is known for its volcanic green olivine crystals found on the beach.  A nearby trail leads to a view overlooking a saltwater lagoon that is home to many birds including the flamingo. The trail continues to a white sand beach where Green Sea Turtles nest.
Devil's Crown is a volcanic crater that has eroded by the sea. Snorkelers can swim into the crater to find coral reefs and marine life such as King Angelfish, Balloon Fish, Hawk fish, Sea Turtles, White Tipped shark, and Hammerhead sharks.       
Genovesa Island   
Genovesa Island was named after Genoa, Italy.  It is often called the "Bird Island" because of the many bird species including Red-Footed Boobies, Galápagos Storm Petrel bird, Short-Eared Owl, and many other species.  Genovesa has no inhabitants and can only be visited with a tour guide.
Isabela Island
Isabela Island is the largest island and was named after Queen Isabella of Spain. It is the only island where the equator runs through it. Puerto Villamil is the largest town and offers accommodations to tourists on the island. The population is about 1800.  
There are picturesque lakes filled with flamingos and the ocean waters around Isabela Island are a great place to see Humpback Whales, Sperm Whales, Minkes, and Orcas.       
Marchena Island
Marchena Island was named after the Spanish monk, Frey Antonio de Marchena.  There is no human activity on the island however, the surrounding waters can be used by visitors with an organized tour guide.   
Pinta Island
Pinta Island was named after one of Columbus's three ships. It is inaccessible to tourists. Indigenous species are almost extinct due to previous human existence. Pinta Island was the home to Lonesome George, famous tortoise was the last known of the Chelonoidis Nigra Abingdonii subspecies. In years past, there was a thriving tortoise population but feral goats introduced to the island devastated the island's vegetation which diminished the native tortoises food supply.   
Pinzon Island
Pinzon Island was named after the Pinzon brothers who were captains of the Pinta and Nina ships to the New World under Christopher Columbus. There are no visitor facilities and visitors must apply for a special permit to visit the island. The Giant Tortoise and sea lions live on Pinzon Island.  At one time, Pinzon Island was infested with rats that threaten the island's plants and wildlife. Efforts by the Ecuadorians have had great success and the eradication of the rats has been successful.
San Cristobal Island
San Cristobal Island was named for the patron saint of seafarers, San Cristobal or St. Christopher. It is the easternmost island in the archipelago. San Cristobal Island has the only freshwater source on the Galápagos Islands, it is called Laguna el Junco. The island population is about 6,000 and San Cristobal is the most fertile of the islands. The capital of the Galápagos province is Puerto Baquerizo Moreno. There are government offices, an Ecuadorian Naval facility and airport at Puerto Baquerizo Moreno.  
There are many types of wildlife on San Cristobal Island including Frigatebirds, Galápagos sea lions, Galápagos tortoises, Blue Footed Boobies, Red Footed Boobies, and many other species. The nearby waters of San Cristobal Island have sharks, stingrays, and lobsters.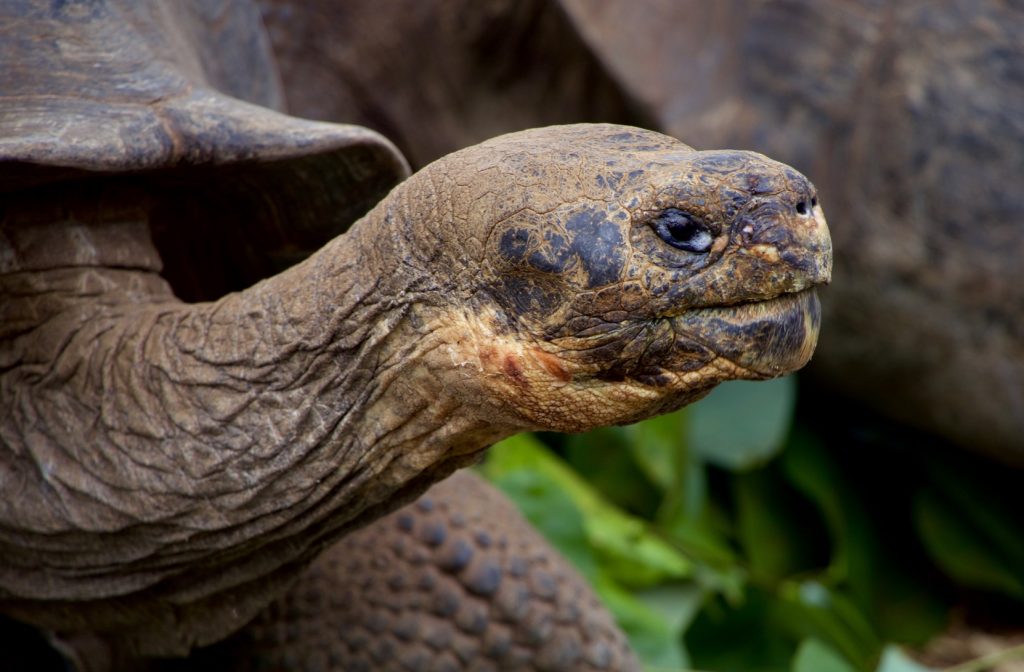 Santa Cruz Island
Santa Cruz Island was named after the Holy Cross and is the second largest island. It has a gigantic lava tunnel and with 12,000 residents has the largest human population in the archipelago town of Puerto Ayora. Visitors will find a wide range of tours including kayaking, hiking tours of the highlands, diving and snorkeling trips, horseback riding and travel by boat to other islands.
Tortuga Bay is a short walk from Puerto Ayora where you can see many marine iguanas, birds, Galápagos crabs, White Tip Reef sharks, and gigantic Galápagos Tortoises.     
Santa Fe Island
Santa Fe Island is a small uninhabited island with a variety of plant and wildlife including the Opuntia cactus, Galápagos Dove, Yellow Warblers, Lava Lizards, Santa Fe Land Iguana.  
Santiago Island
Santiago Island, also known as the San Salvador Island, named after the first island discovered by Columbus in the Caribbean Sea. Santiago Island has many types of marine and wildlife such as Marine Iguanas, Sea Lions, Fur seals, land and sea turtles, flamingos, crabs, dolphins and sharks.  
Cousin's Rock on Santiago Island is a well known diving site. Puerto Egas, south of James Bay, is picturesque and great for snorkeling because of the many tropical fish in the area.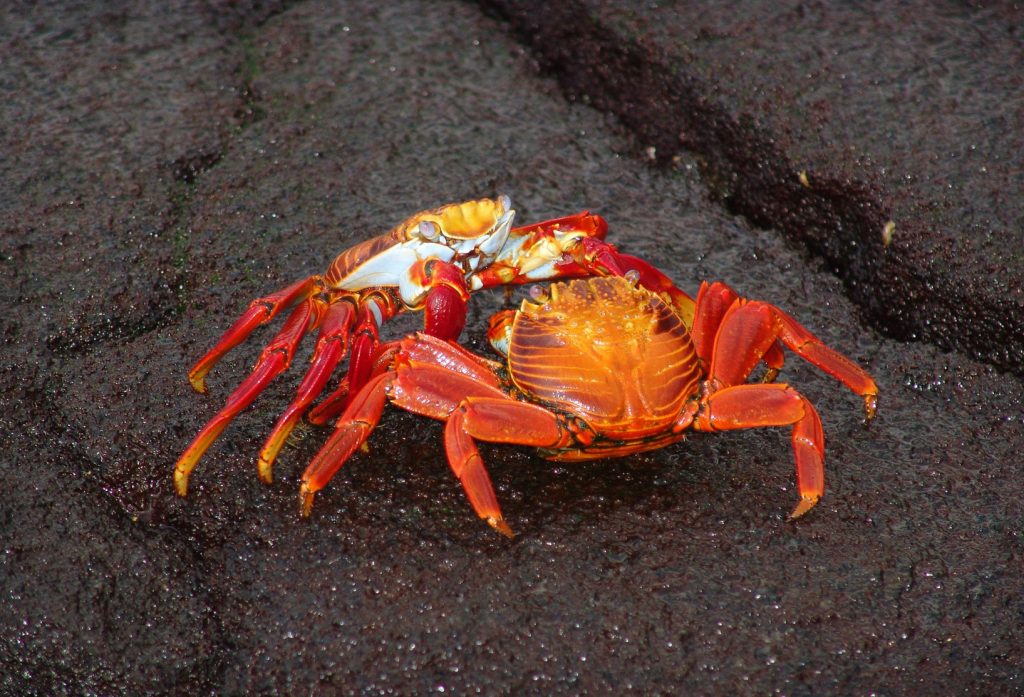 The Galápagos Islands truly is a great coastal community and one that we would love to visit. As you can tell, there is a lot of preparation for a journey to the Galápagos Island. One that offers many activities and requires careful planning.  Interested in learning more about how to plan a visit to the Galápagos Islands?  Check out our post for traveling to Galápagos Islands called Galápagos Islands, Ecuador: Getting There.  And to help plan your accommodations, check out where to stay.  And finally, since there's a good chance you'll stop over on your way to the islands, learn about some of the interesting sights of Quito.
What do you think, does the Galápagos Islands seem like a community that you would be interested in seeing? Tell us what you think. Maybe you are already planning a trip to the Galápagos or maybe you've visited there before. If you have, tell us about your experiences there.
If you have any questions for us, be sure to leave a message in the comments below.