Best Online Flowers and Plants when you need to send someone flowers. Looking for the best online flowers and plants with delivery service?  This post highlights some of the best companies in the business. Each offers unique flowers, plants and flexible services that deliver flowers and plants locally and all over the world.  
BEST ONLINE FLOWERS AND PLANTS – FLOWERS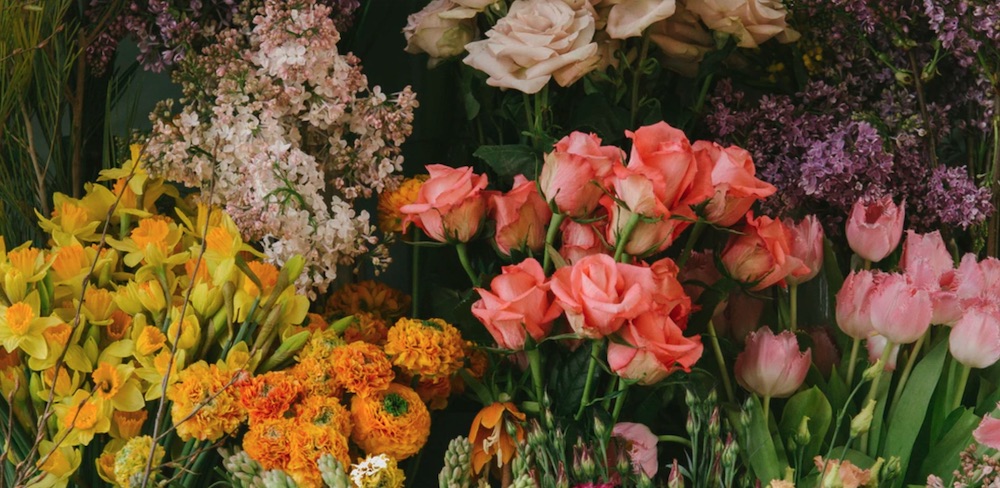 1. PROFLOWERS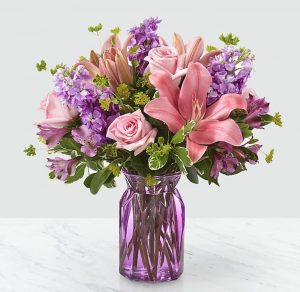 An FTD company, ProFlowers features a very large variety of arrangements and products that are delivered by one of the largest florist networks. ProFlowers uses traditional florists near your recipient to fulfill your order. As an example, the image above features the Full of Joy Bouquet. One of the many floral products they have. 
In addition to flowers, customers of ProFlowers can select from a variety of gifts to include with their flower delivery. With this in mind, you can include baskets, chocolates, Mrs. Field's cookies, as well as other holiday-specific items like Mother's Day or Easter.
Flower arrangements start at $35.
2. 1 (800) FLOWERS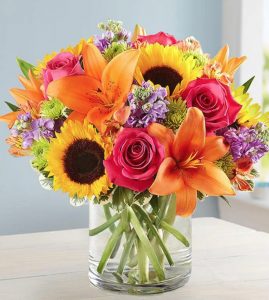 A long-standing Floral delivery service, the 1-800Flowers have expanded their offerings to now incorporate 11 other brands. As a result of this expansion, customers can include in their delivery order items from Harry and David, Shari's Berries, Cheryl's Cookies, and Wolferman's Bakery. For this reason, when you wish to bundle flowers with additional gifts such as food, fruit baskets, chocolate and other items, 1800flowers makes it easy to combine shopping carts. 
As you'll soon discover, the flower selection is extensive and covers all major holidays and categories. As a final note, 1-800Flowers deliveries use a combination of local florists, FedEx, UPS and USPS services.
3. FLOOM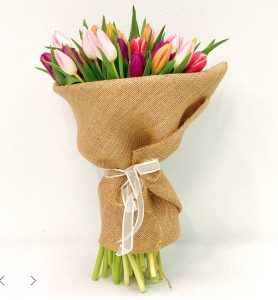 Working with independent boutique florists in several states and major cities, Floom offers many floral options. To stay ahead of new trends, Floom adds new artisans regularly. Take a look at their website to see if they service your recipient's address.
Representing a wide range of premium arrangements, Floom's bouquets are unique and curated by the florists in an effort to stay current with today's designs. And of course, local delivery is made to your recipient. As seen above, the burlap wrapped 40 MultiColor Tulip bouquet is one of many arrangements from Floom. 
In summary, the company Floom has expanded its services to include house plants, gift baskets and even grocery delivery in select markets.
4. THE BOUQS COMPANY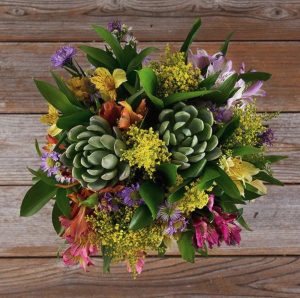 Specializing in curated bouquets and indoor plants like orchids and succulents, The Bouqs Company has beautifully crafted floral designs. Featured are vivid selections of floral colors. Not only can customers order individual deliveries but they can also schedule floral delivery subscriptions. In fact, The Bouqs offers regular subscriptions such as monthly deliveries as well as mini-subscription gifts of shorter time periods like 3 months.  The above bouquet is one of many arrangements by the Bouqs company. The bouquet image above is named Wild About U. 
Bouqs' subscription service offers discounts, those examples of discounts include 30% off bouquets, free shipping ($12 value) and a very unique plan where you can change recipients for each shipment. 
In any event, floral deliveries are made by FedEx with floral bouquets and arrangement prices begin at $39.
5.  URBAN STEMS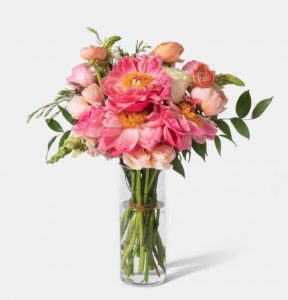 Specializing in curated bouquets of their own design, Urban Stems also has some limited edition designs as well. Currently, they are featuring limited edition arrangements designed by VOGUE. Uniquely inspired by current fashion and design trends.  
In addition to flowers, they feature a limited selection of indoor plants such as orchids and succulents. Likewise, customers can select from home gift items like candles that bundle with floral arrangements nicely. For starters, the lovely arrangements start at $45.
Of course if you are interested in subscription plants, Urban Stems offers plans that begin at $50 a month which includes free delivery and a tidy savings of 10-25%.
Urban Stems sources their flowers from Rainforest Alliance Certified™ farms. Finally, Urban Stems offers courier and hand-delivered same-day and next day delivery service to NYC and DC. Whereas delivery services to all other areas are handled by shipping via FedEx.
 6. FROM YOU FLOWERS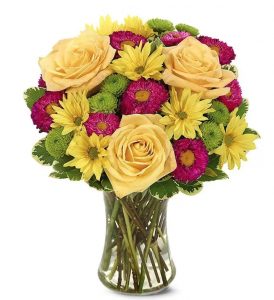 Another floral company named FromYouFlowers operates across multiple florist networks and offers delivery through over 20,000 florists worldwide. As an example of one of their bouquets, the floral image above is "It's a Fine Day Bouquet".
As you view the FromYouFlowers website, you see they have a large selection of floral arrangements all at varying price points starting at $35.
7. TELEFLORA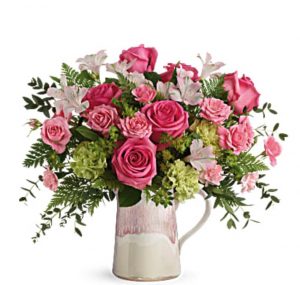 Headquartered in Los Angeles, Teleflora is another floral company that operates via partnerships across a network of over 10,000 florists in the US and Canada. For international deliveries, Teleflora delivers via another 20,000 partner florists worldwide. As a result of this relationship, their network is extensive. 
Finally, same day delivery services are offered on select arrangements.
8.  BLOOMNATION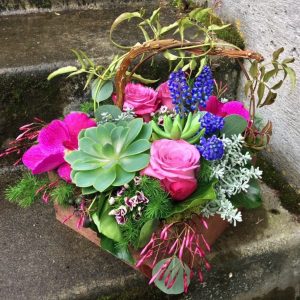 Founded in 2011, BloomNation also leverages the vast networks of independent local florists across the country. Unlike other companies that leverage these networks, BloomNation allows you to shop unique arrangements from local florists near your recipient. As seen above, the Medium Texture Box is from Fiori Floral Design, owners Miles Johnson and Leigh Grossman of Seattle, Washington.   
For additional information on starting fees and charges, look at the website for delivery areas and fees as determined by the local florist selected.
9. FARMGIRL FLOWERS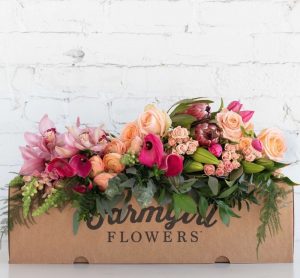 Original creators of the 'burlap wrapped bouquet', Farmgirl Flowers offers a variety of farm-fresh cut flowers beautifully arranged. Bouquets are delivered wrapped in their signature reused burlap coffee bags sourced from local roasters. As seen in the image above, the arrangement is called The Market Haul. 
Farmgirl Flowers promises 'what you see is what you get' and posts pictures of real bouquets that were recently delivered. All deliveries are handled by UPS and FedEx for next day delivery services. 
BEST ONLINE FLOWERS AND PLANTS – Roses Only
The following 4 companies specialize in roses. If you need to send quality roses, these brands work with premium Ecuadorian roses.
10.  ROSEAHOLICS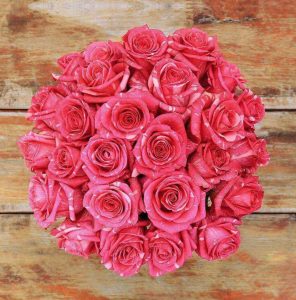 As seen in the image above, the bouquet is called the Forever Rose Bouquet, one of many available from Roseacholics. The Rosaholics company delivers fresh roses from their family-run farm in Ecuador and of course, it is Rainforest Alliance Certified. Not only does Roseacholics offer single deliveries but also provides subscriptions with 20% discounts. As of this writing, you'll see prices start at $38 plus shipping.
11. VENUS ET FLEUR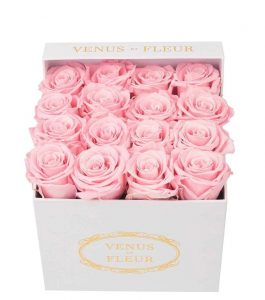 Founded in 2015, Venus et Fleur present themselves as New York's first bespoke, luxe rose arrangements retailer. Venus et Fleur presents classic arrangements using only their trademarked 'Eternity Rose.'
The Eternity Rose uses a special preservation process. As this unique process enables the Ecuadorian roses to keep their scent for 2 – 3 weeks and as a result of this, they stay fresh for up to a year! 
As a side note, these roses are popular with celebrities and received much press for their unique longevity and beautiful presentation.
And of course, prices start at $44 with hand deliveries in New York City and Los Angeles, with UPS or FedEx covering all other locations.
12. A 100 ROSES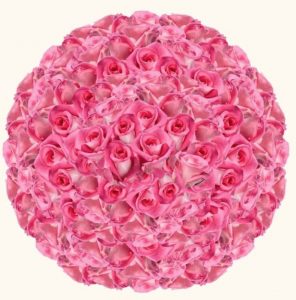 Fort Lauderdale, Florida based, A 100 Roses has one of the most straight-forward product offerings. The lucky recipient receives 100 lovely Ecuadorian roses in one of 10 different colors. And all for $100 including delivery.  
More importantly, a great deal considering the usual cost of a single fresh rose can range anywhere from $3-$5 by the time you add delivery.
13. LANDEAU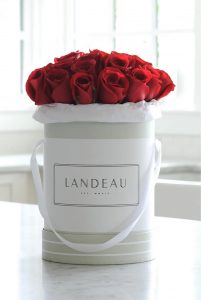 Marketing itself as a 'luxury florist' selling premium roses, the Landeau offers roses with a different twist. Uniquely presented roses in a signature container that exudes with Parisian flare. The product is simple, 25 premium Ecuadorian roses presented in a classic Parisian-style hat box. These memorable roses are available in 5 different colors.
And of course, these Parisian inspired bouquets are available for delivery and pickup in New York City, San Francisco, Chicago, Portland, Paris and Los Angeles.
BEST ONLINE FLOWERS AND PLANTS – Shopping for Plants?
14. PLANTS.COM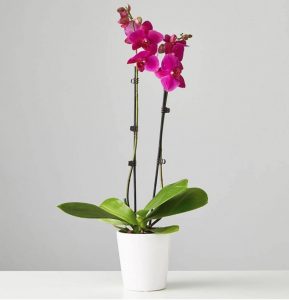 The plants company, Plant Company offers a wide range of greenhouse-direct indoor potted plants, herbs, as well as succulents. However, included in their inventory are other interesting gifts such as air plants, orchids, a selection of bonsai and bamboo plants in addition to hanging baskets.
For delivery service, plants are shipped via FedEx. In fact, a 30-day guarantee ensures plants get delivered undamaged and healthy to the recipient.
 15. BLOOMSCAPE 
Based in Detroit, Michigan, Bloomscape specializes in quality, potted indoor plants. As an added protective measure, plants are ship directly from their greenhouses. The thoughtfulness and beauty of this approach is that the usual 'sitting around languishing' at the big box stores is avoided.
Once an order is placed, plants typically ship within a week. And of course, every plant comes with customized care information for your new plant(s).
16. THE SILL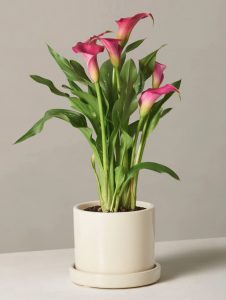 Indoor plants along with offers of a variety of live, faux and preserved plants, pots and accessories is what The Still specializes in. The Sill sells plants individually while also offering subscription plans. And a lovely gift for Mom or your spouse. 
To better assist their customers, The Sill conveniently categorizes their plants. As a convenience, plants are labeled by traits such as 'for beginners' , 'pet-friendly' , or 'Low Light tolerant.'  This labeling method makes it so easy to assess which plants might be a better choice especially when selecting a gift.  
With their customers in mind, plants are shipped to all 48 contiguous states. Finally, The Sill plant prices start at $26.
17. LULA'S GARDENS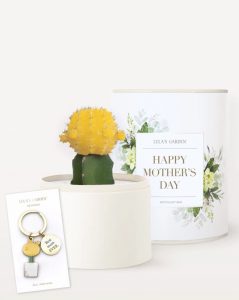 Based in Los Angeles, Lula's Garden specializes in really cute individual succulent plants in gift containers or miniature pre-planted gardens.
As its website notes, Lula's Garden states that they "proudly support organizations that help improve lives around the world by providing access to safe water."  Lastly, Lula's Garden gifts start at $27.
BEST ONLINE FLOWERS AND PLANTS – Floral Subscription
18. BloomsyBox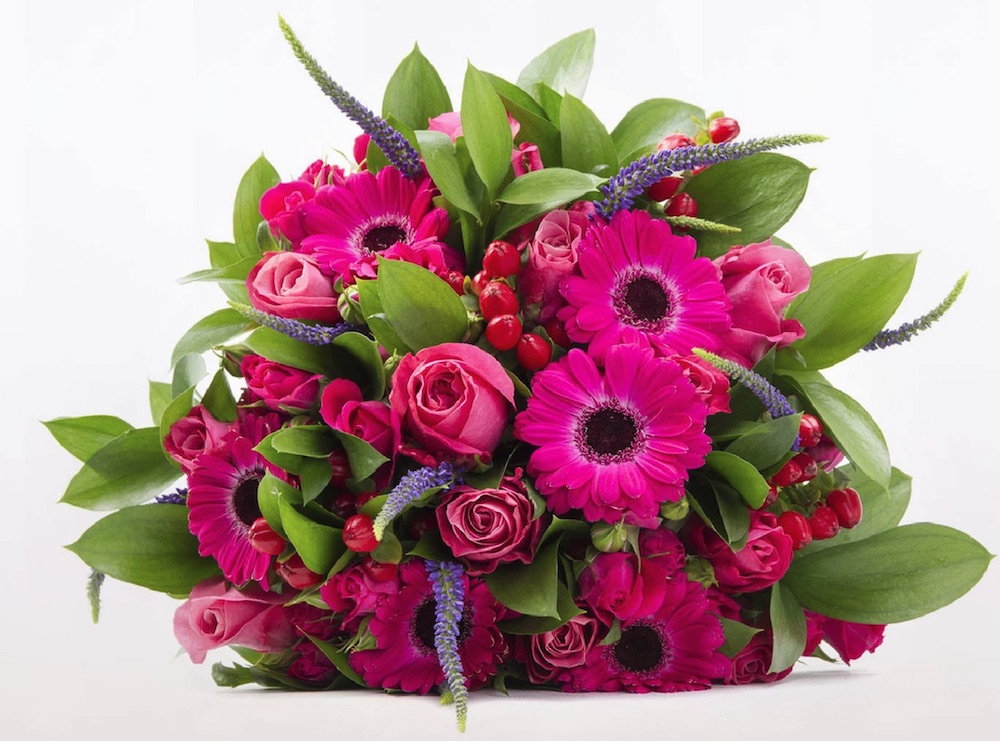 For offers of both subscriptions and single bouquet purchases, BloomsyBox delivers from eco-friendly flower farms. Customers can select from weekly, bi-weekly, and monthly floral subscriptions.   
For an example of a BloomsyBox bouquet, the Plush Blush bouquet has Gerberas, roses, and berries delight in bright pinks. So incredibly lush. In addition to mixed floral bouquets, BloomsyBox offers tropical and rose bouquets as well as indoor plants. Single delivery bouquets start at $34.99. 
BEST ONLINE FLOWERS AND PLANTS for Affordability and Reliability
19. Florists Com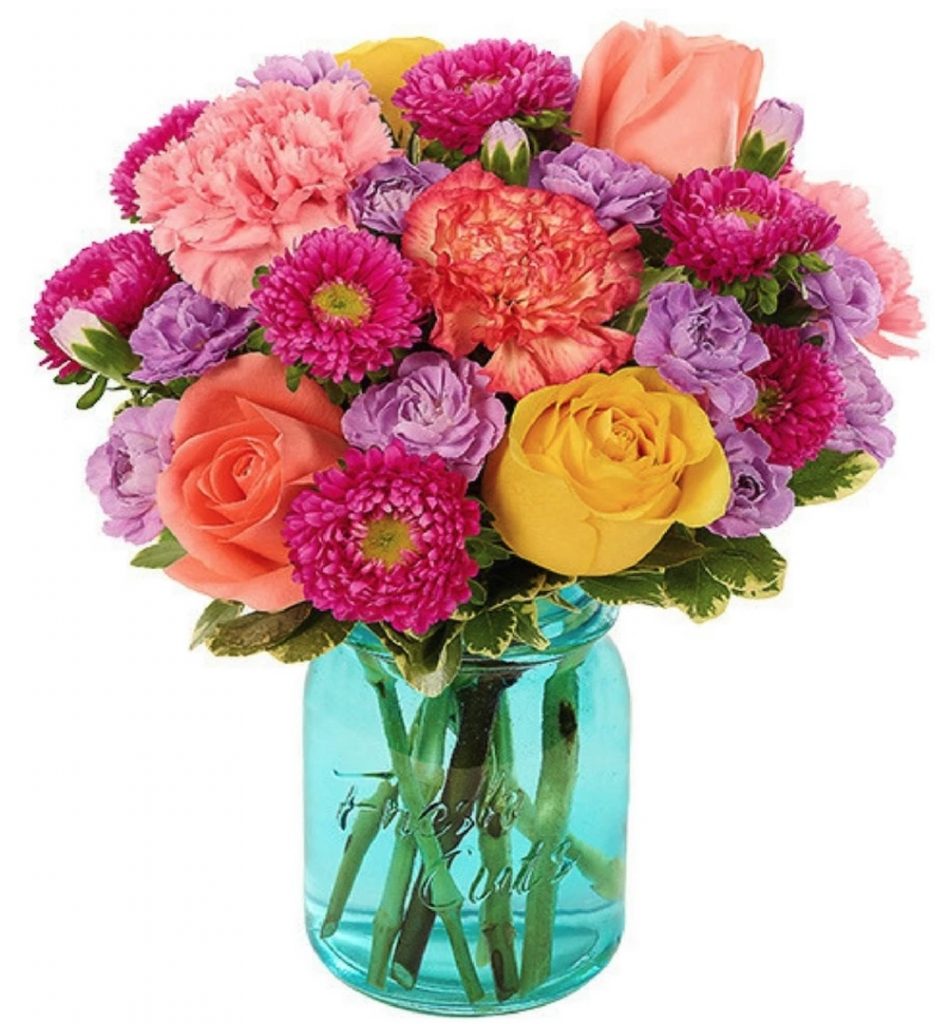 The team at Florists.com offers affordability and reliability. Among many floral arrangements offered, customers can also select from gift baskets as well as plants.   
For example, one of the Florists.com flower arrangements, is the Pure Happiness Bouquet. In colors of pink, yellow, and orange, the bouquet includes roses, carnations, and Matsumoto in a gorgeous blue mason jar. Total Pure Happiness inside a mason jar!  
20. Send Flowers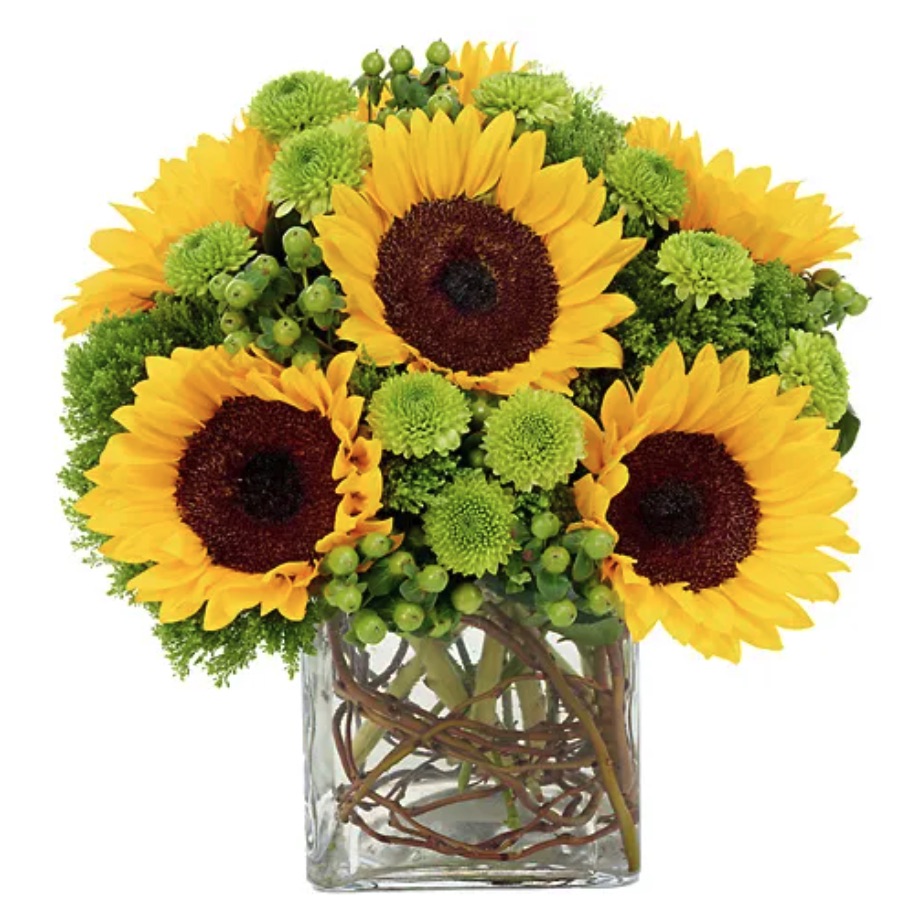 Same day delivery service is offered by Send Flowers. Whatever the occasion, Send Flowers has many floral options that include balloons, teddy bears, as well as candy baskets. Beautiful bright balloon bouquets for your loved one. 
As seen above, the Sunny Sunflowers Bouquet is one of the many flower arrangements. The Sunny Sunflowers Bouquet includes 6 sunflowers with neon-green button Poms in a trendy square vase. This florist also features a Sale tab of Flower Specials for those on a smaller budget. Floral Bouquets begin in the mid-$40 range.  
21. Global Rose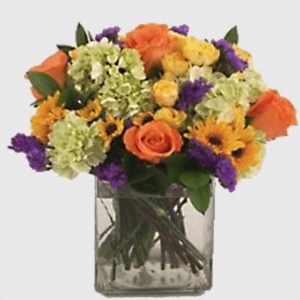 In addition to roses, Global Rose delivers mixed floral bouquets. Customers can also enroll in a subscription plan where flowers are delivered on a regular basis. Subscriptions plans include flowers for 3, 6, and 12 month periods. Prices start in the low $50s. 
As seen in the floral image above, one of the many floral arrangements that Global Rose offers. The floral arrangement above, Fields of Europe contains 25 flowers and a vase. Flowers include green mini hydrangeas, purple statics, orange roses, and more.
On a final note, you'll find a floral company from our Best Online Flowers and Plants list that suits your needs. As you can see, each has unique products and services to help you deliver smiles with flowers, plants, and more. If you have success with others and want to share your experiences please leave a comment! We'd love to hear your stories. 
You May Enjoy some of our other flower and gardening related posts.   
Air Purifying Plants for the Home
29 Easy Houseplants to Beat the Winter Blues!
35 Perfect Container Plants for Small Spaces
And as always, if you have any questions feel free to reach out to us. We always are ready to help you out. Thank you for dropping by.
Mary