How to grow Celosia such as Red Velvet Cake Celosia is our topic today. Over the Winter season, if you are like me you've begun thinking about the garden. That's right, once the hectic pace of the holidays has gone by, we can't help but begin our Spring garden planning. On my list of annuals this year is the Red Velvet Cake Celosia. Take a look at this gorgeous flower.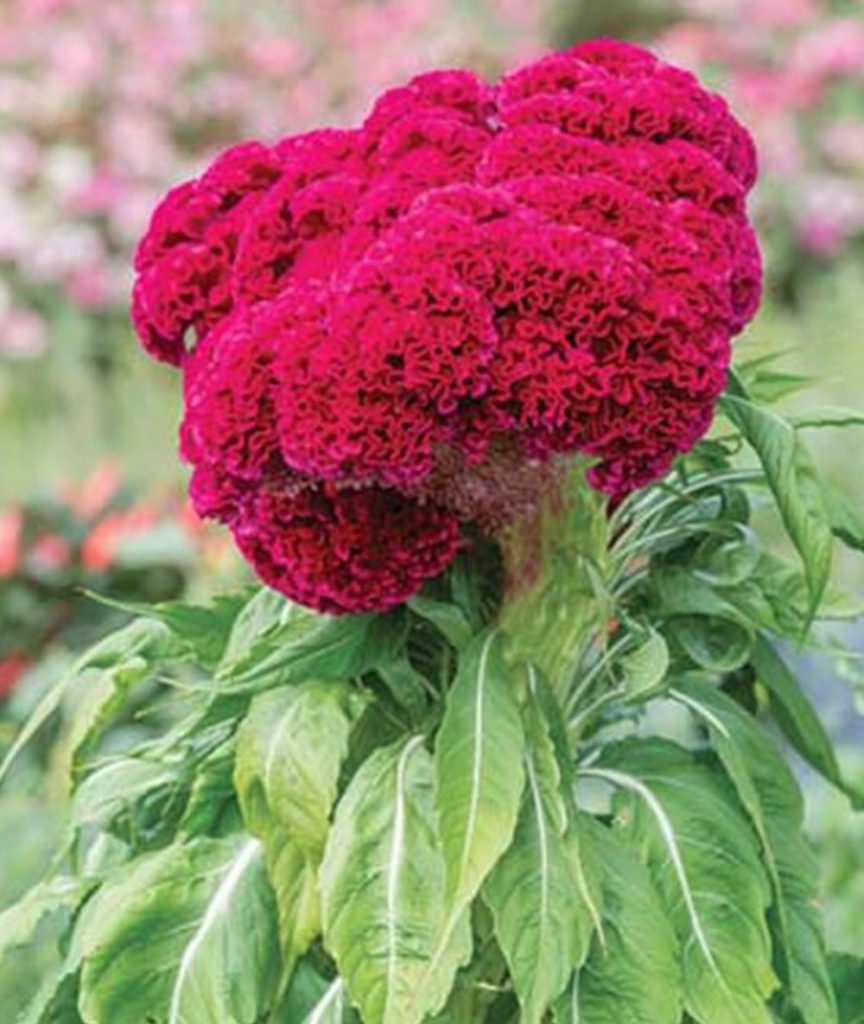 With luscious deep red florets, this annual is a standout. And great for planting in mass for all Summer long color. This celosia is named after the popular Southern recipe – Red Velvet Cake. An intense, dark-red buttermilk-style cake. This is an improved selection of celosia with large, deep red velvety florets. Another important point is that Celosia flowers attract bees and other pollinators.
Red Velvet Cake Celosia Attributes Include:
annual plant

full Sun

grows between 3 to 4 feet high

spreads 10 inches wide

grow in garden beds and borders

arrange in a dry cut floral bouquet

sow indoors 4 to 5 weeks before last frost date

transplant after frost

attracts bees and other pollinators
common names include

the plumed cockscomb or silver cock's comb
SOW SEEDS INDOORS – How to Grow Celosia
To get a head start on your Spring plantings, sow the Celosia seeds indoor. Sow the seeds 4 to 5 weeks before the last frost date for your zone.
Soak seeds in a cup of water overnight before planting

Create small mini pots using either newspaper or paper towel rolls

If you can't make your own mini pots, use a seed starting kit

Fill the small mini pots with seed starter soil

Sow seeds in soil so that seeds are lightly covered

Maintain soil moisture at about 70 to 75 degrees

Provide plenty of sunlight to the young seedlings (about 16 hours per day using either Sunlight from a window sill or a grow light)
Feed seedlings at 3 to 4 weeks old with a starter solution per the manufacturer's directions

After seedlings develop 2 sets of leaves, thin to one seedling per mini pot
Note: when using a grow light be sure to adjust the light height as seedlings grow taller. And turn lights off during a 24 hour cycle for a resting period of 6 hours.
Protect Plants From Frost
Once warmer weather arrives and danger of frost has passed, slowly introduce the seedlings to the outdoors. Do this by moving seedlings to a covered sheltered area outside. Protect seedlings from wind and the intense Sunlight. Leave seedlings outside for a week to adjust to the outdoor elements. This period is called the "hardened off" period. Young plants become conditioned to the outdoor weather.
In the event of an unexpected frost, either bring plants indoors or cover seedlings to protect them. Return the young, tender plants outdoors the following day when temperatures have risen above 70 degrees. This step is critical to the plant's transplant success. The "hardened off" period helps plants transition outdoors with a minimal risk of transplant shock after they are planted in the ground.
TRANSPLANT SEEDLINGS OUTDOORS – How to Grow Celosia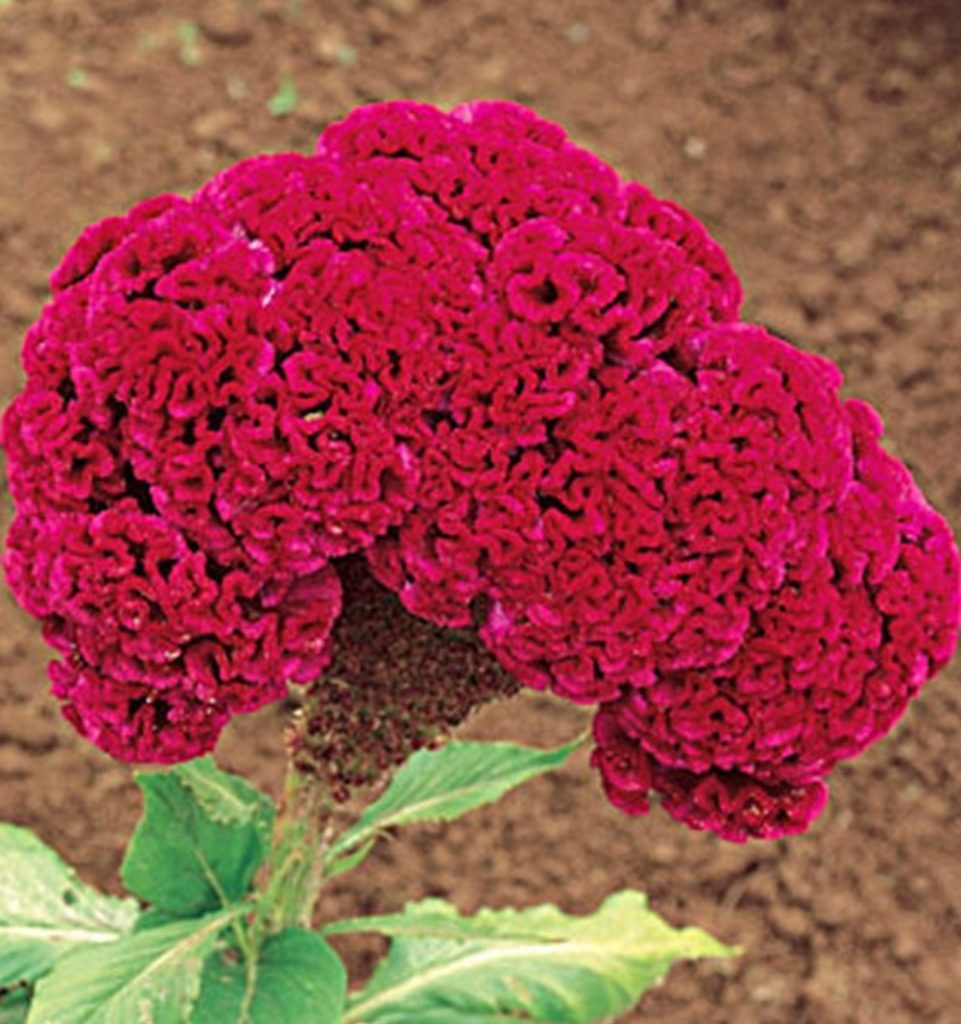 Plant the young, tender plants once weather has improved. And both of these conditions exist in the garden:
risk of frost has long passed

temperatures have not fallen below the high 60s
Select a Garden Site and Prepare the Soil
Plant celosia in a garden area that receives full Sun

Soil conditions are rich, moist, well draining organic soil

Add organic matter such as compost if available and mix with existing soil

If compost is not available, use either leaf mold or even dried leaves (leaves break down over time)
Plant Young Seedlings
After soil has been prepared, you are ready to plant the seedlings.
Dig a hole the depth of the seedling's root ball

Plant level with the soil level

Turn soil over the plant up the the root ball

Firmly press the surrounding soil slightly

Dig a second hold about 9 to 12 inches from the first hole

Plant the second seedling followed by the third and so on. With each plant seedling being 9 to 12 inches apart

Add topsoil to the newly planted seedlings if you didn't mix in compost or leaf mold the soil

Water freshly planted seedlings

Add either wood mulch or even a light layer of leaf mulch to maintain the moisture level

Monitor seedlings the first 4 to 6 weeks watering as needed so that the seedlings do not dry out
In the unexpected event of a drop in temperatures, be sure to cover the seedling plants in the ground overnight using burlap or a small cloth.
Now it's time to sit back, pat yourself on the back, and then enjoy the show. These beautiful Red Velvet Cake Celosias are a beautiful site!
We hope you learned about the Celosia annuals. Tell us what you think about this beautiful Summer blooming annual. Do you have a favorite Celosia that you plant in your garden? If you enjoyed this post . . . .
You Will Enjoy Our Other Gardening related posts.
Best Low Maintenance Lawn Alternatives
9 Fantastic Ways to Minimize Your Lawn Mowing
Plants that Attract Hummingbirds
And if you have any questions, feel free to reach out to us. We always are ready to help you out. Thank you for dropping by.
Mary