Lawn mowing and the care for our lawns can be time consuming as well as costly. Although we all enjoy having a green lawn, there are times we wish it wasn't so large or hilly. But lawns only look good when they are maintained on a regular basis. There are ways to minimize the amount of lawn you mow. This is even more important with the numerous problems home owners are faced with today.
Home owners are faced with water shortages, diminished rainfall, drought conditions, increasing cost of maintenance, and shortage of time. And this doesn't even include environmental cost to your home or the surrounding local community.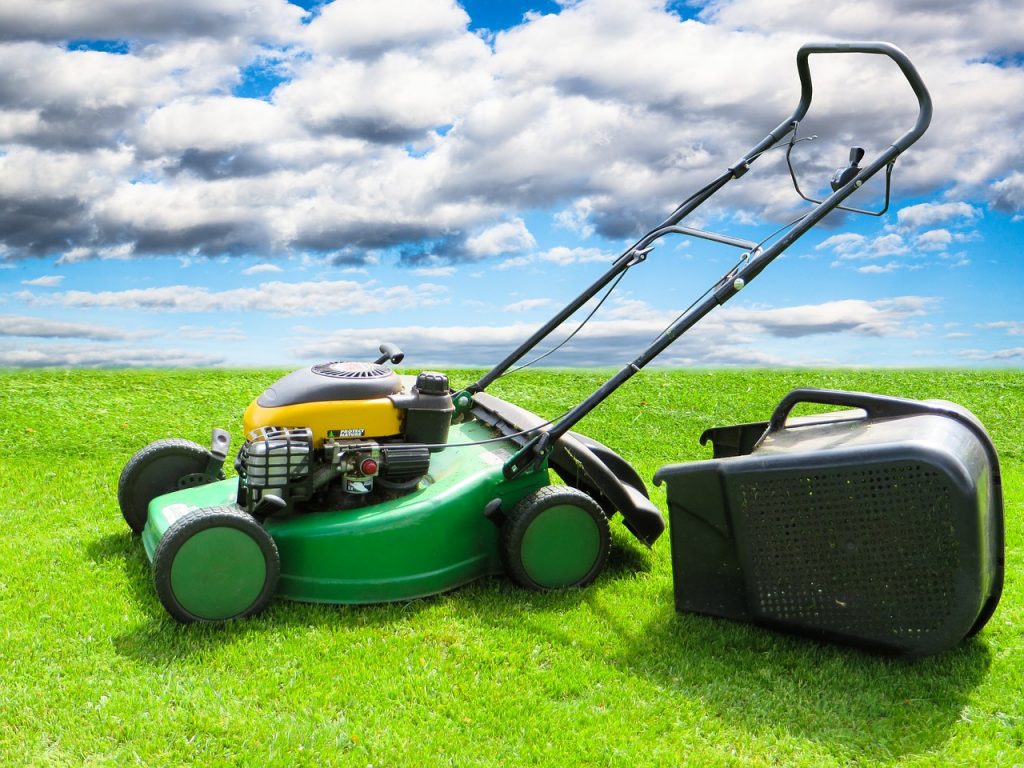 Lawn Mowing – Ways to Minimize Your Lawn Mowing
As we mentioned earlier, there are ways to minimize the amount of lawn you mow. With a little bit of planning, you can shrink the size of your grass lawn. And best of all this can be done over time. Tackle a section of your grass lawn one year then another the following year.
Ways to Minimize Your Grass Lawn
Take a look at 9 incredible ways to minimize the size of your grass lawn!
Add a Garden Bed for Less Lawn Mowing
Design a flower bed. Add either shade tolerant plants or Sun tolerant plants based on the amount of sunlight the area receives. The larger the flower bed area the less grass there is to mow. Be sure to add mulch at the base of the plants. Mulch will suppress weeds and any grass creeping into the area.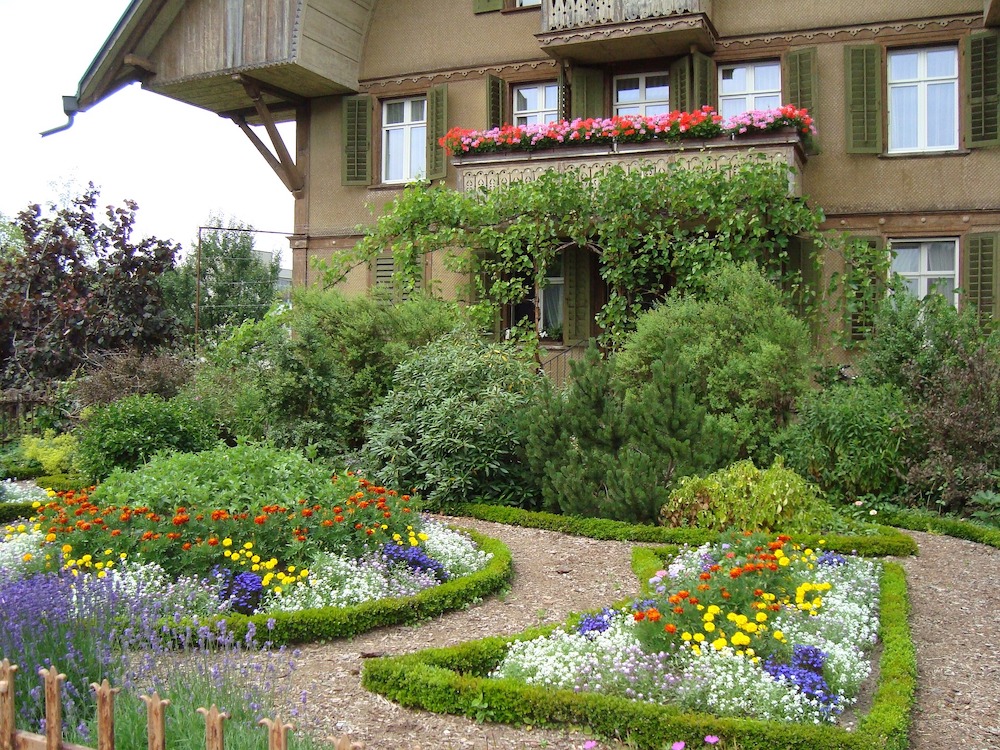 The image above, Sumiswald House in Bern, Switzerland has no grass. There is a pea gravel-like walkway. Flower beds that have a small shrub-like border. Closer to the front of the entrance are mature-sized shrubs. The flower beds add color and interest to the garden.
2. Design and Install a Shrub Bed
Create a shrub garden bed. Again, based on the level of Sunlight the area receives, plant either Sun loving shrubs or Shade loving shrubs. The larger the Shrub garden bed is, the less grass there is to mow. Add mulch at the base of the shrubs. This not only keeps moisture in the ground but suppresses any weeds.
As shrubs grow in size, they block more and more sunlight from reaching the ground underneath. Blocking sunlight from the ground along with mulching at the base of the shrubs, suppresses weed growth.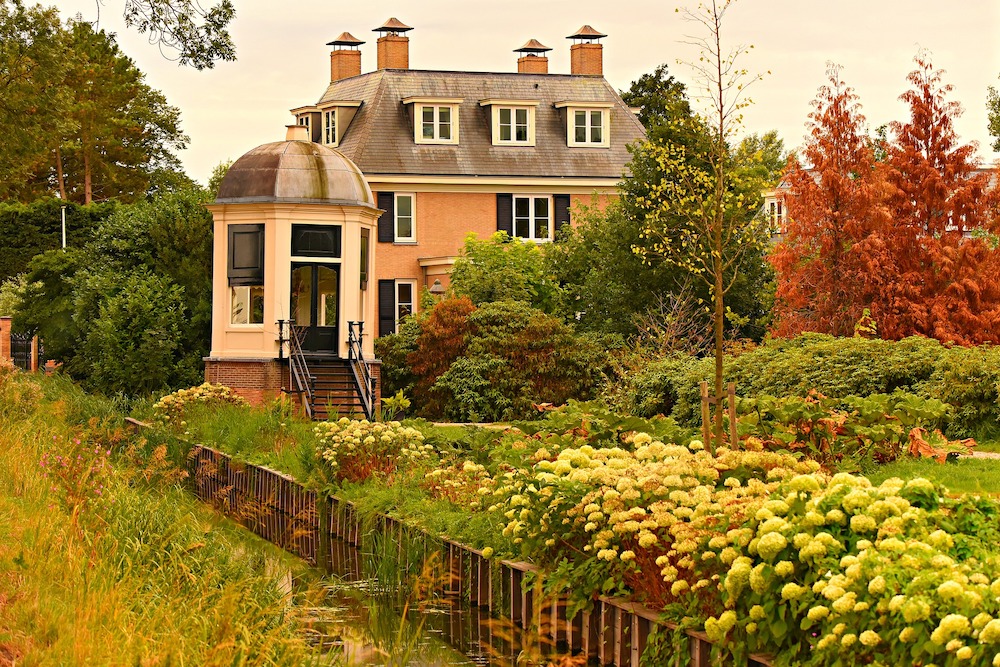 This image displays a home with many shrubs including hydrangeas and rhododendrons. Grass is either minimal or non-existent.
3. Add a Rock Garden or Boulders to the Garden for Less Lawn Mowing
Create a rock garden or add boulders to the garden. This is especially helpful if you have a slope or bank on your lawn. Rocks and boulders can help corral garden soil so that the soil does not wash away. Planting ground covers or erosion control garden plants around the rocks can help prevent soil loss. This minimizes the amount of grass to mow but also helps with soil erosion.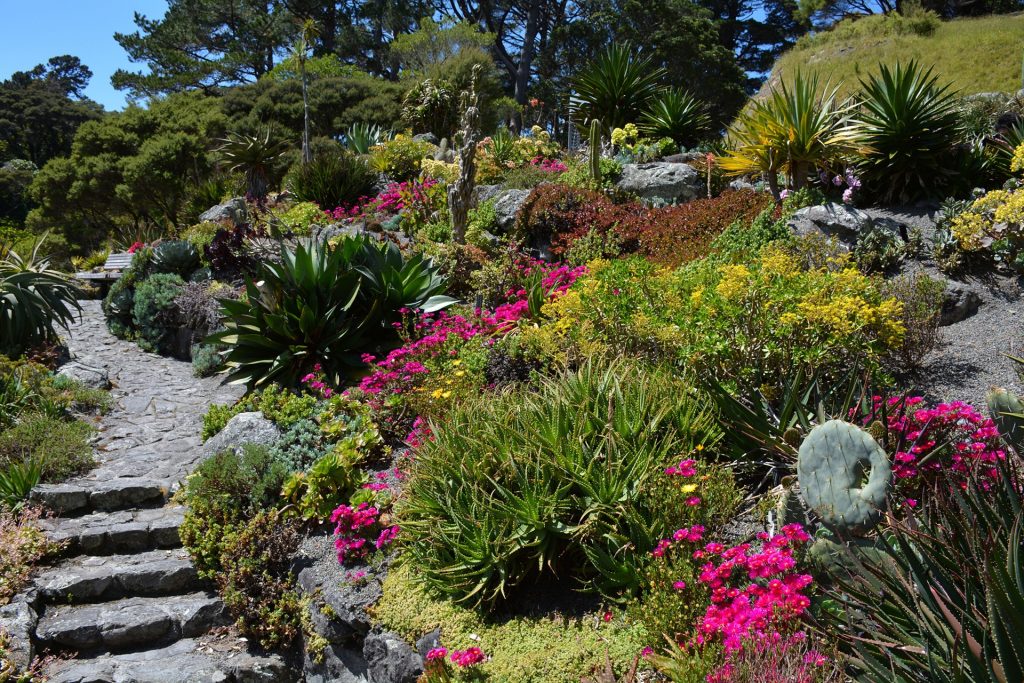 In this photo, there is a walkway with rocks, boulders, and various cactus. Several cactus are blooming. Some of the cactus are quite large in size. And not a blade of grass to be found!
4. Plant a Single Tree or a Row of Trees
Adding a tree or several trees grouped together means less grass to maintain. Depending on how large the tree is, drop some shade loving plants around the tree base. Hosta, Coral Bells, or Ferns don't require much Sun.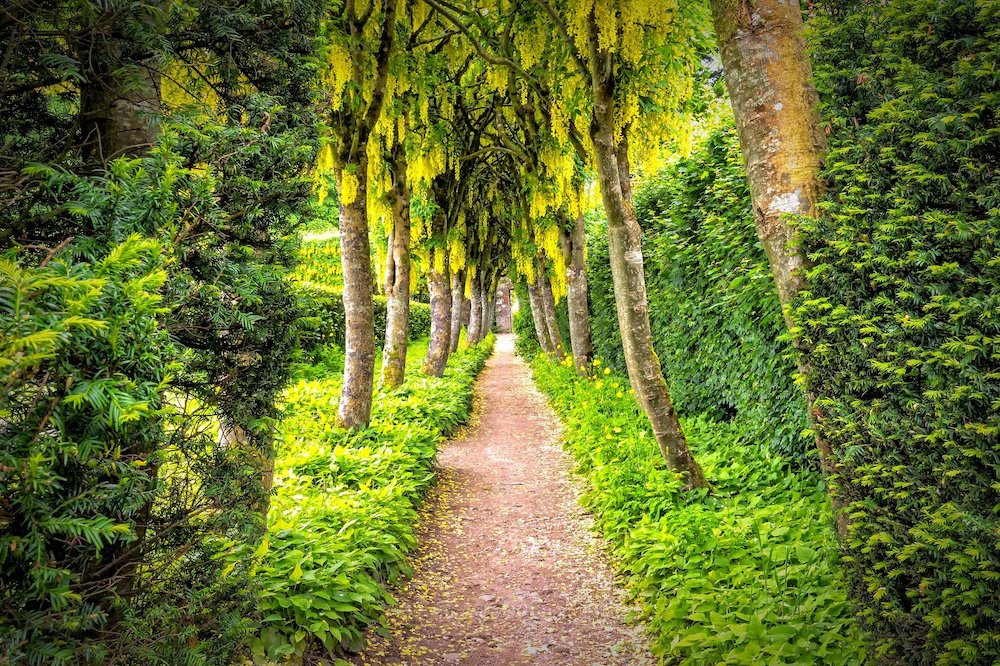 In this photo, there are double rows of Gold Rush Laburnum or Bean Trees. Beneath the Bean Trees is a garden pathway and hosta plants planted in the ground. And each side of the Bean Trees has a row of Yew shrubs. No grass and less maintenance to keep this garden going.
5. Install Garden Structures
Garden structures such as a statuary, arbor, trellis, fencing, water fountain, garden bridge, or garden bench. These garden structures not only add interest to the garden but can be the focal point of the garden. Plant shrubs around a statuary, fence, bridge, or bench. Add climbers or vines for vertical interest to a trellis or arbor.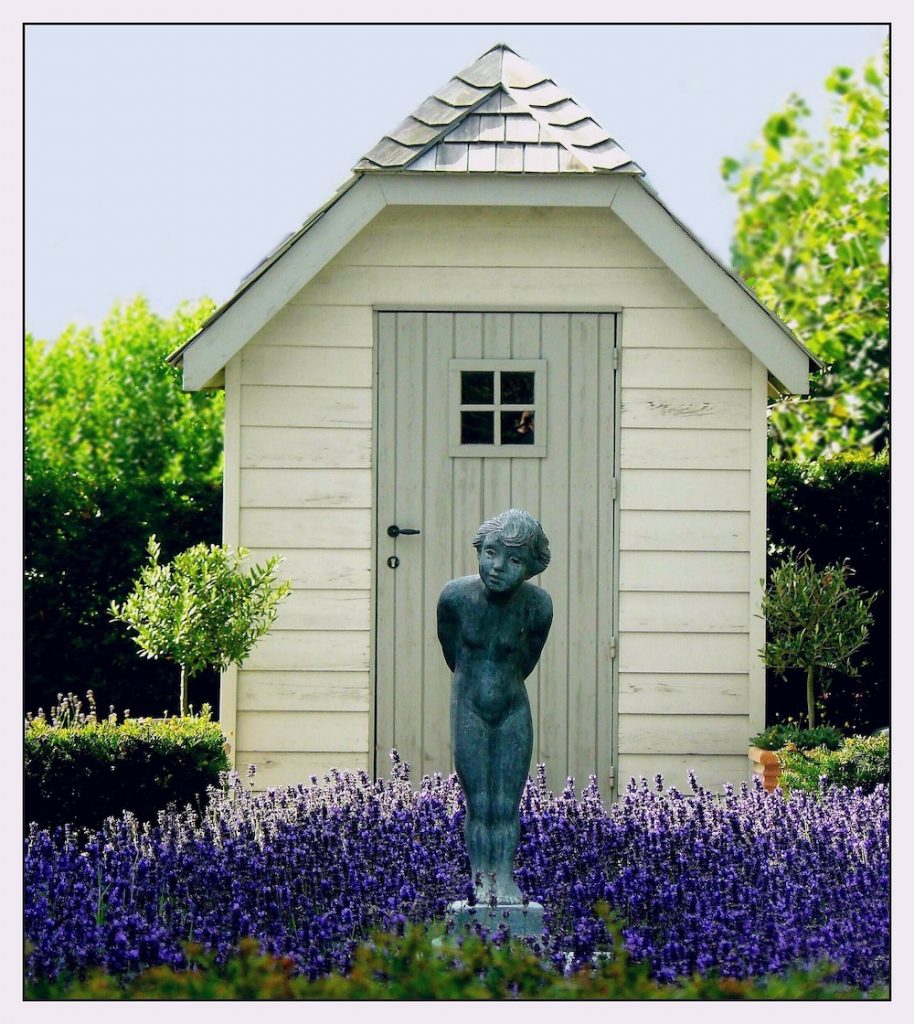 A garden shed with a statuary in front is surrounded by lavender, topiaries, and shrubs. Well designed garden without a grass lawn.
6. Build a Pergola or a Japanese Tea House
A pergola provides shade and cover from a rain shower. It also provides support for climbing plants. The Japanese Tea House provides cover from any sudden storms. Both of these structures can be used for family gatherings or entertaining.
This Japanese garden image contains many elements of a Japanese garden. You see a vignette with a pathway, stone pagoda, and some incredible shrubbery such as conifers. There are a few boulders and an area with pea gravel-like areas. And lots of moss around the plants. Creates so much more interest than a grass yard.
7. Create an Outdoor Space such as a Deck, Patio, or Picnic Area
A patio offers an outdoor space for relaxing or entertaining family and friends. And of course, the bigger the patio the better.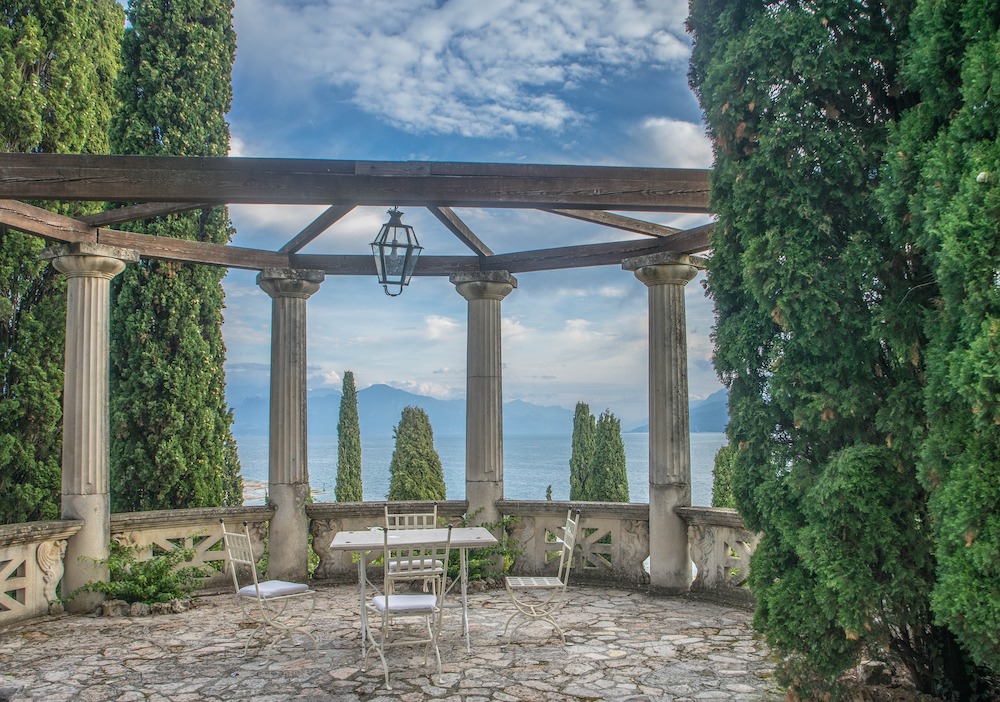 In this setting, a patio with a dining table and an amazing sea view!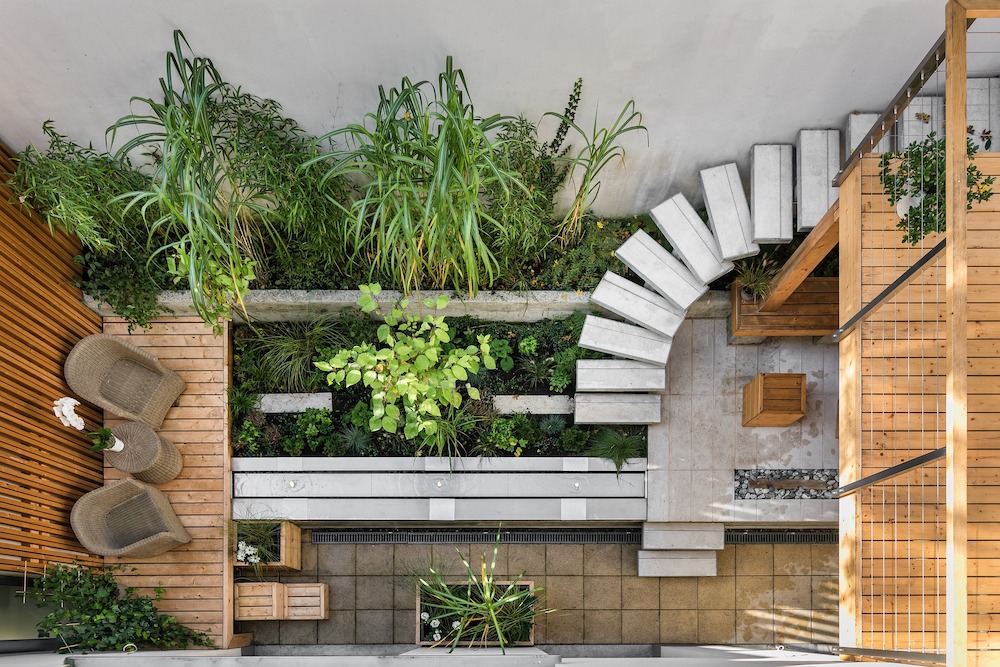 In this aerial view of a small garden, there is a curved stairway from the deck that leads to the lower level. The lower level has a tiled patio with a raised garden area. At the far left side, is another raised mini patio area with patio chair and single table. This grassless private patio has low level of gardening maintenance.
8. Build a Garden Shed for Less Lawn Mowing
Garden sheds not only provide storage for gardening tools and equipment but it covers some ground space. The bigger the shed the more ground space it covers which leads to less grass lawn. Of course, a garden shed can also act as a place to relax and read a book. A recreational shed for pleasure.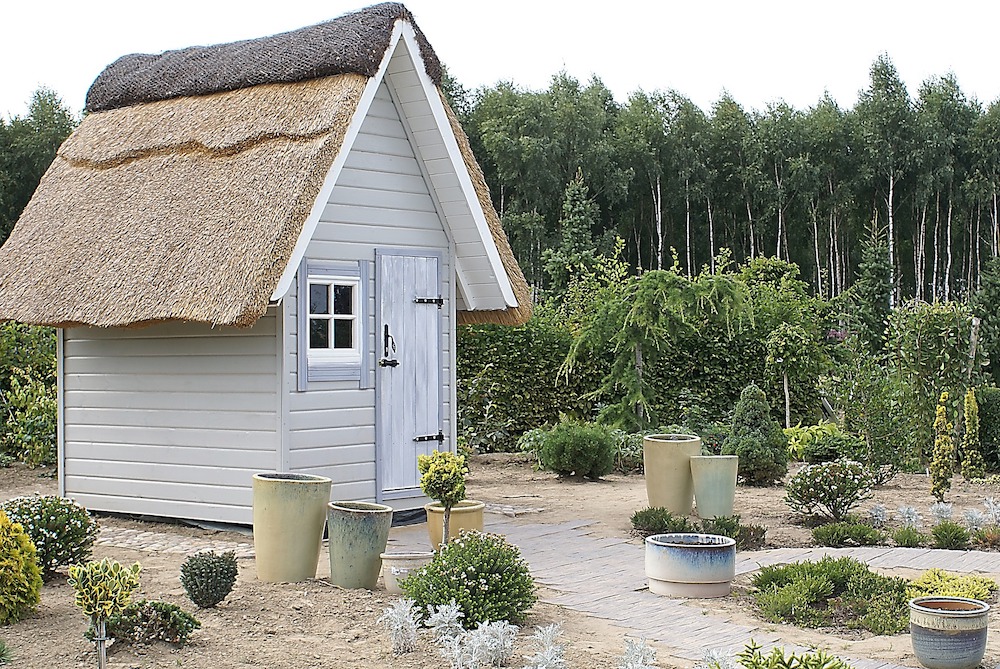 In this image, a simple shed stands in the center of a shrub garden bed. Surrounded by shrubs and small trees. Generous spacing between the shrubs allows plenty of room for shrubs to grow into their space. And not a patch of grass in sight!
9. Create an Outdoor Water Space
Build a pond, stream, waterfall, or even add a swimming pool. Adding a pond, stream, or waterfall is necessary for wildlife to survive. And an added benefit is that you'll see numerous butterflies, hummingbirds, and birds throughout the year at the water feature.
A swimming pool offers the home owners a place to exercise. Swimming is one of the best places to help maintain a healthy lifestyle. There are many health benefits to using a pool daily and an amazing way to spend time with your family.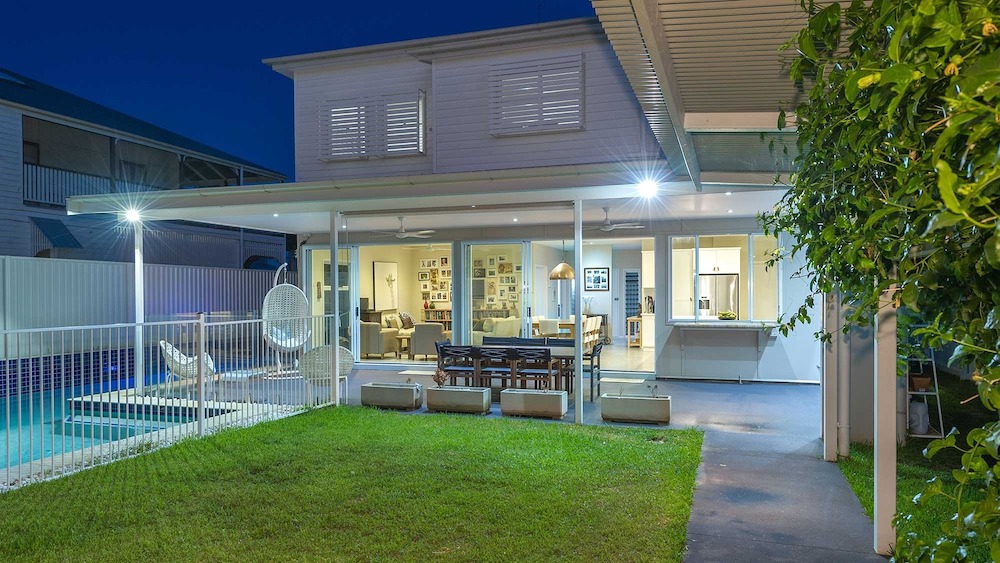 Beautifully designed coastal home has a covered patio, and pool. There is grass but contained in a tidy space. The pool runs alongside the house and into the back. And the patio is covered to provide shade from the intensity of the Sun. Simple for a relaxing lifestyle.
And of course, adding any of these items – adds value to your home! Planting flowers, shrubs, trees adds an enormous amount of curb appeal. Neighbors appreciate your commitment to maintaining your home.
Having a grass lawn is beautiful but … after years of mowing, fertilizing, watering, and weeding, sometimes it makes sense to downsize. Eliminate some of the grass lawn to free up some time.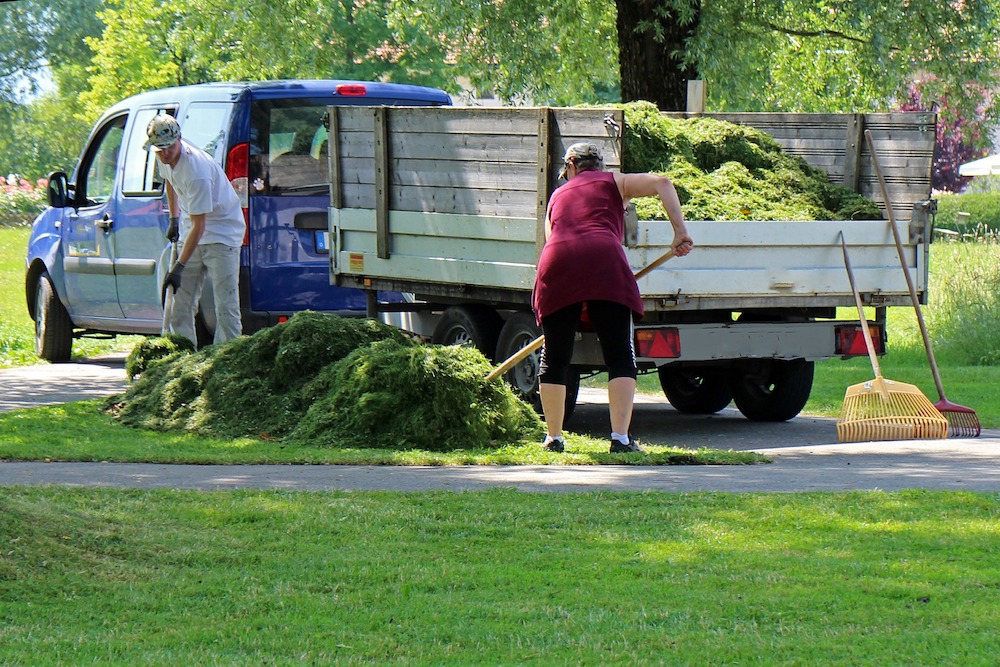 These landscape gardeners have their work cut out for them. Collecting grass clippings to drop off at the compost bins.
So, have you downsized your grass lawn? If you have, we'd love to know what you replaced your grass lawn with. We'd love to hear from you and your garden. Let us know what you think!
If you enjoyed this post . . . .
You will enjoy our other gardening related posts:
16 Best Flowering Ground Covers for Shade
15 Best Flowering Ground Covers for Sun
17 Garden Erosion Control Plants for Slopes and Banks
21 Best Ornamental Grasses
And if you have any questions, feel free to reach out to us. Be sure to include your zone and garden lighting requirements with any gardening questions. We always are ready to help you out. Thank you for dropping by.
Mary
Save