Today, we are going to talk about how to grow Pineapple Express Mangave. A Mangave succulent plant that is easy to care for. A Sun lover, Pineapple Express Mangave is versatile as well as easy to maintain. Below is a Pineapple Express Mangave that we are growing inside since the temperatures during the day are still pretty chilly. The first thing you notice about Mangave plants are their striking colors and patterns. These colors and patterns are sometimes difficult to capture in a photograph. The coloring of Mangaves are amazing. With more Sun exposure comes deeper, more intense spotting on the leaves. The more Sun, the more dramatic the markings become.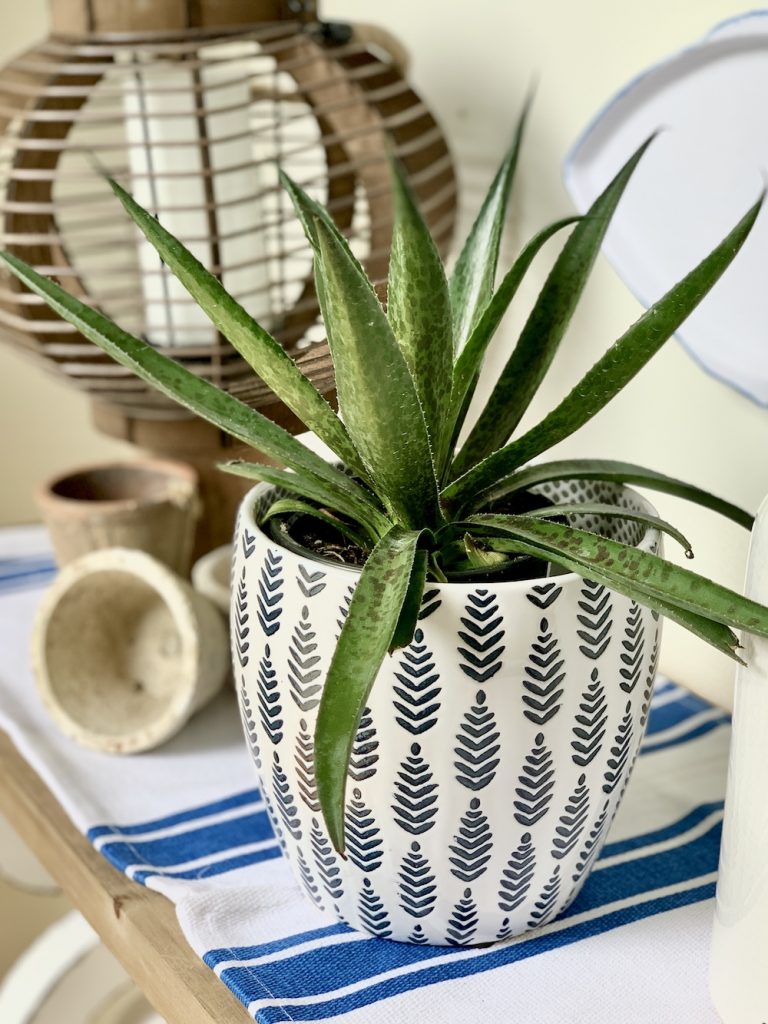 Last year, we introduced the Mangave plants in our blog post titled 14 Mangave Plants for sunny gardens. These beautiful Mangave plants are an intergeneric cross of Manfreda and Agave plants. An extraordinary combination of two worlds. Better growth rate with stunning foliage patterns from the Manfreda plant. Equally important are the attributes of the Agave plant line of growth habit and refinement. A newer hybrid from the incredibly talented team at Walters Gardens.
Characteristics of Mangave Succulents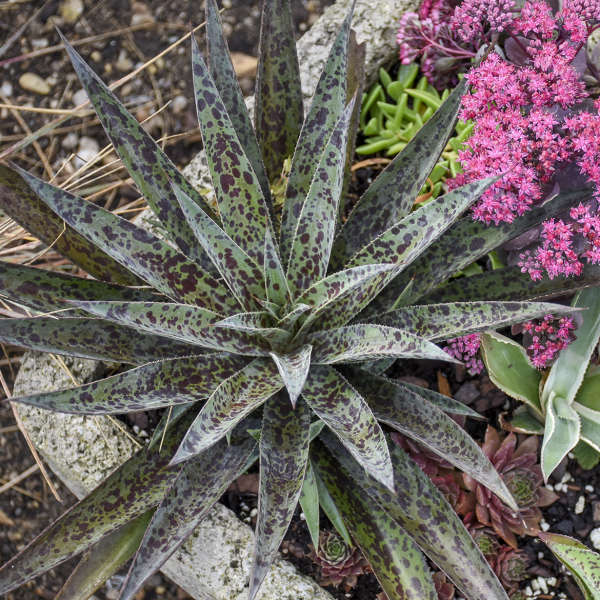 Mangave succulents have a low but wide growth habit. The most striking quality you'll notice are the incredible colors. Foliage spotting is derived from Manfreda blood and of course the thick, wider leaves are from the Agave line. Mangave plants tend to be softer to the touch which makes it very easy to handle when planting. In this case, the Pineapple Express has shades of blue with variegated spotting along with the arch downward growing foliage. To maintain the darker spotting, expose the Pineapple Express Mangave with as much UV light as possible. The very first photo at the beginning of this post shows the Pineapple Express with less spotting from being indoors due to the outdoor chilly temperatures. A quick fix is to give plenty of sunshine as the temperatures warm up!
How to Grow Pineapple Express Mangave – About Mangave
First, a few characteristics about the Pineapple Express Mangave plant:
Grows in zones 8b to 10

Plant in full Sun where there is 6+ hours of sunlight

Reaches 9 to 10 inches high with a spread of 16 to 18 inches wide

Foliage colors are shades of blue with variegated spots

Water needs are average to low

Drought tolerant once the plant has been established

Tolerant of average, slightly acidic, slightly alkaline, and neutral soil conditions

Resistant to both deer and rabbits

Growth rate is slow
Soil Preparation for Pineapple Express Mangave
Prepare soil in a Sunny garden area by adding compost

Work compost into the soil so that soil is well draining

Potting soil and garden soil should not hold any water

If grubs or Japanese Beetles are a problem, I add a little organic Milky Spore powder to the soil and mix it in
How to Grow Pineapple Express Mangave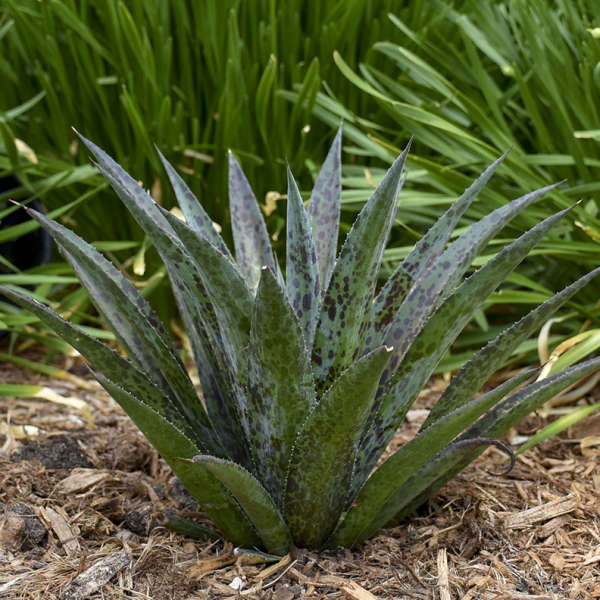 Plant Pineapple Express Mangave in full Sun

If you are planting several Pineapple Express Mangave, space plants about 20 inches apart

Fertilize using ½ strength during the growing Summer season
When to Plant Pineapple Express Mangave
Grow mangave in a container that is slightly larger than the mature plant about 20 inches or more wide. Plant anytime of the year for indoor growing

Plant Pineapple Express Mangave in the ground once the temperatures rise above 60 degrees
Tips for How to Grow Pineapple Express Mangave
Once establish, water lightly every couple of weeks

To maintain the beautiful spotting effect, giving Pineapple Express more exposure to UV light that brightens the dark coloration

Plant in a container for patio growing

Garden styles for Pineapple Express fit into an eclectic, formal, modern, rock, or succulent garden

Grow Pineapple Express as a specimen plant, or a focal point in a garden

North American native
Companion Plants for Pineapple Express Mangave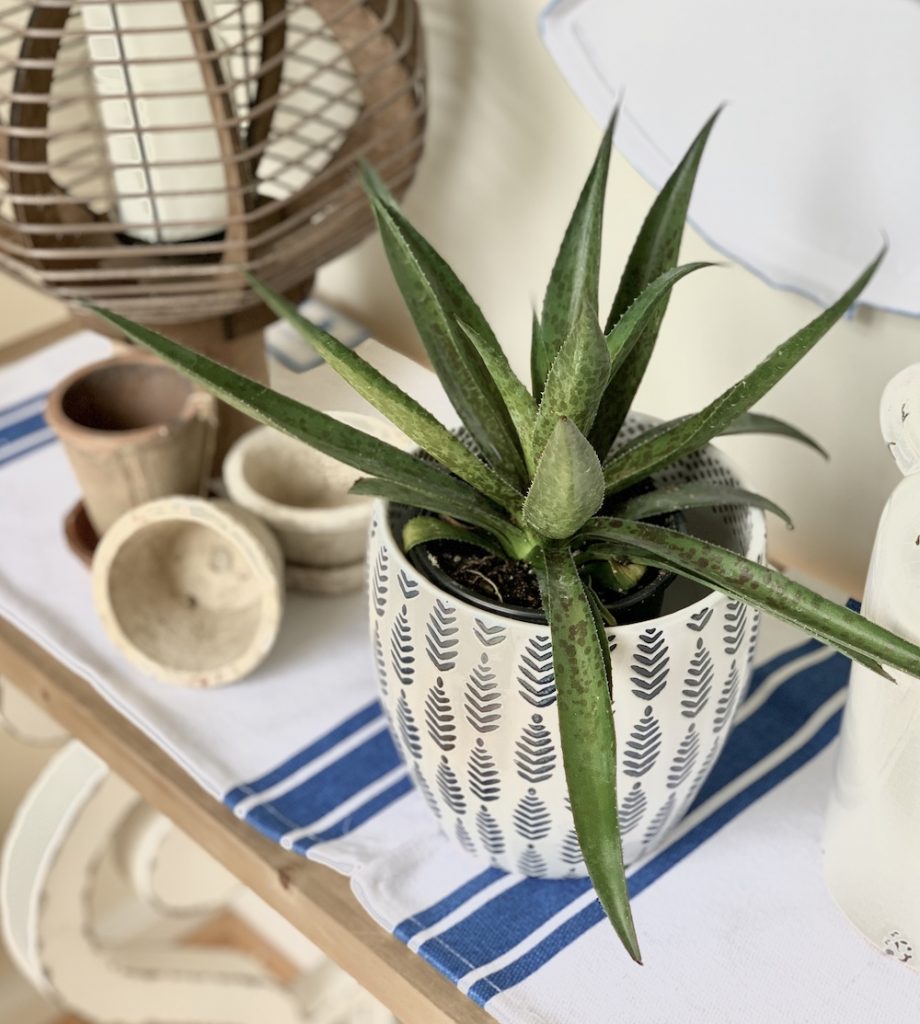 As you can see with little effort the Mangave is very easy to grow. All you need is lots of Sun, a little bit of water, and well-draining soil. That's it! Easy Peasy to grow. As the days warm up and the end of Spring approaches, my Pineapple Express Mangave will be spending its time outdoors. More Sun and more dramatic foliage colors await my Mangave plant.
This finishes our blog post on How to grow Pineapple Express Mangave plants. Tell us what you think about this beautiful plant. And which are your favorite Mangave plants? To learn more about Mangave plants read our post 14 Mangave Plants for Sunny Gardens. If you enjoyed this post . . . .
You Will Enjoy Our Other Gardening related posts.
30 Rock Garden Plants That Perform Like Rock Stars!
25 Drought Resistant Perennials
How to grow Sun loving Inkblot Mangave
And if you have any questions, feel free to reach out to us. We always are ready to help you out. Thank you for dropping by.
Mary