Grow Snow Leopard Mangave on your deck, patio, or in the garden. The Snow Leopard, like all Mangave plants, needs a little water and a whole lot of Sun. Incredibly easy to grow when Mangave plants are given full Sun. For today's post, we are sharing how to grow Snow Leopard Mangave. Snow Leopard has striking color combinations of creamy white margins on long green lance-shaped leaves. This succulent excels in warmer weather hardiness zones.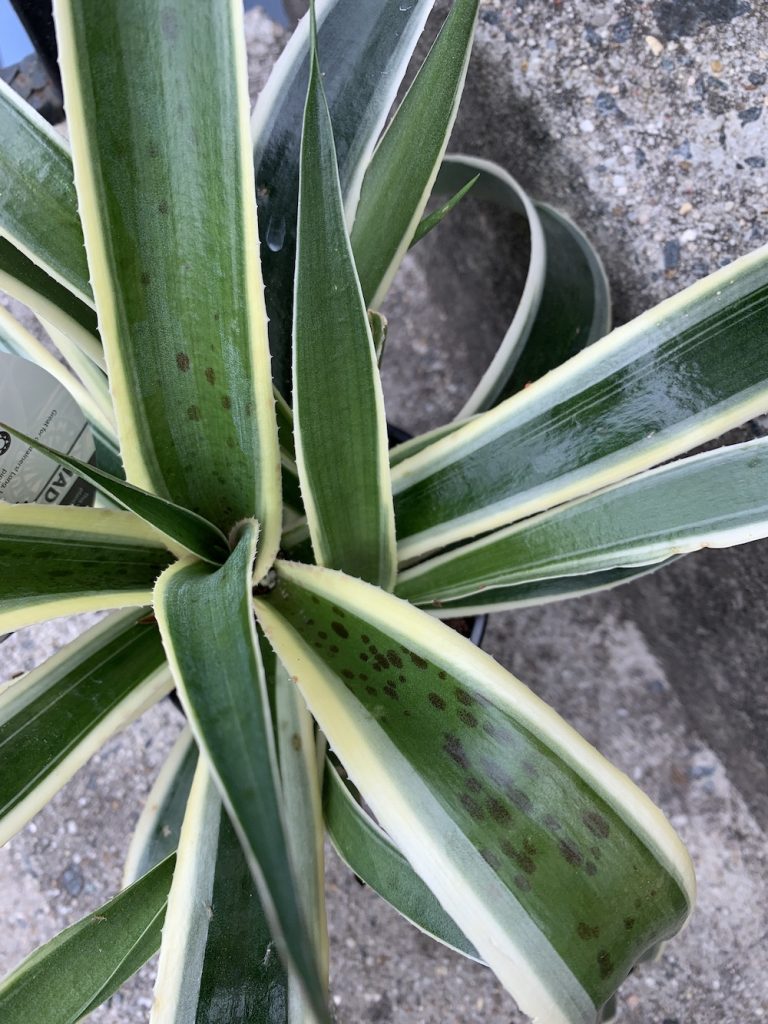 If you look closely at the image above, you'll see spots on some of the leaves. The spotting is cherry red and appears on the foliage as the plant is exposed to more Sun. The more intense the Sun is, the deeper the cherry red spotting develops. Spotting becomes more noticeable with tons of Sun. Needless to say, it creates a great specimen plant for the garden.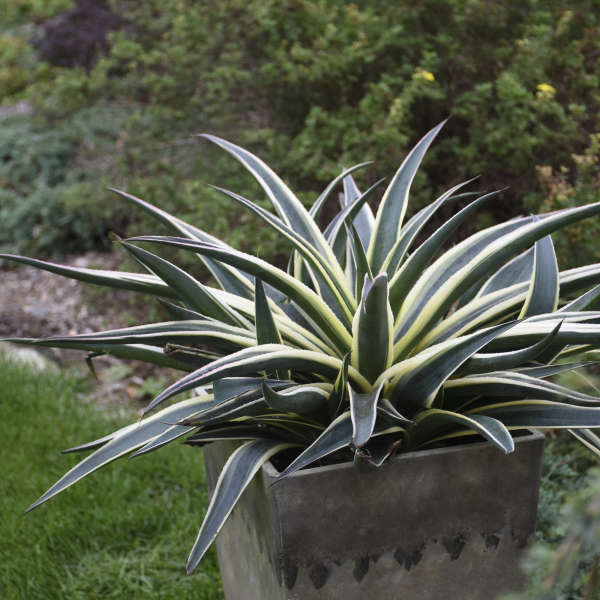 Show off your Mangave plants in containers. Perfect for adding some green on a deck, patio, or porch. Once they are established, they settle right in. Luckily, they don't need daily watering like many annuals do when exposed to full heat and Sun.
Once the Mangave has been established in the garden or container, the Mangave is drought tolerant. This means it can withstand less watering however, it does need watering. Mangave loves and thrives in full Sun conditions.
3 Reasons We Love Mangave Plants – Grow Snow Leopard Mangave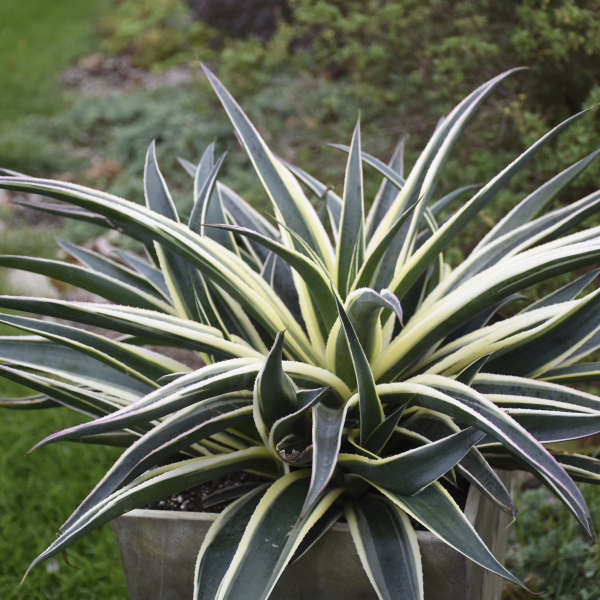 One of the best qualities of Mangave plants is that they can easily be grown in containers. Perfect for having on a deck, patio, or porch. Select a container that is two to three inches wider than the plant's spread at maturity. In this case, the Snow Leopard Mangave spreads up to 24 inches wide. Grow in a container that is the width size of 26 inches or more. There are two advantages to using a wider container. A wider container provides protection to the plant's tips. Plant tips are less likely to be damaged if they do not extend beyond the container's outer sides. And second, watering the plant is easier since there is more soil area for the plant to absorb the moisture.
Drought Tolerant Once Established
The second quality that we like about Mangave plants is that they require less watering. After planting a Mangave, you need to water them until they settle into the garden or container. Although they have low water needs, Mangave plants need to be watered as they transition into their new garden space. Once they have been established, their water needs are low. They are capable of going longer periods without water. Which is helpful for those who have a busy work or home schedule. And if you lack the budget or have regulated water usage in your local community then Mangave plants are the perfect solution. Luckily, they don't need extensive watering like many annuals do.
Gorgeous Foliage
Our third reason we love Mangave plants is their foliage. Simply gorgeous! The color, spotting, and texture is striking and provides Summer interest to your outdoor space and garden. They easily fit into a Boho, Eclectic, Coastal, or Modern Farmhouse style. Perfect for a balcony, patio, porch, deck, or any outdoor space.
Mangave Beginnings
Wondering what a Mangave plant is? If you've followed my posts in previous years, I've written about Mangave plants before. For those who are newer to the blog, the Mangave plant is a succulent. A succulent is a plant that stores water in its leaves for use at a later time. Storing water in the leaves allows succulent plants to go longer periods of time without water. Water stored in the leaves acts like a reservoir. The plant can tap into the water reserve during periods of drought to keep hydrated.
Mangrove plants are succulents that are an intergeneric cross of the Manfreda and Agave plants. Two worlds combined for an extraordinary succulent. From the Manfreda plant, Mangave inherited a better growth rate with stunning foliage patterns. Equally important is that the Mangave derived a better growth habit and improved refinement from the Agave plant. A new hybrid from the creative team at Walters Gardens. And the development team at Walters Gardens are just getting started. There will be more Mangave succulents to come!
What Makes Mangave Succulents Special?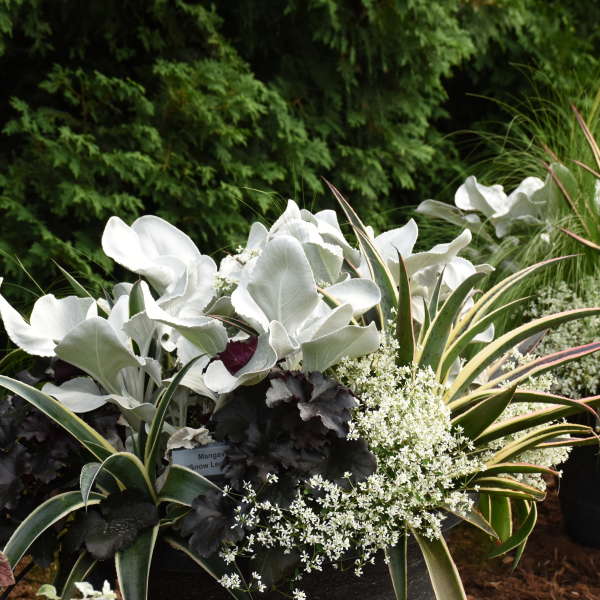 Mangave succulents are a low growing succulent with a wider growth habit. Like all Mangave plants, the most striking quality is the incredible foliage colors. Foliage spotting is derived from Manfreda blood and the thick, wide leaves from the Agave line. Mangave plants tend to be softer to the touch than Agave plants. Unique to the Snow Leopard variety, is the long, lance-shaped leaves with creamy white margins and darker cherry spots. Although from a distance, the spotting is not noticeable and the leaf foliage appears clear. Maintain the cherry spots on the plant by providing a garden space with continuous bright sunshine.
Snow Leopard Mangave – About
Characteristics of the Snow Leopard Mangave plant:
native

grows in zone 9 to 11

full Sun where there is 6+ hours of sunlight

reaches 16 to 18 inches tall by 22 to 24 inches wide

foliage is green shades with variegated creamy white margins

low water needs

grows in poor, average soil conditions

resistant to both deer and rabbits

slow growth rate

plant in patio containers or grow in a rock garden

attractive foliage

grow as a specimen plant or use as a focal point

tolerant of drought soil conditions once Snow Leopard has been established
Soil Preparation – Grow Snow Leopard Mangave
Prepare soil in a Sunny garden area or potting soil in a container

Add compost or organic material to the garden soil

Work compost into the garden soil about 4 to 6 inches deep so that soil is well draining

Soil whether it is potting or garden soil should not retain any water but release excess water (well draining)

Sprinkle in organic Milky Spore powder into the garden soil as a preventive if grubs or Japanese Beetles are a problem
Best Garden Conditions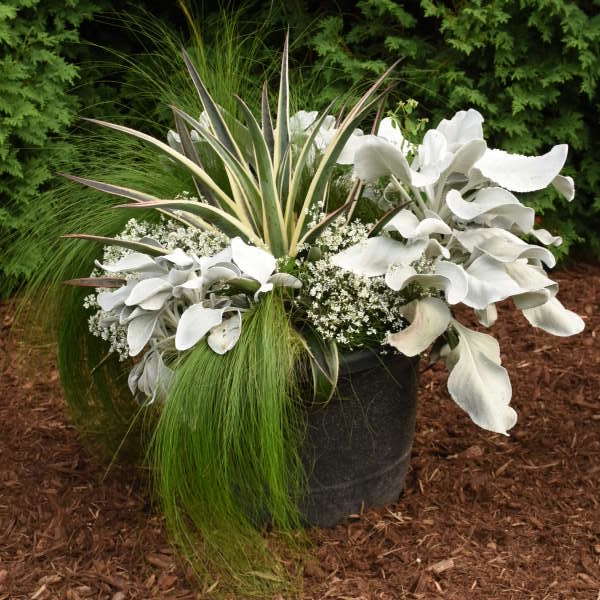 Plant Snow Leopard in full Sun

Allow spacing of about 26 to 28 inches between plants, if you are planting a row of Mangave plants

Fertilize at a strength of ½ during the Summer growing season (fertilizer is not necessary over the Winter months)
Planting Time – Grow Snow Leopard Mangave
Plant Snow Leopard Mangave in the ground once the outdoor temperatures rise above 60 degrees

Grow Mangave in a container that allows for root growth

Plant anytime of the year for indoor growing or if your hardiness zone is 9 to 11
Plant Snow Leopard Mangave with these Tips
once establish, water lightly every couple of weeks

provide full Sun to intensify and maintain the spotting effect

grow in a container on a balcony, patio, porch or a small outdoor space

plant Snow Leopard in gardens that have an eclectic, formal, modern, rock or succulent style

create a garden focal point or use Snow Leopard as a specimen plant
Grow Snow Leopard Mangave with these Companion Plants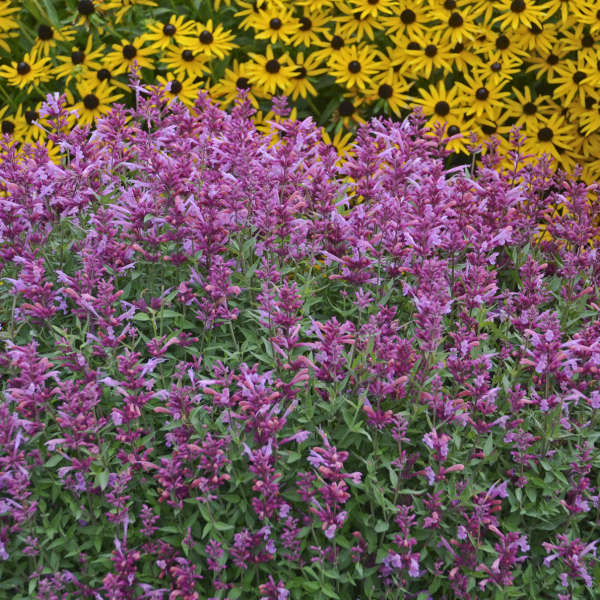 Rosie Posie Agastache
Paint the Town Fuchsia Dianthus
Blue Whiskers Festuca glauca
Pure Joy Sedum
Steel the Show Sedum
As an alternative to other perennials, Snow Leopard Mangave requires little care to flourish. Plant in a garden spot that receives full Sun, water when needed, and provide well-draining soil. It's that simple. For the little amount of time you'll spend on planting a Mangave plant, you'll receive several seasons of garden pleasure.
This is the end of our post on how to grow Snow Leopard Mangave. Do you have a favorite Mangave in your garden? Maybe you have a collection of Mangave plants on the patio or in the garden? We love hearing from our readers. Tell us what you think in the comments section below about these beautiful succulents. Read our post 14 Mangave Plants for Sunny Gardens to learn more about Mangave plants. If you enjoyed this post . . . .
Enjoy Our Other Gardening related posts.
Silver Fox Mangave: a Garden Wonder
How to Grow Sun Loving Inkblot Mangave
17 Houseplant Decor Ideas for the Home
25 Drought Resistant Perennials
50 Sandy Soil Perennials that Like Sun
And if you have any questions, feel free to reach out to us in the comments below. Be sure to include your zone and lighting conditions regarding any garden questions. We always are ready to help you out. Thank you for dropping by.
Mary