Crate gardening helps you to grow plants in small areas or spaces. Stack crates 2 to 5 levels high. Plant vegetables, herbs, and annuals in each crate. Even with limited space, you can create a beautiful, bountiful garden.
Crate gardening facilitates growing plants in small areas or spaces. All you need is lots of Sun and access to water. Grow a variety of vegetables in these small box-like crates. Include a few herbs. And even add a few flowers for extra color.
Below we'll show you some crates with vegetables and herbs growing. One with a combined mini vegetable and herb garden. Take a look at these amazing garden crates. Get your inspiration from these ideas. Take a look. Be sure to let us know what you think.
Covent Garden Wagon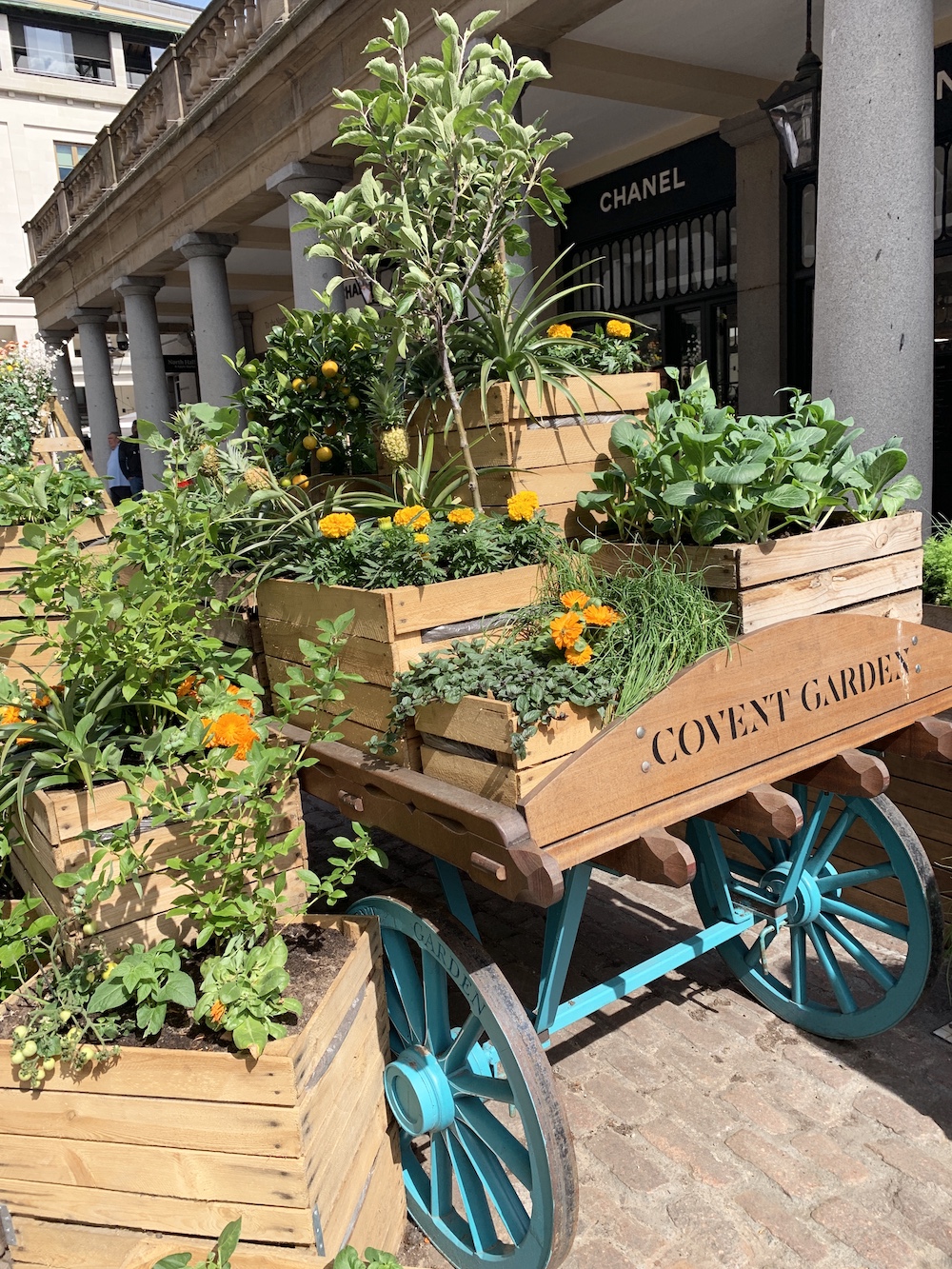 The Covent Garden wagon is full of healthy vegetable and herb plants. Planted in nice portable and affordable crates. This display of crate gardening shows how easy this is to assemble. Perfect for apartments. Ideal for small decks, patios, and other spaces.
What is unique, is the portability of the crates. Or at least while they are dry. They become very heavy after a rainfall or when watered. Crate gardening is a great option for gardeners who have limited movement. Or those who experience mobility problems. The crates can be elevated so gardening becomes more accessible. Garden right on your patio or deck with crate containers. The garden comes to you.
In this display, the wagon is placed on a Sunny walkway in Covent Garden. The wagon's frame and wheels are a pretty turquoise blue. Garden crates are stacked on the wagon itself and around the wagon. Crates are stacked in twos, threes, and fours. Some garden crates are smaller and some are regular size. This accommodates vegetables with deeper root systems.
We see quite a few vegetables and herbs. This includes strawberries, blueberries, tomatoes, pineapple plants, and a lemon tree. And in between the delightful vegetable plants are herbs and other edible plants.
2. Marigolds and Pineapple Plants
One of the wagon crates has small pineapple plants. A few of the pineapple plants have small pineapples growing. In front of the pineapple plants are Marigolds. The Marigolds are a bright orange, yellow color. In the background, is a lemon tree. The lemon tree has big, gorgeous lemons hanging from several of the branches.
3. Broccoli Plants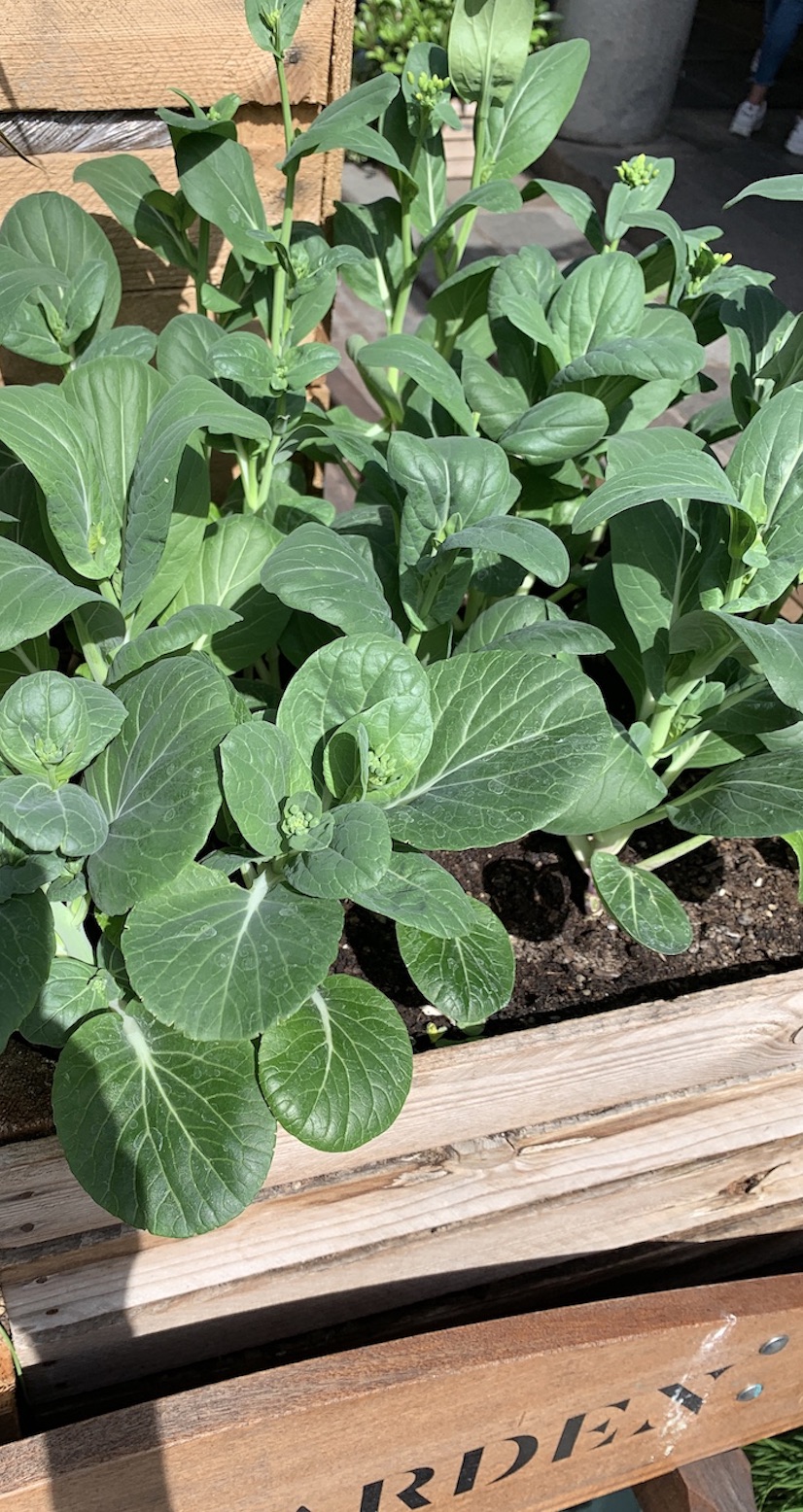 Broccoli plants growing under the Sun.
4. Calendula, Blueberry Bush, and Tomato Plants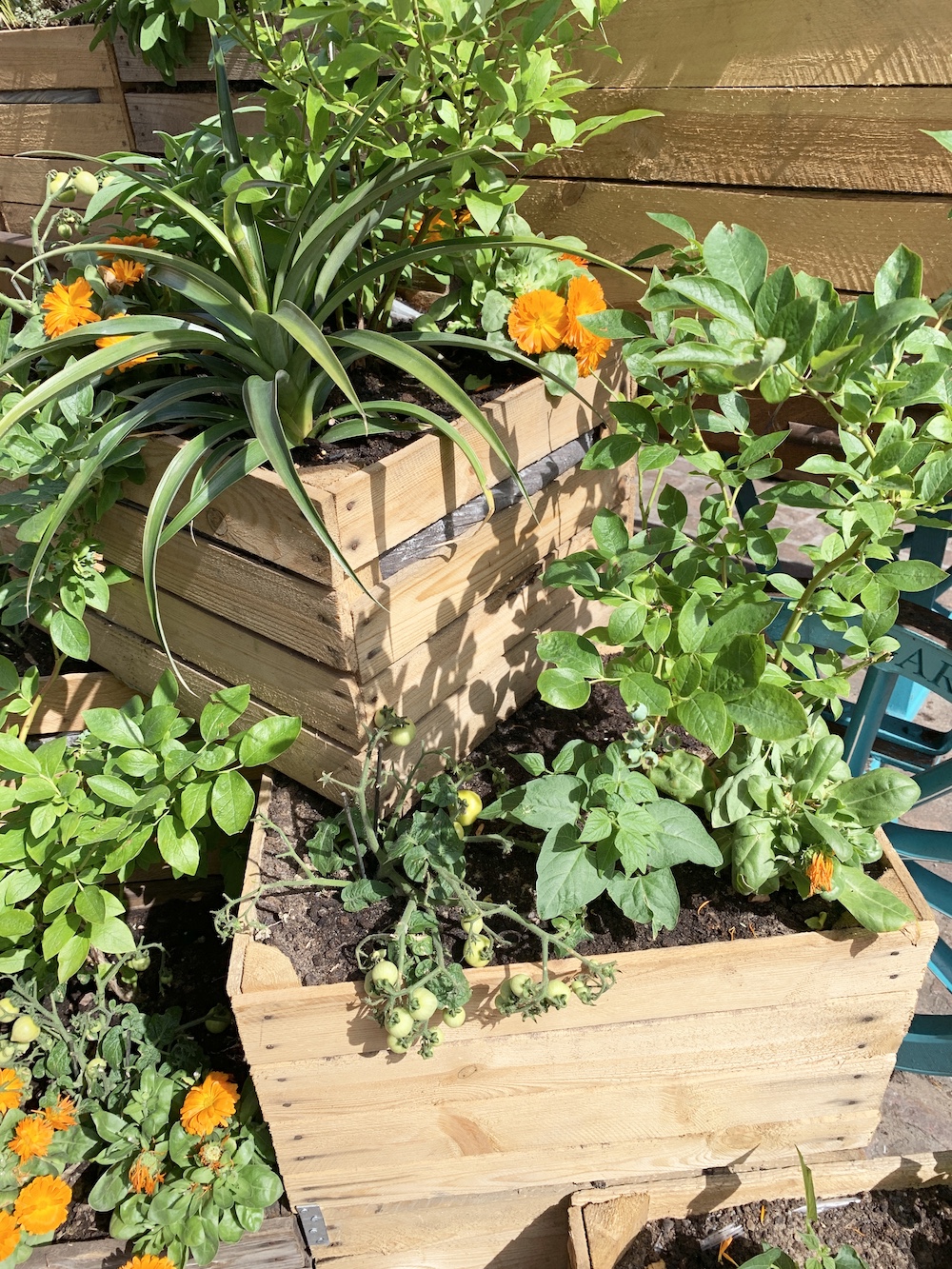 Multiple stacked crates hold a large variety of vegetables and herbs. The front center crate has a lovely tomato plant growing. Orange Calendula is planted in several of the crates.
Calendula is also known as pot Marigold, Ruddles, Common Marigold and Scotch Marigold. A short-lived aromatic herbaceous perennial. Usually blooms from seed within two months. Calendula blooms in bright yellows, golds, and orange colors.
A floret of pot marigolds are edible. Add the Marigold floret to salads and other dishes as a garnishment. It is commonly used in lieu of saffron for seasoning. Pot Marigolds were used in ancient Greece, Roman, the Middle Eastern and Indian cultures. Used as a medicinal herb. And as a dye for fabrics, foods, and cosmetics.
The use of Calendulas in the garden is important. Calendulas provide food for the larvae of some Lepidoptera species. Those species include the Cabbage Moth, Gothic Moth, and the large Yellow Underwing.
5. Blueberry Bush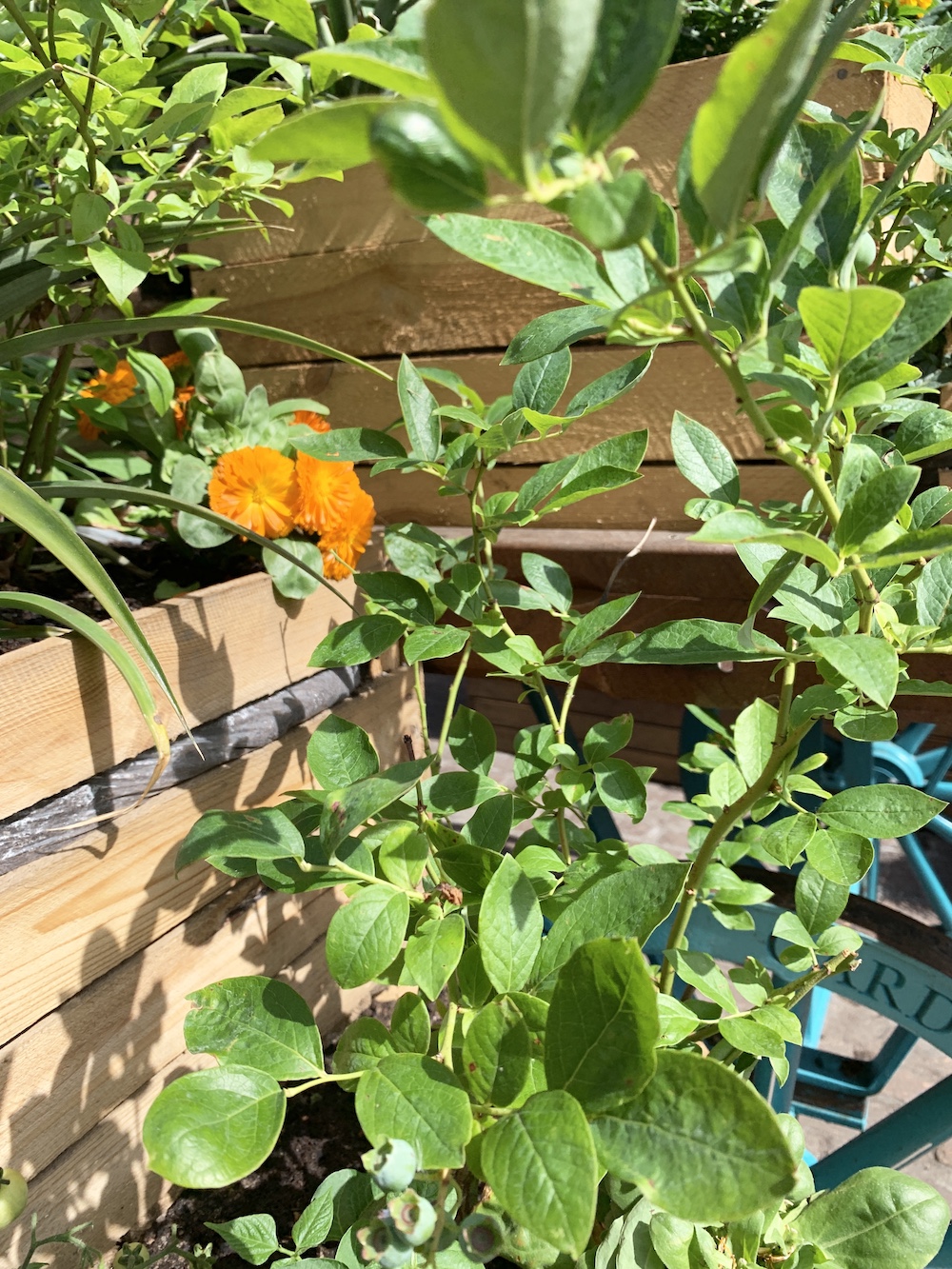 Blueberry bush has already formed blueberries as you can see. The unripe blueberries can be seen at the lower front bottom of the image. Still green, unripe fruit. But before long the berries will ripen into a beautiful deep blue color. Many fruits can be grown in containers as well as crates.
6. Calendulas Planted By the Yellow Tomato Plants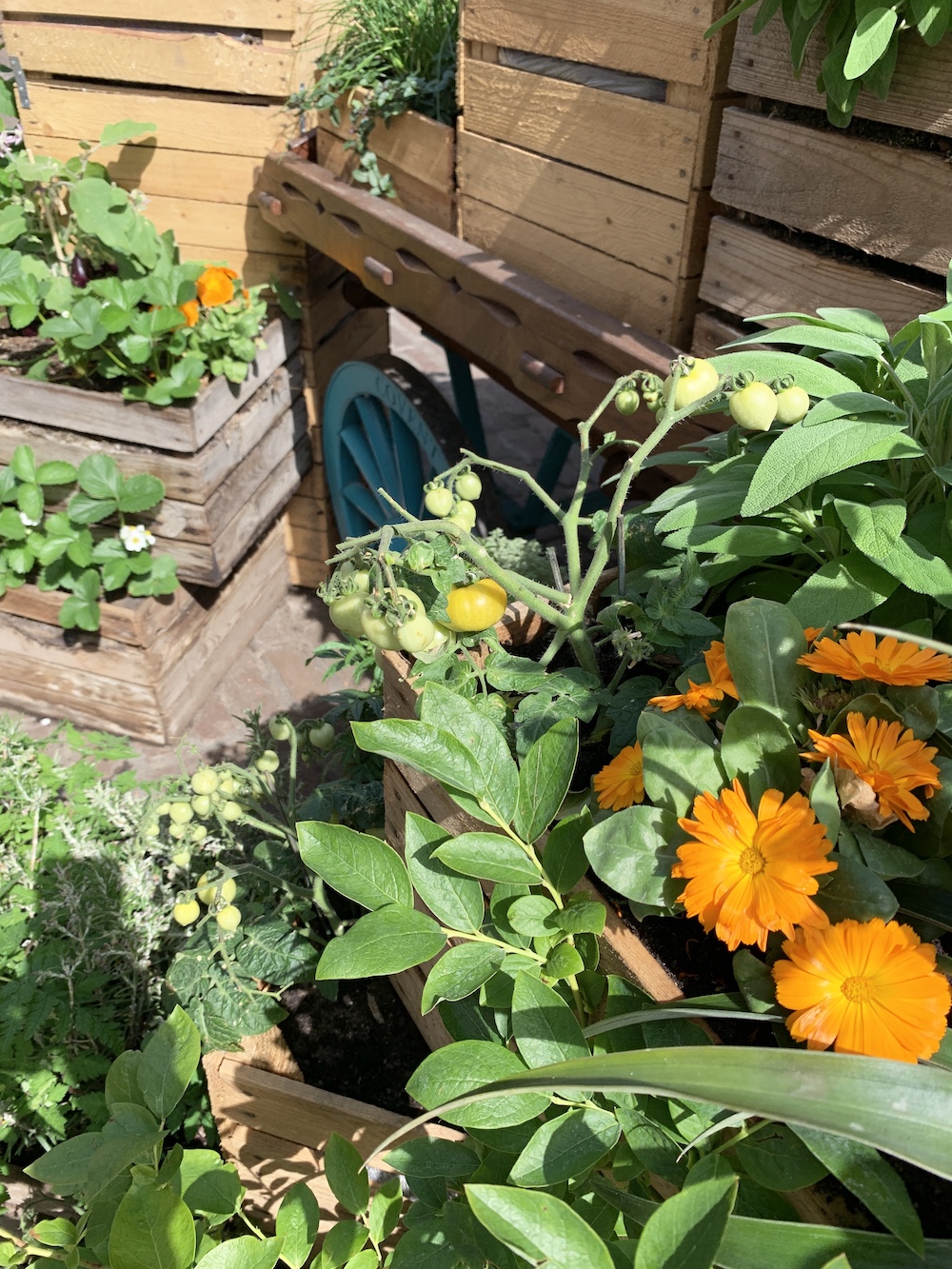 On the ground next to the wagon, are several stacked crates. The multi-level crates have Calendulas planted near the Yellow Tomatoes. Also in bloom are strawberry plants. On the left, white blooms will soon become fresh strawberries. There are chives growing in the last crate on the wagon.
7. Side View of the Vegetable and Herb Crate Garden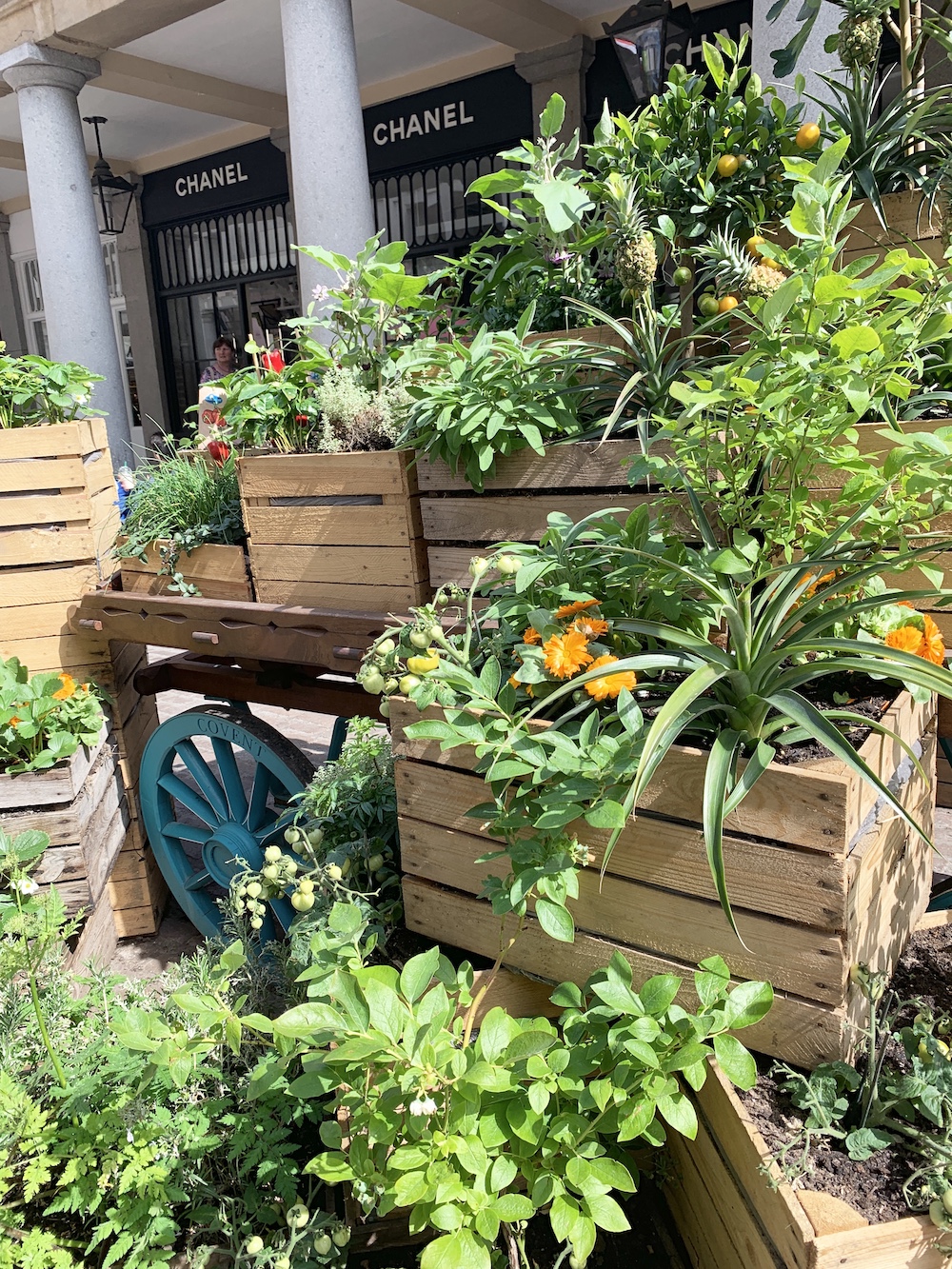 There are about 20 crates in this garden space. Some crates are stacked on the wagon. And others are stacked on the ground all around the wagon. This side view shows the different types of vegetables in the crate garden. No space wasted!
What I like best about crate gardening is that it fits many garden needs. This garden can be started with a single crate. Or begin with several crates. Crate gardening can be customized to the gardener's space, lifestyle, and needs. You can begin the season with a couple of crates. Then add more crates as the Spring turns to Summer. And in the Fall, it can all be stored away until the next Spring.
In larger homes, crates can be used in various parts of the home. A few in the front yard. Some on the deck or patio. And others in the backyard. All you need is lots of Sun. And a water source close by. Watering cans can be heavy to tote back and forth. Especially in the heat of the Summer. Place crates near a water hose to make watering easier.
Notice the silver thyme, sage, strawberry, and pineapple plants? A lemon tree is in the back behind the pineapple plants.
8. Side Wagon View with Herbs
This side view of the Wagon show the many herbs being grown. An herb garden is grown on this side. Some of the herbs you see are chives, silver thyme, and sage. The Covent Garden wagon has beautiful decorative cut out wood designs. Growing crates are a variety of sizes.
9. Aubergine Plant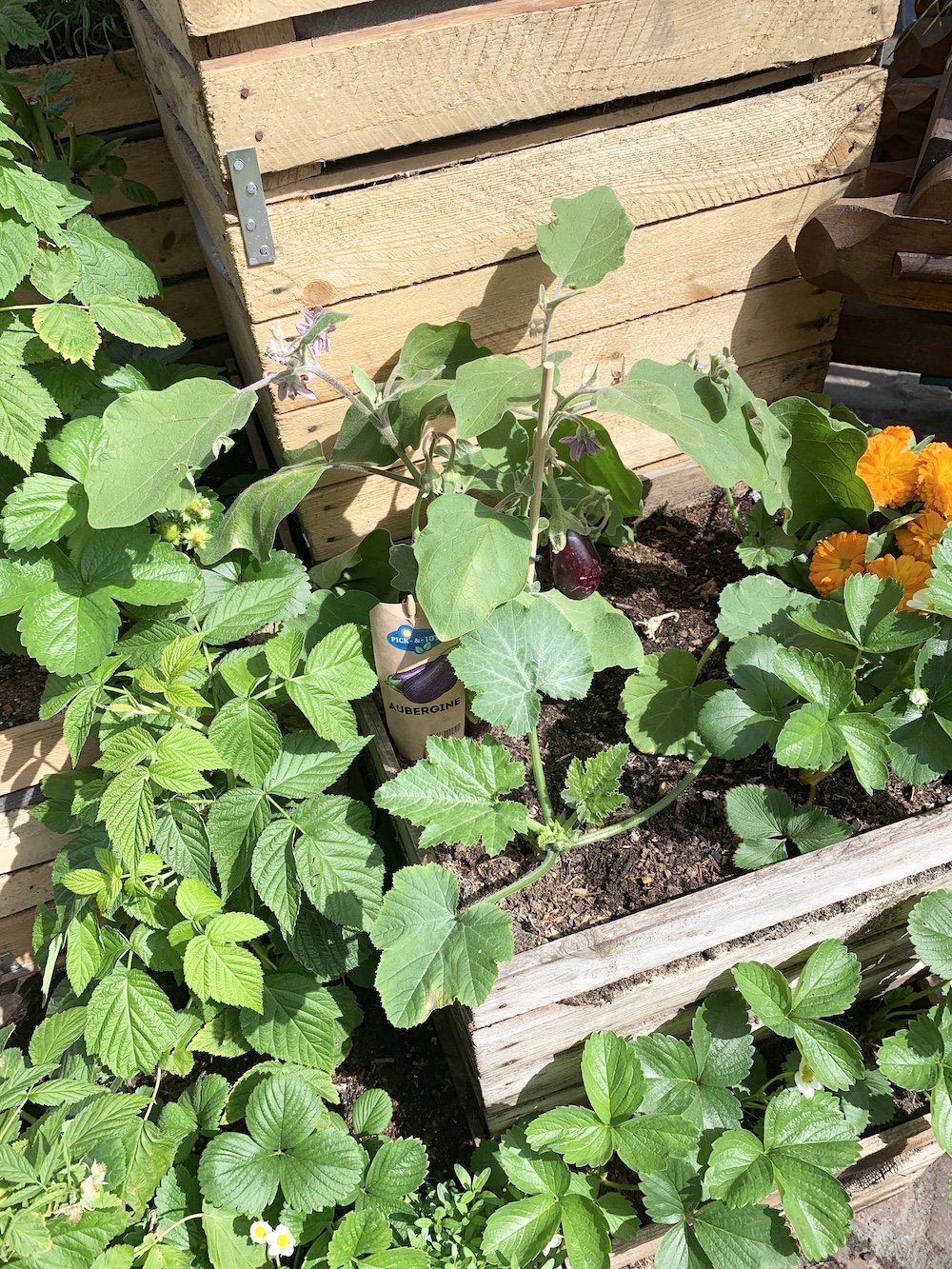 Aubergine or Eggplant has a single purple eggplant growing. The whitish pale purple blooms will soon be holding more fruit. The Aubergine plant is covered with many blooms. Calendula is growing on the right.
10. Red Peppers and Chives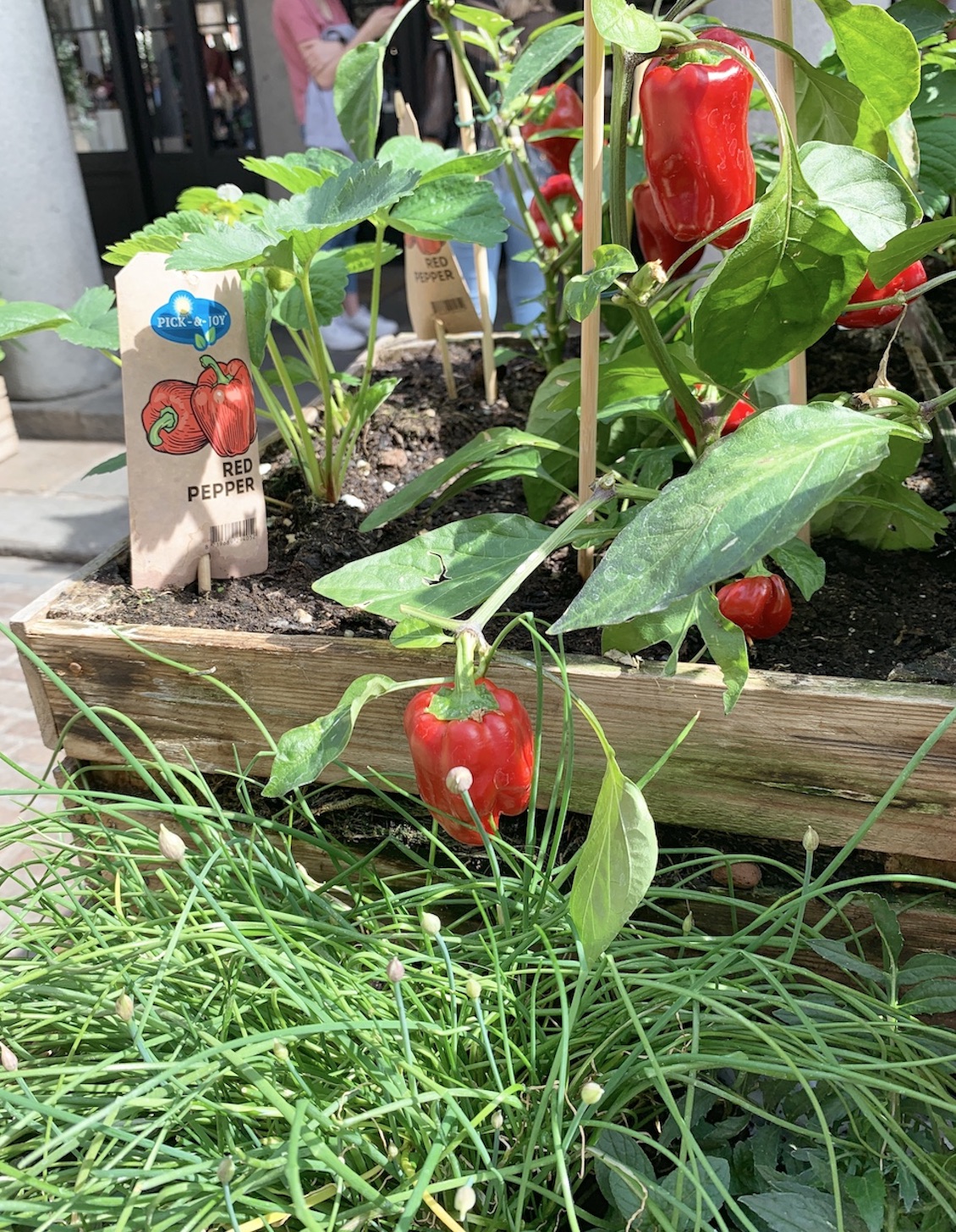 A crate with several red pepper plants growing. Many of the plants have a healthy supply of ripe red peppers. Chives are growing in the crate right below the red pepper plants. And maybe a strawberry plant next to the Pick-&-Joy Red Pepper sign?
11. Aubergine and Red Pepper Plants with Silver Thyme and Chives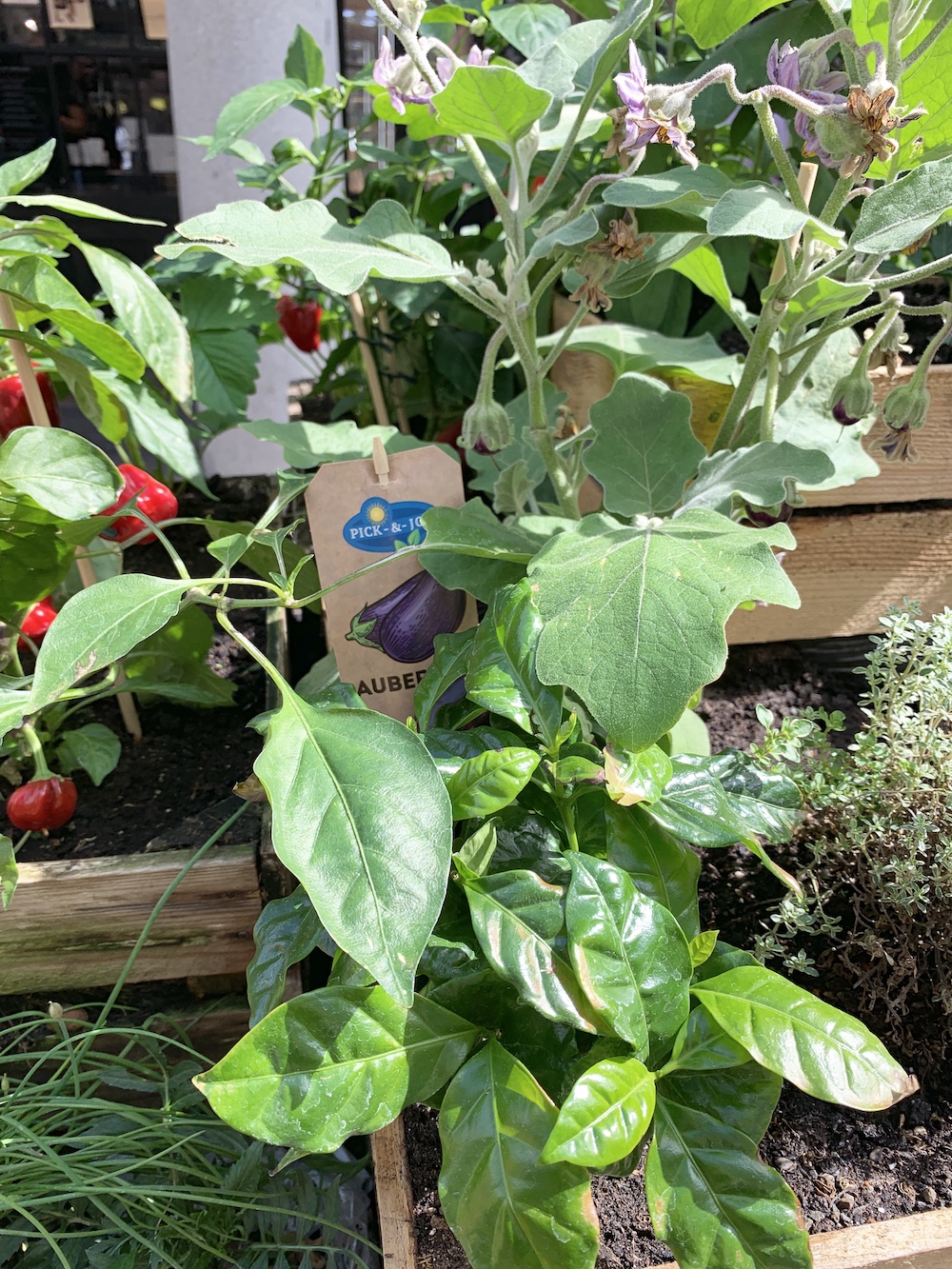 Multi-level crates of herbs and vegetables. All basking in the Sun.
12. Silver Thyme Between Aubergine and Sage Plants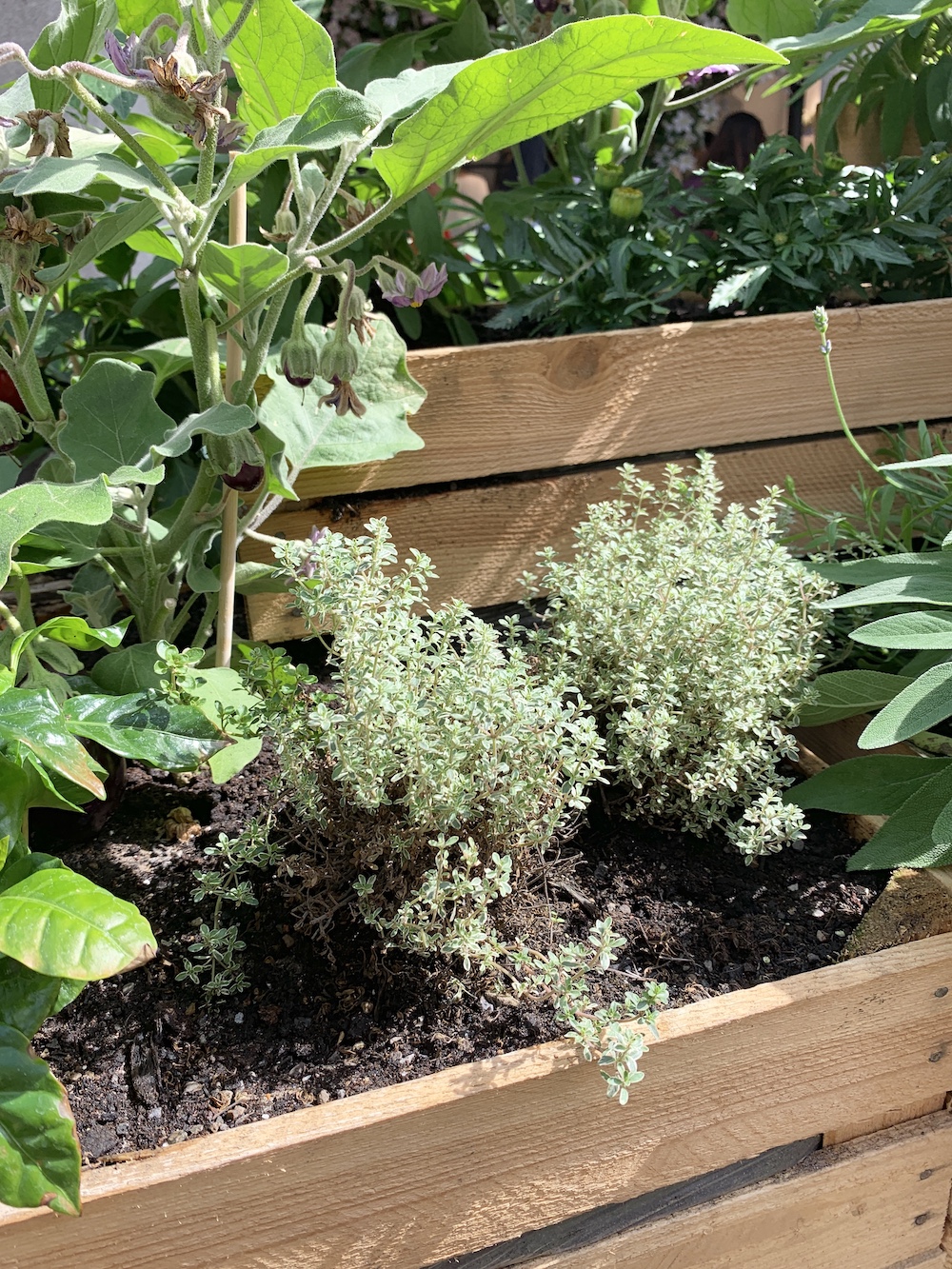 Lovely Silver Thyme is planted in between an Aubergine plant and Sage herb plant. Two very small eggplants are emerging from where the blooms were. They are above the Silver Thyme on the left side. Small start. Big results!
13. Aubergine Plant with Marigolds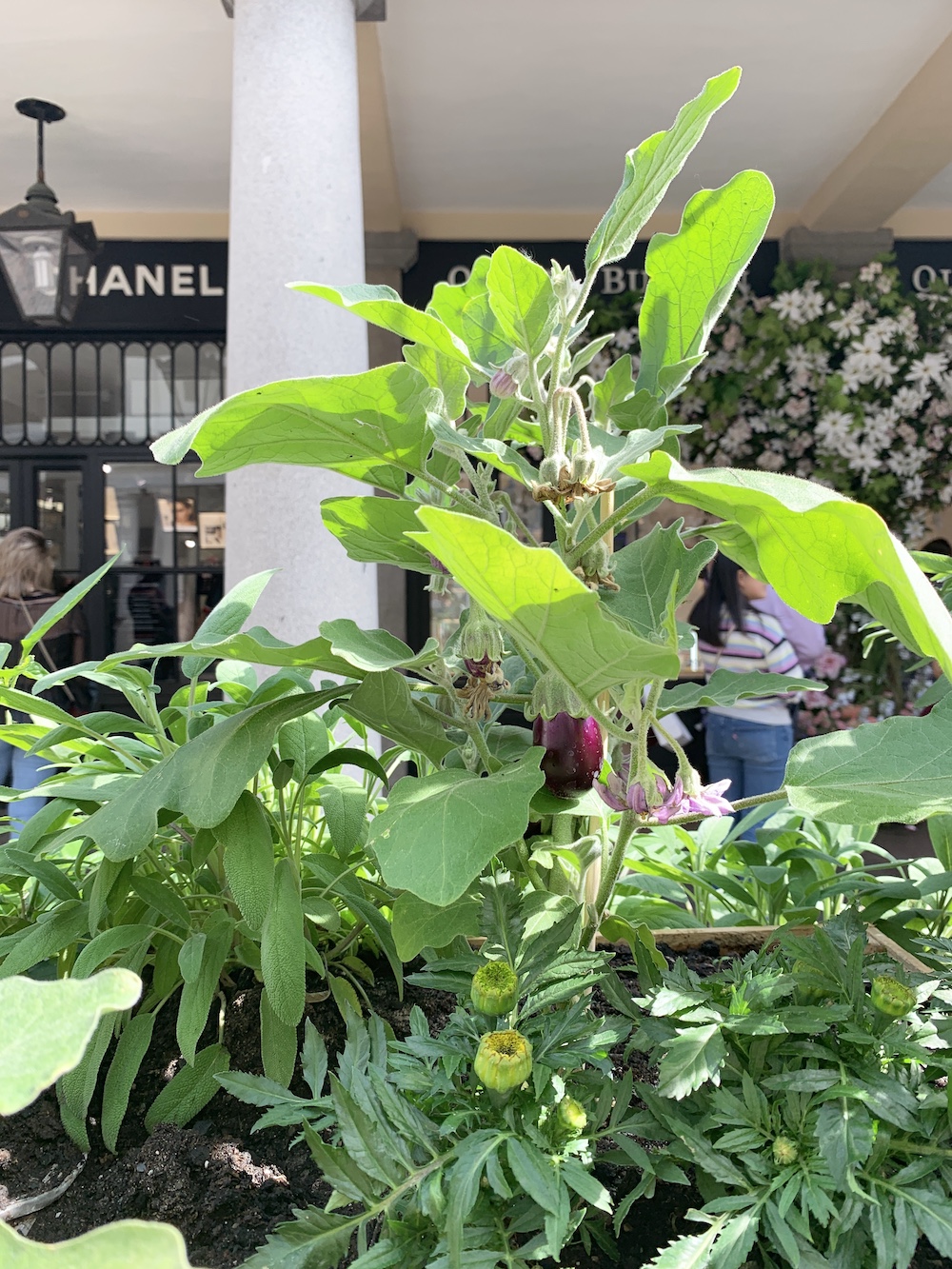 Aubergine Plant with Marigolds below. Nice sage plant is to the left of the Aubergine plant.
Eggplant is also known as an aubergine in the UK. And a Brinjal in South Asia and South Africa. It is a plant species in the nightshade family of Solanaceae. Grown for its usually purple fruit. Many times referred to as a vegetable. It is actually a berry by its botanical definition. Related to the tomato and the potato.
Learn more about Marigolds. Read Tiffany Davis's post at The Imperfectly Happy home. Tiffany Davis's post explains all in Marigolds in the Vegetable Garden Important Things They Do.
14. The Glorious Lemon Tree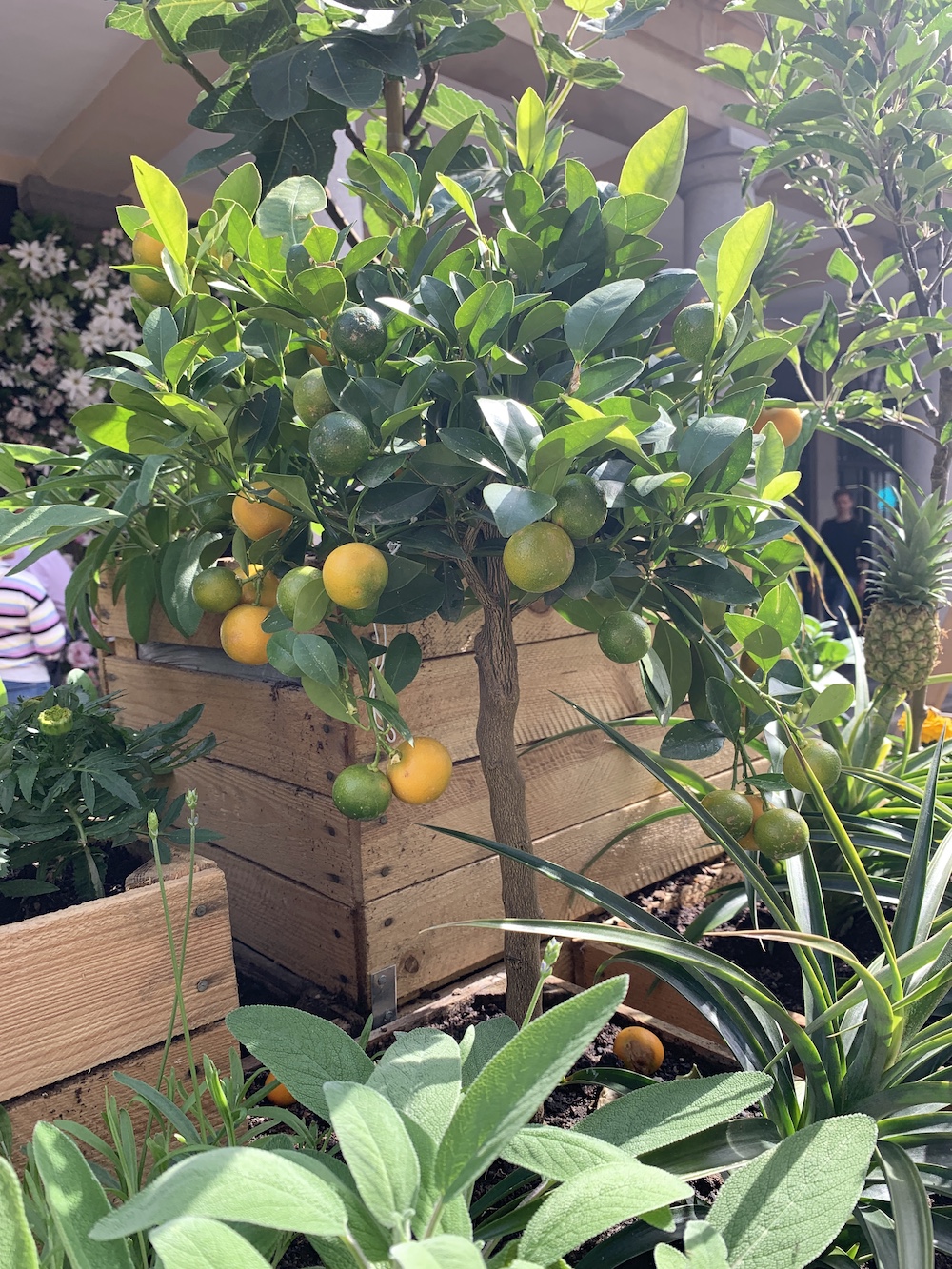 In the center lower crate is a beautiful Lemon Tree. Filled with many ripe and soon to be ripe lemons. Surrounded by a few pineapple plants, Sage, Lavender, and Marigolds. A nice mix of warmer weather vegetable and herb plants.
15.Strawberry Plants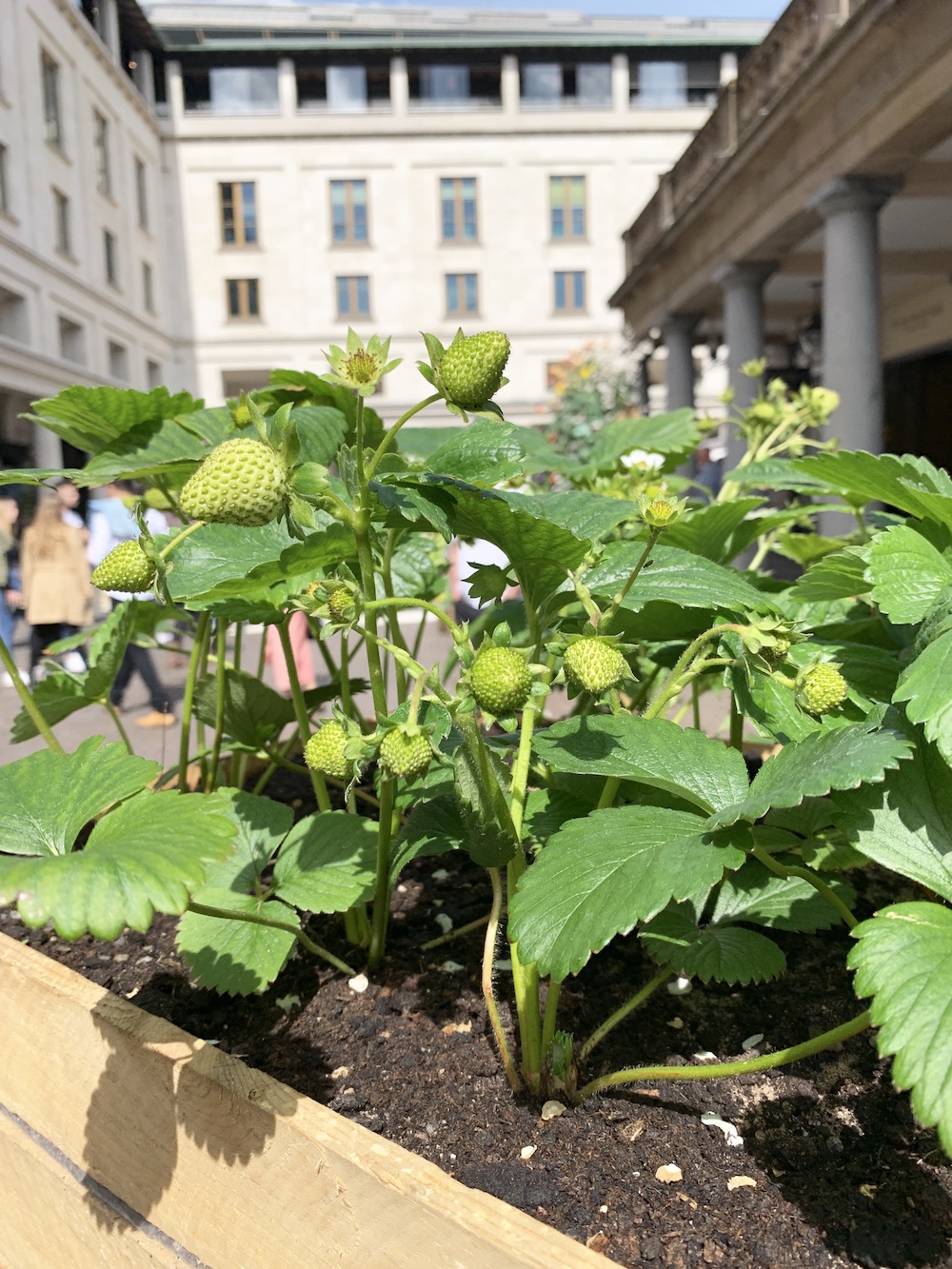 Lovely strawberries thriving in the warm Sunshine. Slowly ripening. Delicious Strawberries.
16. Crate Full of Herbs
A crate loaded with lots of herbs. Chives, Dill, and Thyme Herbs are ready to use.
17. Fig Tree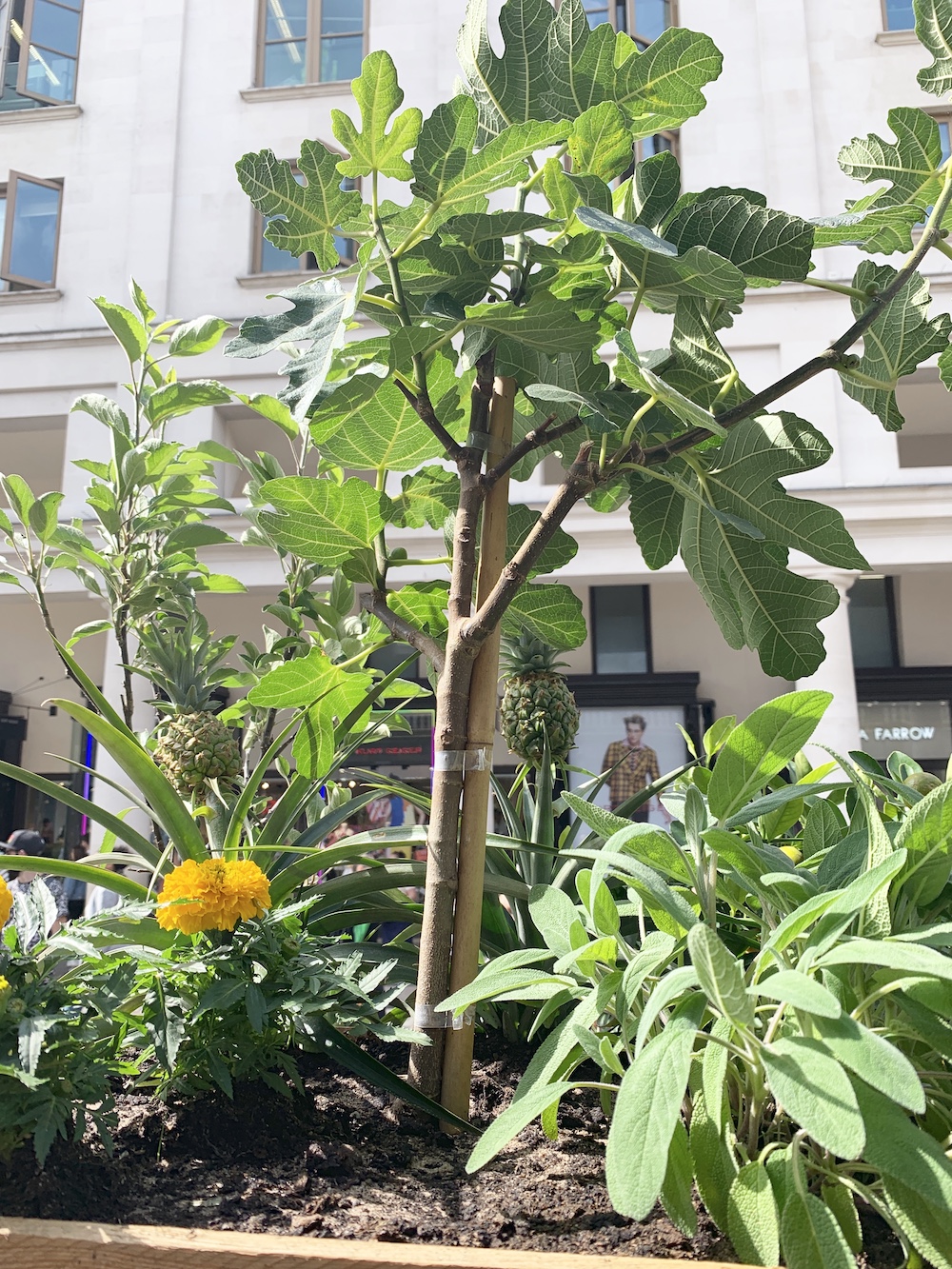 A beautiful Fig Tree is planted in the center of the crate. Pineapple plants stand out in the background. To the right is some Sage plants. Marigolds are to the left of the Fig Tree.
18. Blooming Aubergine Plant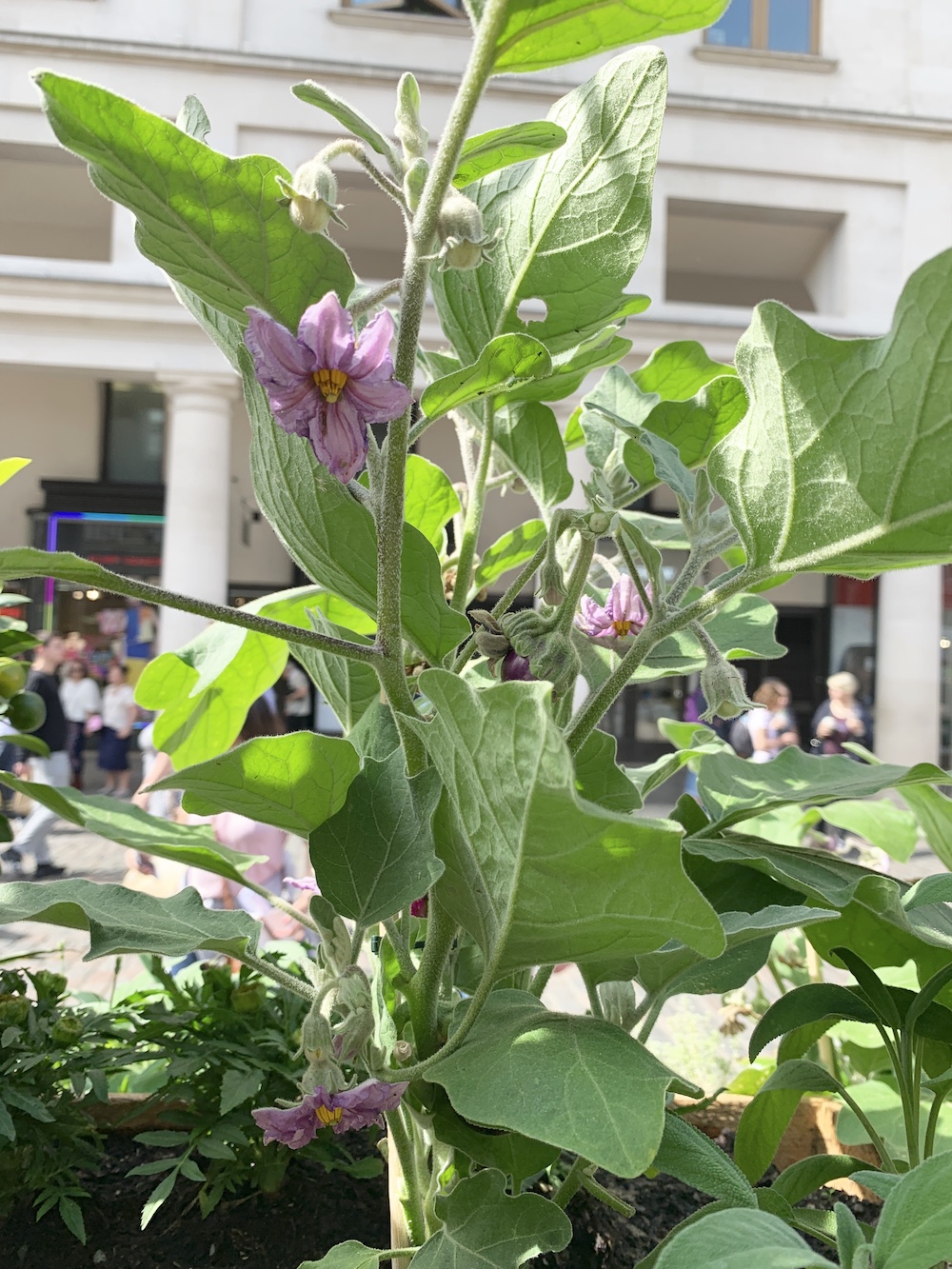 Blooming Aubergine plant. A few eggplants are at the very beginning growing stage.
19. Calendula with Strawberry Plants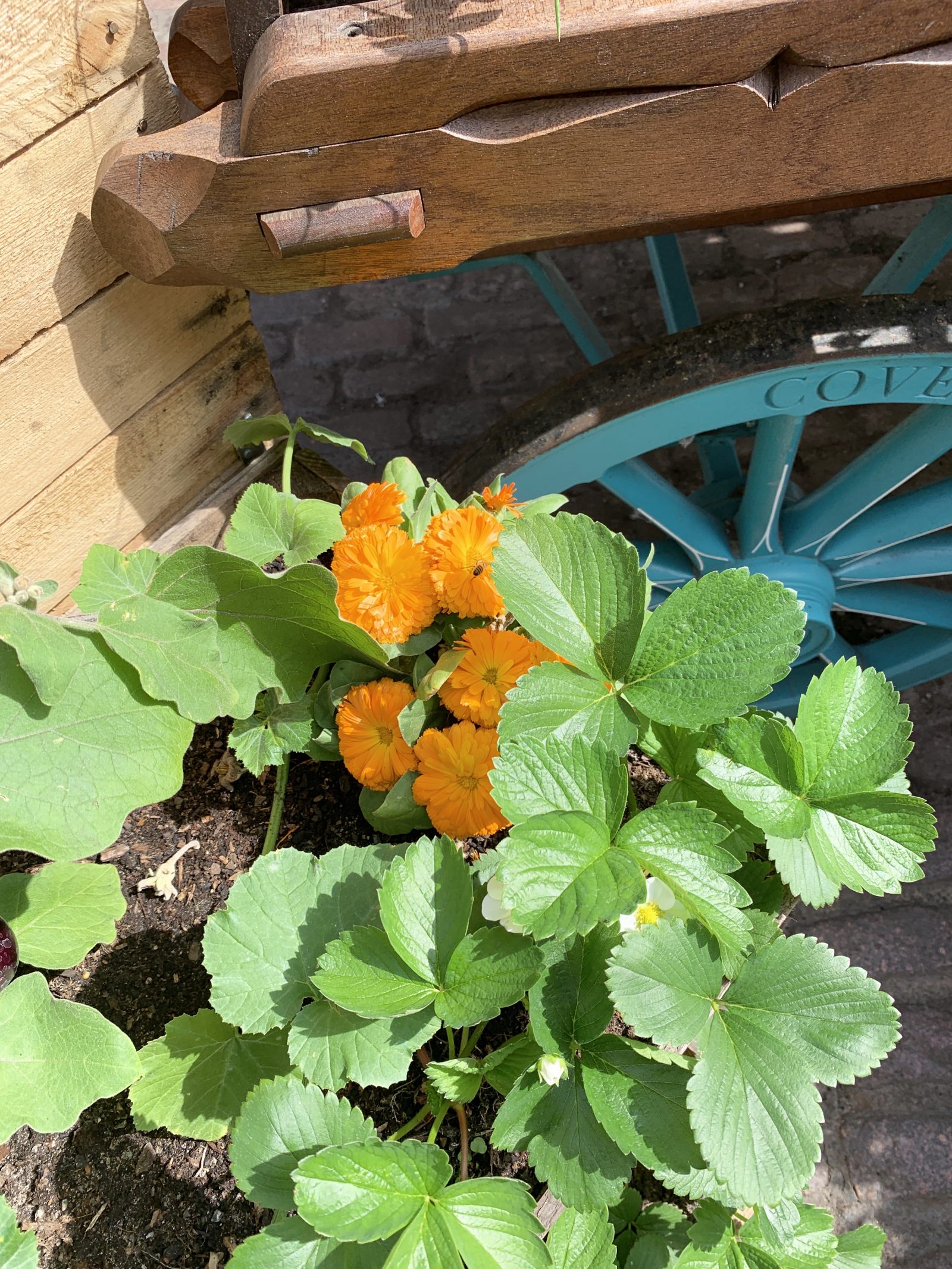 Top view of crate. Filled with Strawberry plants and Calendulas.
20. Growing Big Pineapple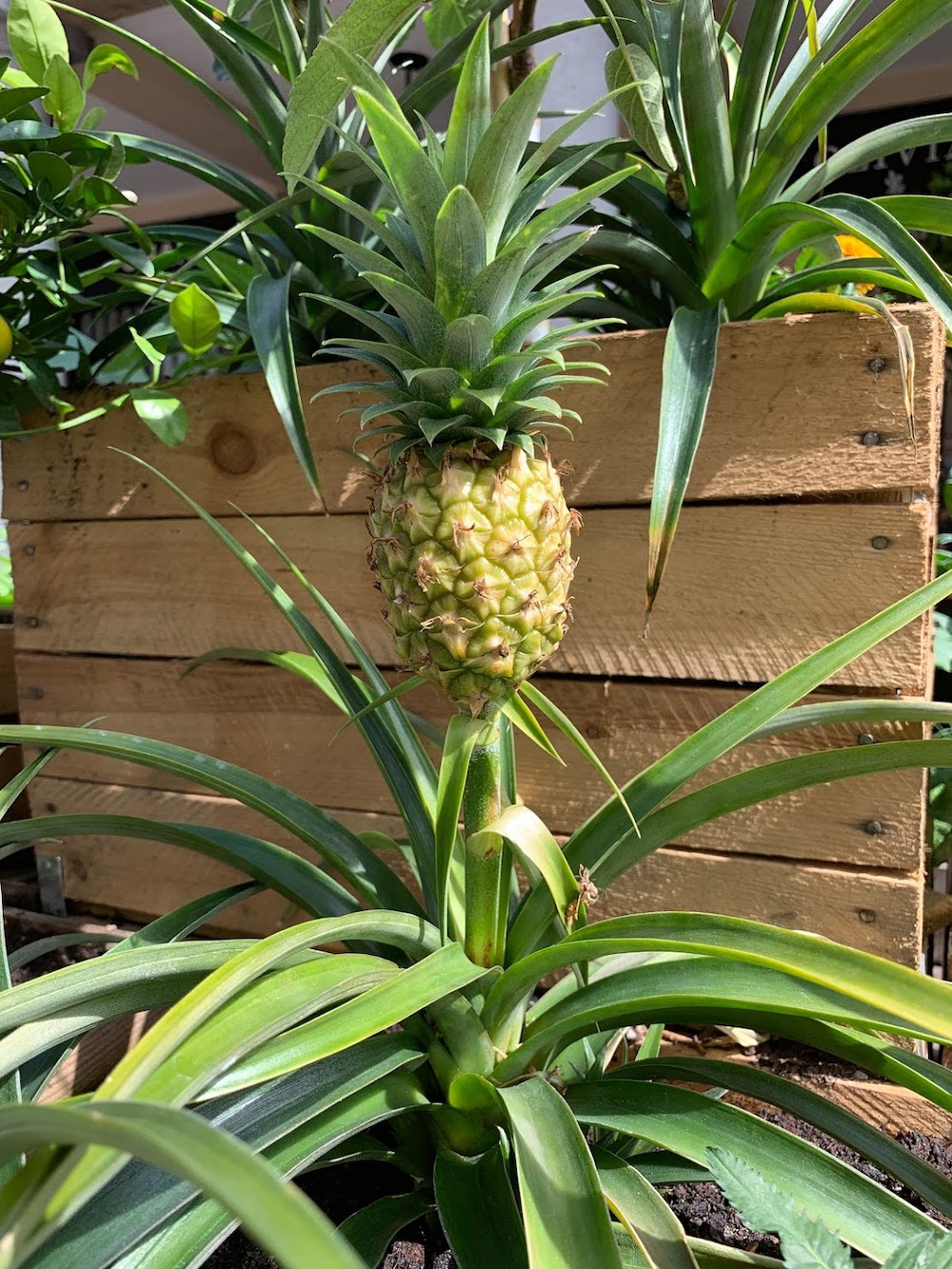 A juicy pineapple growing nice and big. So cute and I'm sure yummy very soon.
21. Pineapple with Lemon Tree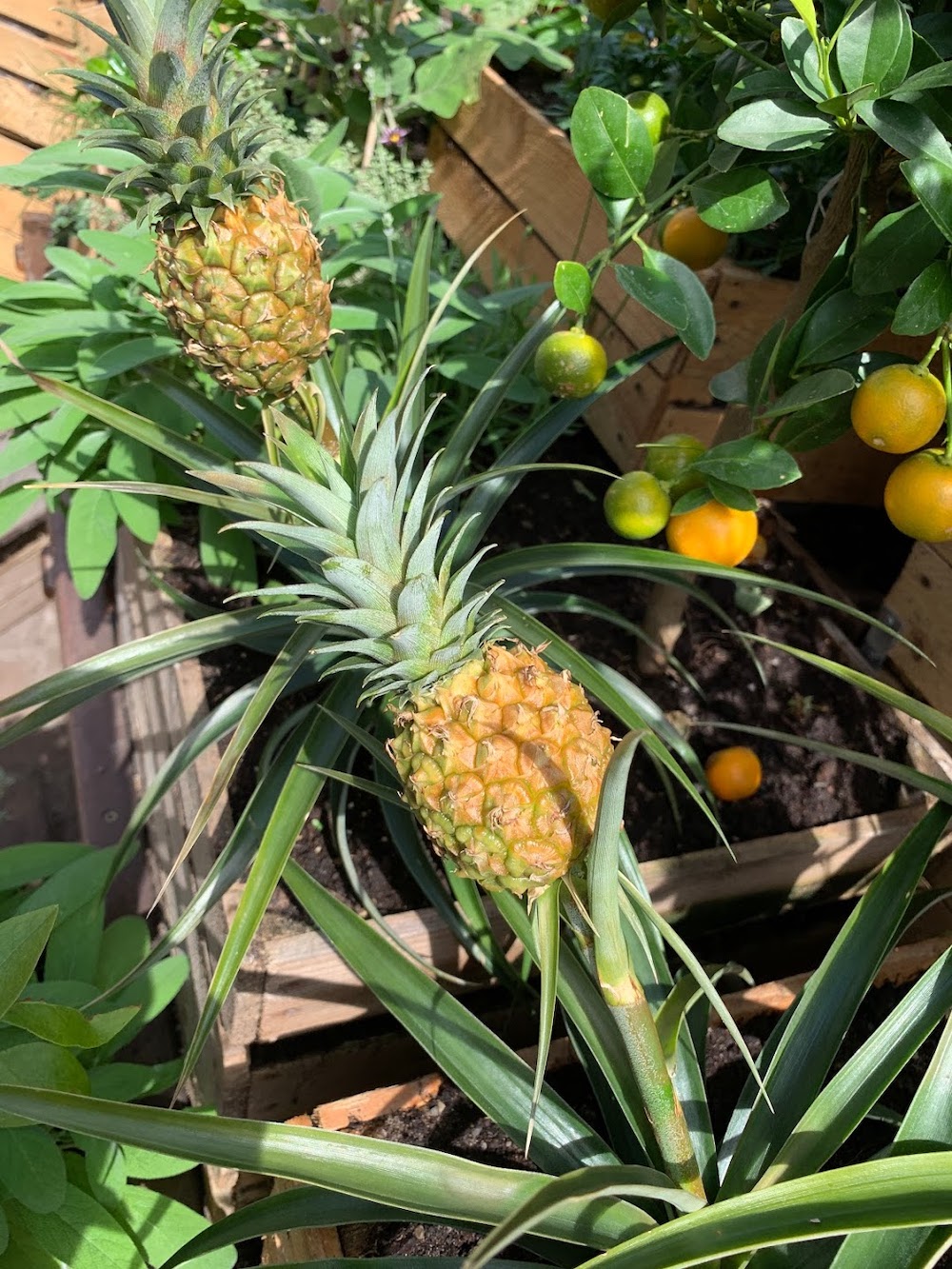 So tropical looking. Pineapples growing along side of a Lemon tree!
22. HighGarden at Covent Garden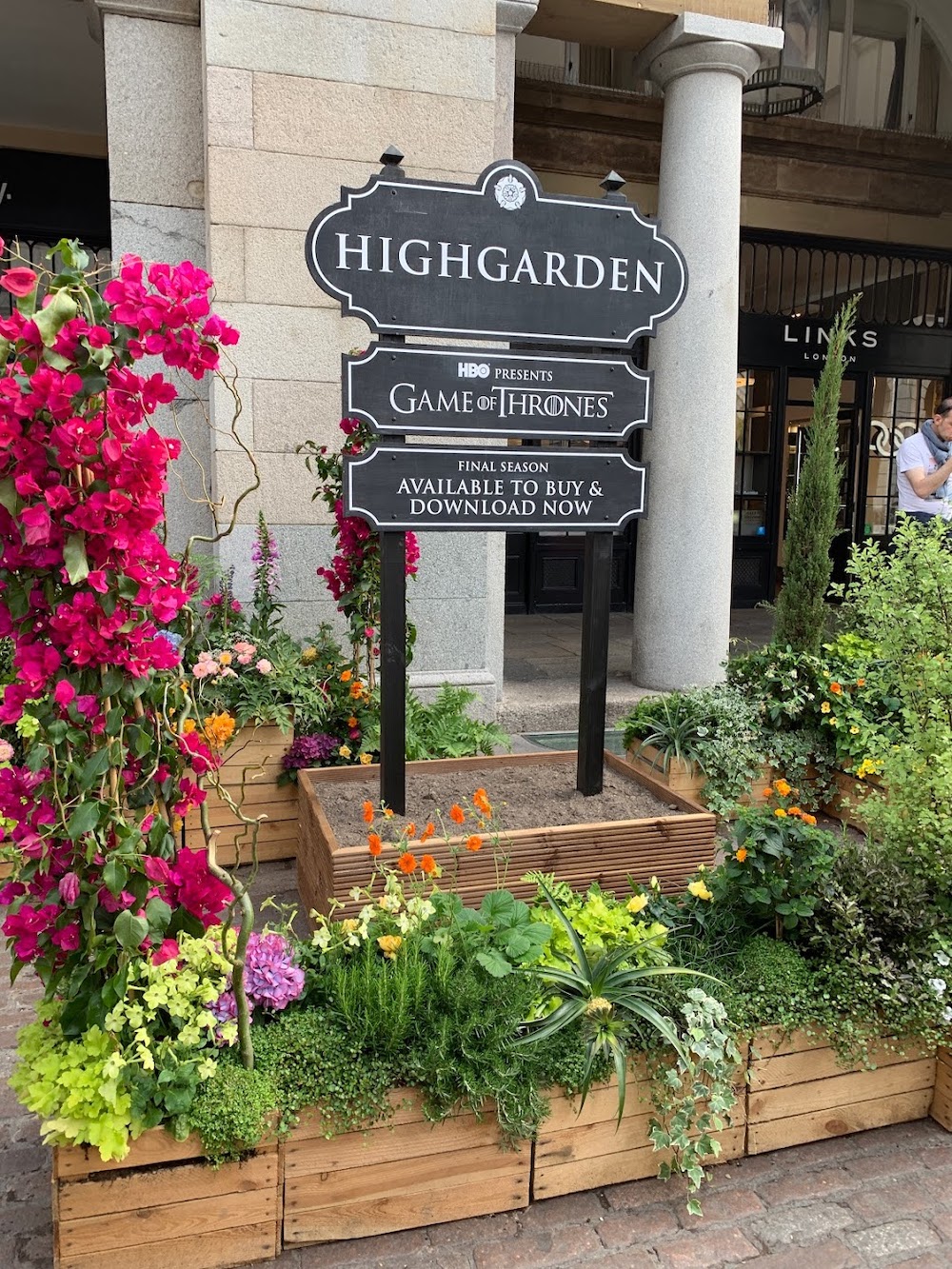 The Bougainvillea vine is growing on a trellis support. It is intertwined with Curly Willow branches. There are many plants growing in these crate boxes. Some of the flowering plants are Nicotiana or Flowering Tobacco, Rosemary Herb, and variegated English Ivy.
Bougainvillea is a thorny ornamental vine. Available in bright tropical colors. The vine species grow between 3 to 40 feet tall. Bougainvillea vine will grow on other plants. Using their spiky thorns to support itself. Thorns tips have a black, waxy substance. An evergreen vine in zones where rainfall occurs year round. Deciduous in climates with a dry season. A South American native.
The Nicotiana plant is also known as Flowering Tobacco, Jasmine Tobacco, and Ornamental Tobacco plant. Nicotiana flowers are tubular or trumpet-shaped. Some Nicotiana flowers are fragrant.
The Variegated English Ivy is a European native. It is a popular, evergreen ground cover for shade areas. Prized for its attractive foliage. English Ivy spreads quickly. The foliage is dark green with 3 to 5 lobes. Variegated English Ivy can have leaves edged in white or yellow.
23. Bougainvillea and Ferns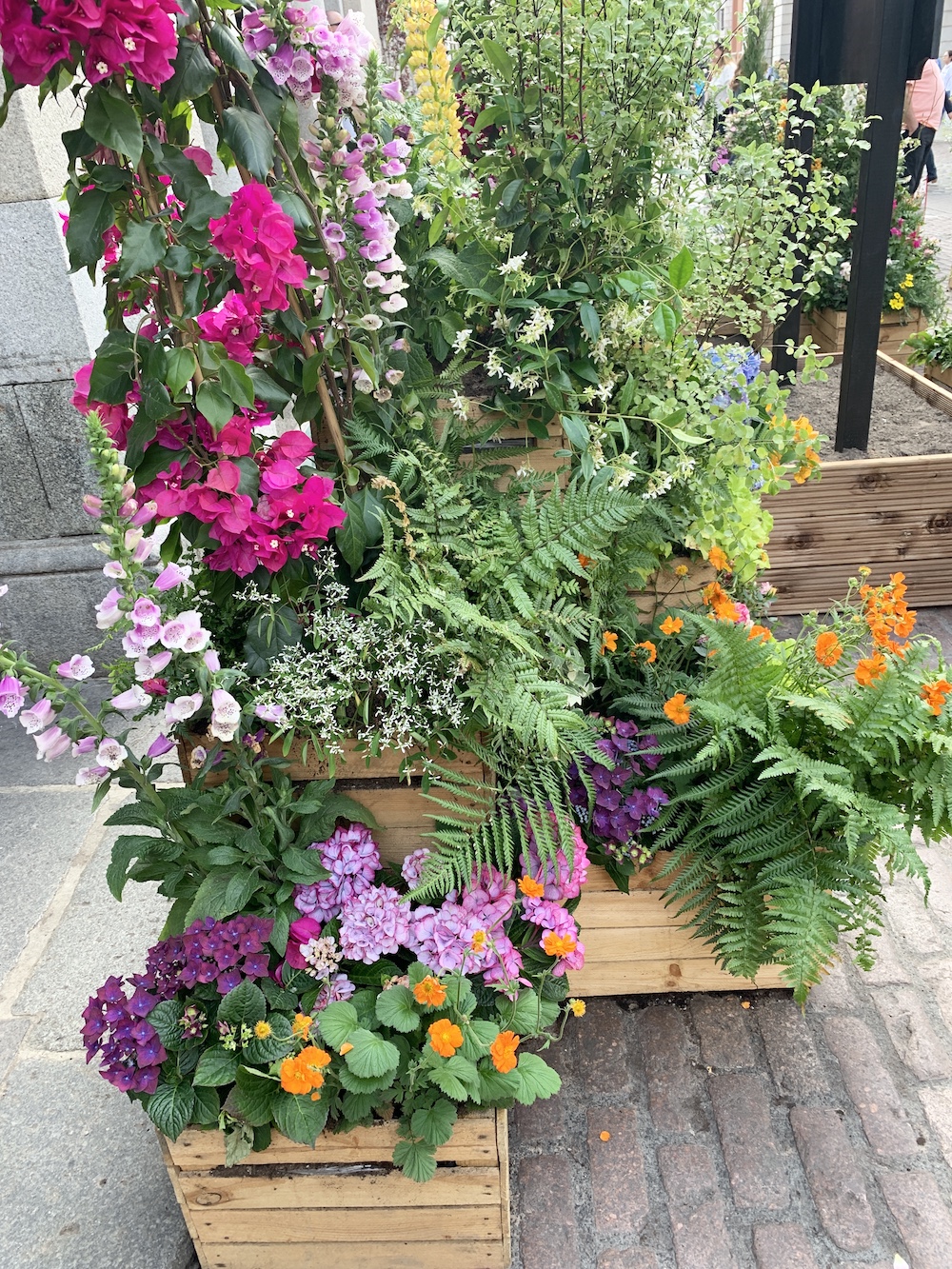 Bougainvillea vine in fuchsia color, grows in a crate supported by a trellis. Planted with the Bougainvillea are ferns, hydrangeas, and Geum perennials. Beautiful color combinations. Purples, lavenders, oranges, and yellows.
24. Bougainvillea and Curly Willow Branches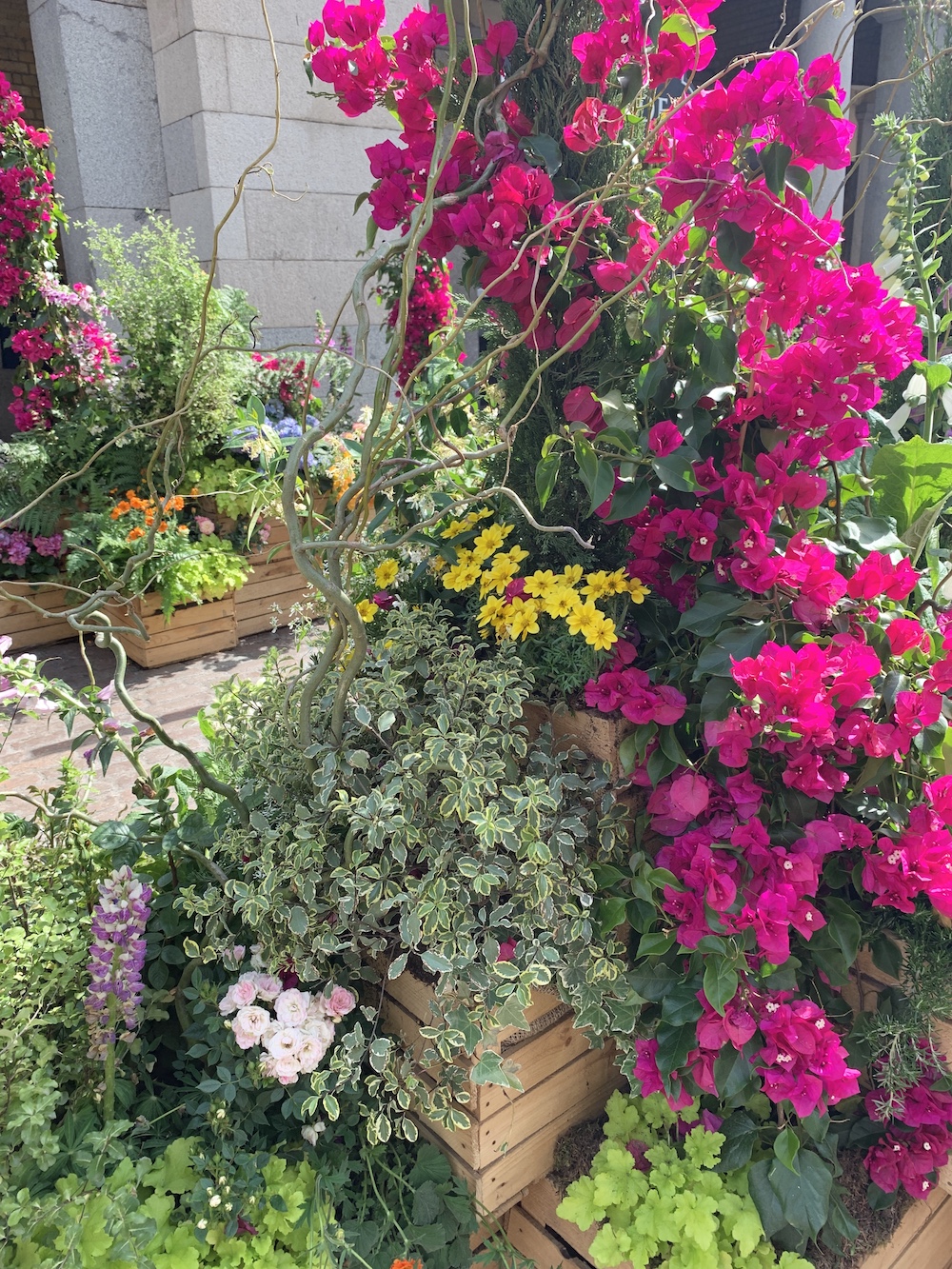 HighGarden has many crate garden containers. This grouping has Bougainvillea vine that is mixed with Curly Willow branches. More Silver Thyme is planted at the base of the crate. A pale pink rose is also growing in one of the lower crates.
25. Bougainvillea Vines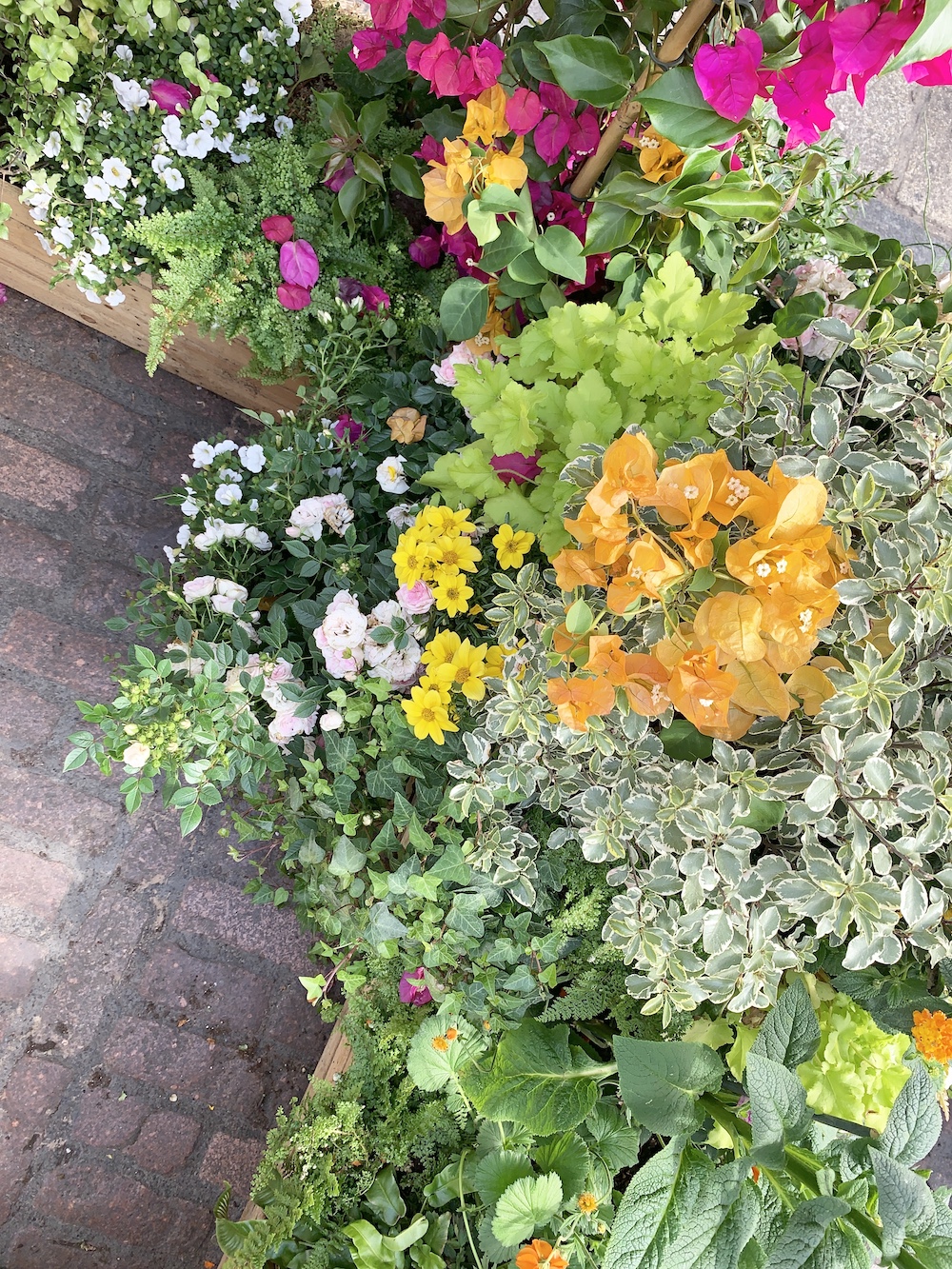 This flower crate grouping features two bougainvilleas. One is a fuchsia bougainvillea that is supported by a trellis. The second bougainvillea is similar to a California Gold Bougainvillea. Small ferns and English ivy help cover the base of the crates. A small pale pink rose provides some lighter color. A trailing annual, the Bacopa plant has white blooms. Bacopa blooms are small white single petal flowers. It is often used as a filler plant. The Bacopa annual grows next to the fern. White blooming Bacopa is seen at the base of the top left side.
These are a few ways that you can use crates for container gardening. Containers such as crates are great for apartments, small spaces, or for those with limited mobility. Portable and affordable. Crate containers can also be made from old wood pallets. Gardening in crates is a solution for small space gardening. Grow vegetables, herbs, or flowering plants in crates.
Interested in gardening? If you found this helpful . . .
You may also enjoy some of our other gardening related posts.
30 Money Saving Garden Tips for the Frugal Garden
Crate Composting – Alternative for Winter or Small Space Living
9 Fantastic Ways to Minimize Your Lawn Mowing
If you try any of these crate gardening ideas let us know how you make out. And if you have any questions, feel free to reach out to us. We always are ready to help you out. Thank you for stopping by.
Mary