Money saving garden tips that'll help you save in the garden. A budget friendly way to increase the value of your home. Never spend more than you want to. And still grow the garden of your dreams.
Gardening can be an expensive hobby, no doubt. But there are ways to grow the garden of your dreams without spending a ton of money. We'll tell you about some ways to stretch those dollars. With some planning and work you can create a garden or landscape that your neighbors will admire.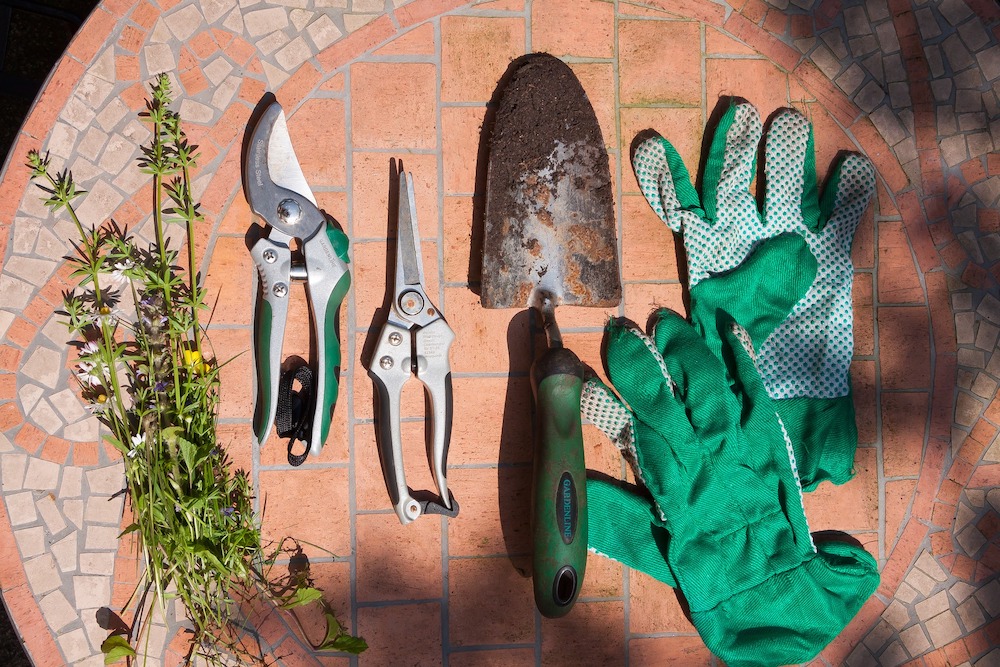 And the benefits? Well to name a few … Enjoy the garden beauty of your home all year long. Add curb appeal. Increase your home's value. Create a space for our beloved wildlife. Increase your home's wildlife value. Provide a place for your family's rest, relaxation, and recreation. A place of entertainment. Create a nature place for mental health and a healthy well-being. And more importantly, stay on a budget.
The many ways to save are those that you can think of. We'll offer suggestions that we have used ourselves. This is especially helpful if you have a large piece of land or lot. The bigger the space the more it will cost to maintain.
We've rounded up our list of 30 money saving garden tips. A frugal gardener's tricks and tips to gardening. Hopefully, you'll see a few tips that you can try. Take a look. And be sure to tell us what you think.
Start a Compost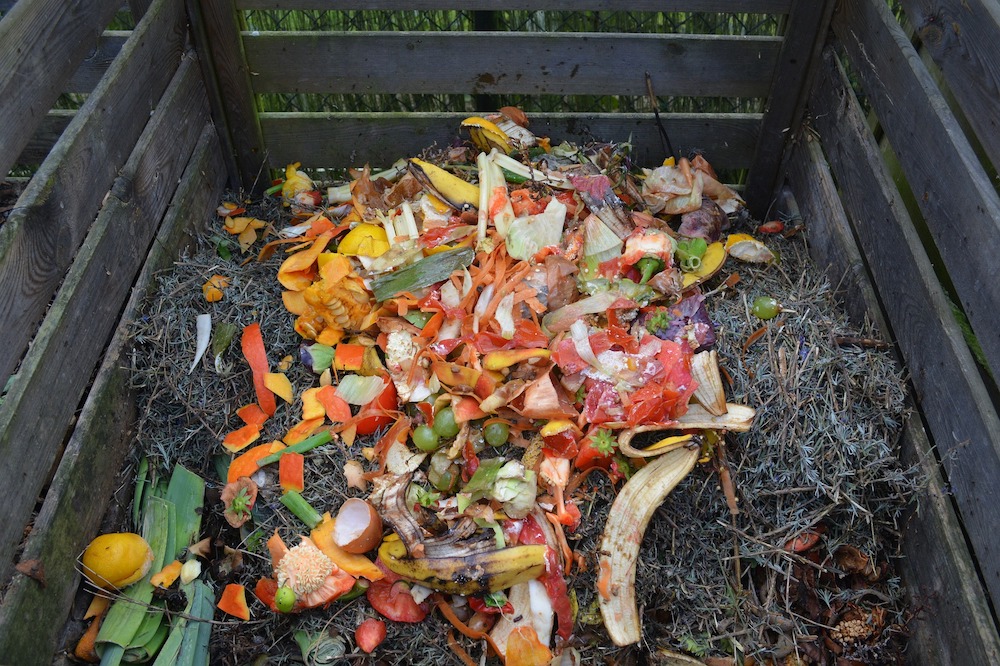 This is an easy way to save. Make your own soil amendment by starting a compost. Follow these easy instructions. How to Save Money On Soil by Starting A Compost. Or for those living in an apartment or a small space follow these easy steps. Crate Composting – Alternative for Winter or Small Space Living. Save big on soil when you compost.
2. Grow Plants from Seeds
Save on garden and vegetable plants when you grow them from seed. Plants can be expensive. For garden plants, we prefer perennials. Perennials survive for many growing seasons. Perennial seeds and plants may cost a bit more than annuals but are a better buy. Since perennials will grow over many seasons. Many perennials can be divided after 3 to 4 growing years. By dividing perennials, a gardener can expand their garden areas.
Annuals are plants that have an entire life cycle – seed to flower to seed in one growing season. The entire annual plant dies in that season. Annuals typically provide longer blooming periods. But annuals are more expensive since they need to be replaced annually.
Vegetable seeds and plants typically are annuals. They grow in a single growing season.
3. Grow Plants from Cuttings
Expand your garden by growing new plants from cuttings. You can take cuttings from your existing plants to grow more plants. Some shrubs like hydrangeas can easily be grown from cuttings.
4. Exchange Seeds, Plants, and Garden Supplies
There are community based groups that offer free garden plants and supplies. Join local clubs to exchange, offer free plants, or request free plants. Search Craigslist, FreeCycle, and Freely Wheely.
OfferUp is another website where items are bought and sold. There is a Free section where member posts items they are giving away. After a quick search, we located some garden supplies for Free. The garden supplies listed include used bricks, stones, rocks, and granite blocks. Also listed were wood logs, used pressure treated wood pieces, and pallets. Items listed need to be picked up. A great way to pick up some free garden supplies.
Also, reach out to local Garden Clubs. They may have exchange seed and plant programs.
5. Shop at Discount Stores for Seeds or Young Plants
Many discount stores sell seeds or young plants. The Dollar Store sells seed packets for a $1 in the Spring. Other stores begin to discount their seeds in the late Spring. Pick up seed packets for less than $1.
6. Trade Plants With Other Gardeners
Exchange plants with family and friends to save money. Borrow garden tools from other gardeners rather than buy them. Rent large garden tools or equipment with your neighbors. Share the rental fees to keep your costs down.
7. Purchase Plants at Deep Discounted Prices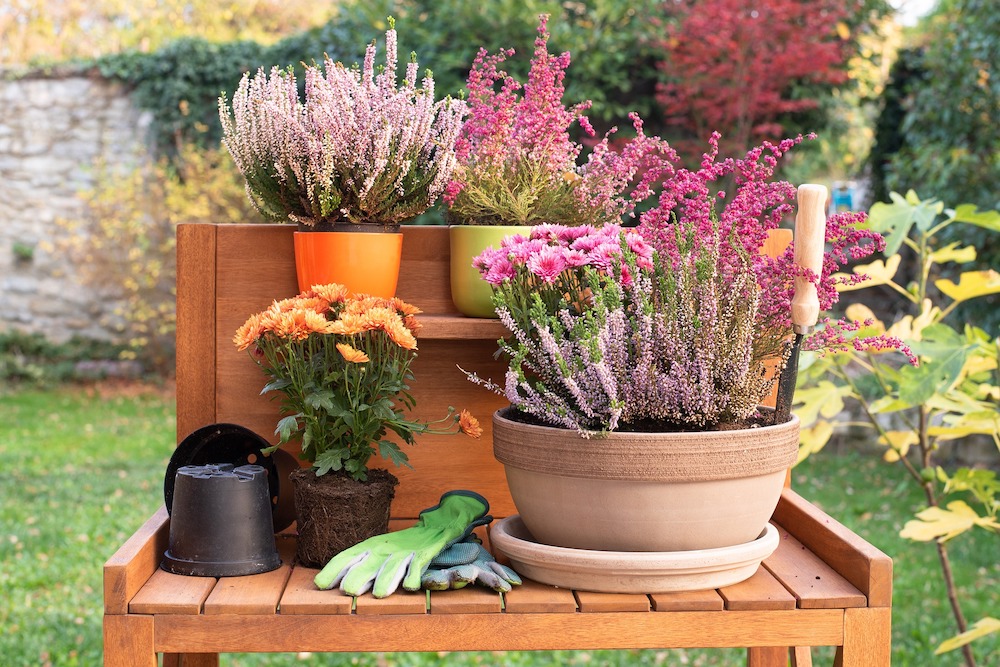 Save big on plants during sale events. Shop for plants online at pre-season sales in February. Plants are later shipped at the appropriate time for your hardiness zone. Shop for plants at stores and online during end of season sales events. Spring blooming plants are discounted in late Spring after they've bloomed. Shoppers tend to buy plants when plants are full of blooms at garden centers. Plants that are beyond their blooming period tend to be left behind. Savvy gardeners know that these plants are a good buy if the plants are healthy.
Pick up healthy plants at reduced prices. However, when a plant is not in bloom there is a risk that the plant is mislabeled. Or that the plant is missing a plant label. Unless you are able to recognize the plant's foliage and growth pattern, you may return home with a different plant. Experienced gardeners can usually identify a plant by its foliage. But to verify a plant bloom color is difficult. If you are not familiar with many garden plants, ask the sales staff to correctly identify a plant that is missing a label. The sales staff may be able to correctly identify the plant type. And you can always search online for images of the plant that you are interested in buying.
And finally, shop for plants at Holiday sales. Plants go on sale during Memorial Day weekends and the Fourth of July. Remember many consumers prefer to buy plants when in full bloom. Save money by waiting for these sales. Pick up some great plants at great prices.
8. Buy "Damaged" or Less Than Perfect Plants
Many garden centers heavily discount plants that have been damaged. Some are missing branches or stems. Others suffered severe stress due to lack of water. And some may simply be beyond their blooming period.
These mangled or severely stressed plants are usually found in the very back of garden centers. Many of these plants can be revived. We have had good results with most of these plants. If you buy one of these plants, try to assess the damage it has suffered. A plant that lacks water will be extremely light in weight. The plant leaves are wilted.
A plant that has been over watered will be heavy. The foliage will droop. If you bring one of these plants home, place the plant in the ground right away. Select a sheltered area. One where there is shelter from wind and the sun. Allow the plant to settle in. Relocate the plant or shrub in the Fall, if possible. If the plant is an annual, move once the plant has returned to its healthy state.
These less than perfect plants are usually not purchased by landscapers. They need plants and shrubs that are in perfect shape. Homeowners who need high curb appeal want plantings in perfect condition. Especially if their home is listed for sale. Save a bundle, if you are willing to take in a less than perfect but healthy plant.
On a Final Note . . .
There are some plants that you should avoid no matter the price. Those are plants that are infested with bugs. Or plants that may be diseased. Bringing these plants to your home could infest your garden with pests. And diseased plants could infect your garden as well. To eliminate any pests or disease from your garden could be costly. It simply is not worth bringing home infested or diseased cheap plants.
9. Divide Perennials to Increase Your Garden Plants
Many perennials can be divided. Usually perennials can be divided every 3 to 4 years. This is a great way to save money. As your perennials grow, they can become overcrowded in garden beds. Separate perennials so that you have multiple plants. Plant the separated perennials in another garden bed. Or offer any extra perennials to your neighbors. Join local community groups on FreeCycle or Freely Wheely. Either offer for free or exchange perennials with other gardeners.
Daffodils multiply over time. They too, can be divided. Hydrangeas can be divided into smaller shrubs. We have had success dividing hydrangeas. The best time to divide perennials is in the Spring or Fall. Avoid Summer days when the Sun is at its hottest. Divide perennials on cloudy days. Remember to divide perennials every few years. Either trade with a neighbor. Or use in another garden spot.
10. Buy Water Wise Garden Plants
Save time and money by selecting plants that require less watering and low maintenance. Drought tolerant plants, once established require less water. Drought resistant plants include Echinacea, Lavender, Thyme, Meadow Sage, Russian Sage, and others.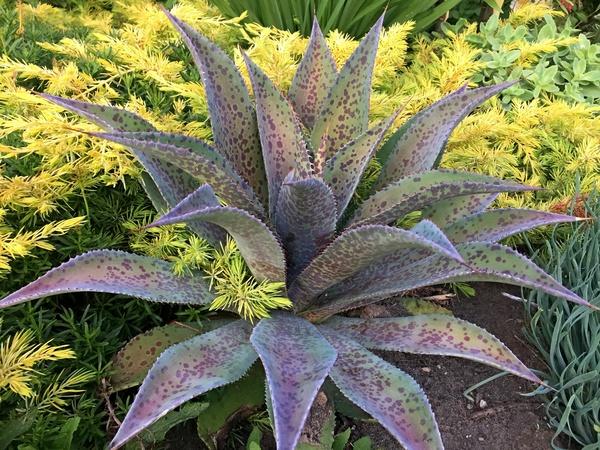 Sedum, Mangave, or cactus plants require less water. Native plants are a great choice too and loved by pollinators.
11. Select Long Blooming Plants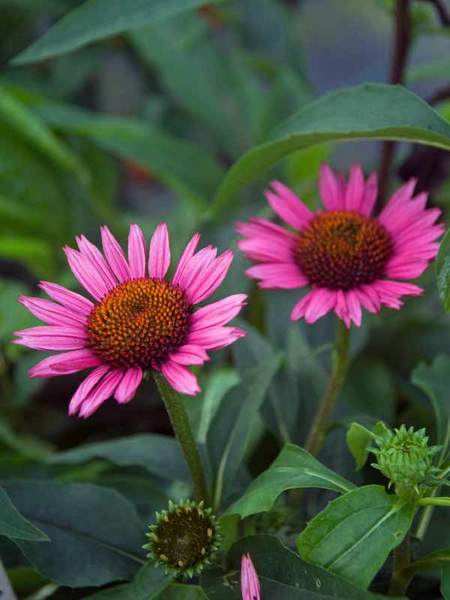 Search for plants that have long blooming periods. If you love color in your garden, use plants with long lasting blooms. There are many that bloom the entire Summer season. And a few that bloom over the Summer and into the Fall season. Many of the Echinacea or Coneflowers are long blooming.
If you love a colorful garden, don't overlook plants with dramatic foliage. These plants typically have short blooming periods but the beauty of the foliage can last several seasons. Take a look at Coral Bells. Also known as Heuchera and Alumroot. Some Coral Bells have beautiful foliage that remains up to three seasons.
Hosta Plants have beautiful foliage. They bloom for shorter periods. Gardeners love Hosta plants because of their gorgeous foliage. These plants love shade but some can be grown in filtered Sun too. Hostas can grow to a pretty big size. They can be divided every 3 to 4 years.
Ferns are another great choice. They are shade loving. Ferns offer a garden different textures and foliage. There are a variety of foliage colors from green to white (ghost colors) to reds (brilliance). Ferns do spread. And produce more plants over the years.
Ornamental Grasses are another alternative. Some ornamental grasses do bloom. They are available in greens, golds, and blues. Some are low growing and some reach 5 to 6 feet tall. A good way to fill in some bare areas.
Mangave plants are a newer plant. They are a cross pollination between Agave and Manfreda plants. Mangave plants have beautiful leaves. They tolerate warmer temperatures. Can be grown in zones 9 and 10. An excellent selection for warm, dry climates in southern states.
12. Select Plants with More Garden Space Coverage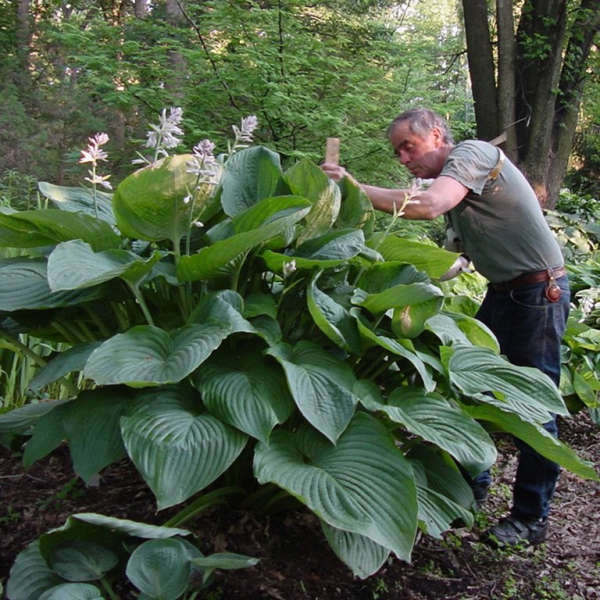 Some plants have more garden space coverage than others. For large garden areas to fill in, bigger is better. Empress Wu Hosta is a larger hosta. Empress Wu will reach 3 to 4 feet tall at maturity. With a spread of up to 5 feet wide. The Empress Wu Hosta may take 5 to 8 years to reach maturity. Most other Hostas reach between one to two feet tall.
Another large growing plant is the fern. Godzilla Fern tops out at 3 feet tall. It spreads between 3 and 4 feet wide. Another fern, Ostrich Fern reaches between 3 and 6 feet tall. It spread is 5 to 8 feet wide.
Same time and money by growing plants that have more garden coverage. This is especially helpful for yards with large garden spaces.
13. Participate in Tree Giveaways
The Potomac Electric Power Company (PEPCO) is a public utility company. PEPCO supplies electric power to Washington, D.C. and surrounding Maryland communities. Every year PEPCO participates in a tree giveaway. They partner with the Arbor Day Foundation.
PEPCO Maryland residential customers can reserve up to one tree per household. 1,000 free trees are distributed in April and May. Some of the trees available are Redbud, Crepe Myrtle, River Birch, Red Oak and Red Maple. The tree energy saving benefit is to conserve energy. Energy use is reduced through shade that the tree provides and the reduction of Winter winds. It is expected that energy bills could be 15 to 30 percent lower.
Washington D.C. has a similar program. The Right Tree, Right Place Program allows homeowners to reserve up to 2 trees. Each year 250 trees are offered for free through Casey Trees, a nonprofit. Casey Trees is committed to restoring and protecting the nation's capital tree canopy. Casey Trees will plant the tree for homeowners for a $50 fee.
For a list of programs available in your community, see the Program Partners website. There are a number of towns and utility companies throughout the country that participate in the tree giveaway program.
14. Become a Member of the Arbor Foundation
Join the Arbor Foundation. Receive member prices on shrubs and trees from the Arbor Foundation. Shrubs and trees are smaller and very affordable. As of this writing, some memberships are $10. One option is to join and receive 10 free trees. Plus enjoy the membership prices of the nearly 200 shrubs and trees in their nursery. A great savings for garden trees and shrubs.
15. Seek Out Local Garden Clubs
Some garden clubs sell plants as part of their fundraising activities. And many garden clubs usually sell plants the weekend before Mother's Day. Plantings for sale are donated. Local nurseries and club members donate the plants that are for sale. Affordable plants. And the plant sales support the garden club goals.
If you have extra plants, consider donating those to the Garden Club. Or ask to exchange plants.
Friends of the Arboretum in Madison, Wisconsin hold an annual Native Plant sale. The sale is at the University of Wisconsin in Madison. The Native Plant sale takes place the Saturday before Mother's Day. There are over 200 native plant species available for purchase.
The Morton Arboretum has an Arbor Day Plant Sale. The plant sale is over Arbor Day, the last week in April. The arboretum is located west of Chicago. The plant sale is held in Parking Lot 33 on the West Side in Lisle, IL.
16. Make Your Own Potting Soil Mixes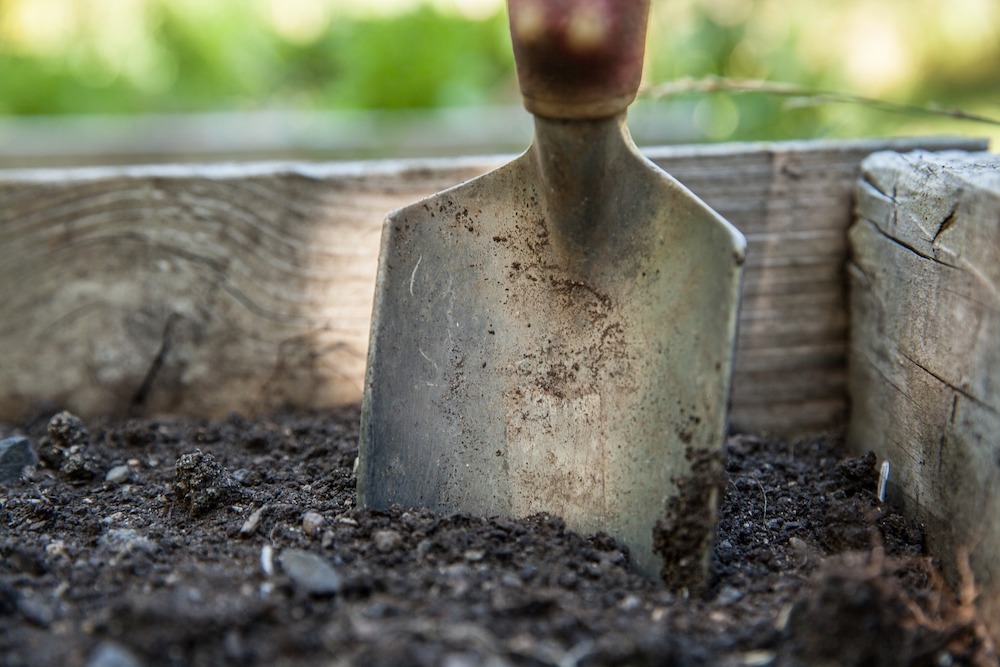 You can make your own soil mix. Jessica Walliser of Savvy Gardening lists 6 different DIY potting soil mixes. This includes a recipe for Succulents and Cacti.
17. Make Your Own Weed Killer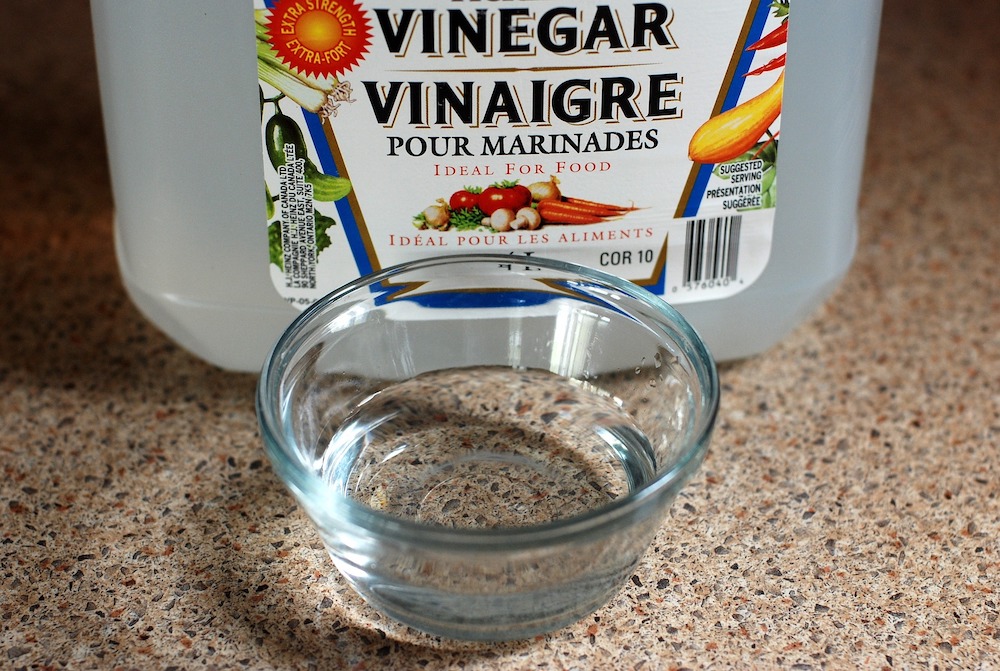 Mix your own weed killer. Spray weeds with white distilled vinegar full strength. Repeat spray again on any new growth until the plants die. Use full strength on weeds and grass growing between pavers, sidewalks, and driveways. White distilled vinegar is far more affordable than chemical weed killers.
18. Other Uses for Vinegar in the Garden
Increase the soil acidity in hard water areas. Mix one cup of vinegar to a gallon of tap water. Water acid loving plants with the vinegar water mixture. Acid loving plants include these shrubs and trees. Azaleas, Dogwood Trees, Gardenias, Holly, Hydrangeas, and Rhododendrons. Vinegar releases iron in the soil that these plants use.
Clean your hands with white distilled vinegar after working with Garden Lime. The vinegar neutralizes the Garden Lime. Rinse your hands thoroughly to avoid rough and flaking skin.
Rinse plant pots with white distilled vinegar. The vinegar removes the excess lime on the plant pots. Clean all pots before storing for the Winter season.
Cut flowers from your garden will maintain their freshness longer with vinegar. Mix 2 tablespoons sugar and 2 tablespoons white distilled vinegar in a quart of water. Trim the stems of the cut flowers then place in the vase. Every 5 days change the water mixture.
19. Make Your Own Plant Food
Mix one part white distilled vinegar and 8 parts water. Mix one part sugar and 8 parts water. Combine the vinegar with water mixture and the sugar with water mixture. This makes a liquid plant nutrient.
20. Store Tender Bulbs, Annuals, and Succulents Indoors Over the Winter Season
Don't let bulbs, tubers, and tender plants remain in the ground and die in the Fall. Store inside and reuse them the next year. Store tender plants – annuals, bulbs, mangave, and succulents indoors when temperatures dip below 60 degrees. Many people either leave annuals and succulents in the ground or throw them out. Store them over the Winter season and return them to the garden in the Spring. Why spend money to replace tender bulbs, tubers, and annuals every year?
Dig out tender bulbs such as Gladiolus and tubers like Colocasia or Elephant Ears. Air dry the bulbs and tubers. Then store bulbs and tubers in a cool, dry area over the Winter. Annuals and succulents in containers can be brought indoors. Water the annuals and succulents every two weeks over the Winter months. Save money by storing these plants indoor over the Winter months. Reuse these plants when the temperatures rise above 60 degrees in the Spring.
If this is too much work then consider offering these to other gardeners. Use FreeCycle, OfferUp, or Freely Wheely to others who can store them over the Winter.
21. Conserve Water By Mulching
Conserve water by spreading mulch around plants, shrubs, and trees. Mulch prevents water from evaporating. Water gardens in the morning over the Summer months. In the morning, the ground easily absorbs the water. Water evaporates when plants are watered in the afternoon in the Summer heat. So the ground will absorb less of the water in the heat of the day. And in the Summer afternoon, the water temperature can be very warm if not hot.
Unless you notice that your garden plants are wilting and under stress, wait to water your plants in the mornings.
22. Buy Garden Supplies in Bulk
Bagged mulch is more expensive than a yard of mulch. If you have a large yard and many garden beds, save money by buying in bulk. Buy top soil, compost, and mulch by the yard. However, if you have a small garden space then bagged mulch or soil is a better buy.
Another option is to obtain mulch from your town recycling center. Some towns offer residents free or low cost compost and mulch. Tree companies also shred trees that they cut down. These tree companies may sell the tree mulch for a fee.
The best way to save money is by starting your own compost.
23. Use Newspaper and Cardboard Instead of Landscaping Fabric
After clearing a garden or shrub bed, we place newspaper on the ground. The newspaper is then watered so it is wet. This should kill any remaining weeds or grass that remains. We add mulch over the damp newspaper. We have found that this works better than using landscaping fabric.
If you don't have newspapers, use plain corrugated cardboard. Remove any tape from the cardboard. Use only cardboard that no colored ink.
24. Install Rain Barrels and Reuse Rainwater
Collect rainwater in rain barrels for future use. Install rain barrels to store rainwater. Use the rainwater for watering garden plants. And save money on water. Rain barrels can be fitted to an existing gutter system. Shorten the downspout of the gutter system. Attached the shorten downspout to an opening in the rain barrel.
Rain barrels can be bought at garden centers and home improvement centers. Another alternative is to make your own. Use an old plastic trash can to collect rainwater. Cut a hole in the lid of the trash can. Insert the shorten downspout into the hole in the lid. Use a mesh or window screen to block the cut hole. This prevents mosquitoes from entering the barrel. Save money by making your own rain barrel. The Family Handyman has instructions for constructing a rain barrel from a trash can.
For really large metal rain barrels or cisterns, see the Texas Metal Tanks website. Texas Metal Tanks is located in Dripping Springs, Texas.
25. Use Good Quality Garden Tools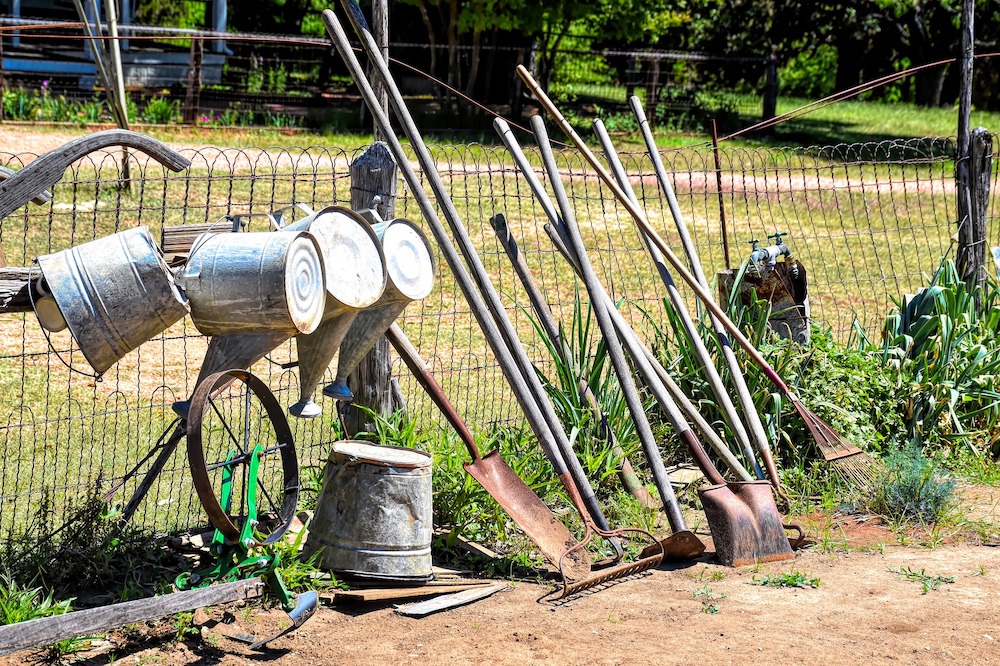 Strong quality garden tools are best for gardening. This is especially true when working with clay soil. Clay soil does not drain well. It is heavy and difficult to work with. Garden tools can take a beating when working with clay soil. The majority of our soil is clay. We have broken several garden tools while working organic material and compost into the clay soil.
Inexpensive, poorly made garden tools will not last. They can easily break or become damaged. I've purchased cheap garden pruners that couldn't cut paper much less plant leaves. To save money on quality tools, search second-hand stores for used garden tools. Second hand and consignment stores also carry garden furniture that is in good condition. You may also find urns, planters, and other garden accessories there.
26. Reuse Nursery Pots, Containers, and Paper Board Baskets
Reuse plastic nursery pots and containers for plant seedlings. These containers can also store garden supplies. An inverted bottomless, plastic nursery pot can be used over a plant. The inverted pot acts as a collar to protect the plant from browsing rabbits.
Paper board baskets can be used to grow seedling plants. Wooden crates can be used as planters or for garden supply storage. Save your Clementine Orange and Mandarin Orange crates during the Winter. These come in handy in the garden shed.
27. Use Reclaimed Materials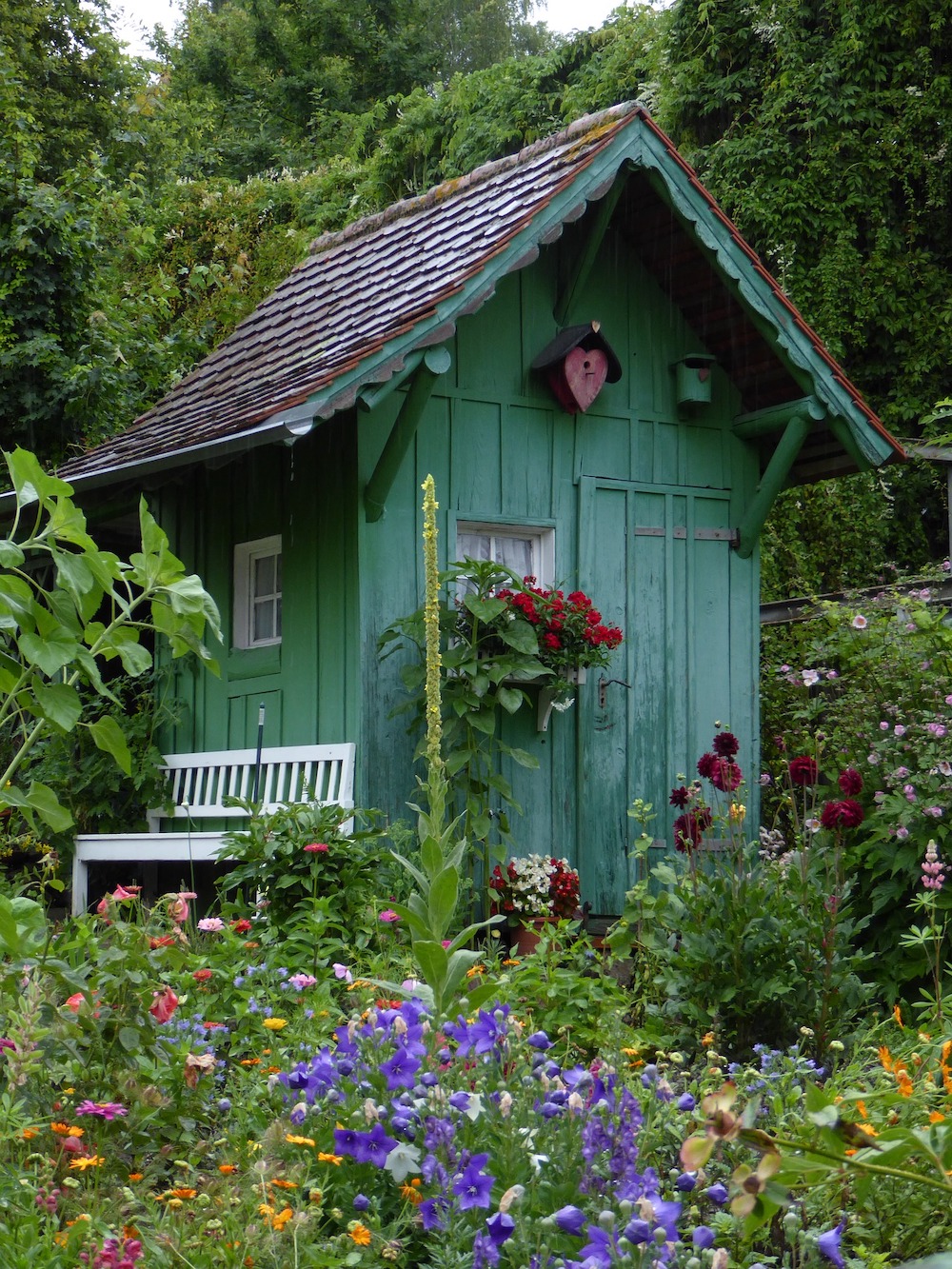 Reclaimed materials such as windows, doors, and dressers can be used in the garden. Windows and doors can be used as garden decor. Several doors attached together can be used to make a small potting shed. An old bureau and be redesigned into a potting shed.
Create a garden path using recycled old bricks or stones. Or create a stone wall with stones. Reuse slate for a walkway.
Many gardeners use old pallets for building a compost bin. Or use pallets for building a potting shed or a fence.
Search OfferUp and other sites such as FreeCycle for free building supplies. We recently found used old brick, stones, and granite for free. These items were available for anyone to pick them up. We also found free tree logs and used pressure treated wood for a deck. Many homeowners would rather give items away than to pay to dump these items. Search these sites periodically especially over the Summer months when homeowners are busy doing home repairs.

28. Leave Grass Clippings on Lawn after Mowing
Grass clippings decompose and add much needed nutrients to the lawn. This decomposition becomes free fertilizer for the lawn. However, if lawns are not maintained on a regular basis then excess grass will need to be removed. Place overgrown grass cuttings in the compost bin. Clumps of cut grass on the lawn is not good. The clumps will smother the grass.
29. Maintain Your Own Garden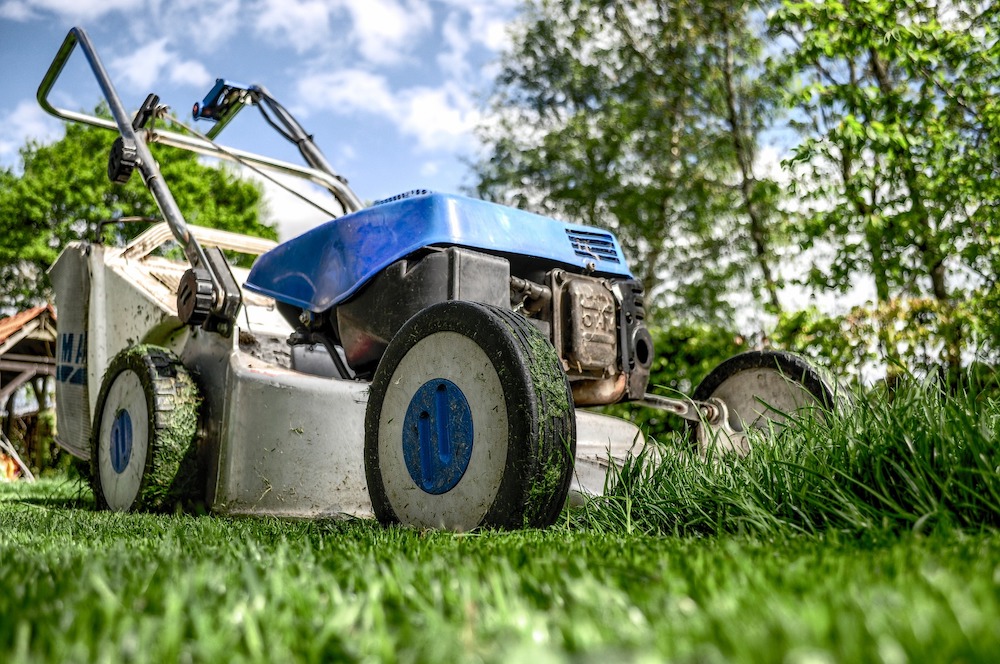 Save money by cutting your own grass. Lawn maintenance is costly. Mowing costs anywhere from $50 to $100 or more a week. So, if you mow your lawn 6 months out of the year, the costs add up. That is a whopping $1,200 or more a year! You'll have big savings when you mow your lawn yourself.
Trim your shrubs and hedges to save money. Trimming trees becomes a little tricky. In neighborhoods with above ground utilities, hire a professional tree company to trim your trees. Electrical lines near trees can be a problem. If your utilities are below ground and you are strong enough, use a tree pole saw to trim branches. However, tree trimming with above ground utilities is best left for professionals.
30. Reduce Your Lawn Space
Homeowners with large yards and lawn can reduce the size of their lawn. Replace your grass lawn with garden beds. Create new flower or shrub beds to replace the grass lawn. Save time mowing by having less grass to mow. And save money with lower energy costs by having less grass to mow.
There are many ways to minimize the grass lawn on your yard. Add a patio, deck, or porch. Create several outdoor garden space areas and enhance your property value. See our post on the many ways to reduce your grass lawn. 9 Fantastic Ways to Minimize Your Lawn Mowing
These are our 30 money saving garden tips. Create the garden of your dreams and save big. If you have any money saving garden tips, please consider sharing them with us. We would love to hear about your money saving ideas. And if you try any of these garden tips, let us know how you make out. We'd love to hear about your dream garden.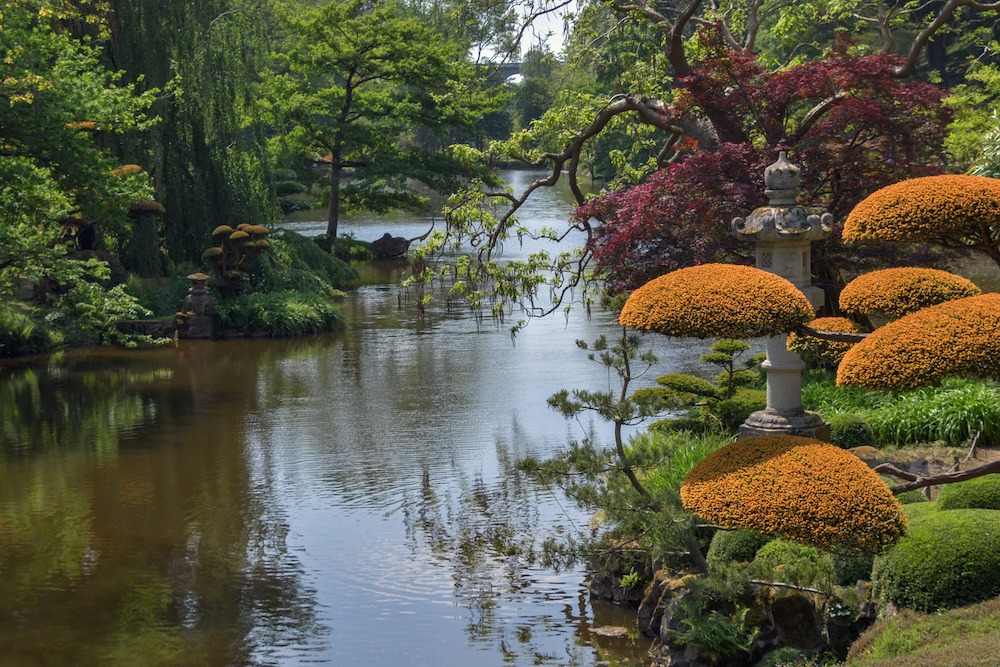 Interested in gardening? If you found this helpful . . .
You May Also Enjoy some of our other gardening related posts.
Frugal Gardening: Grow Perennials From Seeds
21 Gorgeous Garden Plants Easy to Grow From Seeds
9 Plants That Repel Bugs Naturally
If you try any of these garden tips let us know how you make out. And if you have any questions, feel free to reach out to us. We always are ready to help you out. Thank you for stopping by.
Mary