As Easter approaches we begin to look for DIY decor ideas to use during the Easter season. It is a welcome distraction from the Winter season that just won't go away. This time of year we are all ready to transition into the warming months and herald the first days of Spring.
We have assembled some ideas that we hope you may enjoy looking at or maybe even try a one. These ideas are quick and easy but most of all they are inexpensive DIY ideas that deliver a huge impact for any coastal home. Take a look and let us know what you think about these DIY Easter ideas!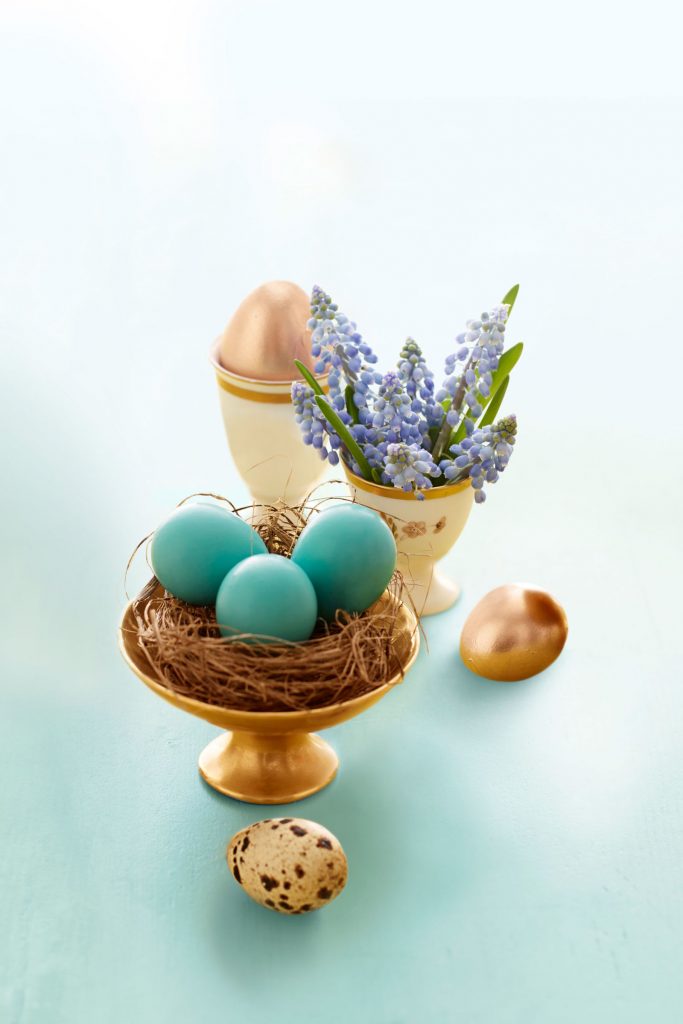 The Golden Eggs DIY Easter decor idea is great and works well for coastal homes. The teal blue egg colors are always a popular coastal color and the mini gold compote gives the little nest egg a very sophisticated, polished look. Of course if you need a larger centerpiece you can use a larger compote and add more eggs to create a large centerpiece. Either way the DIY Easter idea creates a fantastic Easter look. In a coastal home, you can't go wrong with this idea from Good Housekeeping.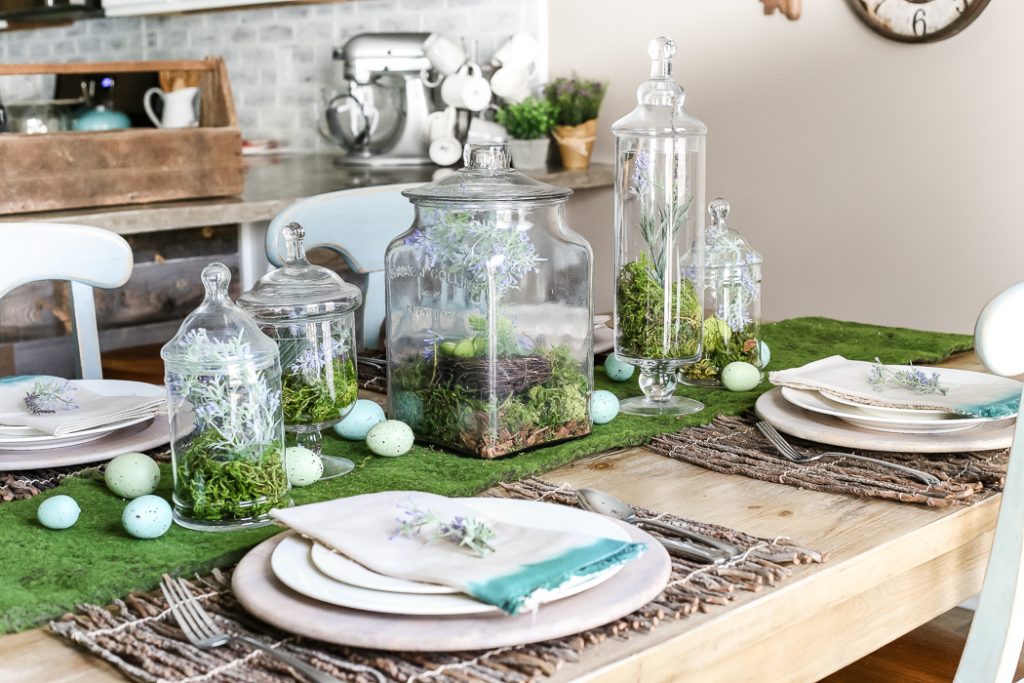 The Apothecary Jar Terrarium Centerpiece can be made as it is or scaled down or up depending on your specific needs. That is what appeals to many about this idea. You can add extra apothecary jars it you have a really large table or need them for a buffet table. Another great idea I like is the idea of bringing in a Spring Easter look with the greenery on the table runner and in the apothecary jars. Along with the bird's eggs I might add a few shells – either a few finger starfish, sand dollars, or clam shells to give a little coastal look to the Spring Easter centerpiece. A Great DIY Easter idea! The instructions are from Blesser House.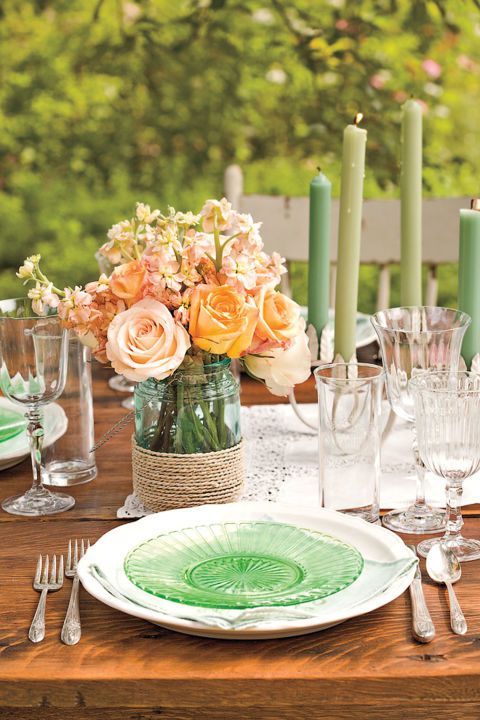 What I like about the Twine Vase is the twine wrapped around the jar. Twine is more of a coastal look and by gluing a finger starfish or clam shell to the twine, you can transform the look into a coastal one. After your Easter Celebration is over, the floral bouquet can be changed to update your look as the various summer holidays come and go. Instructions for the Twine Vase are in Country Living.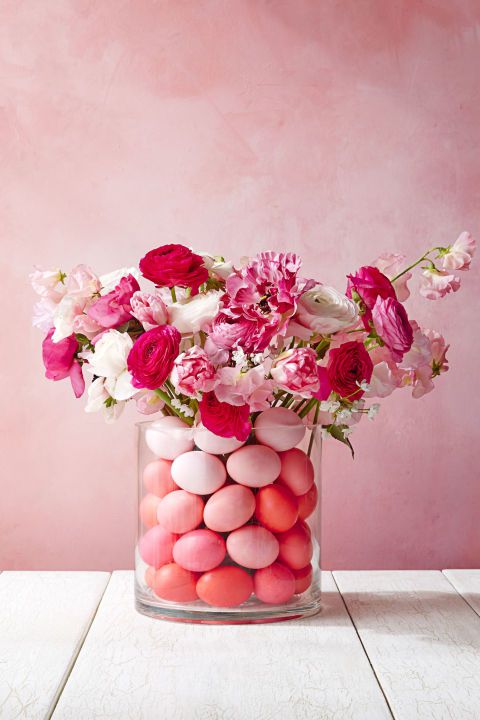 The Easter Egg Bouquet is a bright, cheery Easter DIY decor that lends itself to be modified in so many ways. By adding some sand at the base of the exterior vase with a few shells scattered among the eggs, the look can become a coastal look. A Easter egg hunt at the beach is so much fun! Instructions for the Pink Poppy & Pink Easter Eggs Gallery Flowers are at Good Housekeeping.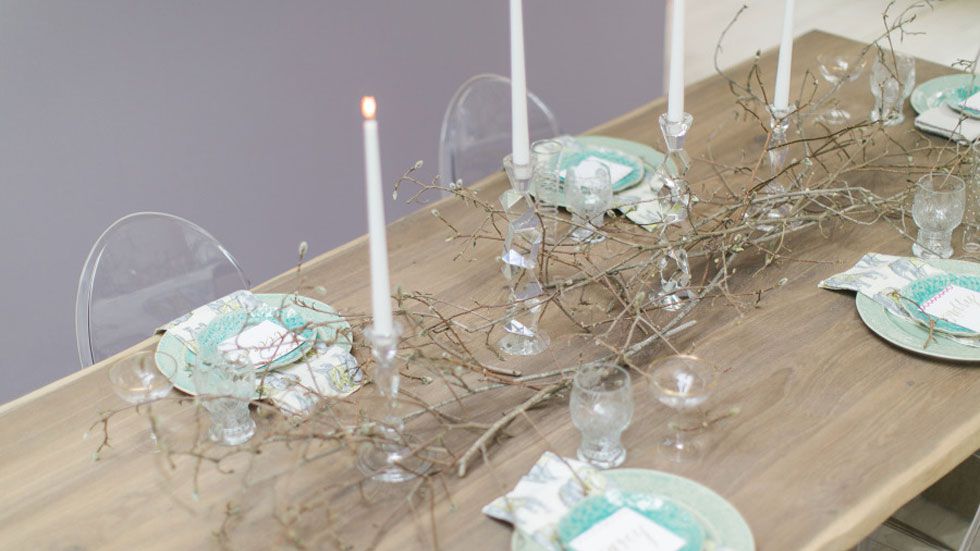 The Minimal with Magnolia Branches is a perfect look for our minimalist as well as coastal friends. To create a coastal affect, I would include 3 to 5 small finger starfish intertwined in the branches. So simple and effective! Good idea for anyone with seasonal allergies when greenery must be kept to a minimum. Instructions are by Style Me Pretty.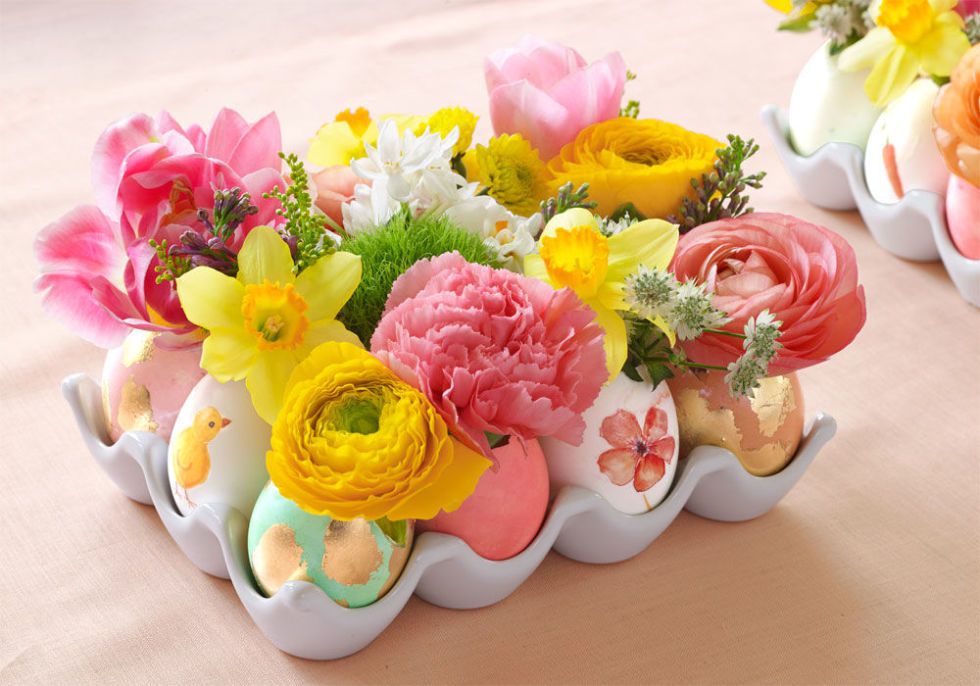 The Flowers by the Dozen Centerpiece delivers a powerful color punch! I like the idea that it is a low height centerpiece so as not to impede table conversation. Bright colored flowers with greenery in stenciled egg shells which the kids can help with. Instructions for the Flowers by the Dozen Centerpiece are by Woman's Day.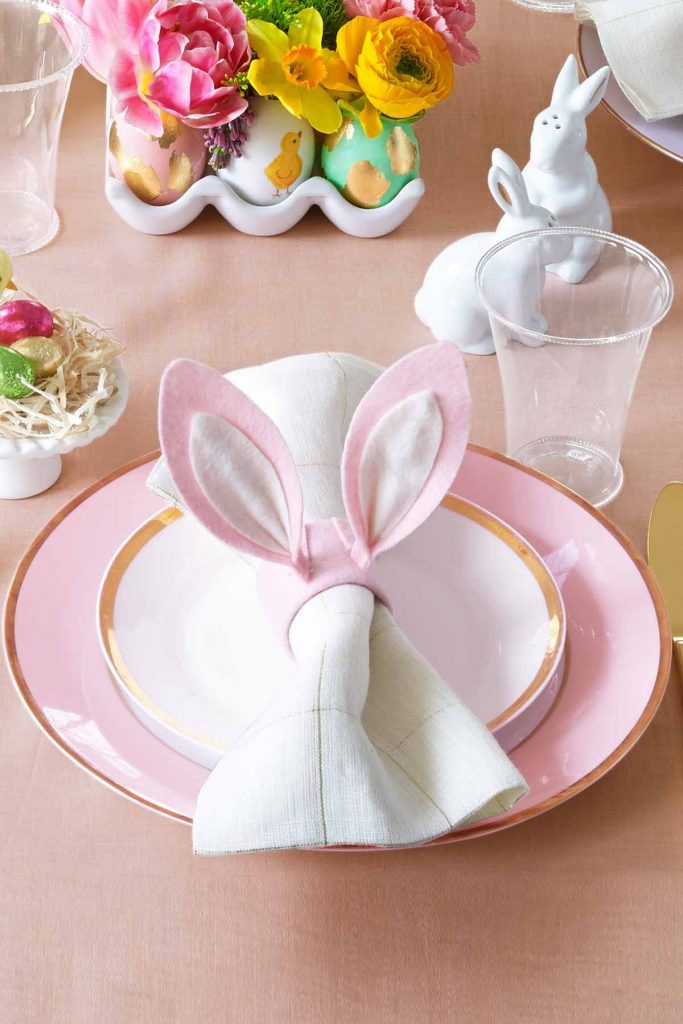 The Bunny Ears Napkin Rings are a cute project to involve your kids with. It adds a whimsical look to the Easter table. The felt bunny ears instructions can be modified from the pink bunny ears with white inside colors to other colors. To match your Easter table you can either use white bunny ears with pink insides, brown bunny ears with a white inside, or even gray bunny ears. A great look especially for your pint-size family members and guests. Instructions are provided by Woman's Day.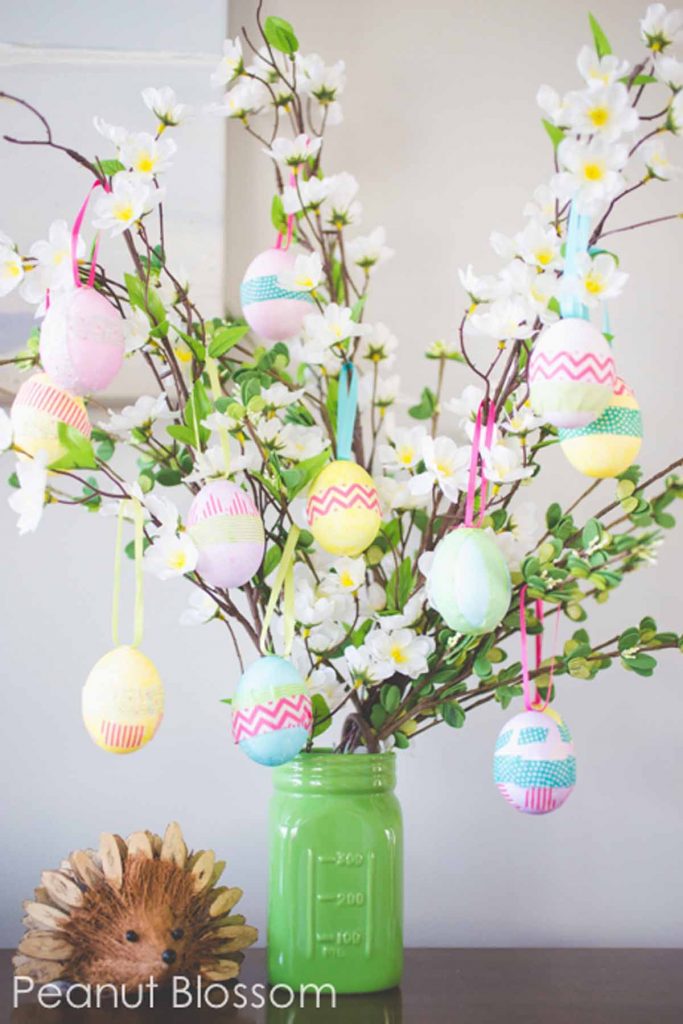 The Easter Egg Tree is another great idea because you can personalize this Easter project to suit you specific decor style. The Easter Egg tree can either be purchased at a thrift store or plucked from one of your backyard trees. If you loose branches from your trees over the winter, as we do, you can most likely find one laying around your yard. The eggs can be made from different materials based on what you may have in your home. Maybe even hang a shell or two from the tree. Instructions provided by Peanut Blossom.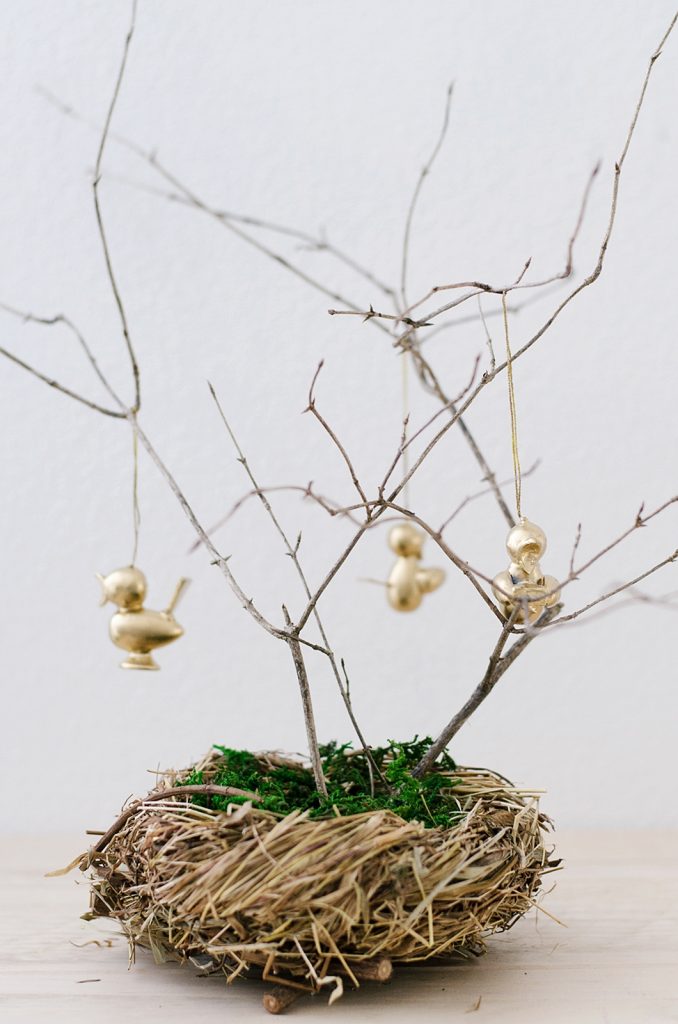 The Gold Bunnies and Gold Chicks on an Easter Twig Tree gives a different look to the Easter Table. The bunnies and chicks painted gold then hung from the twig tree with a nest as a base is a very clever and elegant idea. A great DIY project to complete for Easter. Instructions are by Sinnen Rausch.
These 9 DIY Easter decor ideas are a great way to prepare for your Easter festivities. These DIY Easter ideas are quick and easy to complete. We hope you enjoyed the DIY Easter decor projects listed above. If you try any of these DIY Easter decor ideas, be sure to let us know how you make out!
If you have any questions, feel free to reach out to us in the comments below. We always like to hear from you and help out.