There are many vinegar uses in the garden. Although distilled white vinegar is a kitchen and household mainstay, there are a few garden uses as well. Distilled white vinegar typically found at your local grocery store, is made from fermented grain alcohol or ethanol. It usually has 4 to 7 percent acetic acid with 93 to 96 percent water.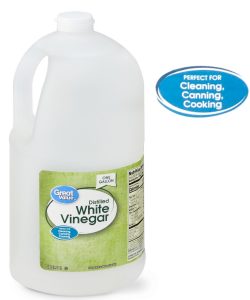 Some types of white vinegar can have up to 30 percent acetic acid. These higher vinegar concentrates are generally used for agricultural and industrial projects. For instance, more commonly used for stone cleaning or heavy grease removal. However, 30 percent acetic acid vinegars can be used for home cleaning if diluted with the right amount of water.  And this particular 30 percent acetic acid vinegar, the Green Gobbler Vinegar is derived from quality corn.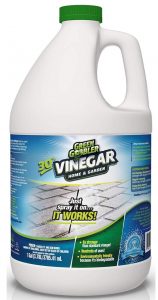 White vinegar is an all-natural solution that can be used for gardening and other outdoor jobs. Just as apple cider vinegar can be used for effective cleaning around the garden.   
An excellent alternative to unpleasant and toxic disinfectants, vinegar is hard working and produces results. Vinegar breaks down soap scum and grease in the home effectively. And works equally well in the garden. Not only is it beneficial for home and garden use, it is affordable, all-natural alternative because it is cheap!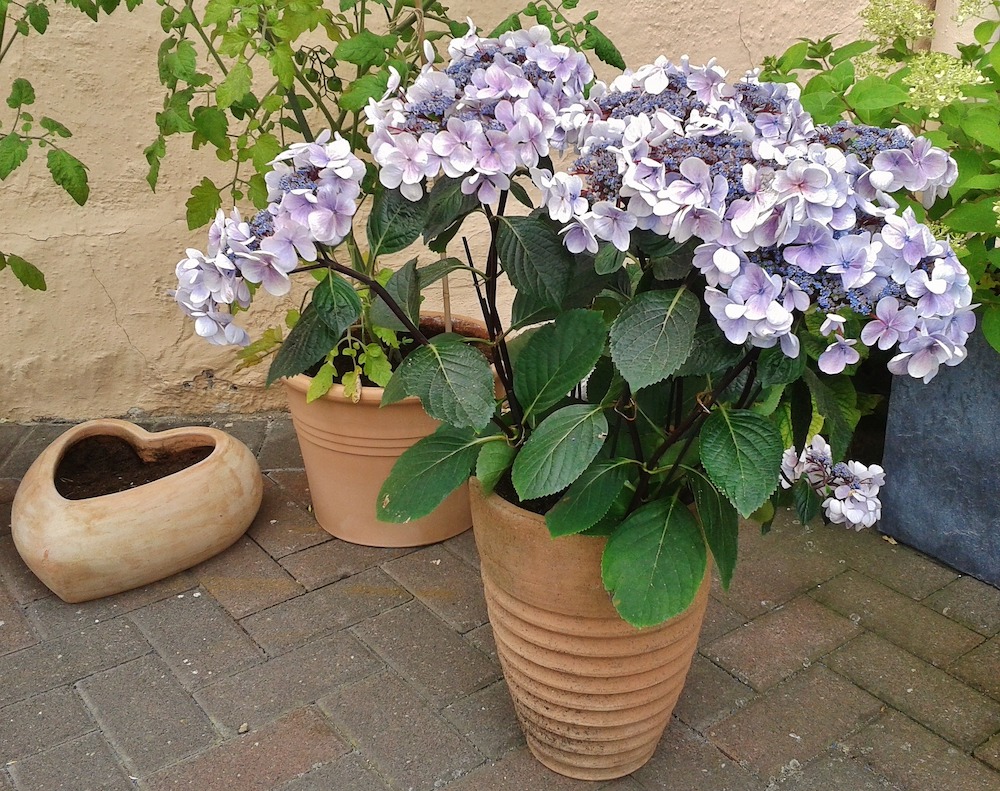 Take a look at the various ways you can use white and apple cider vinegar in the garden.    
DISTILLED WHITE VINEGAR USES IN THE GARDEN 
Lawn Mower Cleaning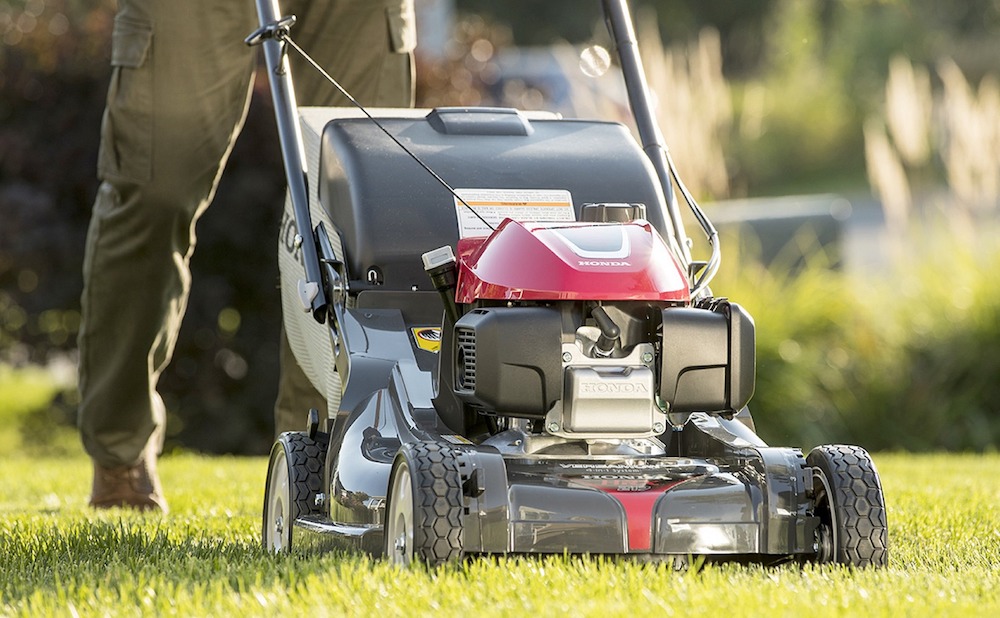 After mowing the lawn, grass sticks to the wheels, blades, and the cover that protects the blades. This occurs especially when the lawn is wet from morning dew or rainfall. Wet grass becomes matted and gums up on the parts underneath the blade cover. Using a cloth with full strength white vinegar, wipe the wheels, blades, and underneath the blade cover. Then store after the lawn mower has dried.  
String Trimmer Cleaner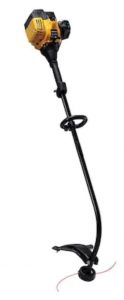 Using full strength white vinegar and a brush, remove the caked grass goop from the string trimmer. The brush gets into the deep cracks and crevices to remove any remaining grass or weed chunks. Keeping the string trimmer clean, allows the trimmer to work more efficiently.  
Remove Rust Tools – Vinegar Uses in the Garden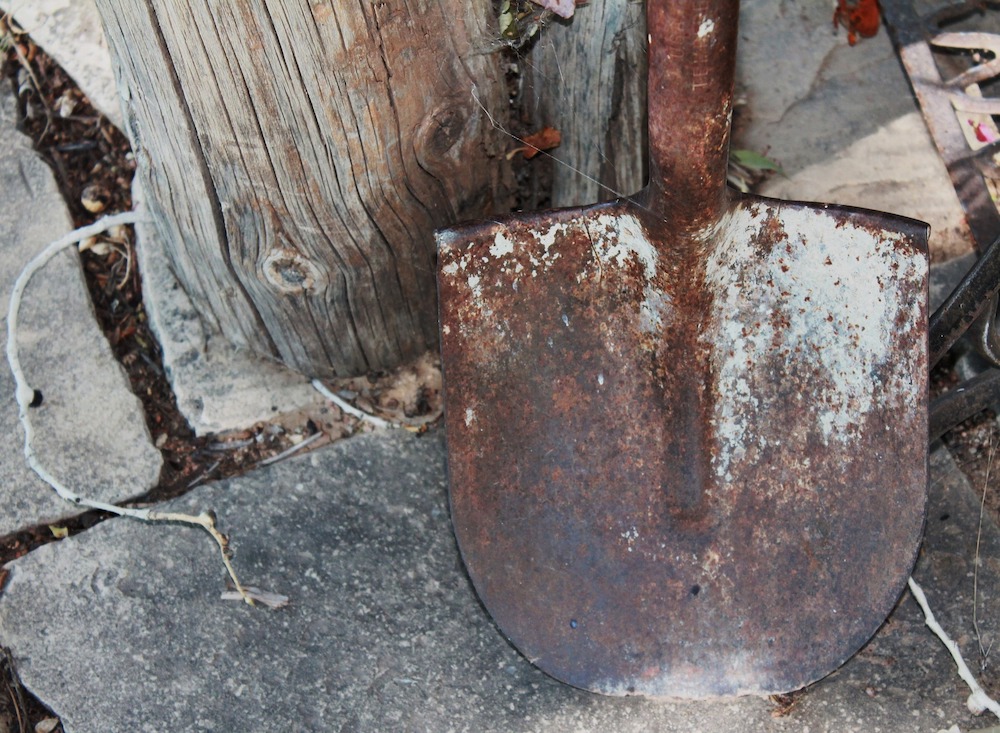 Rust covered garden or work tools can be soaked in full strength white vinegar for several days. Since the soaking eliminates rust from the tools. Smaller tools can be soaked with vinegar in a container. Larger tools can be wrapped in a vinegar soaked cloth, then wrapped in plastic. Leave the plastic wrapped tools soaking for 24 hours, then remove the plastic wrap and cloth. Wipe dry the tools and then, store in a dry, covered area.      
Acidity or Alkalinity Soil Test 
For a soil test to determine if soil is alkaline add soil to a container. Add about a handful in a container then add ½ cup of distilled white vinegar. If the soil in the container fizzes or bubbles, the soil is alkaline. Therefore, the soil has a pH of more than 7. 
Next, add a handful of soil to another container. Then add ½ cup of baking soda and ½ cup of water. If the soil mixture fizzes, the soil is acidic. Consequently, the soil has a pH of below 7. 
Produce Better Blooms on Azalea and Gardenia Shrubs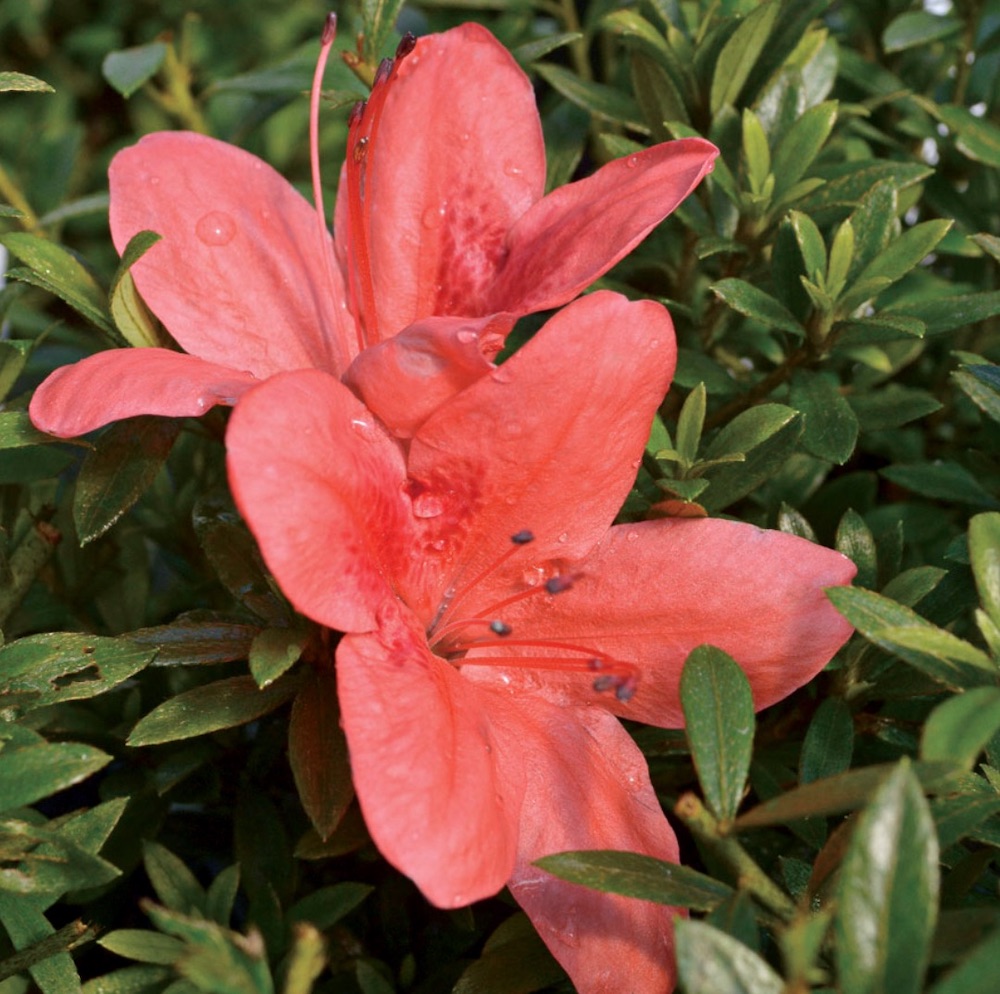 Mix 3 tablespoons of white vinegar with 1 gallon or 3.7 liters of water. Before the blooms begin, water the shrubs with the white vinegar and water mixture about once a week. Discontinue watering with the mix once the shrubs begin to bloom. Azalea and Gardenia shrubs do best in soil with a pH level between 4 and 5.5. This will improve the blooms. 
Turn Pink Hydrangeas to a Deep Blue 
Add one cup of distilled white vinegar to a gallon of water in a watering can. Water pink hydrangeas with the white vinegar water mix. White vinegar is acidic based. As a result of adding an acidic water solution to the soil, the blooms turn a deep blue. As you water around the base of the hydrangea, be sure the water solution sinks into the ground below the shrub roots. If the shrubs are planted on a slope or incline, the water solution will run off.  Thereby not changing the acidity level of the surrounding soil. You may need to dig a semi-shallow trench around the shrub so that the watering solution is absorbed into the ground.  
Based on the level of acidity in your soil, you may need to feed the hydrangeas several times before the blooms turn blue. However, white blooming hydrangeas will not turn blue with a higher level of acidity. White blooming hydrangeas such as Limelight and Little Lime will always remain whitish in color. On a final note, this formula can also be used for other acid-loving plants. Acid-loving plants such as azaleas, rhododendrons, gardenias, and dogwoods. 
Eliminate Mealybugs – Vinegar Uses in the Garden
Dip a cotton swab in full strength white vinegar. Use the swab to wipe mealy bugs from the leaves and stems of garden and house plants. Repeat until the infestation has been eliminated. White vinegar will kill the bugs and any eggs on the plants. 
Deters Cats, Dogs, Deer, Rabbits, and Raccoons From the Garden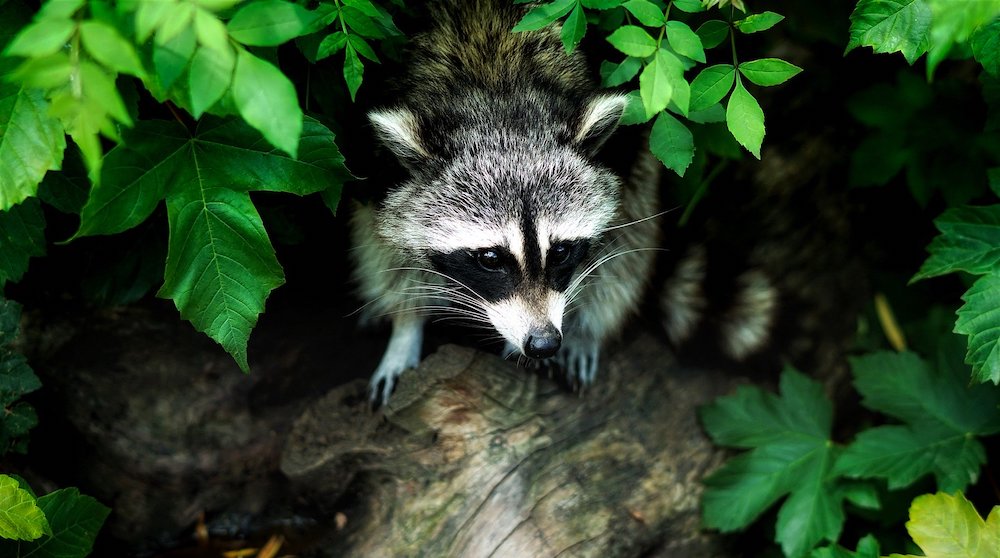 Soak rags in distilled white vinegar. Place the vinegar soaked rags on stakes around the vegetable garden. The scent of vinegar is appalling to cats, dogs, deer, rabbits, and raccoons. They stay away from the odor of vinegar even once it has dried. However, nothing is foolproof forever so re-soak rags every 7 to 10 days. 
Weed Control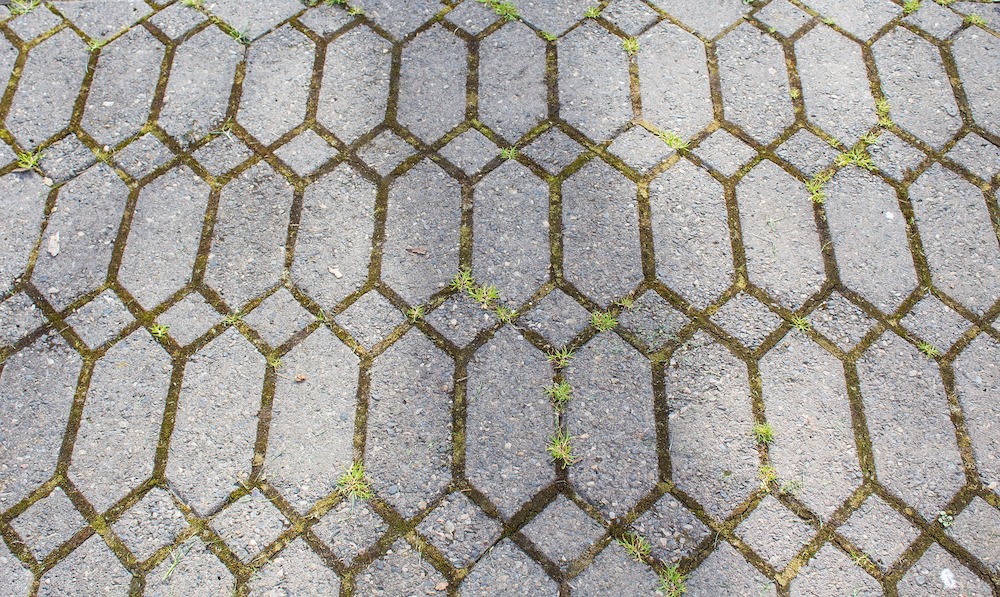 Pour either distilled white vinegar or apple cider vinegar full strength in a spray bottle. Spray on unwanted weeds such as dandelions or grass. Or spray on weeds that appear between cracks of the pavement, driveway, and patio areas. Spray weeds or unwanted plants in two places. The first spray, in the midsection or middle of the flower before it goes to seed. With the second spray, at the base near the stem at ground level. Spray the base of the plant so that the solution seeps down to the plant roots. The best time to do this is early season, on a dry sunny day, and when there are several days of no rain afterwards.  
Eliminate Ants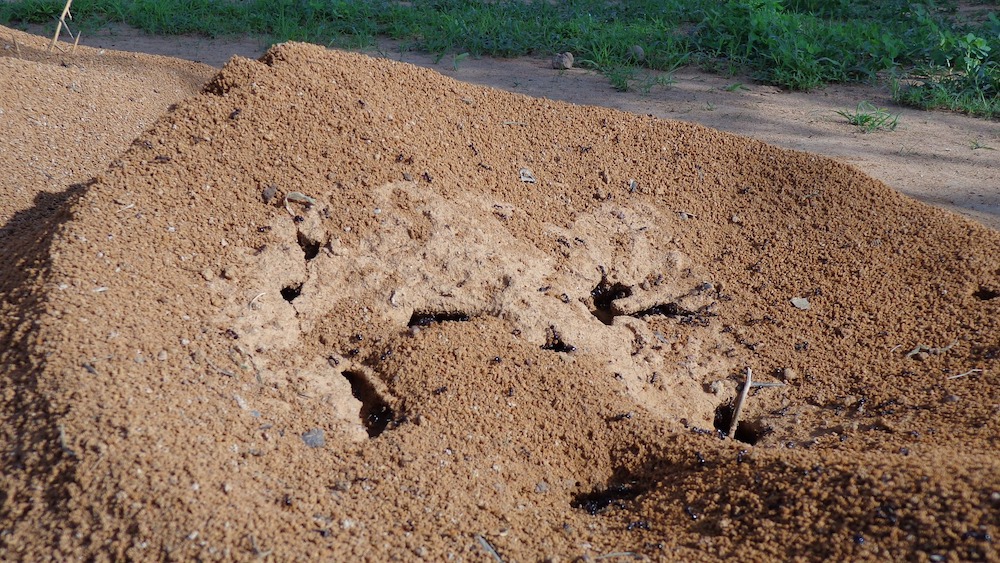 In a spray bottle, mix equal parts of white vinegar and water. Spray on anthills and any areas where you have an ant problem. For problematic areas with excessive numbers of ants, use full strength vinegar in a spray bottle. Ants really dislike the smell of vinegar.  
Clean Decks and Outdoor Furniture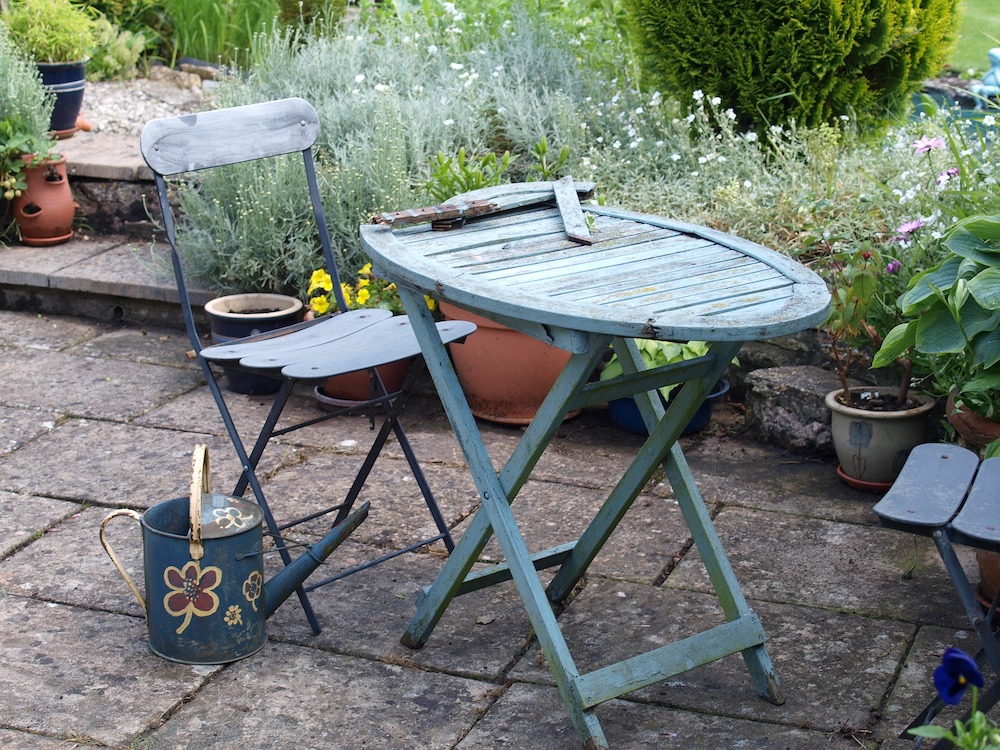 Pour full-strength white vinegar in a spray bottle. Spray on mildew growth then wipe away on decks and patio furniture. Any remaining vinegar residue prevents mildew from returning for a while. Full strength white vinegar also removes algae from outdoor furniture.  
Wood Patio Furniture Cleaning 
Mix one cup of ammonia, ½ cup of white vinegar, and ¼ cup of baking soda. Next, mix this solution with 1 gallon or 3.7 liters of water. Using either a sponge or small brush, clean mildew from wood decks and wood patio furniture.  
Plastic Mesh Furniture and Patio Umbrella Cleaning 
Take 2 cups of white vinegar and mix with 2 tablespoons of liquid dish soap in a pail of hot water. Protect your hands by putting on gloves before cleaning. Using either a soft brush or sponge scrub the furniture and patio umbrella. Work the solution into any cracks or crevices to fully clean the furnishings. Afterwards, rinse with cold water then allow to dry in the Sun. This solution will not only deodorize but inhibit mildew from growing on the furnishings.   
APPLE CIDER VINEGAR USES IN THE GARDEN 
Hummingbird Feeder Cleaning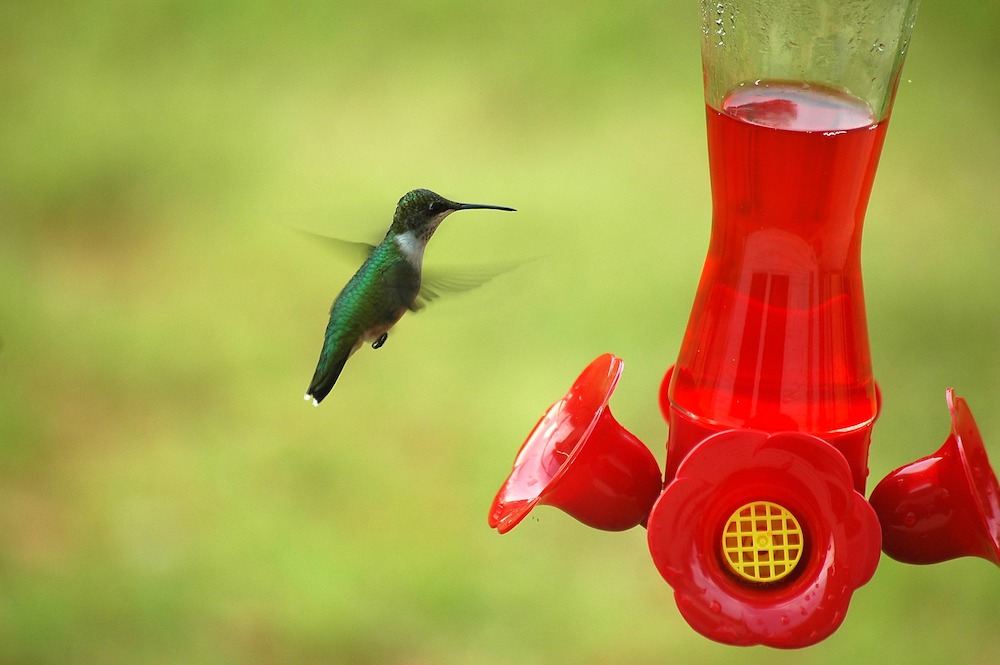 To attract hummingbirds to your garden, hang a hummingbird feeder from a tree. Yet, keeping any hummingbird feeder clean is a challenge. Regularly, clean the feeder using equal parts of apple cider vinegar and hot water. This mix removes the dried crusted sugary water residue from the feeder. Afterwards, rinse the feeder in cold water. Then air dry the feeder outdoors under full sunlight prior to refilling.   
Plants with Yellow Leaves 
Acid loving plants such as azaleas, hydrangeas, and gardenias that have yellowish leaves are experiencing one of two problems. Either the plant or shrub has insufficient iron intake. Or the soil surrounding the plant roots, have a pH level of above 5.0. To remedy this problem, mix 2 tablespoons of apple cider vinegar in 1 quart or liter of water. Then pour 1 cup of apple cider vinegar and water solution in the surrounding soil. Continue this watering once a week for a total of three weeks.   
Treat Plants with Rust, Black Spot, and Powdery Mildew 
Mix 2 tablespoons of apple cider vinegar in 2 quarts or liters of water. Pour into a spray bottle. Treat infected plants with the solution either in the morning or early evening. So that temperatures are cooler and no direct light on the plant. Continue spraying until the condition has been eliminated.  
Hasten the Germination of Flower Seeds – Vinegar Uses in the Garden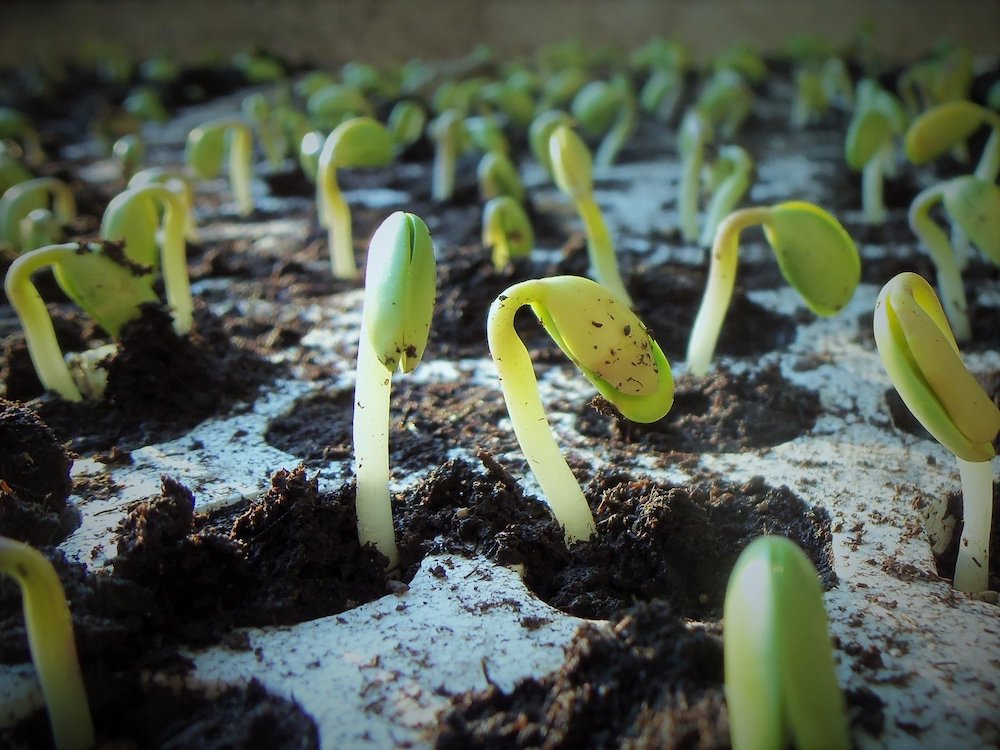 Using a fine grade of sandpaper, rub woody seeds to scar them. Then mix ½ cup of apple cider vinegar with 1 pint or half liter of warm water in a container. Soak the seeds overnight in the container. The following morning rinse seeds in clean water then plant them. This soaking gives seeds a boost in germination. Use on moonflower, passionflower, morning glory, and gourd seeds.     
Eliminate Insects in the Vegetable Garden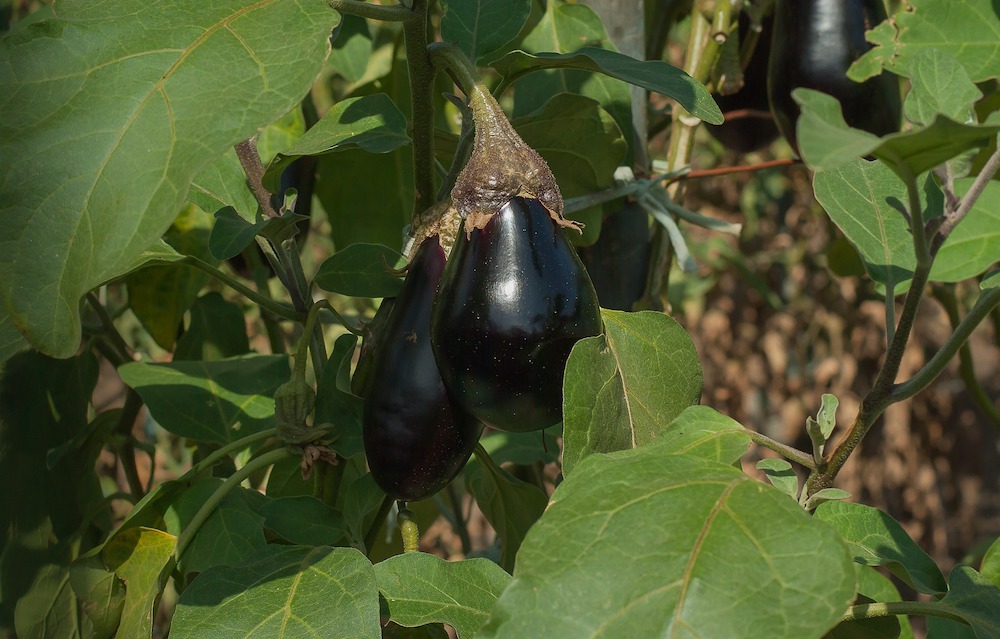 Pour one cup of apple cider vinegar and one cup of sugar in a 2 liter soda bottle. Cut a banana peel into small pieces and add to the liter soda bottle. Next, pour a cup of cold water and shake the liter soda bottle. After the ingredients are mixed, tie a string around the neck of the bottle. Either hang the litter bottle from a low tree branch or place on the ground. 
The litter soda bottle will trap the pesky bugs. Replace this nonpoisonous trap with a new one as needed.  
Clean Bird Droppings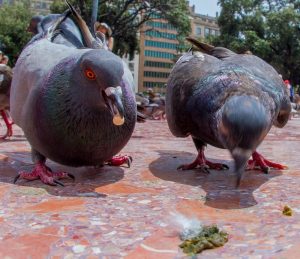 Using full-strength apple cider vinegar, spray bird droppings on the patio and driveway. Or pour full strength vinegar on a rag and then wipe down the surface. 

This concludes our list of vinegar uses in the garden. Do you use vinegar for other gardening or outdoor tasks? We would love to hear about any other vinegar uses in the garden.   
Interested in gardening? If you found this helpful . . .    
You May Also Enjoy some of our other gardening related posts.   
Stink Bugs Invading the Garden  
How to Get Rid of Oriental Bittersweet  
30 Money Saving Garden Tips for the Frugal Garden
And if you have any questions, feel free to reach out to us. We always are ready to help you out. Thank you for dropping by.   
Mary