Searching for a few Christmas gift ideas? We have suggestions to help you finish your last minute gifts on your holiday shopping list. Gift ideas to make your home a bit more comfortable for the family.  
Here is our list of holiday gifts for the home here. 
Home for the Holidays – Christmas Gift Ideas 
Ninja Blender & Food Processor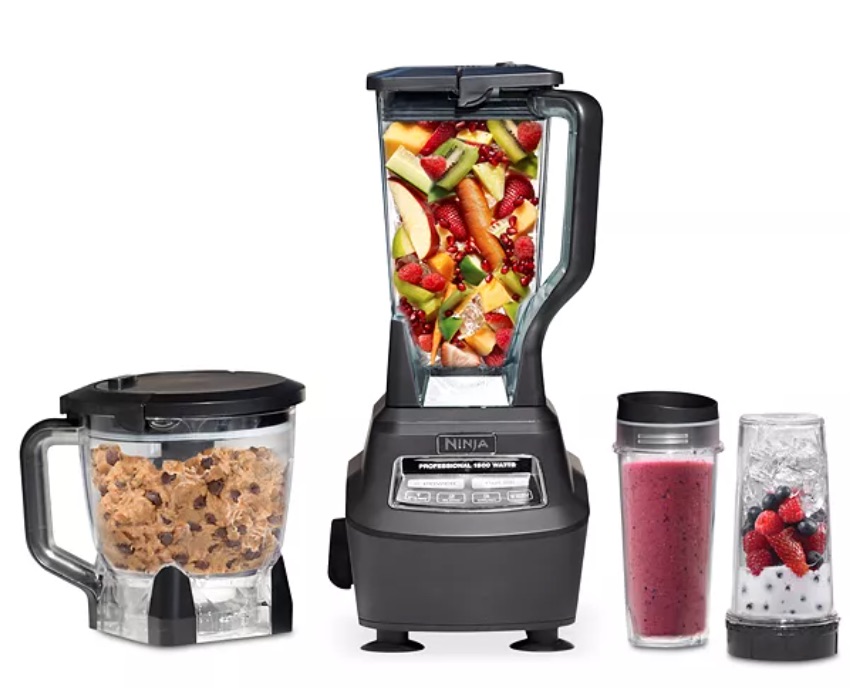 The combined Blender & Food Processor by Ninja is dishwasher safe and BPA free. Blender makes frozen drinks and smoothies while the food processor chops fruit, vegetables, and more. The blender and food processor set includes 2 Nutri Ninja cups with To-Go lids to take along. 
2. Rubbermaid Food Storage Containers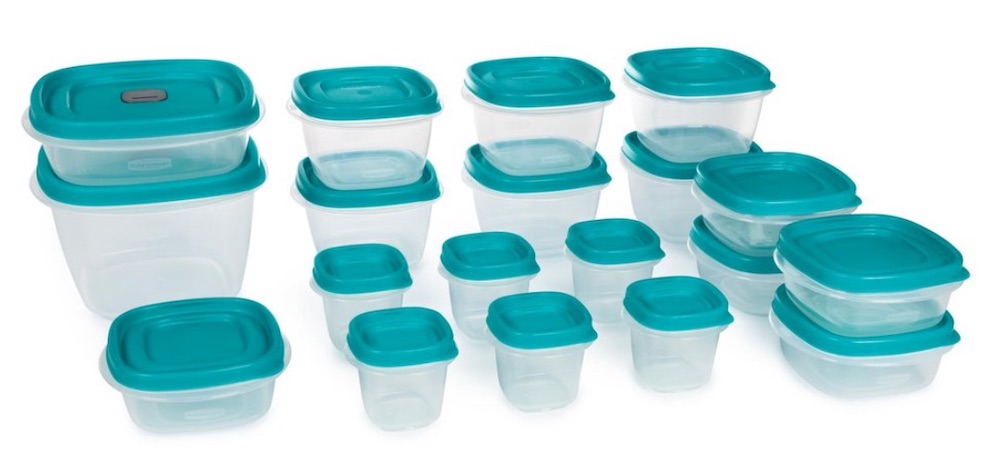 A 38 piece set, the Rubbermaid Food Storage Containers are both BPA safe and dishwasher safe. The food containers have lids and a few containers have vented lids. Lids are teal color. 
3. Anolon Skillet Set – Christmas Gift Ideas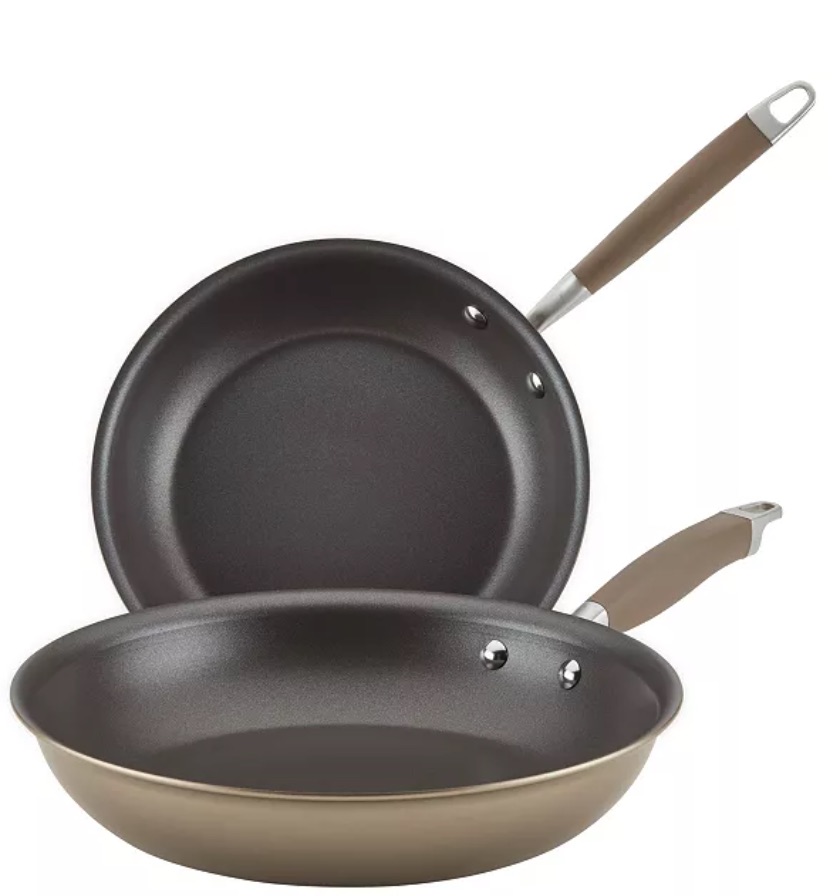 A set of two bronze skillets, the Anolon Skillet Set are non-stick and sapphire reinforced. These skillets are metal utensil safe. The smaller skillet is 10 ¼ inches wide while the larger skillet measures 12 ¾ inches wide. For the friend who loves to cook!  
4. Saveur Stainless Steel Cookware Set 
The Saveur Stainless Steel Cookware Set is a 10 piece set of 6 essential pots and pans. Plus 4 interchangeable lids. A dishwasher safe cookware set. Select the Voyage Series cookware set. 
5. Marble Handle Cheese Knives – Christmas Gift Ideas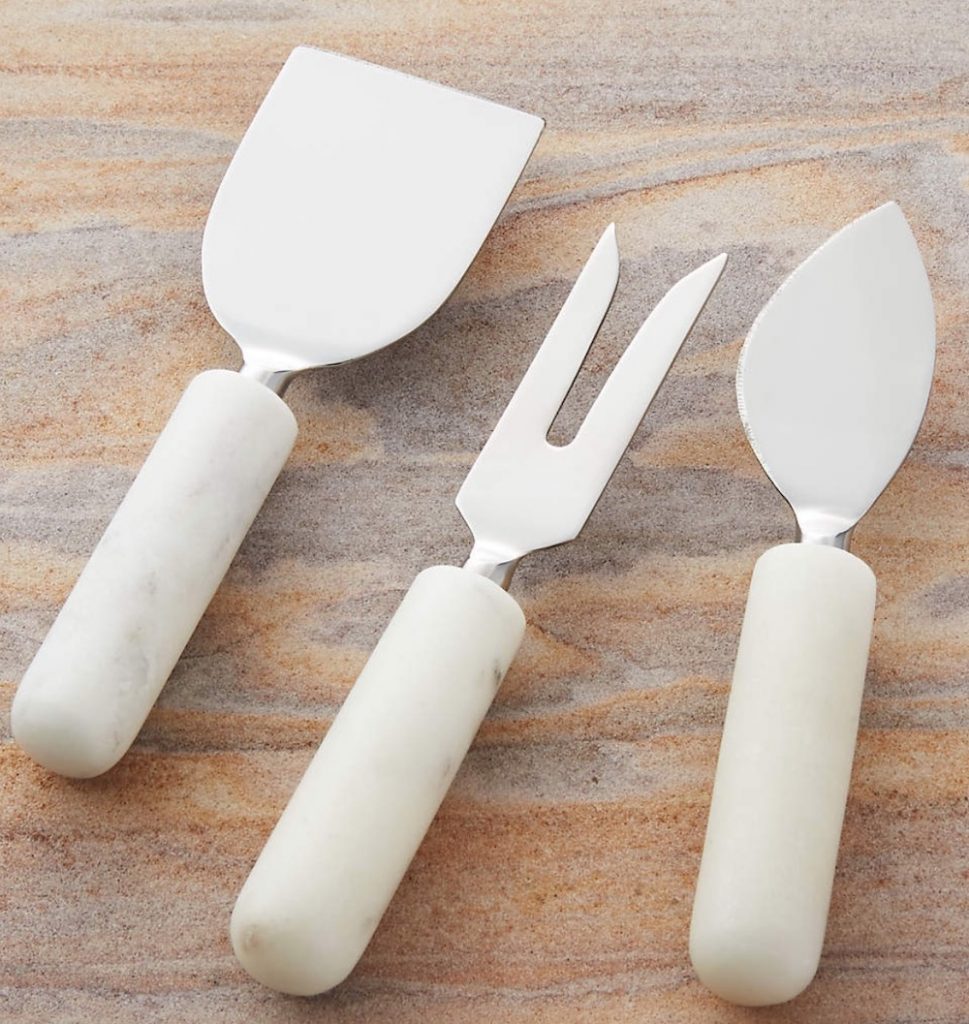 Contemporary inspired cheese knife set, the Marble Handle Cheese Knives have natural white marble handles. An attractive cheese knife set for the friend who loves to entertain.
6. VertuoPlus Coffee and Espresso Machine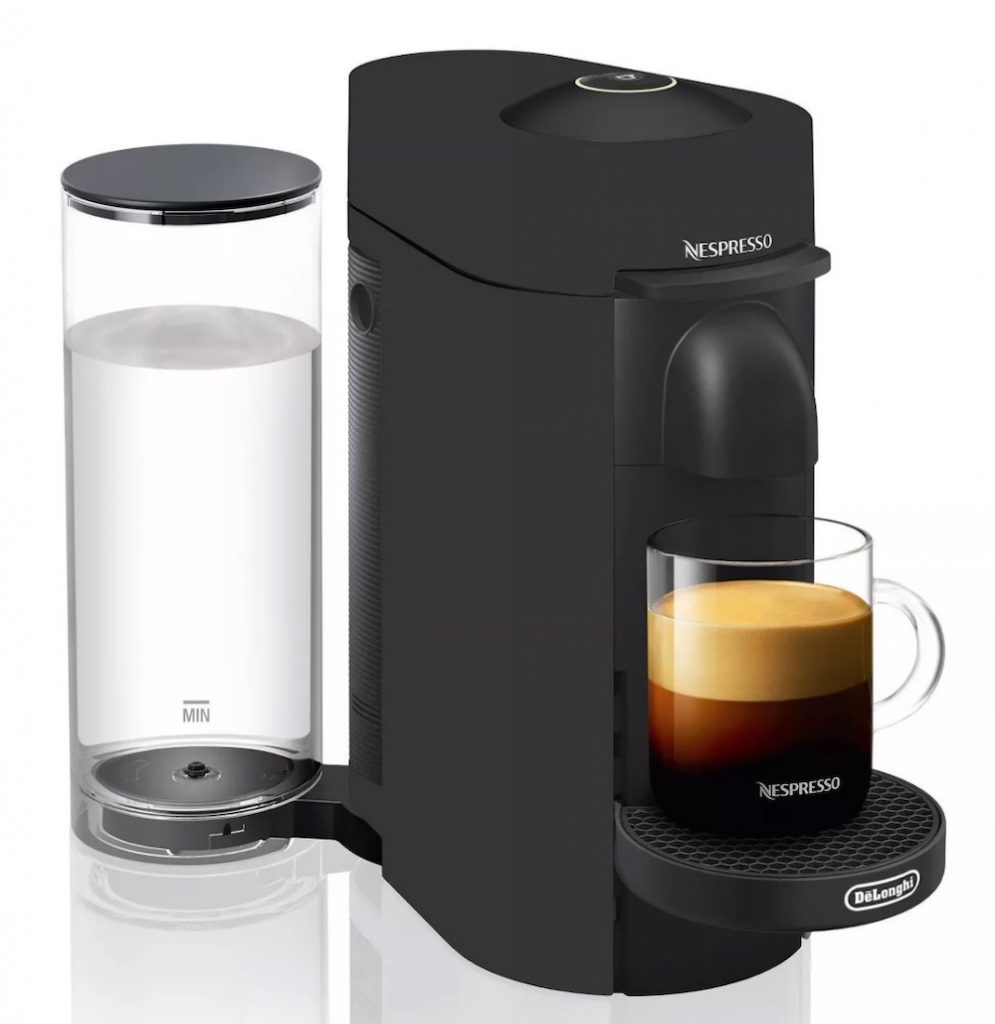 The VertuoPlus Coffee and Espresso Machine has a black matte finish. Manufactured by De'Longhi and designed for Nespresso Vertuo capsules. A great coffee and crema machine that also makes authentic Espresso. For the coffee lover crowd. 
7. Camden 4 PC Queen Sheet Set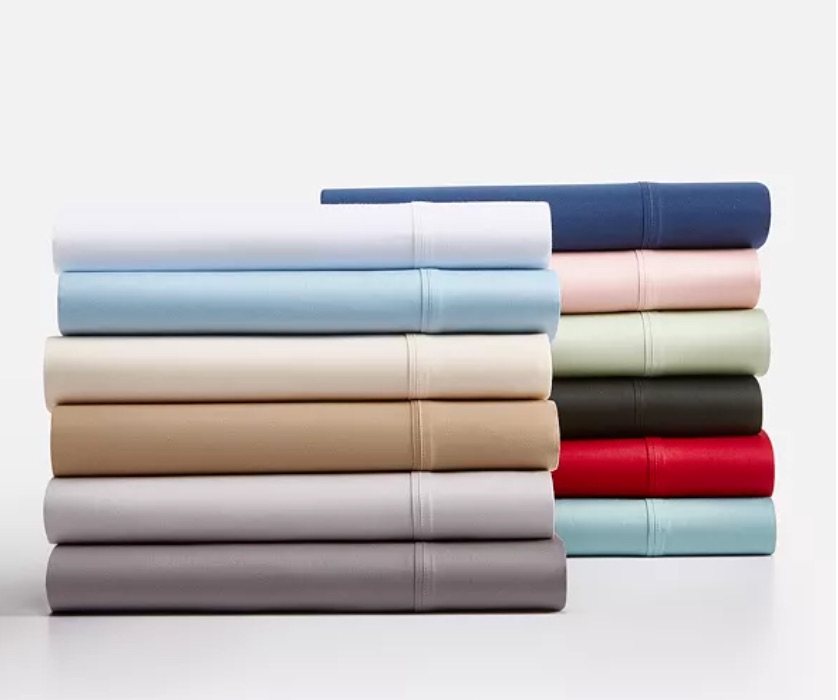 The Camden Queen Sheet Sets are made from cotton. Sheets are  a silky, sateen set woven at 1250 thread count for an ultimate night's rest of relaxation and comfort. These rich cotton sheets are available in 12 colors. 
8. In the Wild Throw Blanket BAREFOOT DREAMS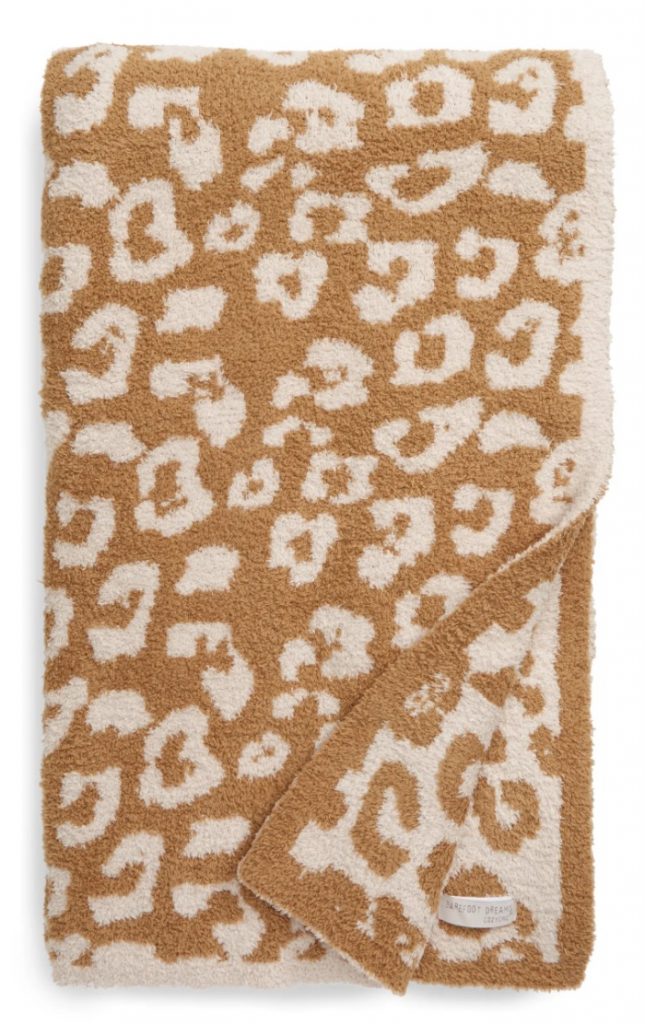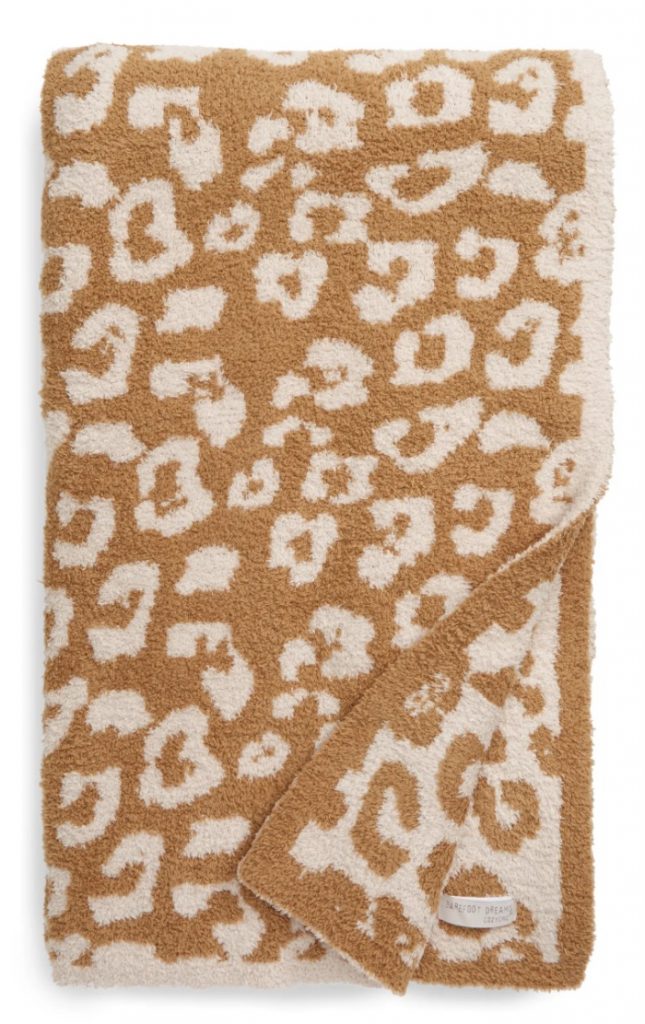 The In the Wild Throw Blanket by BAREFOOT DREAMS® is made from microfiber for irresistibly, soft comfort. Select from several colors including Camel – Stone (above color) and Linen – Graphite as seen below.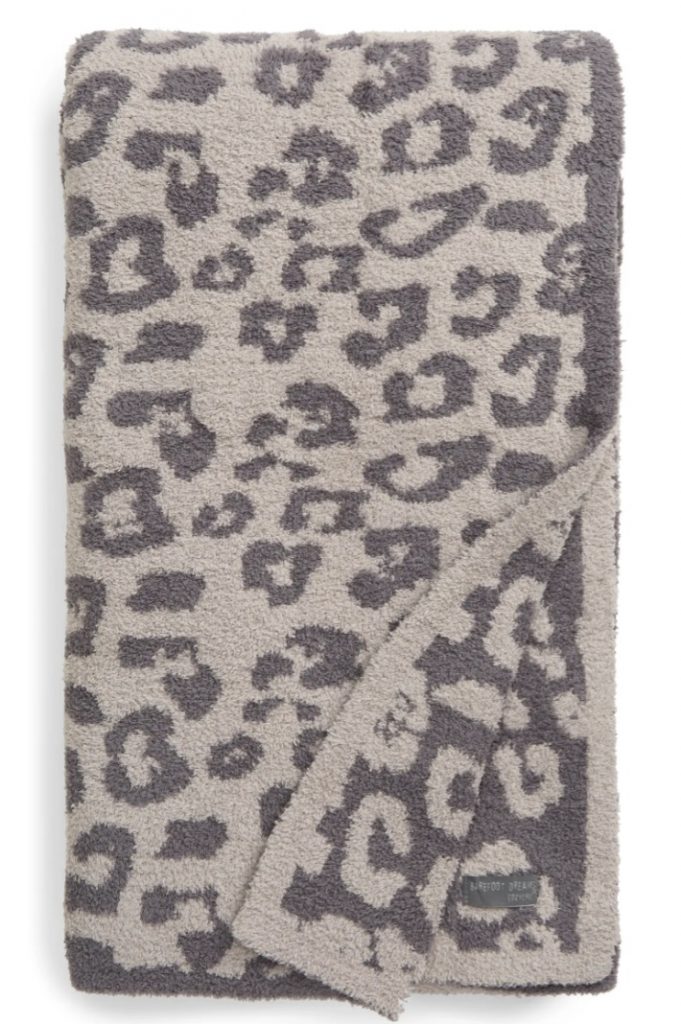 9. Bliss Plush Throw – Christmas Gift Ideas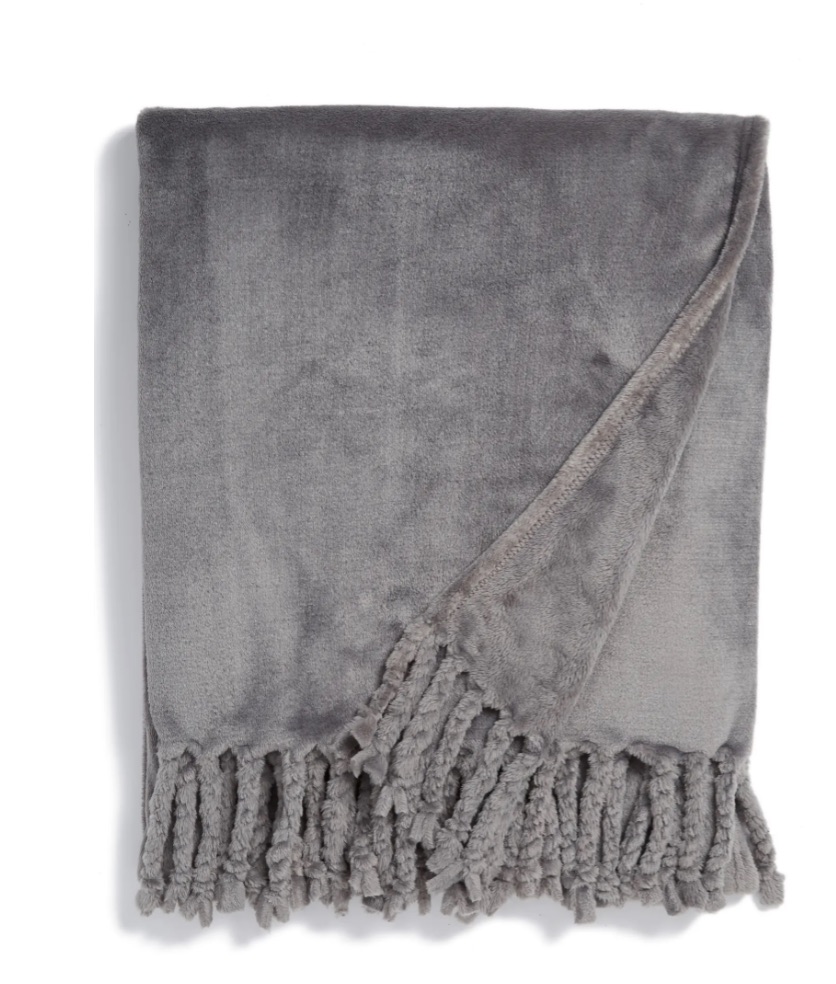 A blanket throw such as the Bliss Plush Throw is perfect for cuddling while reading. Available from a variety of classic and fresh colors. As seen in the image above, the 50 by 60 inch throw has 4 inch tassels. Select from several colors including the Gray Frost above.  
10. Varena Arched Wall Mirror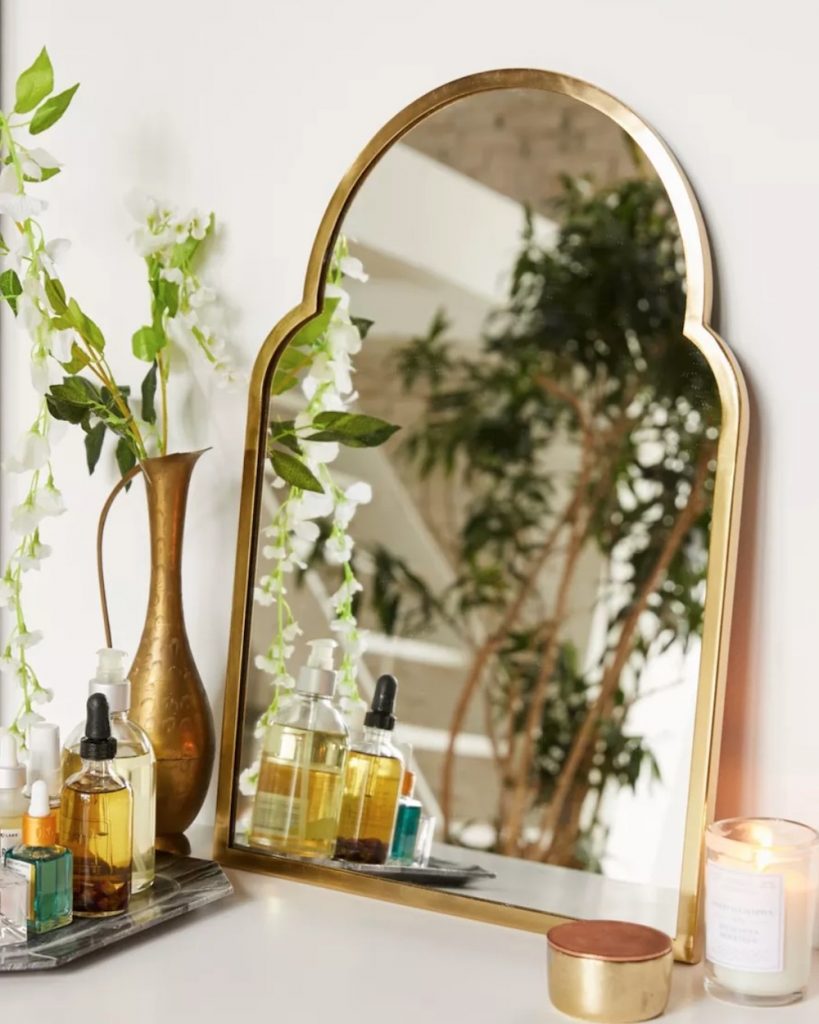 Beautifully designed, the Varena Arched Wall Mirror features a center arch with scalloped dips at each side. Finished in gold and made from metal and glass. The mirror measures 22 inches high by 14 ½ inches long and ½ inches wide. Mirrors not only make a room appear larger but they also brighten the room for an overall cheerful effect. 
11. Shelly Round Velvet Pillow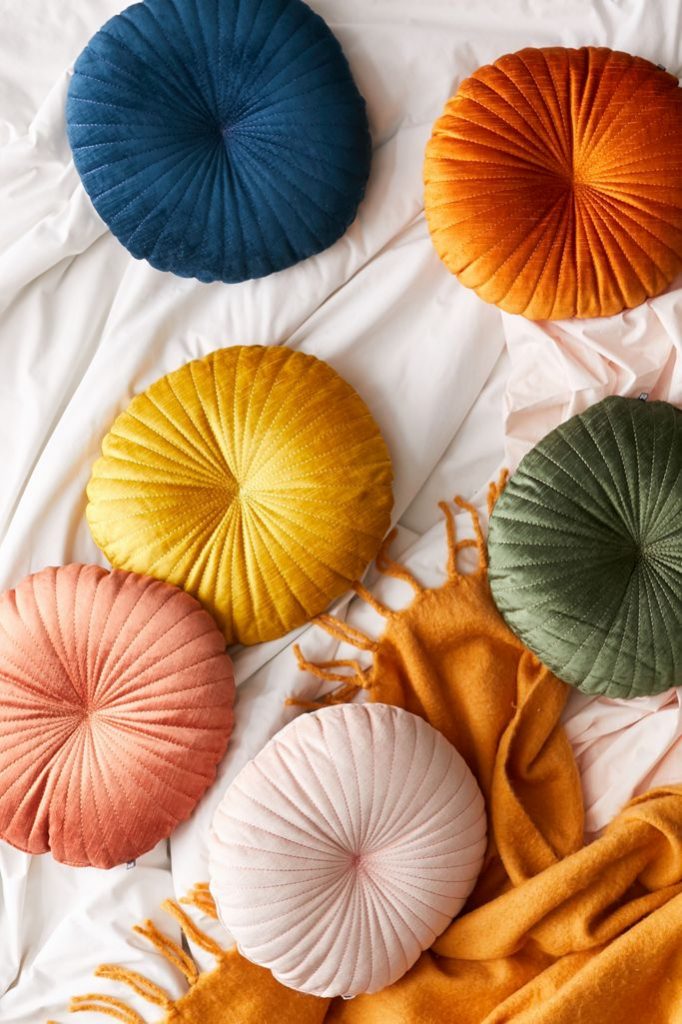 A vintage inspired design, the Shelly Round Velvet Pillow is the perfect finishing touch to any sofa or chair. The plush round velvet pillow is available in several colors. Select from apricot, pumpkin, olive, lavender, jade, gold, or teal. 
12. Natural Wood Pillar Candleholder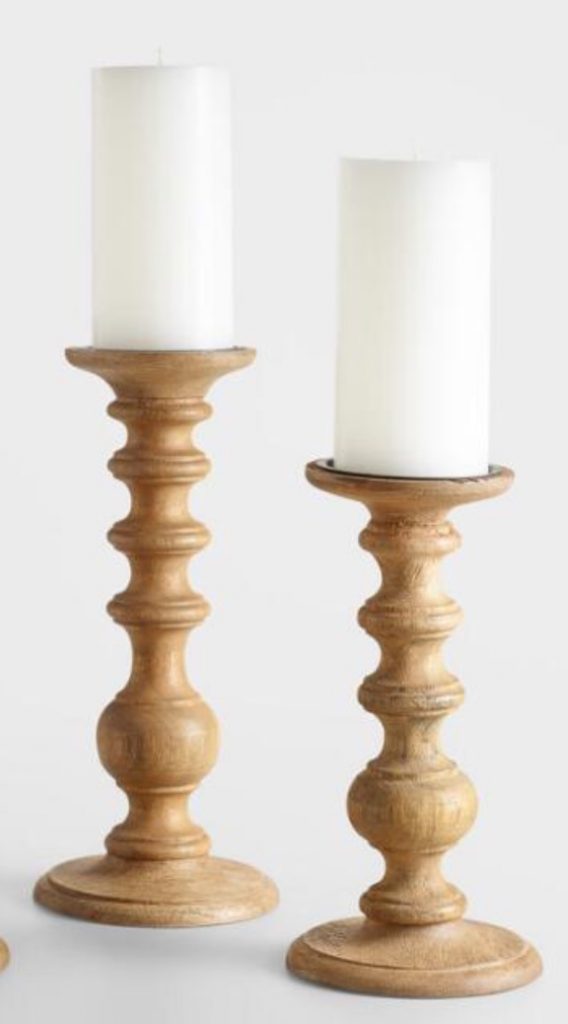 Handcrafted from mango wood, the Natural Wood Pillar Candleholder is ideal for either the rustic, farmhouse, or vintage decor style. Select from sizes 7, 9, or 11 inches tall.  
13. Gold Leaf On Marble Stand Decor – Christmas Gift Ideas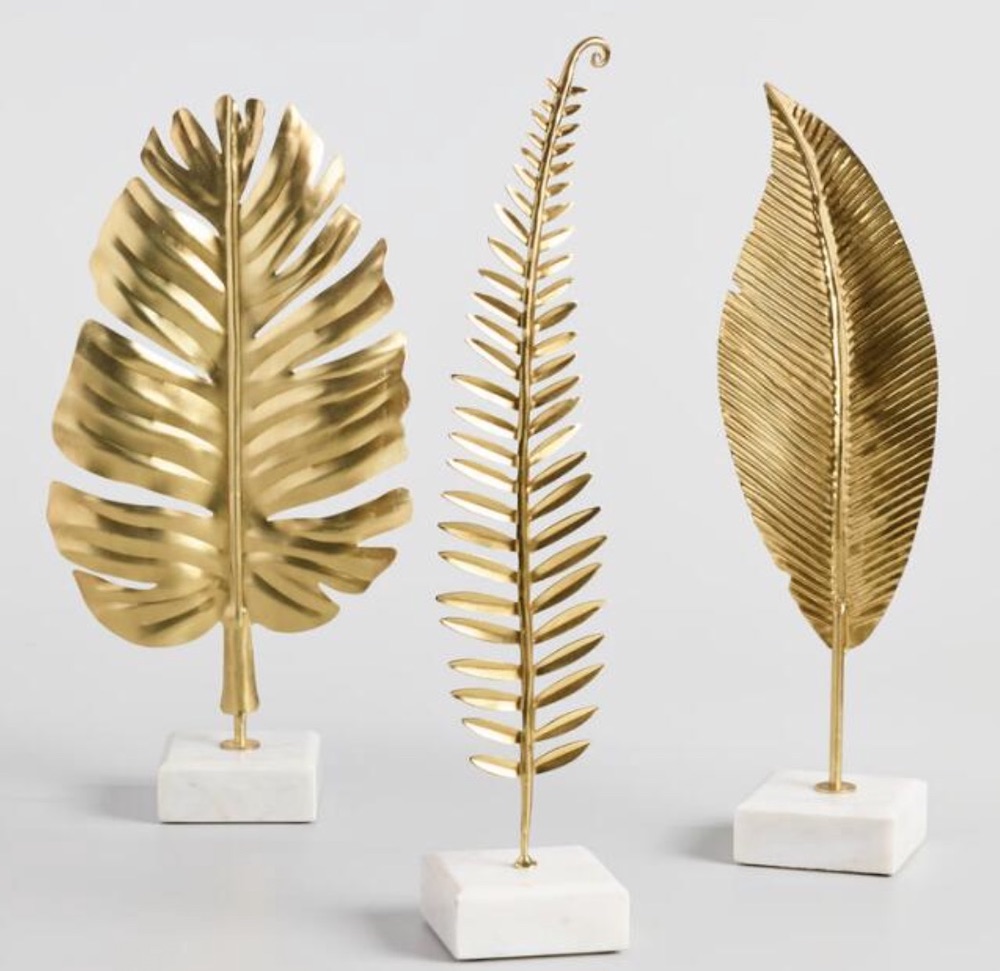 A trio of decorative leaves. The Gold Leaf On Marble Stand Decor is a set of three. Crafted from hand-cut iron then finished in brilliant brass. Each leaf stands on a white marble base ready to display. The tall leaf is 21 inches tall. Broad leaf is 18 ½ inches high and the long-stemmed leaf is 19 inches tall.   
14. Natural Wooden Tree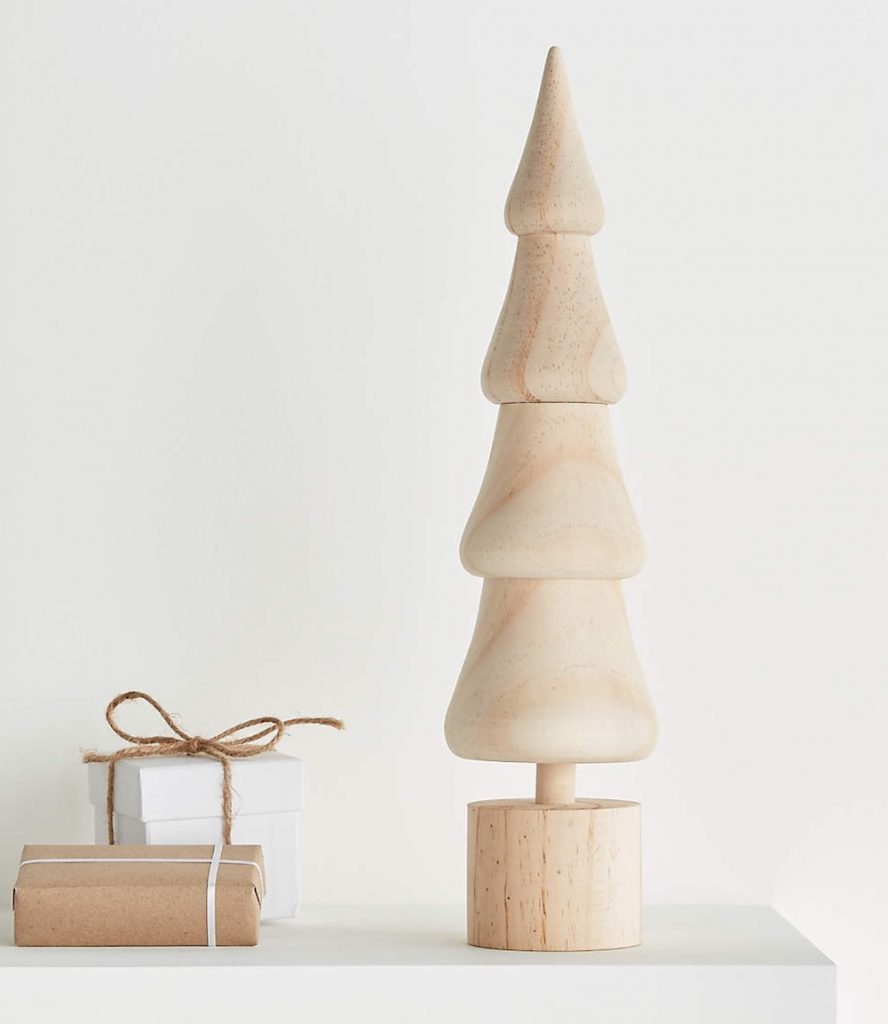 The hand-turned wood tree is inspired by the Scandinavian wooden trees seen frequently in Scandi decor. Simply shaped for the modern, minimalist holiday look or even year around decor. The Natural Wooden Tree for a simply decor style measures 16 ¾ inches high. 
15. Revlon Salon One-Step Hair Dryer and Volumizer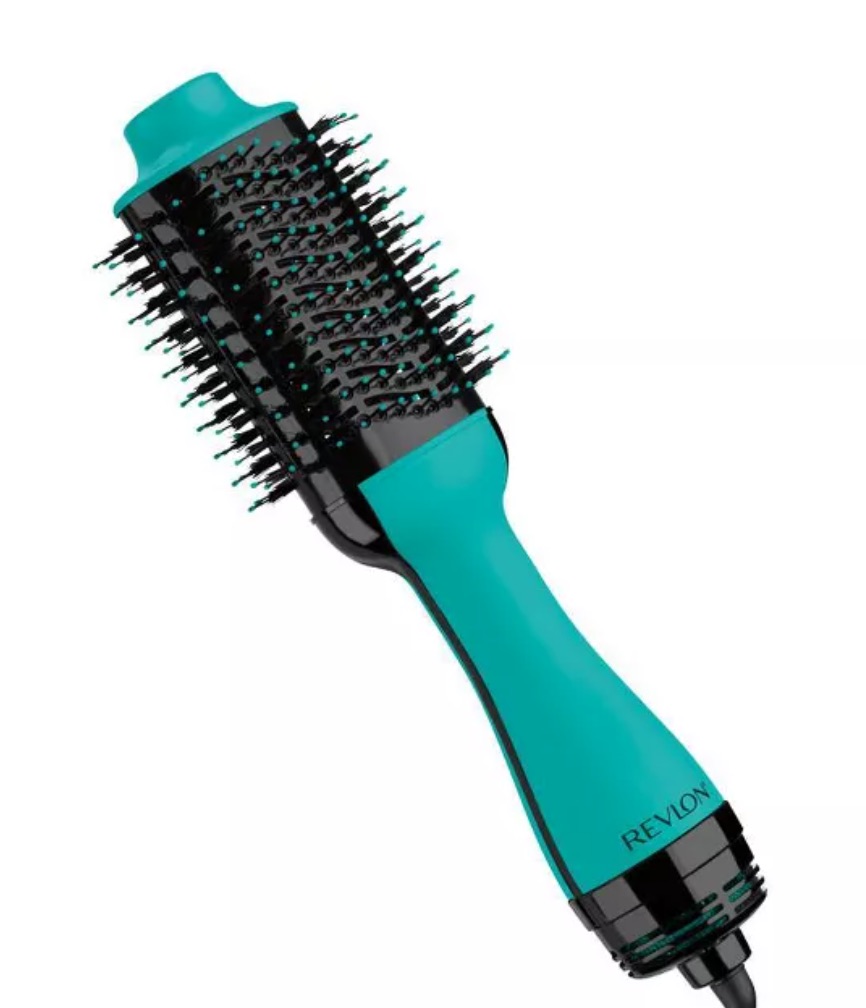 For a single step in volume and shine, select the Revlon Salon One-Step Hair Dryer and Volumizer. Available in teal or black for one step hair grooming.   
16. Apple AirPods with Charging Case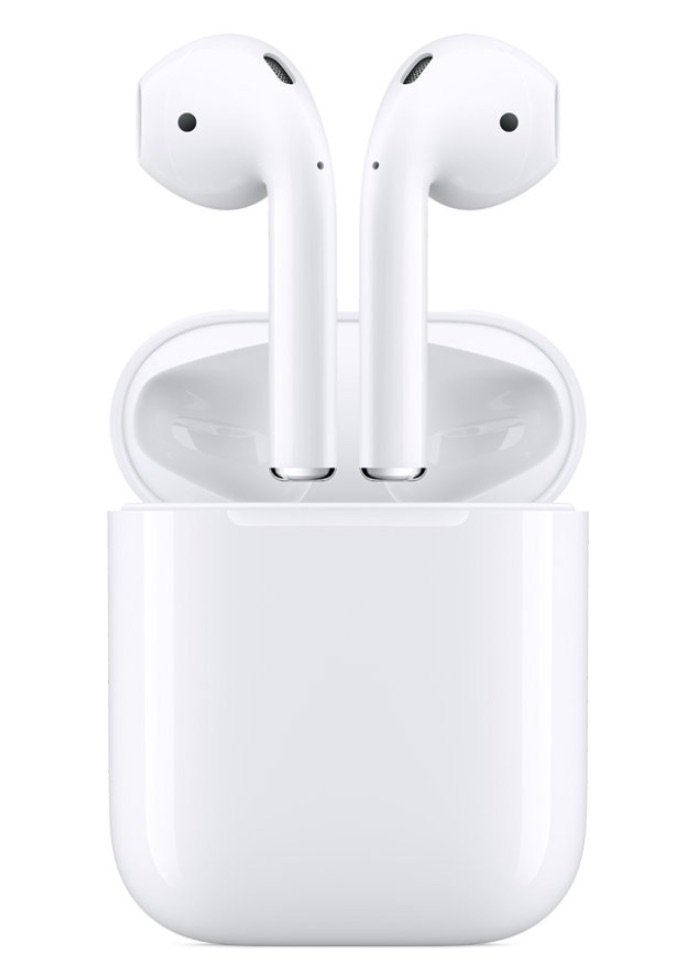 In-Ear Headphones, the Apple AirPods with Charging Case is the perfect gift for the work from home mom or dad. In addition to work related uses, the Apple AirPods are perfect for those who travel, movie watching, music listening, and of course, phone calls. Especially helpful for keeping outside noise to a minimum.
For the Little Ones – Christmas Gift Ideas 
17. Dog Fleece Footie PJs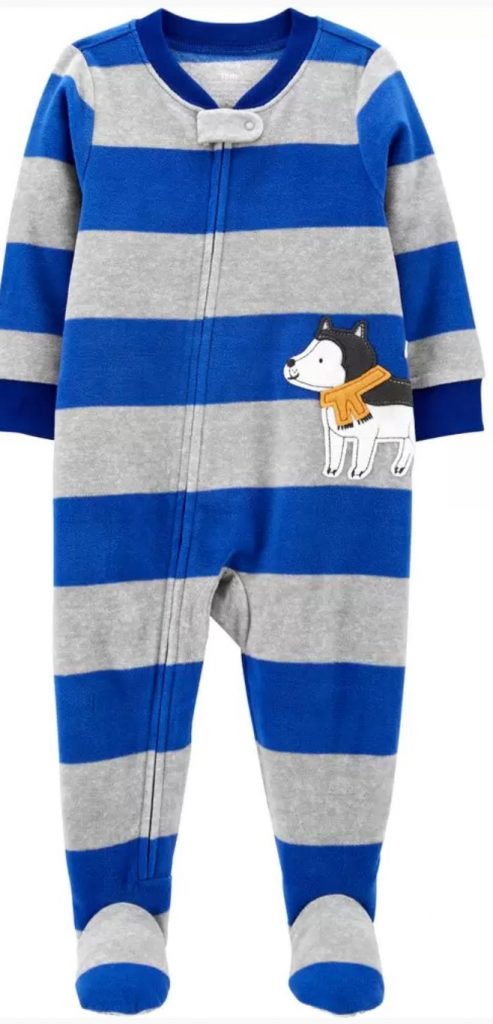 Carter's Exclusive Pajamas have many styles to select from including this one piece Dog Fleece Footie PJs.  
18. Elf Crew PJs – Christmas Gift Ideas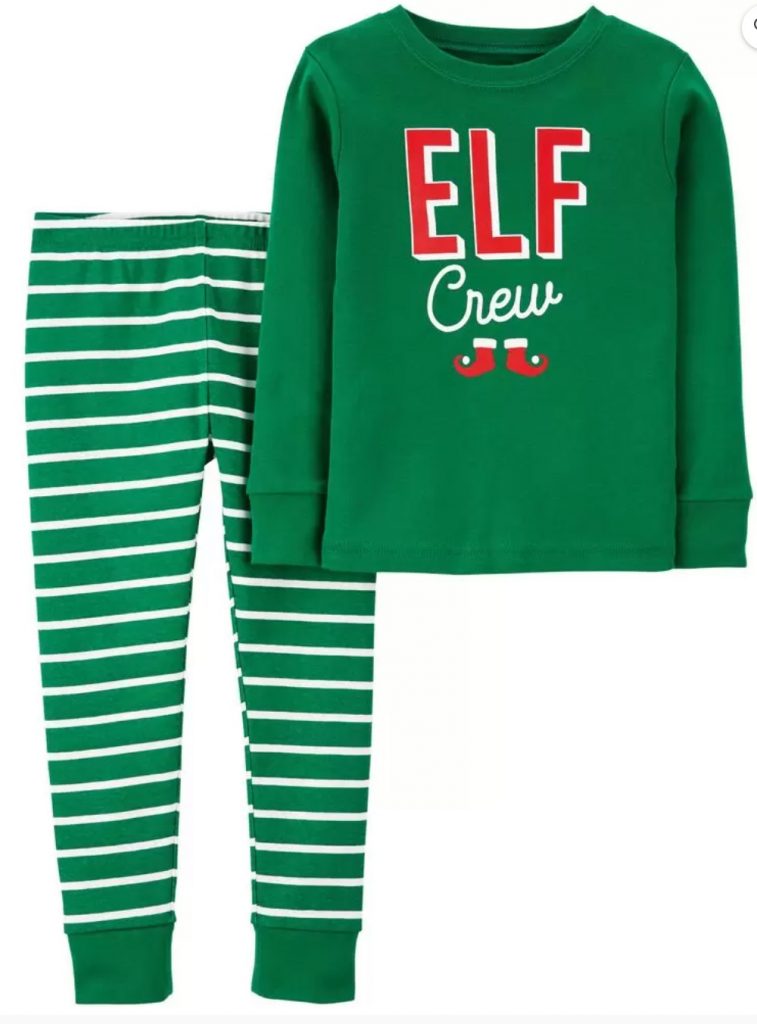 Or what about this 2 piece Elf Crew 100% Snug Fit Cotton PJs for those on the nice list. 
19. Bear Fleece PJs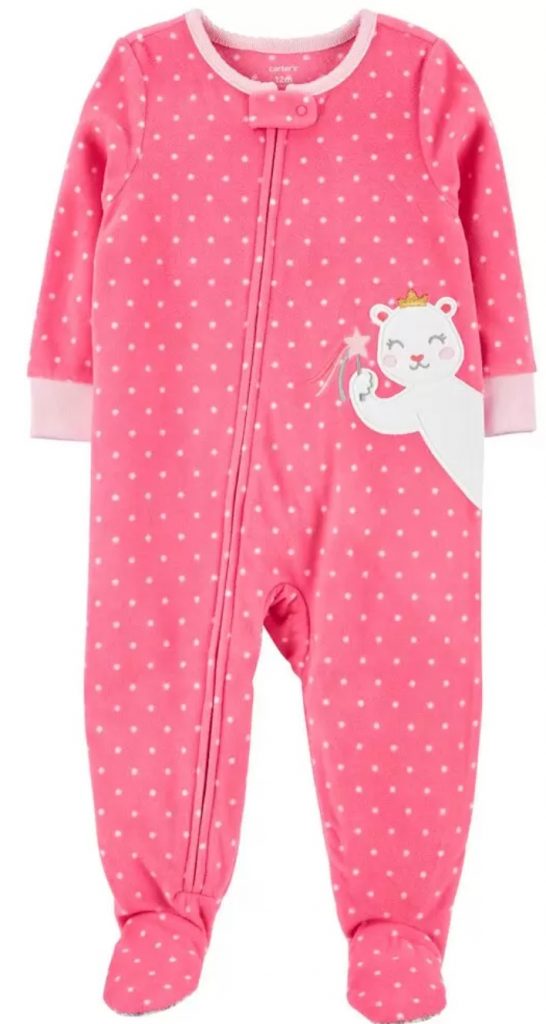 Then there is the Bear Fleece Footie PJs for the pink loving toddler. 
20. Sherpa Lined Zip Hoodie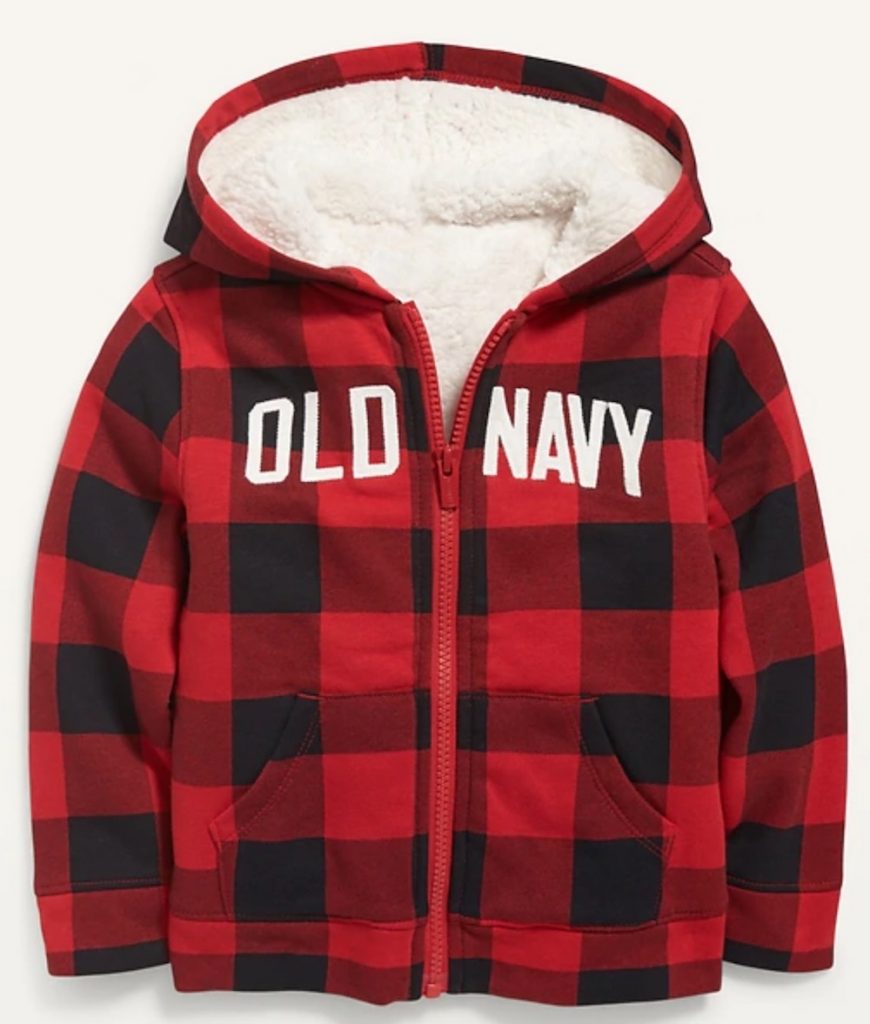 Unisex Logo-Graphic Sherpa-Lined Zip Hoodie in buffalo paid. So warm and cozy for the little ones in beautiful red and black buffalo plaid. 
21. Sherpa Button Front Coat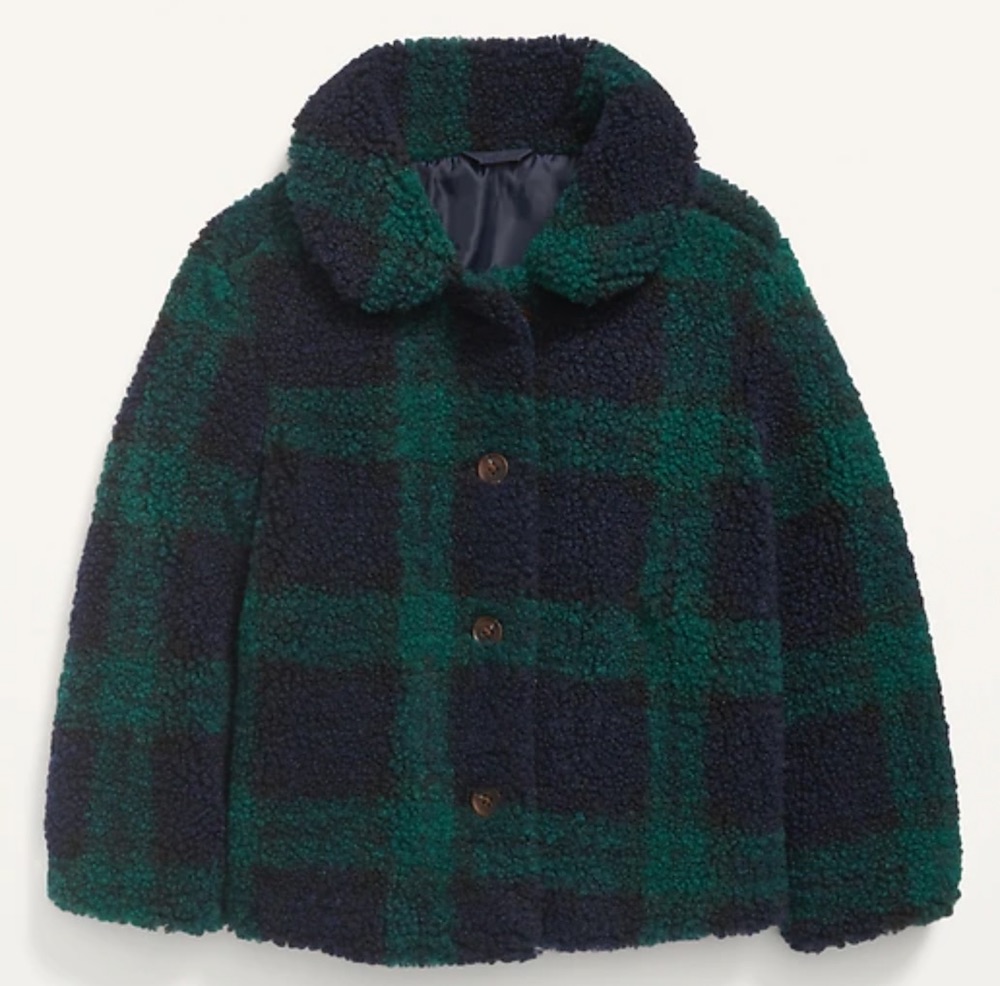 Unisex Sherpa Button-Front Coat in green blue plaid. A cozy sherpa coat for the little ones because Baby it's Cold Outside. 
For the Younger Crowd – Christmas Gift Ideas
22. Faux Fur Earmuffs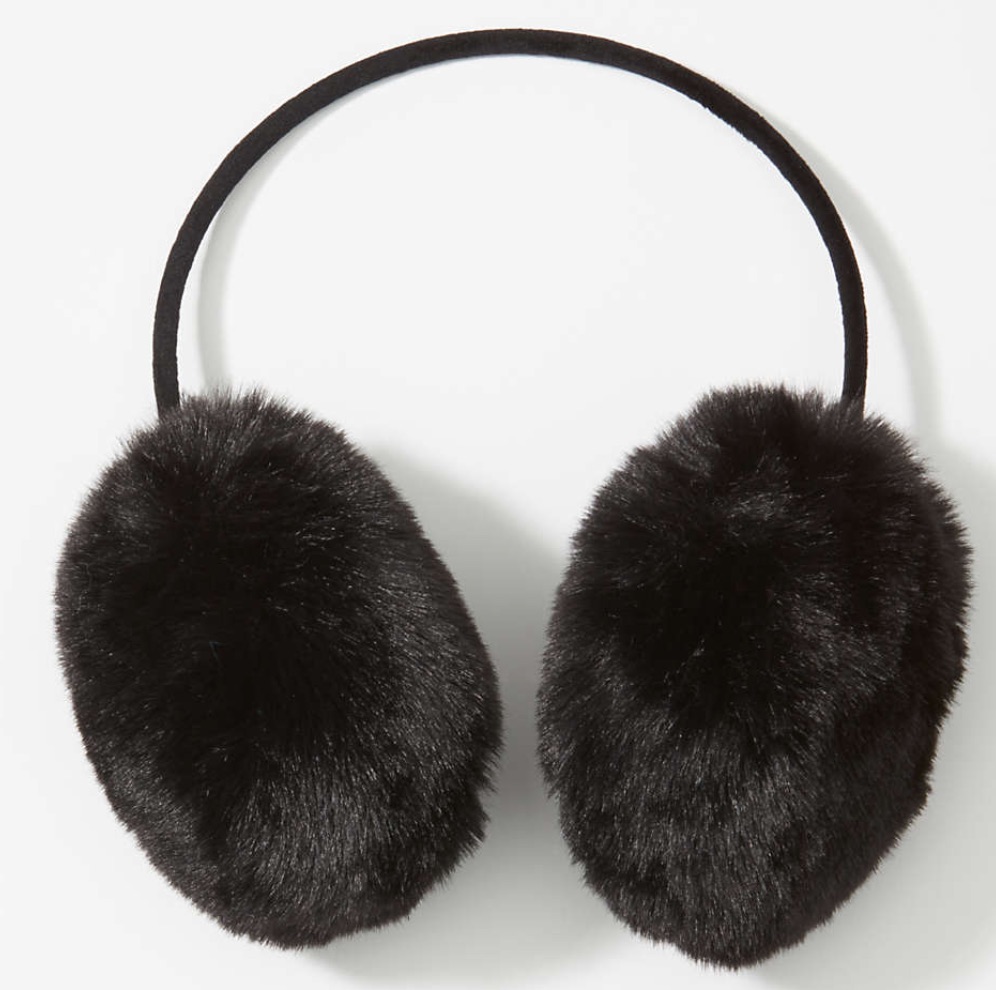 Stay warm and cozy with stylish Faux Fur Earmuffs. On cool nights, keep warm and have an instant glam look with these earmuffs. Select from black, brown, or white plush faux fur earmuffs.  
This ends our list of Christmas Gift Ideas for everyone on your list. For additional gift giving ideas check out our other posts.  We are sure you'll find other gift giving ideas for family and friends. 
You'll enjoy our other gift giving related posts . . . .   
Christmas Candles for the Holidays 
Best Online Christmas Flowers
Fresh Tabletop Christmas Trees  
Best Fresh Christmas Centerpieces   
Also, if you have any questions, feel free to reach out to us. We always are ready to help you out. Thank you for stopping by.
Mary