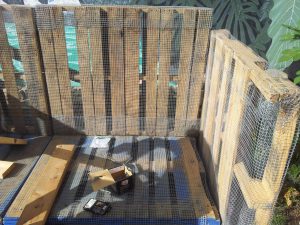 Here are some easy steps for starting a compost. Begin by creating a tidy heap on the ground. Or build a more permanent compost bin made from scrap wood or reusable pallets. As seen in the photo above. And there are many compost bins for sale at home improvement stores and discount stores. Of course, if you have limited space such as living in an apartment, there is another option. Check out our compost on Crate Composting titled "Alternative for Winter or Small Space Living."  
Work Effort to Start a Compost?
The compost pile itself doesn't require much work or time to start. Simply gather food or kitchen scraps and yard waste. You can save money on soil for your garden, lawn, and garden containers. Another great thing about starting a compost pile is it doesn't cost any money. You reduce the amount of garbage by composting or recycling egg shells, nut shells, coffee grinds, fruit and vegetable scraps. Composting saves money over many years. Can't beat that? 
Our simple to follow, step by step instructions for starting a compost:
Gather the right materials – food scraps, yard waste, provide oxygen by turning the compost, add water only when dry

Select a compost site near a water source

Start by alternating yard waste layers with food scraps. Then periodically, mix the yard waste with the food scraps to allow fresh air into the pile. 

Test compost for readiness. As the food scraps and yard waste breaks down it becomes dark. The overall compost appearance is the color of rich, organic soil that is light and airy. 

Mix the organic compost soil into your garden containers, garden beds, and grass lawn.
By following these quick and easy steps, garbage waste is reduced. Reuse kitchen food scraps and lawn waste to create recycled compost for the garden and yard. Celebrate Earth Day everyday by composting!     
Interested in organic gardening? If you found this helpful . . .
You May Also Enjoy some of our other gardening soil related posts. 
How to Make a Fertile Garden with Soil Amendments 
How to Save Money on Soil by Starting a Compost
12 Incredible Soil Conditioners: Improve Garden Soil Structure   
30 Money Saving Garden Tips for the Frugal Garden 
Let us know what you think. If you have any questions feel free to reach out to us in the comments below. We are always ready to help you out.
Mary 
Save
Save
Save
Save
Save
Save