Looking for the best ice cream makers?  The whole family can enjoy frozen tasty treats made right at home. Here are a few that will meet your budget and needs, whether it's old-fashioned ice and salt or a completely automated maker. While you can hand churn ice cream, all the ice cream makers here save you the energy with an electric motor.
The more basic ones require you to pre-chill the mixing bowl in the freezer overnight. This might take some planning if you suddenly have the urge for ice cream.  It also means you need to clean and re-freeze the bowl before making another batch. The deluxe models will use a compressor to keep things chilled and are the best option for always-ready ice cream or making multiple flavors and batches quickly.
The exciting news is all these units will churn out delicious home-made ice cream in your choice of flavor in less than an hour once prepped.
Dash Deluxe 1-qt Ice Cream Maker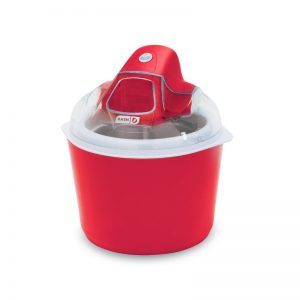 This simple machine from Dash cranks out 1 quart of ice cream at a time and saves your hands from having to churn with its electric motor.  Simply freeze the double-walled insulated freezer bowl overnight and you can be eating homemade ice cream in about 30 minutes!
Nostalgia Wood Bucket Ice Cream Maker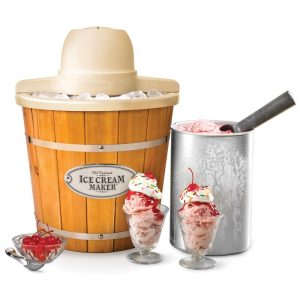 This Wood Bucket ice cream maker from Nostalgia takes its styling cues from the old days of hand cranked makers. It uses the tried and true 'rock salt' method of chilling the ice cream, requiring ice and salt. However, the maker uses an electric motor to evenly and quickly churn fresh, homemade DIY ice cream without using your own energy. Large aluminum chilling container makes 4 quarts of ice cream, frozen yogurt or gelato.
Nostalgia Double Flavor Ice Cream Maker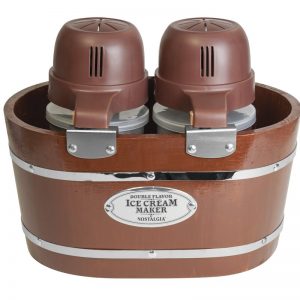 Are the kids fighting over which flavor to make first?  Here is a great solution, the Nostalgia Double Flavor Ice Cream maker.  Using the same ice and salt method from the unit above, this maker has two separate 2-quart containers and dual churning motors to make 2 different recipes simultaneously.  Great idea for the 'favorite flavor' disagreements!
Cuisinart Pure Indulgence 2 Quart Ice Cream Maker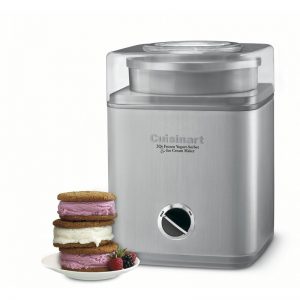 Looking for a DIY ice cream maker that'll match your modern kitchen? Try this stainless finish Cuisinart Pure Indulgence 2 quart ice cream maker. Using a 2 quart aluminum mixing bowl you will need to freeze overnight, the machine will easily churn your recipe in only 25 minutes. The convenient design features a lid with an ingredient spout through which you can add in nuts, chocolate chips etc. This helps ensure they are evenly spread as the ice cream churns. The beautiful exterior is finished in a brushed metal and will look great on your kitchen counter. When you are one of the best ice cream makers out there, you can't go wrong with this Cuisinart.
Cuisinart Ice Cream and Gelato Maker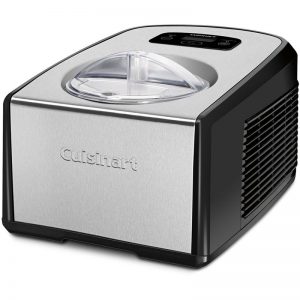 Looking for the ultimate in convenience and yummy homemade, DIY ice cream whenever the mood strikes? Check out this ice cream and gelato maker by Cuisinart. It uses a compressor to chill the mixing bowl so you never have to plan ahead and freeze a bowl overnight. Just drop in the ingredients, plug in and let it churn and you'll be enjoying frozen treats in no time. Also, without having to pre-chill the bowl, you can make multiple batches in a row so multiple flavors is not a problem. More flavors, more ice cream, less fights!
Hopefully one of these ice cream makers will suit your sweet tooth needs and find a place in your kitchen. Do you have a favorite maker or recipe you would like to share? Leave a comment below and share with others. Happy ice cream-making!
Interested in Summer time activities? If you found this helpful . . .
You May Also Enjoy . . . . Some of our other ideas.
Summer Fun: How to Make a DIY Beach Directional Sign 
Summer Fun: Learn the Ukulele
12 Budget Friendly Outdoor Summer Activities
And if you have any questions, feel free to reach out to us. We are always ready to help you out. Thank you for dropping by. 
Happy Summer!
Mary