Affordable Cut Flowers to Grow From Seed to Brighten Your Home!
Grow from seed cut flowers that are not only affordable but beautiful. We all love having fresh cut flowers in our homes. Buying freshly cut flowers at a farmer's market or grocery store is costly. To save money consider growing your own cut flower assortment. Select and grow the colors and types of flowers that you like.
With a little bit of work, you can have your own flower market a few steps away in your garden. Select two or three of your favorite flowers to grow. Growing from seed is by far more budget friendly than buying flowers. And your work to establish these plants pays off over the season. Those plants will continue to bloom over the season providing you a steady supply of flowers. Not a bad deal at all for the effort you put in.
We've selected 9 annuals that make gorgeous cut flowers. You can grow from seed any of these 9 annuals. Take a look. And be sure to let us know what you think in the comments below.
Mandarin Orange Cosmos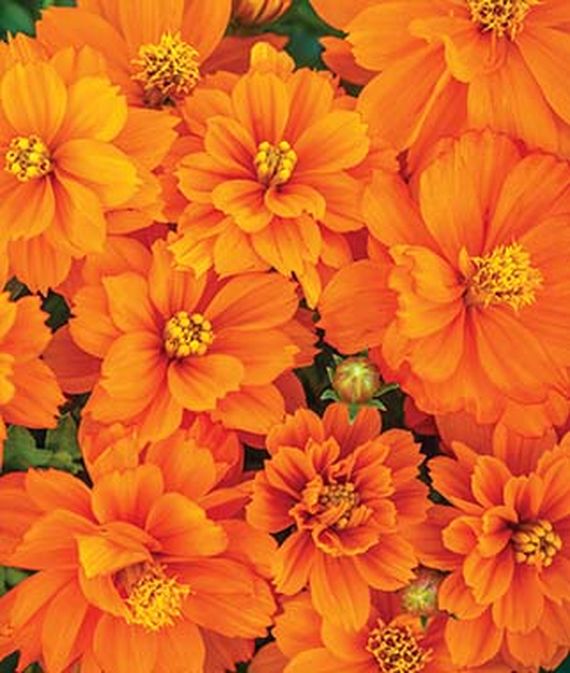 Vibrant Mandarin Orange Cosmos has juicy orange double blooms. Loved by butterflies and hummingbirds, Mandarin Orange Cosmos are easy to grow. Sun loving Mandarin Orange reaches 10 to 12 inches tall. A mounding growth habit with 1 ½ to 2 inch orange flowers. Plant Orange Cosmos in garden beds or along garden borders and paths.
2. Craspedia Drumstick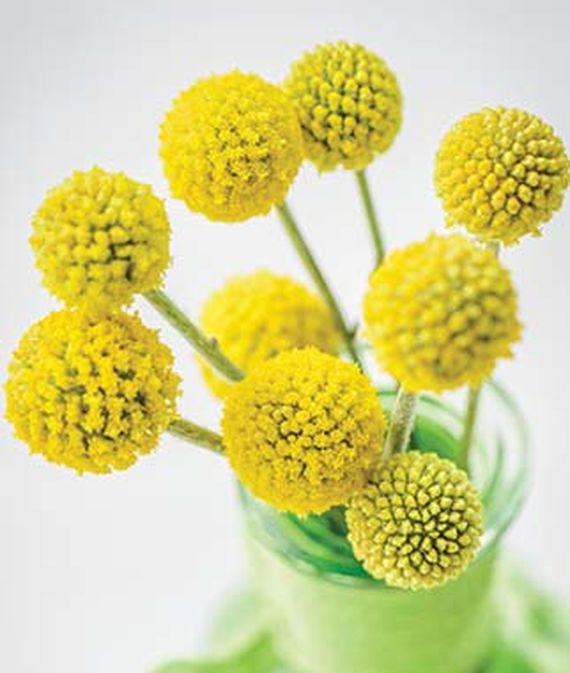 Easy to grow and so cute Craspedia Drumstick has golden yellow 1 inch ball-like blooms on strong stems. Craspedia Drumstick grows in full Sun topping out at 20 to 24 inches. A mound growth habit with yellow whimsical blooms. Awesome cut flowers that can be grown in flower beds or along the garden border. Compact annual that can be grown in containers too.
3. White Wedding Zinnia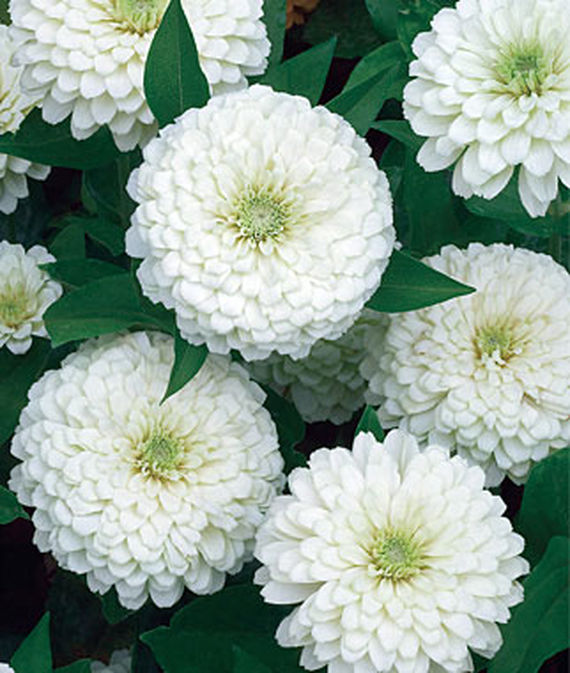 Pristine double blooms make White Wedding Zinnia great 4 to 5 inch cut flowers. With its brilliant, snowy white blooms, this annual delivers nonstop flowers. White Wedding Zinnias grow in full Sun and top out between 12 to 16 inches tall. Beautiful and pristine white flowers for growing in containers or flower beds. Or consider White Wedding Zinnias for a Moonlight Garden.
4. Indian Summer Rudbeckia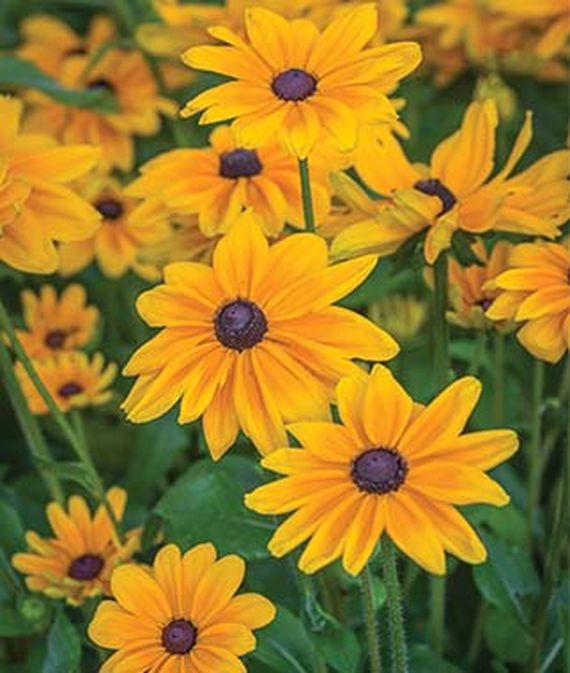 An All-American Selection winner, Indian Summer Rudbeckia has eye-catching colors. Stunning garden color to create striking bouquets. Indian Summer grows in full Sun reaching 36 to 42 inches tall. Blooms are gold and yellow. Plant Indian Summer in garden beds or along garden borders. These beauties can also be planted in containers.
5.
Cannova Orange Shade Canna
A tropical beauty, Cannova Orange Shade Canna has radiant orange spikes over bluish-green leaves. Cannova Orange Shade grows in full Sun topping out at 30 to 48 inches tall. Gorgeous orange colored blooms appear from May thru October. Elegant and ornamental shoots with beautiful, banana-like leaves dazzles during the Summer. Plant Cannova Orange shade in garden containers to brighten your deck, patio, or porch. Or grow these luscious plants in a garden bed. Gorgeous cut flowers for tropical inspired bouquets.
6. Envy Zinnia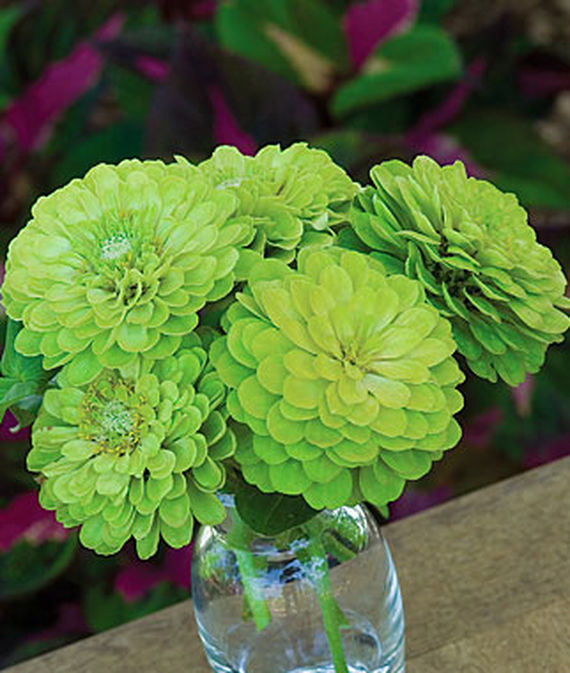 Green Envy Zinnia make a dramatic display in the garden. Envy Zinnia have 3 inch double and semi-double green blooms. A green globe flowered annual that grows in full Sun. Envy Zinnias top out at 30 inches high. Beautiful cut flowers to plant in garden beds or along borders. Grow from seed these sensational cut flowers.
7. Teddy Bear Sunflower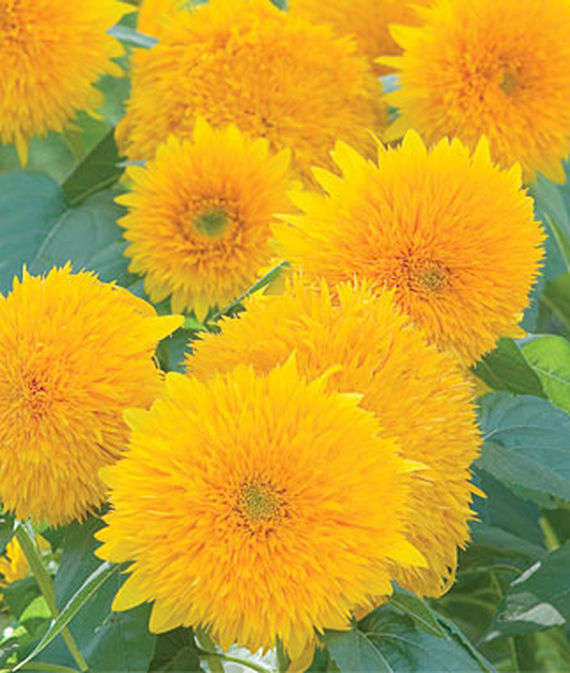 Birds just love the Teddy Bear Sunflower with its golden yellow double 6 inch blooms. The Teddy Bear sunflower is ideal for flower borders. A dwarf sunflower that grows in full Sun reaching 24 to 36 inches tall. Perfect for a Summer cut flower arrangement. Plant Teddy Bear in garden beds or grow in containers on your patio. Teddy Bear flowers bloom in gold, green, and yellow.
8. Gold Treasure Zinnia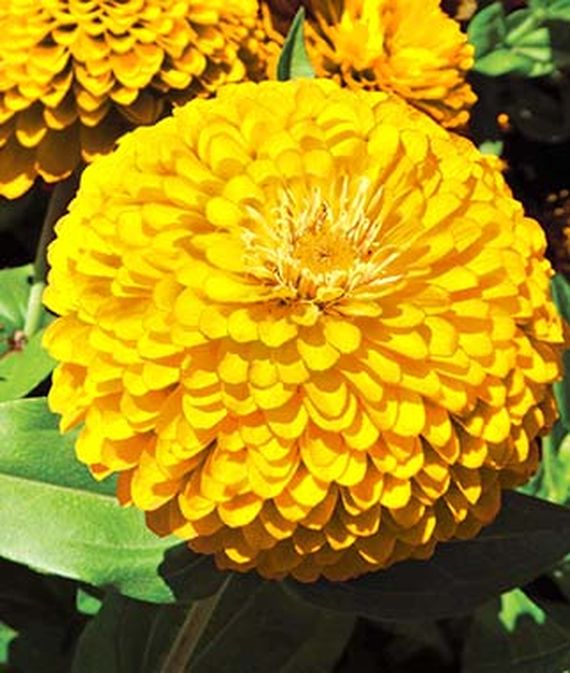 A compact growing annual, Gold Treasure Zinnia has enormous double flowering zinnias that are 3 to 4 inches wide. Gold Treasure Zinnias grow in full Sun, reaches 12 to 18 inches in height. The yellow blooms make bright cut flowers. Grow these bold colored zinnias in flower beds or a flower garden border.
9. Snowman Marigold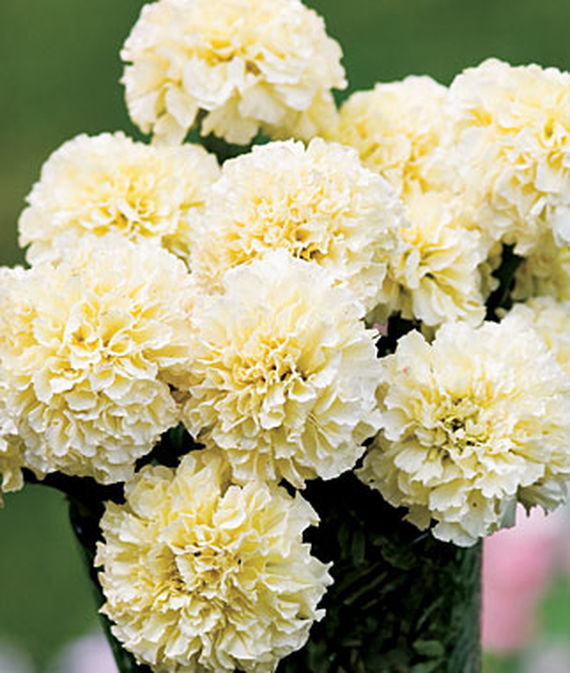 Stunning double ruffled Snowman Marigold has large, white 3 inch blooms. Snowman Marigold grows in full Sun to a height of 24 inches. White Snowman can be grown in flower beds or used as borders in a garden bed.
Save even more money ($$) by using repurposed brown paper rolls as mini planting pots. Start saving your brown paper rolls from toilet paper, aluminum foil, gift wrap paper, and paper towels. Use your homemade compost to grow your seeds in rather than buy expensive potting soil. For step by step instructions for these money saving tips, read my post Frugal Gardening: Grow Perennials From Seeds.
You May Also Enjoy . . . .
Some of our other gardening related posts.
28 Best Perennials for a Cutting Flower Garden
20 Plants to Brighten Your Summer Garden by Moonlight
14 Colorful Coneflowers to Brighten Your Summer Garden
12 Perennials that Butterflies Find Irresistible
Grow From Seed Flower Garden
These are 9 Cut Flowers to Grow From Seed to brighten your home. A DIY affordable flower garden with annuals that you select to grow. And even better, this is a great opportunity for introducing children to the lifelong benefits of gardening. Make a cut flower garden a family project where your kids help grow these annuals from seeds.
Save money by creating and growing your own cut flower garden. And these flowers are only a few steps away from your home. No need to drive to a farmer's market or grocery store for flowers. Grow flowers for yourself and your family. Because there is no better gift that a gift that is made by you!
If you try any of these 9 Cut Flowers to Grow from Seed let us know how you make out. If you have any questions, feel free to reach out to us in the comments below. We always are ready to help you out. Thank you for dropping by.